9 Most Walkable Miami Neighborhoods
Posted by Discover Homes Miami on Thursday, November 24, 2016 at 9:36 PM
By Discover Homes Miami / November 24, 2016
Comment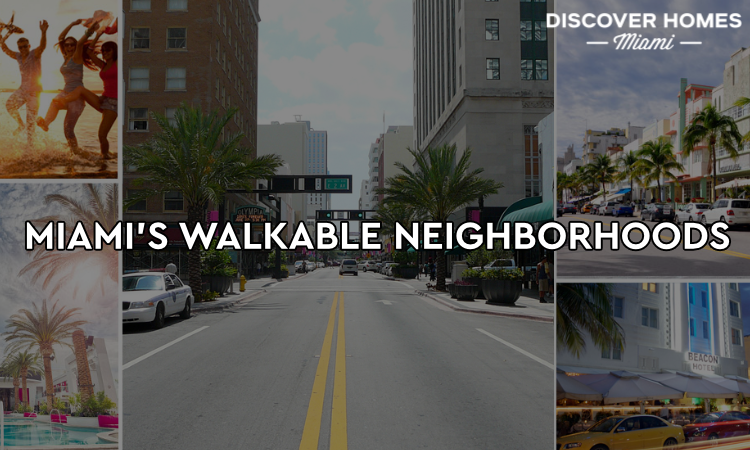 Not all neighborhoods and communities in the United States, and even in Miami in particular, can be easily called walkable. The term "walkability" pertains to how friendly a specific area is when it comes to walking. The factors that come into play when a locality is being assessed for walkability include the presence as well as the quality of footpaths, pedestrian rights-of-way, and traffic. Also part of the considerations is the condition of the area's sidewalks, personal safety, building accessibility, and the presence of vegetation and trees.
In Miami, a lot of neighborhoods are considered very walkable, but a few are more walkable than most. Here is our list of the most walkable communities in Miami.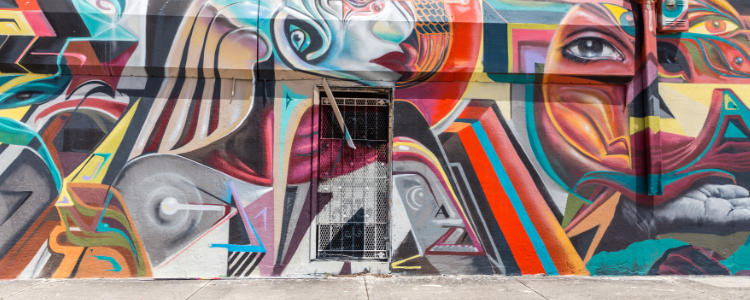 1. Wynwood
Located just north of Downtown Miami, and right beside Edgewater is the fashionable and artistic neighborhood of Wynwood. One of the main reasons why this part of Miami is considered very walkable is due to the feast-for-the-eyes murals and paintings on the many walls found here. Add to this mix the numerous coffee shops, specialty stores, and parks in the area, and you have a neighborhood that has a walk score of 87.
Also found here are the fashion district of Miami, as well as numerous art galleries that give this locality its uber-artistic flair. Tree-lined streets, wide sidewalks, and easy-to-access establishments help give Wynwood its reputation for being a great place to take a stroll and bike around in.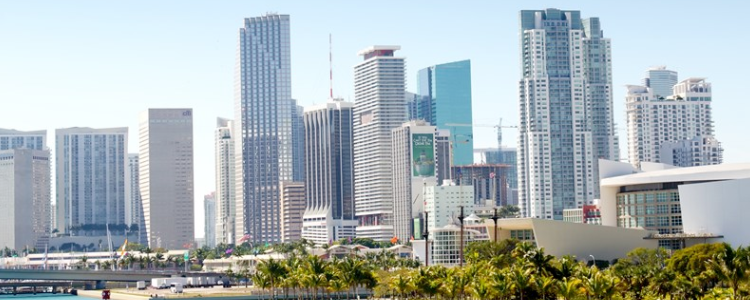 2. Downtown
One of the most walkable communities in Miami, with a very high walk score of 90, is the urban center of the city. Downtown Miami is, contrary to popular belief, very walkable and due to a number of different reasons. For starters, the sidewalks here are pretty wide, and there is a lot to see here by way of the boutiques, bars, cafes, and museums in the area. Despite being a metropolitan area, trees still line the streets, people can still bike around safely, and at night, numerous lights illuminate the urban landscape.
Another thing you will find interesting when you stroll around Miami's CBD is the number of historic buildings, towering buildings, and parks that can be found here.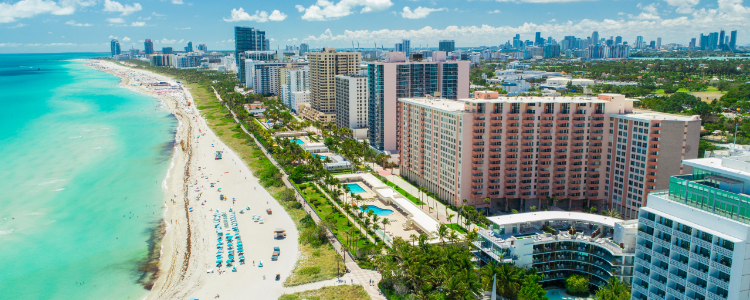 3. South Beach
Probably the most famous beach in all of Florida, South Beach is another place in Miami that you will want to explore on foot since it has a walk score of 97. One of the most walkable areas of South Beach is the place called South of Fifth, or lovingly called SoFi by locals. Once a derelict area people used to avoid, it has turned into a highly walkable part of Miami, with numerous restaurants, shopping malls, parks, and hotels lining its streets.
Also worth exploring are the touristy areas of this enclave, and these include Collins Avenue, Washington Avenue, and the City Center, where Lincoln Road, the Miami Beach Convention Center, and the Miami Beach Botanical Garden.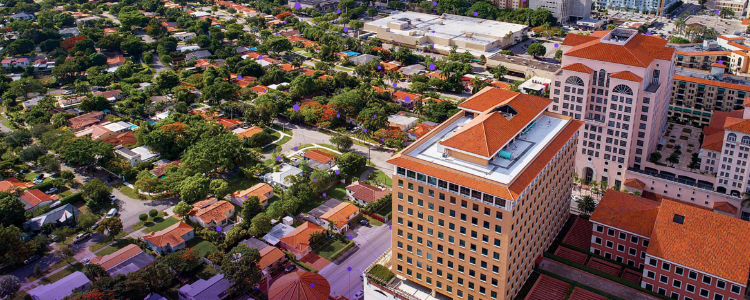 4. Coral Gables
One of the communities in Miami that has a very high livability score due to its high level of safety, low crime rate, and numerous amenities, is Coral Gables. While the community as a whole has an average walk score of 58, a few places like Southeast Gables and Douglas, have walk scores above 80. One of the most walkable areas of Coral Gables is the popular Miracle Mile. This busy area of the Gables features numerous shops on a palm tree-lined street that is also great for window-shopping, biking, and people watching.
Also part of the reason why this area is very walkable is the huge number of parks, gourmet restaurants, and historical sites here.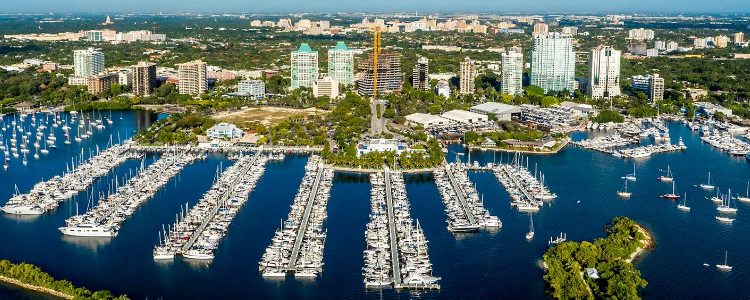 5. Coconut Grove
Coconut Grove is divided into two distinct areas, Northeast and Southwest Coconut Grove. These two have different walk scores, with the Northeastern part having a higher score of 75 and the Southwestern part having a decent score of 65. This makes the average walk score of Coconut Grove 70. One of the main reasons why this part of Miami is very walkable is because of its close proximity to the bay. Other reasons include its many parks, museums, shopping venues, and outdoor dining options.
One of the places you will want to explore on foot here is the famous Coco Walk, which is right smack in the middle of this community.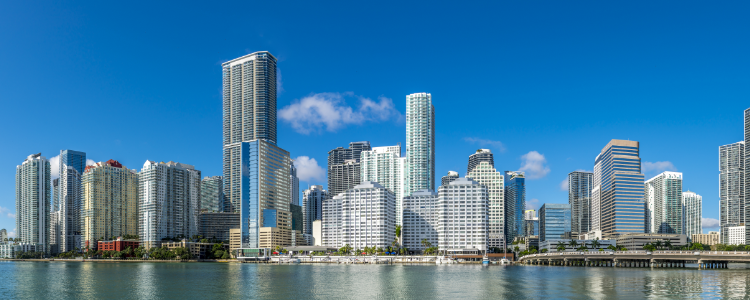 6. Brickell
The financial district of Miami may sound like a totally boring place for you to walk around in, but in reality, despite the many people you run into wearing staid suits and carrying briefcases, the place is actually one of the rather interesting and somewhat diverse communities here. Brickell is indeed a place where people strive hard to climb the corporate ladder, but as hard as people work here, they play even harder. The place has a walk score of 98, making it one of the most walkable communities in the city.
One place you might want to explore here is Mary Brickell Village, with its restaurants, shops, cafes, and bars crammed into two very interesting blocks.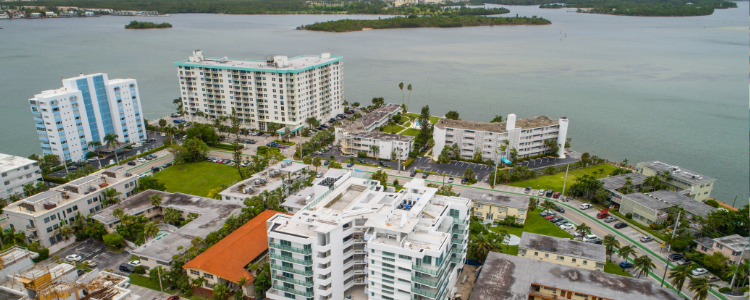 7. Bay Harbor Islands
One of the most livable, and walkable, communities in Miami is the area known as Bay Harbor Islands. The walk score of the area is 77, with the main road Kane Concourse having a number of amenities that make living here comfortable. Also worth noting, and one reason why the area is very walkable is the safety aspect of these islands. The crime rate here is actually 62% lower than the rest of the country, and it is considered 84% safer than all cities in the US.
The islands have 2 parks, lots of coffee shops as well as restaurants, and a few entertainment venues, most of which are located near or along Kane Concourse as well.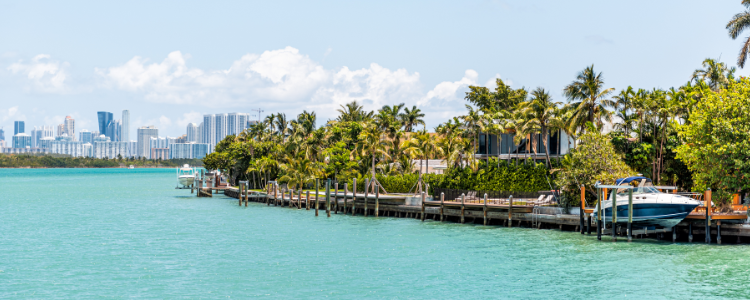 8. Bal Harbour
Located near Bay Harbour Islands, and just north of Surfside, is Bal Harbour. This first-class neighborhood is often considered an opulent and upscale locale, and for a very good reason. This enclave has private beaches, coffee shops, entertainment options, and shopping options in the popular Bal Harbour Shops. The community also has art galleries, boutiques, 5-star hotels, and gourmet restaurants alongside condominium buildings and spas.
While the area may seem touristy to some, it is home to many and the luxurious surroundings, as well as the opulence, is part of its charm. Bal Harbour has a walk score of 61.

9. Omni/Midtown
Another community that is located near Downtown Miami is Omni, an area that is also known as Midtown. Nestled between Edgewater and the Central Business District, this part of the city has a walk score of 91, and this is due to a lot of factors. Included in these factors are the number of interesting places to visit and see here. Coffee shops, art galleries, performing arts schools, theaters, and parks are among the places of interest found in the area.
Midtown also has wide sidewalks, palm-tree-lined streets, artistic features like murals and street art, and gourmet restaurants with outside dining options.