Living in Venetian Islands, Miami Beach, FL
Posted by Discover Homes Miami on Wednesday, March 31, 2021 at 10:29 AM
By Discover Homes Miami / March 31, 2021
Comment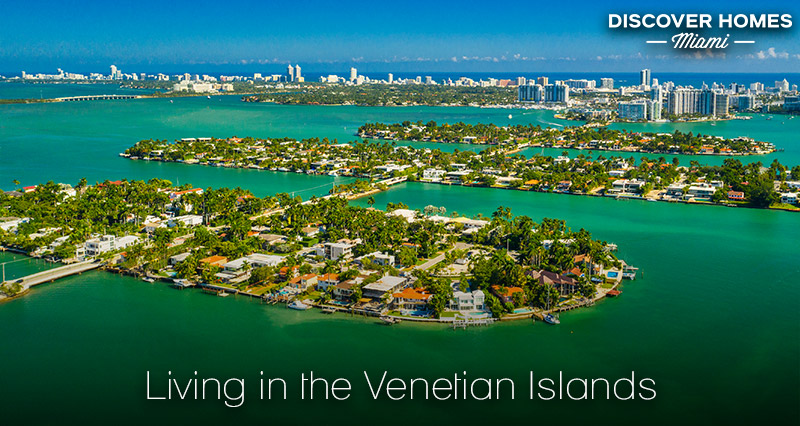 Lying at the heart of the vibrant, exciting Miami Metropolitan Area, the Venetian Islands offer residents a tranquil escape from the hustle and bustle of the surrounding city. The Venetian Islands are a chain of six man-made islands in the sparkling blue waters of Biscayne Bay, connected by bridges from the Miami mainland to Miami Beach. From west to east, the islands are Biscayne Island, San Marco Island, San Marino Island, Di Lido Island, Rivo Alto Island, and Belle Isle.
Although the islands are minutes away from world-class shopping, dining, and cultural activities, they retain a quiet, peaceful vibe. Some of the most expensive and sought-after real estate in the country can be found on the Venetian Islands, drawing residents from all over the world. A host of socialites, celebrities, and high-ranking executives have homes in the Venetian Islands, all of whom are attracted by the serene atmosphere, gorgeous tropical landscaping, and sense of seclusion.
Let's take a closer look at what makes the Venetian Islands such a desirable place to live.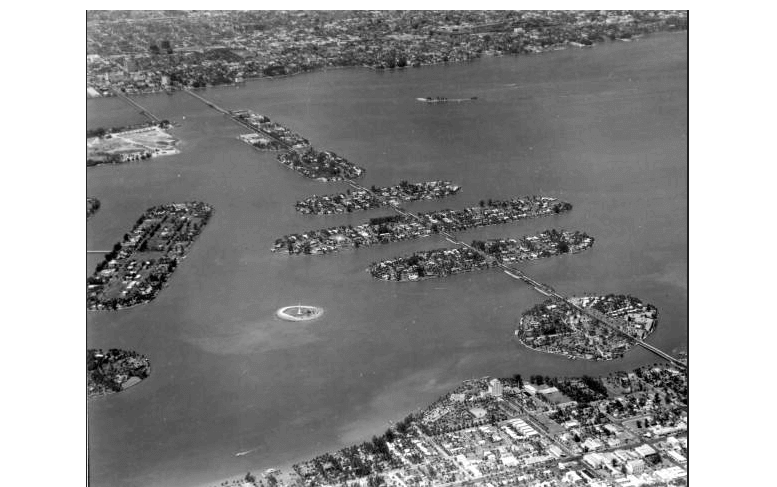 The Venetian Islands as seen on a postcard from 1949.
History of the Venetian Islands
In the early 1900s, Miami Beach could only be reached by ferry and had yet to develop as a resort destination. Many people could already see Miami Beach's potential, though, including John S. Collins, a landowner, and farmer. Determined to lure investors to Miami Beach, Collins set about building a bridge across Biscayne Bay. With the help of Carl G. Fisher, who provided much-needed financial assistance, the 2.5-mile bridge was completed in 1913. At the time, this was the longest wooden bridge in the world.
During the Florida land boom of the 1920s, dredging and "island-building" of new waterfront estates was extremely popular. During this time, five new islands in Biscayne bay were proposed, beginning with Rivo Alto Island in 1922. Sales offices were opened to sell island lots, many of which were still underwater. Owners were promised seawalls, utilities, roads, sidewalks, and a new toll bridge to replace John Collins' original wooden structure.
The new bridge - a series of arch drawbridges - was named the Venetian Causeway, and was completed in early 1926, along with the new islands. Constructed later, Biscayne Island wasn't part of the original plan and was used as an airport during the 1930s. However, upon the airport's closure, in 1937, Biscayne Island was also slated for residential development. Since the 1940s, the Venetian Islands have attracted celebrities and wealthy entrepreneurs, who are drawn to this secluded slice of paradise that's within easy reach of Miami.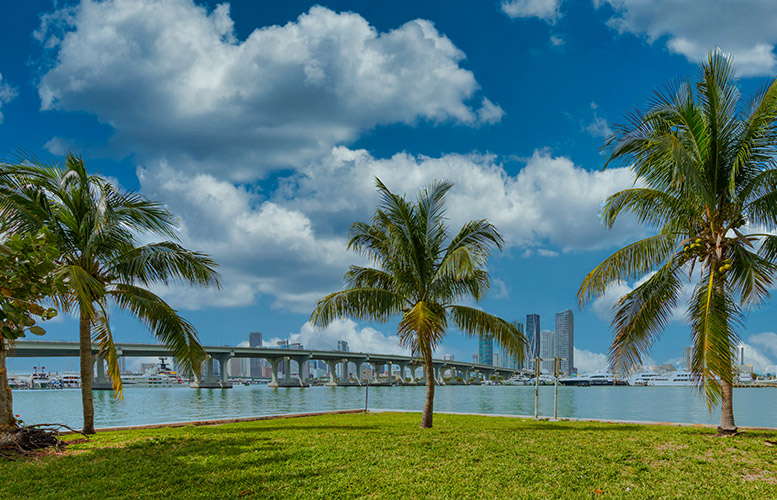 The Venetian Causeway Park on Biscayne Island, looking out towards Downtown Miami
Lifestyle and Culture
South Florida is famous the world over for its wonderful year-round climate. Warm, sunny days are never in short supply here, and residents of the Venetian Islands take full advantage of this enviable climate to lead an active outdoor lifestyle. The Venetian Causeway provides a great place to jog, cycle, and stroll, and locals can often be found enjoying sunset views together.
The islands' friendly, tree-lined streets are always quiet, and locals enjoy strolling around the neighborhood, stopping to chat with their neighbors from time to time. Belle Isle is home to the awesome Belle Isle Park, which provides an important community gathering space. There's an off-leash area for all the island pooches, as well as attractive paths that wind through the shady palms.
Nearby, both Miami and Miami Beach are home to incredible parks and green spaces, including South Pointe Park in South Beach, and Bayfront Park in Downtown Miami. Best of all, Miami Beach's world-famous stretches of pristine white sand are an easy 20-minute walk from the Venetian Islands.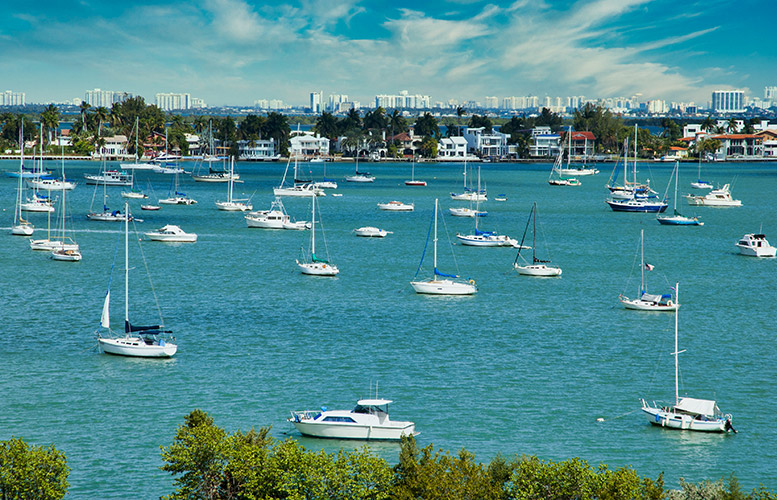 A swarm of boaters, with San Marco Island seen in the background.
Boating, fishing, and watersports are all popular pastimes in the Venetian Islands, and many residents have their own private docks. On the weekends, locals enjoy setting out for a day on the water, often making the easy trip to the Atlantic Ocean in their boat. Others prefer to stay closer to home, launching kayaks from the public ramp, just east of Rivo Alto Island. The clear, calm waters of Biscayne Bay are ideal for spending the afternoon paddling and admiring the beautiful surroundings.
Thanks to their super-convenient location in Biscayne Bay, the Venetian Islands allow residents quick and easy access to both Miami and the neighborhoods of Miami Beach. The Venetian Causeway sees significantly less traffic than the adjacent MacArthur Causeway, and locals aren't required to pay tolls. That said, this is South Florida, and traffic can still be quite heavy during rush hour. Fortunately, the islands are well-served by local Metrobuses, and many residents use public transit for their daily commute.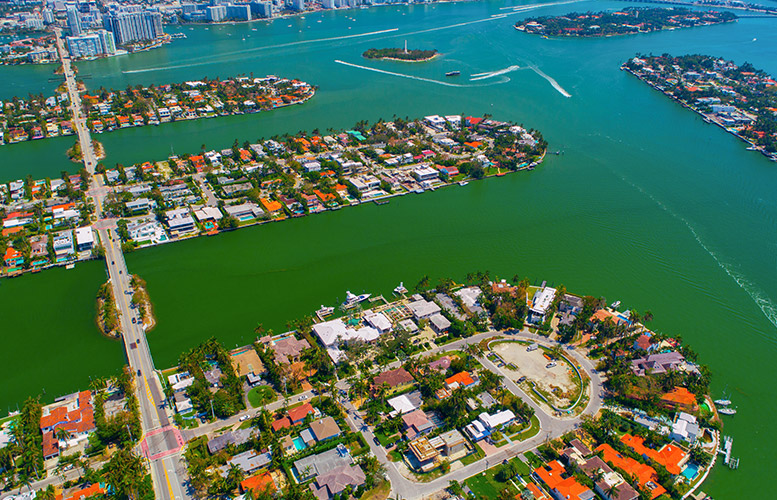 Residents of the Venetian Islands are spoiled for choice when it comes to shopping, dining, and entertainment, with a seemingly endless array of options available at either end of the Venetian Causeway.
Miami Beach has a varied and eclectic assortment of neighborhoods, and some of the best shopping in the world can be found just minutes from the Venetian Islands. Lincoln Road Mall offers an incredible selection of upscale boutiques, sidewalk cafes, and cutting-edge restaurants, while Sunset Harbour offers unique stores, popular fitness studios, and a buzzing bar scene. There's a diverse range of dining options throughout Miami Beach, with cuisines from every corner of the globe on offer. Some of the world's most famous nightlife can be found here, too, ensuring that the fun continues long into the night.
At the west end of the Venetian Causeway, Miami offers open-air shopping in a beautiful waterfront setting at Bayside Marketplace. Nearby, the vibrant Brickell neighborhood offers a world of upscale bars, cozy cafes, and innovative restaurants. Brickell City Centre is in the heart of the neighborhood and features an enormous selection of shops and restaurants, as well as an awesome movie theater.
Residents of the Venetian Islands are well-placed to enjoy a variety of cultural activities, with some of Miami's most popular attractions just a short drive away. Downtown Miami is home to wonderful museums such as the Pérez Art Museum Miami and the Frost Science Center. Concerts, theater, and Broadway shows are on offer at the Arlene Arsht Center, while the nearby American Airlines Arena is the place to go and catch a Miami Heat game. Miami Beach's famous Art Deco district is within easy walking or driving distance of the Venetian Islands, while further north, the North Beach Bandshell is a jewel in the neighborhood's crown, and Venetian Islands locals love to attend shows there.
List of Venetian Islands
In total, there are six islands in the Venetian Islands chain. We will now discuss each island, from west to east: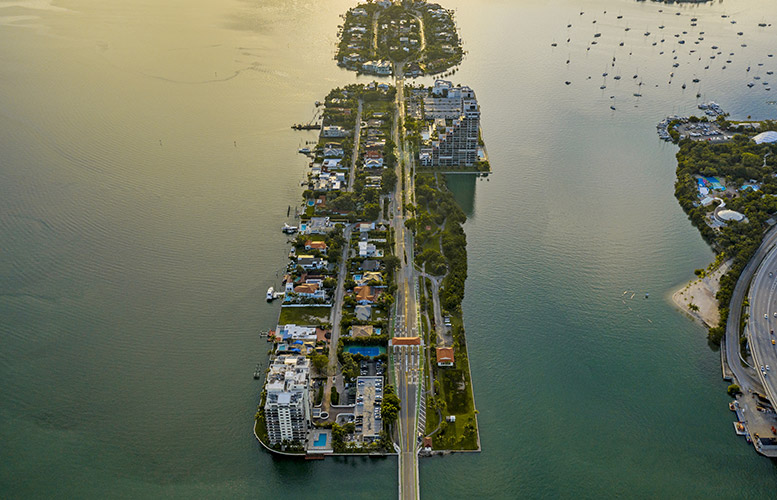 Biscayne Island
Biscayne Island is the closest of the Venetian Islands to Miami and is considered part of the city. Easily accessed via NE 15th Street, Biscayne Island is close to Downtown Miami and thriving Brickell. Biscayne Island offers a mix of luxury condos in elegant high-rise towers, and beautiful single-family homes, all surrounded by lush tropical vegetation. Although Biscayne Island is really close to the dense urban setting of central Miami, it feels a world away from the noise and energy of the city. There's a quiet, relaxing atmosphere on the island, exemplified by Venetian Causeway Park. Situated to the south of the Venetian Causeway, this park offers quiet pleasant, shaded walkways and benches with incredible views of the city and Biscayne Bay.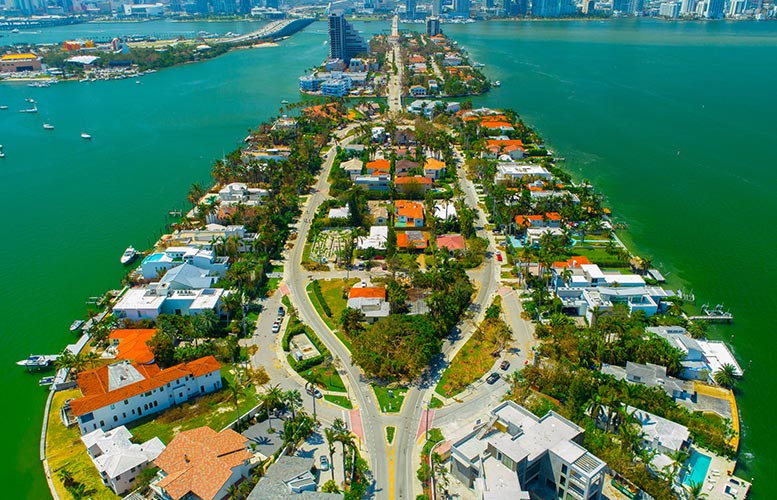 San Marco Island
Lying to the east of Biscayne Island, San Marco Island is small and unassuming, and that's just the way residents of this tropical paradise like it. Considered part of Miami, San Marco Island is a tranquil enclave with a relaxed pace of life. There are no high-rise condo buildings here, just a small collection of beautiful single-family homes. Many of the homes on San Marco Island are situated on waterfront property and offer stunning views across the water. Quiet, tree-lined streets are ideal for a morning or evening stroll, and local kids like to run, play, and ride their bikes around this safe, private neighborhood.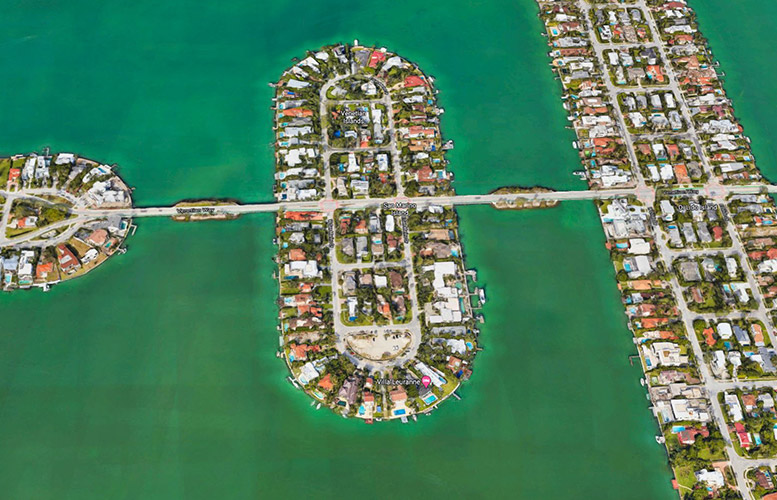 San Marino Island
Unlike the previous two islands, San Marino Island lies perpendicular to the Venetian Causeway, so much of its surface area is away from the main thoroughfare. San Marino Island is one of the most prestigious addresses in the Venetian Islands, and offers residents the ultimate in privacy and seclusion. Considered part of Miami Beach, San Marino Island consists of beautiful single-family homes on large lots, many of which are waterfront. This is a tight-knit community, and neighbors enjoy gathering together for picnics and barbeques. San Marino Island is also home to Villa Leuranne, a 3-star designer hotel.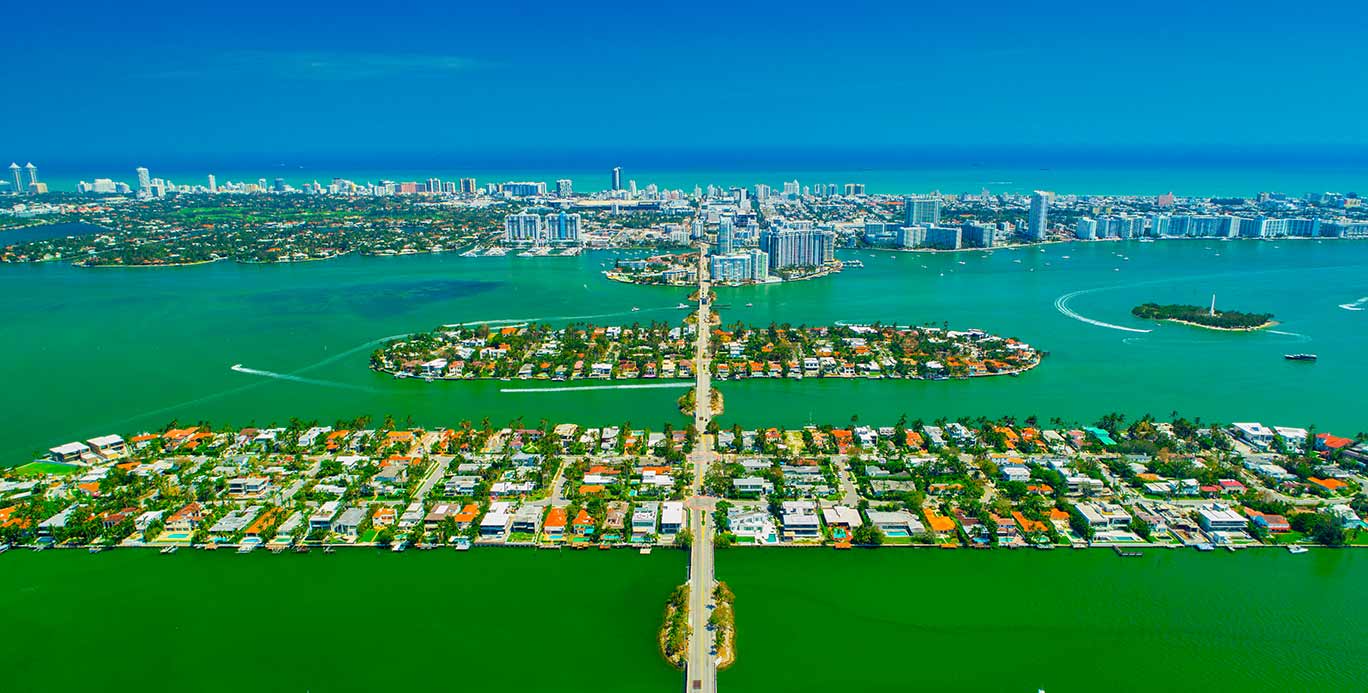 Di Lido Island
Di Lido is the largest of the Venetian Islands and is part of Miami Beach. Like San Marino Island, this long, thin island is oriented north to south, so residents at the far reaches live away from the Venetian Causeway's traffic noise. Di Lido Island is home to tropical mansions and lavish estates, and with a population of less than 300, there's a real sense of community here. Di Lido Island's beautifully-landscaped streets are quiet and picturesque, and residents like to get around on foot or on bikes. The island's kids play together outside without fear of cars, and the lifestyle here is slow-paced and relaxed.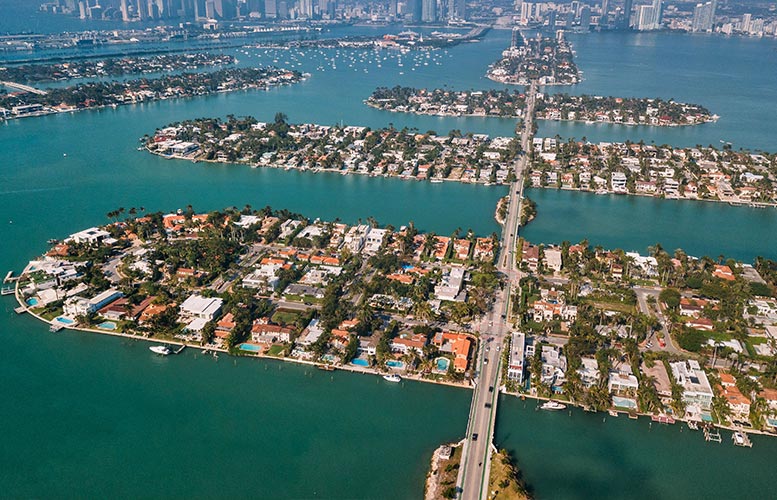 Rivo Alto Island
Rivo Alto Island is part of Miami Beach, but couldn't feel further from the fast-paced neighborhoods of the city. Divided into West and East Rivo Alto, this island features luxurious tropical living in a private, secluded environment. The island is home to an assortment of single-family homes in a variety of architectural styles, all of which provide an escape from the pressures of city life. From the southern end of Rivo Alto Island, there are picturesque views of Flagler Monument Island. This tiny unpopulated island is a short boat ride away, and locals can often be found picnicking on its lovely little beach.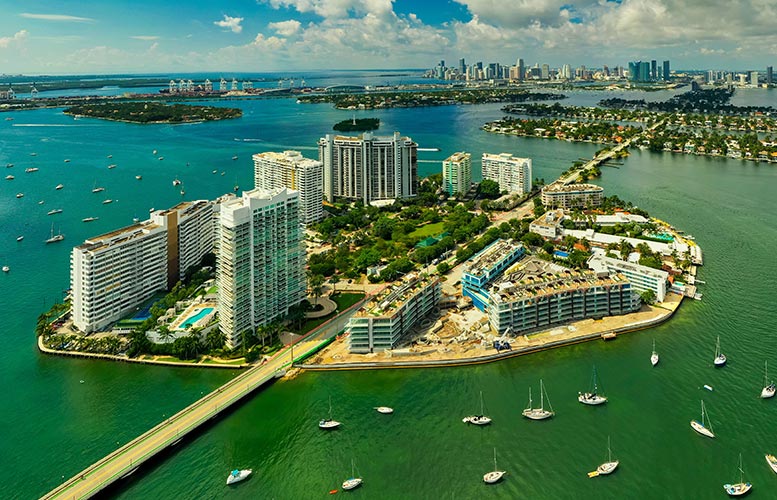 Belle Isle
Belle Isle is the easternmost of the Venetian Islands and is part of Miami Beach. Belle Isle offers an interesting blend of the serene Venetian Islands vibe and the quirky, bohemian feel of South Beach. Unlike most of the Venetian Islands, Belle Isle is dominated by high-rise condo towers. However, there's more to Belle Isle than luxury living in ultra-modern buildings. Nestled among the island's quiet interior streets are modest low-rise apartment buildings and quaint little 1-bedroom cottages. Belle Isle receives its fair share of visitors, thanks to The Standard Miami Beach - a super-chic retro-style hotel. There's great food and cocktails to be had here, at the Lido Bayside Grill, as well as an upscale spa and a fantastic swimming pool.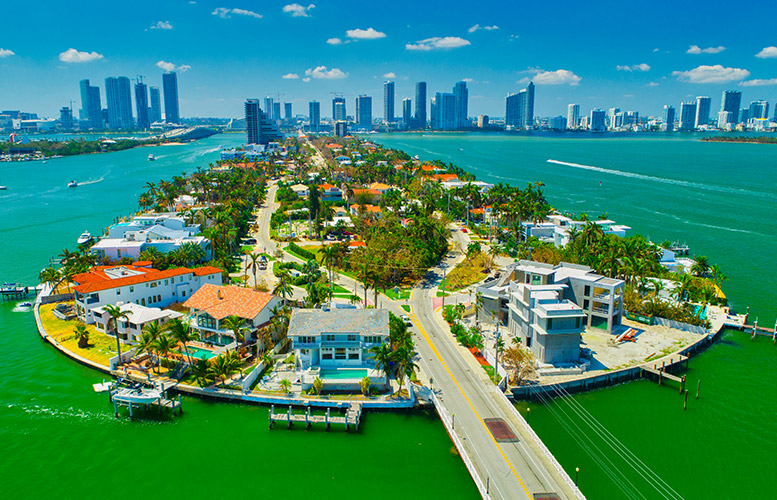 Most of the real estate is luxurious single-family residences, but there are a few condo buildings.
Venetian Islands Real Estate
Living in the Venetian Islands allows residents to enjoy the best of two amazing worlds: a peaceful tropical enclave in the heart of one of the most exciting and diverse cities on Earth. It'll come as no surprise, then, that the Venetian Islands are home to some of the most desirable real estate in the Miami area.
Single-family homes in the Venetian Islands range from huge mansions on large lots to smaller homes on more modest lots. There's a mix of waterfront properties with boat docks and unbeatable views to homes on dry lots, with waterfront homes commanding the highest prices. Architectural styles range from 1930s Mediterranean-style bungalows to contemporary works of architectural art, and many homes include amenities like swimming pools, tennis courts, and private gyms.
Luxury condos are available on Biscayne Island and Belle Isle, with many residences offering some of the most breathtaking views imaginable.
1000 Venetian Way, on Biscayne Island, is a 22-story tower with 121 luxury residences and a handful of 4-story townhomes. Amenities in this development include swimming pools, a state-of-the-art fitness center, and tennis courts. Many of the residences here feature designer upgrades and stunning views of the city and Biscayne Bay.
At the other end of the Venetian Causeway, on Belle Isle, the Grand Venetian is an impressive 25-story condo tower, completed in 2002. A variety of floorplans are available, including 1-, 2-, and 3-bedroom units as well as ultra-luxury penthouses. Residences feature huge wraparound balconies, floor-to-ceiling windows, and high-end kitchen appliances. Building amenities include 24-hour security, valet parking, tennis courts, a sundeck, and a pool overlooking Biscayne Bay.
Additional Reading
Check out some of the other islands near the Venetian Islands: