The 12 Best Luxury Condo Buildings in the Miami Area [2021]
Posted by Discover Homes Miami on Wednesday, February 10, 2021 at 9:28 AM
By Discover Homes Miami / February 10, 2021
Comment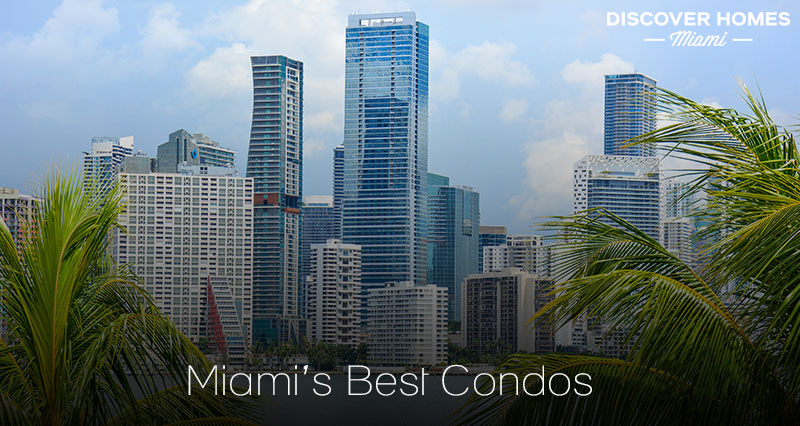 Miami is well-known for its luxurious and sophisticated condos. But out of the hundreds of condo buildings in the Miami area - which ones are the best? This article will detail the top condos in Miami and discuss what features and amenities make them compelling.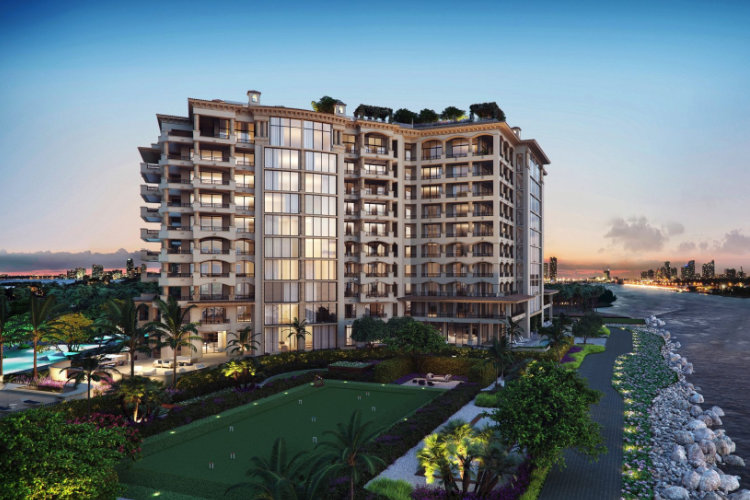 Palazzo Della Luna
Located on Fisher Island just south of Miami Beach, the Palazzo Della Luna is the epitome of exclusivity and luxury. Fisher Island and the building itself can only be accessed by private yacht or the island's ferry, meaning that the residents that live here have a quiet and relaxing place to call home that's still within a short distance of the city and the world's best beaches.
The 10 story, 50 residence condo was built in 2019 and resembles the Italian palazzo style. It was designed by Kobi Karp, an architecture firm in Miami that specializes in sustainable design. The lobby itself is full of natural elements that bring the outside in, and the large windows in each of the residences bring in plenty of Florida sunshine.
Besides having the standard condo amenities such as a pool, fitness center, and spa, certain amenities set Palazzo Della Luna apart from other condo residences. These include a multilingual concierge, a library, a media room for private viewings, and a business center equipped with videoconferencing technology. Unique outdoor amenities include croquet and bocce ball facilities, tea gardens, and a yoga lawn.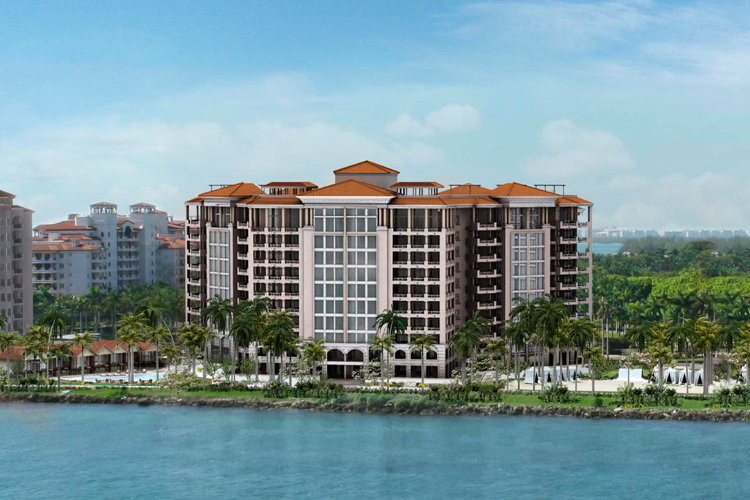 Palazzo Del Sol
Also located on Fisher Island, Palazzo Del Sol is the sister residence of Palazzo Della Luna. Built in 2016, this condo was also designed by Kobi Karp architects and shares similar features to Palazzo Della Luna. As one might expect, it is also very exclusive and luxurious.
The building features just 43 residences, all of which were designed by award-winning Alison Antrobus and Ruby Ramirez. Outdoor spaces were designed by renowned landscape architect Enzo Enea.
Palazzo Del Sol appeals to residents who love contemporary architecture and sophistication. Both Palazzo Del Sol and Palazzo Della Luna were designed to pay homage to Fisher Island's first development, the Vanderbilt Mansion, and residents have access to the mansion and pool.
Even though it is so close to the city, the landscaping at Palazzo Del Sol feels like an oasis, with tropical plants, flowers, and a pool that provide serenity and relaxation. Other amenities include private massage rooms, a children's playroom, and a luxury movie theater equipped with state-of-the-art technology.
An infinity pool complete with towel service, a bar, and poolside cabanas comprise the outdoor amenities. If you need to get around on the island, there are underground parking spaces for golf carts and personal vehicles and charging stations for electric cars. This is a great development for those who value sustainable and natural living.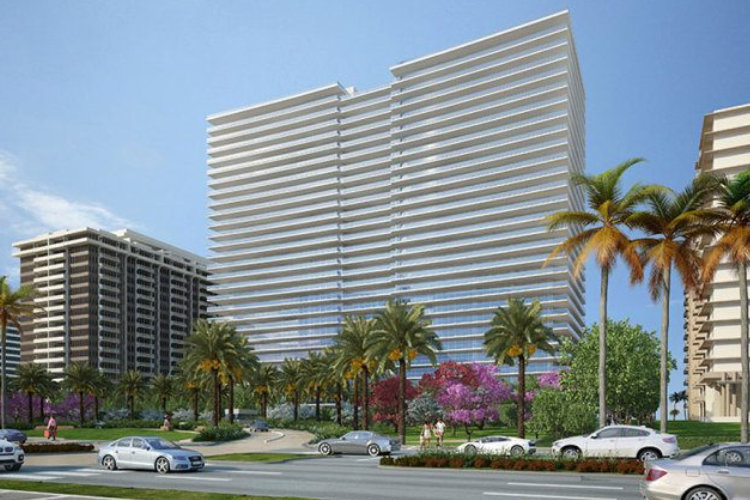 Oceana Bal Harbour
Oceana Residences are located in Bal Harbour, a town to the north of Miami Beach. The building itself is located on Bal Harbour Beach and is near shopping, dining, and recreation in Bal Harbour, and is about a 30-minute drive from Downtown Miami. The development was built in 2016 and designed by Miami-based Arquitectonica. It is 24 stories tall and consists of 226 residential units.
What makes Oceana Bal Harbour unique is that it is the first building on Bal Harbour to be LEED Certified, meaning that it was built with energy-efficiency in mind. The residences themselves were designed to flow east to west so that views of both the Atlantic Ocean and the Intracoastal Waterway are possible. Units additionally feature large, private balconies from which to take in the scenery, as well as floor-to-ceiling windows and sliding doors that let the sunshine and cool breeze in.
Amenities at Oceana include storage and bicycle parking, an international concierge, high-speed and service elevators, and beach and pool services. Notably, the building also features elevators that open directly into residences. There is also a restaurant, gym, and spa on the first floor.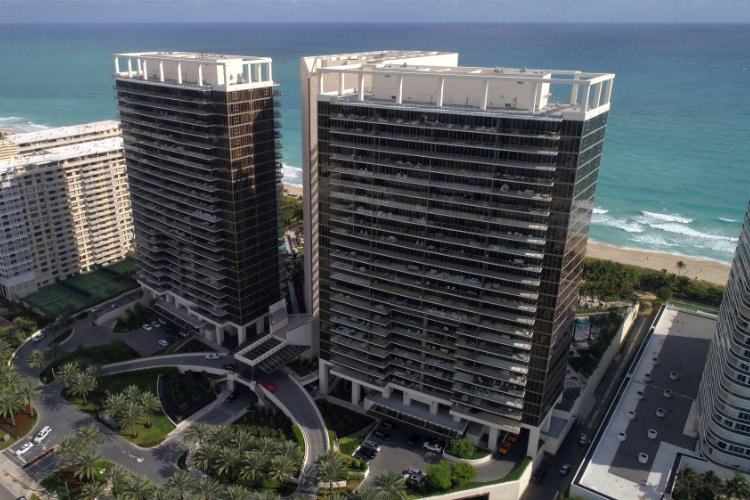 St. Regis Bal Harbour
The St. Regis Resort is also located in Bal Harbour. In addition to being a hotel and spa, the St. Regis also offers private residences. It is located across from the Bal Harbour Shops, a favorite upscale shopping destination for locals.
The resort was built in 2011 but was remodeled in 2017 to include a French eatery and expanded lobby. Common areas were designed by Yabu Pushelberg and feature art deco style elements, but the overall design is still contemporary. Marble flooring and chandeliers are some of the more prominent features in the entrance and lobby area.
Units feature electronic controls, large balconies with ocean views, marble floors, and both a tub and walk-in shower in the bathroom. Other amenities include a fitness center with a view of the ocean, mist sprayers on the beach and at the pool, and cabanas with TVs, Internet, and minibars.
Because St. Regis is also a resort, it also features a greater breadth of professional services than other condos, such as personal chefs, chauffeurs, shopping services, and 24-hour room service.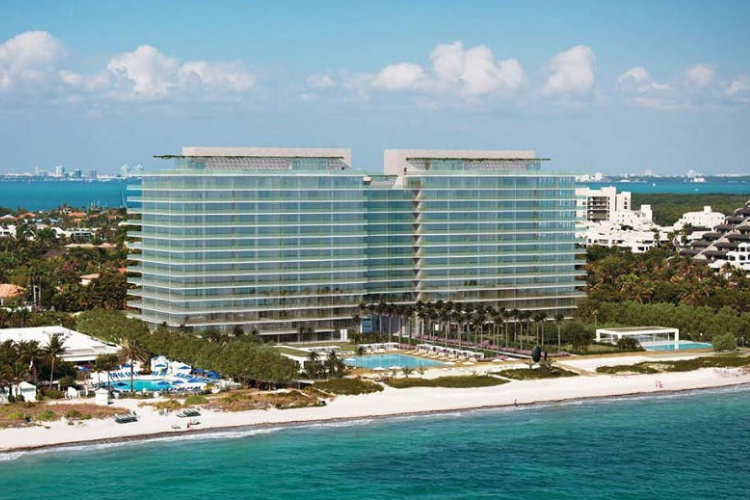 Oceana Key Biscayne
Key Biscayne is located to the southeast of Miami and is about a 16-minute drive to Downtown. The Oceana Key Biscayne condo complex was built on the former site of one of Key Biscayne's first hotels. It faces the Atlantic Ocean on the east side of Key Biscayne and is located near parks, restaurants, shopping, and other recreational activities.
The building was designed by architectural firm Arquitectonica, and construction began in 2012 and was completed in 2014. Two towers stand 15 stories tall, with 142 residential units and 12 luxury villas on the 10-acre property.
The villas are two-storied with a terrace and private parking at each one. Room amenities include kitchen appliances with state-of-the-art technology, large balconies, and an extra room designed for the housekeeping staff.
You can feel safe at Oceana Key Biscayne with a gated entry. Other building amenities include a fitness center and spa, a children's room, party room, media room, and concierge services. Outdoor amenities include a putting green, tennis court, two pools with poolside restaurant, and 500 feet of private beach access. There is plenty to do here for people who want to get outside and enjoy the sunshine.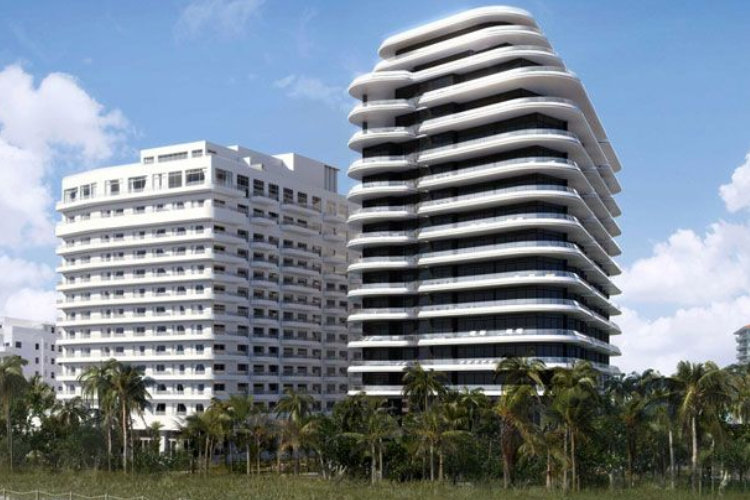 Faena House
Located in Miami Beach, Faena House condos are some of the most sought-after in all of South Florida. It is just a 10-minute drive to South Beach to the south and a 20-minute drive to Downtown Miami.
This condo was built in 2015 and designed by architectural firm Foster + Partners. The building itself has 18 floors, giving residents views of Downtown Miami and the Intracoastal Waterway, and the Atlantic Ocean. In addition to the 47 condo units, there are penthouses available, each with its own private pool and elevator.
All units feature white oak and marble flooring, motorized blinds and individual room controls, a large terrace that wraps around the entire unit for panoramic views. Other amenities on the property include a private beach club, a pool, a children's pool, playroom, valet parking, a spa with a sauna and steam rooms, concierge services, and a doorman.
The building is pet-friendly, with no restrictions on size or the number of pets residents can have. There are also no fees charged for having pets upon moving in.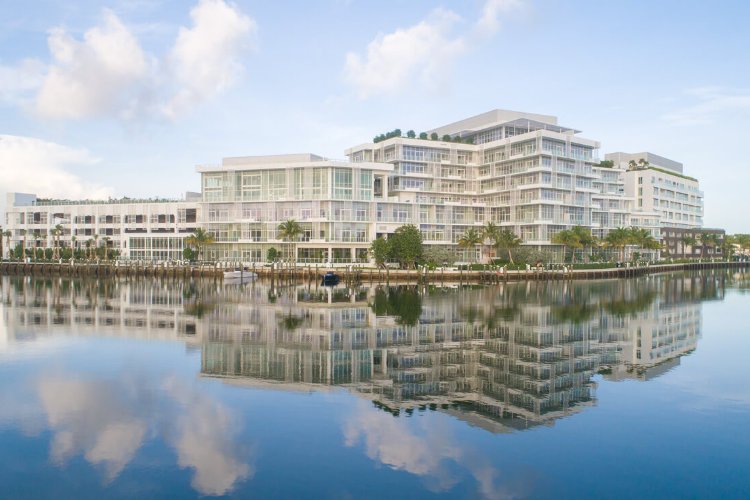 Ritz-Carlton Residences Miami Beach
The Ritz-Carlton is famous for its upscale hotels and residences, and the Ritz-Carlton Residences Miami Beach is no different. It is one of the best developments in Miami Beach, due in part to its proximity to the world-famous South Beach and the nightlife of Downtown Miami. It is also one of the newest developments in Miami Beach.
In 2019, the building was designed by Piero Lessoni and the Miami-based firm Stantec with the goal o merging the indoors and outdoors perfectly. What's unique about this Ritz-Carlton development is that it consists solely of residences without any hotel units, so residents won't have the constant influx of tourists to share amenities with.
Speaking of residences, each of the 110 units features panoramic ocean views, bathrooms with marble flooring and walls, and custom kitchens. Some of the units have their own pool and outdoor kitchen. There are also 15 villas, 8 of which are waterfront and include a private boat dock.
Amenities include a rooftop pool with city and ocean views, helicopter service, private yacht, valet parking, infinity pool, and a spa. Unique amenities include a club room with a bar and pool table, meditation garden, art studio, carwash, and a dog walking area and pet grooming room.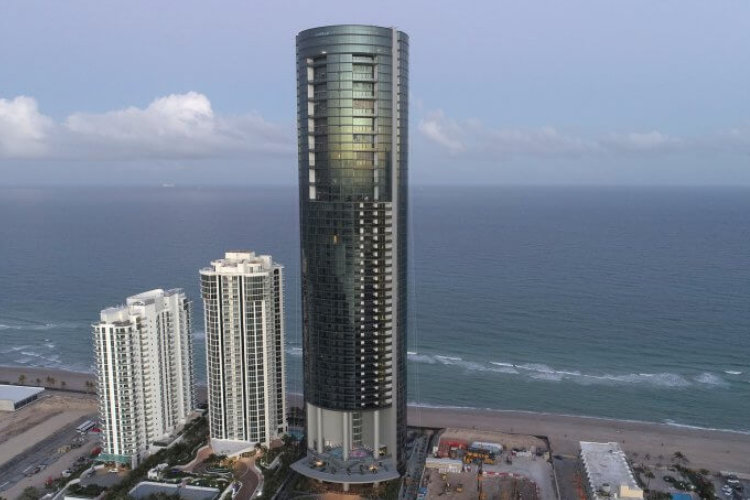 Porsche Design Tower
The Porsche Design Tower is located in Sunny Isles Beach, about halfway between Miami and Fort Lauderdale. Being near two large cities means that there are tons of entertainment, cultural experiences, and recreational options nearby.
The Porsche Design Tower is one of the tallest buildings on Sunny Isles Beach, having 60 floors. It took four years to build, between 2013 and 2017. Its round design helps to set it apart from other developments, and it was built with technology and futuristic style in mind.
Perhaps the most unique aspect of the Tower is the car elevator system. It is actually equipped with three car elevators that take residents directly to their rooms. Each unit has a garage with a glass wall that separates the space from the main living area.
In addition to every unit having its own garage, each unit also has its own pool and outdoor kitchen. There is also a restaurant on the premises, a bar, multiple hot tubs, entertainment room, spa, fitness center, and a bar. It's perfect for those who have an interest in technology and futuristic design.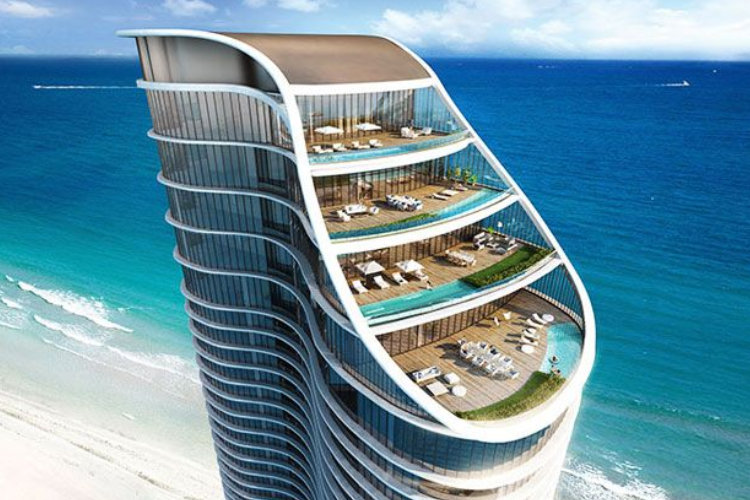 Ritz-Carlton Sunny Isles Beach
Those who want to experience the Ritz-Carlton's luxurious amenities but don't want the crowds that frequent Miami Beach should consider the Ritz-Carlton Sunny Isles Beach instead. Take the short drive to Downtown Miami or Fort Lauderdale to experience the city lifestyle, then return to the quieter and more low-key Sunny Isles Beach at the end of the day.
This is one of the newer developments, completed in 2020 and designed by Arquitectonica. Its unique shape refers to the shape of sand dunes carved out by the wind and ocean waves. The building is 649 feet tall and has 212 residences and 250 feet of beach access.
Terraces and glass walls in each of the residences offer panoramic views. The kitchens have stone countertops, Italian cabinets, and European appliances. Walk-in closets and smart-home systems are also included in each of the residential units.
There are penthouses available with rooftop pools, garden terraces, and separate living spaces for private housekeeping staff. There are also indoor and outdoor bars, a library, private dining room and kitchen, and personal services, including dog walking, shopping, event planning, concierge, valet parking, and childcare.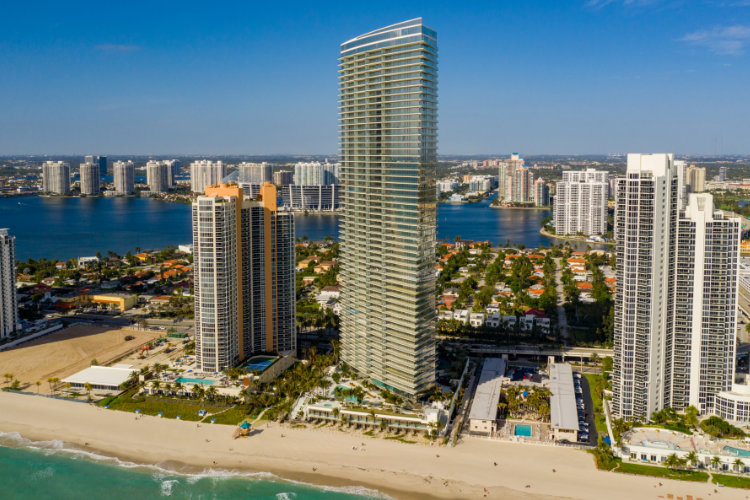 Residences by Armani Casa
Also located in Sunny Isles Beach, the Residences by Armani Casa was designed by architect Cesar Pelli in collaboration with luxury fashion designer Giorgio Armani. It was built in 2019 and is within walking distance of restaurants, parks, and a grocery store and is a short drive from the Bal Harbour Shops and the cities of Miami and Fort Lauderdale.
The building itself is 649 feet high and has 56 floors with over 300 units designed by Giorgio Armani himself, meaning it is full of elegance and sophistication. The lobby and residences are minimalistic to capture the surrounding ocean's natural beauty.
Most residences have private elevator access, and some have entry via a double door. All units have 10-foot-high ceilings and 10-foot-deep balconies with glass railings, outdoor kitchens, and ocean views. They are also equipped with full-sized appliances, programmed lighting, and smart climate control. Property amenities include a spa, fitness center, cigar room, and wine room, movie room, game room, and children's room.
There is also an oceanfront pool, hot tub, restaurant, bar, and beach attendants that provide food and beverage service to residents.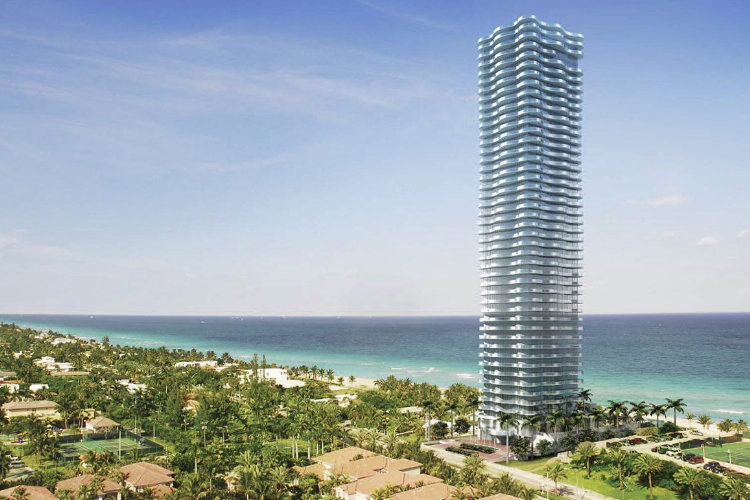 Regalia
Regalia Residences is also located in quiet Sunny Isles Beach between Miami and Fort Lauderdale. Regalia was built in 2013 and designed by Bernardo Fort-Brescia. It is an older development compared to the others on this list, but that doesn't make it any less elegant or luxurious.
In fact, the building itself has 39 units and 39 floors, meaning that each unit takes up a whole floor. This makes for 360-degree views via a wrap-around terrace and ample amounts of living space. 10-foot-high ceilings equipped with floor-to-ceiling windows allow plenty of natural light to enter. Each residence also has its own private elevator gallery.
Units also have a family room, dining room, separate breakfast space, a utility room with storage and a bathroom, a smart home system to customize the residence, and high-tech security features. High-quality stone and wood and customized furnishings can also be found in all units. There is also a private beach and two pools on the property with poolside cabanas that feature a refrigerator and sink.
Residents can focus on their health and wellness with a meditation room, fitness center, and spa with aromatherapy, among other services. A library, a children's room, and a business center round out the amenities.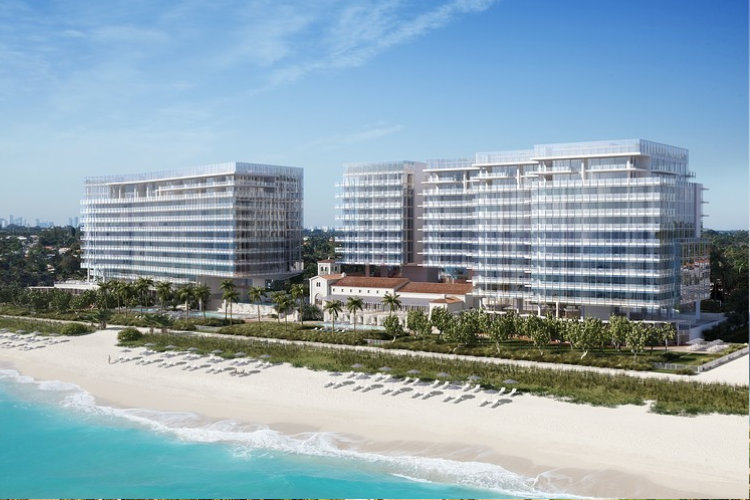 The Surf Club Four Seasons
Last on the list is The Surf Club Four Seasons Residences, located in Surfside. Surfside is a town located between Bal Harbour and Miami Beach and is a 30-minute drive from Downtown Miami.
Built in 2017, the Four Seasons Residences was designed by award-winning architect Richard Meier and consists of two towers for private residency and a Four Seasons hotel. The residences and hotel were built alongside The Surf Club, which has been around since 1930. One of the key design features is merging a historic building with new and contemporary construction.
Each of the residential towers is only 12 stories high but has 150 luxury residential units, 12 of which are penthouses. Each of the condos features floor-to-ceiling windows with ocean views, and each penthouse has its own private pool. The Surf Club itself sits on 9 acres of beach on the Atlantic Coast.
Residents have access to all the amenities that the hotel and Surf Club offer, including the pool and the famous Cabana Row. The cabanas feature terrazzo floors and overlook the ocean and tropical landscape. There is also a spa with individual treatment rooms, two boutiques, and a restaurant on the premises. The chef at the Surf Club Restaurant is Michelin Starred Thomas Keller, who features a menu of dishes that are prepared tableside. The Surf Club Four Seasons is the perfect mix of both Old and New Florida.
Conclusion
All of the condos featured here have a few things in common: modern technology and design, large glass windows that bring the sunshine indoors, ocean views, and luxury amenities. Additionally, many of them are located in areas close to Miami but without the hustle and bustle of a big city.