8 Reasons Why Tech Companies Are Moving To Miami
Posted by Discover Homes Miami on Tuesday, October 17, 2017 at 10:25 AM
By Discover Homes Miami / October 17, 2017
Comment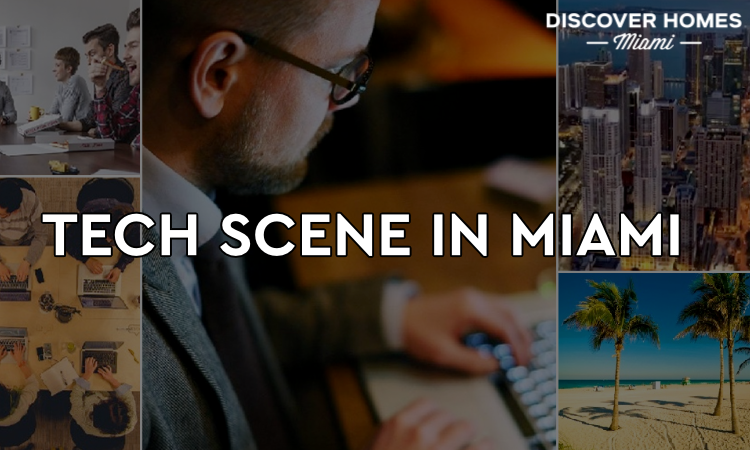 If you are wondering why more and more tech companies seem to be making the shift from the usual tech-saturated locations like the original Silicon Valley in the San Francisco Bay Area, New York City, and Seattle, over to Miami, you will find that there are actually quite a few reasons why. While these popular tech locales are still major hubs of technology, more and more start-ups, as well as established companies, find their businesses gravitating towards the southern end of the Sunshine State.
Why are a lot of these tech companies moving to Miami? Here are 8 good reasons why:
1. Abundance of Local Talent
This is one thing that most companies tend to look for when it comes to building a business that will thrive and succeed. Why look outside of your present location for talent when there are a lot to choose from in your own back yard? That is what Miami has, an abundance of local talent for tech that is relatively untapped.
With all the talent available within the borders of the county, there is really no need to look for them elsewhere.
2. Fresh Open Tech Ecosystem
When you say that Miami has a fresh and open tech ecosystem, it basically means that it is heading towards a possible increase not only in the number of companies that will move to the area but also in the enthusiastic investors needed to build the tech hub here. The number of investment groups that support some of the start-ups in the area may not compare with those in already successful tech hubs in the US, but it is seeing a lot of interest of late, which is why the tech sector here is steadily growing.
Not only are investors from everywhere thinking of Miami as the next big thing, but there are also lots of possible investors in the area itself, with the county having at least 40 of the 400 richest people in the US actually living here.
3. Gateway to Latin American Market
Tech companies that cater to the needs of not only the Latin American community in the US but also to those in nearby Latin American countries find that Miami is the perfect locale for them. This is because of its close proximity to these countries, the presence of an international airport within the county, and the number of Latinos in the community that can actually give some insight on what their counterparts need and want from a particular business.
This also makes Miami the perfect place for entrepreneurs from Latin America to bring their business, ensuring that there is a steady growth in the sector and the increase in income as well as revenues for the area.
4. Strategic Location for Europe and East Coast Markets
Aside from being great for tech companies that focus on Latin American markets, it is also a great place for those who focus on markets in Europe as well as the East Coast. The allure of the area is attributed to the fact that there is an international airport that has daily flights to these areas. Also being noted is the talent pool that is versatile and very diverse in the area too.
It is also strategically close to these areas, making it easy for people running these companies from these other places to come and go to Miami as they please.
5. Growing and Teaching Future Techies is Supported
One of the things that Miami takes pride in is its ever-increasing number of incubators and accelerators where the future of tech is being groomed. Mentoring up-and-coming techies from the younger set is done to not only increase interest in the sector but to also ensure that it has a local talent pool that can be tapped when needed. It is also done to help with the continued growth of tech in Miami and to create more jobs in the area.
This is taking a page out of the success of Silicon Valley where mentoring and developing fresh talent is encouraged and even funded by many companies.
6. Freedom to Start Something New
There is a reason why there are lots of start-ups in the area, with Miami being the city with the highest startup density in the country for 2016. This is because starting something new and creating something is easier here due to the openness and acceptance of ideas. Not only that but you also see a lot of venture capitalists starting to support more of these local start-ups year after year.
This kind of environment encourages more people to head for Miami to start something new since there is a better chance of seeing such ideas come to fruition here.
When you say that overhead costs in Miami are lower when it comes to tech companies, it is because of the fact that Florida does not have a state income tax. Not only that but tech personnel can actually work anywhere as long as there is a stable internet connection that can give them easy access to the cloud and to other web services that their business requires. This means that any startup can operate here out of an apartment, a rented shared space, and even a single bedroom home.
It is also a lot cheaper to live here than in any of the other tech hubs in the US, like San Francisco, L.A., and New York.
8. The Makings of a Tech Hub is On the Way
Because of the increased interest and influx of tech companies from all over, the creation of a tech hub is well on the way. The increase in the number of incubators, the increase in number of venture capitalists investing in the area, and the increase in the number of tech jobs in the area indicate such a dream is not far off. There are even companies that are now paving the way for such a thing to happen.
With local startups slowly gaining strength, the Miami tech hub and the future Silicon Valley of South Florida will soon be more than just a pipe-dream.