Living in Surfside, FL: 2021 Community Guide
Posted by Discover Homes Miami on Sunday, March 7, 2021 at 11:37 AM
By Discover Homes Miami / March 7, 2021
Comment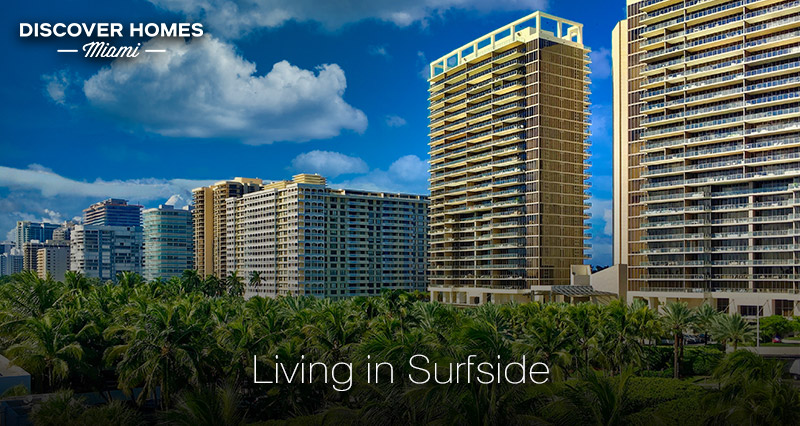 Credit: Jerome LABOUYRIE / Shutterstock.com
Surfside is a charming beachfront town in Miami-Dade County with a population of 5,500. Lying between Miami Beach and Bal Harbour, and bounded by the Atlantic Ocean to the east and the Bay Harbor Islands to the west, Surfside has quietly become one of the most desirable places to live in the Miami area.
Surfside is home to some of the most elegant and sought-after oceanfront condos in the Miami area, as well as quiet, residential neighborhoods featuring single-family homes.
Featuring a mile-long stretch of pristine beach, a diverse international population, and a vibrant shopping and dining scene, Surfside provides a quiet, sophisticated refuge for those who are looking for low-key living with a community-centric vibe.
Surfside residents enjoy a high quality of life, in part thanks to the progressive city government, which is committed to sustainable and green initiatives. Height restrictions limit new oceanfront developments to 12 stories, and further west, only single-family one- and two-story homes are allowed. These restrictions, along with an emphasis on maintaining an architectural style, help retain an intimate, small-town feel.
Let's take a closer look at what makes Surfside such a desirable place to live.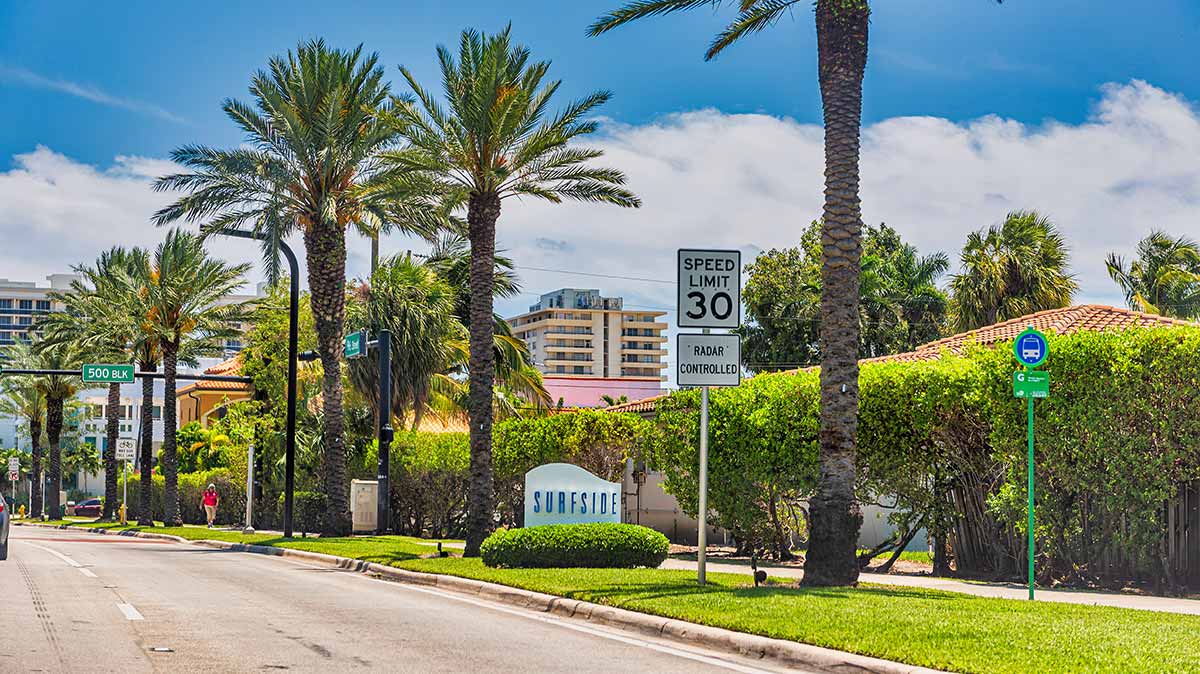 Entrance to the Surfside community. Credit: Kristi Blokhin / Shutterstock.com
Lifestyle and Culture in Surfside
Surfside's super-convenient location means residents can drive to downtown Miami in as little as 30 minutes, and many locals make the daily commute for work. The bustling Miami Beach neighborhoods further south are easily accessible via Collins Avenue, and South Beach is a 25-minute drive, depending on traffic.
Surfside is well-served by public transit, with Metrobus providing regular service to Miami and the surrounding neighborhoods. Locals also make full use of the town's free shuttle service, which connects to the awesome Miami Beach Trolley.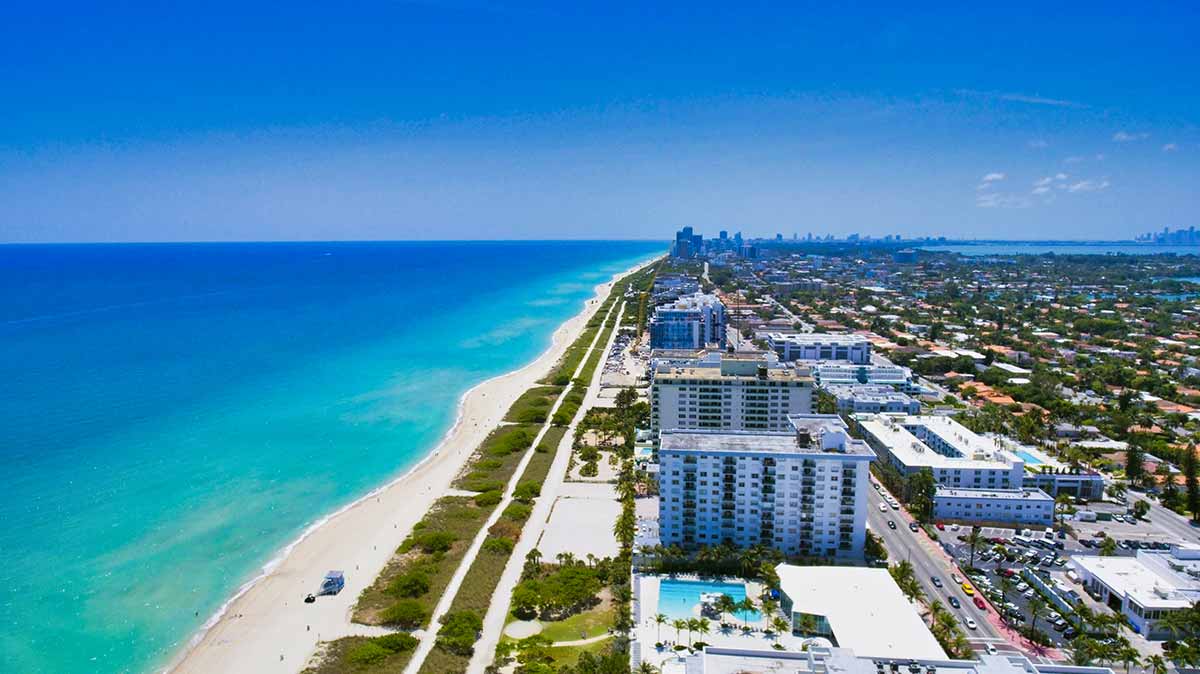 Oceanfront condos in Surfside, FL
South Florida's wonderful year-round climate is ideal for spending time outside, and Surfside residents enjoy an active outdoor lifestyle. Quiet neighborhood streets are ideal for strolling or cycling, which is how many locals get around daily. Much of life here revolves around the beach, of course, and the mile-long stretch of pristine sand is where locals come to exercise, socialize, and relax. A world away from the fashionable beaches further south, Surfside beach never feels crowded and provides a low-key spot to enjoy the sun.
Surfside residents have dozens of parks and green spaces within easy reach. North Beach Oceanside Park lies just to the south in North Beach and features walking trails, lush tropical landscaping, and a popular dog park. Further north, Haulover Park is another popular spot among local pooches and provides a favorite picnic spot. Nearby, Oleta River State Park, located in Biscayne Bay, offers a tranquil escape from city life, and it's here that Surfside locals come to enjoy a peaceful afternoon of kayaking.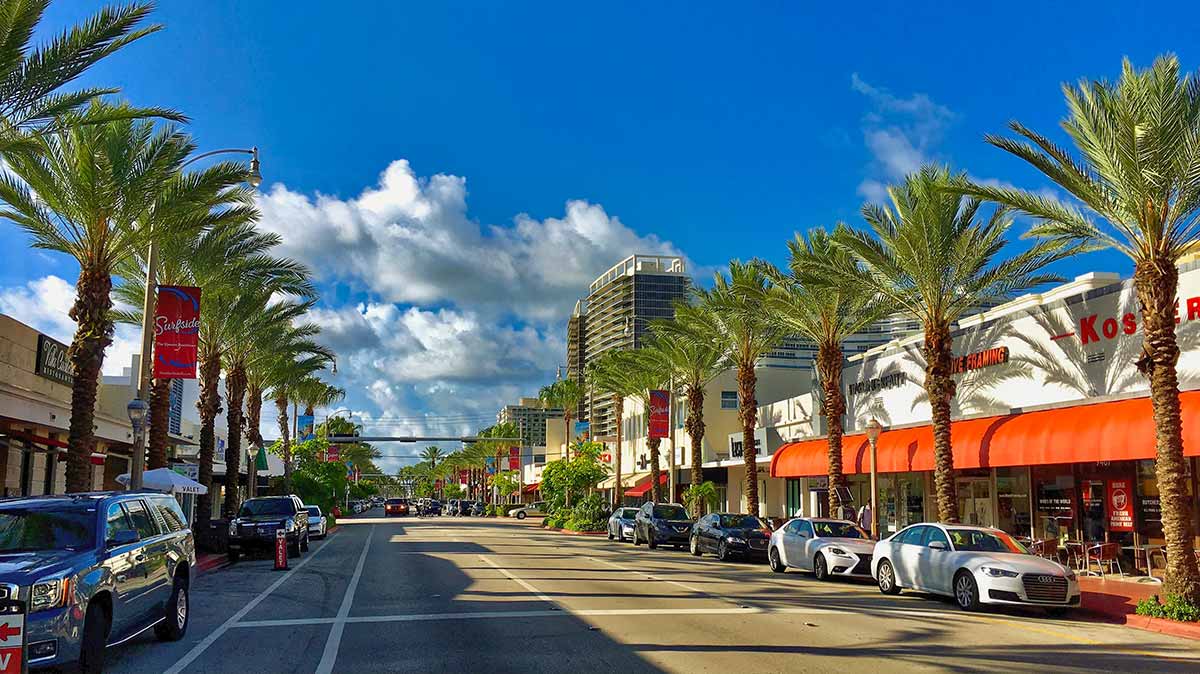 The main shopping strip in Surfside. Credit: Jerome LABOUYRIE / Shutterstock.com
Much of Surfside's shopping and dining is concentrated around Harding Avenue's commercial center, and these couple of blocks are defined by local, independent businesses. Many of these boutiques, salons, and bakeries have been here for decades and add to the town's community feel.
There's a diverse array of renowned eateries in the area, and the range of cuisine on offer reflects the eclectic, international mix of residents and visitors. There's food from all corners of the globe on offer, including Italian, Japanese, Greek, and Latin American. When the palm trees are lit up, and sidewalk tables are buzzing at night, the area feels vibrant and magical.
More upscale dining and nightlife can be found on nearby Collins Avenue, where you'll find Surfside's more luxurious hotels. The Grand Beach Hotel Surfside occupies 2 towers, each with its own rooftop cocktail bar and pool. The Four Seasons Hotel at the Surf Club offers an opulent champagne bar and a chic restaurant, helmed by Michelin-starred chef Thomas Keller.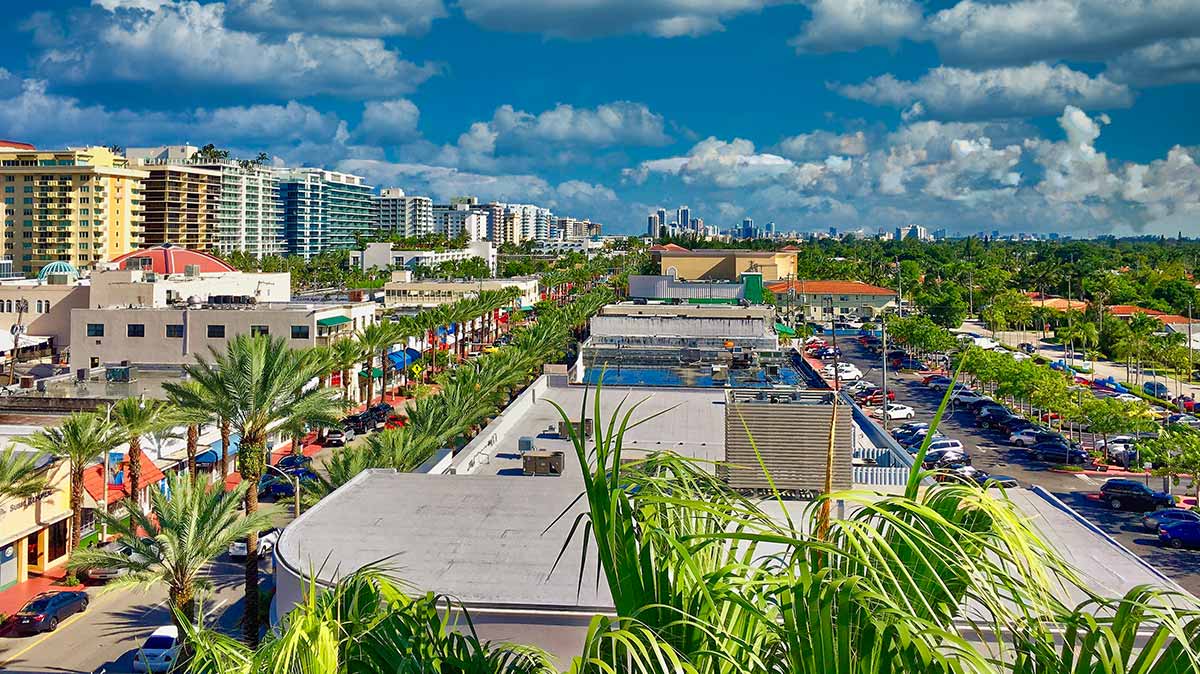 Surfside as seen from the roof of Bal Harbour Shops. Credit: Jerome LABOUYRIE / Shutterstock.com
Apart from Surfside's local boutiques, residents enjoy easy access to some of the most exclusive shopping globally, including the internationally renowned Bal Harbour Shops and Aventura Mall. Nearby South Beach is also a popular shopping destination among Surfside locals, and it takes no time to reach the bustling Lincoln Road and Espanola Way.
Surfside residents love to come together as a community, and there's always something going on. The Surfside Community Center plays an important role in local life, and many smaller events and gatherings are held here. From February to April, Third Thursdays is one of the town's biggest celebrations, bringing the community together for a family-friendly evening of music, entertainment, and food every month. Not content with just one monthly celebration, First Fridays gives locals another opportunity to come together for an evening of fun and food at the beach.
Art is celebrated at every turn here, and the local government is committed to investing in public art for all to enjoy. The Turtle Walk is a much-loved example of Surfside's public art scene. This awesome installation features 13 turtle sculptures, each painted by a renowned South Florida Artist, highlighting the importance of protecting the local turtle population. Other murals and sculptures dot the town, bringing color and culture to the community.
Things to Do in Surfside
Third Thursdays
One of the most popular local events, Third Thursdays, has been going strong for over 10 years, offering locals and visitors a chance to gather for an evening of family-friendly fun. This awesome block party, located at 95th Street, between Harding Avenue and Collins Avenue, is held throughout the winter months and always draws huge crowds.
There's always a fun, quirky vibe at Third Thursdays, and the fun includes live entertainment, music, and a delicious selection of food. The event is divided into 3 sections: a live music and entertainment zone, another that focuses on community culture and family-friendly activities, and a bustling food zone with a hydration station. Third Thursdays continue to grow, and there's a different theme every month.
Surfside Farmers Market
Located at the corner of 95th Street and Collins Avenue, in the heart of Surfside, the Farmers Market comes alive every Sunday from 9 am - 3 pm. This is the place for locals to come and support local producers, and there's an excellent selection of locally-grown fruit and produce.
The Surfside Farmers Market is getting bigger and more popular, and new vendors are added every week. You'll find herbs, spices, body care products, and chic bohemian clothing, as well as prepared food and plants here, and the friendly atmosphere is hard to resist. Dogs are welcome, and many locals stop by to grab a coffee and chat with their neighbors as part of their Sunday routine.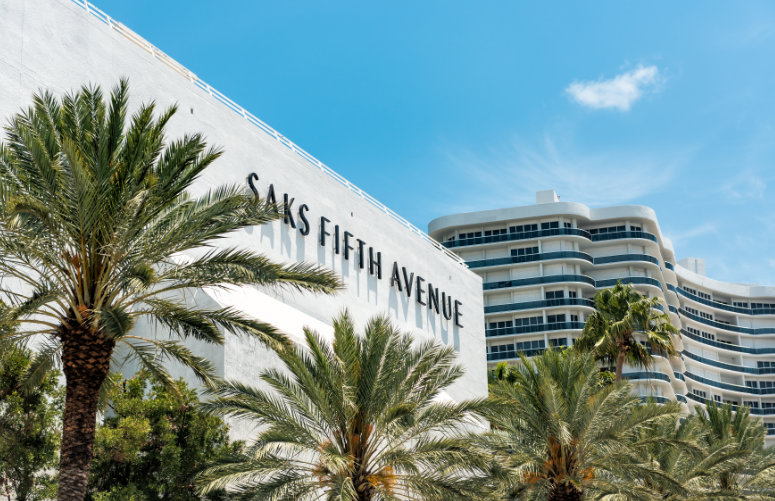 Saks Fifth Avenue at Bal Harbour Shops. Source: Kristi Blokhin / Shutterstock.com
Bal Harbour Shops
This world-famous shopping destination lies just to the north, in Bal Harbour. An impressive collection of designer boutiques and high-end restaurants, Bal Harbour Shops is a beautiful outdoor mall that features tropical landscaping and tranquil pools.
A favorite destination for celebrities, socialites, and fashionistas, Bal Harbour Shops is a legendary fashion mecca, featuring brands like Stella McCartney, Chanel, Gucci, and Alexander McQueen. There are also several dining options, ranging from casual to super-upscale. Locals flock here to enjoy innovative Asian fusion at Makoto, top-class Italian cuisine at Carpaccio, and chic French dining at Le Zoo.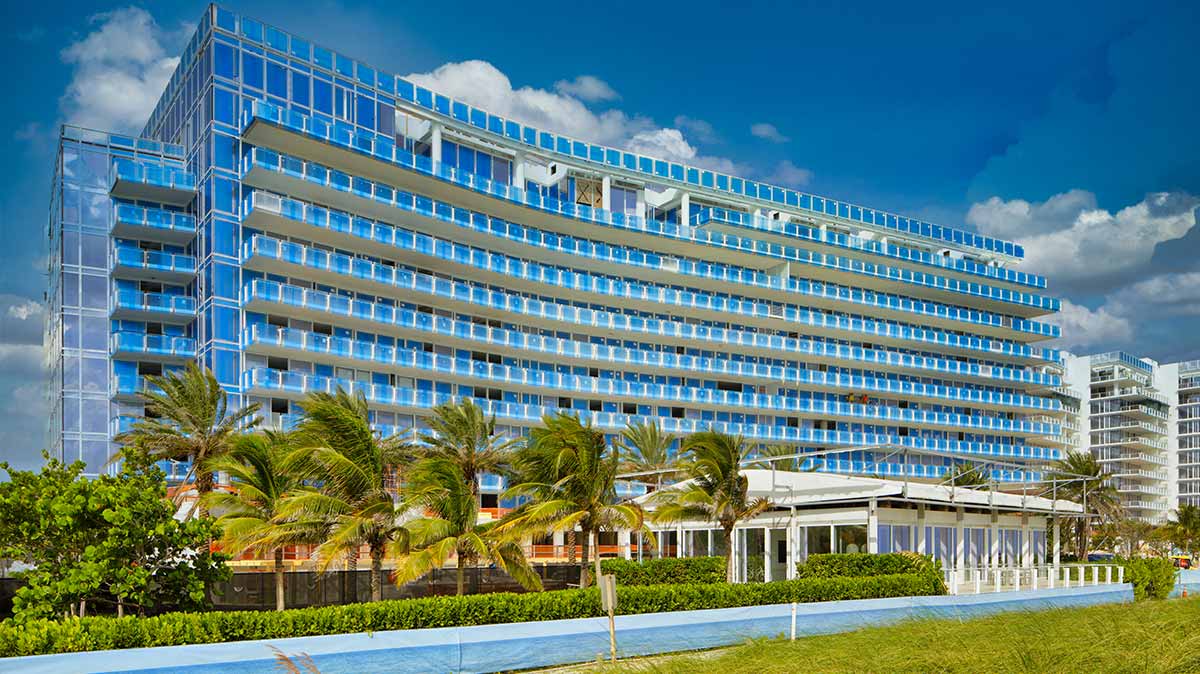 The Surf Club at Four Seasons. Credit: Felix Mizioznikov / Shutterstock.com
Four Seasons Hotel at the Surf Club
When Surfside locals want to pamper themselves with an exclusive and luxurious experience, they come to the Four Seasons Hotel on Collins Avenue. Opening in 2017, the Four Seasons at the Surf Club was a game-changer for Surfside, bringing a new caliber of luxury to the town.
The historic Surf Club has been re-envisioned by Pritzker Prize-winning architect Richard Meier, and the original ballroom has been transformed into a glamorous champagne and cocktail bar. It's here that Surfside residents come to enjoy a drink after visiting the hotel spa, which offers an array of body treatments, as well as massage, yoga, and meditation.
The Four Seasons is also home to the Surf Club Restaurant, which offers Michelin-starred chef Thomas Keller's culinary creations, perfect for enjoying an excellent meal after a relaxing day.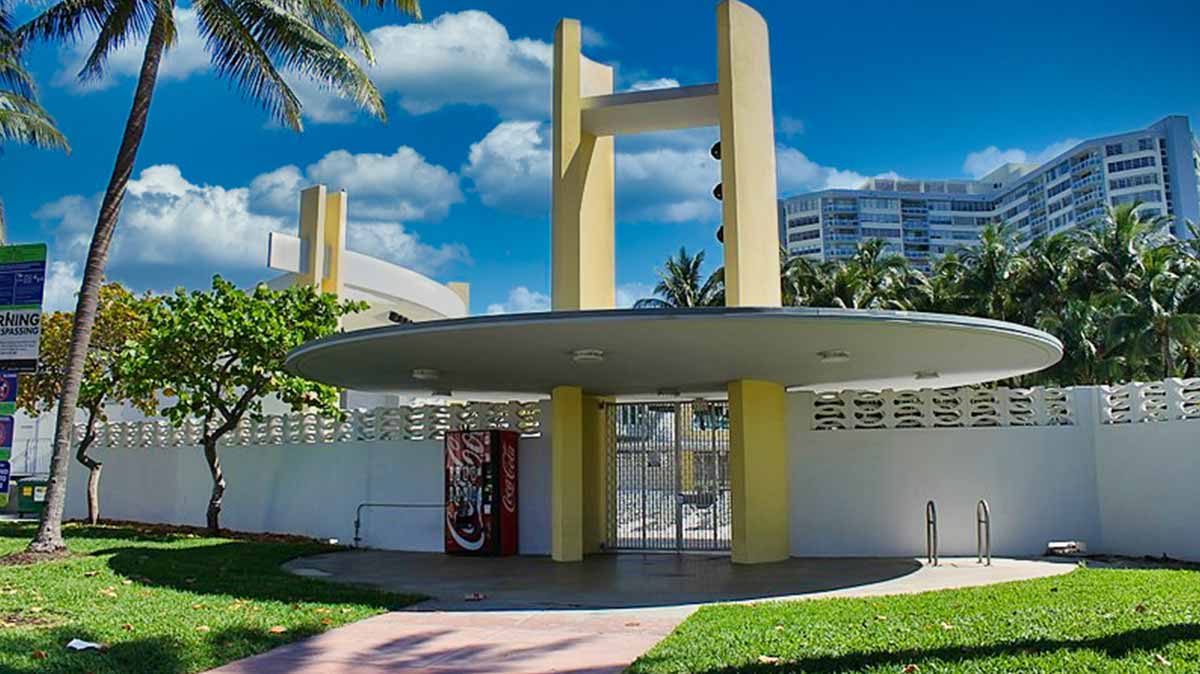 North Shore Bandshell. Source: Phillip Pessar
North Beach Bandshell
Located near the beach in the North Shore Historic District, this open-air amphitheater is a popular destination among Surfside residents. Built in 1961, the North Beach Bandshell is a gorgeous example of whimsical Miami Modern architecture and hosts shows and events almost every night.
Since 2015, the Rhythm Foundation has run the Bandshell, and there's a constant lineup of local and international musicians. Concerts range from fun-filled dance band nights to intimate performances from hipster indie bands, and the audience is always a diverse mix of young and old.
The North Beach Bandshell has always been an important community gathering place. The recently renovated Bandshell Park is a welcome addition, providing a beautiful and relaxing green space to relax before or after a show.
Parks and Recreation in Surfside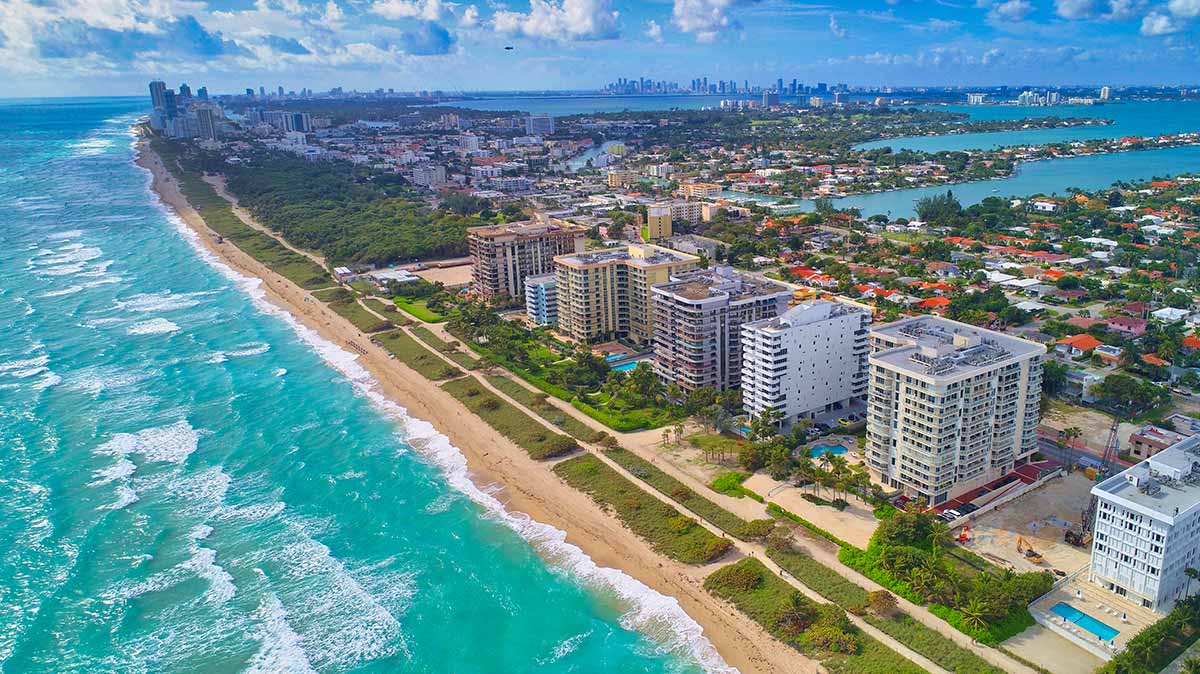 The pristine Surfside beach
Surfside Beach
With its sugary sand and laid-back vibe, Surfside's mile-long stretch of beach attracts those who are looking for a peaceful place to relax.
The turquoise waters of the Atlantic Ocean lap at the shore, and lush dunes provide a barrier between the beach and oceanfront property. A pathway runs the beach's length, providing locals and visitors with an opportunity to stroll, cycle, or jog while enjoying stunning views over the ocean.
There's always a lifeguard on duty here, and the family-friendly atmosphere is a far cry from the busy beaches farther south. Surfside Beach is an ideal place to bring a picnic, lay out a beach blanket, and let the day melt away.
North Beach Oceanside Park
Just outside Suirfside's southern border, North Beach Oceanside Park is a natural, calming oasis. The park is shaded by old-growth sea grape and palm trees and offers pavilions, picnic tables, and grills. Locals gather here for family events, and although the park is popular, it never feels crowded.
North Beach Oceanside park features a fantastic kids' playground, as well as an off-leash area for dogs. There's also a network of trails that pass through the lush tropical landscaping and lead to the fantastic beach. Bordered by sand dunes, the beach is seldom crowded, and it's easy to forget you're in the middle of an urban area.
Normandy Shores Golf Club
Located in the Normandy Isles neighborhood, this is a super-popular, family-friendly golf club. Normandy Shores has been going for over 50 years and is now maintained by the City of Miami Beach. Renovated at the cost of $9 million, the course has been redesigned by architect Arthur Hills, and the beautifully landscaped course is immaculately maintained.
The 18-hole, par-71 course is 6,805 yards in length and offers a challenging experience for golfers of all skill levels. Sunday Family Funday is a popular time for parents to spend time golfing with their kids, and entrance fees are waived for juniors.
Normandy Shores offers individual or group lessons for golfers of all ages, and there are also a pro shop and practice facilities. The Normandy Shores Grill is the place to be after a round and has a full bar and a superb outdoor patio.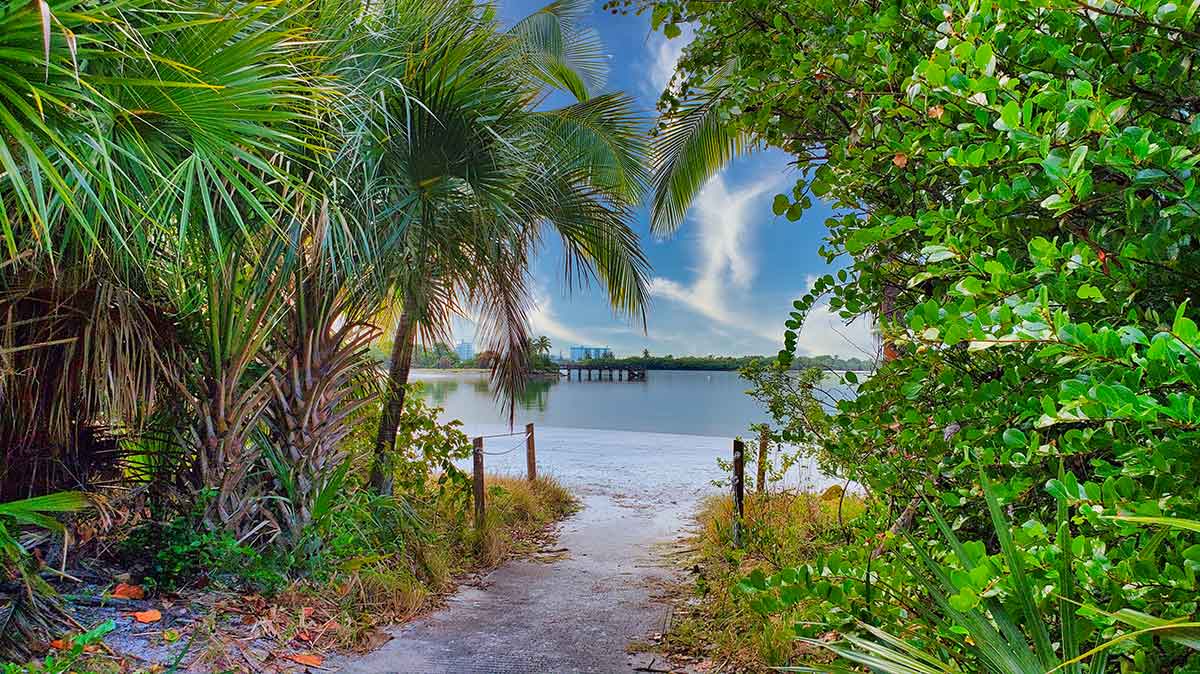 Oleta River State Park
Oleta River State Park
Located in a protected river estuary, Oleta River State Park encompasses over 1,000 acres of incredible greenspace in Biscayne Bay. This is Florida's largest urban park and offers visitors the chance to swim, hike, kayak, and camp in a tranquil and serene environment.
Kayaking is the best way to experience the park, and kayaks can be rented, as well as stand-up paddleboards. Cruising the calm waters in a kayak through tangled tidal mangrove forest is an amazing experience, and you'll be unlucky not to spot fish, crabs, and several species of birds.
There are 3 miles of hiking trails, leading through the trees to a small sandy beach. Along the way, it's possible to see dolphins and manatees, as well as beautiful tropical flowers. The beach is the perfect place for a refreshing dip, and you'll quickly forget that you're in the middle of a city.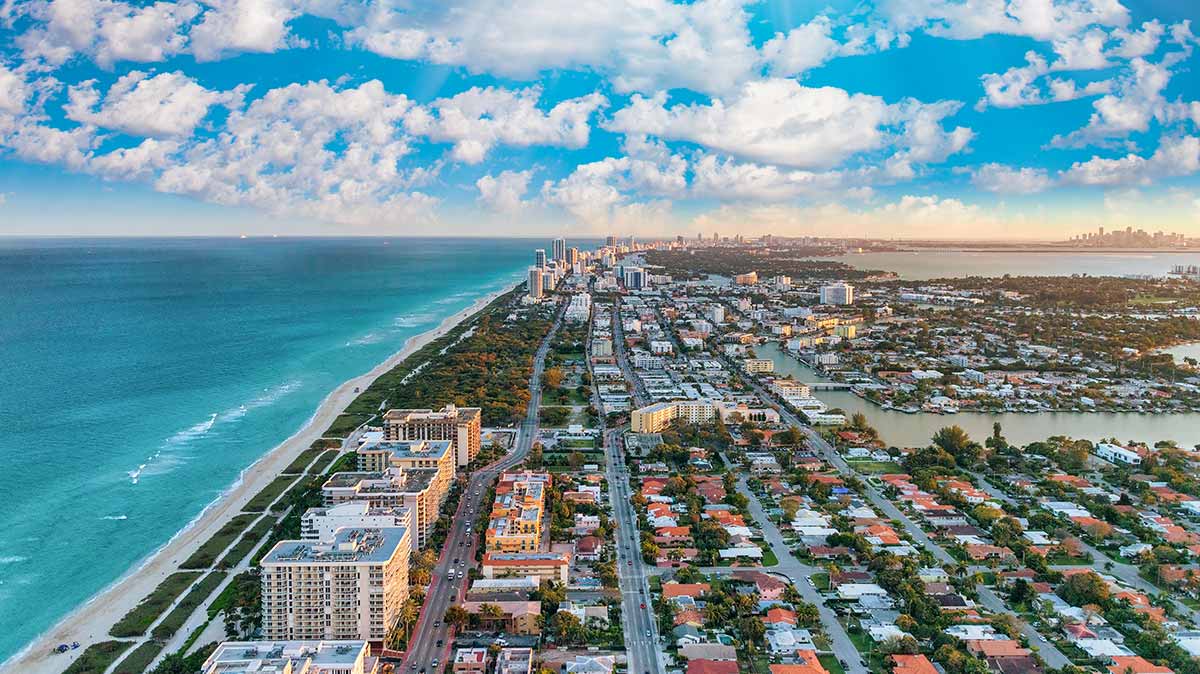 Surfside's real estate is oceanfront condos and inland houses
Surfside Real Estate
Real estate in Surfside comprises exclusive, luxury condos in oceanfront developments and more modest single-family homes away from the ocean. Along the Intracoastal Waterway, prices rise dramatically, and it's here that some of the most expensive and sought-after single-family homes can be found.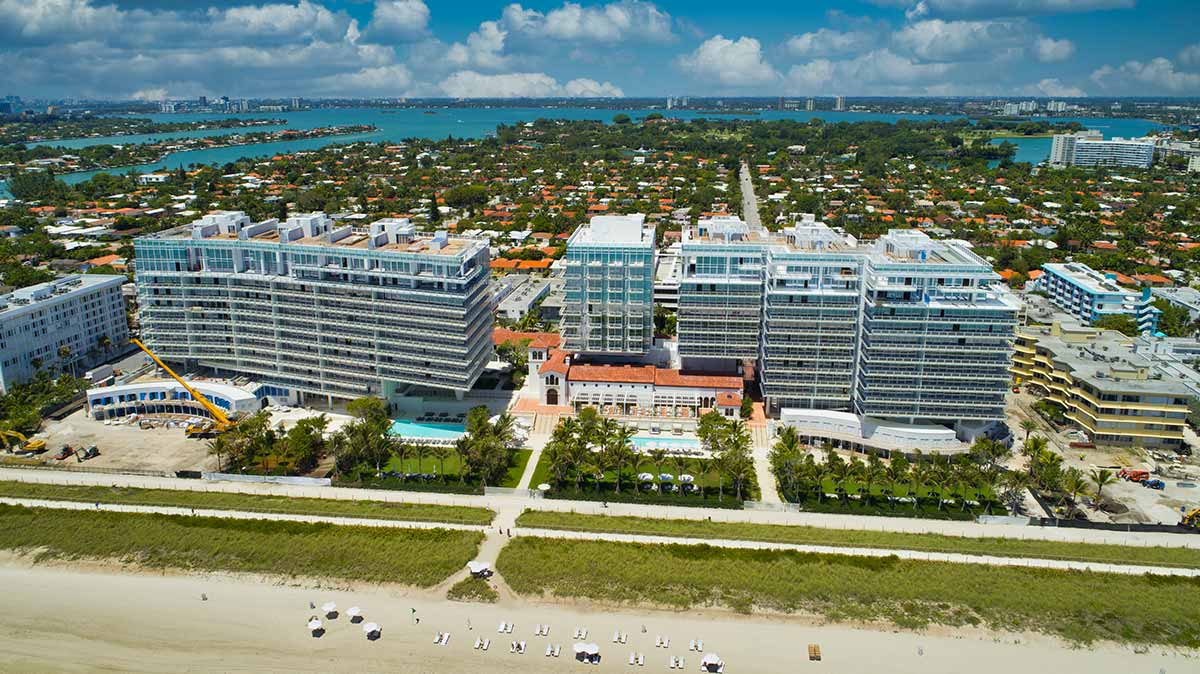 Surf Club while it was under construction (on left). Credit: Felix Mizioznikov / Shutterstock.com
Surf Club Four Seasons
This luxury development encompasses two 12-story towers on either side of the Four Seasons Hotel. The towers were designed by architect Richard Meier, who also designed the interiors of the 150 private residences.
Residences range in size from 1,400 to 8,000 sq ft, and there are many corner residences with open-flow designs, offering both sunrise and sunset views. Residences feature incredible chef's kitchens, spacious bathrooms, and huge master suites. Many residences also feature staff quarters with separate baths.
Residents have access to all hotel amenities, and the development offers 965 feet of exclusive private beachfront access - the largest expanse of any South Florida condo enclave.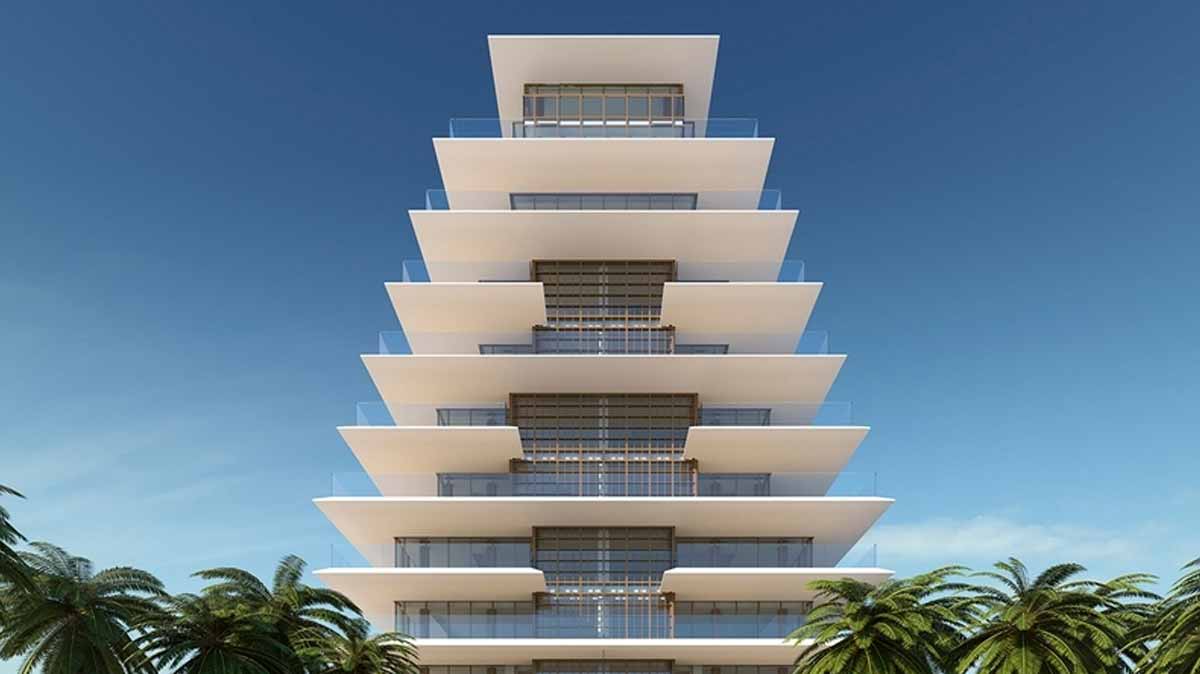 Arte Surfside
This 12-story, 16-unit oceanfront enclave was designed by famed architect Antonio Citterio and features ultra-luxury residences that provide a unique living experience.
Residences are available in 3-, 4-, and 5-bedroom configurations, ranging in size from 3,150 to 7,550 sq ft. Residences are designed to flow from indoor to outdoor living space and feature amazing ocean views from enormous terraces. Luxury touches include designer kitchens with Gaggenau appliances and Italian marble countertops.
Arte Surfside offers resort-style amenities, including a 75-foot indoor pool, an outdoor pool, rooftop tennis courts, and a state-of-the-art fitness center. There's also a yoga studio, steam room, and meditation pond, as well as a kids playroom and residents' lounge with billiards table.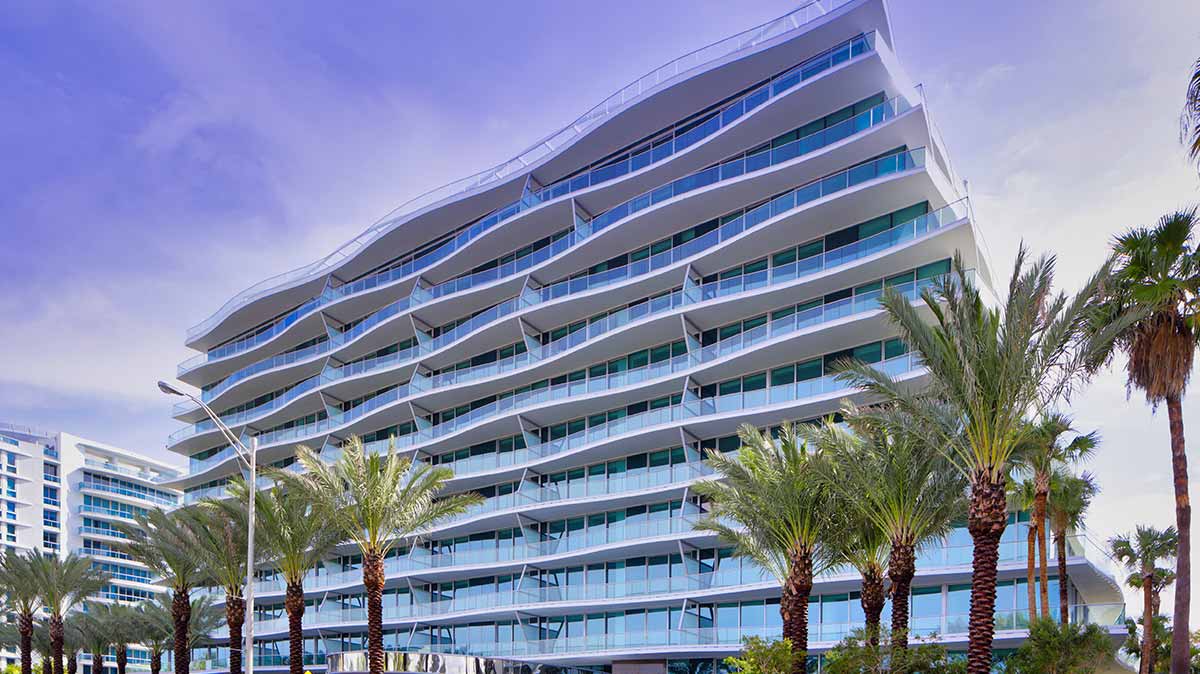 Fendi Chateau. Credit: Felix Mizioznikov / Shutterstock.com
Fendi Chateau Residences
This boutique development near Bal Harbour comprises 58 luxury residences with exclusive flow-through designs. Situated right on the beach, Fendi Chateau Residences offers unparalleled views and luxury living.
Residences range from 3 to 5 bedrooms and feature 10-foot ceilings, terraces up to 12-feet deep, and dedicated elevators with private foyers. Chef's kitchens offer state-of-the-art appliances, and bathrooms feature opulent Italian marble. Residences also feature spacious master suites with the option of his and hers master baths, as well as staff quarters with laundry and separate baths.
Fendi Chateau Residences was designed by world-renowned Arquitectonica, with interiors designed by Fendi, in collaboration with Fanny Haim. The development offers three penthouses with private rooftop decks and pools.
Additional Reading
Here are some articles we've written about communities near Surfside: