Star Island, Miami Beach: Mansions & Celebrity Residents
Posted by Discover Homes Miami on Saturday, January 16, 2021 at 11:17 AM
By Discover Homes Miami / January 16, 2021
Comment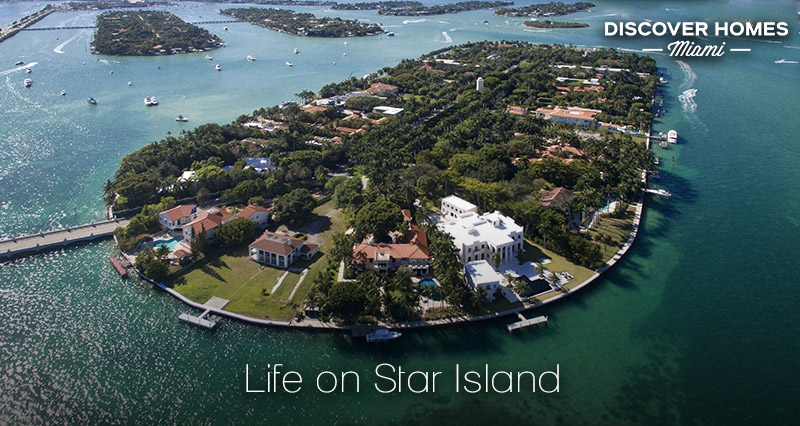 Star Island is a gated community located on an artificial island that lies off the MacArthur Causeway in between the main islands of Miami Beach and mainland Florida. From classical architectural wonders to modern mega-mansions, this luxurious neighborhood on the sea has seen its share of history, glamor, fame, and even drama.
In this article, we discuss what makes Star Island so special and list some of its celebrity homeowners.
The History of Star Island
As an artificial island, Star Island was not around for Miami Beach's 19th Century origins. However, by the early 20th Century, the railway reached Miami-Dade County, and developers began to realize Miami Beach's potential as a resort town.
As entrepreneurs and the government improved the land, the town grew. Part of this improvement involved draining marshes and leveling islands as well as making totally new islands. Star Island was one of these, created in 1922 by the Army Corps of Engineers through sand dredging.
Carl Fisher was the first man to own Star Island, along with much of the land in Miami Beach. A self-made man, Fisher was a renowned entrepreneur and promoter who seemed to have a magic ability to make anything popular and trendy.
Starting with a single bike repair shop, Fisher eventually got into the automobile parts industry and played a large role in popularizing the automobile and highway lifestyle in the United States. Eventually, his ventures turned into real estate development, creating popular destinations for highway motorists, of which Miami Beach was one of his favorites.
Star Island quickly became prize real estate with famous architects like Walter De Garmo building large mansions for some of the most important people in the United States. Through the decades, new residents have torn down many of the old mansions and built new ones, but the exclusivity and glamor of the island have remained constant.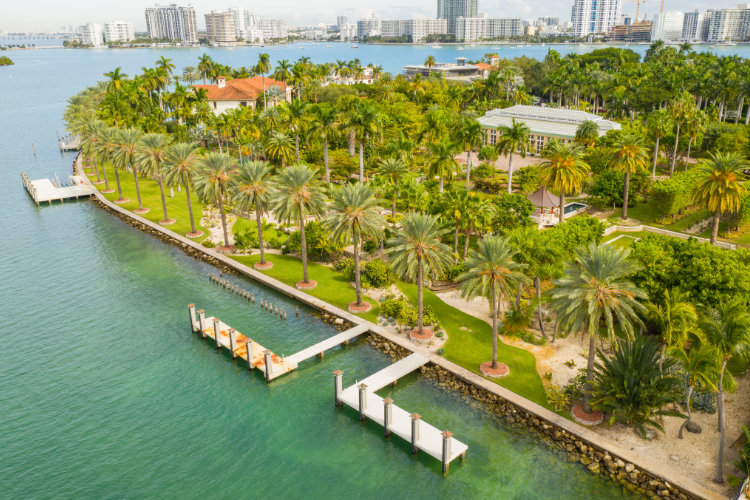 Private docks along the edge of Star Island
The Lifestyle of Star Island's Rich and Famous
Star Island's lifestyle epitomizes the lifestyle of America's rich and famous. There are nearly as many pools and tennis courts on the island as there are mansions, many of which you might recognize from music videos and films.
Naturally, Star Islands residents enjoy their privacy. That's part of why they live on an island after all. The houses are all tucked away and secluded, though that doesn't mean there isn't the possibility of friendships between the residents. Indeed, many people who live on Star Island enjoy entertaining, and many of the houses include large guest quarters and pool houses.
There can also be drama as well, oftentimes over plans to renovate, demolish or build homes. For example, Real Housewife of Miami Lisa Hochstein and her husband Leonard Hochstein once got in a feud with some of the island's residents over construction plans for 42 Star Island Drive.
Of course, the lifestyle on the island is ultimately one of great luxury. It's common to see a lot of new faces on the island because there are also service people like gardeners, pool cleaners, yacht crews, and drivers coming and going. The residents of Star Island are used to having everything they need with a snap of their fingers.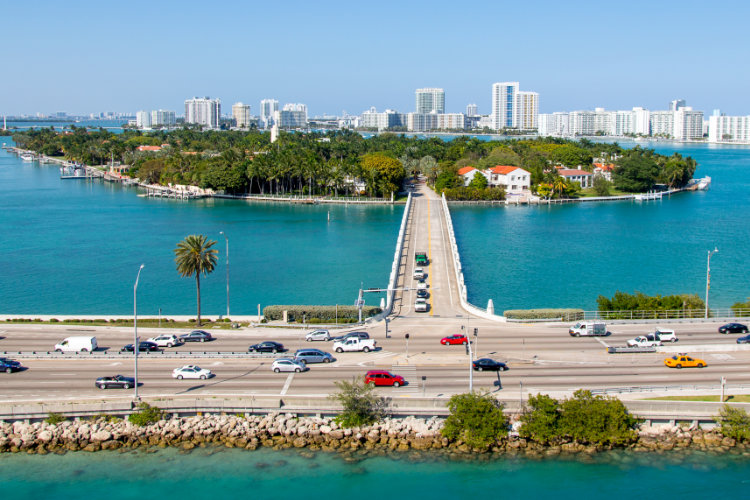 Entrance to Star Island from Miami MacArthur Causeway
Access to Star Island and Its Amenities
Star Island is a gated community. The only way to access the neighborhood is by boat or a single bridge that connects the island to the MacArthur Causeway, the main highway that joins Miami Beach to mainland Florida. The bridge, which forms Bridge Road, arrives at a guarded gate before turning into Star Island Drive which makes a loop in the center of the island and serves all the homes.
Although there are a guard and gate, Star Island is technically public. In fact, many guided tours go through the neighborhood in order to see the mansions of the many celebrities who live there. There are also boat tours that circle the island.
Private individuals can sometimes gain entry to Star Island Drive where they can view the homes, though they do have to speak with the guard first. Usually, they can enter as long as they seem safe and promise not to loiter.
Architecture on Star Island
Star Island is well known for its architecture. It's a point of pride as well as occasionally a point of contention. Many of the homes were built by famed Miami architect Walter De Garmo who was active in the early 20th Century.
De Garmo's work is considered neo-Classical, Mission Revival, and Mediterranean Revival, which means a lot of structures call back to colonial Spanish or Venetian architecture like white-walled stucco villas featuring courtyards, arches, clay shingles, and columns.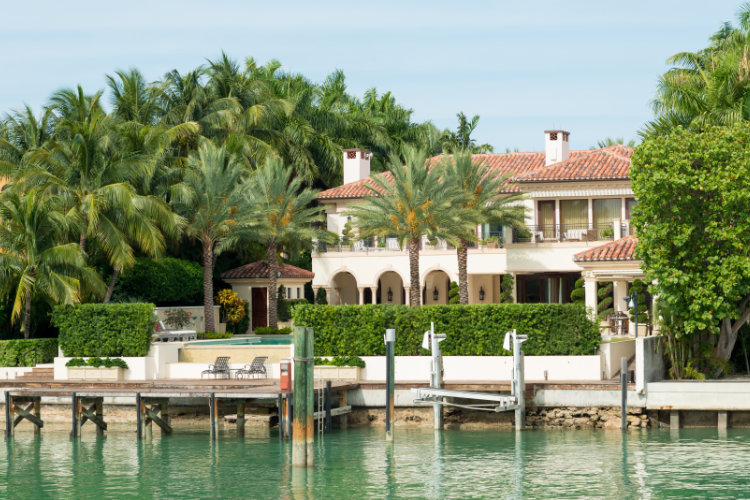 Mediterranean home on Star Island
In some cases, new residents on Star Island have sought to demolish old De Garmo homes, leading to resistance from the surrounding community. Other residents have opted to physically move classical De Garmo houses.
A famous example is 27 Star Island Drive, where new owners decided to move one of De Garmo's most famous works known as Casa Di Paolo to the other side of the property to make way for a new, larger home. The original De Garmo mansion included 12 bedrooms and will now serve as the guest house for the new residents.
Notable Star Island Homes and Residents
Imagine walking out your front door and seeing Emilio Estefan jogging down the street. Or maybe looking into your neighbor's backyard to see P. Diddy swimming in his pool. What about waving to Shaq as he pulls his yacht into his dock?
Star Island lives up to its name, as it's home to some of the country's wealthiest and most influential individuals. Here are some of the current and former owners of property on Star Island: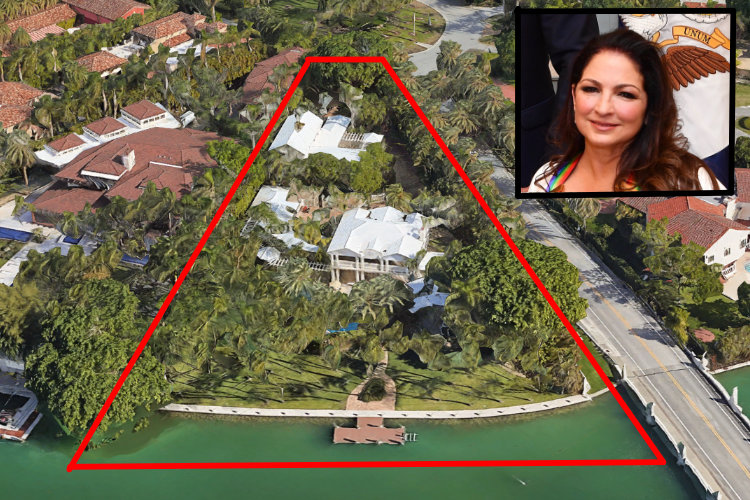 Satellite photo of 1 Star Island
Gloria Estefan - 1 Star Island Drive
1 Star Island is one of the first houses you can see when driving onto the island. The home is also known as Nena's Villa and is owned by the famous Cuban-American singer Gloria Estefan. She has reportedly rented it out in the past. A month in the guest house will cost you $30,000 a month, or you can rent the entire property for $75,000 a month.
Nena's Villa is classified as a "Floridian Villa" and has a long circular driveway that splits, leading to a white, two-story, terraced mansion matched with a somewhat smaller guest house. Like all homes on Star Island, Nena's Villa has access to Biscayne Bay and views of the sea pointing toward the MacArthur Causeway. The house features an outdoor kitchen, a pool, and two hot tubs.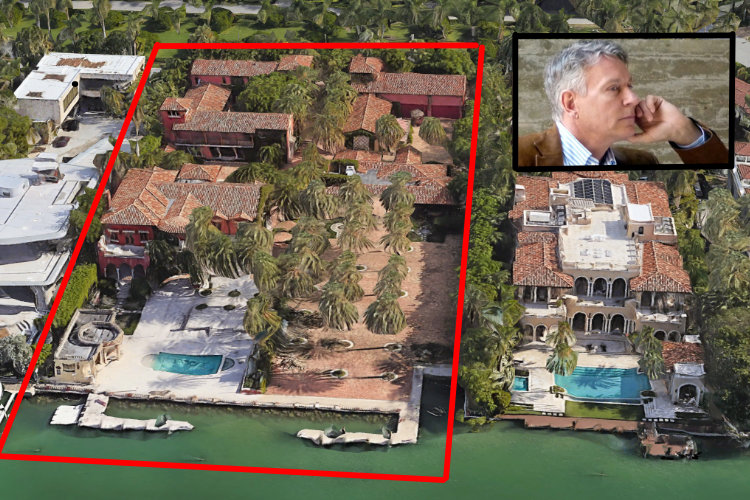 5 Star Island. Source: Thomas Kramer (modified from original)
Thomas Kramer - 4 & 5 Star Island Drive
Thomas Kramer is a German-born real estate developer and entrepreneur known for a number of projects in Miami Beach. His Star Island estate was known for its strange style and wild parties, some of which have aired on TV shows like the Real Housewives of New York City. The inside of the house was sometimes described as "Wagnerian" with Victorian-era decorations, animal skins, and large paintings.
Thomas Kramer sold this estate in 2018 to Stuart Miller.
Stewart Miller - Multiple Lots
Stewart Miller is the CEO of the Lennar Corporation, a construction and real estate company based in Miami and the largest home construction company in the United States. It makes sense then that Miller and his family have been involved in many real estate dealings and construction projects on the island.
In fact, the Miller family owns a number of other houses on the island through the Trust of Brian Bilzin, a partner at the law firm Bilzin Sumberg. These allegedly include 4, 5, 6, 11, and 12 Star Island Drive. Miller sold 22 Star Island Drive for $49.5 million in 2020.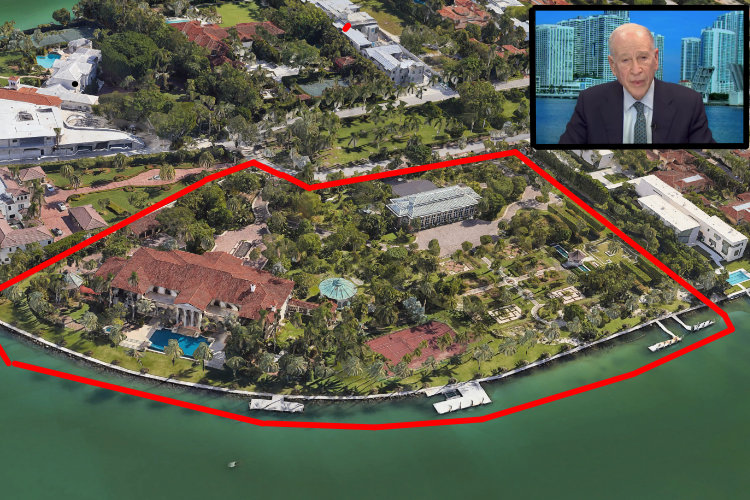 Satellite photo of 21 Star Island Drive
Phillip Frost - 21 Star Island Drive
Phillip Frost is a billionaire who made his fortune through a number of pharmaceutical companies. He owns large market shares of companies like ChromaDex, MusclePharm, and Protalix and has served on the board of directors for companies like Northrop Grumman and OPKO Health.
Frost's villa at 21 Star Island Drive is on the northern side of the island and includes a 37,240-square-foot house on an over six-acre plot, making it one of Star Island's largest and most elaborate properties.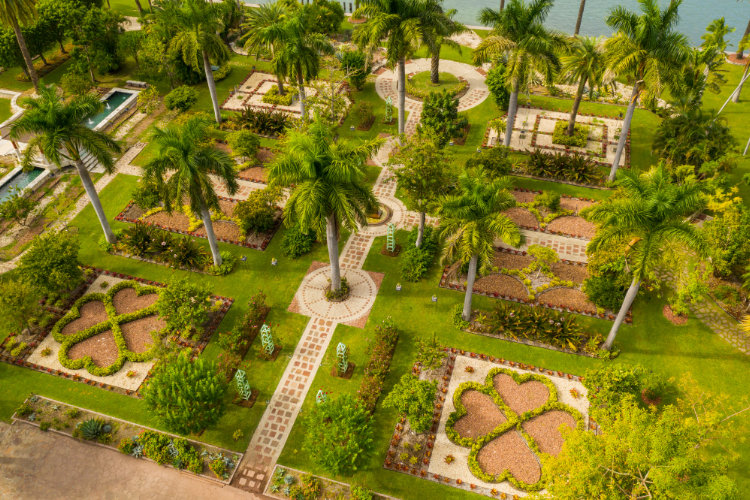 Aerial view of 21 Star Island's elegant gardens
A large garden overlooks the sea and several boat docks, and a large fountain decorates the gated driveway leading to the mansion. The house, which matches the standard Floridian Villa style of the neighborhood, also features a tennis court and pool.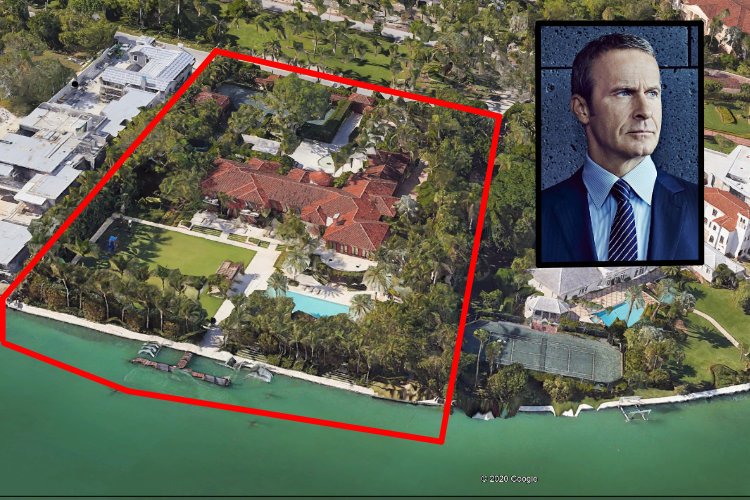 Sattelite view of 26 Star Island Drive. Image source: Vladislav Doronin (modified from original)
Vladislav Doronin - 26 Star Island Drive
Vladislav Doronin is the CEO of OKO Group, an international real estate development company operating primarily in New York and Miami. Doronin is a Russian national who originally became successful by starting Capital Group, a real estate company in Moscow. Doronin has made headlines due to his romantic relationships with models Naomi Campbell and Kristina Romanova. His home includes a classical entryway with a circular fountain, a pool, and a tennis court.

Emilio and Gloria Estafans - 39 Star Island Drive
Emilio and Gloria Estefan have owned 39 Star Island Drive since 1986. The villa is elaborately landscaped with a lot of palm trees and has a tennis court in the front yard and a pool in the back.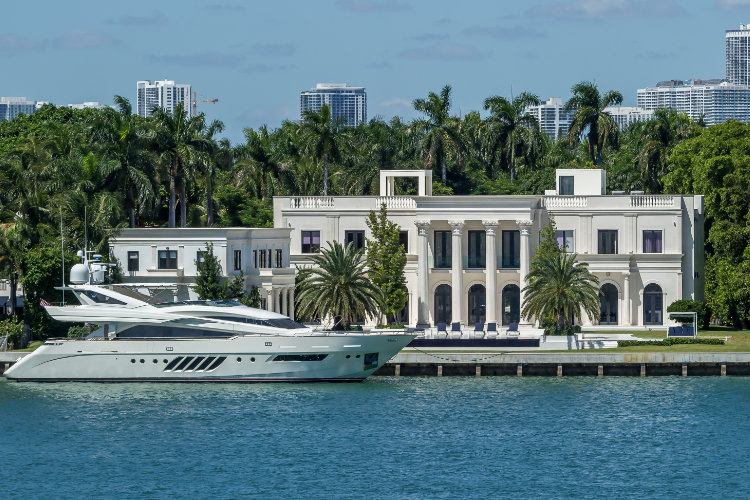 Neoclassical architectural influences at 42 Star Island (after demolition)
Lisa Hochstein - 42 Star Island Drive
42 Star Island Drive has become famous due to its significance in the Real Housewives of Miami TV show. Real Housewife Lisa Hochstein owns the home along with her husband, plastic surgeon Leonard Hochstein.
In 2013, the Hochstein's applied to demolish the house they had originally bought with the property. This was a pre-WWII neo-Classical house built in 1925 by famed Miami architect Walter De Garmo, and historical preservationists petitioned to block the demolition.
Ultimately, however, the Hochstein's won and moved forward with their plans to build a 20,000-square-foot mansion with six bedrooms, seven bathrooms, a game room, and a wine cellar.
David and Linda Frankel - 43 Star Island Drive
43 Star Island Drive is one of the more famous homes on Star Island, primarily because it was formerly owned by famous actress and television host Rosie O'Donnell.
More infamously, it was also once the headquarters for the Ethiopian Zion Coptic Church, which turned out to be a front for a marijuana smuggling operation. The landscaping is notable on this house, dividing it from the other properties and blocking much of its back yard and pool which face the MacArthur Causeway.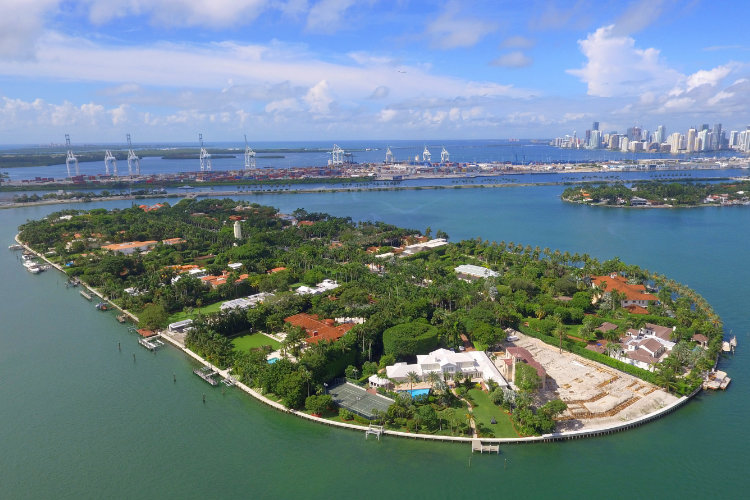 Star Island Climate
One of the reasons that Star Island attracts the world's rich and famous is its climate. As part of Miami Beach, it lies in one of only two cities in America that have never experienced freezing temperatures.
The island's location on the sea in Biscayne Bay makes the climate and temperature even milder than in mainland Miami itself with average January lows around 61 degrees and average August highs around 89 degrees. This causes the seawater to usually stay between 75 and 86, meaning boating and swimming are comfortable year-round.
The rich and famous also enjoy Star Island's sunlight, whether out by the pool or on the yachts docked right in their backyard. Every month on Star Island receives over 200 hours of sunshine, which equates to about 70% sunshine per day. Just about every day of the year has some period of sunshine to enjoy, even during the rainy season.
Speaking of which, Star Island also gets a lot of rain. Southern Florida is classified as a "tropical monsoon" climate, which means large storms regularly move through the area, especially during the months of May-October. With an average of 15 rainy days, June is the rainiest month. In general, this isn't really a problem, though. A large amount of moisture makes the beautifully landscaped mansion properties lush with palm trees possible.
Of course, powerful storms aren't all roses and palm trees. In August and September, Miami Beach and therefore Star Island are especially susceptible to hurricanes. These damage structures, vehicles, and boats in Miami Beach and can cause flooding and evacuations.
Star Island tends to fare a bit better than the other islands of Miami Beach, mostly because the residents can more readily afford the quality infrastructure and hurricane preparedness measures. That doesn't mean they're immune, though, and strong winds sometimes damage expensive boats and structures.
Additional Reading
If you're wondering about what life is like on other expensive Miami islands, check out some of our guides to other nearby islands: