Living in South of Fifth, Miami Beach: Neighborhood Guide
Posted by Discover Homes Miami on Friday, February 26, 2021 at 8:35 AM
By Discover Homes Miami / February 26, 2021
Comment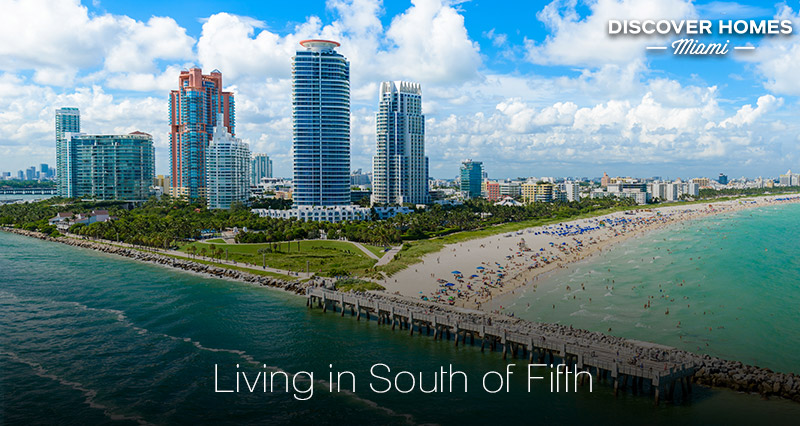 Extending from South Pointe Park, at the tip of Miami Beach, to Fifth Street a few blocks north, South of Fifth is a small neighborhood that's seen big changes in the last few decades. Before a handful of visionary developers took a chance on South of Fifth's potential, the area was home to run-down buildings and criminal activity.
Today, South of Fifth has some of the most luxurious residences in the country, home to celebrities and wealthy executives. It has become one of the most coveted places to live in the Miami area.
Surrounded by water on three sides and offering stunning views at every turn, South of Fifth is a tranquil residential enclave that features impressive high-rise condo towers as well as low-rise residences and restored Art Deco buildings.
Affectionately referred to as SoFi by locals, this neighborhood has boomed in popularity in recent years yet retains a laid-back, community-centric vibe. Locals enjoy walking the quiet, tree-lined streets and dining in local eateries, and the atmosphere feels a world away from the nightlife, hustle and bustle, and constant action that has made South Beach famous.
Let's take a closer look at what makes South of Fifth such a desirable place to call home.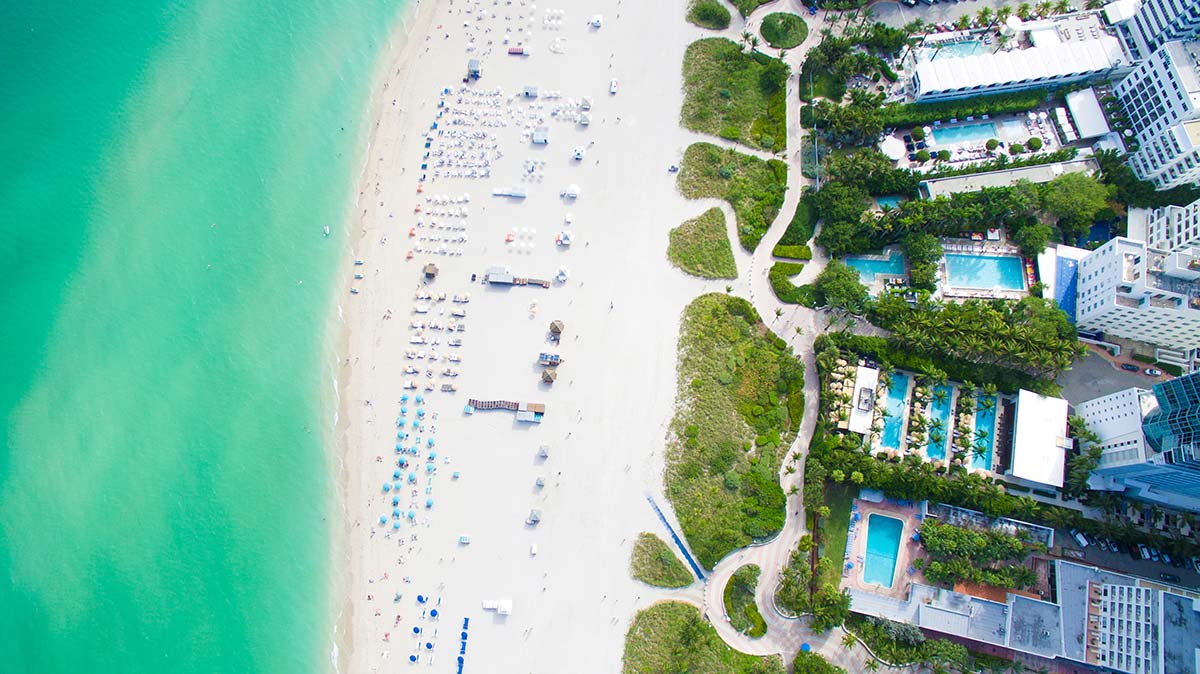 Lifestyle and Culture in South of Fifth
South Florida's enviable climate is ideal for outdoor activities, and South of Fifth residents enjoy an active lifestyle, focusing on spending as much time outside as possible. The pristine beach here is everything you'd imagine it to be: wide stretches of white, sugary sand, turquoise water lapping the shore, and tall palm trees swaying in the breeze.
Locals enjoy spending time on the family-friendly beaches, and the vibe is much more low-key than at some of the more glamorous stretches of sand further north. Walking, running, and cycling are all popular activities in South of Fifth, and the Miami Beach Boardwalk is where you'll find locals getting a workout or just taking a leisurely stroll.
Seventeen-acre South Pointe Park is another favorite local outdoor hangout. It's here that locals gather to relax under shady trees and take in Fisher Island and downtown Miami's incredible views.
South of Fifth residents love to eat locally, and there are plenty of dining options in the neighborhood, ranging from established casual eateries to world-renowned, Michelin-starred restaurants. The nightlife scene is fairly low-key, emphasizing classy bars and exclusive clubs, but South Beach's frenetic party scene is just a few blocks north.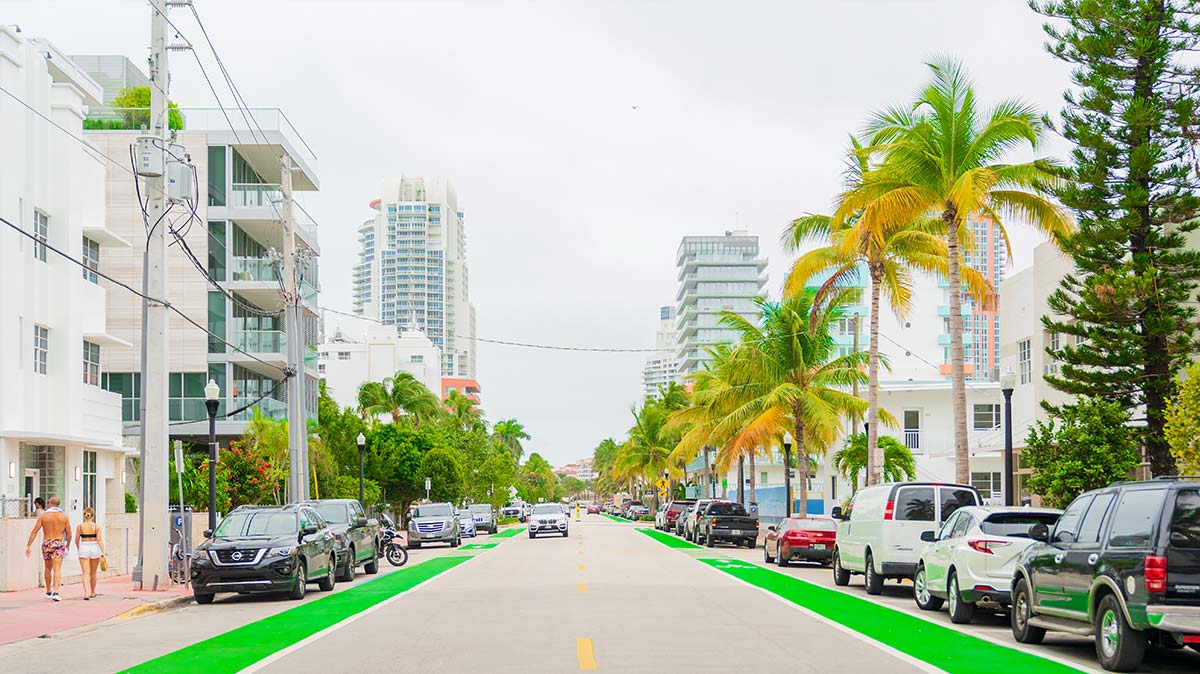 Steet view of South of Fifth
Minimal commercial development means that South of Fifth remains quiet and residential, but locals are spoiled for choice in South Beach. Famous shopping destinations like Lincoln Road, Ocean Drive, and Española Way are just a few minutes away.
Art and culture are woven into South Beach's fabric, and South of Fifth residents have easy access to theater, live music, galleries, and museums like Wolfsonian FIU and The Bass.
South Beach is famous for its historic architecture. South of Fifth locals are proud of the beautifully restored Art Deco buildings that add touches of color and whimsy throughout the neighborhood.
Getting around South of Fifth can be easier on foot or by bike than by car, and many residents prefer not to drive. Traffic congestion can be a problem, and finding a parking spot is never easy. The Miami Beach Trolley offers free rides throughout Miami Beach, and many locals take advantage of this awesome service when traveling further afield.
It's common for South of Fifth residents to own boats and yachts, and the Miami Beach Marina is conveniently located in the neighborhood. This popular marina offers docking, full concierge marine services, and walk-up access to vessels, which means it takes no time to set out for a day of water skiing, fishing, or just plain old cruising!
Things to Do in South of Fifth

Lincoln Road
This world-famous pedestrian shopping and dining promenade is located in the heart of South Beach. Over 200 national retailers, designer brands, boutiques, and art galleries are represented along Lincoln Road, and pleasant surroundings featuring shady palm trees and sidewalk cafes make for an enjoyable shopping trip.
Lincoln Road is home to some fantastic dining options, ranging from casual affairs to chef-driven restaurants. Umbrella-covered sidewalk dining is the way to go here and provides a relaxing place to spend a few hours watching the world go by.
If you ever tire of the Lincoln Road scene, Española Way and Ocean Drive are both just a short stroll away.
Artechouse
Located on Collins Avenue, just north of SoFi, Artechouse is a one-of-a-kind space that connects art with its audience in a unique way. This amazing place has been open in Miami Beach since 2018 and provides a very 21st-century take on the confluence of art and science.
Tickets can be purchased in advance for a 60-minute session that provides a totally subversive experience. Artechouse showcases technology-driven works by groundbreaking artists, and the genre-bending multimedia installations will be sure to knock your socks off!
Joe's Stone Crab
Sometimes a neighborhood is lucky enough to have an exceptional restaurant that never goes out of style. In South of Fifth, that restaurant is called Joe's Stone Crab. Since 1913, the Weiss family has been operating in SoFi, and the restaurant is as beloved among locals today as it's ever been.
Originally opened as a lunch counter serving simple fish dishes, the restaurant really took off when Joe Weiss discovered that stone crabs could be eaten. The operation became more and more successful over the years and has been mentioned in numerous movies and TV shows.
There are plenty of tasty options on the menu here, but it's the stone crab claws, chilled, cracked, and served with a mustard sauce that keeps people coming back.
Jewish Museum of Florida
Located at 301 Washington Avenue in South of Fifth, the Jewish Museum of Florida is well worth visiting. With over 100,000 items, the museum tells the fascinating story of over 250 years of Jewish culture, art, and history in Florida.
The museum comprises two beautifully restored historic buildings designed by Art Deco architect Henry Hohauser. The buildings - featuring stained glass windows and a copper dome - were built in 1929 and 1936 and were originally synagogues for the Miami Beach Jewish congregation.
The museum features rotating exhibits and a collection of artifacts, documents, photographs, and oral histories. There are also regular lectures, workshops, and family activities held at this special place.
Parks and Recreation in South of Fifth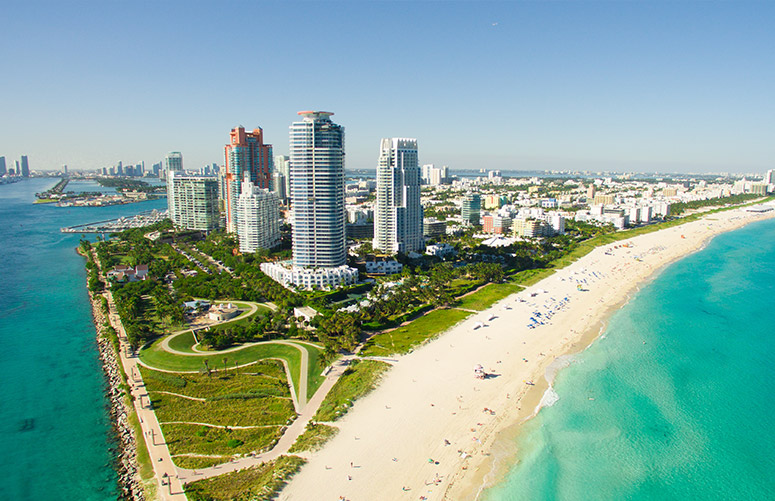 View of South Pointe Park and South Pointe Beach
South Pointe Park
South of Fifth locals know how fortunate they are to have South Pointe Park so close and can be found enjoying this awesome 17-acre greenspace at all times of the day. Early mornings bring joggers and dog walkers to the park, and in the evening, this is the place to come and enjoy stunning views of Fisher Island, downtown Miami, and the South Beach shoreline as the sun goes down.
South Pointe Park features walking trails, picnic areas, a mini water playground, and a jungle gym. The lush tropical landscaping and shady palm trees add to the park's relaxing feel, and park benches provide great places to sit and watch cruise ships passing through Government Cut.
There's a fabulous beach here, of course, and South Pointe pier is a favorite spot among local fishermen. As the day draws to a close, many folks choose to enjoy a cocktail at Smith and Wollensky, an upmarket steakhouse that's famous for its awesome views and delicious food.
Flamingo Park
Located in the Flamingo/Lummus neighborhood, this popular park in South Beach's heart is a haven for athletes and sports enthusiasts. Recently renovated, Flamingo Park offers 17 tennis courts, a baseball stadium, handball and racquetball courts, sports fields, and a running track.
There's a popular off-leash dog park here, too, and locals gather to chat among the gorgeous tropical landscaping while their four-legged friends let off some steam. The Aquatic Center at Flamingo Park is another big draw and features 2 pool areas. The lap pool is available year-round for everyone, while the outdoor water playground is the ultimate destination for local kids.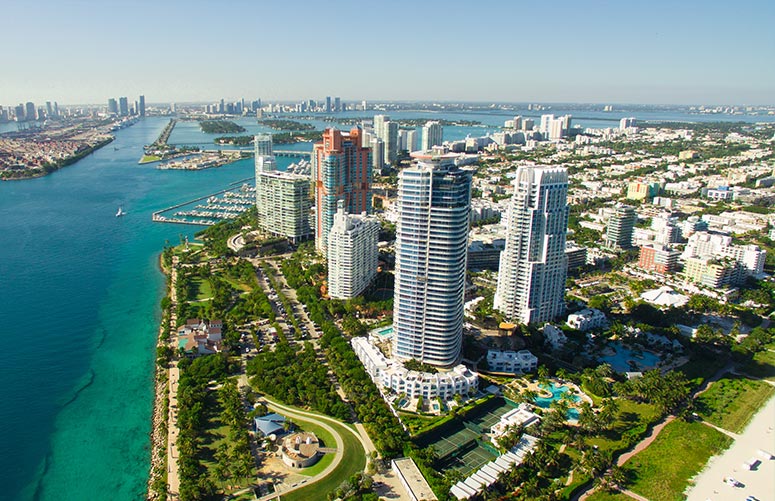 Some of the condo buildings that overlook South Pointe Park
South of Fifth Real Estate
South of Fifth is home to some of the most desirable and expensive real estate in the country. The real estate on offer consists mainly of ultra-luxury condos in high-rise towers, designer villas, and high-end apartments in low-rise buildings.
Apogee South Beach is a 22-story condo building located at the very tip of South of Fifth. This luxury development comprises 68 residences, each with 10-ft ceilings, huge balconies, and water and city views.
Glass Miami Beach is the most iconic condo building in South of Fifth, and this boutique development houses only 10 residences, including a stunning 3-story penthouse. Each glass-enclosed residence has 360-degree views of the area.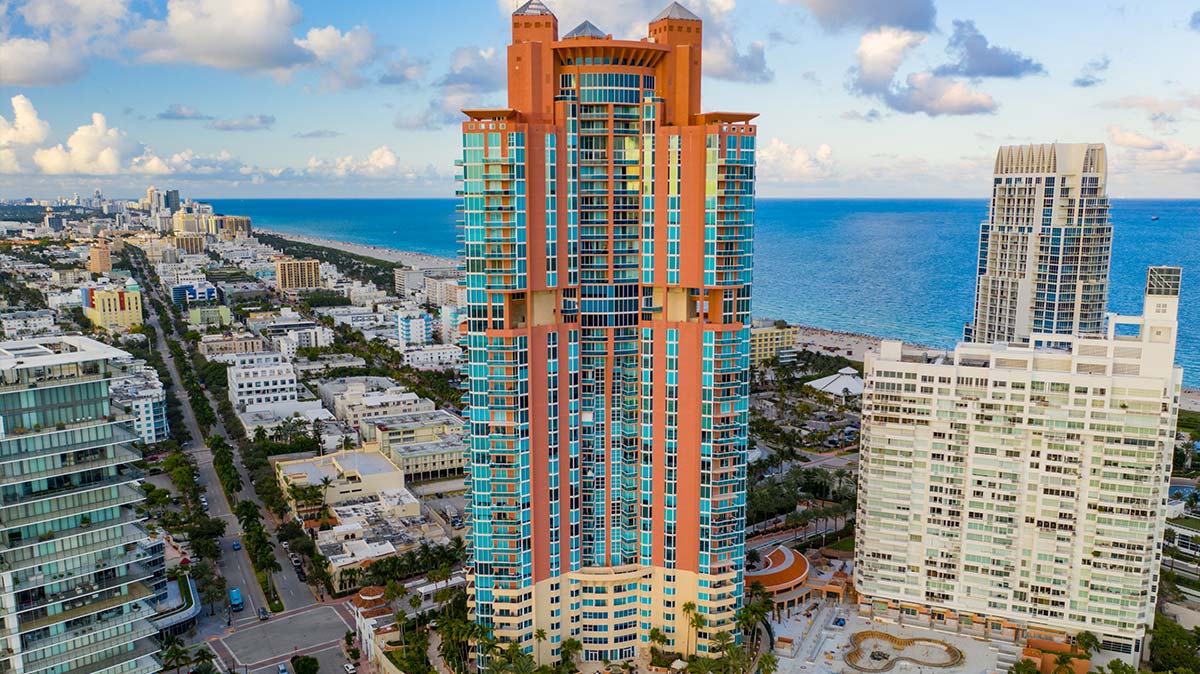 Portofino Tower is perhaps the most distinct feature of SoFi's skyline, due to its pink accents
Built in 1997, Portofino Tower was one of the first luxury condo developments in the neighborhood. Residences feature massive floor plans with stunning kitchens and floor-to-ceiling windows.
Murano at Portofino offers amenities typical of SoFi luxury developments, including a private bayside beach club, health and fitness facilities, sauna, and lighted tennis courts. The lush tropical grounds also feature 600 feet of bay frontage.
Additional Reading