Living in South Beach, Miami Beach, FL: Neighborhood Guide
Posted by Discover Homes Miami on Sunday, February 21, 2021 at 9:54 AM
By Discover Homes Miami / February 21, 2021
Comment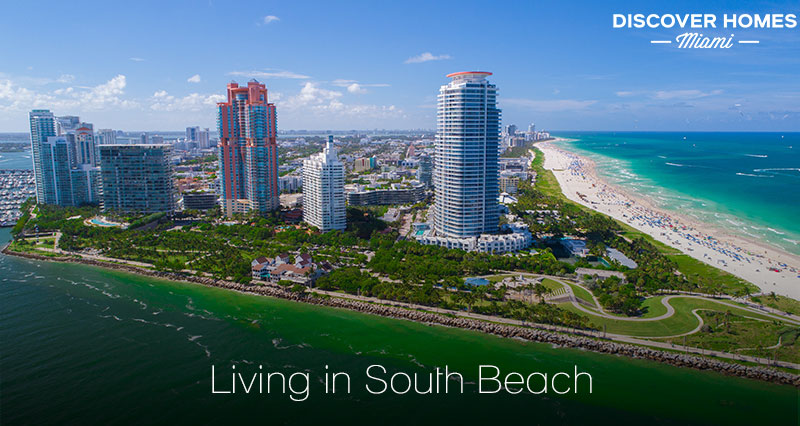 Globally renowned as a glamorous playground for celebrities and the ultra-wealthy elite, few neighborhoods can claim to be as iconic as South Beach. With its intoxicating blend of laid-back beach culture, instantly-recognizable Art Deco architecture, and vibrant nightlife, South Beach is an exciting urban enclave that draws a diverse mix of people from around the world.
Affectionately known as "SoBe" by its residents, South Beach occupies the lower portion of Miami Beach, south of Dade Boulevard.
Since its humble beginnings as a coconut farm in the early twentieth century, South Beach has come a long way. The 1930s saw an architectural revolution in the area, bringing Art Deco and Streamline Moderne architecture to South Beach, but by the 1980s, the neighborhood had become run down and crime-ridden. In the late 1980s, the tide began to turn as fashionistas moved into the neighborhood, sparking a social and cultural renaissance.
Today, South Beach is an eclectic neighborhood that's home to iconic clubs and restaurants, world-class shopping, and an array of high-rise luxury condo buildings that house some of the priciest and most exclusive real estate on the planet. South Beach is a story of all-night entertainment, tranquil morning strolls on pristine beaches, and historic, walkable neighborhoods.
Let's take a closer look at what makes South Beach such an exciting, sought-after neighborhood.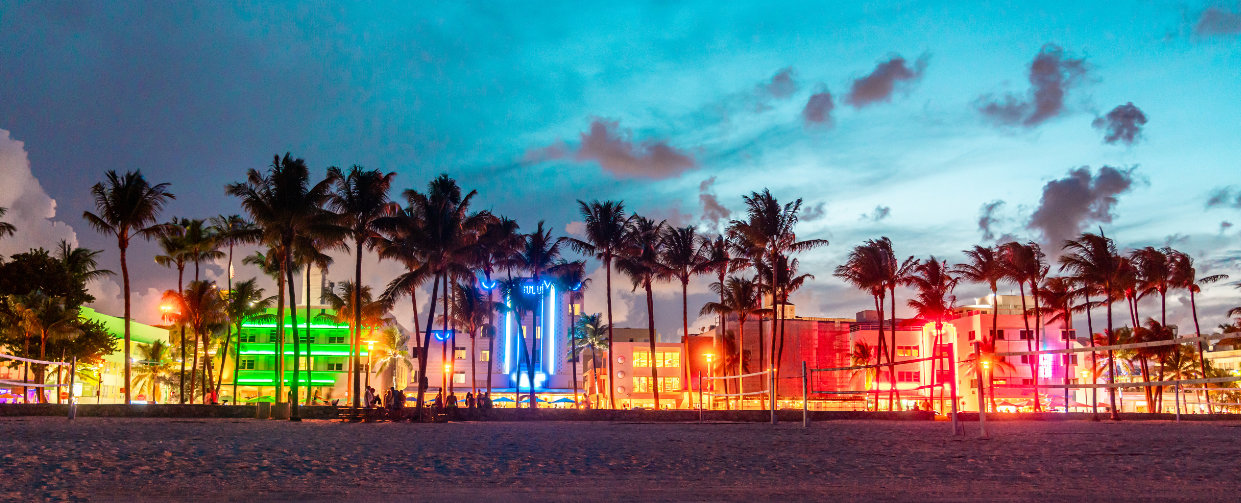 Art Deco architecture along Ocean Drive in South Beach
Lifestyle and Culture in South Beach
Unsurprisingly, the lifestyle in South Beach is centered around its famous stretch of sand. Brightly colored Art Deco-inspired lifeguard stands to provide an iconic backdrop, and locals never tire of the aquamarine water and white, sugary sand. Early mornings bring local joggers and cyclists to the beach, while beautiful people can always be found relaxing, sunbathing, and engaging in the old-fashioned sport of people watching in the afternoons.
The weather in South Beach is always more pleasant than neighboring Miami, with the coastal breeze from the Atlantic Ocean tempering the humidity that can suffocate the city. Residents have a number of parks and beaches to choose from, each with a different vibe, but all ideal for enjoying this perfect climate.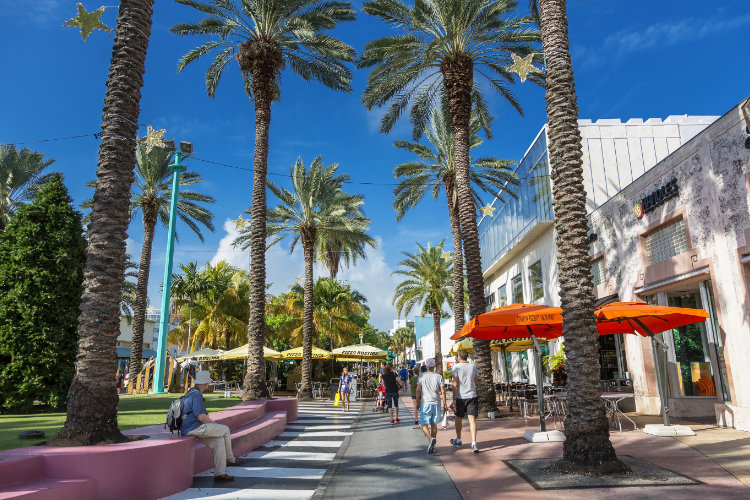 Shopping along the bustling Lincoln Road
South Pointe Park and Beach is a beautifully-landscaped area that provides a family-friendly atmosphere, while Lummus Park, with its "Muscle Beach," is where the chiseled come to strut their stuff. Further north, above Lincoln Road, chic, expensive hotels line the beach, and stylish visitors flock here to see and be seen.
South Beach is famous for its ultra-exclusive clubs and restaurants, as well as its world-class shopping destinations. Popular with visitors from all over the world, Lincoln Road is the most well-renowned commercial center in South Beach. This pedestrian area is packed with high-end dining establishments, luxury boutiques, and pulsating clubs. Nearby Sunset Harbor is a more low-key affair, and this is where locals come to sample innovative cuisine, shop in unique boutiques, or grab a coffee from a trendy local roaster.
Lined with gorgeous, pastel-hued Art Deco buildings, Ocean Drive is one of America's most iconic streets. Popular with visitors and locals alike, Ocean Drive is home to a diverse array of bars, clubs, beach boutiques, and restaurants serving up imaginative cuisine. Known as the "Capital of Cool," this street is home to dozens of world-renowned fashion designers and is where fashion trends are born.
As night falls in South Beach, the partying begins in earnest. Ocean Drive is a popular place to bar and club hop, while Washington Avenue - one of the most well-known streets in South Beach - becomes jammed with revelers. Some of the world's most famous clubs can be found here, and the fun and hijinks carry on till dawn.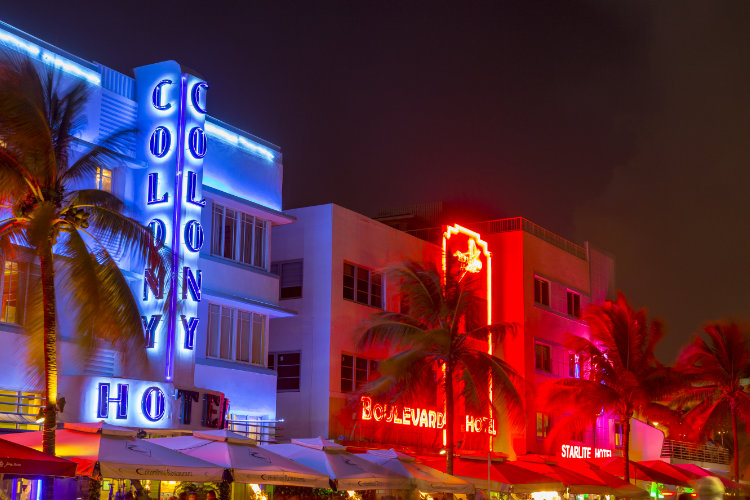 Colony Hotel building in South Beach. Credit: travelview - stock.adobe.com
South Beach is a neighborhood rich in history and culture, and residents are surrounded by art installations, museums, and beautiful old buildings. With over 800 historic buildings, the Art Deco Historic District is home to the nation's largest concentration of Art Deco architecture and has been a National Register District since 1979. With their bright colors and whimsical features, hotels like the 1935 Colony Hotel and the 1936 Beacon South Beach Hotel are local favorites and an integral part of life.
There's always something new and exciting happening in South Beach, and locals connect at neighborhood events and festivals throughout the year. Larger festivals and events dominate the local calendar and draw visitors from all over the world. For example, South Beach Wine and Food Festival is a 4-day event that features some of the biggest-name producers and chefs around, who come to showcase their latest offerings. Miami Beach Pride brings tens of thousands of visitors to the neighborhood for a 2-day celebration, and South Beach is ground zero for the madness of Miami Fashion Week.
South Beach is one of the most pedestrian-friendly neighborhoods in the Miami area, and many residents prefer not to drive at all. The infamous South Florida traffic is in full effect here, and parking can be almost impossible to find, so walking or biking is the way to go. Locals take full advantage of rentable electric scooters, too, as well as hopping on the awesome Miami Beach Trolley, which provides a free hop-on/hop-off service around Miami Beach.
South Beach Neighborhoods
South Beach comprises several neighborhoods, each with unique attractions and each with its own vibe.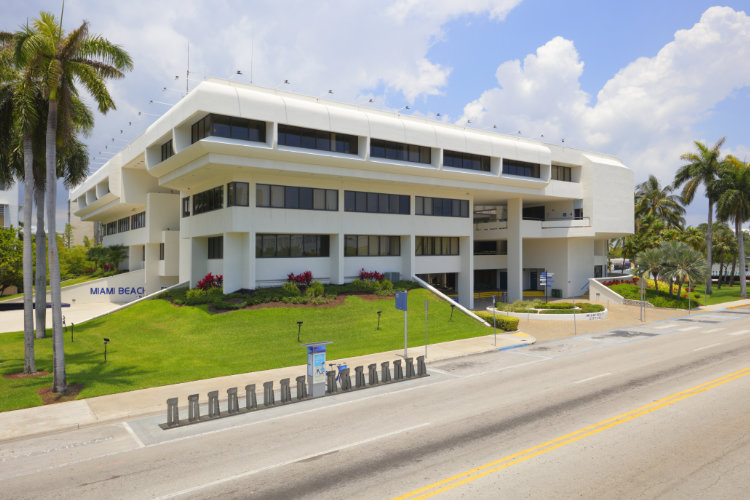 Miami Beach City Hall in City Center
City Center
City Center lies between Dade Boulevard, to the north and Lincoln Road, to the south. A cultural hub, this vibrant area is home to the beloved Fillmore Theater, an Art Deco icon, and one of the most popular mid-size concert venues in the region. The sobering Holocaust Memorial is also in City Center and the fabulous Miami Beach Botanical Garden. The City Center neighborhood is also home to the outdoor shopping, dining, and party mecca that is Lincoln Road.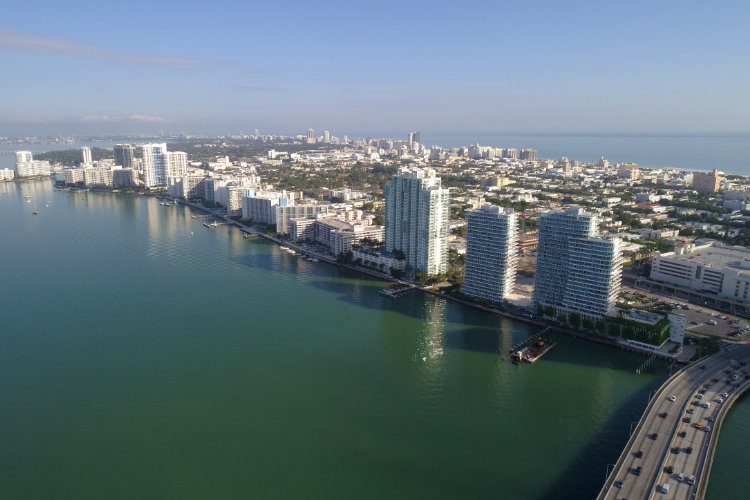 High-rise condo buildings on West Avenue along Miami Beach's eastern border
West Avenue
Lying adjacent to the Biscayne Bay, with its stunning views of the Miami skyline and Alton Avenue, this neighborhood is one of the most desirable areas in South Beach. A combination of single-family homes, magnificent high-rise condo buildings, and commercial development, West Avenue provides a quiet, walkable atmosphere. The Shoppes at West Avenue is a vibrant local development that offers a wide variety of shopping and dining and is the neighborhood's social hub.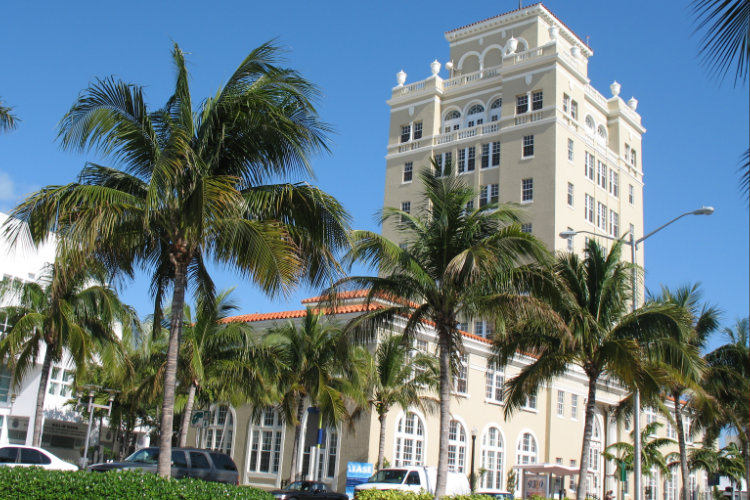 Historic City Hall building in the Flamingo/Lummus neighborhood
Flamingo/Lummus
Often referred to as either "Flamingo" or "Lummus," this large neighborhood, named for the early 20th-century Flamingo hotel, is the beating heart of South Beach. Flamingo Park, one of the most popular local hangouts, is at the center of this neighborhood, and the Art Deco Historic District is here, too. Flamingo/Lummus is also home to Española Way, a unique and vibrant historic street that provides some of the best shopping and nightlife in South Beach.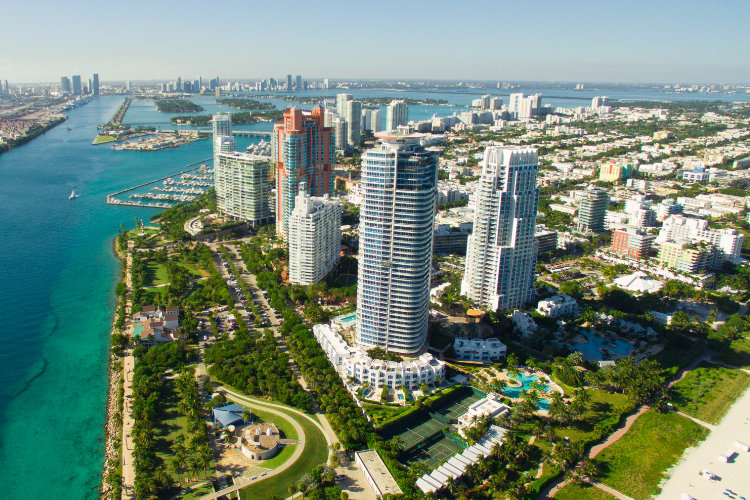 South of Fifth neighborhood
South of Fifth
Also known as SoFi, this exclusive neighborhood at the southern tip of South Beach has a quiet, off-the-beaten-path charm. South of Fifth provides a peaceful enclave for celebrities and the super-wealthy, and its high-rise condos offer incredible views of Miami and the South Beach neighborhood. South Pointe Park and Beach are located here, and a baywalk promenade goes all the way to North Miami Beach. Although the vibe is more tranquil here, this is still South Beach, and there's an impressive array of fine restaurants and clubs in the neighborhood.
Things to Do in South Beach
Art Deco Welcome Center and Walking Tour
Located at Ocean Drive and 10th Street, the Art Deco Welcome Center is the office of the Miami Design Preservation League. This organization was founded in 1976 to save then-neglected hotels from being destroyed and offers fascinating books and brochures about Art Deco architecture.
The Welcome Center hosts lectures, films, and classes, and the supremely friendly and knowledgeable staff are always keen to answer questions. The 2-hour organized walking tours take visitors on a route that includes many of the most impressive Art Deco buildings in South Beach, and you'll even get to go inside a few of them!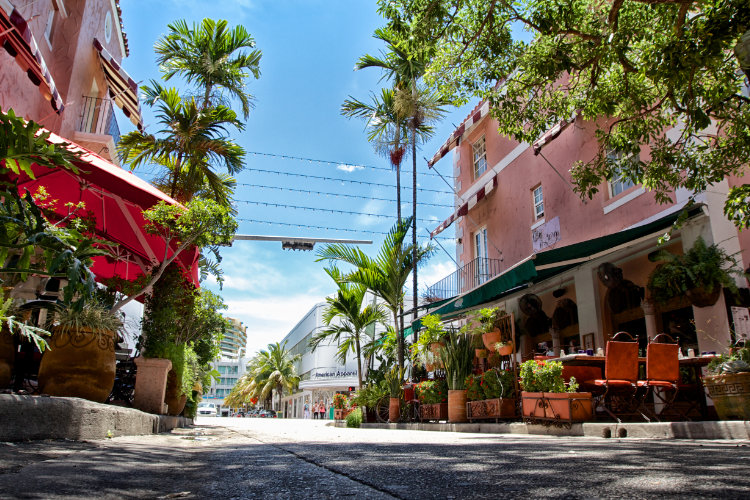 Shops and restaurants in Española Way
Española Way
Many people will tell you that no visit to South Beach would be complete without experiencing Española Way. This historic area stretches between 14th and 16th Streets, from Washington Avenue to Drexel, and looks like a historic Spanish village. The street is lined with boutiques, art galleries, and eateries, and the pink stucco buildings with tiled roofs create a quaint, picturesque atmosphere.
South Beach locals love it here as much as the tourists do, and it's a popular place to come and hang out. Plenty of restaurants offer Spanish food, and the sidewalk tables provide a lovely place to enjoy an inventive cocktail under the stars on a warm evening.
Basement at the Miami Beach Edition
South Beach nightlife is the best around, and locals can party with the best of them. With so many world-class options, like LIV and Story, choosing a club is no easy task. Basement at the Miami Edition is a little different, though, and definitely stands out.
Basement offers several rooms, including Disco Box, an awesome "micro-club" designed to represent the ultimate clubbing experience. With state-of-the-art sound, lights, and projections, this room is inspired by the legendary Studio 54 and features a constant rotation of eclectic music.
Basement also adds to the clubbing experience unexpectedly, offering a 4-lane bowling alley and a small ice skating rink. What could be better than that combination?
New World Symphony and Soundscape Park
New World Symphony is a cutting-edge orchestral academy for gifted music program graduates. The landmark building, designed by Frank Gehry, features a 7,000 sq ft projection wall overlooking Soundscape Park, and it's here that regular symphony performances are simulcast.
These free events provide a one-of-a-kind cultural experience and always draw big crowds. South Beach locals arrive with blankets and picnics and enjoy the music under the stars. NWS also projects movies on Wednesday nights, which are just as popular as the symphonies!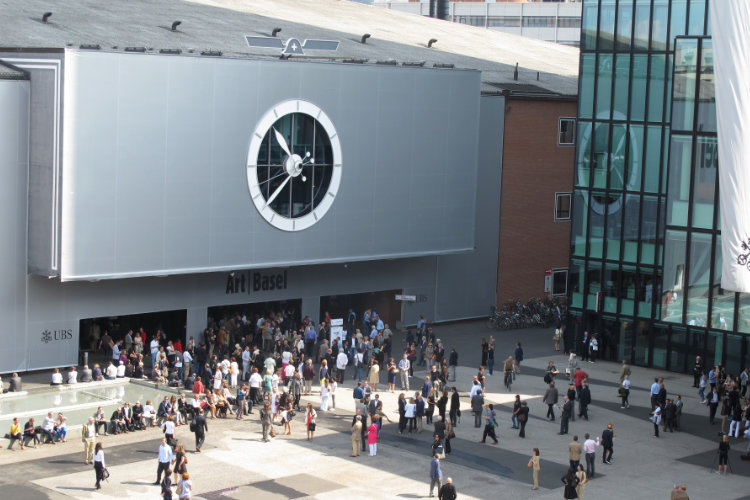 Art Basel in South Beach. Credit: Giovanni Sighele
Art Basel
Art Basel is an innovative organization with a mission to promote art galleries, connect artists with collectors, and showcase new talent worldwide. Each year, Art Basel descends on South Beach, with the Miami Beach Convention Center hosting the core events.
This is, by far, the biggest event of the year in South Beach and is also the most significant art show in the country. Tens of thousands of people attend Art Basel every year, and the show has expanded to encompass satellite exhibitions, parties, and fashion shows. Crossover events at local restaurants are common, with celebrities showing up regularly. Everyone wants to be involved in Art Basel!
Parks and Recreation in South Beach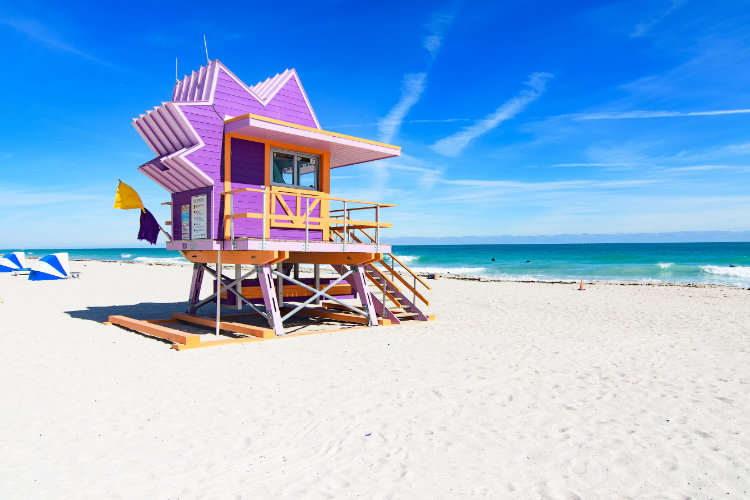 One of the colorful lifeguard stations in South Beach
South Pointe Park and Beach
Featuring stunning, panoramic views of Fisher Island, downtown Miami, and the beautiful South Beach shoreline, South Pointe Park, located on the southern tip of Miami Beach, is a definite local favorite.
The park has walking trails, picnic areas, an off-leash dog park and is a super-popular place for runners, cyclists, and rollerbladers. Local kids love to cool off at the mini water playground after working up a sweat on the awesome jungle gym, while local fishermen take advantage of the South Pointe pier.
The family-friendly beach offers umbrella and chair rentals, outdoor showers, and a snack bar for the all-important ice cream. There's also one of South Beach's famous Art Deco-style lifeguard towers here. After a hard day at the beach, many locals enjoy dinner and a cocktail at Smith & Wollensky, a swanky steakhouse that offers great food and awesome views.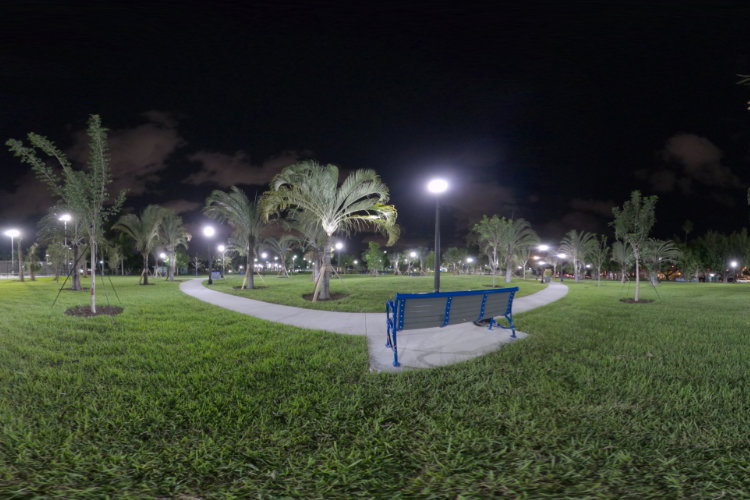 Night photo of Flamingo Park
Flamingo Park
Located in the heart of South Beach, Flamingo Park has undergone recent renovations and now offers 17 tennis courts, a baseball stadium, sports fields, and a running track. There's also a popular Bark Park where locals and their four-legged friends gather to socialize and play.
This haven for athletes features gorgeous tropical landscaping and a laid-back vibe. The park is home to an aquatic center, too, with 2 pool areas. The lap pool is popular year-round, and in summer, the outdoor water playground is the place to be among the kids of South Beach.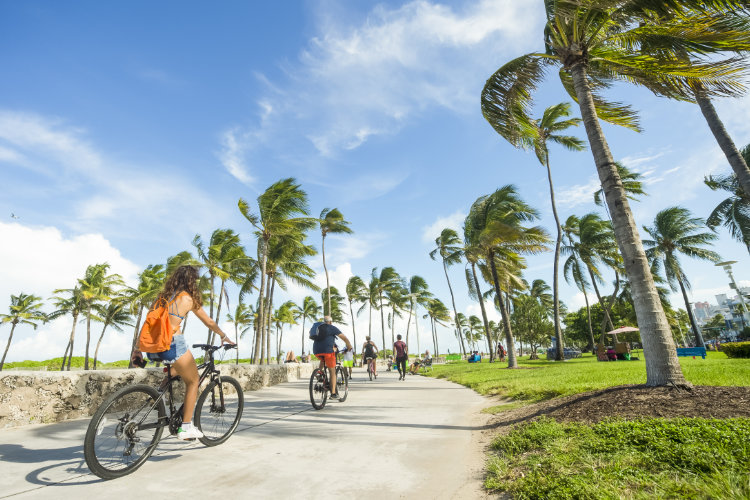 Cyclists in Lummus Park
Lummus Park
Lummus Park offers the definitive South Beach experience. This 10-block stretch, bordered by the Atlantic Ocean and iconic Ocean Drive, runs between 5th Street and 14th Place and is bisected by winding Beach Walk. From early in the morning, when locals come to jog, stroll, and watch the sunrise, Lummus Park is always buzzing.
The amazing beach is a sunbathing and people-watching mecca, and the park can be appreciated fully by renting a bike or skates. There are two outdoor gym areas, including "Muscle Beach" at 9th Street, and the Art Deco Welcome Center is a block away at 10th Street.
Lummus Park is integral to the South Beach community and hosts regular artisan markets on weekends and a variety of events during South Beach festivals.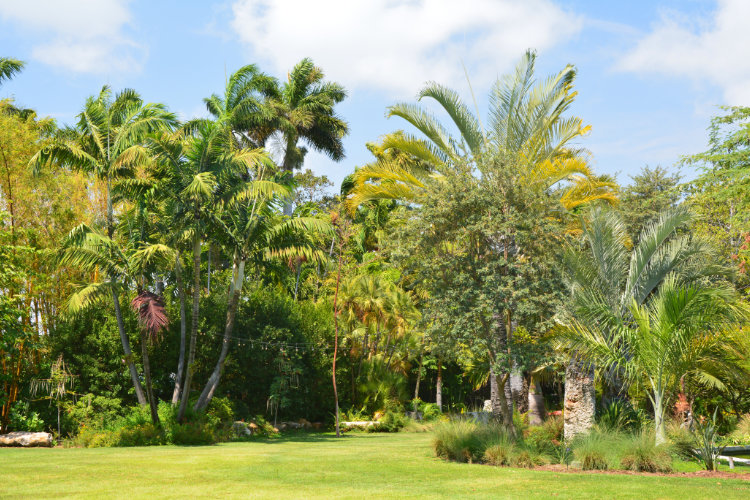 Miami Beach Botanical Garden
Miami Beach Botanical Garden
This intimate 3-acre tropical garden offers a tranquil escape from the hustle and bustle of the South Beach neighborhood. Located next to the Miami Beach Convention Center, this botanical garden features over 100 species of palm, rare orchids, and native plants that attract beautiful butterflies.
There are several gardens here, with winding paths between. With its koi pond, the Japanese Garden is a highlight, and the air is filled with the sweet scent of tropical flowers. This relaxing place offers yoga classes, cultural events, and workshops, and there's also the Botanical Boutique, which sells seeds, orchids, and souvenirs.
The Garden Center is a popular stop among local gardeners, who come here to pick the Botanical Garden experts' brains. The staff is always happy to offer tips and information to those who are interested.
Real Estate in South Beach
Some of the most exclusive real estate in the entire country can be found in South Beach. The central portion of the neighborhood features a concentration of condos that are housed mainly in older, mid-rise buildings that feature notable Art Deco architecture, while more expensive single-family homes can be found in the northern part of South Beach, as well as along the golf course and Biscayne Bay.
Bayshore is a prime example of an area that attracts those who want to be close to the South Beach action but in a more family-friendly, residential neighborhood.
The South of Fifth neighborhood is home to some of the most sought-after real estate in South Beach, and the luxury condos found here offer amazing views and high-end features.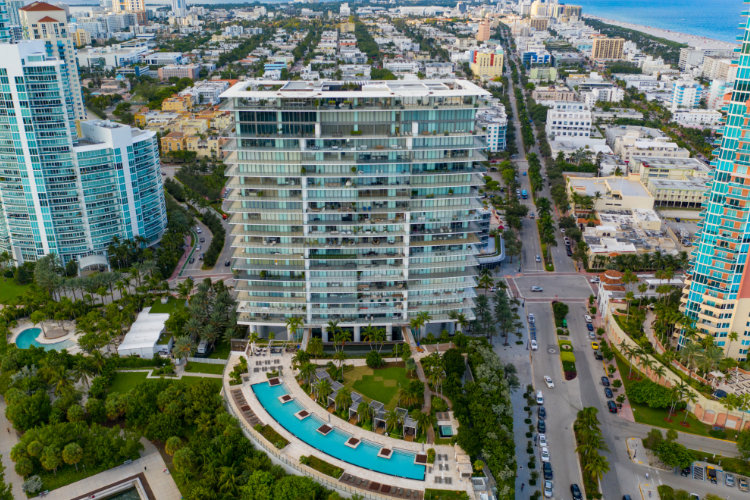 Apogee South Beach
Apogee South Beach
Located at the southern tip of South Beach in the SoFi neighborhood, Apogee South Beach was completed in 2007 and comprises of 68 luxury residences in a stunning 22-story building. There are 4 residences on each floor, all with water and city views, and the complex includes an amazing infinity pool.
Ocean House
Another condo building in SoFi, Ocean House, is located on Ocean Drive and houses 28 units with huge floor plans and amazing ocean views. This is a stunning rebuild of a classic Art Deco hotel and features a pool deck and cabanas, as well as a host of luxury features.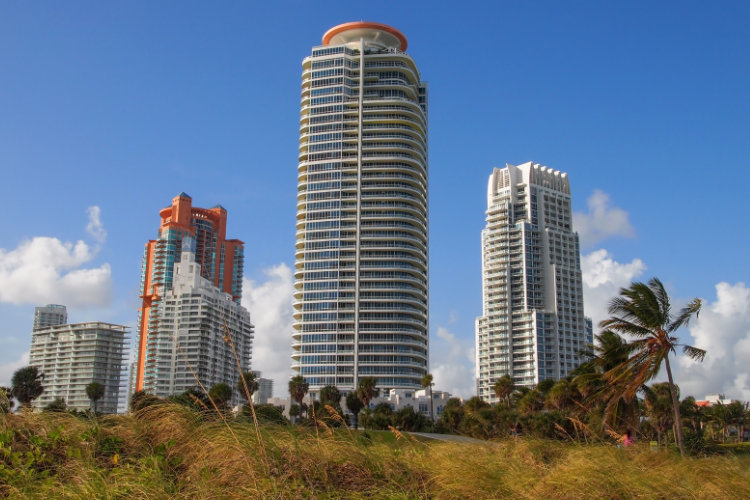 Continuum tower in the middle
Continuum
Sitting at the southernmost tip of Miami Beach, Continuum is a super-luxury development surrounded by 12 acres of private gardens with pools, fountains, and lush landscaping. This 40-story tower houses residences with 10-foot ceilings, designer kitchens, and a host of other features. There's also a stunning rooftop pool and a tennis club, as well as a valet, doorman, and personal fitness trainers on-site.
1 Hotel and Homes
Located at the north end of the neighborhood, 1 Hotel and Homes offers 156 luxury residences in the heart of South Beach, all with spacious balconies and amazing views. 600 feet of prime beachfront, private chefs and catering facilities are just a few of the perks on offer here.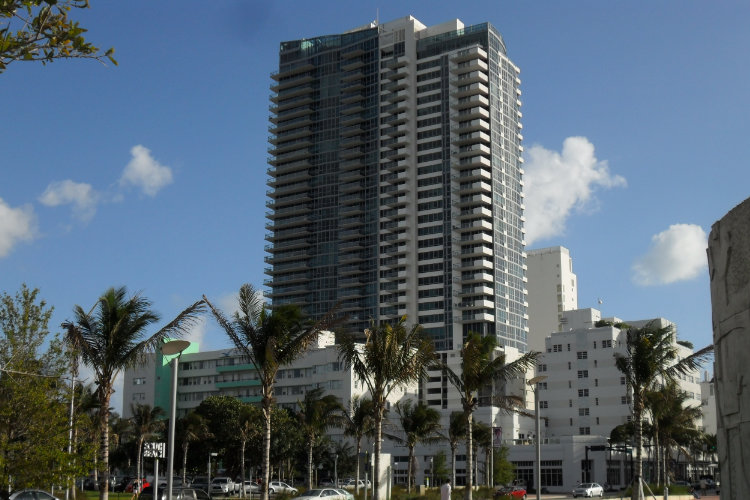 Setai Hotel & Residences in South Beach. Credit: Daniel Christensen
Setai South Beach
Setai South Beach is a 40-story building with 175 ultra-luxury condos. Residences at Setai South Beach feature floor-to-ceiling windows and range from 850-2,800 sq ft. The 6,000 sq ft penthouse residences feature terraces, private decks, and lap pools.
Additional Reading