South Beach vs. Miami Beach: What Are the Differences?
Posted by Discover Homes Miami on Wednesday, April 14, 2021 at 10:40 AM
By Discover Homes Miami / April 14, 2021
Comment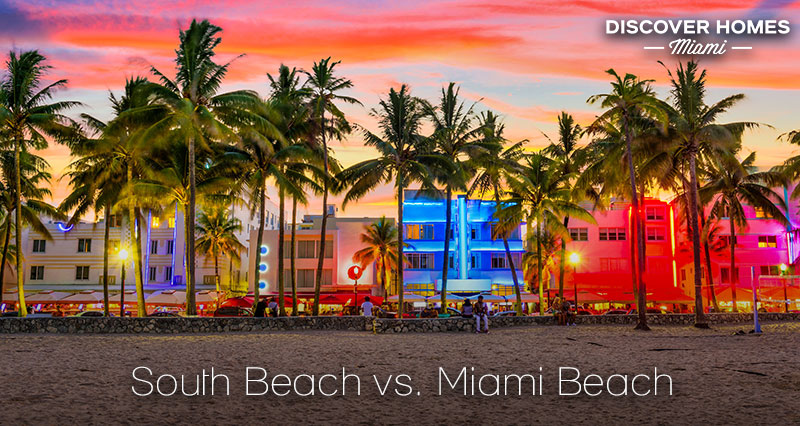 There's often quite a lot of confusion surrounding South Beach and Miami Beach. Everyone has their own ideas about South Beach, usually involving glitz, glamour, and all-night partying with celebrities and jet setters. But how does Miami Beach fit into the equation? In simple terms, Miami Beach is actually a city, and South Beach is one of its neighborhoods.
Miami Beach is a coastal city, made up of natural and man-made barrier islands, and separated from Miami by Biscayne Bay. There's a laid-back beach culture throughout Miami Beach, and the city's cultural diversity is staggering. Miami Beach truly is a melting pot for cultures worldwide, and South Beach is perhaps its most culturally distinct neighborhood.
What's the Difference Between South Beach and Miami Beach?
Let's clear this up without further ado. Miami Beach is a city in Miami-Dade County, and South Beach is one of its main neighborhoods. Occupying the island city's southernmost section, South Beach - affectionately known as "SoBe" to locals - stretches from South Pointe Park in the south, all the way north to 23rd Street.
Let's take a closer look at living in South Beach vs. living in Miami Beach.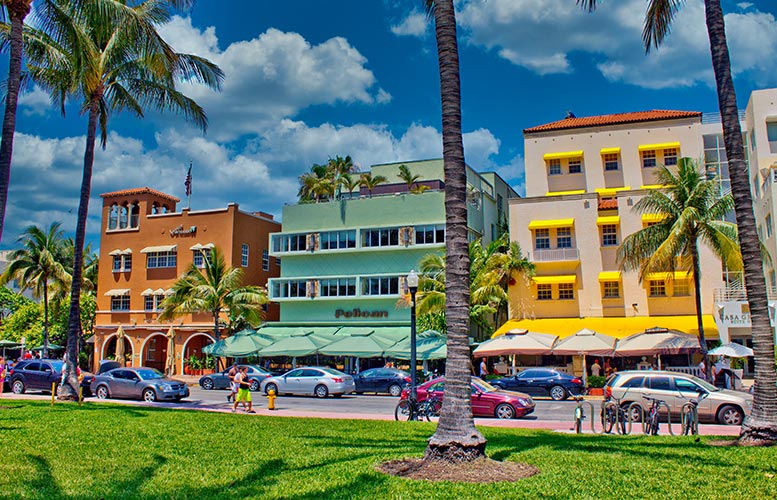 South Beach is known for its Art Deco architecture.
South Beach
South Beach is Miami Beach's most bustling, exciting, and eclectic neighborhood, attracting tourists and residents from every corner of the globe. Defined by its pastel-hued Art Deco architecture, world-famous shopping, and nightlife, and impossibly beautiful stretches of pristine white sand, this iconic neighborhood is everything you've imagined and so much more.
There are several sub-neighborhoods in South Beach, including South of Fifth, West Avenue, and the Art Deco district. Although many of these smaller neighborhoods buzz with activity, some are quieter and more residential. South of Fifth, in particular, is a tranquil residential enclave at South Beach's southern tip and features some of the most exclusive luxury real estate in the world.
Although traffic in South Beach is much heavier than in other Miami Beach neighborhoods, many residents prefer to do without a vehicle. South Beach is an extremely walkable neighborhood, and locals can get anywhere they need to go on foot or by bicycle. Residents lead an active, outdoor lifestyle, and South Florida's subtropical climate is ideal for enjoying the neighborhood's parks and beaches at all times of the year. Jogging, volleyball, and water sports are all popular beach activities here, as well as just relaxing in the sun and engaging in some of the best people-watching around.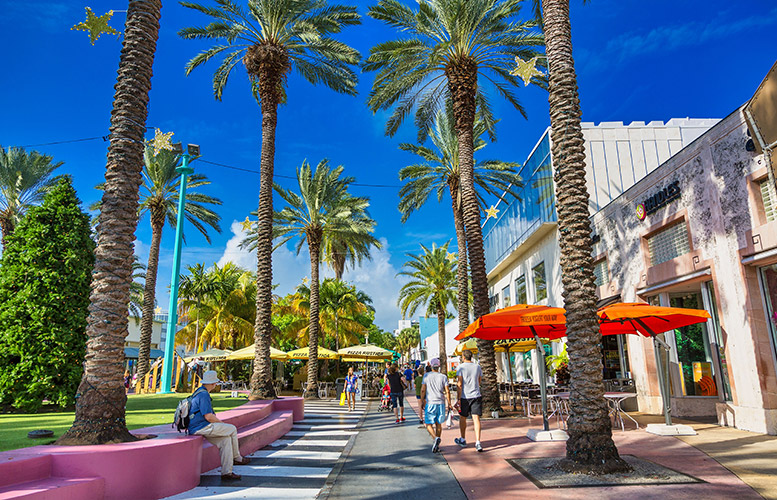 The bustling Lincoln Road in South Beach
South Beach is famous for its shopping, dining, and nightlife. There's so much on offer here, and it's all within walking distance from anywhere in the neighborhood. Lincoln Road is ground zero for shopping, and the diverse crowd in this open-air pedestrian mall always makes for a colorful and fun experience. Ocean Drive is lined with cutting-edge fashion boutiques, bars and sidewalk cafes, and world-class restaurants. The clubs and bars here are thumping all night long, rivaled only by the clubs that line nearby Washington Avenue.
It's not all about shopping and partying in South Beach, though. There is a thriving art and culture scene too, and there's always something happening. The gorgeous Art Deco district is home to an impressive collection of important historical buildings, and locals are passionate about its preservation. The Bass Museum, itself housed in a lovely Art Deco building, is home to a wonderful collection of contemporary art and often hosts films and lectures.
Residents of South Beach love to celebrate their community, with events and festivals packing the local calendar. Miami Beach Pride is one of the largest and most popular celebrations, drawing thousands of visitors each year. Other popular events include the South Beach Wine and Food Festival and Art Basel Miami Beach.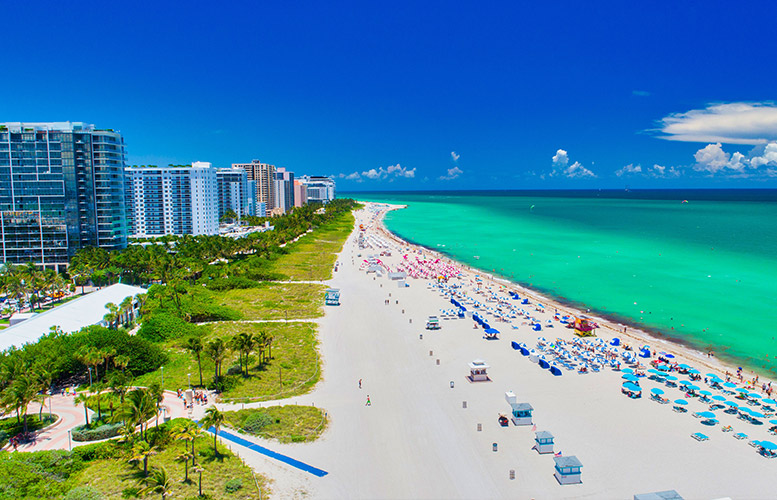 Miami Beach is famous for its seemingly endless stretch of beach along its eastern border.
Miami Beach
Miami Beach stretches from South Pointe Park in the south, all the way north to 87th Street. Besides South Beach, there are two other distinct neighborhoods - North Beach and Mid-Beach - each with its own distinct style and atmosphere. These neighborhoods are defined by subtle differences in architectural styles, cost of living, and overall vibe.
North Beach occupies the northernmost section of Miami Beach, its borders roughly defined by 87th Street in the north and 63rd Street and Indian Terrace to the south. In contrast to South Beach, this neighborhood offers residents a much quieter and more relaxed pace of life and attracts way fewer tourists. North Beach attracts a diverse range of residents, from families to young professionals, all of whom are drawn to the neighborhood's sense of community and outdoor lifestyle.
There's plenty of opportunities to spend quality time outdoors here, and the pleasant, tree-lined streets are ideal for strolling, jogging, and cycling. The beaches in this part of Miami Beach are quieter and more family-friendly than those further south, and although you'll never have the beach to yourself, there's always plenty of space to stretch out and relax.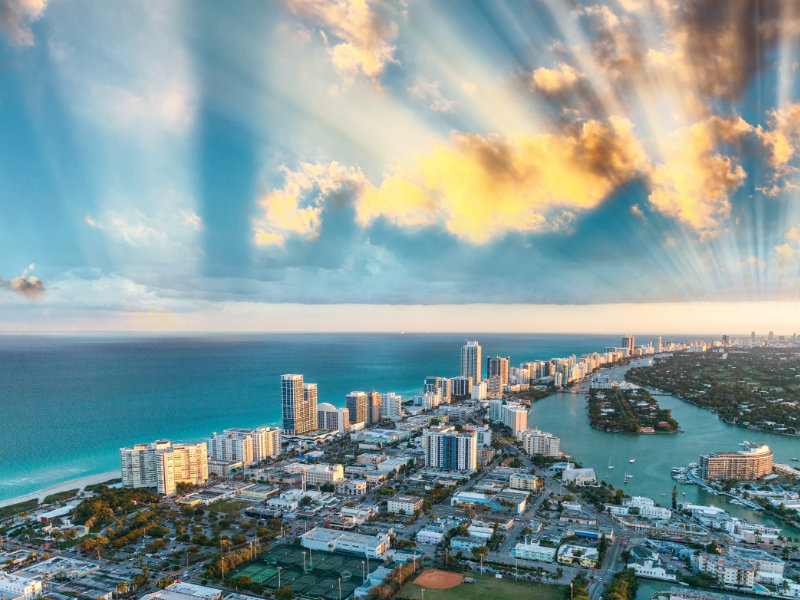 North Beach
Shopping in North Beach is defined by local beach boutiques, although the upscale Bal Harbour Shops is just a short drive away. There's a thriving dining scene in North Beach, with a diverse range of options ranging from upscale, chef-driven restaurants, to cozy family-run eateries.
There's a really strong sense of community in North Beach, and residents here love to gather and celebrate. The North Beach Bandshell provides a hub for community life, and an eclectic roster of shows and live performances bring friends and neighbors together under the stars.
Between North Beach and South Beach, a long, narrow sliver of land is home to Mid-Beach. This youthful, exciting neighborhood features an eclectic mix of Art Deco and MiMo architecture and has become a vibrant cultural hotspot in the heart of Miami Beach.
The vibe in Mid-Beach is fashionable and exclusive, and the pristine white sand beaches are lined with chic boutique hotels and luxury condo buildings. As with other Miami Beach neighborhoods, much of life here revolves around the beach, and locals come here to admire the sparkling turquoise waters of the Atlantic Ocean and each other.
All of Miami Beach is relatively walkable, but the streets of Mid-Beach are less crowded and vibrant than those of South Beach. There's less retail here, and residents often make the short trip to the shopping meccas further south by hopping on the free Miami Beach Trolley.
Mid-Beach has seen a flurry of cultural development in recent years, defined by the ultra-stylish Faena District. The Faena Hotel Miami Beach is a luxury paradise, with outrageous decor and highly regarded restaurants, led by superstar chefs. The nearby Faena Bazaar shopping center is cutting-edge retail and experiential space, housed in a white Art-Deco building sprinkled with red lips. This fashionable destination is the place to find the latest offerings from both unheard-of local designers and established brands.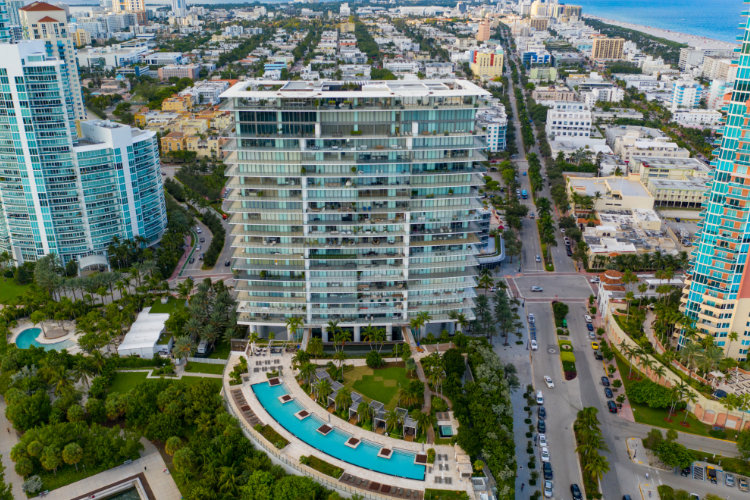 Apogee, an ultra-luxury condo building in South Beach
South Beach vs Miami Beach Real Estate
South Beach is home to some of the most exclusive and expensive real estate on Earth. South of Fifth is a sought-after enclave, and it's here that you'll find the most expensive real estate in South Beach, including ultra-luxury condo residences in high-rise developments like Apogee South Beach.
The central section of the neighborhood is where you'll find condos in older, mid-rise buildings, many featuring notable Art Deco architecture. Elsewhere, expensive single-family homes can be found around the golf course and in the Bayshore neighborhood, a quiet, family-friendly residential section of South Beach.
North Beach features an eclectic mix of real estate options. Luxury high-rise condo buildings with astonishing ocean views line Collins Avenue, with La Gorce Palace and Akoya providing some of the more desirable residences. Away from the waterfront, you'll find quiet residential neighborhoods with a variety of single-family homes and older condos.
Mid-Beach is home to some truly amazing real estate, most notably along the "Millionaire's Row" section of Collins Avenue. Here, you'll find boutique condo residences in ultra-luxury high-rises that offer endless resort-style amenities.
Additional Reading
Learn more about some of the neighborhoods in Miami Beach: