11 Reasons to Retire in Miami, Florida | Retiring in FL
Posted by Discover Homes Miami on Wednesday, November 23, 2016 at 3:05 PM
By Discover Homes Miami / November 23, 2016
Comment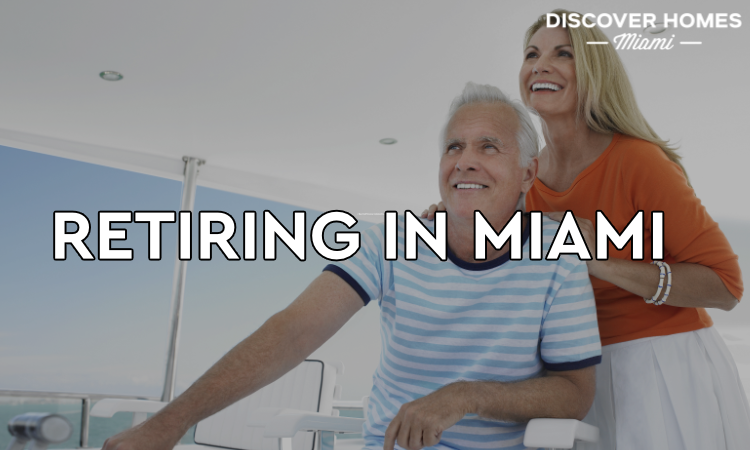 1. Great Weather
Warm and sunny weather is synonymous with living in Miami, and this kind of weather is perfect for retirees for a number of reasons. For starters, problems like arthritis and certain respiratory conditions are often aggravated by cold weather. With the year-round warm weather in Miami, you can say goodbye to the many health problems that worsen when winter sets in.
Weather in the State of Florida, and Miami in particular, are warm sunny days that are usually balmy and comfortable. The usual temperatures that you can expect here most of the year is between 81 and 60 degrees Fahrenheit.
Miami is known for having the warmest winter climate of any major U.S. city, making it a perfect retirement destination for those who suffer from arthritis and other joint disorders.
2. There's Plenty of Retirees
Who can better understand what you are experiencing in your golden years but other individuals who are also enjoying their retirement years just like you? Finding new friends to share new memories with and to experience the many amazing activities that can be found in Miami is easy. This is because around 15 % to 17% of the population here is above 65.
Having been called the retirement mecca of the US, it is no wonder that finding people of your age to share the many joys of retirement is easy here.
3. Accessibility
If you are traveling from Miami to another state in the US, or even to another country, all you need to do is to get to the Miami International Airport (MIA). This airport is where over 80 airlines take-off and land. This is also where getting to any of the country's 49 other states and 5 territories is easily done. You can also get to more than 100 other cities worldwide via this portal.
Getting to Miami via this airport is also easy, since numerous flights do head to this busy airport daily. In one month, the airport can expect to receive around a million visitors from both local and international destinations.
4. Affordable Home Ownership
Buying a home in Miami is probably one of the best things you can do for yourself in your golden years, and this is because of the Homestead Exemption for senior citizens. This is a property tax exemption that allows senior citizens to get property tax exemptions for homes that are valued at lower than $250,000. This is especially beneficial for senior citizens who are considered low-income individuals.
Aside from this exemption, property in this part of the US is considered reasonably priced, with a two-bedroom home having a median price of $150,000 and three-bedroom homes costing a little over $200,000.
5. A plethora of entertainment options
There are so many entertainment options in Miami, and these include both daytime and nighttime activities. Parks, theaters, nightclubs, shopping malls, and the beach are just a few of the many places where you will find these entertainment choices. If you are into history and architecture, Miami has quite a few sites you might want to check out.
Want to get into the pink of health? There are a number of gyms and fitness centers that you can look into for your fitness needs, or you can buy yourself a bike and explore the many interesting places in the Miami-Dade area.
6. The Beach!
If you love the sun, the sand, and the surf, then Miami is the perfect place for you to retire to. This city has quite a few options for people to choose from when they are looking to spend the day at the beach, and all of these options are either a short walk or drive away from their homes. Due to the fact that the city is located at the southernmost tip of the state of Florida, the number of beaches you have access to is numerous.
There is Lummus Park Beach in the ever-popular South Beach area of the city, Bill Baggs Cape Florida State Park, Hobie Beach, and Bal Harbour Beach, to mention but a few. Each beach is known for a specific activity people love doing there, like Lummus Park being one of the best places to watch and meet people, and Hobie Beach being the best one for windsurfing.
7. Low Taxes & Cost of Living
There is a reason why the cost of living in Miami is considered one of the lowest in the country, specifically for retirees, and this is because healthcare, transportation, and taxes in the state are lower than in most of the other states in the US. The overall cost of living here is pegged at 1% the lower than the national average. It is also a place where people do not need to pay income tax. People may not be aware of this but your 401(k) can actually be taxed, even when you are already retired.
Since the state has no income tax, you will end up having more spending power. Also worth noting is that there is also no estate and inheritance taxes here.
8. Great Healthcare
Did you know that some of the best hospitals in the US can actually be found in Miami? Miami Jackson Memorial Hospital, Mount Sinai Medical Center, and Baptist Hospital are just a few of the top medical institutions located within the Miami-Dade County borders. Miami also has every kind of healthcare you might need, be it specialized care or general health care.
For those who need in-home help and nursing services, the state is also known for its reasonably priced options for these. It is ranked eighth in the list of states that offer the lowest costing in-home help and nursing services.
9. Active Adult Communities (AAC)
There are dozens of Active Adult Communities that cater to retirees throughout Florida, and many of them are in Miami. These AACs offer a variety of services and amenities, besides the intangible comfort of belonging to a caring group.
As an example, the award-winning Lennar Active Adult Communities, which builds retirement and active-adult homes in over 18 states, offers state-of-the-art fitness centers, club and hobby rooms, and community events. There is no doubt that joining an AAC in Miami can add lots of excitement to your retirement years.
10. Walkability
Miami is regarded as a very walkable community. In fact, since 2011, Miami consistently lands in the top 10 of Walk Score's annual rankings of America's most walkable cities. In 2015, Miami (the city proper, not the greater metropolis area) was the fifth most walkable city in America, three spots higher than its previous year's rank. Walk Score's rankings include all American cities with a population of 300,000 or more and took walking routes, pedestrian friendliness, neighborhood data, depth of choice, and population into account.
The Wynwood and Design District neighborhoods, where many new dining places and entertainment centers have mushroomed in previous years, are a joy to explore on foot. Meanwhile, areas like the South Beach have always been considered walkable and have become even more enticingly so in previous years. Neighborhoods like Wynwood, the Design District, Little Havana, Brickell, and Downtown are likewise easy to walk around, so make sure to bring your favorite walking shoes.
11. Cleanliness
In 2008, Forbes Magazine ranked Miami as the Cleanest City in America. And in 2015, Livability.com ranked Miami as America's fourth healthiest city, based on factors such as local access to doctors, lifestyle choices, and farmers' markets. Livability rounded up its top 10 list by determining cities that offer the "best health care in terms of access, quality, and affordability," health factors like the number of smokers, alcoholics, obese, and daily-exercising residents, as well as access to food, walkability, and amenities that promoted healthy living. Even clean air and water were taken into account.
The site reported that most Miami residents "get in some kind of daily exercise at least three times a week, keeping the city's obesity rate under 23 percent… The majority of residents resist the urge to drink excessively or smoke." Its recent juice bar boom, access to parks, beaches, the Everglades, and kayak-ready canals were also among the factors that led to the Sunshine State's biggest city being crowned as the fourth healthiest U.S. city.