Living in Pompano Beach: 2021 Community Guide
Posted by Discover Homes Miami on Tuesday, February 23, 2021 at 8:41 AM
By Discover Homes Miami / February 23, 2021
Comment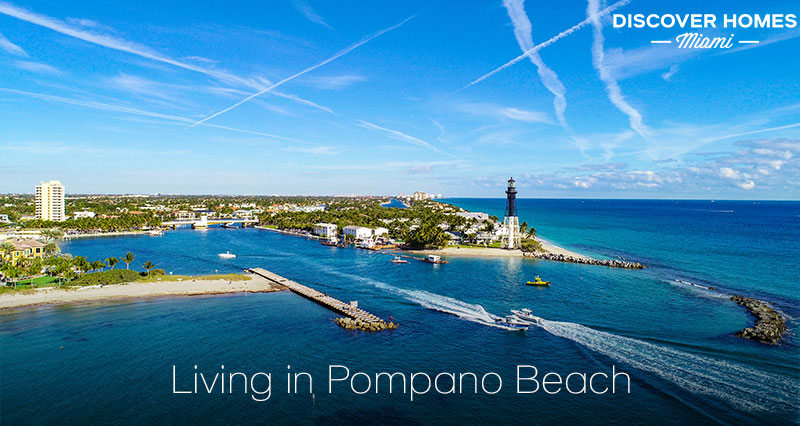 The charming and unassuming city of Pompano Beach lies at the heart of South Florida's Gold Coast, roughly midway between Fort Lauderdale and Boca Raton. Offering a peaceful respite from the bustling cities to the south, Pompano Beach has a relaxed, unpretentious vibe, with a lifestyle that revolves around outdoor activities, community events, and plenty of beach time.
That's not to say there isn't plenty going on here, though. Major renovation projects have been undertaken to transform the old downtown area into a thriving cultural and commercial zone, replete with galleries, restaurants, cultural events, and a burgeoning craft beer scene.
With its beautiful parks, wide stretches of pristine, uncrowded beach, and strong community spirit, Pompano Beach has become one of South Florida's most sought-after places to live. Let's dive into what makes Pompano Beach such a desirable place to call home.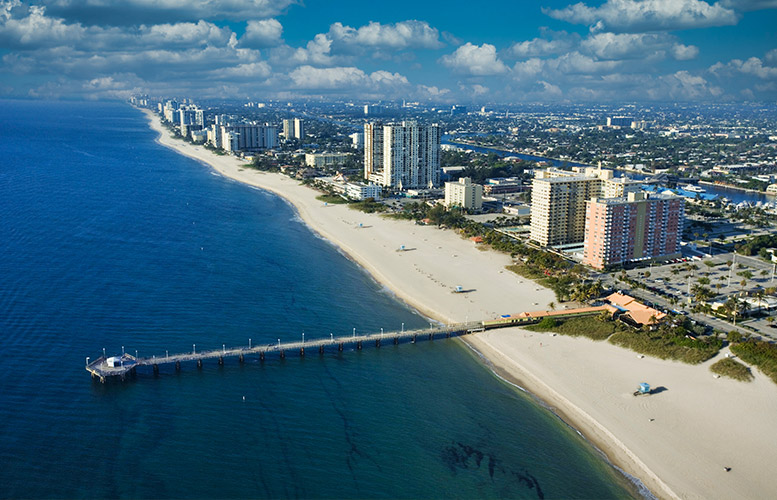 Pompano Beach's shoreline
Lifestyle & Culture
Home to over 50 parks and miles of pristine beach, Pompano Beach is an ideal place to make the most of South Florida's wonderful year-round climate. Residents here enjoy an active, outdoor lifestyle, and the city's pedestrian-friendly streets allow for walking, jogging, and cycling in safety.
Pompano Community Park is, perhaps, the most popular park in the city and is always buzzing with lively energy. Locals of all ages gather here to play tennis or basketball, stroll around the park's walking trails, or just sit and watch the world go by. Local kids love the playground and open-air swimming pool here, and the park's wide-open spaces are great for weekend family picnics. Elsewhere, Harbour's Edge Park offers a more low-key experience, with quiet walking trails and picturesque views of the Intracoastal Waterway.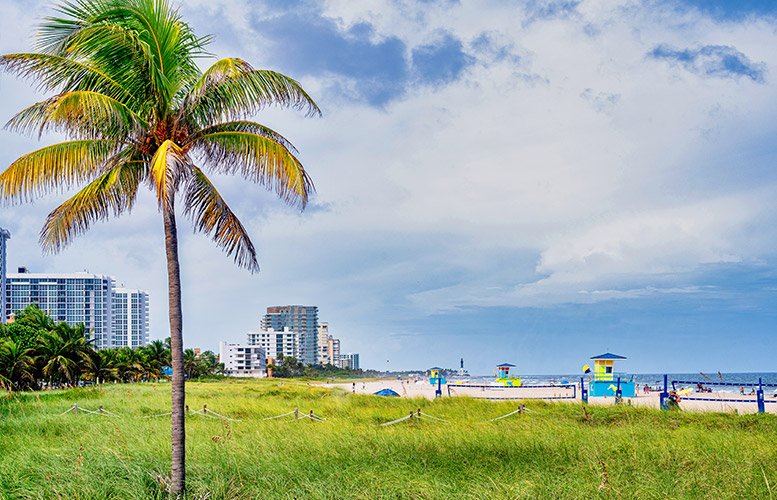 Pompano Beach's beach
Residents of Pompano Beach are proud of their 3.5-mile stretch of sand and for good reason. The wide beach is lined by palm trees that sway in the ocean breeze. The sand is sugary-white, and the crystal clear water is calm and inviting. Locals love to walk the length of the beach in the early mornings when the air is clear, and the silence is golden. Unlike the beaches further south, this stretch seldom feels crowded, and it's easy to find a peaceful spot to while away in the afternoon.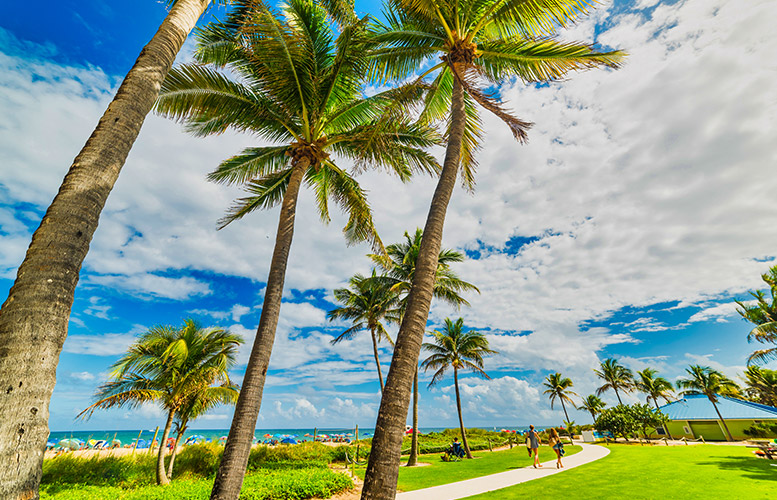 Pompano Beach features green space and trails that run parallel to the beach
Pompano Beach Park is one of the more popular areas, providing a family-friendly atmosphere. There's a lifeguard here, as well as a snack bar and cabana rentals. North Ocean Park feels like a hidden gem at the northern end of Pompano Beach. This beach is popular with local kiteboarders and offers picturesque views of the Hillsboro Lighthouse. In between, Pompano Beach Pier is a fantastic place to hang out and watch the waves. This awesome pier is especially popular with local fishermen, and there's always a friendly atmosphere here.
Sailing, boating, and water sports are all huge in Pompano Beach. There are several private boat docks, and many residents who live along the city's waterways and inlets have boats moored right outside their back doors. Boat trips to favorite snorkeling and diving spots are among the most popular weekend activities here, with live coral reefs and spooky shipwrecks providing unlimited opportunities for underwater exploration.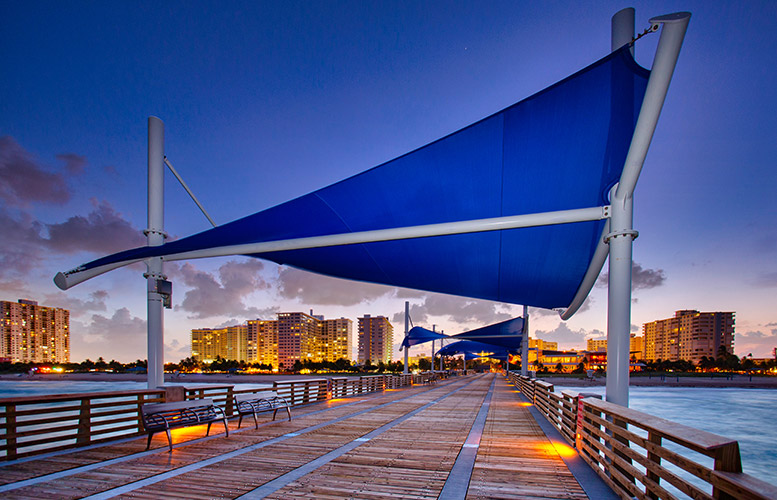 Pomapno Beach pier
After a long day on the beach or out on the waves, Pompano Beach locals love to make their way to one of the many restaurants or bars that dot the city. The dining scene here is relaxed and friendly, with a focus on unpretentious, family-owned joints. Longtime favorites include Cypress Nook Bavaria Haus, which has been serving up German specialties since the late 1970s, and the Rusty Hook Tavern, which offers up the freshest seafood around. The menu changes daily, depending on the local catch, and the sunset views over the Intracoastal are sublime.
There's a thriving craft beer scene in Pompano Beach, and new local breweries seem to pop up regularly. Old Town Untapped is a monthly celebration of the city's beer and food scene, and there's always an interesting selection of local beer to sample.
For the most part, shopping options are fairly mainstream, with Pompano Citi Centre providing various big-name stores and restaurants in an open-air setting. The notable exception is Festival Flea Market, which is always worth checking out. This amazing shopping destination offers a treasure trove of bargains, with hundreds of kiosks and boutiques selling everything under the sun.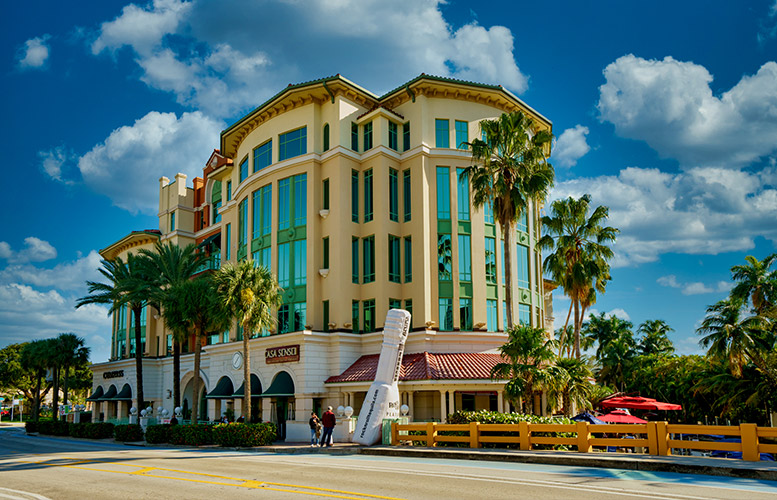 Some of the nearby upscale shopping in Fort Lauderdale's Las Olas Blvd shopping district.
More varied shopping can be found in nearby Fort Lauderdale, which can be reached in as little as 20 minutes. Las Olas Boulevard is a popular choice for a shopping trip, and its eclectic collection of upscale boutiques, art galleries, sidewalk cafes, and fantastic restaurants always make for a good day out. Other nearby shopping destinations include the Promenade at Coconut Creek, with its boutiques, restaurants, and luxury movie theater, and Sawgrass Mills Mall, which features a universe of big-name outlet stores.
There's a decidedly offbeat and artsy streak running through Pompano Beach, exemplified by the dozens of quirky pompano fish sculptures scattered throughout the city. Locals passionately support the arts in Pompano Beach, and the Cultural Center, opened in 2017, is the center of cultural life here. This awesome space houses a 400-seat theater and regularly hosts music performances, film, theater, dance productions, and visual art displays. Outside on the Great Lawn, families, and friends regularly gather on picnic blankets to enjoy evening movies and concerts.
Pompano Beach Amphitheater is another important cultural venue. This gorgeous outdoor amphitheater hosts regular concerts, drawing thousands of locals and visitors. Bailey Contemporary Arts Center is located in Pompano Beach's revitalized downtown and offers studio space to local artists. There are galleries here, too, and a slew of workshops, classes, and educational opportunities for local kids.
Things to Do in Pompano Beach
Butterfly World
While not technically in Pompano Beach, Butterfly World is located in the neighboring city of Coconut Creek. What started as one man's hobby is now the world's largest butterfly park with more than 20,000 butterflies. In addition to butterflies, Butterfly World is home to other insects, exotic birds, and plant species. Part of the profits from Butterfly World helps to fund the Boender Endangered Species Laboratory at the University of Florida, named for the man who turned his hobby into a magical wonderland of butterflies. For more information and tickets, check out their website.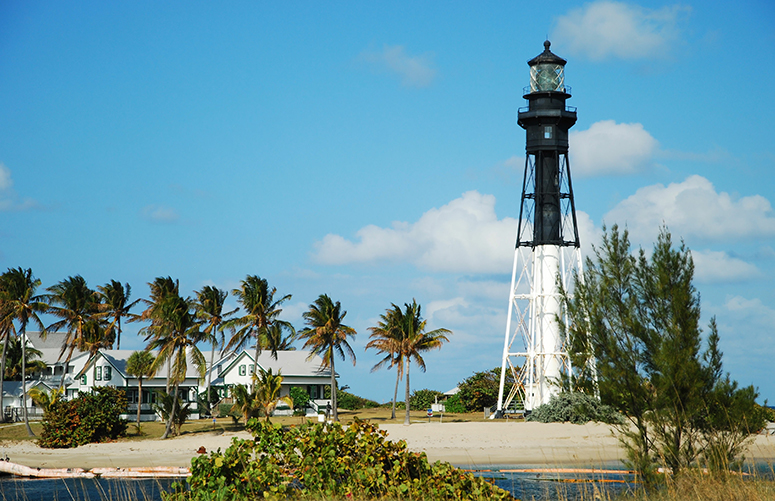 Hillsboro Inlet Lighthouse
Located northeast of Pompano Beach, the Hillsboro Inlet Lighthouse marks the Florida Reef's northern edge located off the coast of Pompano Beach. The Hillsboro Lighthouse Preservation Society helps preserve the lighthouse's history by offering tours of the lighthouse and grounds. An on-site museum contains artifacts to educate visitors on the importance of maintaining the lighthouse. For tour information, visit their website.
The Isle Casino Racing Pompano Park
As both a casino and horse racing venue, The Isle Casino Racing Pompano Park is home to over 1,000 slot machines, a poker room, and a Harness Racing track. There are also electronic table games such as blackjack and roulette. If you aren't feeling lucky, enjoy a meal from one of three on-site restaurants, where you can choose from seafood, steak, or deli-style food. Numerous events are also held here throughout the year. Visit their website to see the events.
Curtain Call Playhouse
Curtain Call Playhouse is a performing arts theater located in Pompano Beach. If live theatre suits your interests, this is the place for you. With both an adult and children's theatre program, the playhouse offers year-round shows that change with the season. The Children's Theatre offers theatre camps that teach kids the skills they need to be successful. Performances are always changing, so visit their website for the most current listing.
Parks & Recreation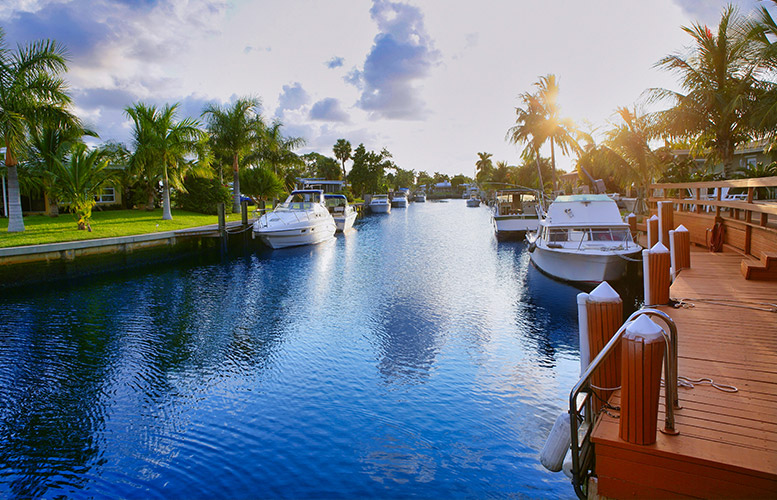 The Pompano Beach Waterway
Water Recreation
Deep-sea fishing, boating, scuba diving, and snorkeling are among the many recreational activities visitors and residents can participate in. Scuba diving and snorkeling are popular due to the coral reef and numerous shipwrecks found off the coast of Pompano Beach. Book a deep-sea diving excursion through one of the many fishing charters, or take your boat out on the water and spend your day at sea.
Pompano Beach Municipal Golf Course
The Greg Norman Signature Pines Course is one of the best in and around Pompano Beach because of its state-of-the-art design by renowned golfer Greg Norman. Play a casual round of golf, take lessons, enjoy a meal at the restaurant, or visit the pro shop. For more information on the golf course design, visit the Greg Norman Golf Course Design website.
Pompano Beach Amphitheater
This open-air concert and entertainment venue is a great place to hear and see live music and other performances. The amphitheater can seat 3,000 people and hosts a wide variety of performances throughout the year. Music festivals are also held here. Check out their website for more information.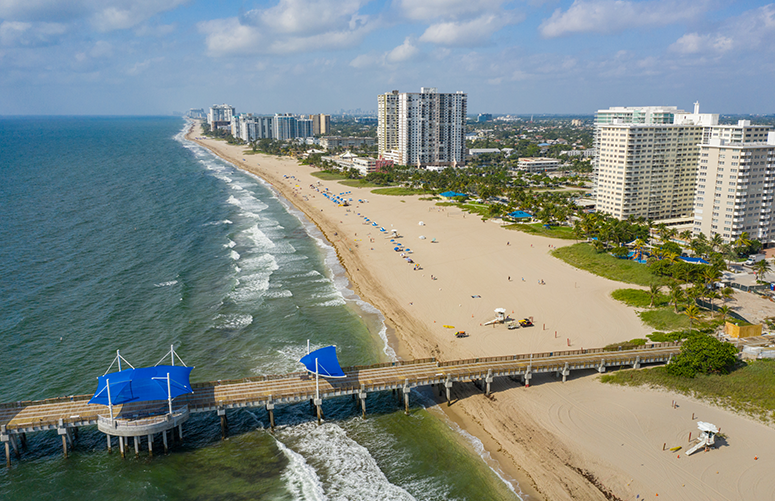 The Pompano Beach & The Pompano Beach Pier
Pompano Beach
Pompano Beach is a popular beach for surfing, paddleboarding, and boogie boarding. The beach has several access points, but surfing and paddleboarding are only permitted at certain places. Boats and jet skis can be launched from Alsdorf Park, where a playground and picnic area are also located. Fish or sightsee from the centrally located Pompano Beach Pier. A bait shop is also located on the pier for your fishing needs. Check beach conditions by visiting the Pompano Beach website.
Fern Forest Nature Center
Located in Broward County, Fern Forest Nature Center is a nature preserve with over 30 varieties of ferns. Hike, jog or walk through the 247 acres of plants, swamps, pine forests, and nature trails. The park also has an amphitheater, exhibit hall, and picnic area, or rent a room for weddings, meetings, and other gatherings.
Pompano Community Park
Pompano Community Park is a large city park with activities for all ages. The park features a playground and picnic pavilions, basketball and tennis courts, baseball fields, an amphitheater, an aquatic center, and outdoor gym stations. For a more relaxing experience, enjoy a walk along one of the trails while you soak up the Florida sunshine.
The Great Lawn
The Great Lawn is another outdoor concert and event venue that features year-round performances. A popular event that takes place during the summer is Music Under the Stars. This event features a variety of musicians and lasts all summer long. The Great Lawn doesn't have a specific website. Still, visitors and residents can check out the City of Pompano Beach event calendar for a list of other events at the Great Lawn and other locations around Pompano Beach.
Pompano Beach Air Park
The Pompano Beach Air Park is an airport that serves Broward County. But besides being an airport, the Pompano Beach Air Park provides other aviation services, including scenic air tours, flight training, aerial photography, storage hangers, and aircraft sales.
Shopping & Dining in Pompano Beach
Pompano Citi Centre
Pompano Citi Centre is a shopping, dining, fitness, and entertainment venue that features both boutiques and department stores and a selection of restaurants all in one location. In addition to shopping and dining, the complex also has law and medical offices, making it one of the busier destinations in Pompano Beach.
Shopping is mostly open-air and includes nationally known retail stores. Dining options include casual eateries, cafés, and full-service restaurants. Most of the dining establishments have outdoor seating, so you can enjoy dining al fresco. For a full list of stores and restaurants, visit their website.
Festival Marketplace
Festival Marketplace is an indoor European-style shopping complex with more than 250 shops. The marketplace has a collection of jewelry, cosmetics, and clothing stores for women, men, and kids. There are also alteration services offered on the premises. Events such as Animal Adoption Day, Vintage Fair, and special holiday shopping experiences are held throughout the year. Visit the website for event and store listings.
Hillsboro Antique Mall
If you have an affinity for the old-fashioned or unique, visit the Hillsboro Antique Mall. The mall boasts over 35,000 square feet of booths and showcases, with more than 200 vendors featured. If you're a collector, the mall offers many collectibles such as stamps, jewelry, coins, and more. Browsing and shopping here can truly be an all-day affair.
Art Connection
Art Connection is an art gallery that has been in business for 30 years. Sculptures, paintings, photographs, furnishings, and blown glass are all among the art pieces sold at Art Connection and were all created by local or national artists. Visit their website for a list of featured artists.
Dining
Due to its location on the coast, dining in Pompano Beach consists mainly of beach-themed restaurants, bars, and grills. Since Pompano Beach is a big fishing town, seafood makes up a large portion of the cuisine. But if seafood isn't your taste, various other cuisines are available, including German, Mediterranean, American, Asian, and Mexican. No matter what you're in the mood for, you'll find it in Pompano Beach.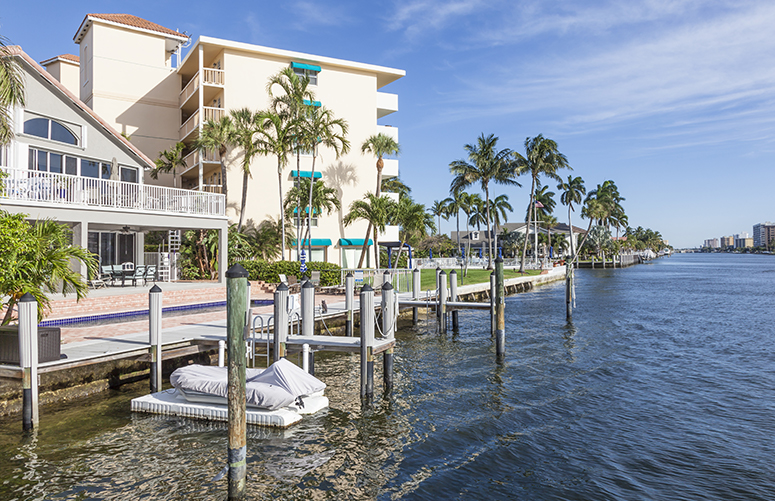 Waterfront condo in Pompano Beach
Real Estate in Pompano Beach
The real estate in Pompano Beach is mainly single-family homes, townhouses, and condo complexes. The communities of Leisureville and Tedder are where a large portion of single-family homes are located, while most condos are beachfront. Here are some highly-rated condo complexes in Pompano Beach.
Pompano Aegean
This 15-floor residence tower has two bedroom/two bathroom apartments that range from 1,100 to 1,600 square feet. The condos have views of the ocean and city. Amenities included are a swimming pool, fitness center, library, and activity center with a ping pong table, pool table, and card room. Residents can feel safe with 24-hour security. Visit their website for more information.
The Pointe
This condo complex has 10 stories and 120 condo units. The units range between 1,290 and 1,500 square feet, with both 2 bedroom and 3 bedroom units available. See views of the Atlantic Ocean and Intracoastal Coastal Waterway from your unit. Larger kitchens and more counter space are some of the unit's features. Amenities include a pool, gathering rooms, garage parking, 24-hour security, and a fitness center.
The Claridge
The Claridge has 198 units and 24 stories. Units in The Claridge contain up to 1,844 square feet of space with 2 bedrooms and 2 bathrooms. Most units have been upgraded and contain stainless steel appliances in the kitchen and new flooring throughout. Amenities available to residents include a heated pool, sauna, fitness center, beach access, billiards, shuffleboard, a bar, BBQ grills, and a library.
Pompano Atlantis
This 19-story beachfront tower has two-bedroom condos with balconies and open floor plans. The Pompano Atlantis has beach access, a heated pool located on the beach, saunas, and an exercise room. Most condos are between 1,400 and 1,600 square feet.
Corniche
Corniche is a luxury condo complex with 15 floors and 52 units. Each unit has up to 3,000 square feet of space and ranges from 2 to 3 bedrooms with oceanfront views. Prices range from $900,000 to upwards of $1 million, making it one of the more expensive residential complexes in and around Pompano Beach. Pets are allowed with some restrictions. Other amenities include a heated pool, community room, gym, BBQ and picnic area, billiards, card room, and vehicle wash.
Seville House
Seville House Condominiums is located on the Intracoastal Waterway. This 11-story complex has 91 units. Built in 1968, it is more low-key and reminiscent of "Old Florida." It is located 2 blocks away from the ocean. Amenities include a waterfront heated pool, party room, and community room.
Aqua Loft Townhomes
If townhouses are more your style, Aqua Loft Townhomes are a popular choice. Consisting of two 3-story tall buildings, each townhouse has 3 bedrooms, 3.5 baths, its own private elevator, and a two-car garage. Half of the units are waterfront, with the other half located behind the waterfront units. Each townhouse has a rooftop terrace, giving residents a view of the Intracoastal Waterway. Some homes have their own private pool and hot tub. There are docks available to moor your boat, with access to the open ocean.
Additional Reading