Living in Pinecrest, FL: 2021 Community Guide
Posted by Discover Homes Miami on Sunday, February 14, 2021 at 2:09 PM
By Discover Homes Miami / February 14, 2021
Comment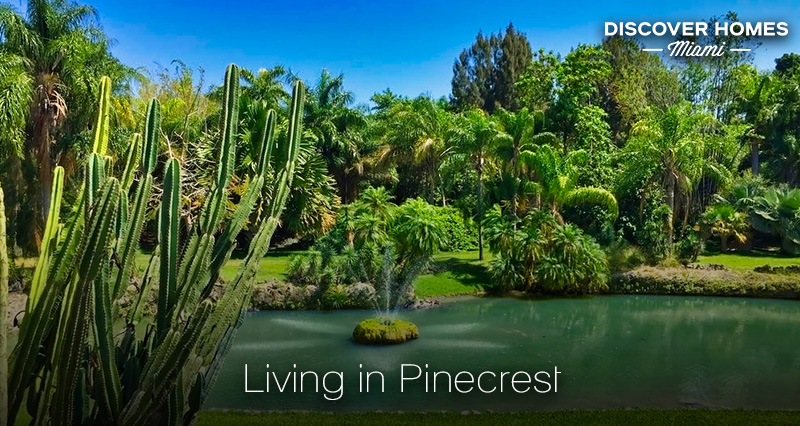 Pinecrest is an affluent suburban village in Miami-Dade County with a population of just under 19,000. With a total area of less than 8 square miles, Pinecrest is a small but welcoming neighborhood that features picturesque tree-lined streets, beautiful houses on large lots, and a friendly, peaceful atmosphere.
Although Pinecrest is within easy reach of downtown Miami and Coral Gables, it retains a tranquil feel, with very little city noise and traffic congestion. Pinecrest attracts those who are looking for a community where social events and gatherings are the focus.
The progressive local government promotes an environmentally-friendly philosophy, and local zoning laws are strictly enforced. This has led to a tidy, ordered community with gorgeous gardens and landscaping.
The 33156 zip code covers most of Pinecrest Village and is consistently ranked among the most expensive in the country. Pinecrest attracts wealthy residents who enjoy its proximity to downtown Miami, without the hustle and bustle of city life. Much of the real estate consists of large single-family homes on multi-acre lots.
Let's take an in-depth look at what makes Pinecrest such a sought-after place to live.

Members of Pinecrest's community. Source: Village of Pinecrest Government
Lifestyle and Culture in Pinecrest
Pinecrest's quiet, pedestrian-friendly streets are ideal for walking or biking, and this is how many locals get around the village. The Pinecrest People Mover is a free bus that provides connections to local schools and neighborhoods and the regional Metrobus transit system. Many residents commute to downtown Miami during the week, and although the journey can take as little as 20 minutes, the infamous South Florida traffic can result in longer driving times.
Pinecrest residents love to spend time outdoors, and the warm, sunny climate is ideal for getting the most out of this beautiful village. Locals enjoy nothing more than riding bikes around the immaculately maintained streets, taking time to admire enormous mansions with beautiful gardens.
Neighborhood parks like Evelyn Green Park and Coral Pine Park are favorite gathering places for picnics, sports, and parties, while Pinecrest Gardens is the hub of community life. This amazing park hosts numerous events and festivals and provides a place for locals to gather and celebrate.

Pinecrest Gardens lake Credit: Ebyabe
Art is celebrated at every turn, and the village government promotes public art throughout Pinecrest. Wall murals and street murals bring color and whimsy to Pinecrest neighborhoods, and the impressive stainless steel sculpture by local artist, Santiago Medina, is a local favorite. Pinecrest Gardens is another place where art is promoted, with permanent displays and a rotating schedule of installations.
Events and festivals pack the local calendar, with Pinecrest Gardens providing the venue for much of the village's communal celebrations. The fantastic farmers market is held here every week, and regular outdoor movie nights are always well-attended. The park's amphitheater hosts concerts throughout the year and festivals like the Pinecrest Fine Arts Festival draw people from all over the region. These events and festivals maintain a cultural vibrancy in Pinecrest and help strengthen ties throughout the community.
US-1 runs through the center of Pinecrest, and it's here that much of the local shopping and dining can be found. Strip malls like Pinecrest Town Center are the go-to places for everyday errands, while The Falls provides an outdoor shopping mall experience, with well-known outlets and a wide variety of restaurants nestled among beautiful tropical landscaping.
The adjacent city of Coral Gables is where Pinecrest residents head when a more upscale shopping experience is needed. The Miracle Mile in Coral Gables is a paradise of boutiques, galleries, and fantastic local restaurants, while the Shops at Merrick Park is the place to go for high-end retailers like Tiffany & Co., Gucci, and Jimmy Choo.
The Miami-Dade Public School Schools system serves Pinecrest, and many families are attracted by top-rated schools like Pinecrest Elementary and Miami Palmetto Senior High School. There are plenty of private options, too, including the American Academy of Pinecrest and Gulliver Academy. Pinecrest is well-served by nearby options such as the University of Miami, Florida International University, and Miami-Dade College for higher education.
Things to Do in Pinecrest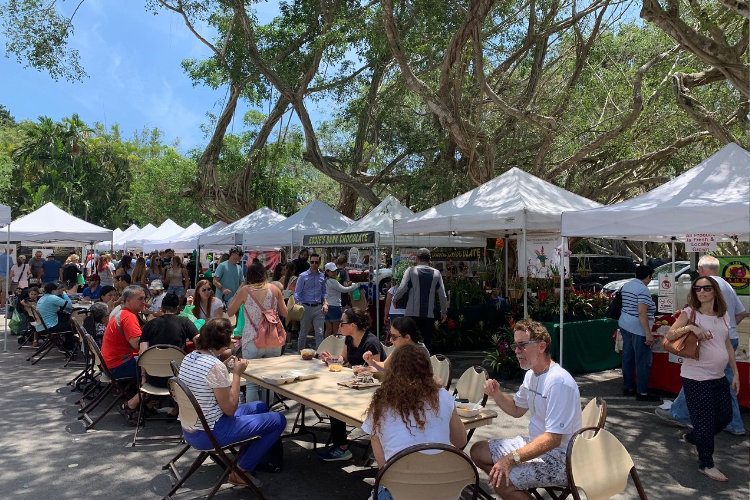 Pinecrest Farmers Market
Pinecrest Farmers Market
The Farmers Market in Pinecrest is one of the best around, and it's the perfect place to sample some of the Sunshine State's finest produce, art, crafts, and food.
This award-winning farmers market is held in Pinecrest Gardens each Sunday from 9 am - 2 pm, and you'll always find a new vendor selling locally-produced goods. Visiting is easy, thanks to the ample on-site parking, and it's best to get there early, grab a coffee and a pastry, and wander among the shady trees.
There are plenty of tables scattered throughout the market, providing a great place to sit and sample your produce while watching the world go by.
Pinecrest Chili Cook-Off
The Chili Cook-off is an annual event held at Pinecrest Gardens and provides a not-to-be-missed country-style hoe-down. There are loads to do and see at this well-attended festival, including live music, line-dancing, and a mechanical bull. There's plenty of food and chili-sampling to be had, and if you're really hungry you can enter an old-fashioned chili eating contest!
The International Chili Society sanctions the Chili Cook-Off, so the main competition is reserved for professional chili chefs. Still, there's an amateur cook-off, too, and this is where locals get a chance to show off their skills.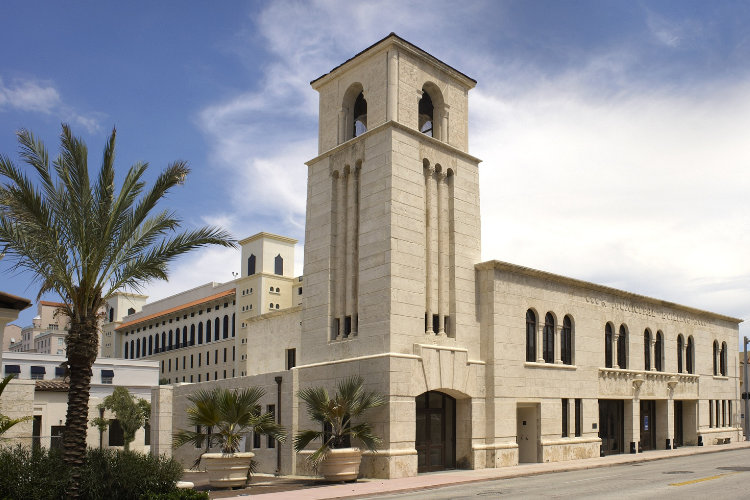 The Coral Gables Museum Credit: Coral Gables Museum
Coral Gables Museum
Located on Aragon Avenue in beautiful Coral Gables, this museum is only a few minutes' drive from Pinecrest. The Coral Gables Museum is housed in an architecturally significant building that previously housed the city's police and fire departments. Admiring the ornate coral-rock construction is part of the pleasure of visiting.
This museum provides a fun, inexpensive opportunity to learn about the area's history, culture, and economy, and you'll easily spend a couple of hours here. There are indoor and outdoor exhibits, and the 5,000 sq ft plaza hosts regular street fairs and events.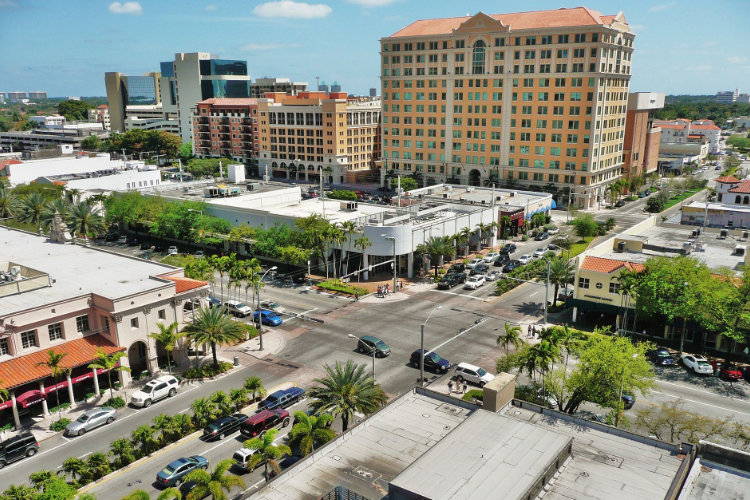 Coral Gables Miracle Mile. Credit: Marc Averette
Coral Gables Miracle Mile
A favorite destination among Pinecrest residents is the Miracle Mile, located in the heart of nearby Coral Gables. This atmospheric, European-style shopping street is filled with cafes and restaurants, all with sidewalk tables under strings of lights and lanterns.
The Miracle Mile is home to a bounty of exclusive boutiques, galleries, and high-end fashion stores, as well as many fantastic restaurants serving up cuisine from every corner of the globe. A favorite local gem is Books and Books, a bookstore just behind the main drag in business here since 1982.
Parks and Recreation in Pinecrest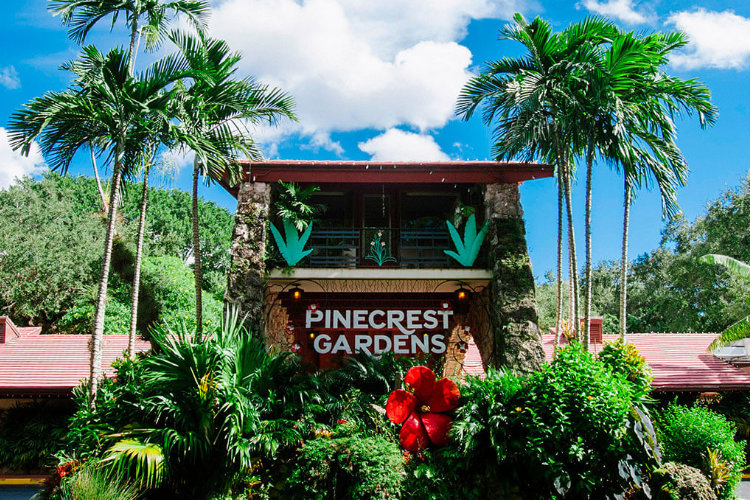 Pinecrest Gardens
Pinecrest Gardens
Pinecrest Gardens comprises 14 acres of lush botanical gardens and family-friendly attractions and is the village's heart and soul.
The park plays host to a diverse array of local cultural events and festivals, and the 530-seat Banyan Bowl amphitheater is a popular place to watch performances of all kinds. What was once the Parrot Jungle is now a beautiful place to walk among gardens and tropical forest, and there is so much to see and do.
Pinecrest Gardens is a paradise for the little ones, with a petting zoo, splash n play, and playground to keep them entertained. There's also a Sensory Garden education area that teaches kids about the world around them and regular family-friendly movie nights.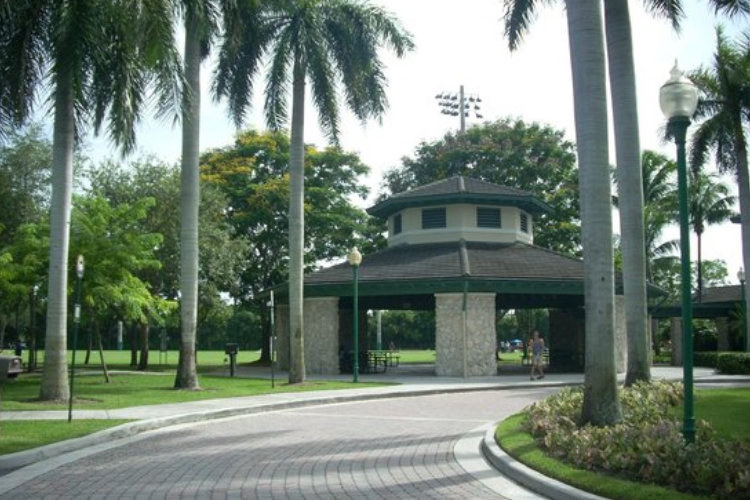 Evelyn Greer Park
Evelyn Greer Park
Evelyn Greer Park is a 10-acre facility that offers multipurpose athletic fields, a gazebo, and a community center. This park has become a popular meeting spot for local parents, and the shaded playground is a great place to get out a picnic and set the kids free.
Evelyn Greer Park is home to Leslie Bowe Hall, a neighborhood community center that offers classes, workshops, and birthday party facilities.
Matheson Hammock Park
Making time for the beach is always a top priority in South Florida, and Pinecrest residents are within striking distance of the beautiful beach at Matheson Hammock Park.
Located on Old Cutter Road in Coral Gables, this 600-acre park offers a peaceful refuge and feels miles away from the surrounding urban area. The beach is ideal for families with young children, and the warm, safe water is a great place to play. There's a man-made atoll pool that's flushed by the Biscayne Bay tide, as well as nature trails and biking trails that weave through the park.
Matheson Hammock Park also features a snack bar, restaurant, and full-service marina. It's easy to spend the entire day here, relaxing and enjoying the warm breeze and the stunning views.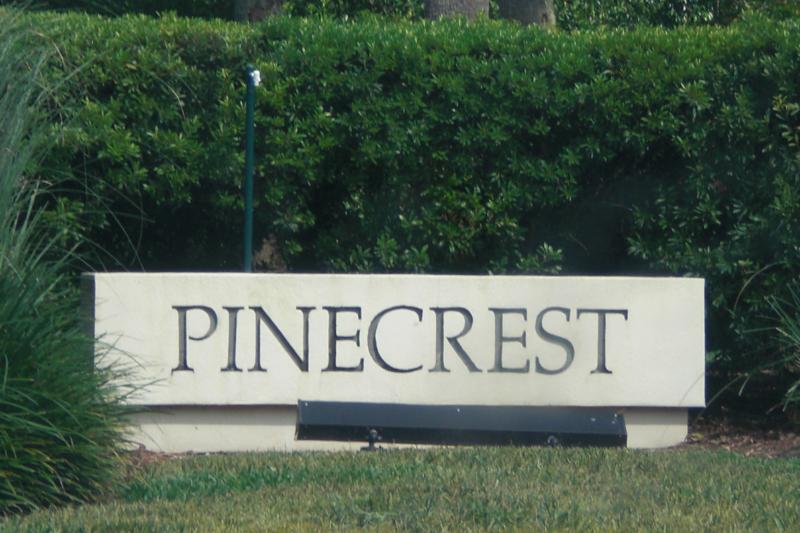 Pinecrest signage. Credit: Eloquentdelirium
Real Estate in Pinecrest
Pinecrest is home to some of the most expensive mansions in the country. Although some modest Florida-style properties are available, much of the real estate consists of enormous homes on sprawling estates.
Many of Pinecrest's mansions were custom-built, and this is reflected by the wide range of architectural styles that run from Neo-Colonial plantations to Mediterranean-Revival estates.
There are many gated and walled communities in Pinecrest. Arabesque is a prestigious gated community of 18 individually-designed homes that feature beautiful landscaping. Near Pinecrest Elementary, Arboretum Estates features 12 homes with luxury features like gourmet kitchens and private pools.
French Village is a walled community of gorgeous, villa-style townhomes. This community was built in 2007, and the exquisitely detailed homes feature luxuries such as marble floors, elevators, and beautiful arched windows.
Additional Reading