Palm Island, Miami Beach, FL: Private Waterfront Community
Posted by Discover Homes Miami on Sunday, February 28, 2021 at 3:50 PM
By Discover Homes Miami / February 28, 2021
Comment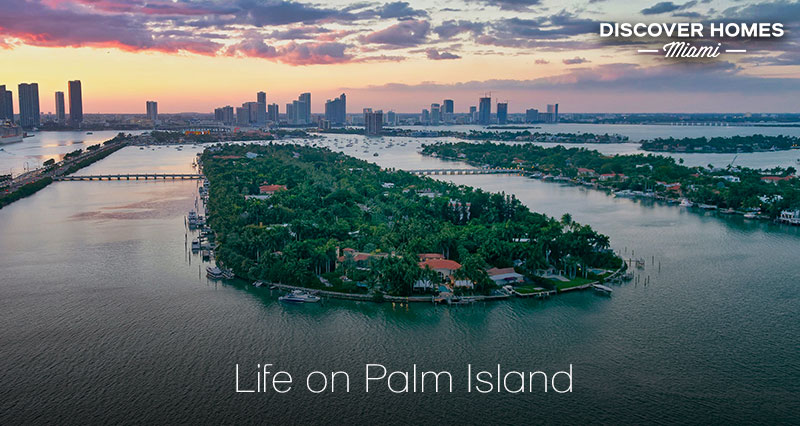 Nestled in the azure waters of Biscayne Bay is one of South Florida's most exclusive waterfront communities, Palm Island. This highly sought-after community is one of many man-made islands in South Florida and spans 82 acres.
Palm Island is within the City of Miami Beach and Miami-Dade County. The island has a rich history as a coveted destination for celebrities, tourists, and wealthy homeowners alike. With its stunning views of the downtown Miami skyline, crystalline waters, white sand beaches, and luxury residences, Palm Island is a tropical paradise.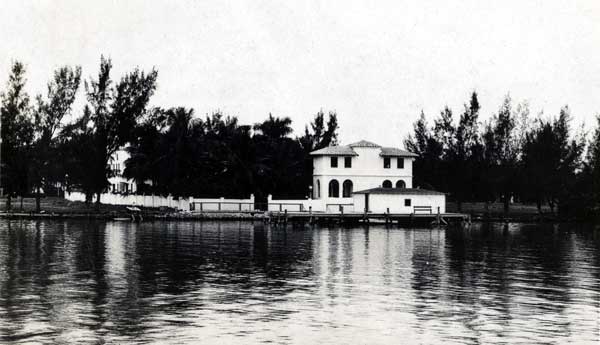 Al Capone's personal residence on Palm Island and his place of death in 1947.
History
The Army Corps of Engineers completed Palm Island's construction in the early 1920s by redistributing dredged sand from surrounding areas. Locke Highleyman, a real estate developer, sold all of the lots on Palm Island even before its construction was completed. Adjacent to Palm Island is Hibiscus Island and Star Island, which were also constructed around the same time.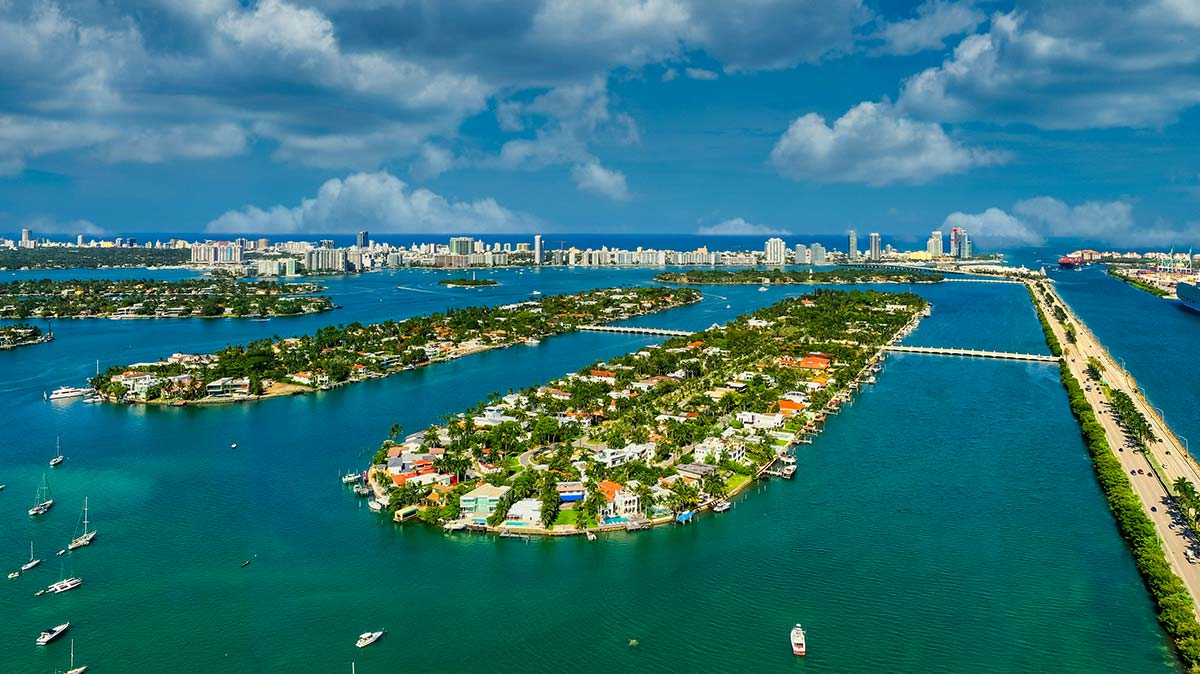 Palm Island with its twin, Hibiscus Island, to its left
In the 1930s, Palm Island quickly became a mecca for celebrities and the wealthy seeking the sunshine and white sand beaches of Florida during the winter months. The infamous gangster Al Capone owned a waterfront compound on the island, complete with a two-story pool house, sparkling pool, and expansive views of Biscayne Bay. His historic Meditteranean-style estate stands to this day and has been meticulously restored.
The Palm Island Club opened its doors in the Prohibition era of the 1920s as a high-end casino catering to South Florida tourists. This club later became the famous Latin Quarter Night Club.
The Latin Quarter Night Club opened on Palm Island in 1940 and was owned and operated by producer Lou Walters, the father of journalist Barbara Walters. It quickly became a hot spot for Florida nightlife, attracting big-name talents such as Frank Sinatra, Jimmy Durante, Jane Russell, and Jerry Lewis. While the illustrious Latin Quarter Night Club burned down in 1959, Palm Island remains an exclusive, posh locale for the rich and famous.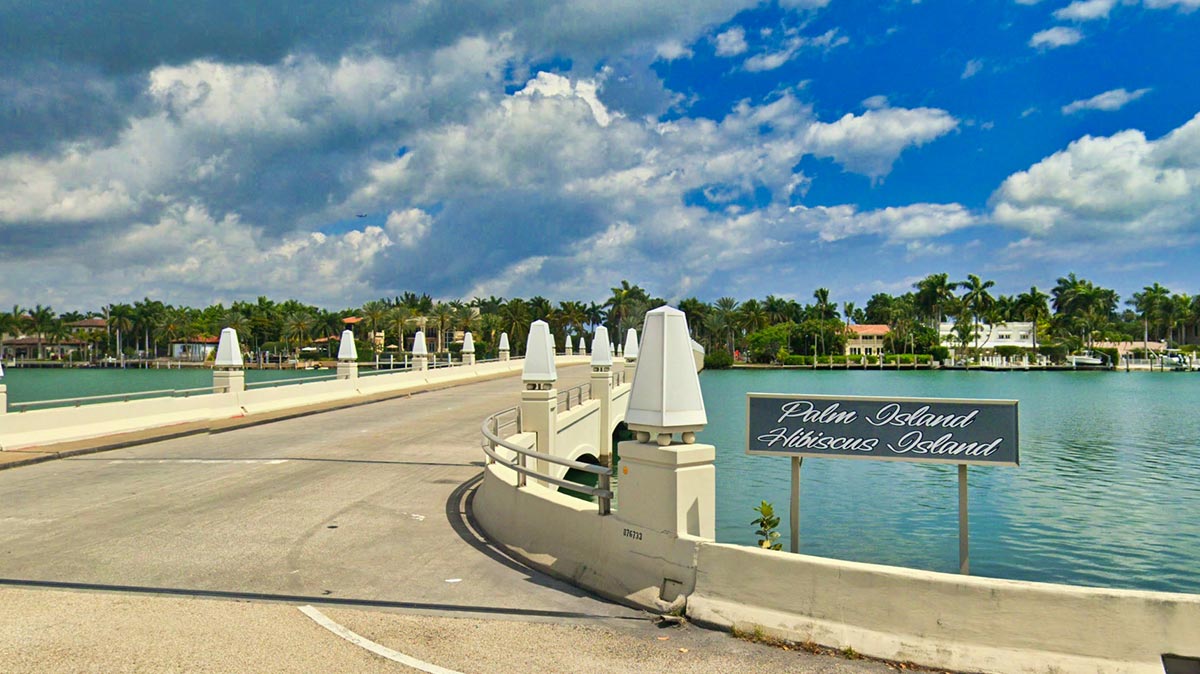 The entrance to Palm Island off of the MacArthur Causeway
Lifestyle & Amenities
Privacy and exclusivity are paramount on Palm Island, with 24/7 gated and guarded access to the island through the sole entrance via the MacArthur Causeway. Residents and guests enter the island through the guarded gate and are welcomed to the sight of palm trees and a charming roundabout with an impressive tiered fountain.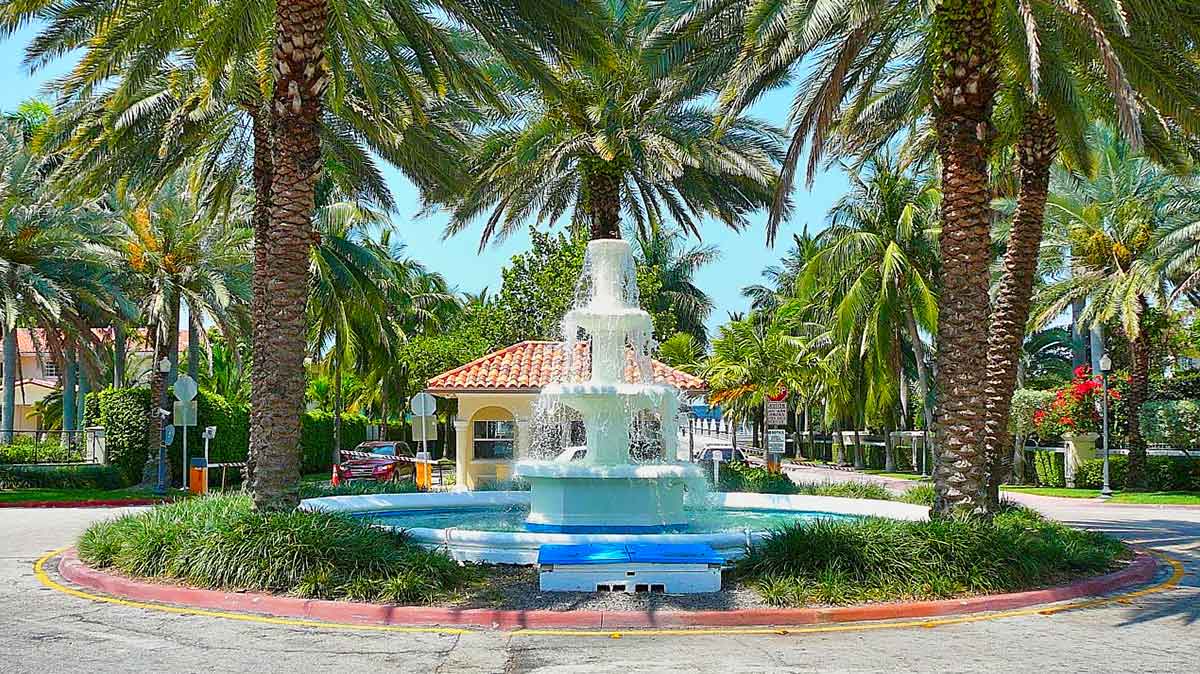 After crossing the bridge, you'll find the welcome fountain and guardhouse. Credit: Marc Averette (modified)
Residents can enjoy tennis courts, basketball courts, racquetball courts, a quaint community park, and a children's play area. These amenities are all shared amongst Palm Island and nearby Hibiscus Island residents.
Palm Island is perfectly situated, located just 15 minutes from the Miami International Airport, and is near the vibrant atmospheres of Downtown Miami and South Beach. Palm Island is part of the top-ranked Miami-Dade County School District, which is the fourth largest school district in the country.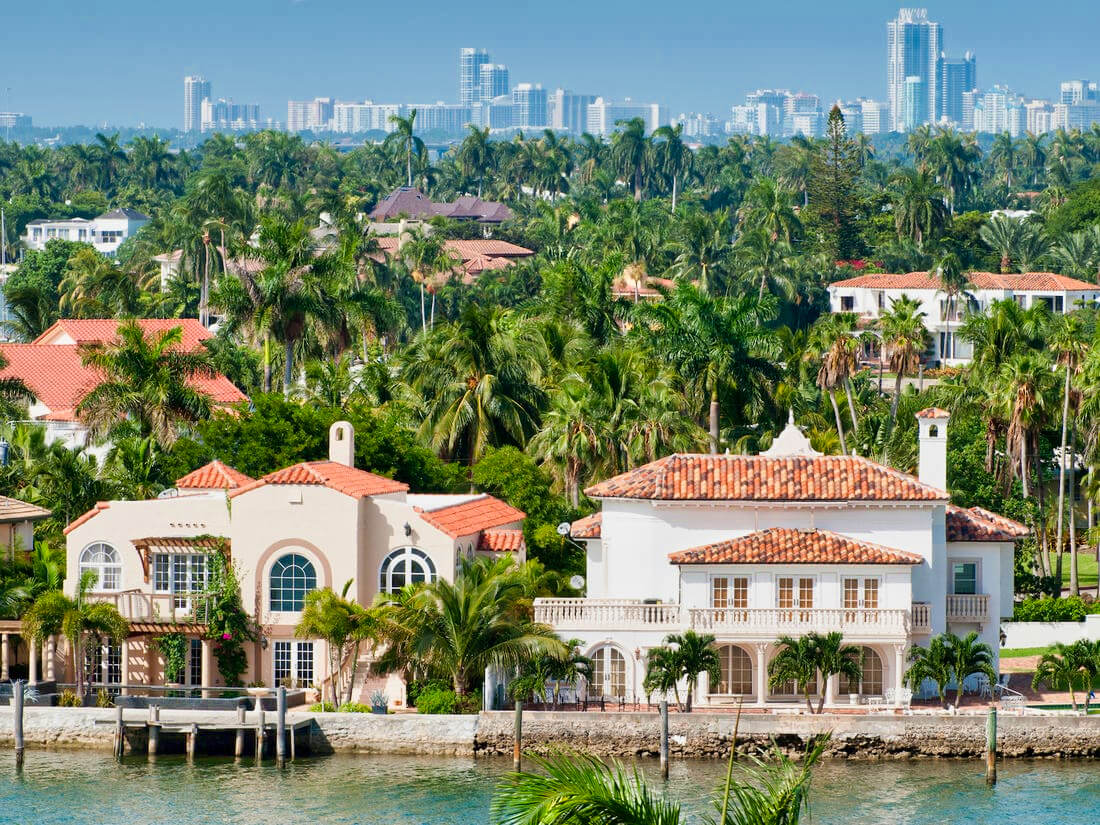 Luxury Meditterean-style homes on Palm Island with the Miami Beach skyline in the backdrop
Real Estate
Palm Island real estate features luxurious estates with the ultimate levels of privacy, exclusivity, and sophistication.
Waterfront mansions feature private docks for convenient boat or yacht access. Stunning architecture can be seen throughout the island, from traditional Meditteranean and European-inspired estates to modern and Art Deco-style homes. Many residences take advantage of the gorgeous downtown Miami skyline and Biscayne Bay views with rooftop balconies and outdoor heated pools.
Interior homes without waterfront access still enjoy the breathtaking surrounding views and feature lush tropical landscapes and gated entrances for additional privacy. Swaying palm trees, ocean views, and gorgeous, custom homes all make Palm Island a true luxury retreat in South Florida.
Additional Reading
Interested in exploring some other luxurious islands in Miami? Check these out: