Living in North Beach, Miami Beach, FL: Neighborhood Guide
Posted by Discover Homes Miami on Wednesday, February 24, 2021 at 9:15 AM
By Discover Homes Miami / February 24, 2021
Comment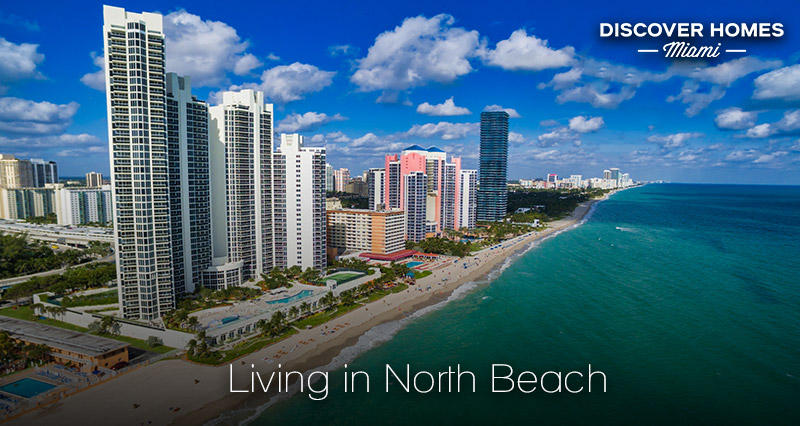 North Beach occupies the northernmost section of Miami Beach, not to be confused with the City of North Miami Beach. Residents enjoy a low-key, beach-centric lifestyle, and there's a strong sense of community spirit throughout.
North Beach is often overlooked in favor of flashy and glamorous South Beach, but that's just the way the residents of this friendly, laid-back neighborhood like it. There are fewer tourists here than in South Beach, and the small-town atmosphere attracts those looking for a welcoming residential neighborhood.
That's not to say there isn't plenty going on here. North Beach is a vibrant, eclectic neighborhood with a culturally diverse population. There's shopping and dining galore here, with an emphasis on small, local gems. Locals spend much of their time outdoors, whether eating, exercising, or gathering as a community at neighborhood events.
Let's dig deeper into what makes North Beach such a desirable place to live.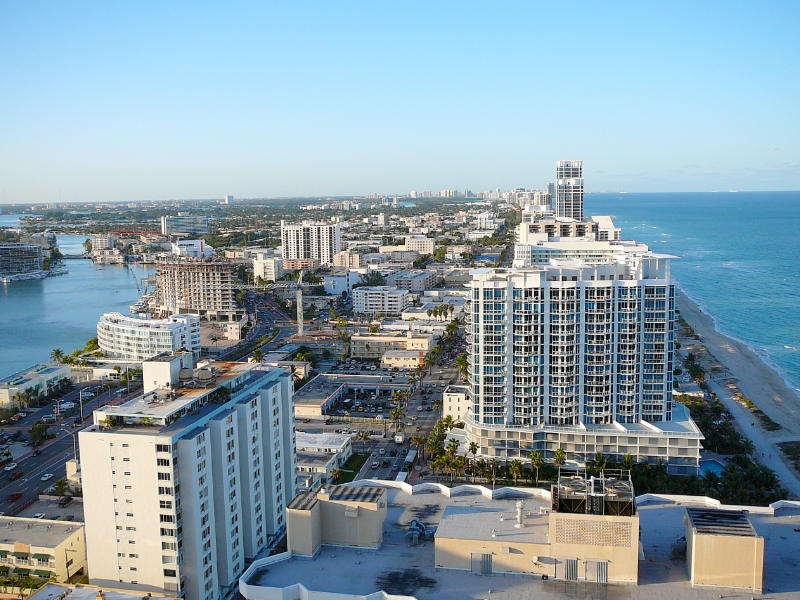 North Miami Beach city view.
Source: Marc Averette
Lifestyle and Culture in North Beach
North Beach is ideal for walking and biking, and although traffic is much lighter here than in other areas of Miami, many locals prefer to get around the neighborhood under their own steam. Away from busy Collins Avenue - with its shops, businesses, and restaurants - the tree-lined residential streets are quiet and pedestrian-friendly.
North Beach is conveniently located at the "Crossroads of South Florida," and it's common for North Beach residents to make the daily commute to either Fort Lauderdale or Miami. I-95, via the Golden Glades Interchange, provides easy access to downtown Miami in a little as 30 minutes, but driving times vary, depending on traffic conditions. For those who'd prefer to let others do the driving, Metrobus provides regular service to Miami. The awesome Miami Beach Trolleys provide free transport between North Beach and South Beach.
North Beach has a buzzing local culinary scene, and residents enjoy a wide variety of options. There's everything on offer here, from high-end dining to cozy, affordable restaurants offering homestyle cooking. North Beach's incredibly diverse population is represented at every turn, with restaurants serving Italian, Cuban, and Argentinean, as well as a host of other international cuisines. There's a booming craft beer scene in North Beach, too, with the burgeoning Brewery District emerging as one of the region's most exciting destinations for beer lovers.
Shopping in North Beach is defined by independent boutiques, surf shops, and funky thrift stores. Bal Harbor Shops offers a completely different shopping experience a few minutes north, replete with internationally-renowned luxury boutiques and high-end dining. Nearby Aventura Mall is another popular shopping destination among North Beach residents. With over 300 stores, Aventura is one of the largest malls in the Miami area and provides 3 levels of shopping heaven and contemporary art installations by local and international artists.
North Beach is blessed with one of the best year-round climates on Earth. Although summers can be hot and muggy, the Atlantic Ocean breezes temper the humidity, and residents like to spend as much time outdoors as possible.
With its wide stretches of fine, white sand, sparkling turquoise water, and pretty, grass-covered dunes, the beach is the hub of outdoor life in North Beach. Less crowded and intimidating than beaches to the south, this stretch of sand is where locals come to relax, socialize, and get some exercise.
North Beach Oceanside Park is a wonderful green space with paths winding through lush tropical landscaping. It's here that locals can be found hosting family parties, walking their dogs, or hanging out with a book, and the park never feels overcrowded. When evening rolls around, the sandhill at 81st Street is a favorite spot to enjoy the breeze and watch the sky change color as the sun sets.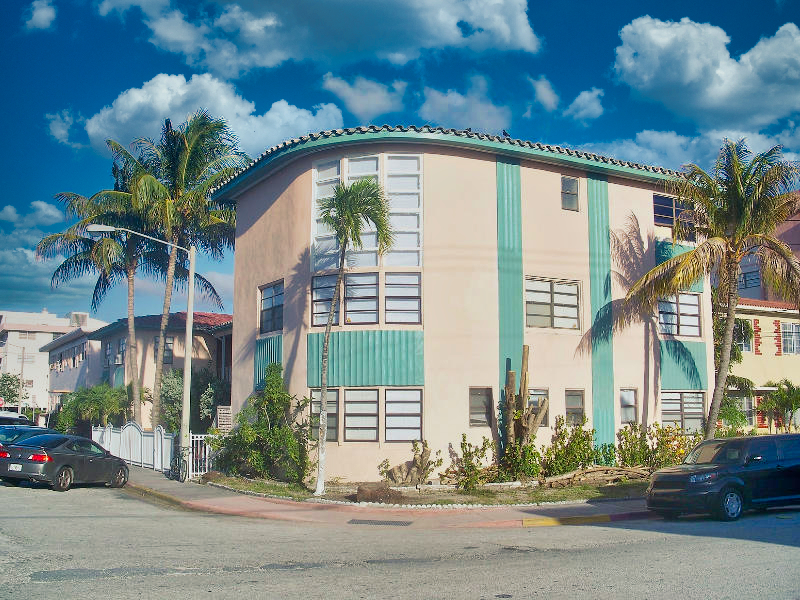 Miami Modern (MiMo) architecture within the North Shore Historic District. Credit: Ebyabe
Since 1961, the Miami Modern-style North Beach Bandshell has been the center of the neighborhood's cultural arts scene. This fantastic open-air amphitheater hosts concerts and events almost every night, ranging from dance band nights to indie concerts, and is an important community gathering place. Another favorite cultural activity is taking in a movie at O Cinema, which screens well-chosen films in a warm, relaxing space with a welcoming local vibe.
North Beach features an important collection of MiMo architecture, and locals are proud of the North Shore Historic District. These buildings have been preserved, thanks to the Miami Design Preservation League's efforts, and add to the beauty and cultural richness of the neighborhood.
Throughout the year, North Beach residents come together to celebrate their community, with many events taking place at the North Beach Bandshell. Elsewhere, a highlight of the local calendar is the North Beach Boat Parade, which features lit-up boats as part of a holiday extravaganza. Each month, the Full Moon Drum Circle draws crowds to the beach for dancing and bonfires, while smaller neighborhood events like Friday Night Live at the Fountain in Normandy Village bring families together for more low-key entertainment.
Things to Do in North Beach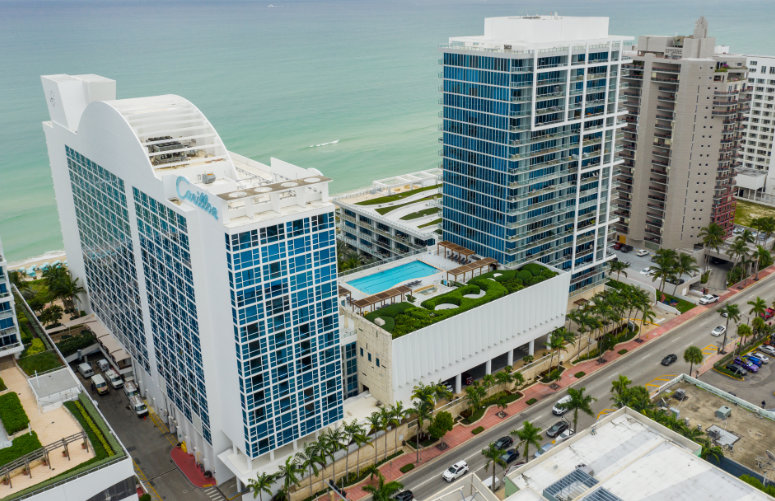 Carillon Miami Wellness Resort
The Spa at Carillon Miami Wellness Resort
Sometimes you need to be pampered, which is the place to come for a fully relaxing day. At 70,000 sq ft, this is the largest spa and resort in Miami Beach and offers a full thermal experience, including a crystal steam room, experiential rain showers, Finnish sauna, herbal laconium, and a Jacuzzi. There's also a rooftop pool and the option of a massage, facial, and body treatment.
The Spa offers acupuncture and energy healing as part of its Eastern medicine program and a nutritionist, wellness lectures, and fitness classes. With all this on offer, there's no doubt you'll feel a whole lot better after spending a day here!
Buenos Aires Bakery
There's a large community of Argentineans in North Beach, and their food and culture are alive and well here. The Buenos Aires Bakery is widely regarded among locals as the place to come and enjoy freshly baked empanadas and medialunas, as well as good, strong coffee.
This awesome bakery is bustling with locals in the mornings and serves lunch as well as breakfast. Come here early to pick up a box of pastelitos, or show up later to enjoy Argentinian-style pizza, which really doesn't get the international attention it deserves!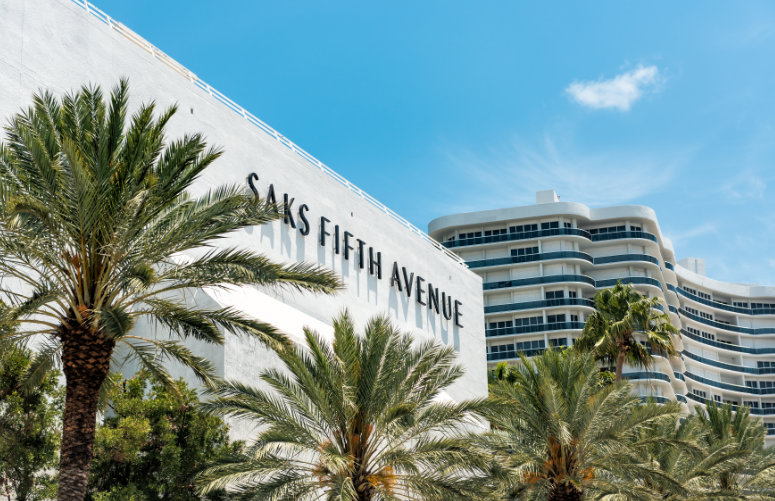 Bal Harbor Shops is the premier shopping center near North Beach.
Bal Harbor Shops
Located on Collins Avenue in Bal Harbor, just a 10-minute drive north, Bal Harbor Shops is a legendary fashion mecca. This world-famous shopping destination features an array of luxury designer boutiques and high-end restaurants in a gorgeous tropical setting with trees, plants, and fish ponds.
This outdoor shopping mall is the place to spot fashionistas and celebrities perusing the latest offerings from designers like Alexander McQueen, Chanel, Stella McCartney, and many more. There are plenty of outstanding dining options at Bal Harbor Shops, including top-shelf Italian cuisine, upscale French dining, and innovative Japanese fusion.
Monastery of St. Bernard de Clairvaux
For a unique and absolutely fascinating experience, this ancient Spanish monastery really delivers. Originally constructed in Segovia, Spain, in the 12th century, the monastery was dismantled during a social upheaval period in the 1830s and turned into a granary and stable.
In 1925, William Hearst purchased the building and had it shipped to the US. The story continues with many twists and turns, leading to the monastery's eventual reconstruction for a cost of $20 million. Today, the "biggest jigsaw puzzle in the world" is owned by the Episcopal Diocese of Southeast Florida and offers English and Spanish services. It's a great place to experience a beautiful historic European building, and the friendly staff are on hand to tell the whole story.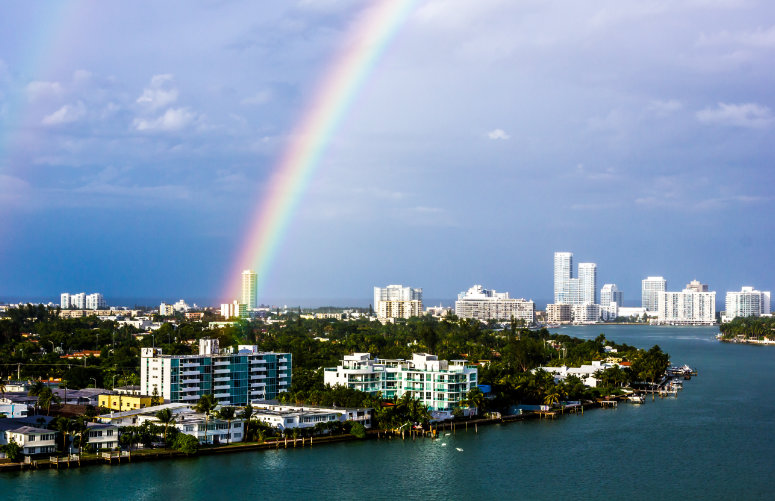 The Island of Normandy Shores with North Beach in the background
Island Hopping
North Beach is adjacent to some of Miami Beach's most luxurious islands, such as Isle of Normandy, Biscayne Point, and La Gorce. Lovers of luxury real estate can quickly island-hop from North Beach and check out some of the most expensive real estate in the United States.
Parks and Recreation in North Beach
North Beach Oceanside Park
This is the most popular park in North Beach, providing an important gathering place for the local community. Old-growth sea grape trees shade the beautiful park, and there are pavilions, picnic tables, and grills available for family get-togethers. Shaded walking trails are ideal for wandering the area, and there are fitness stations for those who want to work up a sweat.
The park is bordered by a row of dunes that lead to a tranquil expanse of beach. There's a lifeguard station here, and the beach never feels crowded. Walk a few minutes north, and you'll arrive at Full Moon Beach, which feels like a wilderness area in the middle of the city.
Normandy Isle Pool
This awesome neighborhood pool is free to North Beach residents and offers a real community feel on a hot summer afternoon.
It never feels too packed at Normandy Isle Pool, and there are plenty of lounger chairs in the shade. You're likely to get splashed by the neighborhood kids, but that's all part of the fun. There's a 4-lane lap pool, kids pool, showers, and changing rooms here, and the pool has lighting for night swimming.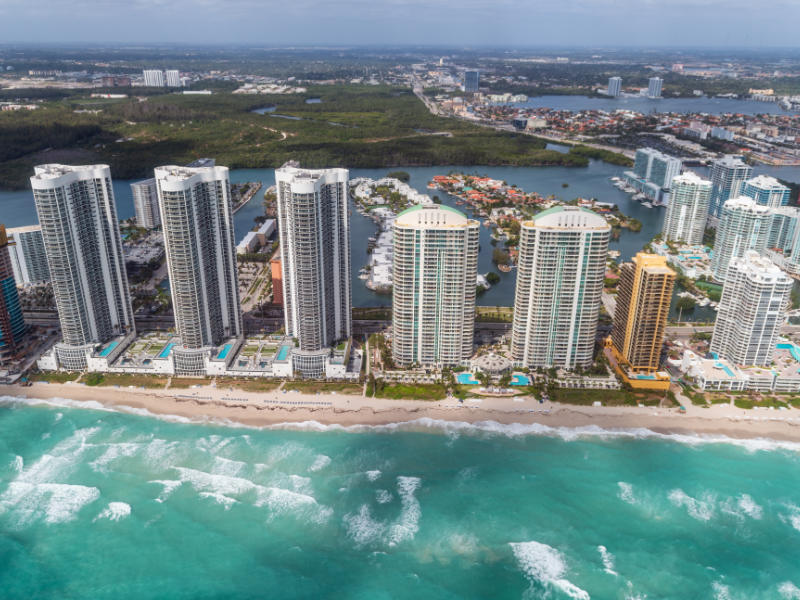 Some of the oceanfront condos in North Beach
North Beach Real Estate
North Beach offers a variety of real estate options, ranging from luxury condos to modest single-family homes.
Collins Avenue is where you'll find luxury residences in high-rise condo buildings. Here, you're likely to enjoy concierge, full valet, swimming pools, private beach cabanas, and yachting access. La Gorce Palace, Akoya, L'Atelier, and Eighty Seven Park are all located along the shore, on Collins Avenue, and appeal to those who want luxury living in an amenity-rich high-rise.
Further from the shoreline, you'll find quiet residential neighborhoods, with single-family homes and older condo buildings. Closer to the Intracoastal Waterway, beautiful MiMo homes and mid-rise condo buildings begin to become more common.
Additional Reading