The 9 Most Expensive Places To Live In Florida in 2021
Posted by Discover Homes Miami on Tuesday, February 9, 2021 at 6:44 PM
By Discover Homes Miami / February 9, 2021
Comment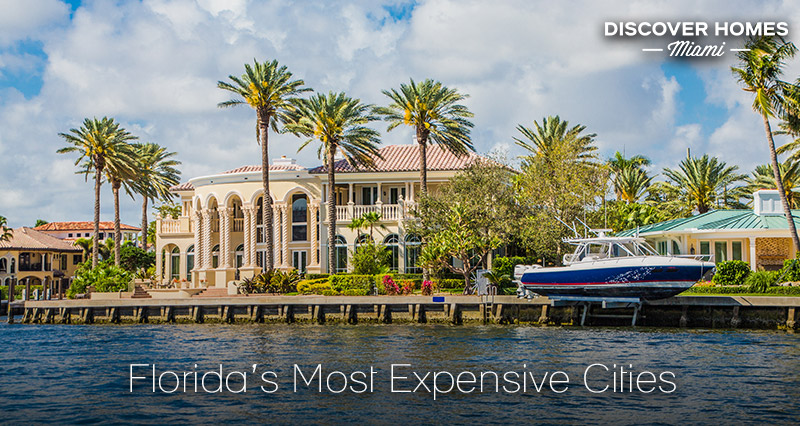 Looking for some of Florida's most expensive cities? Look no further! We've compiled a comprehensive list of the most expensive places to live in Florida. Each city is ranked based upon how much it costs (on average) to buy a home in that city.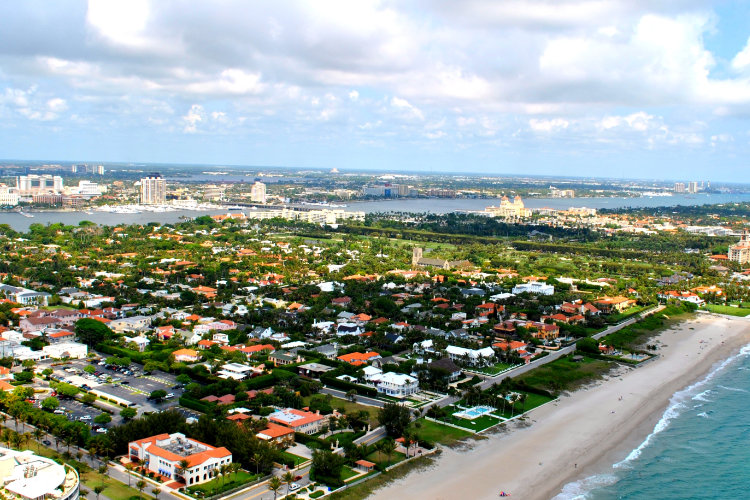 Palm Beach's coastline. Credit: Proper Media Group
1. Palm Beach
Average home price: $1.24 million
Located in South Florida, Palm Beach is the most expensive place to live in the entire state. Palm Beach is known for its upscale estates and boutiques, as well as its world-famous beaches. About an hour away from Miami, Palm Beach is quieter and less busy than Miami, creating a serene island resort town where most homes cost well over $1 million, with some waterfront homes breaching over $100 million.
Most homes have private pools, and some have their own tennis courts as well as additional amenities that make them appealing to people of all ages and lifestyles. Even oceanfront condos in Palm Beach can cost over $1 million.
In addition to celebrities, an influx of people from colder climates are moving to Palm Beach because of the year-round warm weather. But the climate is only one of many reasons why Palm Beach is so desirable. The town is best described as an island retreat due to its 47 miles of coastline separated from the Florida mainland by the Intracoastal Waterway.
In addition to the beaches, Worth Avenue is known to be one of the most famous shopping strips in the country. With both boutiques and high-end famous designers, Palm Beach shopping is both luxurious and iconic.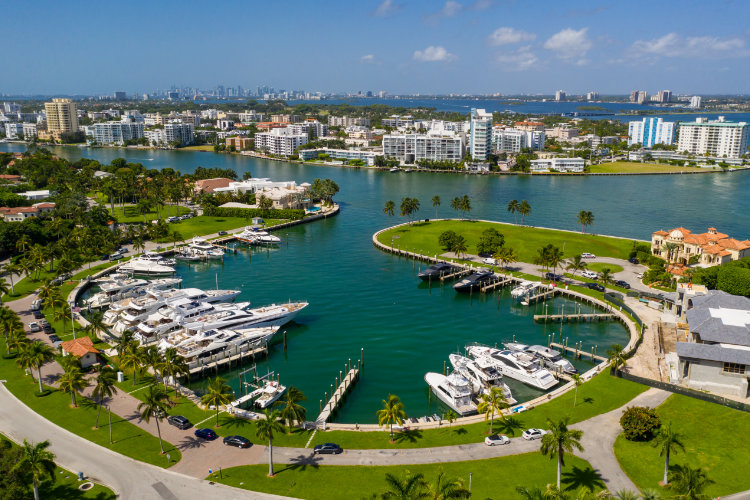 The Bal Harbour Marina
2. Bal Harbour
Average home price: $1.22 million
Located 30 minutes from Miami, Bal Harbour is a quiet beachside town known for its relaxing lifestyle. Out of all the beaches surrounding Miami, Bal Harbour Beach is one of the most pristine. The town is lacking in nightlife, but the residents don't seem to mind. They like the peacefulness that the town has to offer and enjoy their days by the beach and shopping at the eponymous "Bal Harbour Shops".
Even being in such close proximity to Miami, many residents hardly venture out of Bal Harbour because there is no need. Luxury shopping, dining, and recreational activities are all at their fingertips right there at home.
The real estate market in Bal Harbour consists mostly of single-family homes and estates, as well as high-rise waterfront condos. The majority of homes are located in Bal Harbour Estates and on the Bal Harbour Islands. The homes in Bal Harbour Estates are gated and luxurious, while the condos have their share of luxury amenities as well. Private terraces, heated pools, fitness centers, and spas are part of what makes the condo residences appealing and are only some of the amenities they have to offer.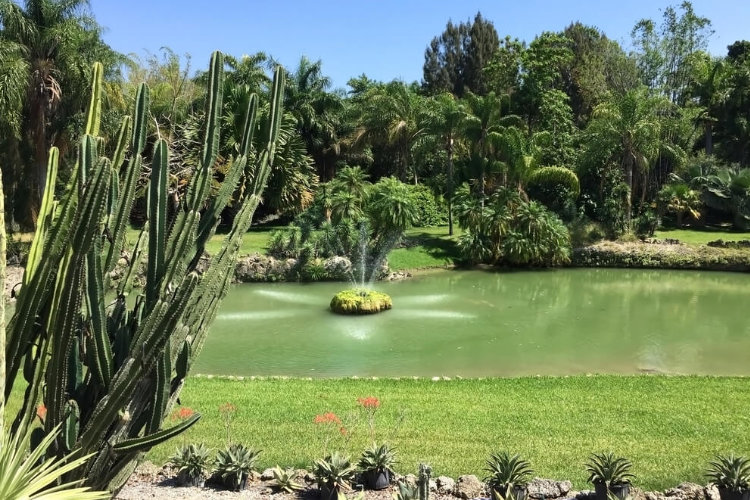 Pinecrest Gardens
3. Pinecrest
Average home price: $1.10 million
Located southwest of Miami, the Village of Pinecrest is a suburban town established around Pinecrest Gardens, its main attraction. Pinecrest Gardens calls itself "South Florida's Cultural Arts Park." It is a botanical garden that focuses on celebrating and conserving Florida's botanical history in addition to being a botanical garden,
Pinecrest Gardens hosts many events and festivals throughout the year. There are several other parks located in Pinecrest as well, making it an ideal town for people who love nature and the outdoors. The appeal of Pinecrest lies largely in the natural beauty of the town.
Both stately and more modest homes can be found in Pinecrest in a variety of architectural styles. Homes can be expensive, but there are also condos available at affordable prices. Although it has a dense suburban feel, it is very quiet and peaceful. There are plenty of restaurants located here, but no nightlife.
For residents who prefer a more busy lifestyle, Downtown Miami is only about a 30-minute drive. The public and private schools in the area are all highly rated, with colleges and universities nearby. All of these features attribute to the appeal of Pinecrest, which is why it is one of the most expensive cities in Florida.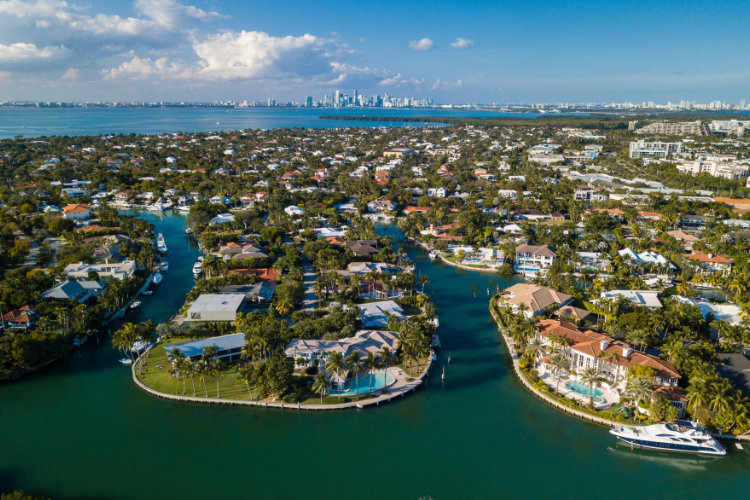 Expensive waterfront homes on Key Biscayne
4. Key Biscayne
Average home price: $1.08 million
Key Biscayne is an island that is located to the southwest of Downtown Miami. A true island paradise, the sandy beaches are only a short walk away from wherever you are on the island. A 15-minute drive to Miami means that residents who live on Key Biscayne and work in Miami have one of the shortest commutes of anyone in the Miami area.
If you don't work or travel to Miami frequently, Key Biscayne offers various shopping, dining, and entertainment options so that you never have to leave the island. There are also plenty of outdoor activities to participate in for those who prefer to live an active lifestyle: golf, tennis, parks and gardens, and easy access to the ocean.
Besides being a quiet, clean, and well-maintained community, real estate on Key Biscayne is luxurious. Single-family stately waterfront homes and large condos cost well over $1 million. Most homes have over 5,000 square feet of space, with some being as large as 11,000 square feet.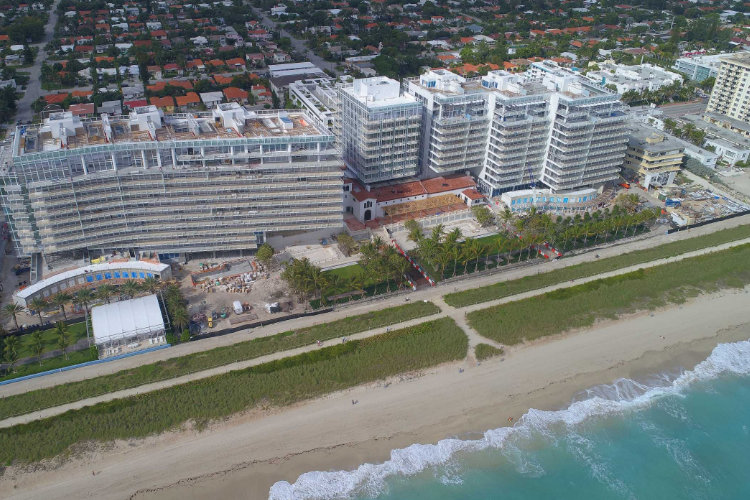 Construction of the Four Seasons Surf Club in Surfside Source: Felix Mizioznikov / Shutterstock.com
5. Surfside
Average home price: $695,000
Surfside is a smaller town located between Bal Harbour and Miami Beach. It is 35 minutes away from Downtown Miami. Surfside offers top-rated schools and an urban feel that is distinct from Miami.
Attributing to its suburban feel, Surfside offers a wide selection of shopping, dining, spas, hotels, and condos. But the beach is quiet and serene compared to nearby Miami Beach. The city itself has tried to be more environmentally conscious through initiatives to combat climate change. Surfside also likes to promote a healthy and active lifestyle for its residents through annual festivals that promote getting outdoors and exercising and a community center with community pools and health and wellness classes.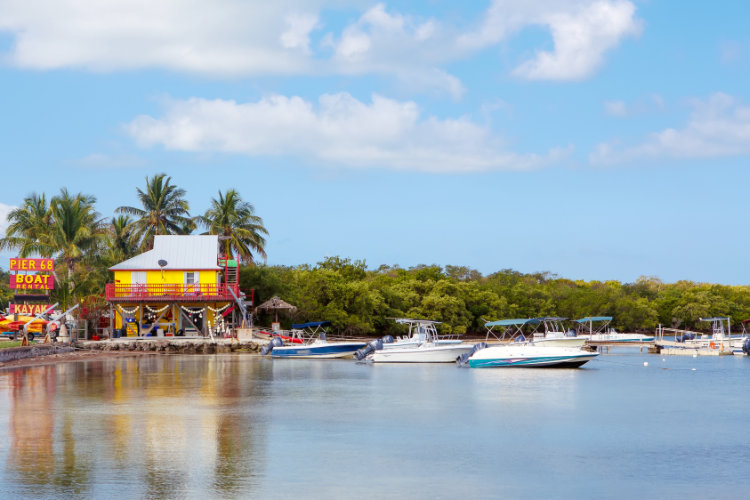 Waterfront homes in Key Largo
6. Key Largo
Average home price: $672,000
Key Largo is the first island in the Florida Keys, meaning it is also the closest to Miami. The Florida Keys lifestyle is laid-back, but with Key Largo's location, it is one of the busier islands in the Keys. People that live and travel through the area come from all over the place, so there is a wide variety of cultures you'll get to experience by living in Key Largo.
Due to being such a popular travel destination, some of the costs associated with living here can fluctuate throughout the year, but the amount of tourists is a large part of why the area is so expensive.
Most of the entertainment and activities in Key Largo come in watersports, such as scuba diving, fishing, kayaking, and sailing. Much like the population here, real estate is diverse, with housing consisting of beach cottages, condos, and mansions.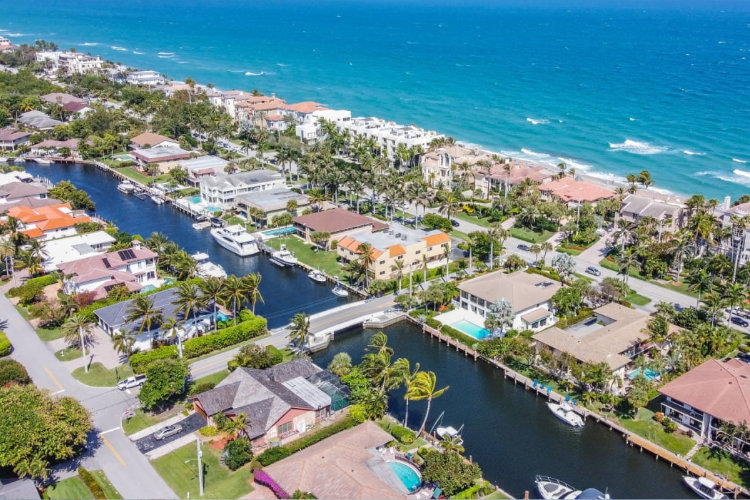 Highland Beach coastline
7. Highland Beach
Average home price: $634,000
Highland Beach is a suburb of Fort Lauderdale and is located north of Boca Raton. It is considered to be one of the prettiest towns in South Florida. There are 3 miles of beaches where residents can participate in fishing and surfing or soak up the sun while watching others fish and surf.
Scuba diving and snorkeling are also popular water activities, and due to the close distance to Boca Raton, there are world-class golf courses located nearby. Boating is also part of the lifestyle here, and many waterfront residences have large boat slips.
Speaking of residences, homes here are mostly single-family houses and condos. Many people who appreciate privacy are moving to Highland Beach due to its seclusion and large number of waterfront homes. Condominiums here offer resort-like amenities such as private beach access, pools, and concierge services.
Homes are mostly Mediterranean style. Waterfront condos start at around $1 million, with homes costing anywhere from $1 million to $25 million.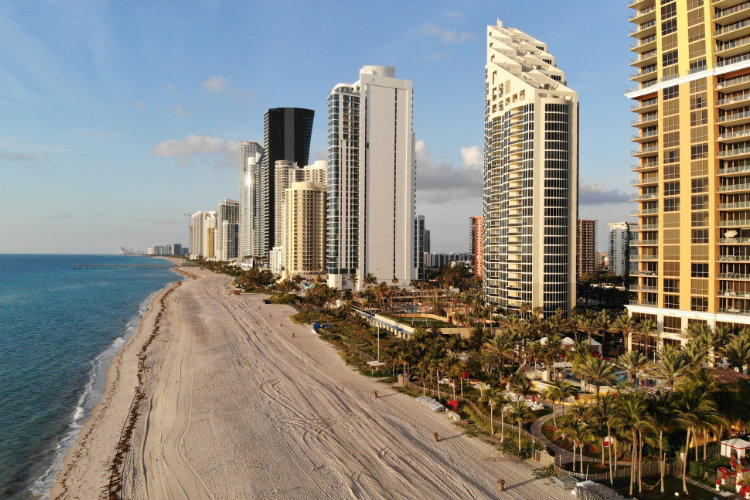 Sunny Isles Beach coastline
8. Sunny Isles Beach
Average home price: $442,000
Located between Fort Lauderdale and Miami, Sunny Isles Beach has become one of the hottest new places in South Florida to live. This is due in part to recent luxury condo developments that are drawing people away from Miami's busy lifestyle and the crowds of South Beach.
More restaurants and boutiques are also coming to the area, so there is still plenty to do despite being in a quieter location than Downtown Miami. Even though Sunny Isles Beach is considered a mid-sized city, the whole town feels very friendly and community-like, as people are trying to move away from the hustle and bustle of the city.
Many of the luxury condo developments in Sunny Isles Beach are designer and feature extravagant amenities such as pools, spas, bowling alleys, and movie theaters. Some units in these condo complexes can cost as much as $38 million.
One complex in particular, the Estates at Acqualina, features hot tubs and outdoor kitchens in all of its condos. Porsche Design Towers has an elevator that the residents can drive their cars into. The elevator will take the resident and their car directly to their apartment.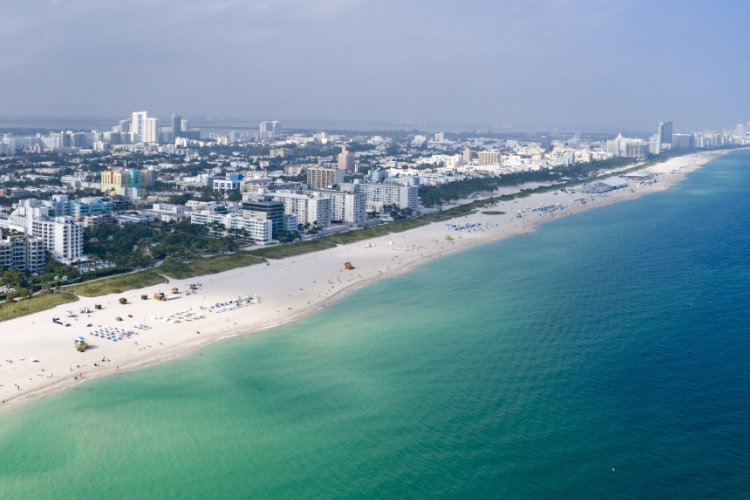 9. Miami Beach
Average home price: $370,000
Miami Beach is located east of Downtown Miami and is known worldwide for its nightlife and beautiful beaches. The city is a popular destination for those that like to live a vibrant lifestyle. Miami Beach consists of five separate neighborhoods, each with its own characteristics that make them unique.
Some neighborhoods are more relaxing, while others are more trendy and have more things to do. South Beach is its most popular community and boasts plenty of art, boutiques, dining, and nightlife. Other areas like Mid Beach and North Beach are quieter and more relaxing.
Five different neighborhoods mean five real estate markets. The SoFi ("South of Fifth") neighborhood is mostly condos that cost half a million to $1 million. South Beach is slightly cheaper, with condos ranging from $250,000 to $750,000, while the Sunset Islands neighborhood is more expensive and features larger homes that start at $3 million. Mid Beach and North Beach have more moderately priced single-family homes.
Conclusion
Why are all of these cities in South Florida? Well, there are many reasons. South Florida features some of the best year-round weather in Florida and boasts superior amenities compared to other parts of Florida.
Part of what may make this list slightly confusing about this list is that we are relying on entire cities rather than considering the most expensive neighborhoods in Florida. For example, certain high-end islands in the City of Miami Beach (like Star Island and Fisher Island) are where you can find average home prices ranging in the many millions of dollars.
But when you lump these homes together with some of the inexpensive condos in Miami Beach, the aggregate number for Miami Beach is substantially lower. Additionally, cities with fewer condos (like Palm Beach) are somewhat inflated because single-family homes are much more expensive.
Additional Reading