Living in Mid-Beach, Miami Beach, FL: Neighborhood Guide
Posted by Discover Homes Miami on Friday, March 19, 2021 at 10:40 AM
By Discover Homes Miami / March 19, 2021
Comment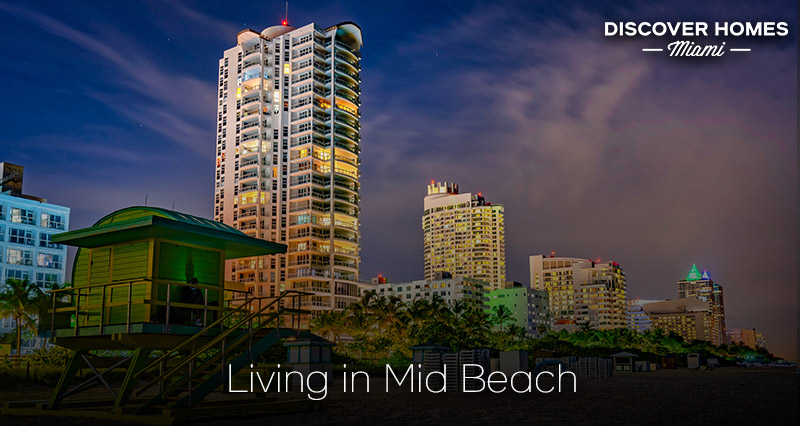 Mid-Beach Miami is a youthful, vibrant, and enthusiastic cultural hot-spot located between North Beach and South Beach. Locals can enjoy the ideal blend of the two contrasting vibes from these neighborhoods. Like South Beach, Mid-Beach features lavish hotels, beach resorts, trendy nightclubs, and fine dining establishments, but with a much more laid back, comfortable and relaxed vibe, much like North Beach.
Locals can enjoy a relaxed lifestyle, tropical weather, and easy beach access, surrounded by natural and architectural beauty. Mid-Beach notably features an eclectic mix of Art Deco buildings, modern luxury condominiums.
It's a compact spit of land containing luxury hotels and condos, many architectural touches dating back to the 1940s, 50s, and 60s. In the 2010 census, its population was 9,794, with the high proportion of condos explaining the comparatively high density for a district covering only a fifth of a square mile.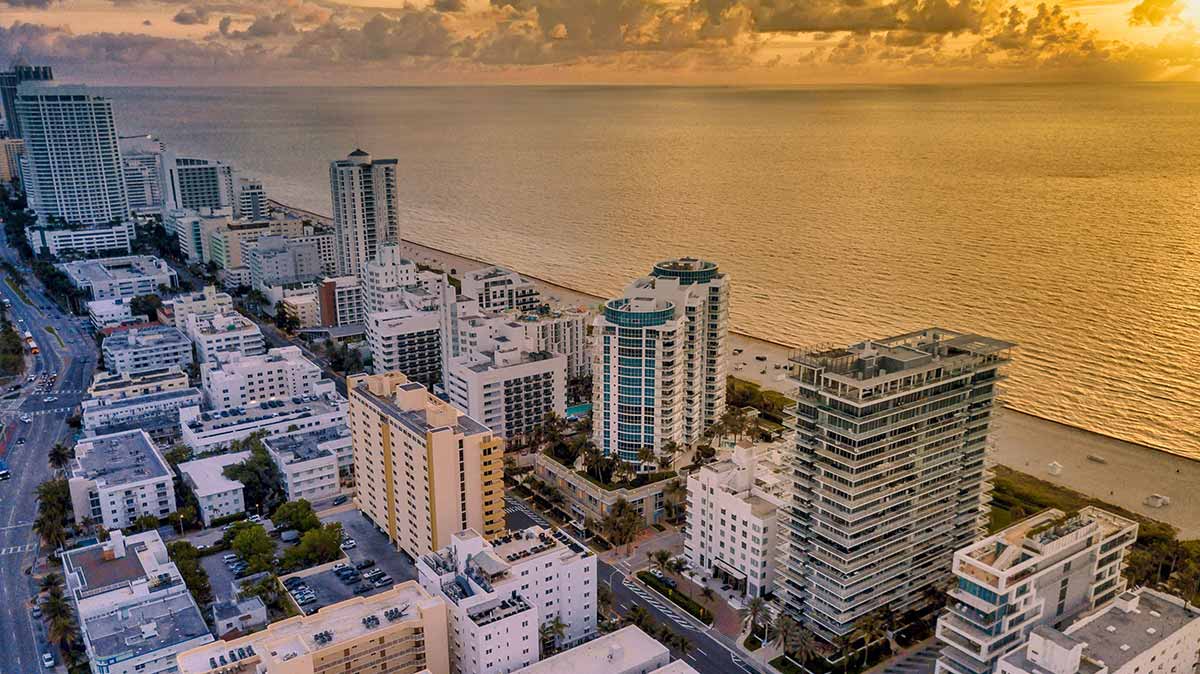 Gorgeous shot of Mid-Beach at dawn
Lifestyle and Culture
Mid-Beach is notable for its three miles of glorious, golden beach, constituting its eastern border. As well as the rolling Atlantic breakers, visitors enjoy a tropical climate with shady palm tree-lined walks, opulent hotels in a MiMo (Miami Modern) or art deco style, and many beach bars, restaurants, cafes, and night clubs.
Mid-Beach is home to hundreds of thousands of tourist visitors annually in addition to its nearly ten thousand residents, making this a lively and entertainment-focused neighborhood. Despite Florida being one of the last states to develop a Jewish population, the Miami Beach area, including Mid-Beach, is now home to the third-largest Jewish community in the US. It also enjoys Cuban and Argentinian influence in its art and culture.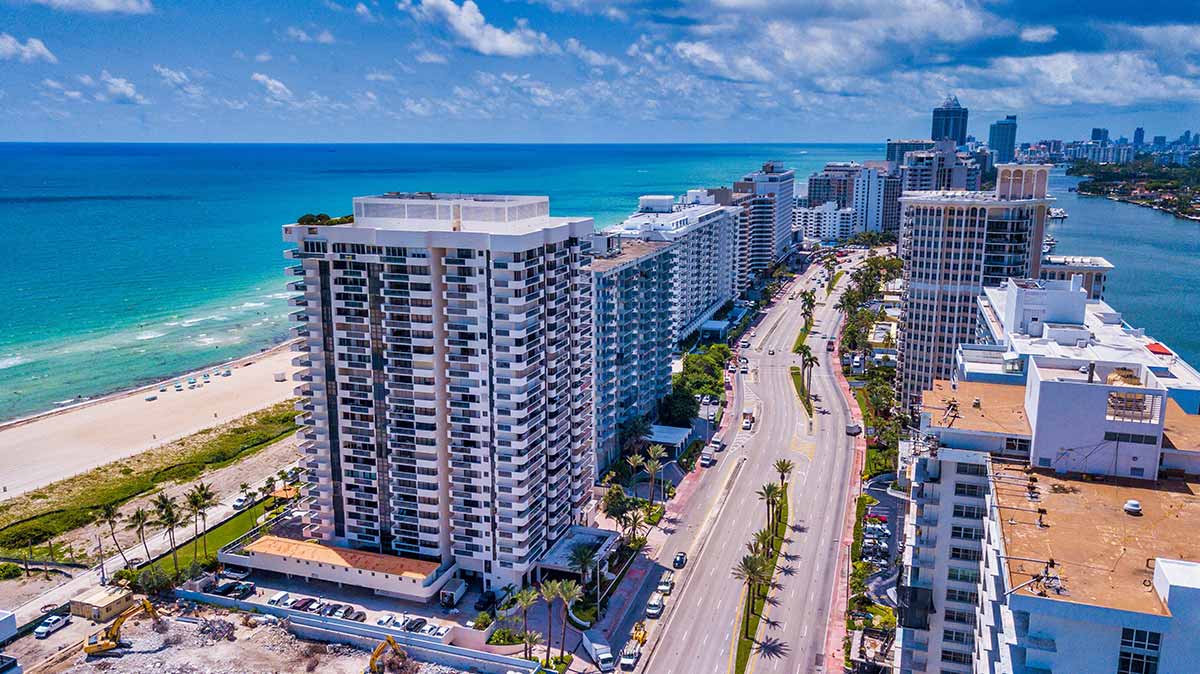 Collins Avenue is pictured here, Mid-Beach's main thoroughfare
Locals tend to have a bohemian side, and many are seasonal visitors, with summer homes elsewhere. Life is laid-back and orientated towards time spent outdoors, relaxing on the beach, or socializing in the many restaurants, cafes, and bars. The Miami Beach lifestyle has been depicted in many films and TV shows. Grand hotels such as the famous Fontainebleau have entered the popular imagination as film locations.
Faena District
Situated on Collins Avenue, this compact district has become something of a cultural utopia. Sandwiched between the sparkling blue sea and Indian Creek, you'll find a high concentration of arts venues, public sculptures, fashion bazaars, and the brand-new Faena Forum (see below).
Drop into the Living Room for live music and cocktails or explore Faena Art's outdoor installations on the beachfront. Enjoy the flamboyant Argentinean vibe imbued by fashion designer and developer Alan Faena's multicultural, celebratory vision. The project cost around $1 billion… and it shows, with the Baz Luhrmann interior designed Faena hotel recently being awarded five-star status.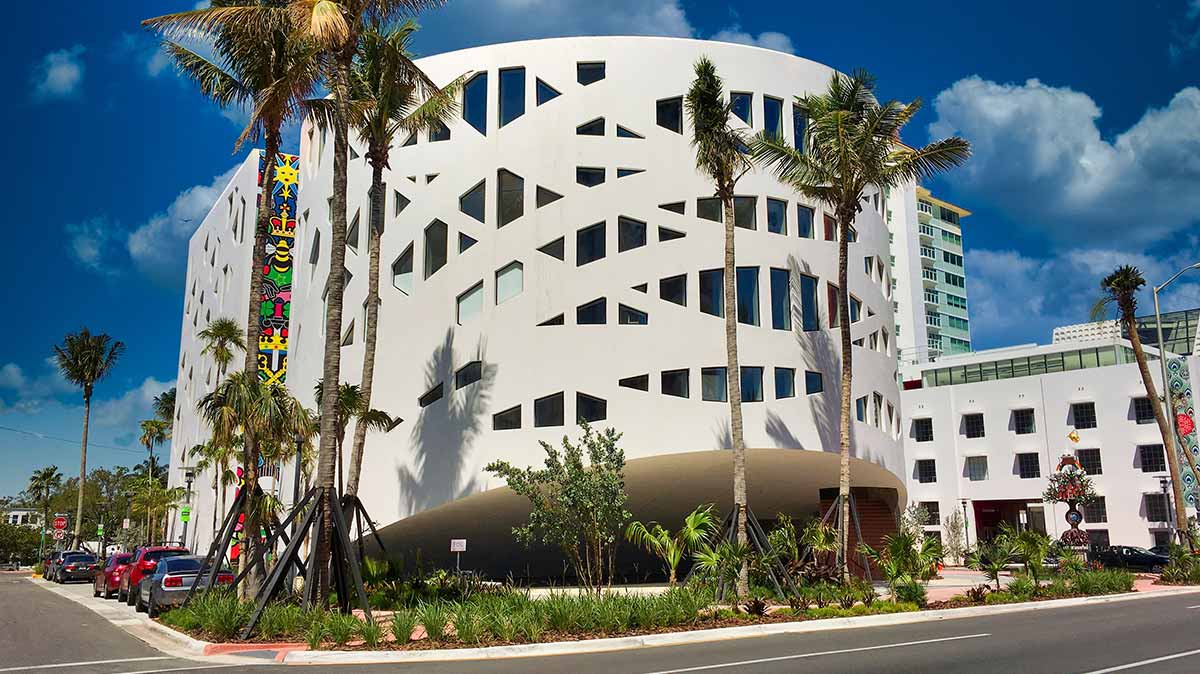 The Faena Forum in Mid-Beach. Credit: Phillip Pessar (modified)
Faena Forum
Opened in 2020, this magnificent multi-purpose venue and development is a must-visit for fans of 21st-century architecture, as well as its events and entertainment facilities. Designed by award-winning architect Rem Koolhaas, the 43,000 square foot space is home to a rose marble amphitheater, two exhibition halls, a private outdoor pool area, and a luxury screening room.
A drum-shaped building like a fantastically ornate hat or basket, the building alone is worth a visit, a new landmark in a district already known for opulent modernist architecture.
Volta Art Fair
Continuing the international theme, Volta is an events organization that operates art fairs in New York, Basel, and now Miami, having taken over an annual event previously known as Pulse. Volta stages elaborate solo and group show in Miami over a week in late November / early December (Miami Art Week). It is held in the Mana Wynwood gallery at the very southern border of the district.
Should you want to continue your art tour of Miami, head south into Miami Beach proper for other cultural venues, including NADA (New Art Dealers Alliance), Wynwood Walls, and Art Miami.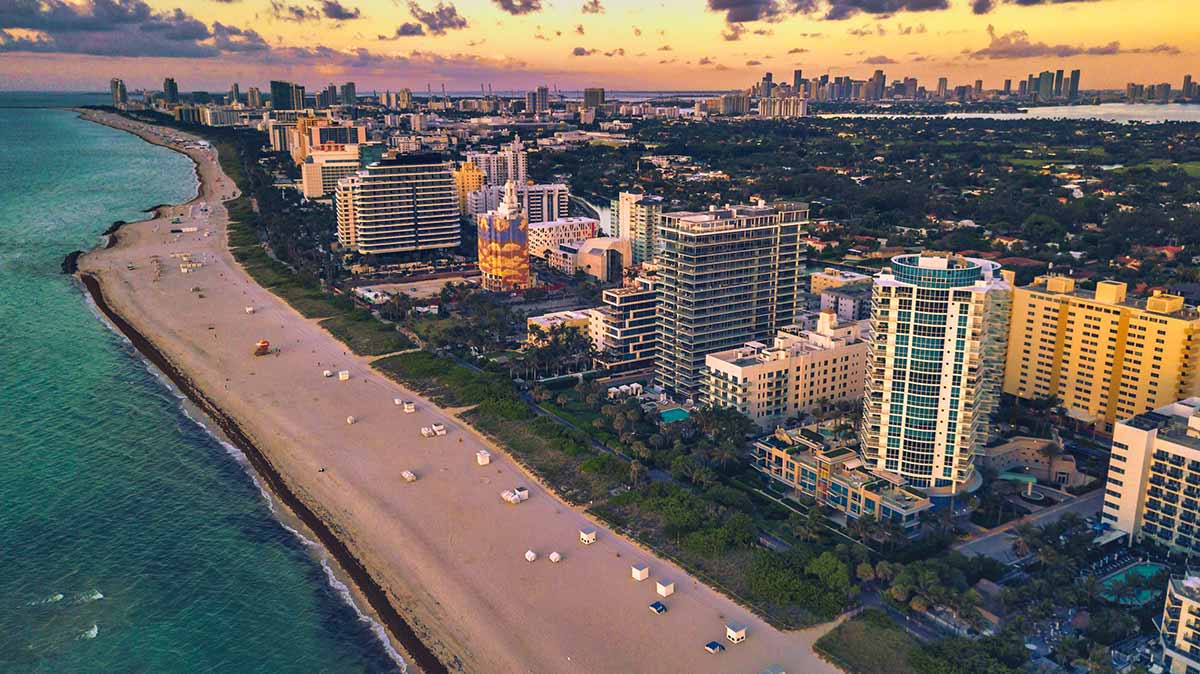 Mid Beach's famous beach at dawn
Stroll the Beach
After all that culture, you may well be suffering "gallery fatigue." The good news is that the district's three miles of golden sand and Atlantic surf await.
Mid-Beach's shores are a little quieter than the bustling Miami Beach to the south. Walk north along the sand to the Confidante Hotel, and you'll find a fun and relaxed vibe – it's a good place to book out a sun lounger and read a book while people-watching.
Collins Waterfront Tour
The area bounded by the Atlantic Ocean to the east and by 24th Street, Indian Creek Drive, Pine Tree Drive, and the Collins Canal is designated an Architectural District of note. Containing significant buildings in the Mediterranean Revival, Modern and Art Deco styles from the 1920s to 1960s, it's well worth a wander.
Over 100 buildings contribute to the historic designation. Highlights include the Brisa del Mar apartments (1929, Mediterranean), Hotel Alden (1930, Art Deco), and Continental Hotel (1948, Modern)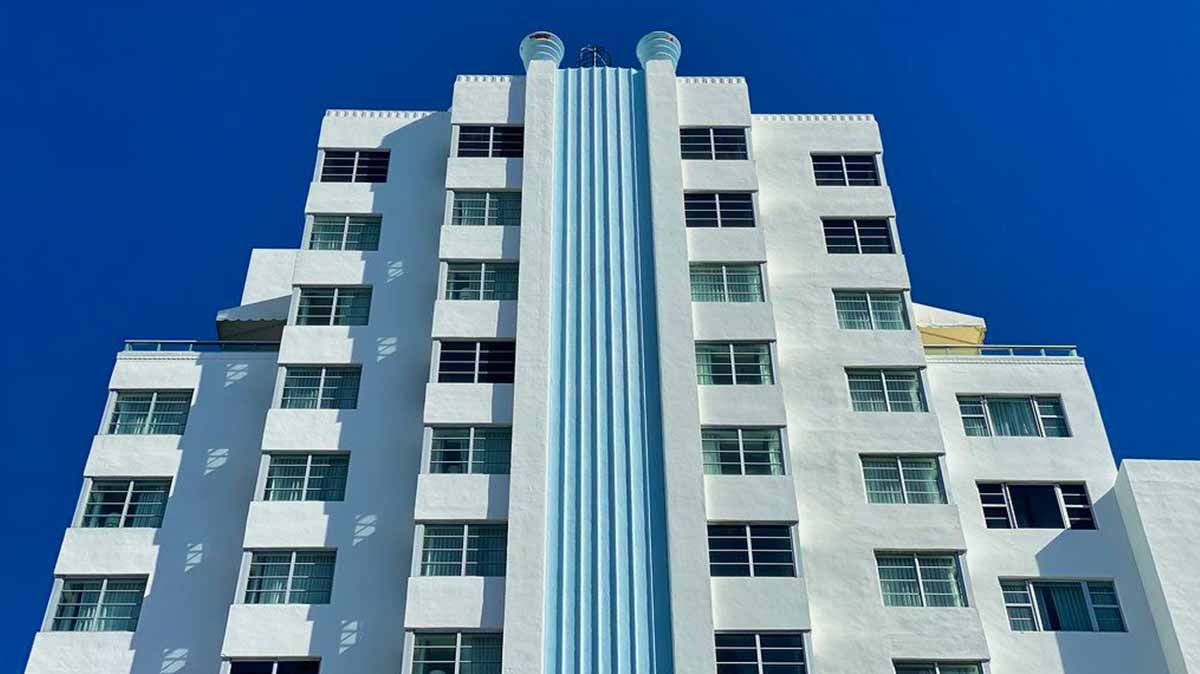 The Confidante Hotel, a famous example of Mid-Beach's Art Deco architecture. Credit: Phillip Pessar
Art Deco Tour
If your appetite for architecture hasn't yet been sated, head down to South Beach, where Art Deco splendors like the Cardozo and Marlin Hotels, Cameo Nightclub, and iconic Breakwater demonstrate the glamor and glitz of the showier, neon-saturated side of Deco.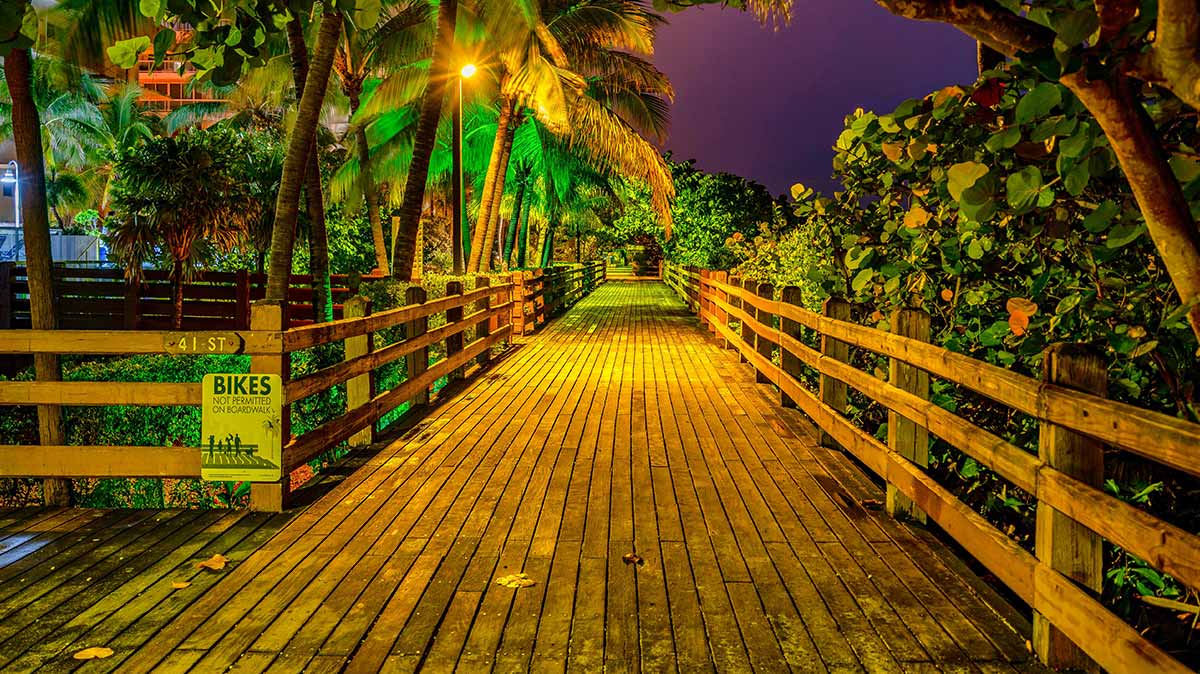 The Mid-Beach Boardwalk at night
Miami Beach Boardwalk
The Boardwalk is an excellent place to see the grand waterfront hotels and condos, as well as spotting that perfect bit of beach to claim as your own. Lined by palms, the boardwalk extends from Indian Beach Park to Nikki Beach in the South. It's four miles long, so it makes an excellent running route, especially in the early morning or sunset, when it's cooler.
Drink, Dine, and Dance
The perfect evening trifecta can easily be assembled in Mid-Beach. Grab a cocktail or appetizer in the Bleau Bar in the famous Fontainebleau Hotel, once frequented by the Rat Pack, then head to dinner at Los Fuegos, for an Argentinian steak dinner, followed by a visit to Basement, which boasts an ice rink and bowling alley as well as its dancefloor.
Also worth dropping by is the famous Broken Shaker Cocktail Bar, with its 1920s speakeasy vibe. This Mid-Beach staple sports a dark, wooden interior to rest your eyes and a spectacular drinks menu to soothe your tastebuds after all that Miami sunshine.
Parks and Recreation
For such a narrow strip of land, Mid-Beach is surprisingly well-served with green space. As well as the boardwalk and beach, head to some of these shady oases to catch a bit of respite:
Indian Beach Park
Flanking the ocean, this park is low on amenities but high on peace and quiet. It has a spacious parking lot, restrooms, and showers, plus a water fountain and playground. You'll also find concession stalls plus umbrellas and loungers for hire.
Allison Park
Decorated with sea turtles' sculptures (which you might encounter for real on nocturnal beach strolls), Allison Park is situated just beyond the Mid-Beach boundary at 65th street. A great place to swim from, the beach here has a lifeguard station and showers and landscaping, and tall palms.
36th Street Park
To the south of the district, this beachfront park is accessible from the boardwalk, with good parking, restrooms, and a tidy beach within a short walk of cafes and restaurants (make time for the Museum of Ice Cream!) You may find yourself sharing the sand with some friendly iguanas.
Pinetree Park
If you long for something a bit less sandy and more verdant, cross the 41st street bridge into the Nautilus district and head north on Pinetree Drive to the park of the same name. You can exercise your dog here or just walk the shady paths by the side of Indian Creek. There's even a kayak dock if you've been touring the waterways and fancy a place to rest awhile.
Brittany Bay Park
Just north of the district, at 63rd Street, this park also flanks the Creek. It can be reached from Indian Creek Drive, is animal friendly, and has an outdoor gym. If you'd prefer a more sedentary escape, there are benches where you can sit and watch the yachts drift by.
Collins Park
Just south of Mid-Beach, this park flanks Collins Avenue. You'll know you're nearing it when you see the 30ft high rainbow rock sculpture or the iconic South Beach sign. The Park houses the Bass Arts Museum, an eclectic collection of ancient artifacts and modern art. It also boasts a botanical garden and sculpture park.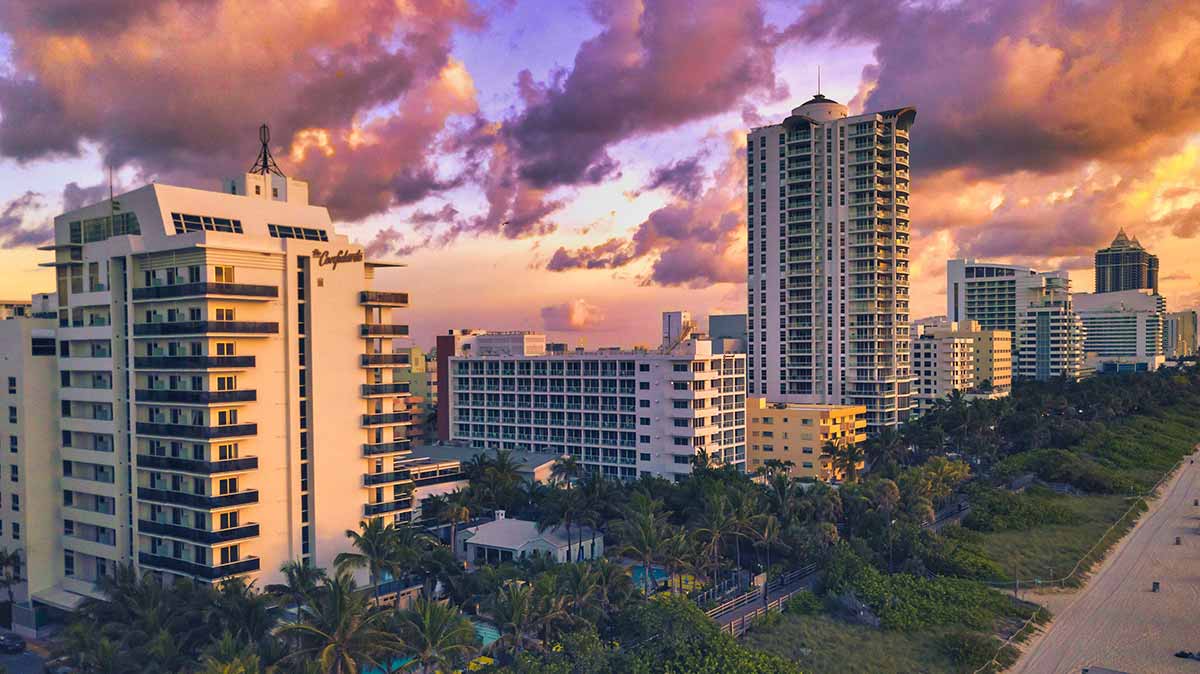 Some of the highrise oceanfront condo buildings in Mid-Beach.
Real Estate
As we've seen, Mid-Beach Miami's architecture is sculpted art deco, elegant Mediterranean Revival, or gleaming white modernist curves and slanting surfaces.
The only single homes you'll see here are the floating ones moored behind the Fontainebleau Hotel. Everything else is luxury condominiums, and these often have grace and luxury to rival the top hotels.
Some of the most luxurious condo developments include: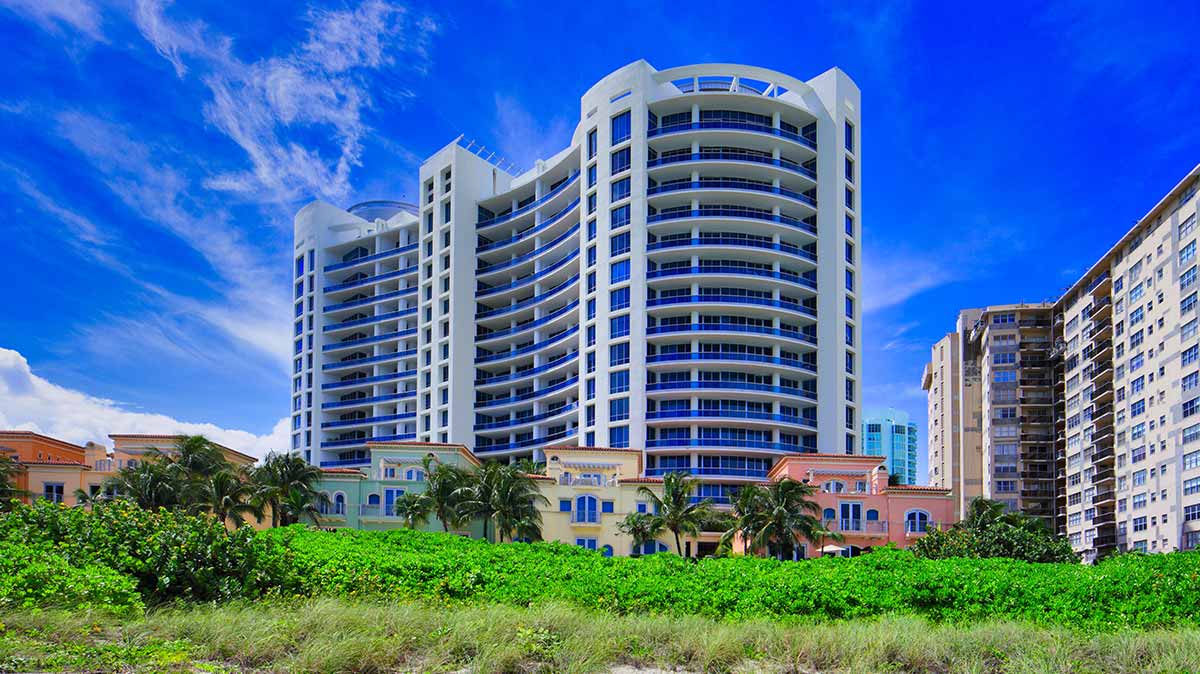 Bath Club condo building
Bath Club
Situated at 5937 Collins Avenue, on "Millionaires Row," the Bath Club building cannot be missed. This thirteen-story modernist tower has been an exclusive private resort since 1925. It houses 112 luxury condominiums, with services modeled on those of a five-star hotel. Apartments range from 1900 sq ft to a little over 4000 sq ft and prices, as you might expect, are at a premium with only 200 residents.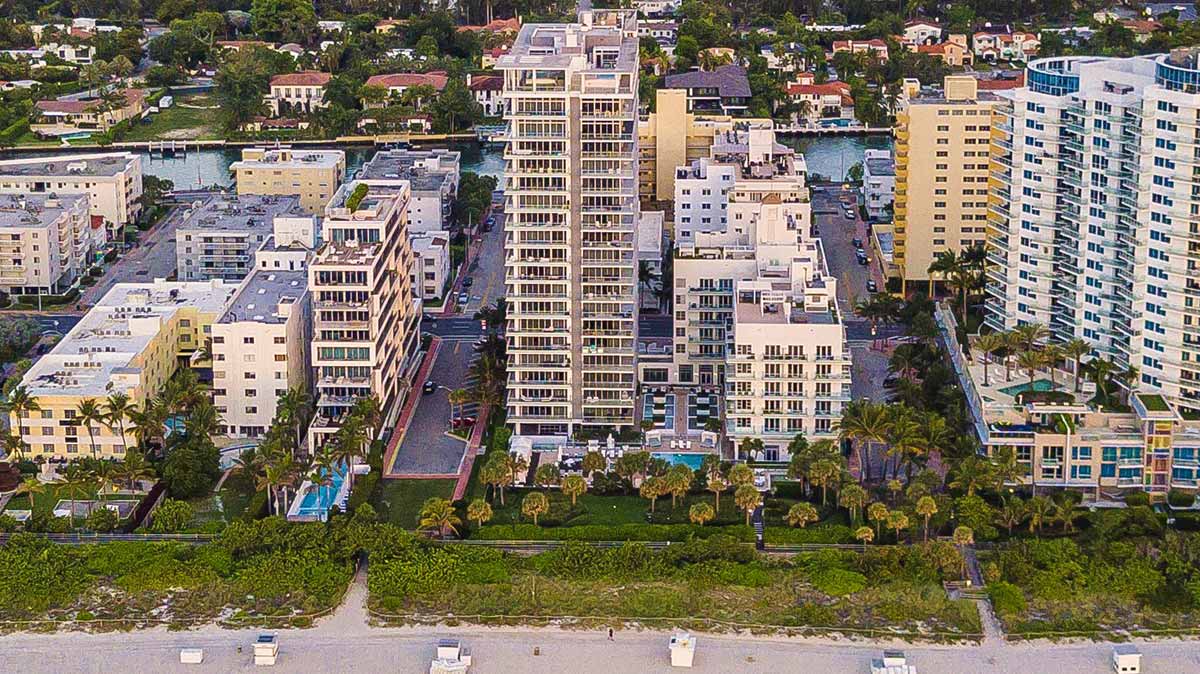 The Caribbean condo building is pictured in the center, with its rectangular shape
Caribbean Condo
Filling the block between Collins Avenue, 36th, and 37th Avenues, the Caribbean hotel, and condo development lies slap bang in the heart of Mid-Beach. Its deco charm includes a pale blue and white façade, and the modern 18-story tower built adjacent does not detract.
The hotel has three stars, but the condos within this 1941 classic are fully five-star and well-appointed. The tower's apartments are airy and spacious, with generous balconies and stunning ocean views.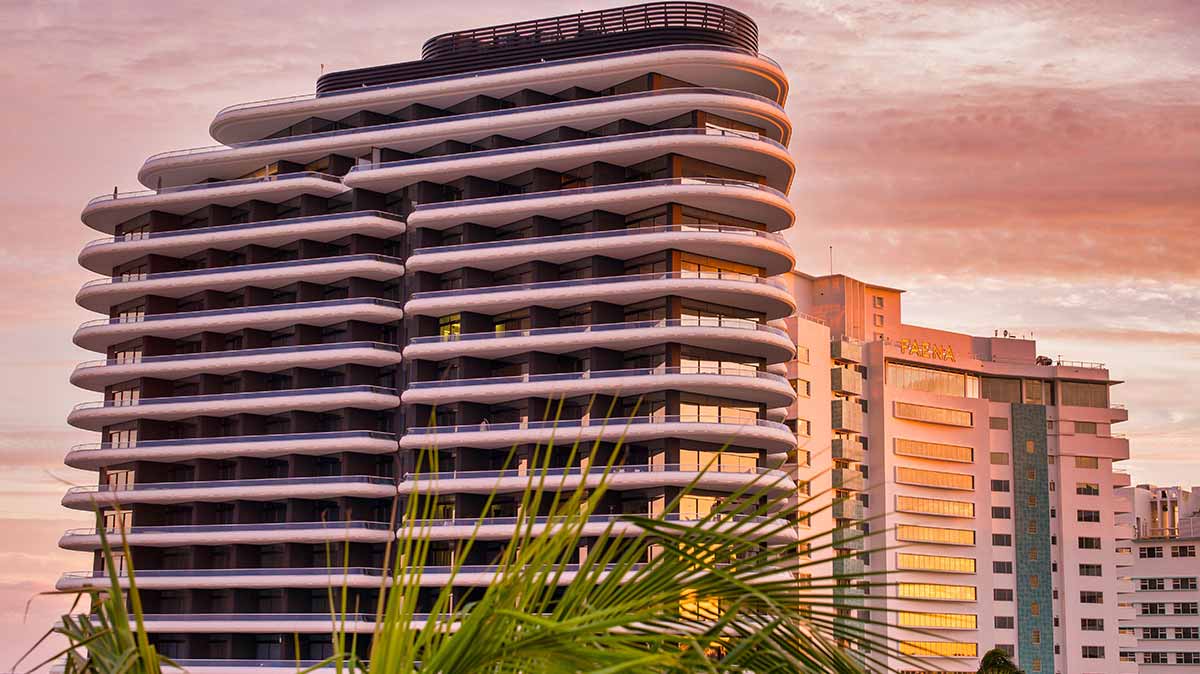 Faena House
As might be expected of any development bearing the Faena name, this condo complex is a stunning modernist masterpiece in steel and glass with feminine curves, wraparound terraces to make the most of Miami's climate and Atlantic panoramas. 47 units here range between 1,185 sq ft and 3,215 sq ft.
MEi Beach Condos
As might be expected of any development bearing the Faena name, this condo complex is a stunning modernist masterpiece in steel and glass with feminine curves, wraparound terraces to make the most of Miami's climate and Atlantic panoramas. 47 units here range between 1,185 sq ft and 3,215 sq ft.
Residents can enjoy:
Oceanfront pool deck
On-site Asian spa
Fitness center
Beach club
Private cabanas
Valet parking and concierge
Conclusion
As you can see, Mid-Beach Miami has much to offer. From the luxurious magic of the Faena District to the funky retro style of the Art Deco District, there is much that is visually, culturally, and culinarily appealing about living in and exploring the many facets of Mid-Beach. No matter what mood you are in, you're sure to create lasting memories in this stunning oceanside city.
Check out some of our other articles on Miami Beach neighborhoods: