Miami vs. Atlanta: Which City is Best? (2020)
Posted by Discover Homes Miami on Tuesday, December 15, 2020 at 1:11 PM
By Discover Homes Miami / December 15, 2020
Comment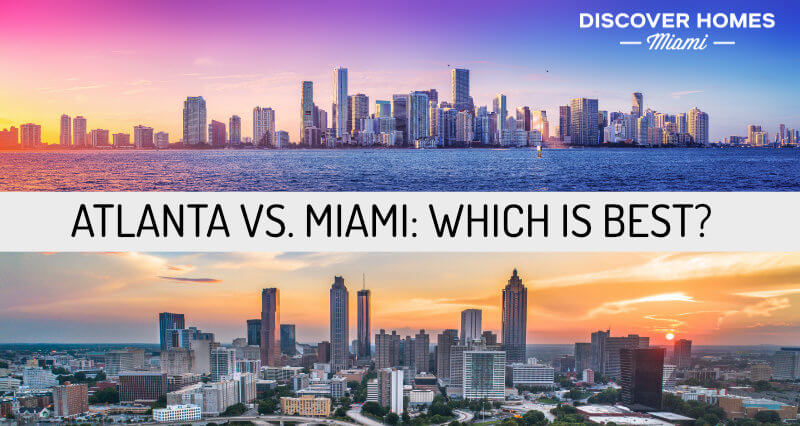 Atlanta and Miami are two vibrant and diverse cities located in the Southeastern United States. Both cities are known for attracting a high number of transplants, and people commonly relocate to either city in an attempt to "reinvent themselves" or pursue their dreams. Let's now dive into what differentiates each city so you can be better informed about which city is best for you!
Overview
In terms of population, Miami and Atlanta are about the same. There are around 498,000 people living in Atlanta, with nearly 470,000 in Miami. Both of their metropolitan populations are also around 6 million.
Residents of both cities enjoy beautiful, natural scenery, although each cityscape is unique. The City of Atlanta, at 134 square miles, is much larger than the City of Miami and features beautiful tree-lined streets and urban forests. On the other hand, Miami's 56 square mile area (not including the Greater Miami area) is known for its picturesque beach fronts and the vibrant cultural scene.
Miami has the clear advantage in terms of waterfront activities and beach access. There are no major bodies of water within the City of Atlanta, and Atlantans have to drive nearly four hours to reach the beach.
The Latin and Caribbean influences in Miami's culture come as no surprise, with 70% of its residents being Hispanic. However, the city offers a diverse population with rich cultural diversity. Meanwhile, Atlanta is known for being a hub of African American culture and entertainment due to its pivotal role in the Civil Rights movement.
Cost of Living
In general, Miami is a more expensive city to live in because of increased housing costs. Using Wolfram Alpha's cost of living index, we're able to map how the two cities compare in different categories. Keep in mind that a score of "100" indicates the national average:
| | | |
| --- | --- | --- |
| | Atlanta | Miami |
| Grocery | 103 | 111 |
| Healthcare | 103 | 99 |
| Housing | 96 | 149 |
| Miscellaneous | 104 | 102 |
| Transportation | 103 | 111 |
| Utilities | 103 | 111 |
| Overall | 100 | 117 |
As you can see, Miami is around 17% more expensive to live in overall, mainly because housing is about 55% more expensive than Atlanta. Housing is more expensive in Miami because the city is smaller and adjacent to the coast. Living in a large waterfront city almost always involves much more expensive housing costs.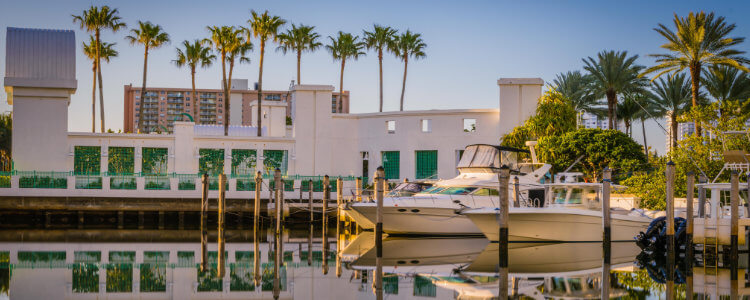 Real Estate
Chances are, you'll be living in a condo if you decide to move to Miami. That's because condos are far more prevalent in Miami compared to Atlanta. For instance, out of all of the real estate sales in Miami, approximately 75% of them are condo sales whereas condos represent just 45% of real estate sales in Atlanta.
This is because Miami is a much denser city than Atlanta, and developers are forced to build up rather than out. There are dozens of condo buildings in Miami that tower above 50 stories but only a handful of such buildings in Atlanta.
As mentioned earlier, Atlanta, on average, is a more affordable place to live. The average home price in 2020 is around $302,000 in Atlanta compared to $350,000 in Miami. Rentals are also cheaper in Atlanta - on average, by about 18% compared to Miami.
Architecture
Miami is famous for having the highest concentration of Art Deco style buildings in the world. However, much like its people, its architecture is also diverse. You will find everything from villas inspired by the Spanish colonial style to modern homes designed to beat the heat. The city even has an architectural style named after it - Miami Modern.
If you're looking at a highrise condo or want or stunning beachfront property, Miami will certainly have what you're looking for. There are also several categories of real estate that Miami exclusively features when compared to Atlanta. For instance, Miami has waterfront properties and even homes on islands.
Atlanta also boasts a range of architectural styles. Atlanta's home architecture features more bungalow and colonial-style homes compared to Miami. One of the most prevalent architectural styles you'll in Atlanta's suburban areas is Traditional.
To sum it up, Miami's architecture is generally more unique and innovative than Atlanta.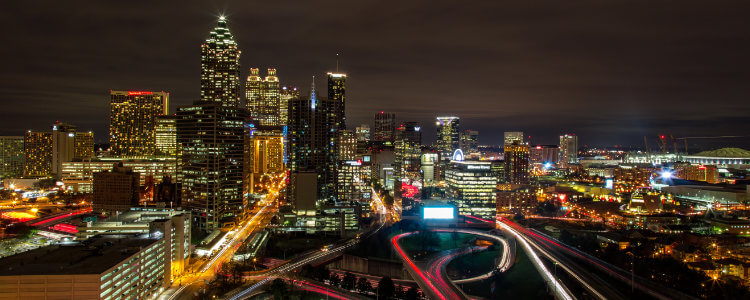 Culture
While the two cities may be known for certain things, there is something for everyone in each. Miami is famous for its beaches, party scene, and for the rich Latin influence on food, music, dancing, and architecture. Atlanta is known for its musical heritage (mainly Hip Hop), Southern hospitality, and sports teams.
Both cities are home to well-known basketball, baseball, and football teams. The Atlanta Falcons (NFL), Atlanta Hawks (NBA), and Atlanta Braves (MLB) unsurprisingly call Atlanta home.
Similarly, Miami is home to the Miami Dolphins (NFL), Miami Marlins (MLB), and Miami Heat (NBA). Miami also hosts NASCAR races, and Atlanta hosts Major League Soccer matches.
Both cities have experienced an influx of people from around the US and from other countries. Visitors and residents alike will be exposed to people of many different cultures.
Miami is already a diverse area with strong Latin influences. More than 74% of households in Miami speak a language other than English at home.
Politically, both cities lean to the left, but Atlanta is slightly more liberal.
Neighborhood Run Down
Below, we'll be summarizing some of the top neighborhoods in each city: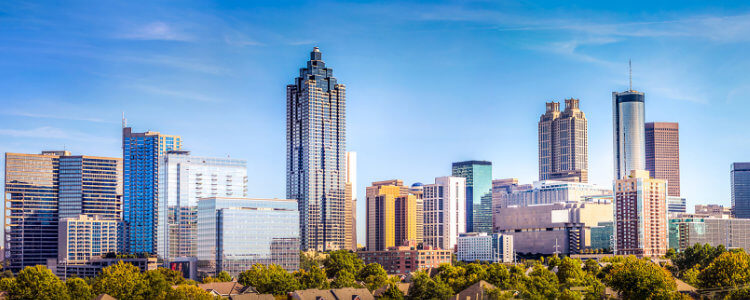 Atlanta
Buckhead is the most luxurious neighborhood in Atlanta and features the city's top shopping destinations. Expect to find no shortage of luxury real estate and celebrities in Buckhead.
Midtown is a high-density urban metropolis located near Downtown Atlanta. Some of Atlanta's best condos and eateries can be found here.
Downtown is where you'll find many of Atlanta's top destinations like the new Mercedes-Benz Stadium and the Georgia Aquarium. But far fewer people live in Downtown Atlanta compared to Downtown Miami; it's largely a commercial district.
Miami
Downtown/Brickell is a Biscayne Bay-adjacent neighborhood that features some of the best dining, entertainment, and outdoor spaces in the Miami area. Most of the real estate options here are condos, although there are small pockets of single-family homes.
Miami Beach is technically its own city but provides the most evocative glimpse into the "Miami lifestyle". Miami Beach features pristine beaches, incredible nightlife, and top-rated resorts and condo buildings - need I say more?
Wynwood is one of the cultural hubs of Miami and a must-visit for those who love art. You'll find galleries, museums, and plenty of murals here.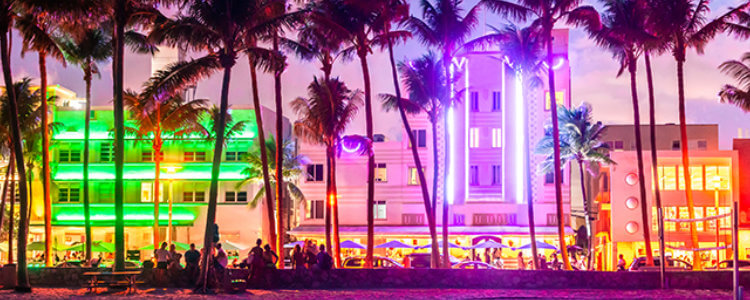 Nightlife
While both cities feature a compelling nightlife scene, Miami is the clear winner of the two. Miami is one of the top cities in the world for partying.
South Beach in Miami is well-known for being a party scene. Patrons can have their pick of the numerous cocktail lounges, clubs, restaurants, and bars. The nightlife is one of the best ways to experience the rich, cultural diversity of the city. From Salsa dancing to traditional Cuban and Latino-Asian fusion cuisine, there are many options to choose from.
Atlanta boasts incredible nightlife as well. Hip Hop culture has strong roots in the area, with artists like Ludacris, T.I., and Usher originating from Atlanta. With it being an area where many musicians and particularly Hip Hop musicians come to launch their careers, there is never a shortage of parties in Atlanta!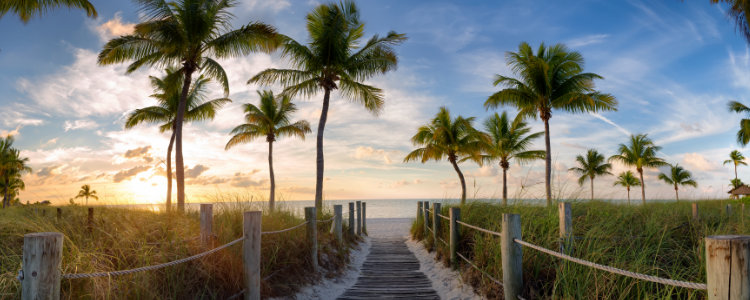 Weather
Atlanta experiences far milder summers than Miami. On the other hand, winters in Miami are much warmer, which many find more pleasant.
Because Miami tends to get much hotter with much higher levels of humidity, many homes are designed to help keep cool. While this is helpful, the area also experiences hurricanes, and very little is different structurally to protect against these.
While the chances of a hurricane are relatively small (at 16% annually), it is still something to think about. There is the general safety aspect to consider and then also the potential cost to repair or rebuild after damage. One should also consider that Miami is one of the most at-risk cities of property damage due to climate change.
Economy
Atlanta is home to a number of Fortune 500 companies, including The Coca-Cola Company, Home Depot, Delta Airlines, and UPS. Finance, manufacturing, and healthcare are major industries in Atlanta, largely driving the local economy.
Film and Media are also big in Atlanta, with Tyler Perry Studios and Turner Broadcasting being based here. It is often referred to as the "Hollywood of the South." All of these factors contribute to the growing job market in Atlanta.
Miami's economy is mostly reliant on local and international tourism. Its famous nightlife, hotel stays, and its retail sector are what make Miami its money. Being a tourist destination, there are fewer Fortune 500 companies and fewer management-level jobs available here.
The two cities have similar crime rates. Atlanta's crime is gang-related approximately 80% of the time and is more easily avoidable as it is contained to certain areas. Miami also has one of the highest violent crime rates in America although it appears to be on the decline.
Transportation
A car is a must-have in Atlanta. The bus and rail routes are functional and remain an option for residents, but the stations are far apart. Atlanta is a large city, and many destinations are not within walking distance of each other. Atlanta is also known for its terrible traffic. As such, many people choose to live as close as possible to their workplace.
Miami is only a little better in this regard, with less traffic on its roads. It also has a slightly better functioning public transportation service, which also includes trolleys. But traveling throughout metro Miami generally requires a car.
Conclusion: Atlanta vs Miami
So, which city is best? Like many things in life, it depends. Below you'll find our summary of the best arguments in favor of each city:
Choose Miami if you desire a maximally stimulating environment with plenty of partying and beachgoing. While you'll pay more to live here, it's worth it because of the rich culture and world-class amenities. Hopefully, you won't mind the heat and humidity!
Choose Atlanta if you want to maximize your quality of life in a growing and gentrifying city. Atlanta has all of the big-city amenities at a much more affordable price and you can still make trips to the beach. Hopefully, you won't mind being landlocked!