10 Reasons Why Miami Is The Best Spring Break Destination
Posted by Discover Homes Miami on Sunday, June 18, 2017 at 9:34 AM
By Discover Homes Miami / June 18, 2017
Comment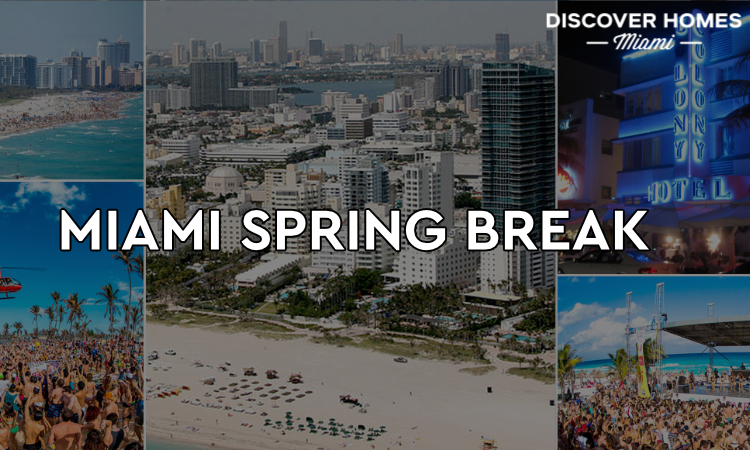 When you think of Spring Break, the foremost thing on your mind is "party, party, party". You will also want a place where people are friendly, there are loads of places for you to hang out in, and you will also want to be able to find reasonably priced hotels and accommodations to stay in. If you ask some people where they think is the best place to go when spring break swings around, one destination that is always on that list is Miami.
1. Budget-Friendly Accommodations
Sure, Miami has its fair share of 5-star hotels and luxury resorts lining its beaches, but if you know where to look, you can find reasonably priced apartments, hotels, and hostels that won't burn a hole in your pocket.
Lots of condo and apartment owners in the area rent out their units at reasonable rates during this time of the year, and some even do so all year round.
You might want to find accommodations that allow more than one person to stay in the apartment or condo. You can find a lot of these on AirBnB and split the cost with your friends. Just be sure you take care to leave the place the way you found it, out of respect for the unit owner.
2. Jumping Nightlife
When it comes to nightlife and nightclubs, South Beach in Miami is where you will want to be. The entire area is jumping most of the year, and even more so during Spring Break. You will find many nightclubs, dance clubs, bars, pubs, and taverns having Spring Break events that people flock to year after year.
Choose the bars that you will hit when you get here since almost every single club will clamor for the crowds that head to this part of Miami. Find the ones that you feel will fit your kind of party and make a list for the entire time that you are there so that you do not miss a thing.
3. Shopping Centers Everywhere
Spring break is not just about partying, getting wasted, and crashing at dawn. It is also a chance for you to get some shopping done, and Miami is well known for its shopping centers and specialty shops. South Beach has the Lincoln Road Mall, Coconut Grove has the Coco Walk, Bal Harbour has the Bal Harbour Shops, and Aventura has the massive Aventura Mall plus a lot more.
You can also explore the smaller shopping centers that dot this part of Florida and the specialty shops that can be found along Collins Avenue. You can also head on over to the Design and Fashion District of Miami to check out cool clothing, accessories, and footwear.
4. Great Food
If there is one thing that Miami is famous for, aside from the parties, the beach, and the ocean, it is the food. Take your pick from gourmet restaurants that specialize in local seafood, hipster food joints that serve unique fare, and food stalls that offer you quick fixes for your hunger. There are also numerous fast food joints all over the place if you want to save some money.
Other food options you have in Miami include small up-and-coming restaurants, eateries that serve regional cuisine, gastropubs that combine beer and gourmet food, and so much more.
Hotels also have their own restaurants that you can dine in, should you want to try these out.
5. Clean Beaches
It's no secret that Miami has one of the best collections of beach communities in the country. One of the things that people notice when it comes to Miami is that no matter how many people flock to the beaches of this city during Spring Break, Miami finds a way to get their beaches back into pristine condition.
It is unavoidable that beaches get littered with garbage after all the partying the night before, but the people of Miami, and some of the visitors that come to this city during this time of the year, make it a point to help remove the garbage from the beaches the following day.
There are also many local organizations and groups that make it a point to remind people that it is important to keep the beaches clean. They also have cleaning drives and programs that help keep Miami's beaches clean all year round.
6. Friendly People
Whether you meet a local or are partying with people from a different state, those who party in Miami during spring break are one friendly bunch. Locals often help visitors find what they need, whether it is a restaurant, a hotel, a club, or whatnot. The same goes for tourists who visit Miami for a vacation.
There is something about the tropical climate and the vacation atmosphere that brings out the friendliness and people, and this is evident in most of the places you visit in Miami at any time of the year.
7. Amazing Surroundings
Imagine clear blue skies meeting the crystal clear waters of the ocean, which also meets the pristine sandy beaches that are lined with tropical flora. This is what you get when you visit the beaches of Miami. That is not the only thing you will enjoy here. The different neighborhoods of this enclave also have different kinds of architecture that you will admire and will love to explore.
There are Art Deco Buildings, Victorian-inspired apartments, Mediterranean style mansions, and even turn-of-the-century gardens that will take you back in time to a bygone era.
There are also modern structures made out of glass and metal standing side by side with old-fashioned buildings that have been considered historical sites.
8. Parties Everywhere
You want to party in Miami but do not know where to go? Not to worry since all you need to do is ask, and then choose. There are parties everywhere during Spring Break here, and even hotels host their own special shindigs during this time of the year.
There are also nightclubs, dance clubs, pubs, and taverns that hold parties every night, and all you need to do is show up.
Aside from the parties that are being held in hotels and resorts in Miami at this time of the year, street parties and private gatherings are also part of your party options here.
9. Easy to Get To
Getting to Miami from anywhere in the US is easy. All you need to do is to book a flight to the Miami International Airport, and you are there. You can also choose to drive over with a bunch of friends and you can take turns driving as well as share in gassing up the vehicle you are using to get there.
You can also fly down from where you are from into one of the smaller airports in the county, and take public transportation to the party central of the city.
It also helps that Miami has a big collection of accessible and walkable neighborhoods.
10. Lots of Entertainment Options
When in Miami, don't focus too much on just partying every night away, even if this is the primary reason why you are there for spring break. There are loads to do in the area, and these include checking out museums, gardens, zoos, seaquariums, and many more.
You can even try your hand at golf in one of the many courses that can be found here. (See Miami's Best Golf Course Communities)
Other things you can consider doing while in Miami during spring break is to visit some of the water parks, public pools, and fishing spots.