Top 10 Reasons Why Miami Is the Best City For Health Nuts
Posted by Discover Homes Miami on Monday, October 9, 2017 at 10:15 AM
By Discover Homes Miami / October 9, 2017
Comment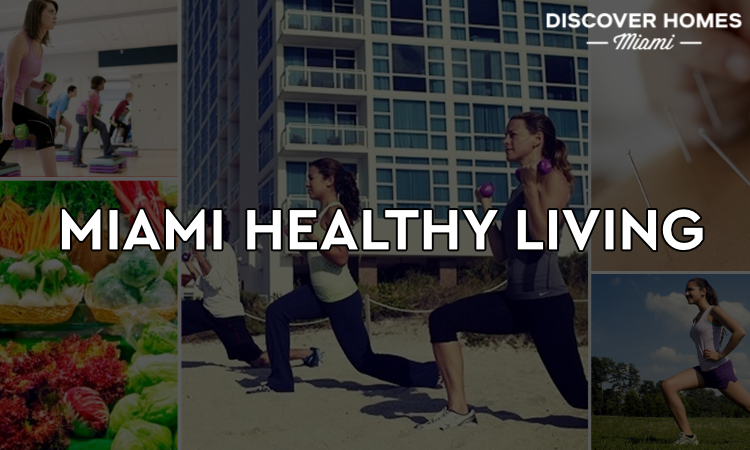 When you talk about health and fitness, Miami is one of the best places for this. Lots of health and fitness nuts head to the Sunshine State every year to enjoy what it has to offer when it comes to a person's physical wellbeing. Aside from almost 365 days of bright, sunny weather (with the occasional hurricane and monsoon rains thrown in a few days a year), you also get fresh air from the parks, the ocean, and all the trees that line the streets of the county.

Why do people choose to come to Miami for their health and wellness? Here are some of the top reasons why:
1. Home of Zumba in the US
One of the biggest fitness crazes in the world today is the Latin inspired Zumba, and while it does originate from Colombia, it was first introduced to the US in Miami, Florida in 1999. This salsa-mambo-aerobics fitness routine helps people not only burn off calories and lose weight, but it also helps them enjoy themselves while doing so. This exercise routine incorporates the moves of famous Latin dances with fat-burning aerobics movements, making it easier and more fun to do.
Today, there are more than two-dozen Zumba fitness studios in Miami, with the number of Zumba fitness instructors and aficionados increasing every single day and community Zumba programs becoming more popular as well.
Did you know that air coming from the sea is actually good for your health? This is one of the reasons why many people suffering from a variety of ailments head towards Miami and other cities near the ocean. It is also one of the reasons why people who are into fitness and living a healthy life gravitate towards seaside communities like Miami. Sea air is known to not only great for your lungs, but is also known to improve circulation, beneficial to the skin, and helps improve your body's defenses.
Doctors have been known to recommend moving to a seaside community to those with skin, respiratory, and allergy problems, and Miami is a seaside community.
3. Vegetarian Restaurants
If there is one place in the US that can be easily considered the best place for vegetarianism, it is Miami. While most vegetarians do make their own meals, having restaurants nearby that cater to your very specific gastronomic needs is a huge plus particularly if you are in a hurry or simply too busy to put together a meal. The vegetarian restaurants that you will find in Miami come in many different cuisines, which give you lots of options.
There are Vietnamese, Indian, Thai, Mediterranean, and American vegetarian restaurants in the county, and even a few fusion ones for you to choose from.
4. Healthy Options at Restaurants
Not everyone who is into health and fitness are into vegetarianism, which is why Miami also has numerous restaurants that have a healthy option on their menus. These healthy options can be anything from fat-free, to low-fat, to low-sodium, to gluten-free, and so on. Since Miami embraces diversity, it has become the norm for restaurants here, and even branches of popular fast-food chains, to have a healthy option for people to choose.
This kind of diversity in what is being served in restaurants here allow friends who like different kinds of food to enjoy dining together without worrying about their food choices.
5. Lots of Fitness Choices
How you choose to get back into the pink of health or to maintain your good health is easy in Miami. This is because there are a lot of choices when it comes to classes and personal trainers that offer such fitness options. Whether you want to try spinning, or are into yoga, or want to shift to crossfit, Miami has the trainer and the class for you.
You can also try to ask your community center for more information on the fitness programs that your neighborhood may have, to see if the classes you want are being offered there for free.

6. Community Fitness Programs
Speaking of community fitness programs, a lot of gated communities and even neighborhoods in Miami have free exercise programs that you can enroll in or join at any time. There are running clubs, bike clubs, free Zumba classes, fitness boot camps, and many more being offered by various neighborhoods and even the county itself. There are eve capoeira lessons, beach workout sessions, free yoga and Pilates, as well as free spinning classes being offered by various neighborhoods here.
All you need to do is to inquire about these things from your neighbors, local health food store, or from your community center.
We mentioned healthy options at restaurants and vegetarian restaurants at the start of his list, so it is but natural that we also mention health food stores as well. A lot of fitness and health buffs love to make their own meals since they can personalize these to their taste and to their fitness goals. It is also general knowledge that making your own food is also cheaper, which is why with so many health nuts living in Miami, it is but natural that health food stores also abound here.
Some of the more popular stores that you can go to for your grocery needs include Whole Foods, Life Natural, Beehive Natural, and Nutrition Mart.
If you live in Miami, you will know for a fact that there are more than a hundred fitness centers to be found within the borders of the county. Whatever kind of fitness choice you make, you will find that there is more than one gym here that can give you want you need. Be it CrossFit, Capoeira, Zumba, Wall-climbing, kick-boxing, boxing, Tae-bo, Yoga, Spinning, or what-have-you, Miami has a fitness center that offers it.
You will also find that a lot of the fitness centers in Miami offer more than one kind of fitness regimen for you to choose from, and some people take advantage of this by diversifying their exercise routine using these varied offerings.
9. Bicycle and Jogger Friendly
Miami has a lot of parks, bicycle-friendly streets, and specific areas where jogging and biking is ideal and very safe. This is why the county is a bicycle and jogger friendly one. There are bike trails all over that you can choose to bike in, massive parks that allow bikers, and even bike clubs you can join. For joggers, aside from the long stretch of beach facing the Atlantic Ocean from South Beach to North Beach, there are also numerous parks and trails that are popular with joggers here.
Some of the best places for runners and joggers in Miami include Lummus Park in Ocean Drive, the Rickenbacker Causeway near Brickell, and the Venetian Causeway between Downtown Miami and Miami Beach.
One of the things some health aficionados subscribe to is the new age approach to medicine, and this includes quite a lot of different alternative medicine options such as homeopathy, acupuncture, Ayurveda, Chinese medicine, and hypnosis, among others. Miami has these and more when you are one of those who subscribe to the belief in natural medication over chemical and synthetic cures. You can find shops within the county that offer such natural and alternative health remedies for those who do not want to rely too much on modern medicine for their health issues.
Most of the health centers in Miami that promote this kind of medicine often have the word holistic or herbal in their names.