15 Best Neighborhoods in Miami For Families
Posted by Discover Homes Miami on Monday, July 18, 2016 at 9:32 AM
By Discover Homes Miami / July 18, 2016
Comment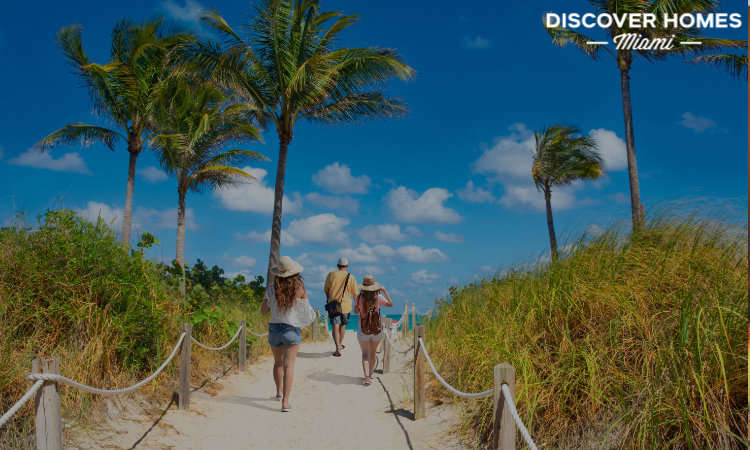 When people hear "Miami", the first thing that typically comes to mind is a scene at a picturesque beach on a perfect, sunny day. While this is far from being a mere fantasy, there are in fact a great number of other things that make Miami a wonderful place – not just for young, single sunbathers out for a glowing tan but for entire families as well. Below are 15 of the best neighborhoods in Miami for families and what makes them special.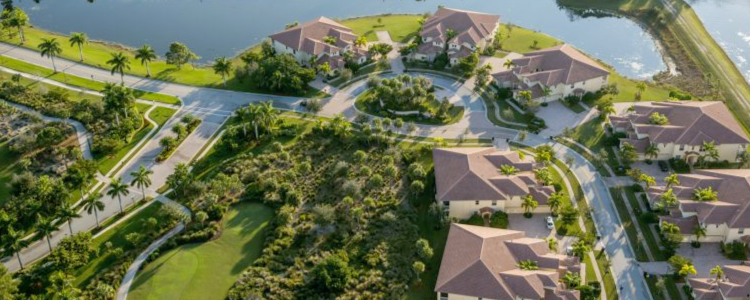 1. Pinecrest
Located south of Downtown Miami, Pinecrest is an incorporated township that is considered one of the most attractive places in Miami to raise a family. It offers a high quality of life that made it into the 10 best places in Florida, based on the South Florida Business Journal's 2011 report.
Pinecrest boasts of many reputable schools as well as tree-lined streets. It is also one of the safest neighborhoods in Miami, with only an average of 3,122 crimes per year for every 100,000 people, lower than Florida's average of 3,576.
The disparity is even larger for violent crimes, in which Pinecrest reported only 84 for every 100,000 people, compared to Florida's 470.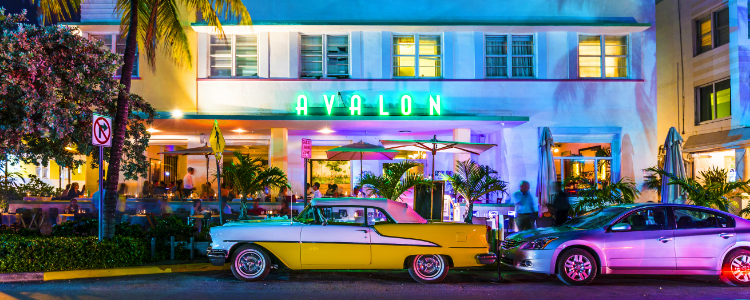 2. South Miami
South Beach Miami is a trendy neighborhood sandwiched by the Atlantic Ocean and Biscayne Bay.
Known for its playful vibe, South Miami is an emerging haven with beachfront residential and commercial properties that attract wealthy investors and residents.
With many great amenities like well-established public and private schools, lovely parks, and a handful of local youth activity centers, South Miami is an ideal family neighborhood all around.
Besides those, its highly convenient location near the coast makes a drive to the beach just a few minutes away. Families can also enjoy their weekends' boating in any of the area's marinas.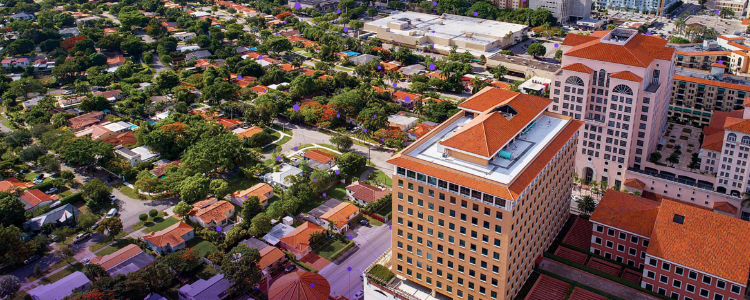 3. Coral Gables
Coral Gables used to be a large grapefruit plantation that was gradually developed into a housing community. It is one of the first-ever planned communities and is known today as "The City Beautiful".
Families today would enjoy shopping at the stores in the town's original Miracle Mile. Just close by are more shops at Merrick Park, which includes department stores like Nordstrom and Neiman Marcus, as well as kid-friendly stops like Pottery Barn Kids and Bognar & Piccolini. It is known for having a great lineup of schools and plenty of family-oriented activities.
Coral Gables is one of the safest and most charming neighborhoods in Miami, with 64 percent fewer violent crimes compared to the rest of the state. For comparison, in 2013, Florida averaged 470 violent crimes per 100,000 residents, while Coral Gables reported only 167.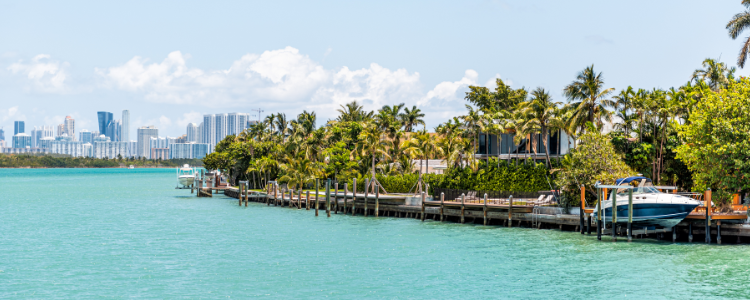 4. Bal Harbour
Bal Harbour is considered one of the safest neighborhoods in the Miami Beach area. It is a very good place for families to live in because of its lineup of excellent schools as well as easy access to shopping centers, beaches, and practically everything else a family needs.
Bal Harbour is just over the bridge from Haulover Beach Park, which offers picnic areas along with a marina and tennis courts. Bal Harbour Shops are well maintained and teeming with palms, koi ponds, and lovely bromeliads. The neighborhood has a reported crime index of only 182.4 in 2014, much lower than the U.S. average of 287.5.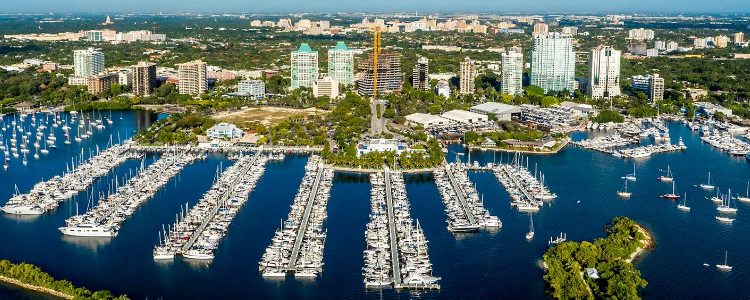 5. Coconut Grove
Located in central Miami, Coconut Grove is popular for numerous reasons: its history, serenity, as well as a variety of activities for all family sizes.
The neighborhood is likewise respected for its high-caliber school district, which includes some of Miami's best private schools like Ransom Everglades, Carrollton School of the Sacred Heart, and Immaculata-Lasalle High School.
Coconut Grove has seen a recent rejuvenation with crime rates plummeting to 60 percent lower than the rest of the city. The neighborhood registered only roughly 2,474 crimes per 100,000 people, compared to Miami's 6,184, Florida's 3,576, and the country's 3,099.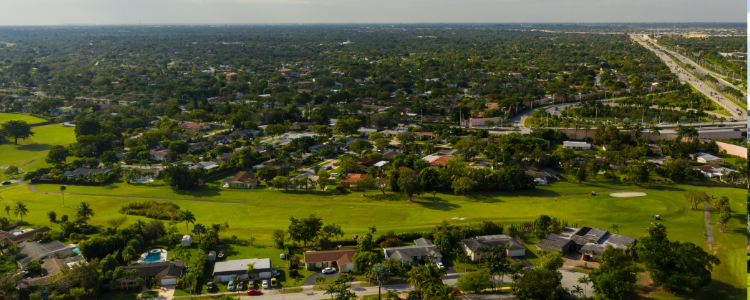 6. Kendall
Kendall Miami is a thriving community bordered by West Kendall, Kendall North, Richmond, Pinecrest, Dadeland, and Palmetto Bay.
While many immediately look at Miami's center for a family-friendly neighborhood, the outlying suburban areas have quite to offer as well.
For instance, Kendall has several outstanding schools that have a low ratio of 17 students for every teacher. Crime rate in this area is also 36 percent lower than the state average: it registered 2,254 crimes for every 100,000 people, compared to Florida's 3,576).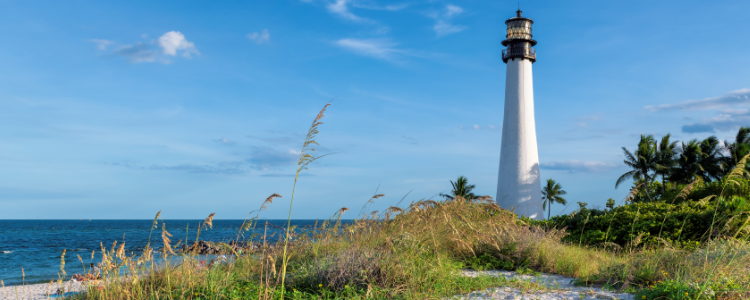 7. Key Biscayne
Considered as the top suburb to raise a family at in Miami Metro, Key Biscayne is also known to have higher real estate costs, which is offset by many families due to its incredible, free public schools.
Many families are content renting here because the area's many benefits outweigh the rental cost. Key Biscayne has one of the best public schools in Miami and offers many fun activities for children. It is centrally located, has one of the best K-8 schools, and is extremely safe.
A large family-friendly public beach at Crandon Park is a bonus. Annual violent crimes are an astonishingly low 15.4 (per 100,000) compared to the U.S. average of 264.1. Key Biscayne residents generally have very high education levels and income levels, as well as very low unemployment levels.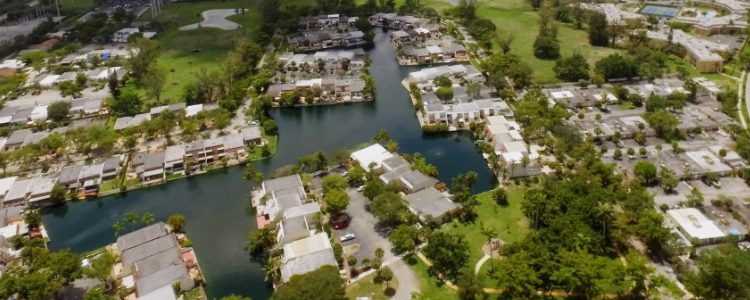 8. Miami Lakes
With its central location, your family can happily live in Miami Lakes and get anywhere in less than 20 minutes: Miami Beach, Downtown, South Miami, Coconut Grove, Broward County, and more.
The neighborhood was featured on the Travel Channel for its quaint, small-town feel in a big city. Miami Lakes has family parks every few blocks. Its streets are lined with trees and there are also several beautiful spring lakes for its lucky residents.
Its crime index has been plummeting since 2002, when it registered 374.6, to 2006 when it got 305.5, to 2014 when it was down to 125.4, much lower than the U.S. average of 287.5.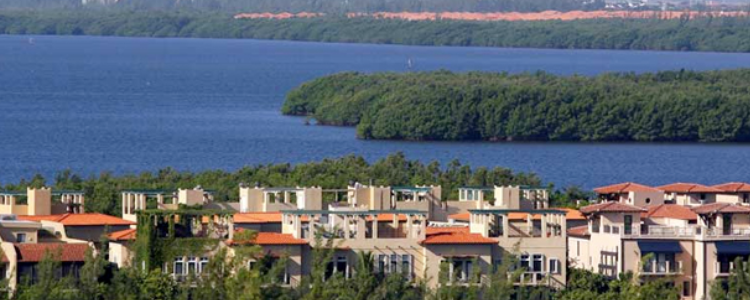 9. Palmetto Bay & Cutler Bay
Palmetto Bay and Cutler Bay (formerly called Cutler Ridge) are both family-friendly neighborhoods but are bargains compared to the posh Pinecrest area. Both neighborhoods are conveniently located near a child-friendly beach (the Matheson Hammock), and Marinas (the Black Point, M. Hammock).
Being next to the ocean, your family can avoid the west to east commute that the majority of the city's residents are forced to deal with. You also have the turnpike to take you quickly to the airport or Florida Keys. There are many lake homes in these areas, and if you get your family a pool, you've got a lot of water adventures with the ocean, lake, and pool for your pleasure.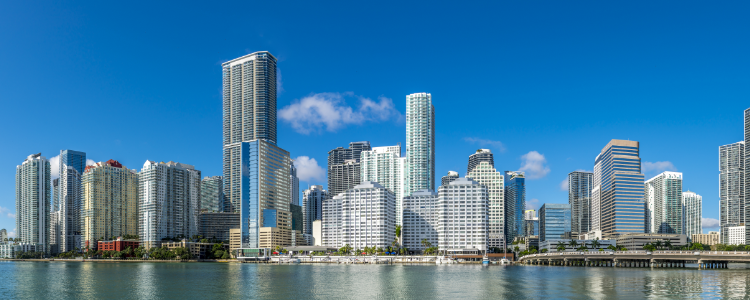 11. Brickell
An urban neighborhood in Greater Downtown Miami, Brickell is Miami and South Florida's main financial district. Brickell Avenue is home to numerous restaurants, shops, and entertainment spots.
Just to its north is Downtown, where you can find many public elementary schools as well as Miami Dade College's Wolfson Campus, the Miami Main Library, and several theaters, parks, museums, and sport venues. To its south is Coconut Grove, with its many historic sites and some of Miami's best private schools.
The neighborhood is the second most walkable in the city and your family can easily walk to the neighborhood's lifestyle center, Mary Brickell Village, known for its first-rate restaurants and boutique stores. Despite having more than twice the crime rate as the nation's average, many Brickell residents feel safe and believe that their neighborhood's auspicious location is worth it.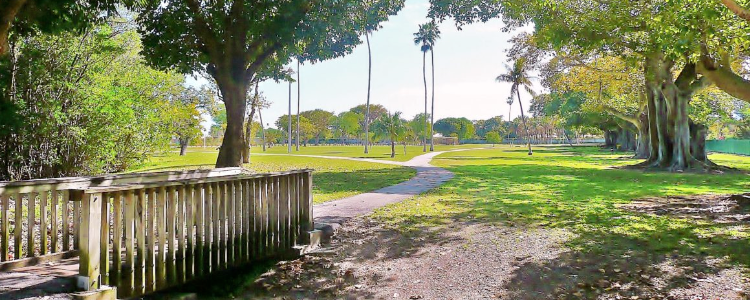 12. Upper Eastside
The Upper Eastside (also called East Side or Northeast Miami) includes the Magnolia Park, Bay Point, Morningside, Bayside, Belle Meade, Shorecrest, and Palm Grove subdivisions.
Primarily a residential neighborhood, Upper Eastside is lined with historic single-family homes from the 1920s as well as many newly-renovated restaurants, stores, and boutique hotels. It has several public schools (like Morningside Elementary School and Phyllis R. Miller Elementary School) and private schools (like the Archbishop Curley-Notre Dame High School, Morningside Montessori School, and The Cushman School).
There are also a handful of parks for your children to enjoy, like Morningside Park, Legion Park, Baywood Park, Pelican Harbour Park, Military Trail Park, and Manatee Bend Park. The overall annual crime rate in Upper Eastside is 20% lower than the U.S. average. It is safer than 76% of cities in Florida.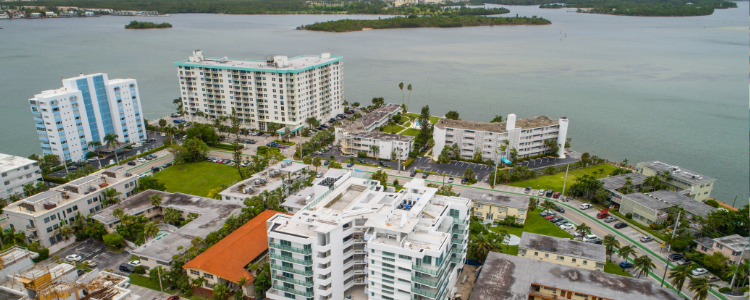 12. Bay Harbor Islands
A town in Miami-Dade County, Bay Harbor Islands is only around 20 minutes away from Miami International Airport and is located between the larger cities of Aventura and Miami Beach.
Bay Harbor has several top-ranked schools, including the highly-rated Ruth K. Broad Bay Harbor K-8 Center. It has a crime index of 56.8, exponentially lower than the national average of 263.1 The average commute time in the area is only 28.94 minutes.
Bay Harbor's East Island boasts of the biggest collections of mid-century Miami Modern architecture dating to the 1940s to the 1950s. In 2014, the East Islands made it to the annual "11 Most Endangered Historic Places" list of the National Trust for Historic Preservation due to the growing new developments in the neighborhood.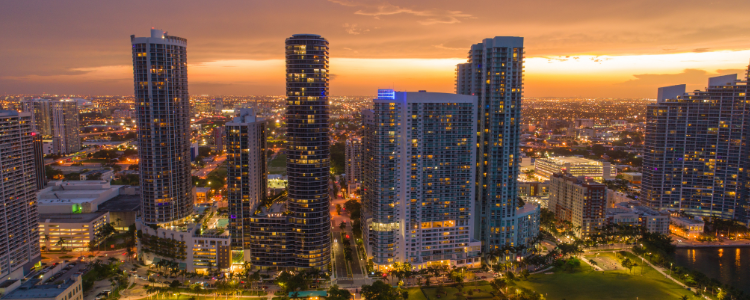 14. Edgewater
Edgewater is located north of Downtown and Omni, and south of the Upper East Side. Mainly a residential neighborhood, Edgewater has numerous historic early 20th-century homes and an increasing number of high-rise residential towers to the east along Biscayne Bay.
Its proximity to the financial district of Miami and rapid developments in the neighborhood puts Edgewater in the top list of homebuying families.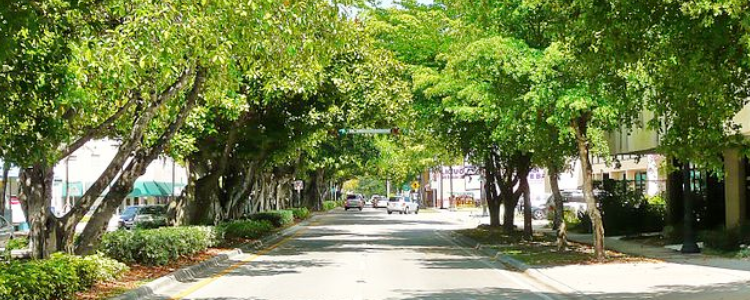 15. Coral Way
Just minutes away from the beach, this neighborhood is defined by Coral Way – a road established by Coral Gables founder George E. Merrick in the 1920s. It is lined with lush banyan trees and adorned with street art that mimics shadows.
Coral Way's local shops and cafes exhibit strong Cuban influence, while its burgeoning spas and yoga studios promote slow-paced, tranquil, and holistic lifestyles that benefit the entire family. Single-family houses are the most common in the area, with occasional multi-story complexes. It has an annual reported crime rate of roughly 3,021, lower than Florida's 3,956.
Coral Way features a number of elementary schools (such as Coral Way Elementary School, Shenandoah Elementary School, Silver Bluff Elementary School, Frances S. Tucker Elementary School, Coral Way K-8 School, and Merrick Educational Center), private schools (such as José Martí Schools, Lincoln Martí School, and Brito Miami Private School), and even an adult school (i.e., The English Center). It has a public library (the Shenandoah Library) and several parks (such as the Douglas Park, Coral Gate Park, Shenandoah Park, Cuban Memorial Boulevard Park, Woodlawn Park Cemetery).