10 Most Expensive Island Communities In Miami
Posted by Discover Homes Miami on Thursday, March 30, 2017 at 9:06 AM
By Discover Homes Miami / March 30, 2017
Comment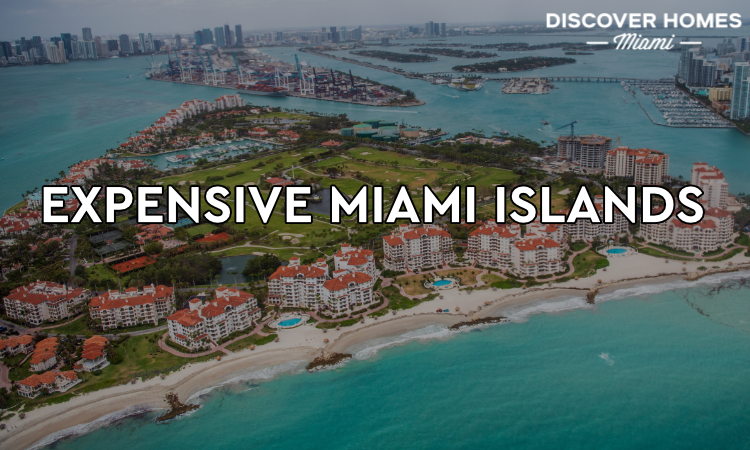 Aside from condominium buildings, villages, apartment complexes, and mansions found on the many large enclaves of Miami, you will find that there are also a number of island communities for people to choose from. Most island neighborhoods, however, are pricier than those found on the mainland and on the bigger islands, and this is primarily because of the exclusivity and amenities offered on these islands.
Here is a list of some of the more expensive island communities in the area and what makes them so special: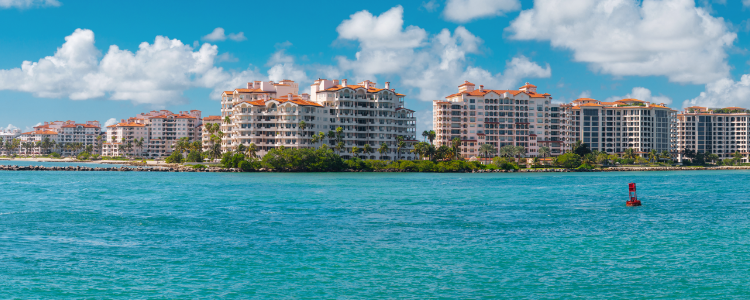 1. Fisher Island
If you're looking for the single most expensive island in the Miami area, it would be Fisher Island. In fact, the zip code that exclusively features Fisher Island (33109) is the richest zip code in America. Specifically, the average annual income on Fisher Island is $2.2 million.
Fisher Island is located near the southern tip of Miami Beach and is one of the locales where a lot of celebrities live. The community has its own golf course, is surrounded by well-tended beaches, and is dotted by luxury condos as well as mansions.
Some of the celebrities who have called this island its home at one time or another include athletes Boris Becker and Andre Agassi, and actors Julia Roberts and Oprah Winfrey. Median listing prices here are at $2.9 million, with median sales prices at $3.9 million.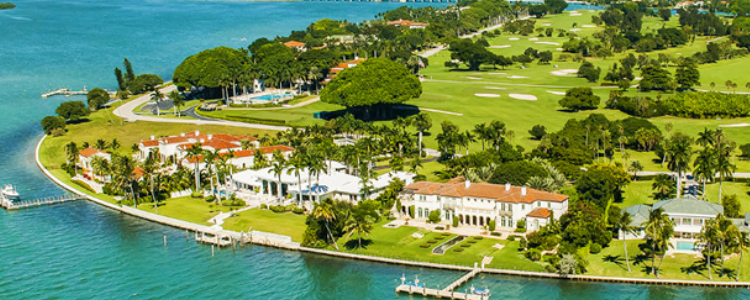 2. Indian Creek Island
Located just west of Surfside, Indian Creek Island is another enclave that has its own golf course right smack in the middle of it. Residences on this isle surround this golf course, giving these homes direct access to the water. This is another neighborhood that many affluent and famous people choose to have a home in Miami.
Some of the popular names that are on the list of residents on Indian Creek Island include Julio Iglesias and his son Enrique, supermodel Elle Macpherson, and a few billionaires like Edward Lampert and Norman Braman. Median listing prices here are at $700,000, and median selling prices are at $1.8 million.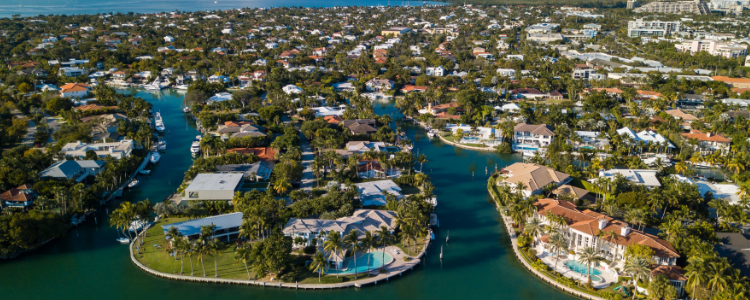 3. Key Biscayne
Considered one of the best island communities to live in when in Miami is Key Biscayne, and this is for a number of good reasons. Aside from the fact that it is an island that is pretty self-sufficient, with parks, a golf course, malls, and restaurants, it also has top-rated schools, and many of the creature comforts people look for. All of this while still being a quiet and tranquil island community with very little traffic, long stretches of white sandy beaches, and nice people.
Living in such a dream community however comes with a somewhat hefty price tag, with very few homes going below the $500,000 mark for listing prices. Median listing prices here range between $800,000 and $3 million, while median sales prices are between $600,000 and $6 million.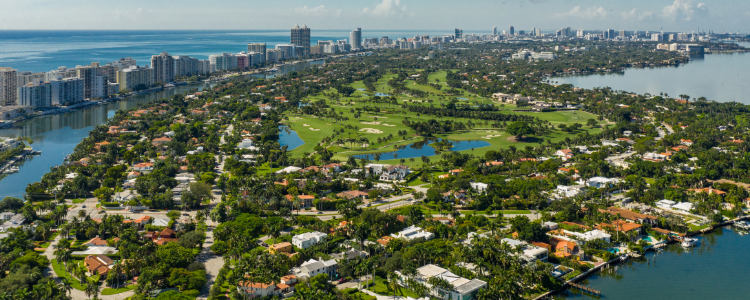 4. La Gorce
Just to the west of what is considered the Golden Mile of Miami Beach, La Gorce is another celebrity hotspot. Quite a number of big names in the entertainment industry call this island home, either on a part-time basis or for good. Some of the names that consider this locality their home include Jennifer Lopez, Ricky Martin, Cher, and Matt Damon.
Part of the reason why celebrities choose homes here is because of the direct access to the water, and partly because of the golf course in the middle of the island. Median listing prices here are at $1.2 million while median sales prices are at $1.5 million, with homes on the smaller island to the north of the big island having median sales prices of $3 million.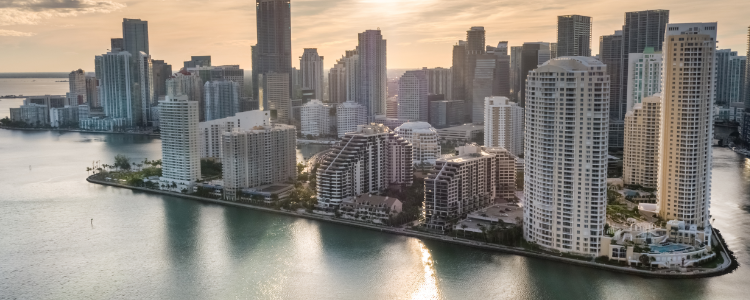 5. Brickell Key
Brickell Key is a man-made island is located just to the east of Brickell and is in the shape of a triangle. Also called Claughton Island, homes here are in condominium buildings that line the edges of the island. The residents here not only enjoy views of the bay, the river, and the city, but also the privacy that comes with living in a gated community and having everything you need right on the island.
Homes here are not as expensive as you would expect from an exclusive community since these are not mansions but residences in condominium buildings. Still, homes here come with median listing prices of upwards of $600,000 and median selling prices in the same range.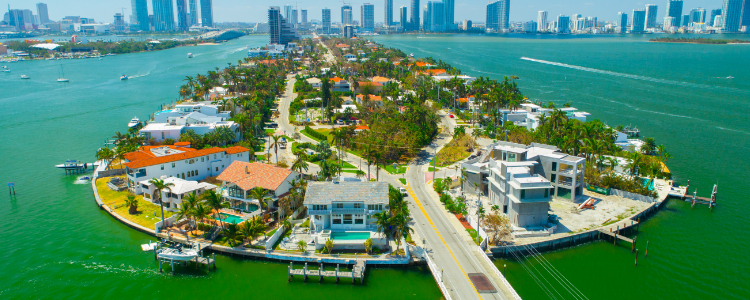 6. Venetian Islands
This group of islands is located between Downtown Miami and Miami Beach and consists of 6 man-made islands, namely Belle Isle, Rivo Alto, Di Lido, San Marino, San Marco, and Biscayne Island. These have quite a number of residents in them, living in upscale homes and condominium buildings. These islands are connected by the Venetian Causeway, which also connects Miami Beach and the northern part of Downtown Miami.
Homes here are also rather pricey, given the closeness of these islands to both prime areas of Miami, which are the CBD and the popular Miami Beach. Median listing prices are at $600,000 while median sales prices are between $500,000 and $4.2 million, with the central islands being more expensive than the outlying ones.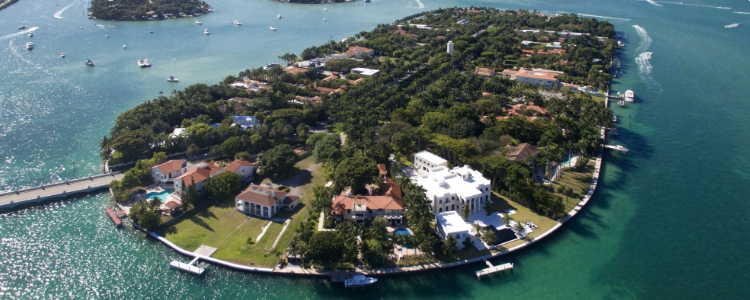 7. Star Island
An island located just southwest of Miami Beach is the oval Star Island. Another man-made island in this part of Miami, this residential enclave is home to a number of big celebrities too. Some of the easily recognizable celebrities who have lived or are still living here include Rosie O'Donnell, Gloria Estefan, Don Johnson, and Shaquille O'Neal.
Houses here are considered massive, even by Miami mansion standards, which is probably why there are only a few homes here. Median selling prices for homes that are being resold in this community is at $3.2 million, with the most expensive one being priced at $65 million.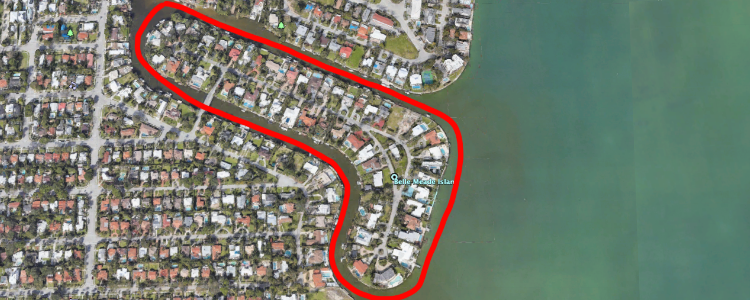 8. Belle Meade Island
This island which is shaped like a sock is part of the Upper East Side community, and is near the many interesting places here, like the Bayside Historic District, the MiMo Historic District, and Little Haiti. This neighborhood is a gated one that offers residents privacy and security, with the only entryway to the island being the one that is located on NE 9th Avenue. The homes here have direct access to the water, with quite a few having their own boat slips and private marinas to facilitate this.
Homes here often come with 5 to 7 bedrooms, and with price tags between $4 million and $9 million respectively. Empty lots that measure a quarter of an acre sell for $1.5 million, and rental rates here are at $13,000 a month for a 5 bedroom home.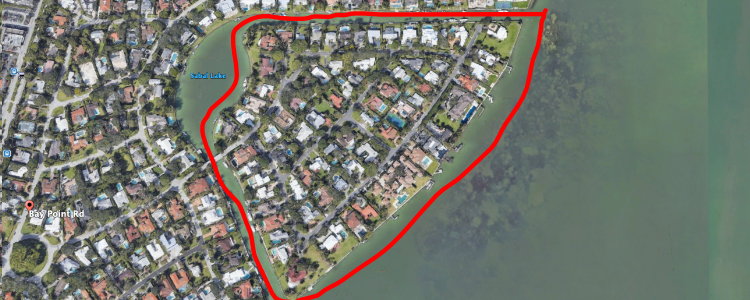 9. Bay Point Island
Another neighborhood that can be found within the borders of the Upper East Side of Miami is Bay Point Island, which is a small community that is northeast of Edgewater and southeast of Little Haiti. This island is shaped like a triangle as well and can be accessed via Island Road. Not all the homes here are considered waterfront homes since some of these are in the middle of the island, however, those that do have access to the water are the pricier ones.
Residences on Bay Point Island actually cost somewhere between $1.1 million and a whopping $27 million. Rental rates here range from $12,000 per month for a 3 bedroom home to $17,000 for a 5 bedroom home with dock and waterfront patio.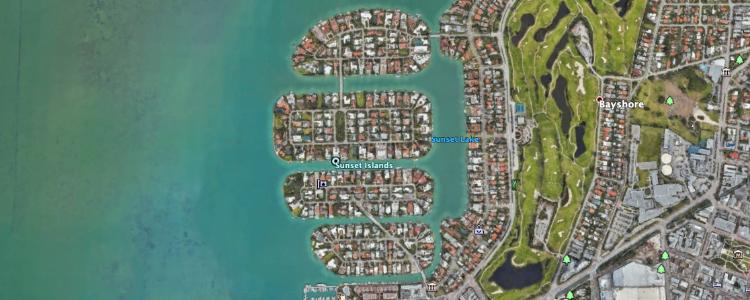 10. Sunset Islands
Another group of islands that houses luxury homes that run into the millions of dollars in value is Sunset Islands. Located on the western side of Miami Beach, and directly west of the Miami Beach Golf Club, these 4 islands feature homes that are in a variety of architectural styles. Simply named Sunset Island I to IV, these are also man-made islands, much like some of the island communities near it.
Homes here are mostly single-family homes that are massive in size, with prices ranging from $4 million for 3 bedroom homes to $20 million for massive 9 bedroom estates. Rental rates are at $21,000 for 5 bedroom residences and $85,000 for 7 bedroom homes.
Looking for more?