The 11 Best Social & Private Membership Clubs in Miami
Posted by Discover Homes Miami on Monday, May 3, 2021 at 10:14 AM
By Discover Homes Miami / May 3, 2021
Comment
Miami is home to some of the most luxurious and sought-after private membership clubs in the country. With a diverse population of singles, executives, families, and retirees, Miami's wide array of social clubs have something for everyone. Whether a patron of the arts, a health enthusiast, a culinary connoisseur, or someone seeking an exclusive beach sanctuary, Miami has a club for you. Here is a roundup of Miami's best social clubs so you can find your perfect paradise: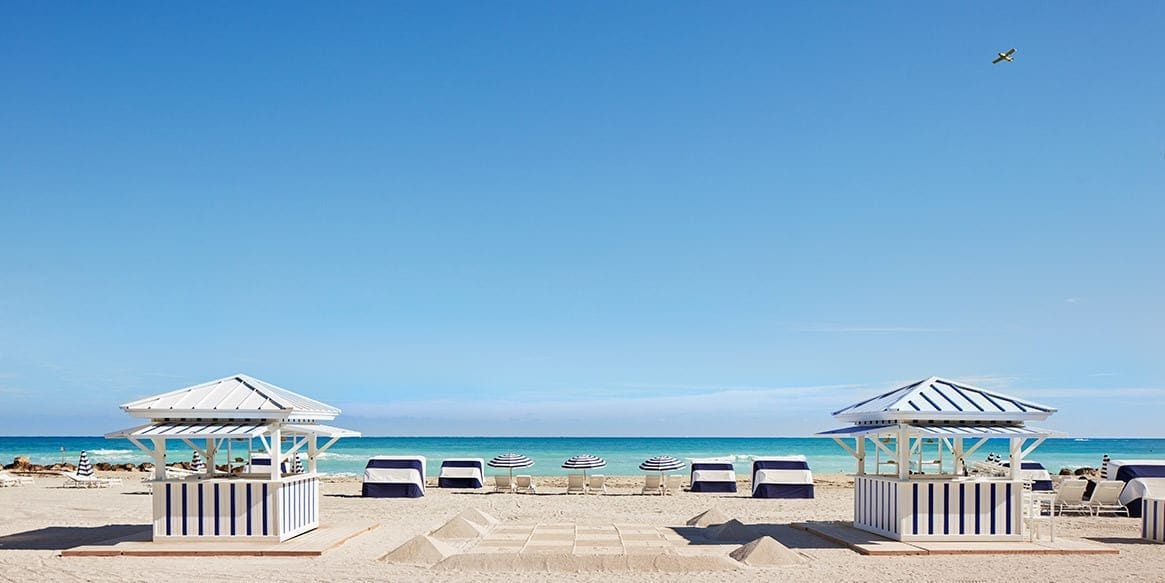 1. The Miami Beach Edition Beach Club
2901 Collins Avenue, Miami Beach, FL 33140
https://www.editionhotels.com/miami-beach/beach-and-pools/beach-club/
Intersecting urban luxury and a laid-back beach lifestyle is The Miami Beach Edition Beach Club. The club is an extension of the five-star boutique condo-hotel, Miami Beach Edition, renowned for its impeccable service and flawless Miami style decor.
The club is a perfect playground for Miami Beach locals seeking convenience, exclusivity, and posh amenities. Club members enjoy unrestricted access to the club's private beach, including full use of umbrellas, chaise lounges, and towel service. For a relaxing afternoon, members can indulge in discounted craft cocktails and take a dip in the hotel's two pools, encompassed by tropical landscaping. All members receive instant discounts at bars and restaurants, including The Matador Room, a 1940s-style, glamorous supper club created by a Michelin-starred chef.
Also included in membership is unlimited access to the hotel's 24-hour gym and use of the spa's tranquil relaxation areas and steam rooms. Members are eligible for discounts on all spa services and fitness classes. Members-only social events are frequent with unique activities at the hotel's bowling alley and BASEMENT micro club modeled after Studio 54.
For members that never want to leave, the top levels of the hotel and adjacent tower feature posh private residences for purchase. The units vary in size from single bedrooms to luxe penthouses and offer residents a private and celebrity entrance for absolute anonymity.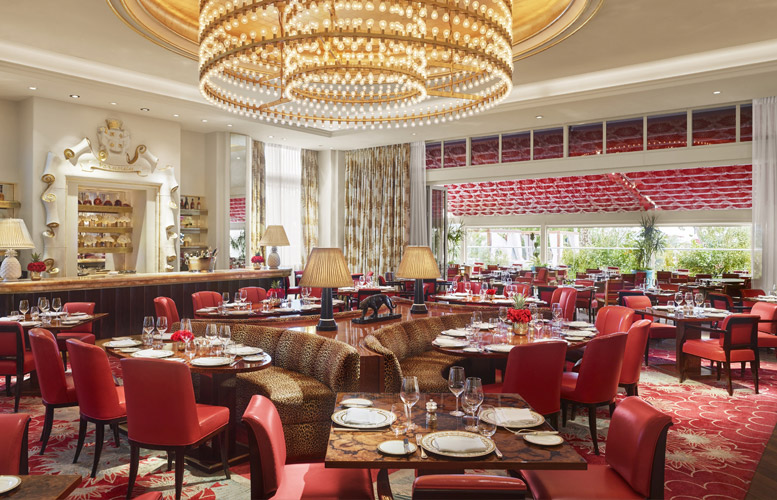 2. Faena Rose at the Faena Hotel Miami Beach
3201 Collins Avenue, Miami Beach, FL 33140
https://www.faena.com/faena-rose
Faena Rose is a highly exclusive membership club offering rare curated experiences centered around the arts, culture, and philanthropy. Members include those with a deep interest and passion for immersion in the arts, theatre, music, current events, and philanthropic endeavors. Members are invited to intimate performances, dining events, small classes taught by industry experts, and hands-on family experiences and trips.
Faena Rose members are provided with VIP access throughout the Faena District, a block of stunning venues including a theatre, beachfront hotel, a boutique, and event spaces. Within the district is a 17-story condominium tower featuring artfully designed interior and exterior spaces with 360-degree views of the waterfront and skyline.
Faena Rose is linked to the luxurious, five-star Faena Hotel, and members can indulge in the hotel's extensive list of amenities. Members receive generous discounts on first-class spa treatments at the acclaimed Tierra Santa Healing House. Members have a secluded, private section of the white sand beach for their use. They can also enjoy a spot by the azure pool, complete with butler service for everything from beverages to sunglass cleaning. Faena Rose provides a gathering place for those that appreciate culturally rich experiences wrapped in a decadent package.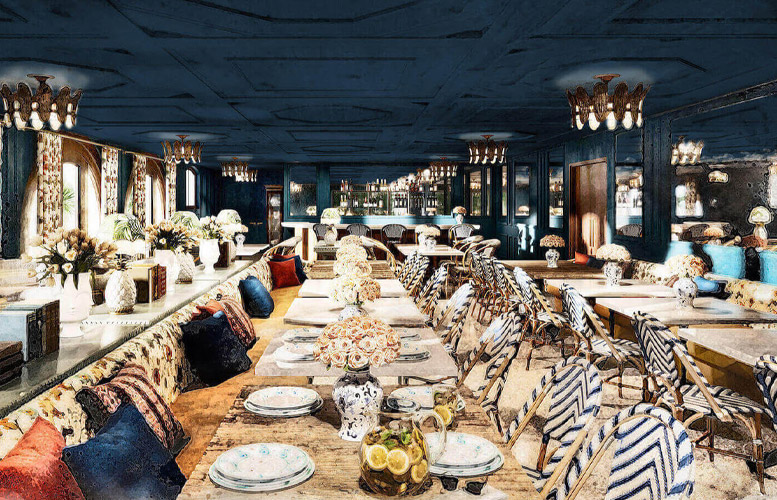 3. The Bath Club
5937 Collins Avenue, Miami Beach, FL 33140
The Bath Club was established in 1920 and is a historical icon within the Miami Beach community. The prestigious membership club recently underwent a full revitalization and has emerged as a tranquil Mediterranean paradise located on over three acres of pristine private beach and landscaped grounds. Gorgeous outdoor nooks with plush couches and chairs are tucked away throughout the club's grounds, perfect for a relaxing afternoon or evening drinks with friends.
Members of The Bath Club are a part of an exclusive luxury community with endless amenities to choose from. Club members can relax on the stretches of coastline with access to complimentary chaises, brightly colored red and white umbrellas, and towel service. There is also a gorgeous pool area with spacious cabanas and first-rate service. Health-minded members enjoy two clay tennis courts, a full gym, a sauna, yoga and meditation classes, and various health-related lectures and courses.
Vibrant social events for the entire family are frequent at The Beach Club including Sunday night barbeques, craft cocktail nights, and outdoor movie parties. The club offers convenient babysitting options and plentiful children's activities. With over five outstanding dining options throughout the club, members can grab snacks poolside or enjoy a five-course gourmet dinner.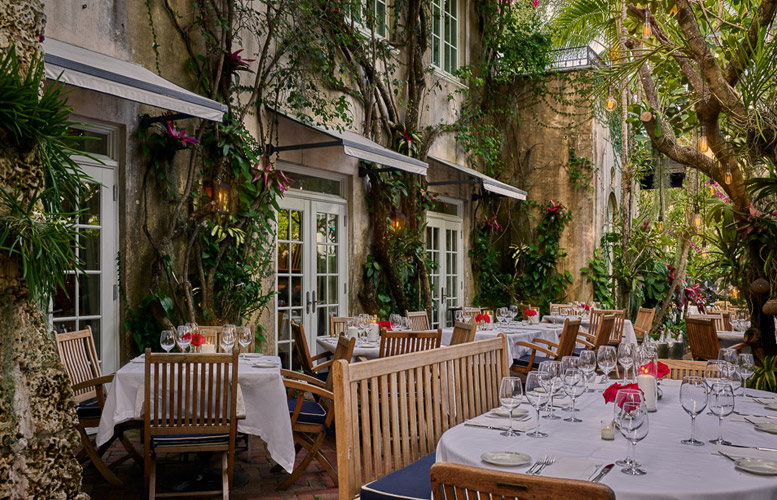 4. The Club at Casa Tua
1700 James Avenue, Miami Beach, FL 33139
https://www.casatualife.com/Miami.html
Entering The Club at Casa Tua is reminiscent of stepping into a dinner party at a gorgeous home of dear friends. Casa Tua means "your home" in Italian, exactly the ambiance the club brings to members via exclusive culinary events, themed parties, and intimate dinners. Offering numerous membership options, The Club at Casa Tua revolves around the principles of embracing the finer things in life, including the arts, delicious food, good conversation, and living life to its fullest.
Eclectic art and stunning decor adorn the club's numerous dining and lounging spaces offering several indoor and outdoor choices for members to gather. Members enjoy exclusive access to the Members Lounge and Terrace, two cozy yet glamorous spaces for entertaining, sipping cocktails, and indulging in delicious food. Other dining spaces include the Chef's Table, which provides full views into the inner workings of the chef's kitchen or al fresco dining in numerous garden areas amidst hanging lanterns and whimsical trees.
Depending upon membership level, members can enjoy access to other Casa Tua properties across the globe from Aspen to Paris. Casa Tua Miami also serves as a luxury boutique hotel with the finest linens, artful decor, and top-notch service. Members are eligible for discounts on room rates and dining at Casa Tua.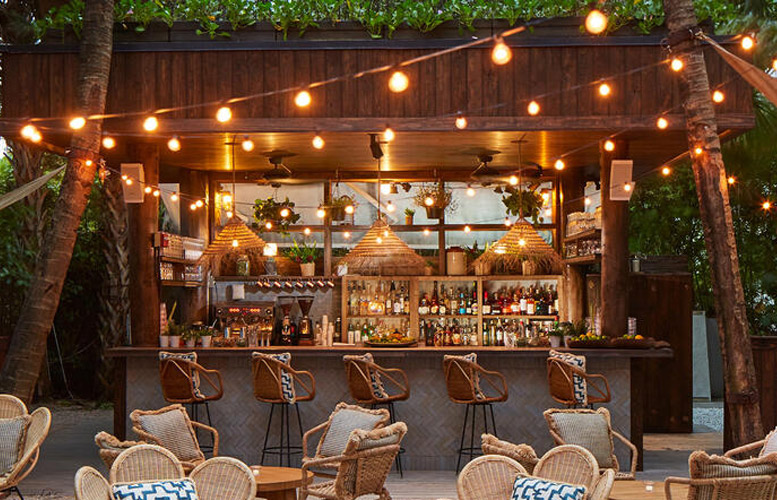 5. Soho Beach House
4385 Collins Avenue, Miami Beach, FL 33140
https://www.sohohouse.com/en-us/houses/soho-beach-house
Soho Beach House is a members-only gathering space located in the vibrant Art Deco district of Miami Beach. The club's 15-story tower includes several hangout spots such as a hip rooftop tequila bar and swimming pool, and guest hotel rooms that are exclusive to Soho members.
Soho Beach House club members include artists, creatives, and entrepreneurs seeking connection in beautifully curated spaces. From the stretch of private beach with full beverage and food service to the eclectic guest rooms featuring a fusion of 1930s Cuban and Art Deco decor, members can socialize and relax in style. A full gym complete with personal trainers and an array of daily classes is available for members.
Members have numerous membership options to choose from, including plans that provide access to Soho's global network of houses or just the Miami house. From bespoke cocktails with like-minded artists or sharing a pool-side cabana with friends, Soho Beach House is a chic and sophisticated locale for members to relax and connect.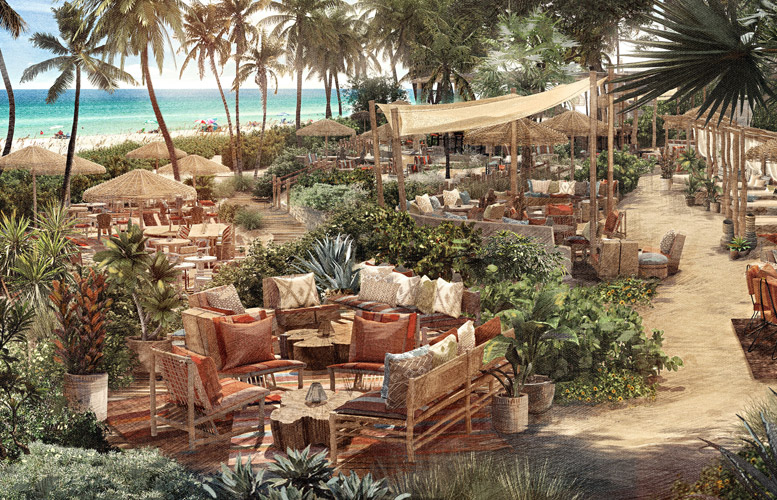 6. 1 Hotel Members Only Private Beach Club
2341 Collins Avenue, Miami Beach, FL 33139
https://www.1hotels.com/south-beach/discover/beach-club-membership
1 Hotel Members Only Private Beach Club is an extension of the tropical sanctuary, 1 Hotel, and is nestled in the South Beach area. The hotel adheres to sustainable practices and embraces eco-conscious living in everything from the food served to the activities on the members' social calendar. Members enjoy exclusive access to a variety of events centered around nature, spirituality, and well-being. Yoga and Pilates classes, poetry events, animal spirit card readings, and New Moon Circle activities are just a few of the unique events to enrich members' souls and minds.
Members have their own luxurious area to relax on the patio amidst lush trees and plush lounges adjacent to 600 feet of white sand beach. Members have access to the Cabana Pool, one of four pools on the property overlooking the ocean with natural wood cabanas and full beverage and foodservice.
Club members can tackle challenging workouts at the 14,000 square foot gym, designed by Marc Megna, a former NFL athlete, and fitness guru. Perks, including kids programs, free valet parking, and discounts on restaurants, hotel stays, and spa treatments, are all included with the 1 Hotel Private Beach Club membership.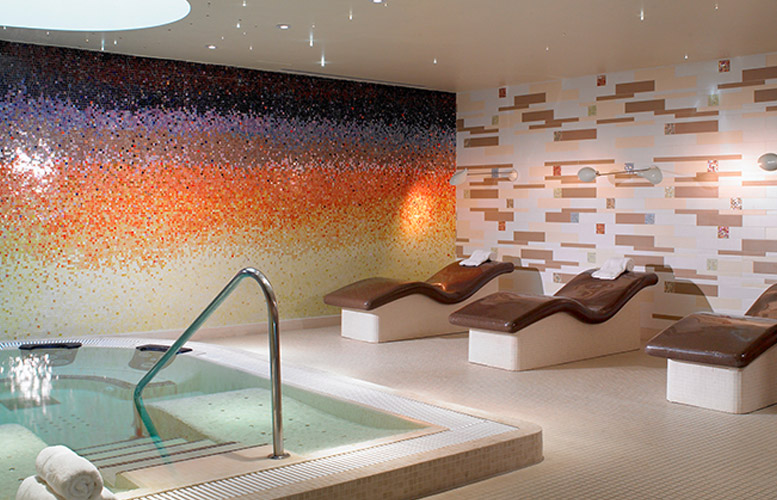 7. Carillon Spa and Beach Club
6801 Collins Avenue, Miami Beach, FL 33141
https://www.carillonhotel.com/en/beach-club/
The Carillon Spa and Beach Club is a luxurious health and wellness haven offering state-of-the-art techniques and treatments. The exclusive club is affiliated with the posh Carillon Wellness Resort & Spa and only allows 200 members annually. With a variety of membership levels available, all benefits revolve around achieving integrative health and wellness.
Members are provided with a team of wellness professionals, including alternative medicine and healing experts, to guide and tailor their health journey. Different membership levels include everything from resort credits toward room stays, restaurants, or spa services to personal training and full access to the resort's fitness center. Diverse classes are available at the fitness center, including rock climbing, belly dancing, and spin. Members can indulge in either the rooftop saltwater pool or soak up rays along the 750 feet stretch of private beach.
Membership includes access to the resort's array of alternative therapy and wellness experiences such as Igloo experiences, Finnish-style saunas, experiential rain showers, cryotherapy, and sleep therapy to name just a few. Carillon Spa and Beach Club memberships strive to provide restorative health, healing, and empowerment amidst lavish surroundings and alternative treatments.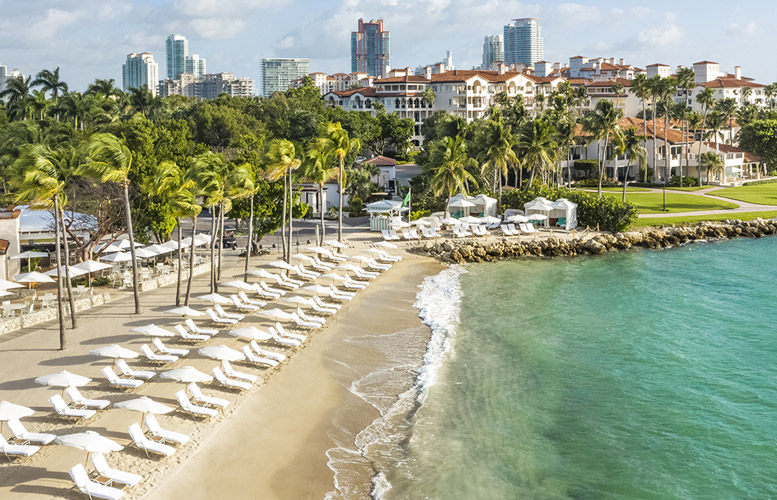 8. Fisher Island Club
One Fisher Island Drive, Fisher Island, FL 33109
https://www.fisherislandclub.com
The Fisher Island Club is touted as one of the most exclusive and prestigious private clubs in all of South Florida. Located on the remote and uber-wealthy Fisher Island, Fisher Island Club is a gorgeous Spanish-style mansion that is the former estate of the iconic Vanderbilt family. There are different membership levels at Fisher Island Club, including the equity membership available only to Fisher Island property owners, legacy membership only available to relatives of equity members, and seasonal memberships.
A Fisher Island Club membership is an instant ticket to unrivaled luxury and status. Featuring some of the country's finest clay, grass, and Har Tru tennis courts, members can enjoy playing alongside the likes of tennis pros such as Andre Agassi, Steffi Graf, and Caroline Wozniacki. The pristine 9-hole golf course is also available to members, as are the popular pickleball courts and state-of-the-art fitness center.
The club offers seven fine and casual dining restaurants with beautiful views of the white sand beaches and Biscayne Bay. An expansive, private stretch of sugar sand beach is available to members and includes impeccable service for any and every need.
A Meditteranean-style spa and salon feature an extensive menu of wellness treatments for the body and soul. Members with boats and luxury yachts can make use of the club's private marina, capable of housing yachts up to 250 feet. An exotic bird aviary and observatory also grace the property for nature lovers and stargazers alike.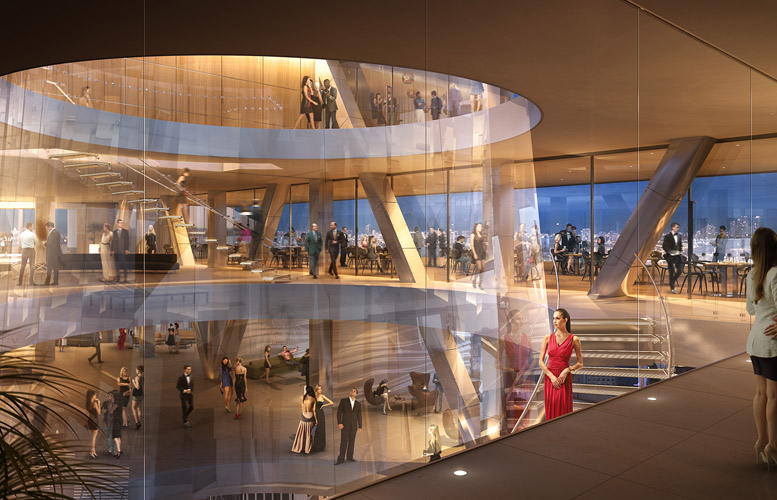 9. Sky Club at One River Point
24 SW 4th Street, Miami, FL 33130
https://oneriverpoint.com/the-sky-club/
The Sky Club at One River Point is unlike any other venue and club in all of Miami. Suspended in the sky between two stunning residential towers, is the sky bridge, an architectural feat of 50,000 square feet of glass and sophistication. The adjoining towers feature elegant residences with open layouts, imported travertine floors, and unobstructed views of the surrounding Biscayne Bay, Miami River, and the striking city skyline. Residents are given membership preference with a limited number of memberships granted each year to this coveted club.
The club is the essence of refinement, attracting the world's elite in the areas of fashion, business, and culture. Members enjoy an array of amenities such as exclusive culinary events with notable chefs, unique events featuring artists and thought leaders, and the usage of thirteen posh suites for hosting guests.
Fine wine and cocktails are a focal point of the club, with craft cocktails and rare vintages on the menu, an on-staff sommelier, and a climate-controlled wine cellar for members' storage needs. A luxe cigar lounge and restaurant featuring traveling chefs are also highlights for members to enjoy. Members can indulge in a full salon, fitness center, and medspa offering wellness and hydrotherapy treatments.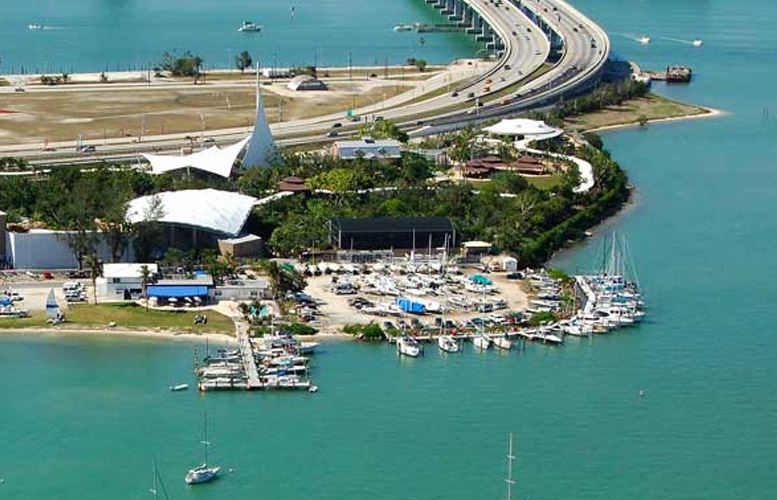 10. Miami Yacht Club
1001 MacArthur Causeway, Miami, FL 33132
https://www.miamiyachtclub.com
The Miami Yacht Club has deep roots in Miami's history and has been a gathering place for sailing enthusiasts since 1927. The club exudes a welcoming and unpretentious atmosphere coupled with a passion for all things pertaining to boating, sailing, and yachting. Some of the country's best sailors, including Olympians, have been trained at and members of the Miami Yacht Club.
Members always have a place to call home at the Miami Yacht Club with access to the club restaurant and bar, The Latitude Lounge. Boasting delicious food, ocean breezes, and strong cocktails, the restaurant is a favorite amongst members and the community. Members also enjoy boat and yacht storage at the club's private marina, featuring wet and dry slips and two boat ramps. The club also hosts numerous racing events throughout the year for those who crave competition and hone their sailing skills.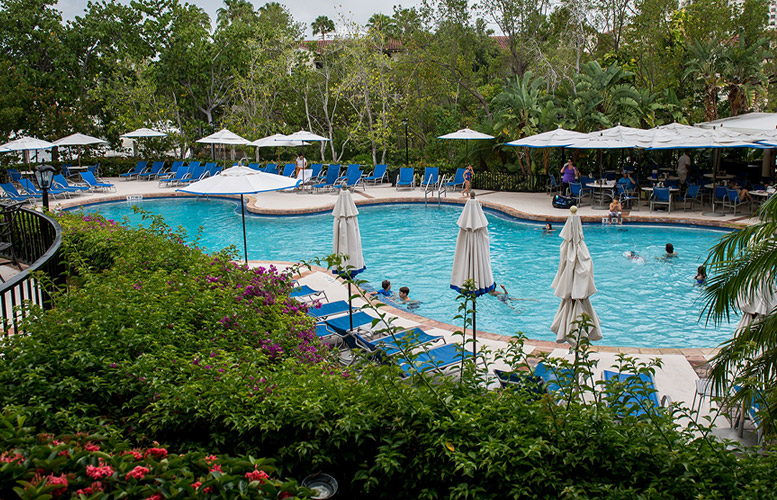 11. Williams Island Club
5300 Island Boulevard, Aventura, FL 33160
https://www.williamsislandclub.com/membership
Williams Island Club is at the heart of the Williams Island community, an enclave of luxury tower residences established in the early 1980s. Residences within Williams Island are beautiful, luxury units complete with 10-foot high ceilings, expansive floor plans, views of the surrounding waters, and a long list of amenities and social activities provided by the nearby club. Residents and non-residents are both eligible to apply for annual membership of different levels.
The lush, tropical resort-like club provides ample outdoor activities with world-class tennis facilities and a private marina. Boasting sixteen tennis courts graced by the likes of Jimmy Connors and John McEnroe, the club provides clinics, lessons, and youth camps year-round. Members can take advantage of the private marina for boat or yacht storage and ease of launching out into the open waters.
Club members can enjoy indulgent spa services such as facials and massages at the newly remodeled 27,000 square foot spa and salon. With access to over seventy fitness classes each week, members have many wellness options and tools at the club's gym. Three dining options are available to members for socializing with other club members and guests, and kids' programs are plentiful, from after-school swim classes to outdoor-themed summer camps. There is something for every member at the idyllic Williams Island Club.