Living in Parkland FL: An Affluent & Relaxed Community
Posted by Discover Homes Miami on Thursday, April 22, 2021 at 2:42 PM
By Discover Homes Miami / April 22, 2021
Comment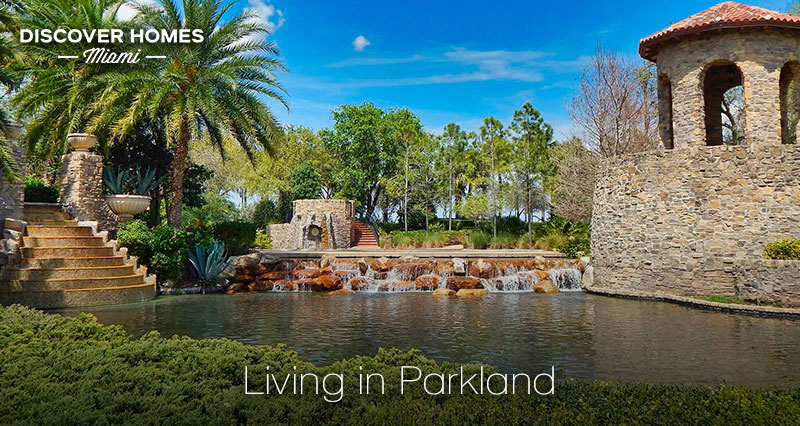 Occupying 12.8 square miles of northern Broward County and with a population of around 34,000, Parkland is a small city in the Miami metro area. Parkland is an affluent community that offers residents a tranquil and relaxed lifestyle in a beautiful setting.
The city's strict zoning laws were designed to protect the park-like nature and natural beauty of the community, and until the mid-1990s, there were no traffic lights or retail developments. Today, that's changed, but Parkland retains a picturesque and suburban feel. This is a city of lakes and waterways, and pleasant residential streets are lined with impressive mature trees that provide shade and ambiance.
There's a friendly, welcoming atmosphere in Parkland and a thriving community that strives to maintain a high quality of life. Let's take a closer look at what makes this wealthy, upscale community such a great place to live.

Parkland Golf & Country Club Credit: BERT BERT (modified)
Lifestyle and Culture in Parkland
Parkland is a city of quiet residential neighborhoods, and locals enjoy jogging, walking, and cycling through the tree-lined streets. For daily errands and trips further afield, owning a car is a necessity, although traffic in Parkland isn't nearly as bad as in other parts of the Miami metro area. Many Parkland residents commute to the surrounding areas for work, with Miami less than an hour's drive away and Fort Lauderdale a 30-minute drive.
One of the greatest pleasures of living in Parkland is having such easy access to beautiful parks and scenic recreation areas. Residents enjoy an active lifestyle, and the wonderful South Florida climate allows locals to spend lots of time outdoors.
Pine Trails Park is a local favorite, offering sports facilities, open spaces, and a fantastic amphitheater. Many local events are held here, including concerts and festivals. Covered Bridge Park offers locals the chance to commune with nature in a spectacular wooded environment, and visitors are often treated to sightings of butterflies, birds, and turtles.
As well as tennis, soccer, and volleyball, golf is one of the most popular local activities in Parkdale. There are several wonderful golf courses in the surrounding areas, and Parkdale is home to some of the best golf in the county. Parkland Golf and Country Club is a favorite local choice, and weekends see the fairways buzzing with activity.
Parkdale residents are spoiled for choice when it comes to choosing a place to grab dinner, with dozens of local independent restaurants on offer. There's everything from upscale fine-dining establishments to relaxed family-friendly joints, as well as a great craft brewery scene. Nightlife in Parkland is quiet and low-key, and that's just how the locals like it.
Several Parkdale strip malls such as Shoppes of Parkland and Parkland Commons offer a variety of shopping options, ranging from national retailers to more interesting and unique boutiques. Further afield, there are upscale shopping malls like Town Center and Mizner Park in Boca Raton, and there's a great selection of dining and boutique shopping at The Walk of Coral springs.
There's a thriving community spirit in Parkland, and it seems like there's always something going on. Locals love to get together and celebrate their city, and Pine Trails Park is often the venue for events and festivals. Eats 'n' Beats is one of the most popular celebrations, featuring dozens of food trucks and live music in the amphitheater. The biggest annual event is the Family Fun Fest, a huge three-day carnival with rides, games, music, and much more.
Things to Do in Parkland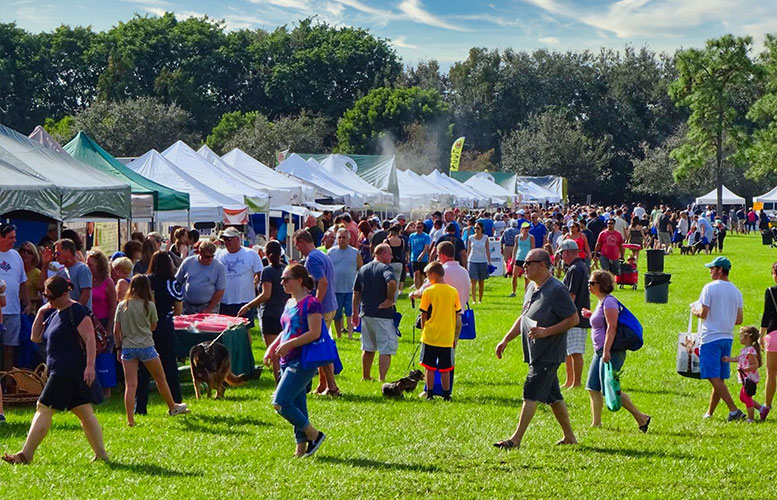 Parkland Farmers Market. Credit: City of Parkland
Parkland Farmers' Market
Parkland Farmers' Market is the biggest and best of its kind in Broward County. Taking place from November until April every year, the Farmers' Market draws people from all over the region to the Equestrian Center at Temple Park for a Sunday morning of unique shopping and fun.
There are dozens of vendors here, selling organic produce, hard-to-find gourmet foods, and all kinds of artisanal products. There are some fantastic baked goods on offer, too, and locals enjoy strolling around the market with a coffee and a freshly baked pastry, chatting with their neighbors, and perusing the local arts and crafts on display.
Coral Springs Museum of Art
The Coral Springs Museum of Art is located 10 minute's drive south of Parkland and offers a variety of cultural experiences. The modern building features a beautiful, open design, and the atmosphere inside is light, airy, and inviting. The museum is an important resource for Broward County residents, and for decades has set about creating a welcoming and inclusive space for all.
There are regularly rotating exhibits on display, highlighting work from both local and national artists. The museum is also home to an eclectic permanent collection of traditional, modern, and postmodern art. Outside the main building, there's lushly landscaped, eco-friendly landscaping that includes a whimsical collection of sculptures as well as a wonderful hand-crafted mosaic wall that depicts the Everglades.
Monster Mini Golf
Located in Coral Springs, just across Parkland's southern border, Monster Mini Golf is one of the area's most popular attractions. This epic facility offers a world of fun for the whole family, and local kids can't get enough. There are 18 holes of glow-in-the-dark mini golf here, replete with animated monsters, pulsating music, and hilarious artwork.
For those who crave even more of an adrenaline rush, the Lazer Maze is just the ticket. You'll need to use strategic thinking to make your way through the maze of laser beams in the allotted time. The arcade here is second-to-none and features all the video game classics as well as air hockey, Skee ball, and basketball hoops.
Seminole Casino Coconut Creek
For a slightly more relaxing and adult-friendly evening, Parkland residents head to the Seminole Casino, a 10-minute drive east in Coconut Creek. This upscale local casino features over 2,000 Vegas-style slots and more than 65 live table games, including Blackjack, Baccarat, and 3-card Poker.
The atmosphere in the casino is friendly and relaxed, and it's hard not to have a great time. Seminole Casino is home to several bars and restaurants, including an award-winning steakhouse, a New York-style deli, and an Asian-inspired bistro. There's also a huge entertainment venue here that's seen shows from the likes of Pat Benetar, Rick Springfield, and many others.
Parks and Recreation in Parkland
Pine Trails Park & Liberty Park
Parkland is home to many fantastic parks and green spaces, but Pine Trails and Liberty are the two most beloved parks in the city. Pine Trails Park is the epicenter of sporting activity in Parkland, and many local children take part in baseball, soccer, and lacrosse leagues here. Locals love to come here on weekends for picnics and family gatherings, and there's an awesome playground for the kids. Pine Trails Park also features walking trails, an amphitheater, and a lovely fishing pier.
Liberty Park is another neighborhood gem that's the place to be on the hottest days. The refreshing splash pad is always packed with children, and parents relax under the gorgeous mature trees. Dog owners gather in the off-leash areas to socialize while their pups get some exercise, and locals can always be seen jogging, cycling, or just strolling through this beautiful park.
Parkland Golf and Country Club
Sitting in the heart of the city, Parkland Golf and Country Club is a cornerstone of the local community, and many locals come here to celebrate weddings and anniversaries. The clubhouse is a gorgeous stone building, and there's an atmosphere of elegance and refinement. For many local golfers, this is the place to be on weekends, and although it's a private club, guests are allowed.
The Par-72, 7,118-yard course was designed by Greg Norman and is considered one of the best in the area. The fairways are kept in outstanding condition, and the course is challenging for players of all levels. Parkland Golf and Country Club also features two gorgeous swimming pools, tennis courts, and a spa. There's an elegant bar for after-golf cocktails, as well as an upscale restaurant.
Quiet Waters Park
Quiet Waters Park is super-popular with Parkland locals, and when Summer temperatures really start to rise, this is the place to come for a refreshing dip. Quiet Waters is located in Deerfield Beach, a short drive from Parkland, and comprises over 400 acres of parkland and water.
Locals come here to paddleboard, kayak, and water ski, and the place is packed with local boaters on weekends. Local kids love the Splash Adventure water park, and there's also Woofing Waters Dog Park for four-legged friends. One of the coolest features of Quiet Waters is the campground, which offers tents and tepees for rent. Local mountain bikers love it here, too, thanks to the miles of challenging trails that wind through the park.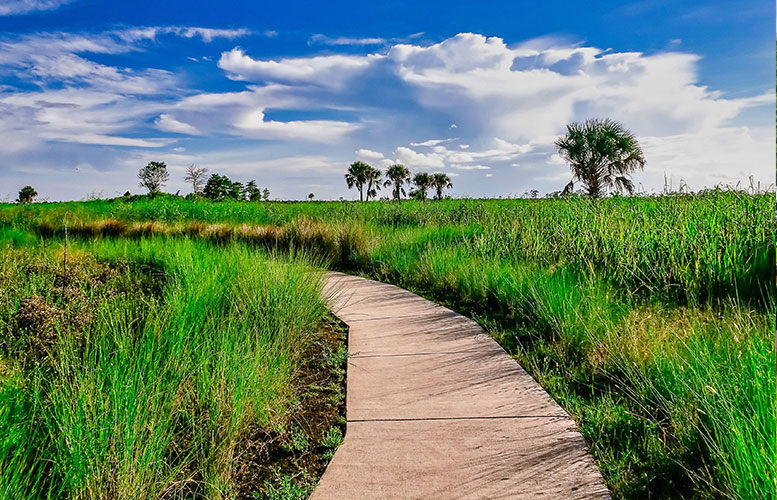 Everglades National Park
The Everglades is a UNESCO World Heritage Site, and this incredible treasure is right on Parkland's doorstep. Several companies offer tours of this unique environment, and Loxahatchee Everglades is one of the most popular.
This eco-friendly company offers hour-long airboat tours of the park, and tour guides are friendly and extremely knowledgeable. As you cruise the "river of grass," the guides provide entertaining information about the Everglades' history, ecology, and wildlife. You'll have the opportunity to view hundreds of species of birds and plants, and if you're lucky, you'll see the famous American alligators that call this part of the world home!
Parkland Real Estate
Real estate in Parkland is among the most expensive in Broward County. Although recent years have seen condo and townhome developments in Parkland, the majority of real estate options come in the form of beautiful single-family homes on generous lots. Many homes are located along with golf courses or lakes and offer stunning views and lush tropical landscaping.
Heron Bay is one of the most desirable gated communities in Parkland, offering two community clubhouses, swimming pools, spas, a fitness center, and an 18-hole championship golf course.
MiraLago is another sought-after gated community of impressive single-family homes situated around Parkland's largest lake. MiraLago offers resort-style amenities, including tennis courts, a fitness center, and a swimming pool.
Watercrest is one of Parkland's newest gated communities, situated around 150 acres of lakes. Watercress offers 28 different single-family home floorplans, as well as resort-style amenities and an enormous clubhouse with atmospheric terraces.