Living in Miami Beach, FL: 2021 Community Guide
Posted by Discover Homes Miami on Saturday, January 16, 2021 at 4:27 PM
By Discover Homes Miami / January 16, 2021
Comment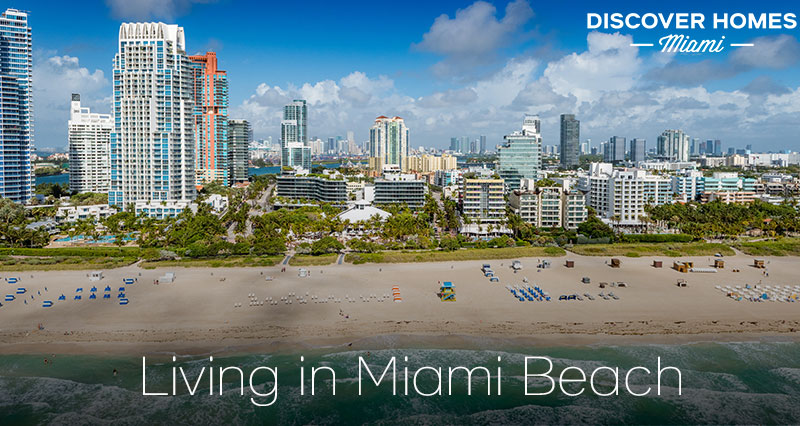 Living in Miami Beach means living where most people vacation. It means being able to sunbathe in January and having daily access to some of the most pristine beaches in the US. It means always having a way to unwind. It's not just the beach, though.
Miami Beach is one of America's oldest resort towns and therefore has a history and culture that provides a sophisticated foundation to the atmosphere of relaxation.
The Miami Beach tourism industry provides high incomes and job security, making it one of the most affluent cities in the entire country. This, along with the natural beauty and rich history, brings together residents from diverse backgrounds and creates a cultural melting pot. In other words, there is always an interesting person to meet or an adventure to have in Miami Beach.
The city covers a number of natural and man-made islands that lie across Biscayne Bay from Miami, making it part of Greater Miami. This gives residents access to urban amenities while remaining in a smaller, more insulated community.
In fact, Miami Beach is very walkable, partly due to its historic architecture, which leads to close-knit neighborhoods built around long-standing establishments. Above all, living in Miami Beach means smiles, friends, and fun with little stress.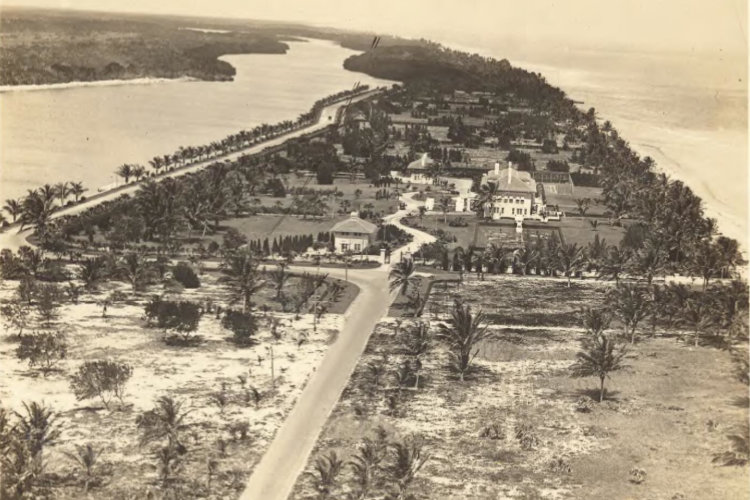 Miami Beach in 1920 prior to being developed
The History of Miami Beach
Believe it or not, the history of Miami Beach dates back earlier than that of mainland Miami. While the City of Miami was established in 1896, the first building appeared in Miami Beach in 1876. It was a refuge that provided food, water, and a temporary place to stay for sailors who had shipwrecked off the Florida coast.
For a long time, Miami Beach remained an agricultural area, unrecognizable to those used to its glamorous beaches and hotels. A number of entrepreneurs tried growing different crops like coconuts and avocados with varying success. However, after the railroad arrived in Miami, one of these entrepreneurs, John S. Collins, realized the area's potential as a resort town.
During the first two decades of the 20th Century, investors poured money into developing Miami Beach. They expanded the islands, cleared the thick jungle, and built spas, hotels, and golf courses. By 1915, the year the town was officially chartered and there was even an aquarium.
In the last century, Miami Beach has continued to expand and attract tourists and residents from all over the country and globe. The population really boomed during the economic growth of the 1950s and the mass immigration of Cuban refugees in the late 50s and early 60s. This has influenced the city's culture and turned it into the popular resort destination it is today.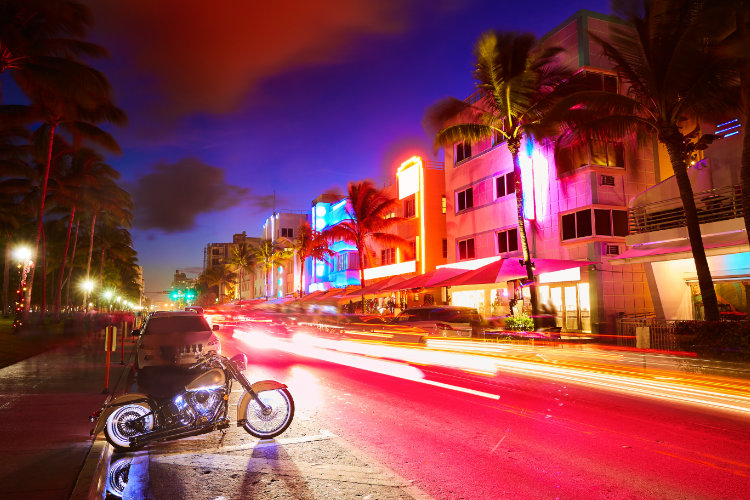 An exposure shot of Ocean Drive in Miami Beach, FL
Miami Beach Lifestyle and Culture
No matter where you go in the city, the atmosphere in Miami Beach is one of relaxation and enjoyment. Even if you're not on the beach, you'll see people lounging and sunbathing on the grass, jogging through parks thick with palm trees, or cycling through historic neighborhoods. Music filters out into the street from open restaurants where people sit on terraces drinking cocktails and watching the sunset pink the Florida sky.
On the beaches themselves, the towering resort skyscrapers stand side by side with historic boutique hotels. The white sand is dotted with sunbathers, volleyball games, and trails for jogging and cycling that wind through natural conservation zones. Along with swimmers, it's common to see boats farther out pulling along jet skiers and paragliders.
Thanks to its long history as a resort town, Miami Beach is very walkable. Much of the historic districts, including the Lincoln Road Mall and the Art Deco District, have wide promenades that often host markets selling local goods and beach gear.
One of the most notable aspects of Miami Beach's culture is its Cuban flair. Over half of Miami Beach residents are Hispanic, many of those Cuban, and this shows in the business establishments and activities. For example, the smell of Cuban food like Cuban sandwiches and seafood enchiladas starts to waft out into the street a bit before nightfall, and soon after you can hear the clanking and grinding of ice cubes in mojito glasses.
Many hotels, restaurants, and streets feature Spanish names and amenities. Above all, the Cuban influence on the city has led to incredible hospitality and friendliness between the locals, something that seems to infect the tourists who visit as well.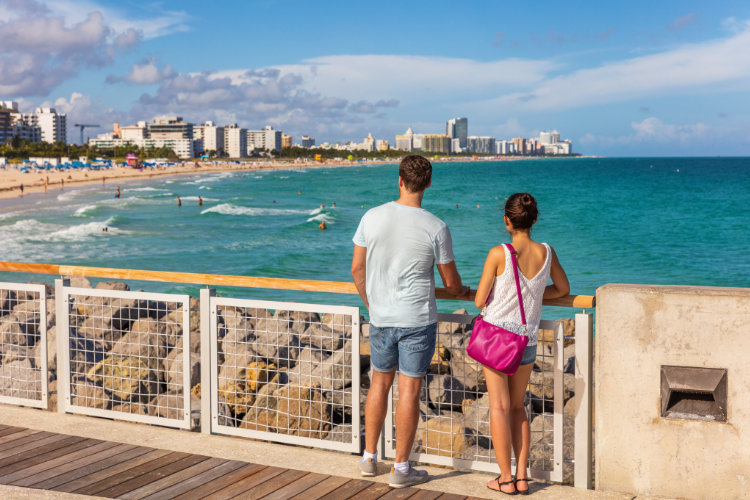 Two tourists on South Pointe Park Pier looking at South Pointe Beach
Tourism
Of course, many of the people you see walking around town are tourists. This crowd is very diverse, including people all over the United States and the whole world. In fact, almost half of Miami Beach's tourism tends to be from foreign countries, mostly Latin America. This steady influx of new people means extensive opportunities for new experiences and friendships.
Since the tourists coming to Miami Beach are so eclectic, the city has businesses serving just about any interest imaginable. Once the sun goes down, clubs open and dance music starts playing. For those who prefer a calmer atmosphere, though, there are golf courses and spas as well. And of course, there's always shopping.
Things to Do in Miami Beach
Extreme Sightseeing
There are many ways to go sightseeing around Miami Beach, from open-roof buses to bay cruises. If you're looking for something a little more adventurous, though, there are a lot of options.
For example, there are extreme sightseeing tours of both Biscayne Bay and the Florida Everglades. Travel around with the wind in your hair in a speed boat or airboat and see the many different sides of Miami Beach, from the natural beauty of the Everglades to the glamour of South Beach and Ocean Drive. There's even a tour on a pirate ship and another in classic convertibles.
Even if you're not an adrenaline junky, there are a lot of customizable luxury tours as well. Many of these are private and take patrons around the Miami Beach islands by boat all while providing food and drink. These are ideal for couples looking for a new kind of night out.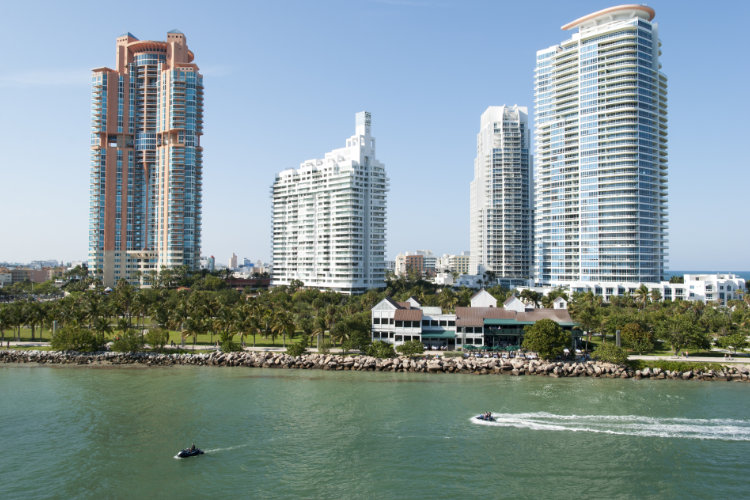 People waterskiing with the South Beach skyline in the background
Water Sports
Miami Beach is arguably one of the best locations in the country for water sports. No matter your interests, there's something for you to do out on the sea. No matter your experience level, there's someone ready to help or teach you.
Popular activities include jet-skiing, wakeboarding, paddleboarding, and parasailing. Kayaking is also big with residents, and there are a number of shops selling and renting equipment. If those aren't up your alley, regular deep-sea fishing tours set out from Miami Beach. There's even surfing at the end of the storm season in November when waves are highest. As for the rest of Miami Beach watersports, you can do them year-round.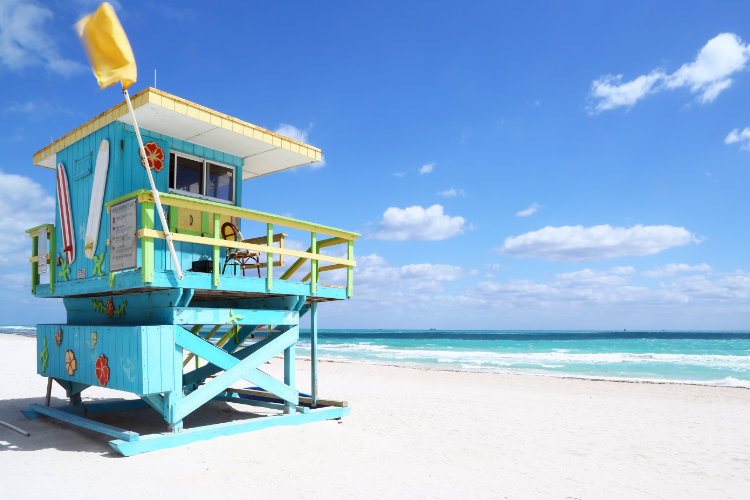 A lifeguard tower in South Beach
Beach Bumming
It's hard to live in or visit Miami Beach and not relax. Sometimes trying to plan an activity-filled day is actually counterproductive, and it's better to just enjoy a day in the sun. Going to the beach is one of the easiest things to do in Miami Beach. The entire east side of the islands is a public beach, so you're never more than a 30-minute walk away from the surf and sun.
Now, you could just lie sunbathing from dawn to dusk, but even if you need a little more variety, there's no reason to leave the beach. There are opportunities for beach sports like volleyball and watersports like kayaking. Plus, the beach is almost always lined with shops and restaurants, so everything you need is right there. Often there are even tent-filled markets set up nearby.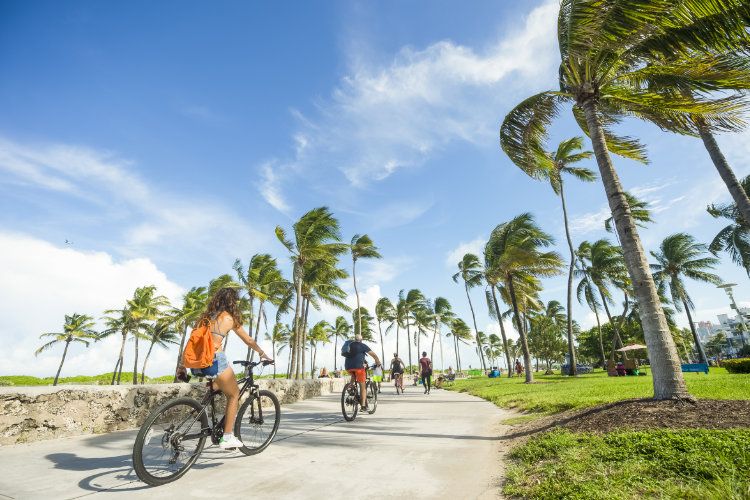 People cycling through Lummus Park in South Beach
Rent a Bike
Miami Beach is really into cycling, and it shows both in the infrastructure and the number of cyclists you see pedaling around town. The streets are ready for cycling, and there are a number of trails winding through the parks, historic districts, and beaches.
Many residents own their own bicycles, so there are a lot of shops dedicated to selling, fixing, and maintaining bikes. Of course, you don't have to buy one. Residents and tourists can also rent bicycles for a day or even just an hour or two, usually at the same shops.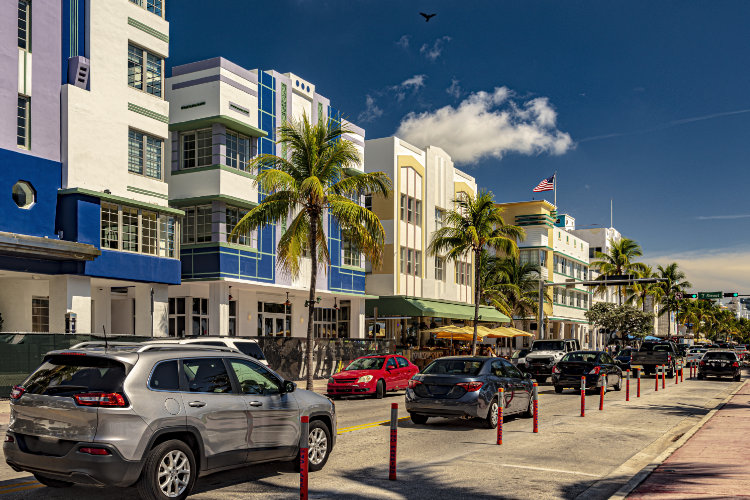 Some of the hotels in the Art Deco District
The Art Deco District
Art Deco is an architectural style that was popular in the US and Europe in the 1920s-1940s. During this time, it represented modernity and luxury, as well as society's technological advancements at the hands of industrialism. Above all, it was an optimistic style.
In the South Beach neighborhood of Miami Beach, the city has preserved the largest collection of Art Deco buildings in the world. Many of these lie along Ocean Drive opposite the Atlantic Ocean. The Art Deco District was added to the National Register of Historic Places in 1979.
Simply observing the buildings is enjoyable enough and transports you back to a transformative and energetic period in American history. There's also a lot to do, though. For example, the famous Italian fashion designer Gianni Versace lived in a mansion right on Ocean Drive called Casa Casuarina that is now a hotel you can visit. You can also take a trip to the Miami Beach Art Deco Museum to learn more about the style and history of the district.
The Bass
The Bass is a contemporary art museum located in Collins Park near the city center. In addition to extensive exhibitions of international art, the museum runs educational programs for people of all ages. These include not only art classes but fitness sessions and food. There are seasonal camps for children as well. Admission is free for Miami Beach residents.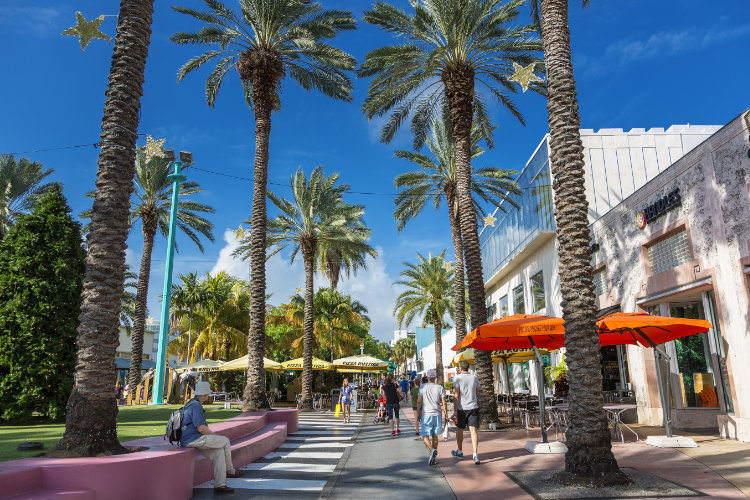 Lincoln Road business district in South Beach
Shopping and Dining in Miami Beach
There are extensive shopping and dining options throughout Miami Beach. Nearly every street features boutique shops and restaurants. While there are a few large commercial centers like Sunset Harbor, most of Miami Beach's shopping areas are smaller and more walkable.
The most notable shopping and dining area is the Lincoln Road Mall. It begins at the Atlantic Ocean on the east side and crosses nearly the entire island to Alton Road in the west. The promenade is entirely pedestrian and includes dozens of restaurants and local shops as well as large chains like Forever 21 and Zara. There are also theaters and galleries.
As for the restaurant scene in Miami Beach, it's dominated by Cuban cuisine. These range from inexpensive food trucks and stands to high-end luxury establishments serving authentic Havana fare.
There are plenty of other options, though. To serve the millions of tourists that visit the city each year, Miami Beach has to have a lot of variety, in both cuisine and price. Renowned chefs like Jean-Georges Vongerichten head famous restaurants like the Matador Room, and there are steakhouses, pizzerias, sushi joints, and many, many others.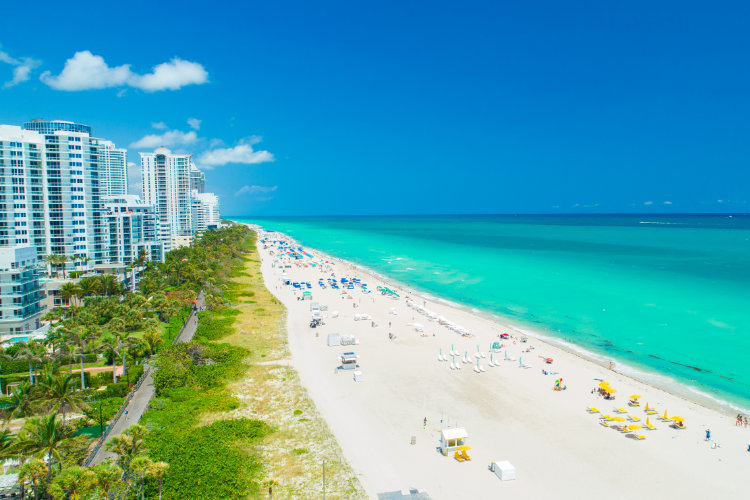 Common weather in Miami Beach
The Climate and Weather in Miami Beach
Miami Beach, along with the rest of southern Florida, is classified as tropical. Its climate is specifically called "tropical monsoon" which reflects a large amount of rainfall Miami Beach receives, even during the dry season.
Still, there is a marked difference between the wet and dry seasons, with May through October experiencing rain and even thunderstorms on a near-daily basis. June is the rainiest month with an average of 8.27 inches of rain and about 15 rainy days. The area is quite humid year-round, usually hovering around 75%.
Of course, being a tropical location, "rainy" means something a little different in Miami Beach. The town receives a lot of rain but in powerful bursts that quickly dissipate, letting the sun return. As a result, Miami Beach is also a very sunny area, with every month of the year averaging more than 200 hours of sunshine and around 70% sunshine per day. You can get soaked in a thunderstorm and go sunbathing on the beach in the same afternoon.
The southern latitude and a large amount of sun are balanced by the city's location on the Atlantic coast, leading to comfortable, stable temperatures. In fact, Miami Beach is one of only two cities in the entire continental US to have never experienced freezing temperatures.
During January, the coldest month, the average low is 61 degrees, and during August, the hottest month, the average high is 89. This also means the seawater is comfortable for swimming year-round, ranging from 75-86 degrees.
Hurricanes and Flooding
The most dramatic aspect of Miami Beach's weather is definitely its vulnerability to hurricanes and tropical storms. These powerful storms form in the tropical latitudes of the Atlantic Ocean due to differences in temperature between the air and seawater. These differences are greatest at the end of the summer in August and September. Miami Beach has been hit by a number of major hurricanes over the last century, which has made hurricane preparedness a part of the city's culture.
Additionally, Miami Beach is susceptible to flooding since it's located on a group of low-lying islands. From September-November, Miami Beach experiences what the residents call "King Tide," the highest tide of the year. This can sometimes flood the streets, but the city has been developing increasingly technological and ecological methods to deal with these floods like wetland conservation areas and elevated roads and sidewalks.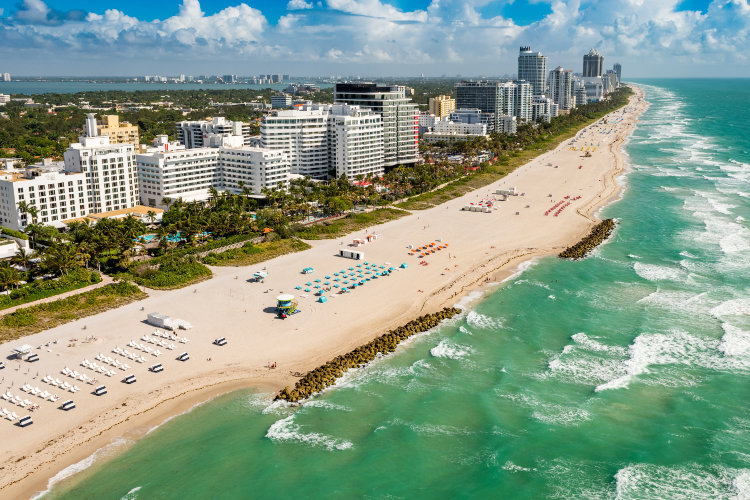 The long stretch of beach along Miami Beach's eastern border
Parks and Recreation in Miami Beach
As you might expect, parks and recreation in Miami Beach is dominated by the beach. The entire eastern border of the city is a public beach along the Atlantic Ocean, all full of recreational activities like volleyball and trails as well as lifeguard posts and seating. From north to south, these beaches include:
Full Moon Beach: This beach is known for being a bit less crowded due to fewer resort complexes in the northern part of the city.
North Shore Park Beach: Also a little farther from the main resort areas, this length of beach is less crowded and filled with natural beauty and plant life. It's dog-friendly (and therefore sometimes called the "bark beach") and popular with residents
Ocean Terrace Public Beach: This public area is very popular for kite surfing. There are also chairs with shade umbrellas you can rent for a small fee.
North Beach: North Beach is easily accessible from hotels and resorts but still not as crowded as the southern beaches.
Miami Beach: The main beach of the city and the longest, Miami Beach has easy accessibility and plenty of amenities including parking and playgrounds. On top of its soft white sand, there is a natural beauty with trees to enjoy.
South Beach: South Beach, which lies across from the Art Deco Historic District and many hotels and resorts, is easily the most popular beach in the city. Here you'll find tourists and residents of all ages and nationalities enjoying the sun and watersports.
There's more to Miami Beach parks and recreation than just the beach, though. In fact, the city has over 40 parks and facilities. The biggest and most accessible include:
Lummus Park: This park consists of over 26 acres along Ocean Drive with access to South Beach and the Art Deco Historic District. It has pavilions and picnic areas, playgrounds, walking trails, volleyball courts, and even two outdoor fitness centers sometimes called "muscle beach."
South Pointe Park: At the southern tip of Miami Beach, this park has trails and playgrounds as well as a centrally located restaurant. The biggest draw, though, is the access to South Pointe Park Pier that provides space for cycling and skateboarding in addition to its ocean views.
Flamingo Park: Flamingo Park covers 36.53 acres of the South Beach neighborhood and is the go-to location for organized sports. There are football and soccer fields, tennis courts, and even the Flamingo Aquatic Center.
North Shore Park & Youth Center: This center provides recreational opportunities for youth and family. In addition to fields, a gymnasium, and tennis courts, the center features a computer lab, dance room, and auditorium. Children, adults, and seniors are all welcome to take part in various programs put on by the center.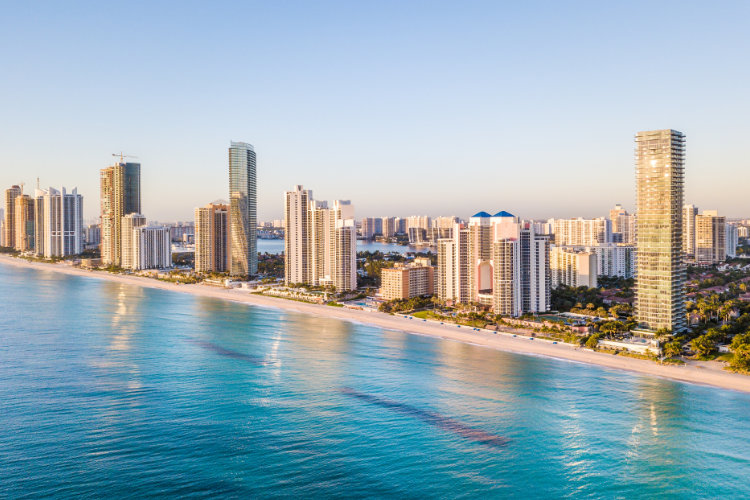 High-rise waterfront condos in Miami Beach
Miami Beach Real Estate
As one of the most affluent areas in the United States, real estate in Miami Beach is highly sought after. As a set of small islands, land in Miami Beach is at a premium. Consequently, Miami Beach real estate primarily consists of condos. These vary from units in brand new high-rise condo buildings to apartments in smaller, historic Art Deco buildings.
The main draw of Miami Beach is the beach itself, so oceanfront properties are in the highest demand. For the few single-family homes in the city, it's common for them to lie on long, narrow plots so that they have beach access at one end. Condo buildings tend to be taller along the coast as well, providing for more ocean views.
Due to the small amount of land, entirely secluded single-family homes are rare. That said, landscaping is a major part of Miami Beach real estate, and people manage to tuck away their houses in their own personal jungle of palm trees and ferns even if lot sizes are small.
There are several small islands off of the main Miami Beach island that feature mega-mansions inhabited by the extremely wealthy. Two examples are Star Island and La Gorce.