Living in Downtown Miami, FL: 2021 Neighborhood Guide
Posted by Discover Homes Miami on Monday, January 18, 2021 at 2:29 PM
By Discover Homes Miami / January 18, 2021
Comment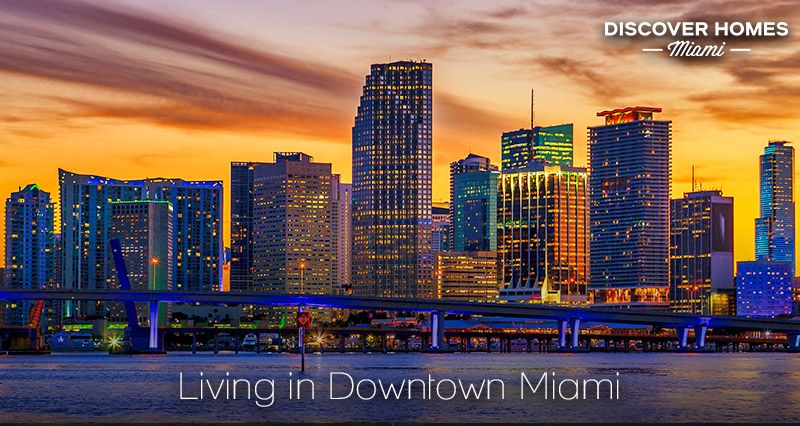 Nestled on the Atlantic Ocean in South Florida, Downtown Miami is full of history and culture. At 3.8 square miles, it's considered a smaller downtown rea for a major U.S. city. But that doesn't stop people from around the world from vacationing or relocating to Downtown Miami to experience its incredible South Florida lifestyle. Let's dive into what makes Downtown Miami so special!
Lifestyle and Culture
Dating back to the 1890s as the Florida East Coast Railway's southern hub, Downtown Miami is far from old and outdated. It is quickly growing and becoming one of America's trendiest and most modern cities.
Downtown Miami has it all: nightlife, a vibrant art scene, a rich history, and a focus on health and wellness. A stunning skyline visible from Biscayne Bay highlights Downtown Miami as the business hub of South Florida. But Miami isn't all work and no play. Miami's famous beaches are only a short drive away and help to balance out the hustle and bustle of the city.
After business hours, experience the rich culture that Miami has to offer due to its Caribbean and Latin American influences. The eclectic restaurant and art scenes are some of the most compelling reasons to live in Downtown Miami.
Things to Do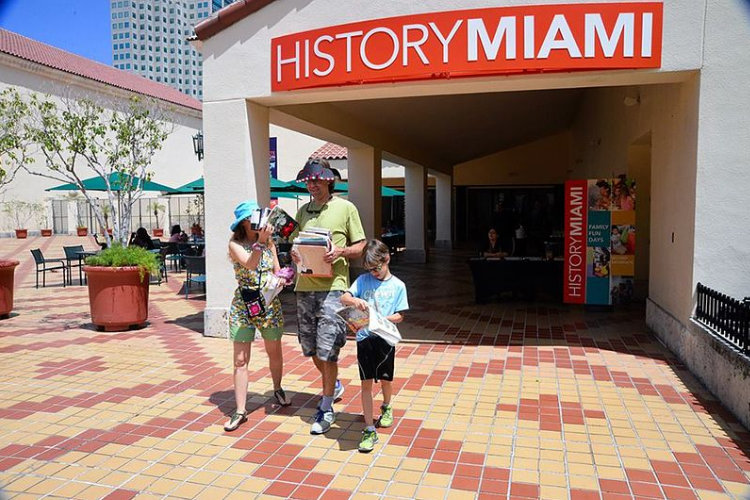 Family walking out of HistoryMiami. Source: Americanbella101
HistoryMiami Museum
For newcomers to Miami, the HistoryMiami is a great way to learn about Miami's rich and storied history. The museum is a Smithsonian-affiliated museum that allows visitors to explore Miami's past and present. It houses one of the largest collections of historical artifacts and images in Florida and the southeast United States.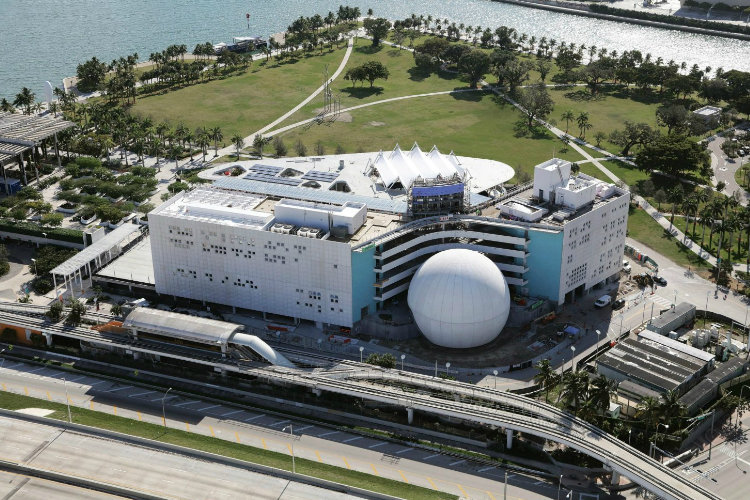 Source: Philip and Patricia Frost Museum of Science
Philip and Patricia Frost Museum of Science
The Frost Museum, located in Downtown Miami's Marcus A. Ferré Park, is a 250,000 square foot science museum, planetarium, and aquarium. The University of Miami partially funds this six-level museum, and some of the research and discoveries are those of local scientists from the university. Visitors can learn about the aquatic organisms and ecosystems of South Florida and other wonders of the physical and natural world.
Perez Art Museum
Also located in Museum Park, the Perez Art Museum houses modern and contemporary international art. The museum was Miami's first art museum dedicated to 20th and 21st-century art and artists. They also showcase art from Latin America, Africa, and the Caribbean so that visitors can experience a taste of Miami's art scene from both the past and present.

Source: Averette
Adrienne Arsht Center for the Performing Arts
The Arsht Center for the Performing Arts is named after Adrienne Arsht, a business leader who promotes Miami's artistic and business growth. The center is home to the Miami City Ballet and the Florida Grand Opera. It presents over 300 local theater, Broadway, and classical performances each year in addition to an annual Flamenco Festival and other events.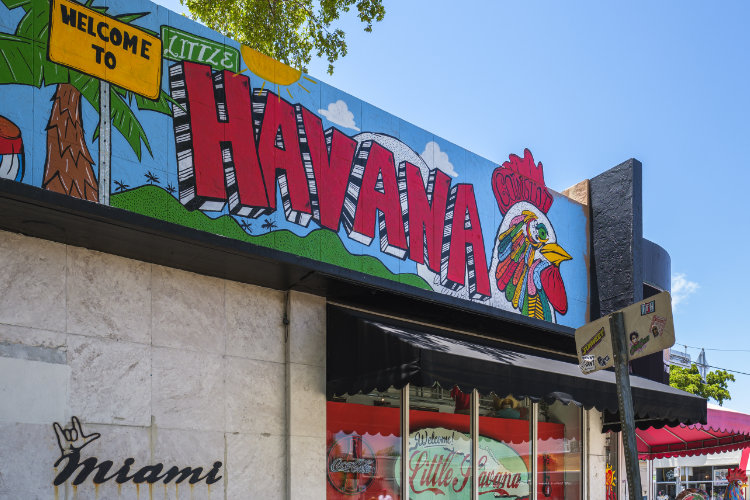 Source: Fotoluminate LLC - stock.adobe.com
Little Havana
To the right of Downtown Miami is Little Havana, the place to really discover Cuban culture. Take a day trip to experience Cuban food, music, and art. Embark on the daily Little Havana Cultural Walking Tour to explore the Cuban influences on Miami. You can also participate in a cigar and rum tasting tour or an art and cocktails tour.
Visit the Maximo Gomez Domino Park to watch locals participate in intense games of dominoes for a truly unique experience. Or visit the Cubaocho Museum and Performing Arts Center to listen to authentic Cuban music performed by locals while you sip rum from their large selection. There's also a variety of nearby Cuban restaurants that gives visitors a true taste of Cuba.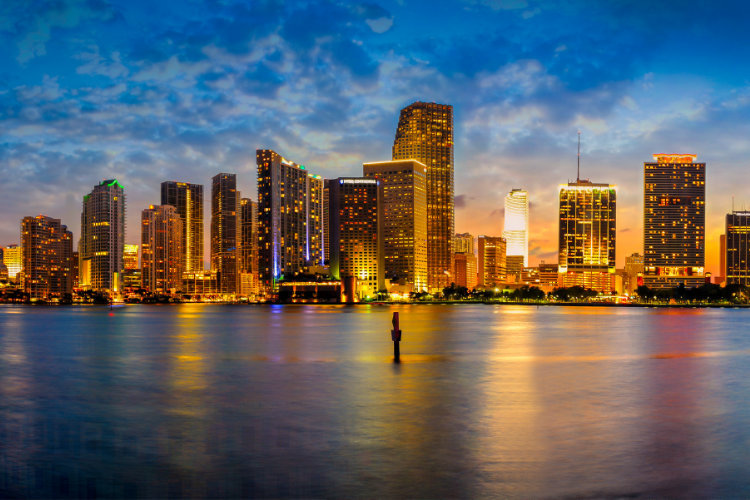 Nightlife
The nightlife in Downtown Miami is well-known worldwide, and there is no shortage of bars and lounges. Enjoy a cocktail and live music from various genres, including jazz, reggae, and hip hop or wind down with dinner and drinks after a busy day at work.
Parks & Recreation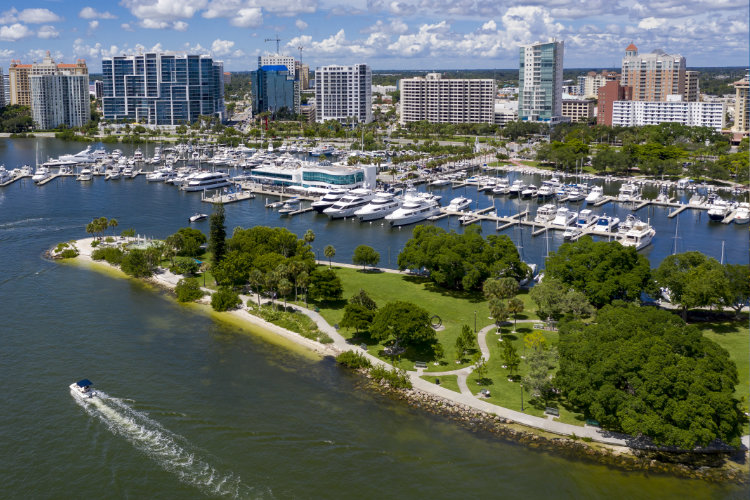 Bayfront Park
Originally built in 1896, Bayfront Park was Miami's first public park. The park is located in the Central Business District and is adjacent to Biscayne Bay, and takes up 32 acres in Downtown Miami. A beach area, playground, rock garden, and performance venue with shows throughout the year are among the many activities that Bayfront Park offers.
Walk next door to the Bayside Marketplace or past the American Airlines Arena to Maurice A. Ferré Park in the Arts and Entertainment District. The Maurice A. Ferré park is considered an extension of Bayfront Park and is where the Frost Science Museum and Perez Art Museum are located.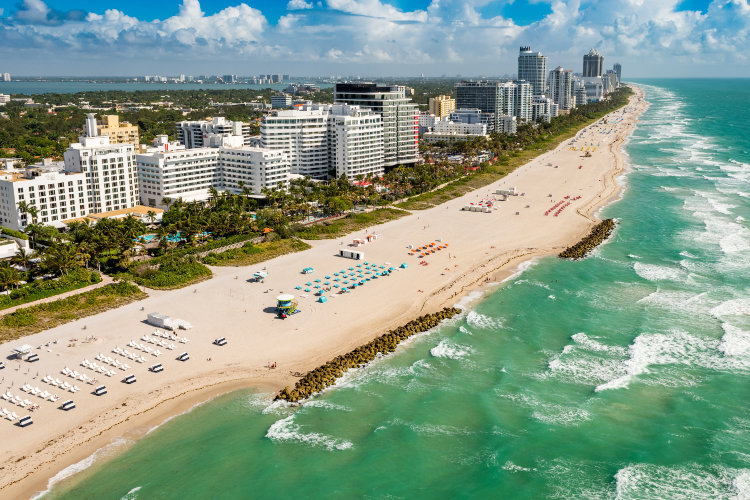 Miami Beach
While there aren't any beaches in Downtown Miami, they are only a short drive away across the bay. South Beach is perhaps the most well-known beach in Miami Beach. The architecture, restaurants, and hotels make South Beach the trendy beach destination. For a quieter and less well-known beach experience, visit North Beach, or try the famous Newport Fishing Pier at Sunny Isles Beach if fishing is more your thing. There are also dog beaches so that your furry friends can come along.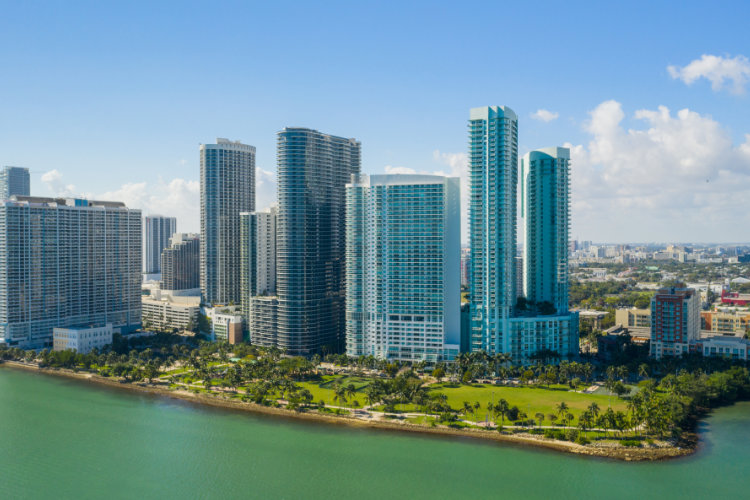 Margaret Pace Park
Located in the Edgewater neighborhood, Margaret Pace Park is considered one of Downtown Miami's hidden gems. The park has a nice view of the Venetian Islands and Miami Beach and is dog-walker and jogger-friendly. The park also has volleyball, tennis, basketball courts, an enclosed dog park, and picnic areas.
Simpson Park and Visitor Center
Simpson Park is located in the southern portion of Downtown Miami called the Brickell Financial District. Simpson Park is named after botanist Charles Torrey Simpson. The park is a forest of old-growth tropical hardwood trees and provides shade from the hot Miami sun after a day of shopping nearby. Visitors to the park can enjoy casual strolls through the trees and endangered plant species. It's truly a haven of relaxation nestled in the city.
Shopping and Dining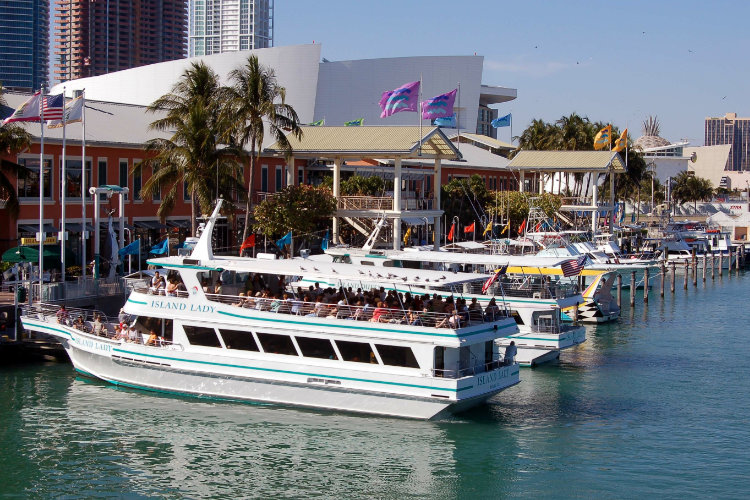 Bayside Marketplace
Bayside Marketplace is a waterfront shopping and dining destination is located on Biscayne Boulevard. Shopping opportunities include both well-known shops and local boutiques with a wide range of merchandise. Cool off from the Miami heat with an ice cream or cocktail while you watch the boats in the marina.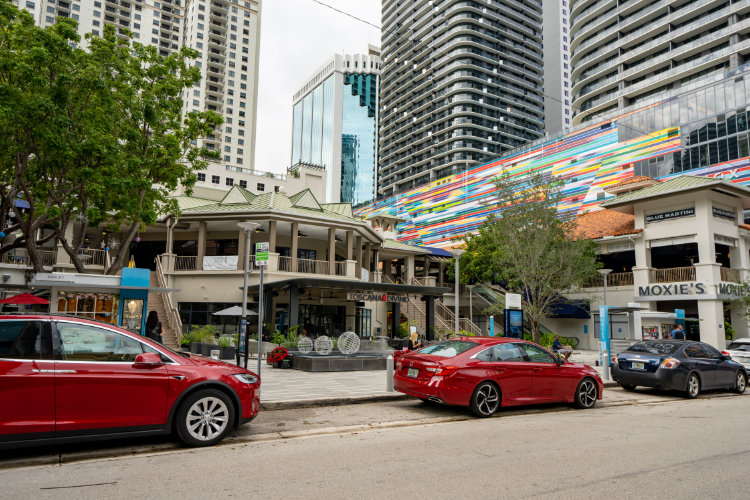 Source: Felix Mizioznikov - stock.adobe.com
The Shops at Mary Brickell Village
Located in the Brickell Financial District, The Shops at Mary Brickell Village is a sophisticated shopping and dining destination with boutique shops, bars, and dine-in restaurants. Events like movie nights, Saturday markets, and tailgate and watch parties are also held throughout the year.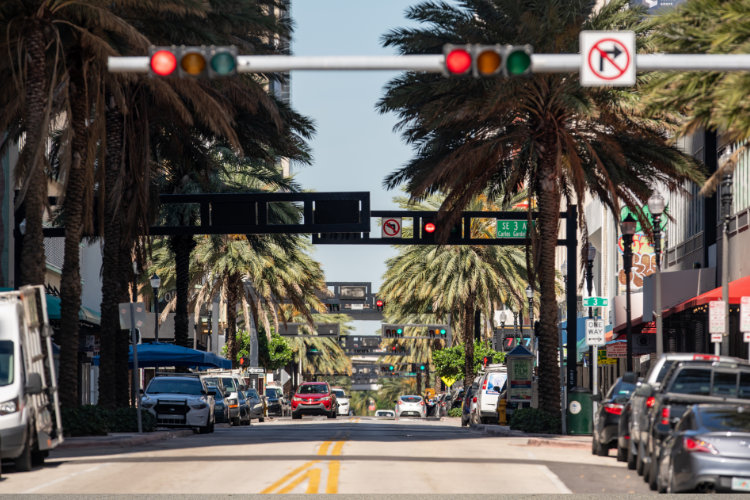 Flagler Street
Named after Henry Flagler, Flagler Street is one of the main streets and was the site of the first hotel in Miami. Today it is a popular shopping hub with large retail chains, small retail stores, and souvenir shops, but is most known for the Seybold Building and International Jewelry Center.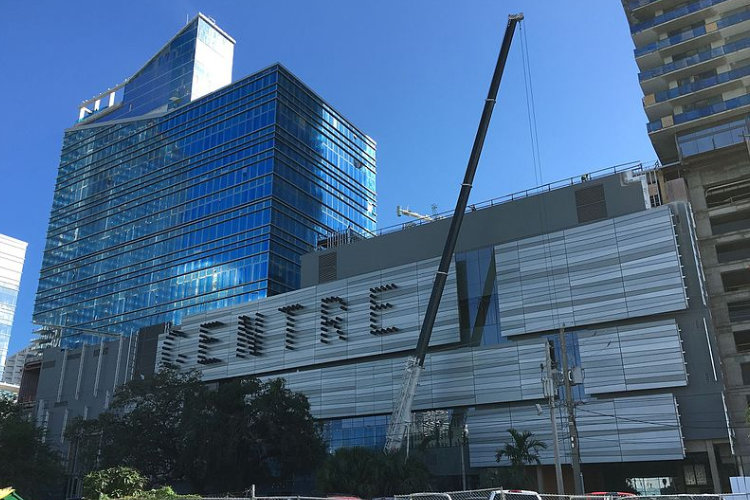 Source: Phillip Pessar
Brickell City Center
Brickell City Center offers both popular retail stores and high-end shopping. This shopping destination takes up three city blocks in Downtown Miami and four floors of retail space.
Dining
Dining in Downtown Miami is an eclectic mix of cuisine. Whatever you're in the mood to eat, Downtown Miami has it. Barbecue, Cuban sandwiches, Italian, Asian, and Mexican restaurants can all be found in downtown Miami. However, the city is most famous for its Latin American and Caribbean food scene. Don't be afraid to try something new.
Downtown Real Estate
As of 2016, Florida became the 3rd most populous state due to the large number of people moving there. The population of Miami increased by more than 30% from 2010 to 2016, which added over 88,000 people. In 2021, the population is estimated to be over 105,000 people. This means more and more people are moving to Miami.
Downtown Miami consists of three main neighborhoods: the Central Business District, the Brickell Financial District, and the Arts and Entertainment District. In addition to these districts, the residential neighborhoods of Wynwood, Edgewater, Midtown, and Overtown are considered to be part of greater Downtown Miami. The Brickell Financial District remains the most popular neighborhood in Downtown Miami.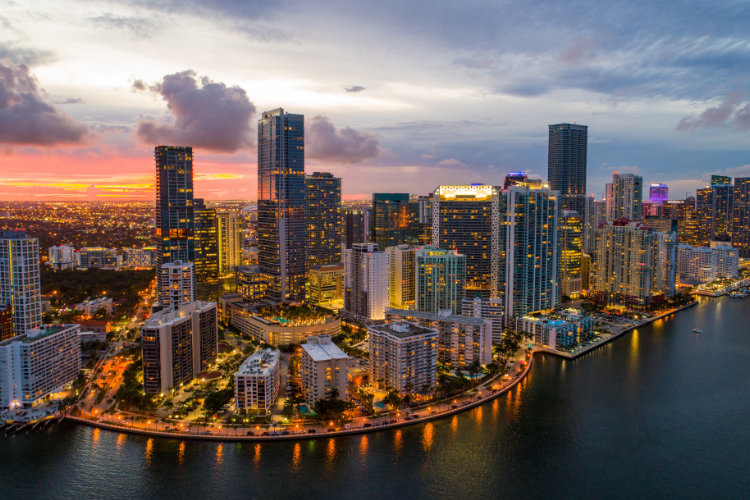 Brickell
As Downtown Miami's fastest-growing neighborhood, many of Brickell's residents work in the finance and law industries. Considered to be a sophisticated and chic neighborhood, Brickell has a variety of shops and restaurants and is about a 15-minute drive from South Beach. Most of the residences in Brickell are condos, both older builds and newer, more luxurious highrises with world-class amenities and waterfront views.
Central Business District
The Central Business District is known for its fast-paced lifestyle. Densely packed office buildings, retail spaces, and condominiums make up this central Downtown Miami neighborhood. Residences consist of condos, townhouses, and lofts.
Arts and Entertainment District
The Arts and Entertainment is an up-and-coming neighborhood. The Perez Art Museum, Frost Science Museum, and Adrienne Arsht Center for the Performing Arts are all located here. Residences consist mainly of condos and there are only two large residential developments.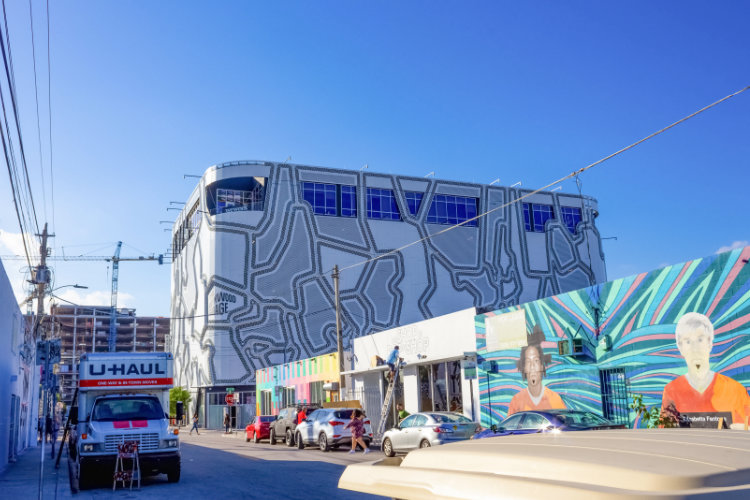 Source: Solarisys - stock.adobe.com
Wynwood
Wynwood is a Downtown Miami neighborhood near the Arts and Entertainment District. It is known for its murals, art galleries, breweries, boutiques, and bistros. Residences include houses, high-rise apartments, and condos.
Edgewater
Bordering Biscayne Bay, Edgewater is located next to Wynwood and the Design District. Early 20th century homes and older apartment buildings used to make up the majority of residences, but the increasing population has led to newer construction of high-rise apartment buildings and luxury resort-like condos.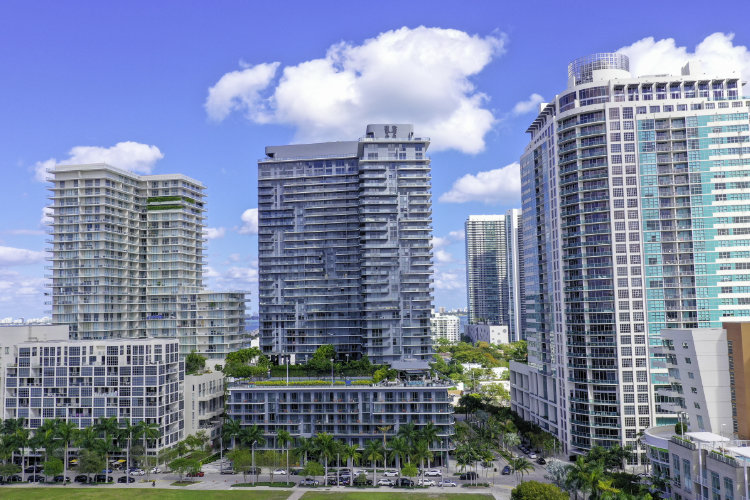 Midtown
Also located near the Design District, Midtown is a shopping and dining hub of Downtown Miami, containing many trendy shops and restaurants like The Shops at Midtown. Residences include mostly apartments and condos.
Overtown
Overtown is one of Miami's oldest neighborhoods and is located to the northwest of Downtown Miami. The neighborhood is very diverse and is rich in art and culture. Residences consist mostly of condos and townhomes.
Conclusion
Living in Downtown Miami is truly an experience in art, culture, cuisine, and history. Luxury condos, shopping, and dining abound in the trendy South Florida city. Beaches and recreational activities provide the perfect balance to the hustle and bustle of the city and help make Downtown Miami a true urban paradise.
Want to learn more about similar Miami communities? Check out our guides about other communities: