Living in Coconut Grove, Miami, FL: 2021 Neighborhood Guide
Posted by Discover Homes Miami on Monday, January 25, 2021 at 10:04 AM
By Discover Homes Miami / January 25, 2021
Comment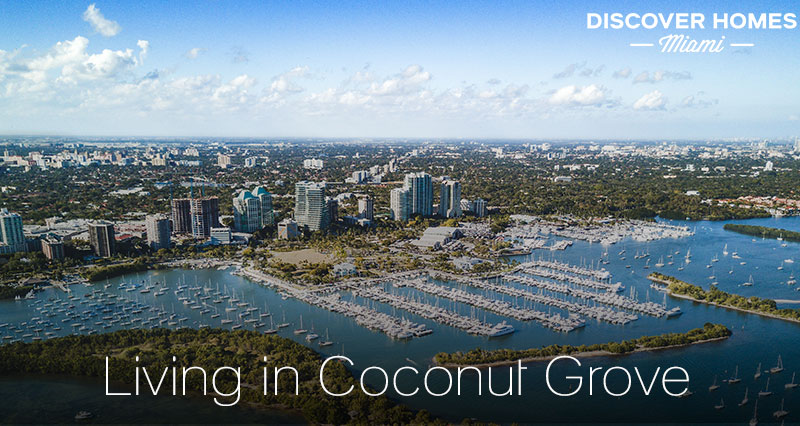 Coconut Grove, or "The Grove" as known to the locals, is a tropical hotspot on Miami's southern edge. Even though it's now a part of the greater Miami area, Coconut Grove retains its own unique history and culture that brought so many people to the area over 100 years ago. This article discusses what makes Coconut Grove special and what it's like to live here.
History of Coconut Grove
The area around Coconut Grove got its start all the way back in 1825 when settlers started moving into the forested wilderness after a lighthouse was built on nearby Key Biscayne. These explorers and sailors started were expanded upon in 1873 after a Civil War surgeon named Dr. Horace Porter built a post office, saw a few palm coconut trees, and decided to name it Coconut Grove!
Coconut Grove quickly went from being little more than a post office to a town and then to a city in 1919 as intellectuals, artists, pioneers, and adventurers decided to call the area home. These settlers came mostly from the Northeastern U.S. but were joined by immigrants from Britain and the Bahamas. It's still possible to see the influence each of these people groups had on shaping Coconut Grove's formation.
Although annexed to Miami's city in 1925, Coconut Grove still retains much of its unique character even today. Many houses from the late 1800s and early 1900's remain and are well worth checking out. With such an extensive history, The Grove is known as the oldest neighborhood in Miami!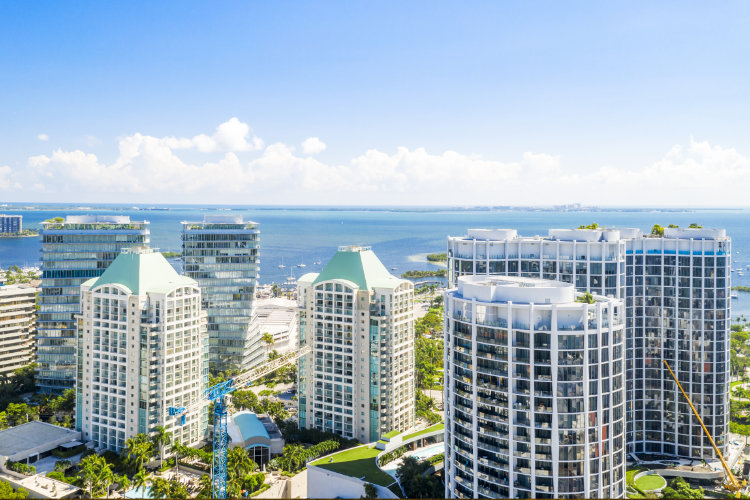 Overview of Downtown Coconut Grove
Lifestyle and Culture in Coconut Grove
Coconut Grove got its start as a laid back town where the sky is the limit and still retains this bohemian vibe today. The pace feels slower, and locals aren't afraid to stop and smell the roses on one of the many gorgeous days. The 1967 song called "Coconut Grove" calls out how "it's really true how nothing matters," and this has never been truer now. Once you add in the lush landscape, it's hard to look back.
Coconut Grove is literally the end of Interstate 95, which runs all the way to Northern Maine before intersecting with Highway 2 in Canada. If you want to leave The Grove behind for a day, a concise trip on that same highway will have you in Downtown Miami. There's also a train and bus network set up to get you around without the need for a car. If a trip a little further away is in the cards, Miami International Airport is on average a short 20 minutes away.
Speaking of gorgeous days, the weather in Coconut Grove is the envy of most other areas. The temperature, even in winter, rarely drops below 60 degrees. The average high for the year sits comfortably in the 80s, but while winters are a bit cooler and quite dry, summers can be sultry and hot. The sea breeze always feels nice, but beware of those winds bringing in a summer thunderstorm. Although storms in summer may be frequent, it's never long before the sun returns out again.
Since this is Southern Florida, a talk about the weather wouldn't be complete without talking about hurricanes. Fortunately, hurricanes are not common in Coconut Grove and shouldn't deter anyone from moving to this beautiful area. It is estimated that Coconut Grove and Miami will only be visited by a Category 3 or higher (winds over 111 miles per hour) hurricane once every 10 years.
Things to Do in Coconut Grove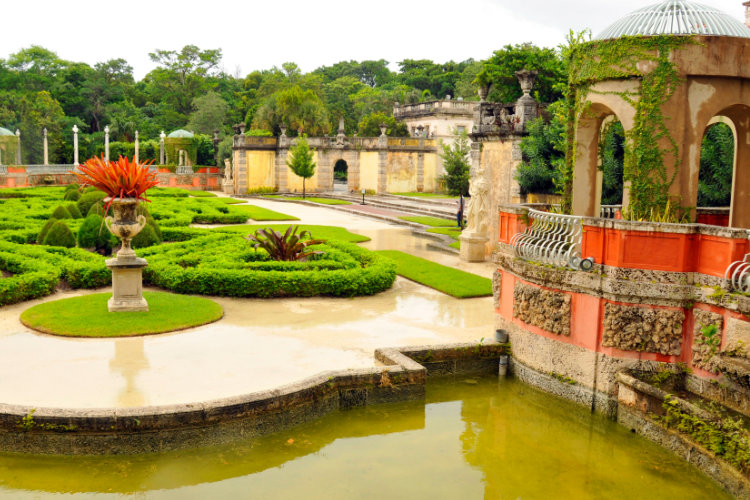 Vizcaya Museum and Gardens Photo: meunierd / Shutterstock.com
Vizcaya Museum and Gardens
The Vizcaya is a breathtaking mansion completed in 1916 as a winter home for an affluent businessman. Of the original 180 acres, 50 acres of extensive Italian Renaissance gardens, villas, and native woodland remain. Although over 100 years old, many of the original furnishings remain inside the mansion.
The site can be toured with a guide over a 45-minute duration and includes visiting many of the rooms on the mansion's first floor. Before or after the tour, guests are welcome to explore the gardens or other unrestricted areas of the home.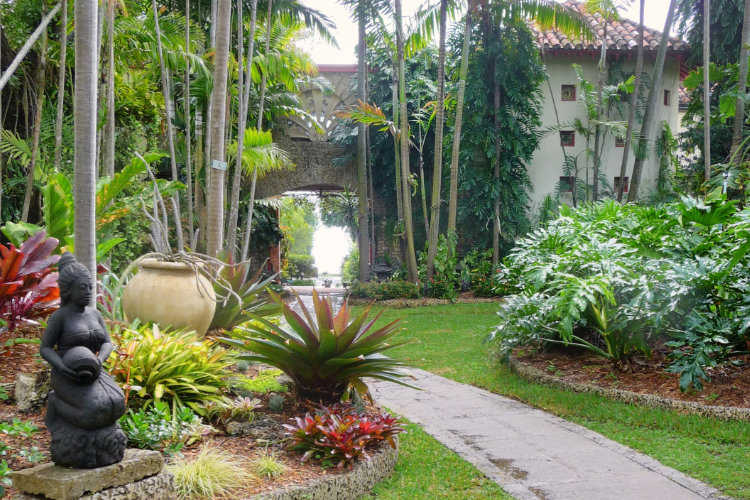 The Kampong, National Tropical Botanical Garden. Photo: ImageMD / Shutterstock.co
The Kampong, National Tropical Botanical Garden
This serene garden is right on the bay and is a nice place to getaway. The garden is named Kampong for the Malay word for village. The estate's former owner on this land was known for introducing exotic plants and trees he collected from Southeast Asia and other tropical regions.
Today it's still possible to see large flora collections from Southeast Asia, Central and South America, Africa, and the Caribbean. Highlights include several exotic fruit trees (including 50 types of mango!), cycads, palms, and flowering trees. Take your time wandering the gardens and stand amazed at the 80-year-old baobab tree that weighs over 50 tons!
Coconut Grove Saturday Organic Market
There's no better place to get a literal taste of what makes Coconut Grove special than at this market. Local organic growers are the highlight here, bringing in their fresh fruits, vegetables, grains, seeds, raw vegan foods, and so much more. You won't miss out on any of the tropical delights that grow in South Florida's warm climate. If your palate wishes to venture a little further from home, there are even organic rarities sourced worldwide.
If you're too hungry to take food home to prepare, there's also the option to buy salads, vegetable sushi, pestos, and the like. Be sure to take care of your sweet tooth as well with a yummy fruit pie or some homemade ice cream.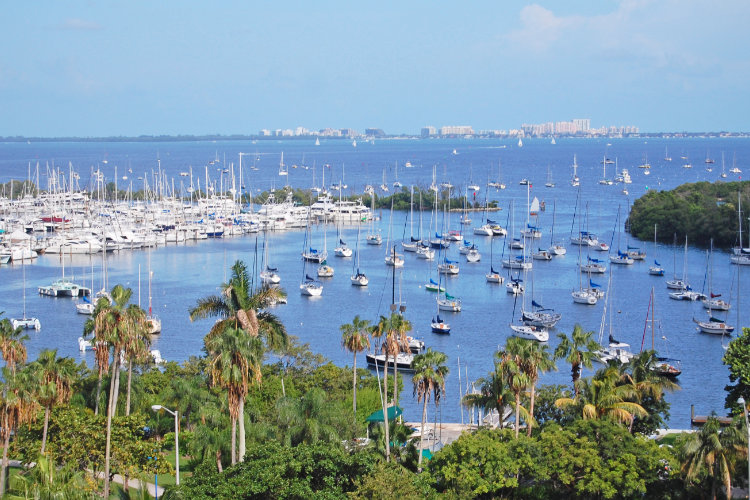 Coconut Grove overlooking the Biscayne Bay
Biscayne Bay
With the Biscayne Bay right next door, no trip to Coconut Grove is complete without a trip out on the water. Down at the marina, you'll find plenty of opportunities to rent sailboats, jet skis, stand-up paddleboards, catamarans, or partake in some windsurfing or parasailing if a more low-key approach is your preference, charter a boat to take you out on the bay during the day or at sunset and enjoy the amazing views of Coconut Grove.
Coconut Grove Art Festival
Coconut Grove comes even more alive during this annual three-day outdoor festival. Nearly a mile of Coconut Grove's bayfront streets turns into a jaw-dropping art gallery of more than 360 international artists covering several different genres to peruse. There's plenty of live entertainment around the area to dance away to or have a listen to while relaxing in one of the parks.
The culinary arts really rise to the occasion as well. After all, what's a festival without amazing food? Over 50 restaurants and vendors are on hand, and with a number like that, it won't be difficult to find something you'll want to try. There was even a Guinness World Record broken here one year for the largest arroz con pollo dish!
There are also plenty of activities for the kids – a whole Family Zone where kids can check out activities, do some crafts, and listen to some entertainment of their own. For locals and tourists alike, this is a must-see event every year!
Dining and Shopping in Coconut Grove
Coconut Grove's village center is the place to shop and eat to your heart's content. The Grove's history shines through here, as you'll find a unique combination of stores from unique local galleries to chic boutiques to throwback hippie shops and everything in between. Sidewalk restaurants and cafes abound and invite you in for a bite or a drink. To top it all off, the crowning jewel of this area is the Cocowalk.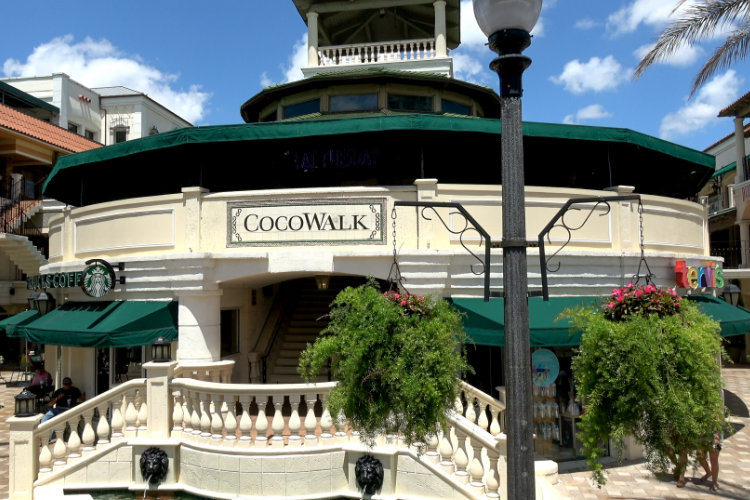 Cocowalk Shopping Mall Source: 4kclips / Shutterstock.com
The Cocowalk
The Cocowalk is a popular destination located smack dab in the middle of Coconut Grove. As you stroll the outdoor mall, you'll be rewarded with upscale shopping, fine dining, stunning foliage, plenty of live entertainment, and even a 15-screen luxury movie theater that serves small plate offerings as well as international wine and beer. The Cocowalk is a great place to slow down, people watch and let the world go by.
Parks and Recreation in Coconut Grove
With Coconut Grove situated right along the bay, there is no shortage of nice bayside parks to enjoy. Each has its own flair and unique views of the bay, just waiting to be discovered.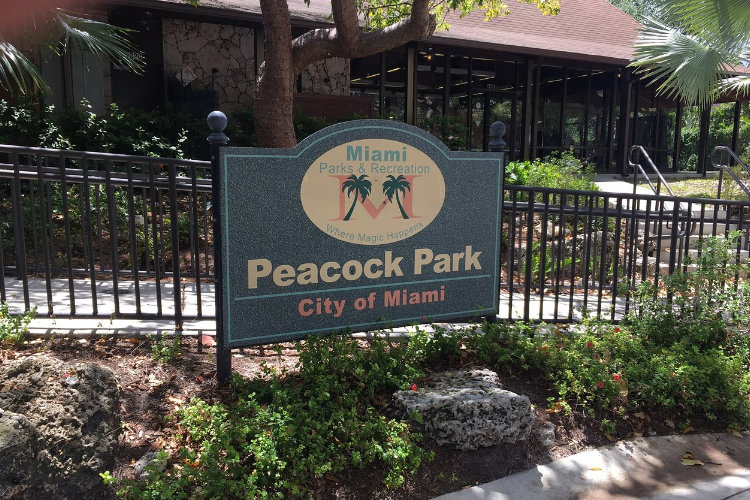 Entrance to Peacock Park
Peacock Park
Bayside Peacock Park sits on 9 acres of land and has tons of indoor and outdoor recreational facilities for the whole family. The site features a softball and soccer field, basketball courts, and a large multi-purpose field. Inside the recreation building, you'll find games like ping pong, foosball, and even computer workstations with free Wi-Fi. Kids can also find a playground with a huge carousel and plenty of space to run around.
There's a nice boardwalk for a stroll or a jog along the waterfront. Whether day or night, this spot also serves as a great place to take in views of the bay, the bridge, and the city.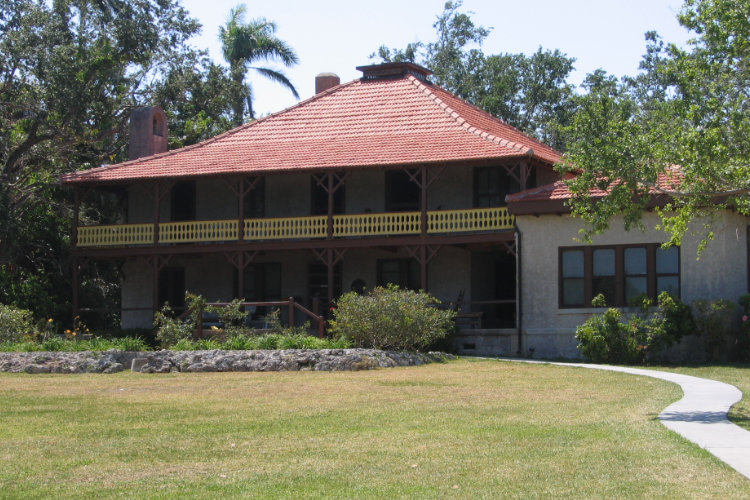 The Barnacle Historic State Park
A remnant from the early days of Coconut Grove, The Barnacle is a glimpse into the past. This frontier house was built in 1891 and was the principal residence of one of Coconut Grove's most charming and influential pioneers. Amazingly, the land and the house itself are well preserved and appear much the way they did back in the late 1800s.
Although the mansion itself is closed to visitors, the surrounding land has been converted into a state park. It is open for various activities, including bird watching, picnics, geocaching, outdoor concerts, and trails through the tall wooded landscape. A walk to the bay will reward you with stunning views and replicas of the estate owner's two sailboats.
Alice Wainwright Park
Sitting right on the eastern edge of the Coconut Grove neighborhood, Alice Wainwright Park is known not only for its outdoor activities but also the rare and protected plants that call this park home. Some of the trees here can only be found along the Florida coastline.
While admiring the trees, you can also enjoy the park's outdoor gym, basketball court, and a large playground. There are many spots to relax and picnic, including large pavilion shelters protected from the elements. The park naturally offers great views out over the bay.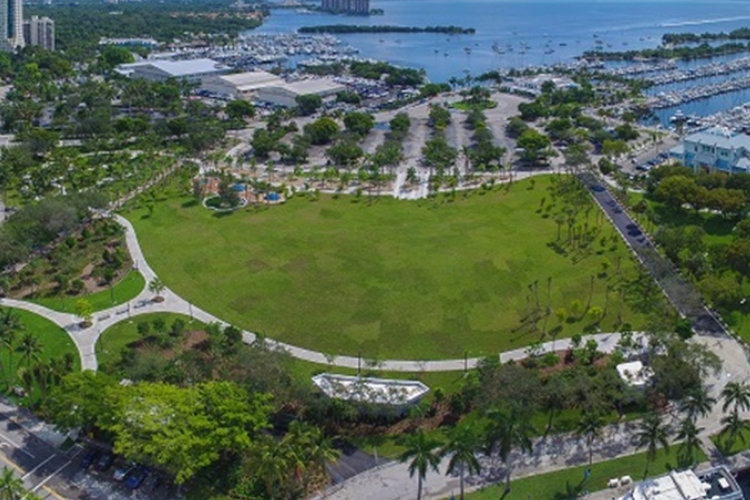 Regatta Park
Another picturesque place to get away from, Regatta Park, is named for the many regattas that often dot the harbor. The park itself sits right on the marina and is a great place to watch the boats or rent one of your own to take out on the water. There are areas for picnicking with great views of the bay. You'll also find plenty of trails for walking or running and a playground for the kiddos.
David T. Kennedy Park
With more than 20 acres of outdoor space, David T. Kennedy Park is another park that locals love for exercise and play. There's a ton of outdoor exercise equipment and plenty of trails to get some cardio in. Dog owners will love the dog park with separate enclosures for small and large pups for some off-the-leash doggy fun.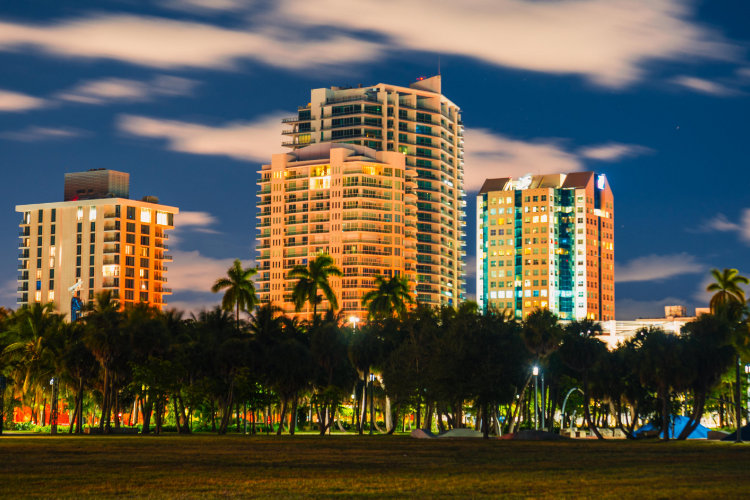 Condo buildings in Coconut Grove
Real Estate in Coconut Grove
Once a hidden gem, Coconut Grove is now a very sought after community in not only Miami but the entire Southern Florida area. There are luxury homes galore, especially along the long waterfront that The Grove is known for. If it's a condo you're after, Coconut Grove also has many luxury offerings with great views of the city and the bay.
While luxury certainly appeals to some, the good news is that Coconut Grove has much more than just that to offer. For example, there's a surprising number of affordable condo units in Coconut Grove.
Not far from the water (as nothing in Coconut Grove is), plenty of streets are filled with single-family houses. There are also pockets of townhouses around the neighborhood that are smaller but more cost-effective. For different amenities altogether, there are several high-rise condos laced among the tree-lined streets. No matter what you may be looking for, there's a good chance you'll find it here.