Living in Coconut Grove, Miami, FL: 2021 Neighborhood Guide
Posted by Discover Homes Miami on Monday, January 25, 2021 at 10:04 AM
By Discover Homes Miami / January 25, 2021
Comment
Occupying 5 square miles, and with a population of around 21,000, Coconut Grove is the oldest continuously-inhabited Miami neighborhood. Known to locals as 'The Grove', this long, narrow neighborhood hugs Biscayne Bay, south of Brickell and Downtown Miami. Blanketed by lush tropical greenery and filled with gorgeous green spaces and quiet, shady corners, Coconut Grove is a beautiful neighborhood with a vibrant ambiance.
Coconut Grove was settled as early as 1825, and evidence of the area's history is everywhere. Lovely historic buildings seem to show up on every corner, and winding, tree-shaded streets offer a tranquil escape from the hustle and bustle of the big city. There's a laid-back lifestyle to be found here, with an emphasis on outdoor fun and community activities. A bohemian streak runs through Coconut Grove, too, giving the neighborhood a slightly quirky feel, and adding to the sense that there's really nowhere quite like Coconut Grove.
Let's take a look at what makes Coconut Grove one of Miami's most desirable places to live.
History of Coconut Grove
The area around Coconut Grove got its start all the way back in 1825 when settlers started moving into the forested wilderness after a lighthouse was built on nearby Key Biscayne. These explorers and sailors started were expanded upon in 1873 after a Civil War surgeon named Dr. Horace Porter built a post office, saw a few palm coconut trees, and decided to name it Coconut Grove!
Coconut Grove quickly went from being little more than a post office to a town and then to a city in 1919 as intellectuals, artists, pioneers, and adventurers decided to call the area home. These settlers came mostly from the Northeastern U.S. but were joined by immigrants from Britain and the Bahamas. It's still possible to see the influence each of these people groups had on shaping Coconut Grove's formation.
Although annexed to Miami's city in 1925, Coconut Grove still retains much of its unique character even today. Many houses from the late 1800s and early 1900's remain and are well worth checking out. With such an extensive history, The Grove is known as the oldest neighborhood in Miami!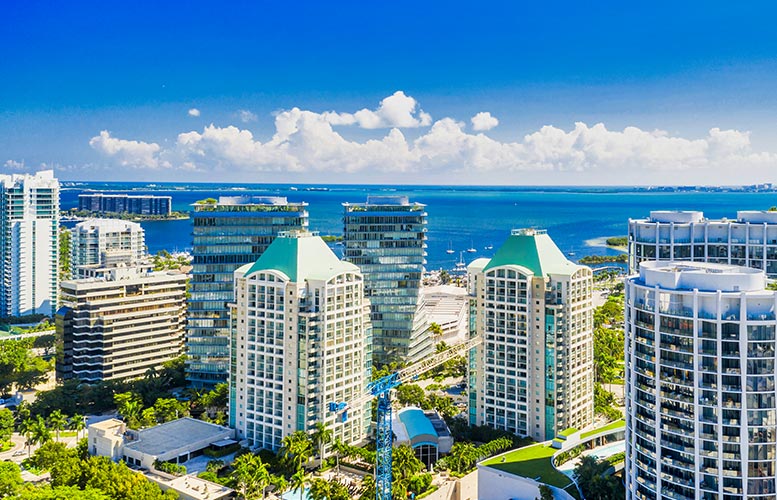 Overview of Downtown Coconut Grove
Lifestyle and Culture in Coconut Grove
Coconut Grove has the feel of a small town, with a big city vibe. The quaint downtown, with its attractive, tree-lined streets are ideal for walking and cycling and provide ample shade during the summer heat. Locals stroll to restaurants, cafes, and parks, and the pedestrian-friendly neighborhood is often filled with cyclists young and old. There's a real sense of community here, and people make the effort to get to know one another. Friendly greetings are the norm in Coconut Grove, and new residents quickly feel connected to their neighborhood.
Coconut Grove is such a pedestrian-friendly neighborhood that many locals only use their cars to travel further afield. South Beach is only a 15-minute drive when shopping, nightlife, and beaches beckon, and Downtown Miami can be reached in as little as 5 minutes. Many Coconut Grove residents work in central Miami and use the Metrorail for their daily commute. There's a station in Coconut Grove, and regular trains run to Downtown, Brickell, and Miami International Airport.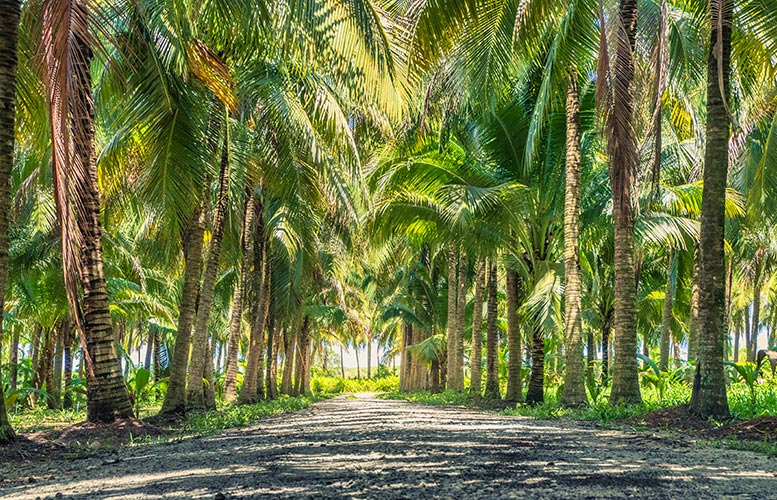 Some of the lush, tropical landscaping present throughout Coconut Grove.
With its fantastic collection of lushly landscaped, family-friendly parks and greenspaces, Coconut Grove is ideal for those who embrace an active lifestyle. Many of the most popular neighborhood parks can be found along the waterfront Bayshore Drive. David T. Kennedy Park offers shady walking paths, an outdoor gym, and an off-leash dog area. It's also a favorite spot for local beach volleyball games. Peacock Park hosts many community events, and local yoga enthusiasts gather here for free classes. The Kampong encompasses 9 acres of Spanish and Asian-inspired tropical botanical gardens and is a gorgeous spot for an afternoon of lounging under the shady trees.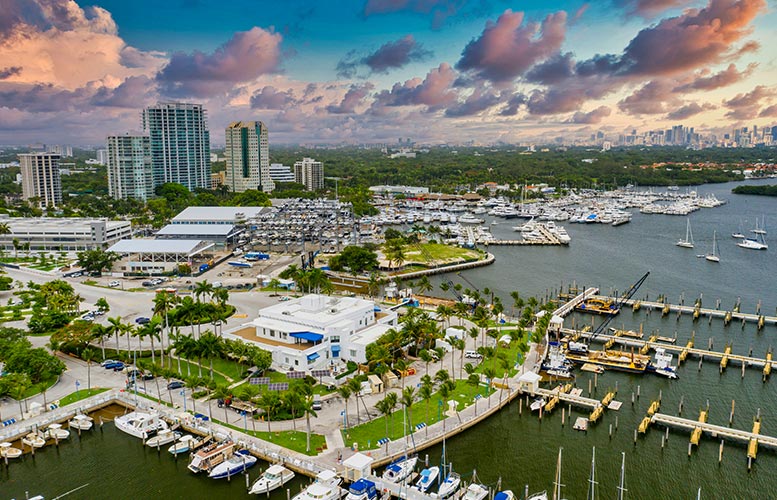 Marinas are very popular in Coconut Grove.
Coconut Grove is full of boating enthusiasts, and there are a variety of marinas in the lively waterfront area. Boating is an important part of the Coconut Grove lifestyle for many residents, and much of the social scene revolves around marinas like Dinner Key, Grove Harbour, Biscayne Bay Yacht Club, and others.
Coconut Grove's charming downtown streets are lined with boutiques, galleries, sidewalk cafes, and various dining options. There's a vibrant atmosphere in Downtown Coconut Grove, and the popular Cocowalk lies at the heart of the matter. This pleasant outdoor shopping area is shaded and relaxed and provides a great place to shop, stroll, or just sit and watch the world go gently by. There's a great movie theater here, too, as well as a few popular sports bars and friendly dives.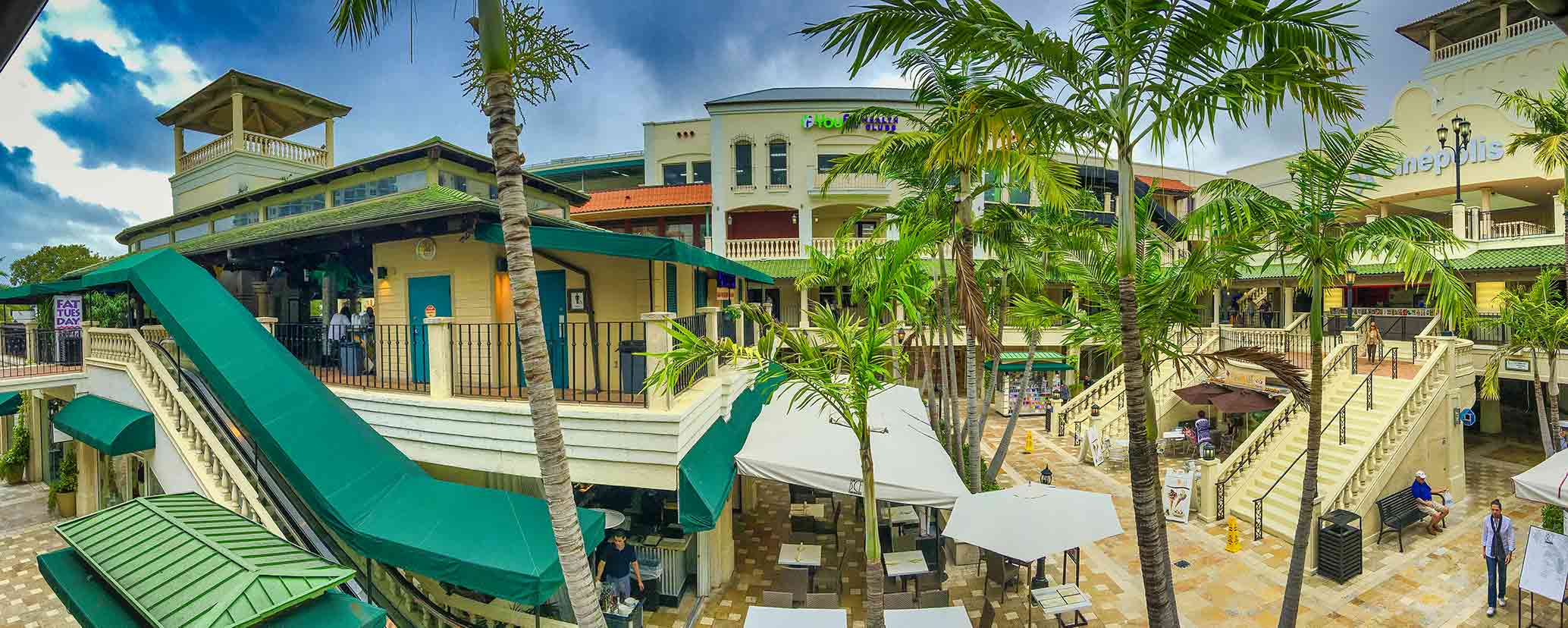 Shopping mall in Coconut Grove. Credit: jovannig - stock.adobe.com
Nearby Coral Gables offers a more upscale shopping and dining destination. Coconut Grove residents are within minutes of Miracle Mile - with its world-renowned restaurants, quality shops, art galleries - and Shops at Merrick Park. Coconut Grove locals are happy to live in a neighborhood with quiet nightlife, but when an exciting night out is on the cards, both Brickell and South Beach are within easy reach.
Living in Coconut Grove means that you're moments away from some of the country's best cultural activities. Downtown Miami is home to museums like the Pérez Art Museum Miami and the Frost Science Center, while the incredible Design District is ground zero for cutting-edge contemporary art. Closer to home, Vizcaya Museum and Gardens is a significant Coconut Grove landmark, and locals are rightly proud of this jewel in Miami's crown.
Coconut Grove residents waste no opportunity to gather and celebrate, and there are events and festivals throughout the year. The Coconut Grove Art Festival has been going strong since 1963 and draws tens of thousands of visitors each year. Downtown streets are transformed into pedestrian thoroughfares, and art from hundreds of vendors is on display. Another must-attend annual event is the Goombay Festival, an incredible celebration of Coconut Grove's Bahamian roots. A colorful parade makes its way through neighborhood streets, and there's music, dancing, food, and good vibes the whole way.
Many are drawn to Coconut Grove for its compelling lifestyle, community, beauty, and schools. Coconut Grove is home to some of the most consistently high-ranking schools in the Miami area. Public school options include Coconut Grove Elementary and George Washington Carver Middle School. There are several prestigious private schools here, too, including Ransom Everglades School, Carrollton School of the Sacred Heart, and St. Stephen's Episcopal Day School.
Things to Do in Coconut Grove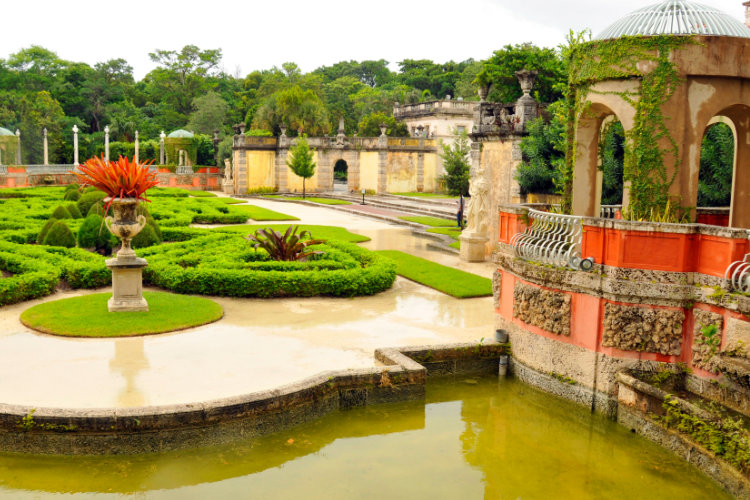 Vizcaya Museum and Gardens Photo: meunierd / Shutterstock.com
Vizcaya Museum and Gardens
The Vizcaya is a breathtaking mansion completed in 1916 as a winter home for an affluent businessman. Of the original 180 acres, 50 acres of extensive Italian Renaissance gardens, villas, and native woodland remain. Although over 100 years old, many of the original furnishings remain inside the mansion.
The site can be toured with a guide over a 45-minute duration and includes visiting many of the rooms on the mansion's first floor. Before or after the tour, guests are welcome to explore the gardens or other unrestricted areas of the home.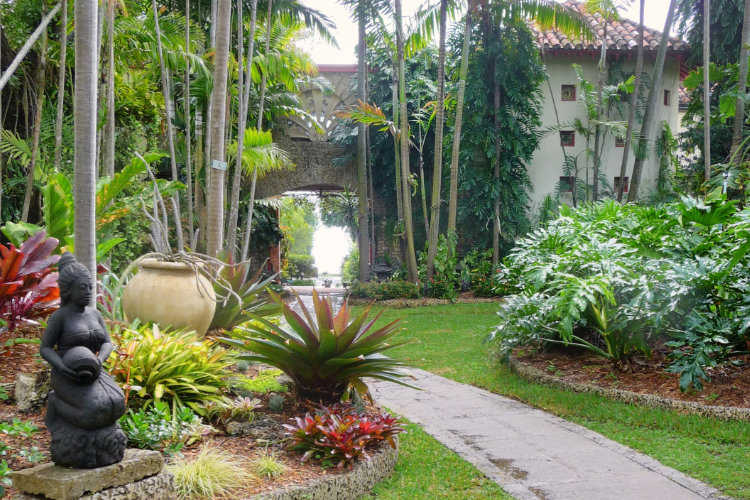 The Kampong, National Tropical Botanical Garden. Photo: ImageMD / Shutterstock.co
The Kampong, National Tropical Botanical Garden
This serene garden is right on the bay and is a nice place to getaway. The garden is named Kampong for the Malay word for village. The estate's former owner on this land was known for introducing exotic plants and trees he collected from Southeast Asia and other tropical regions.
Today it's still possible to see large flora collections from Southeast Asia, Central and South America, Africa, and the Caribbean. Highlights include several exotic fruit trees (including 50 types of mango!), cycads, palms, and flowering trees. Take your time wandering the gardens and stand amazed at the 80-year-old baobab tree that weighs over 50 tons!
Coconut Grove Saturday Organic Market
There's no better place to get a literal taste of what makes Coconut Grove special than at this market. Local organic growers are the highlight here, bringing in their fresh fruits, vegetables, grains, seeds, raw vegan foods, and so much more. You won't miss out on any of the tropical delights that grow in South Florida's warm climate. If your palate wishes to venture a little further from home, there are even organic rarities sourced worldwide.
If you're too hungry to take food home to prepare, there's also the option to buy salads, vegetable sushi, pestos, and the like. Be sure to take care of your sweet tooth as well with a yummy fruit pie or some homemade ice cream.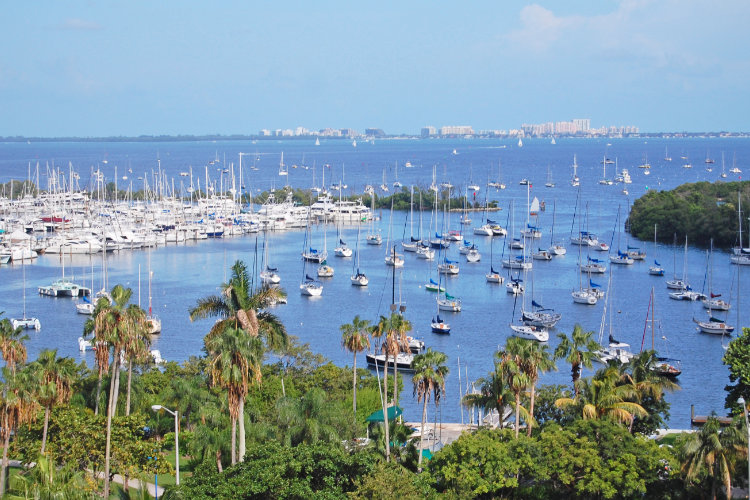 Coconut Grove overlooking the Biscayne Bay
Biscayne Bay
With the Biscayne Bay right next door, no trip to Coconut Grove is complete without a trip out on the water. Down at the marina, you'll find plenty of opportunities to rent sailboats, jet skis, stand-up paddleboards, catamarans, or partake in some windsurfing or parasailing if a more low-key approach is your preference, charter a boat to take you out on the bay during the day or at sunset and enjoy the amazing views of Coconut Grove.
Coconut Grove Art Festival
Coconut Grove comes even more alive during this annual three-day outdoor festival. Nearly a mile of Coconut Grove's bayfront streets turns into a jaw-dropping art gallery of more than 360 international artists covering several different genres to peruse. There's plenty of live entertainment around the area to dance away to or have a listen to while relaxing in one of the parks.
The culinary arts really rise to the occasion as well. After all, what's a festival without amazing food? Over 50 restaurants and vendors are on hand, and with a number like that, it won't be difficult to find something you'll want to try. There was even a Guinness World Record broken here one year for the largest arroz con pollo dish!
There are also plenty of activities for the kids – a whole Family Zone where kids can check out activities, do some crafts, and listen to some entertainment of their own. For locals and tourists alike, this is a must-see event every year!
Dining and Shopping in Coconut Grove
Coconut Grove's village center is the place to shop and eat to your heart's content. The Grove's history shines through here, as you'll find a unique combination of stores from unique local galleries to chic boutiques to throwback hippie shops and everything in between. Sidewalk restaurants and cafes abound and invite you in for a bite or a drink. To top it all off, the crowning jewel of this area is the Cocowalk.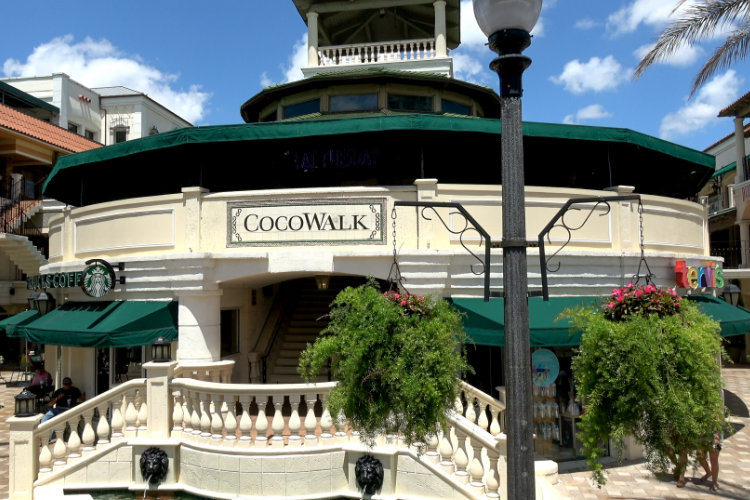 Cocowalk Shopping Mall Source: 4kclips / Shutterstock.com
The Cocowalk
The Cocowalk is a popular destination located smack dab in the middle of Coconut Grove. As you stroll the outdoor mall, you'll be rewarded with upscale shopping, fine dining, stunning foliage, plenty of live entertainment, and even a 15-screen luxury movie theater that serves small plate offerings as well as international wine and beer. The Cocowalk is a great place to slow down, people watch and let the world go by.
Parks and Recreation in Coconut Grove
With Coconut Grove situated right along the bay, there is no shortage of nice bayside parks to enjoy. Each has its own flair and unique views of the bay, just waiting to be discovered.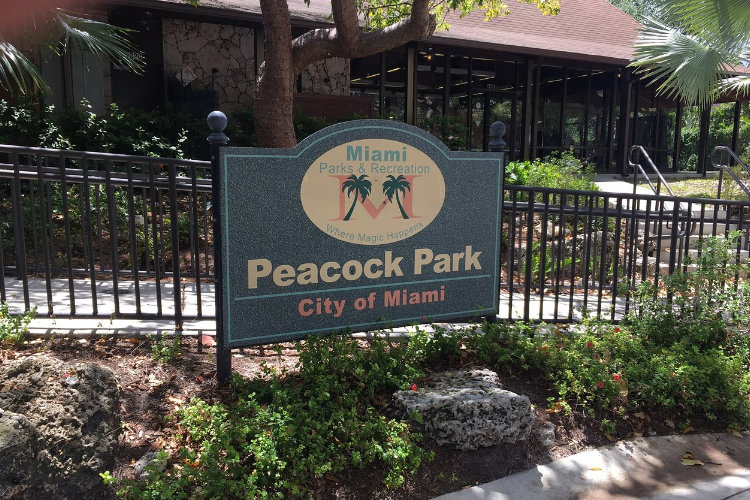 Entrance to Peacock Park
Peacock Park
Bayside Peacock Park sits on 9 acres of land and has tons of indoor and outdoor recreational facilities for the whole family. The site features a softball and soccer field, basketball courts, and a large multi-purpose field. Inside the recreation building, you'll find games like ping pong, foosball, and even computer workstations with free Wi-Fi. Kids can also find a playground with a huge carousel and plenty of space to run around.
There's a nice boardwalk for a stroll or a jog along the waterfront. Whether day or night, this spot also serves as a great place to take in views of the bay, the bridge, and the city.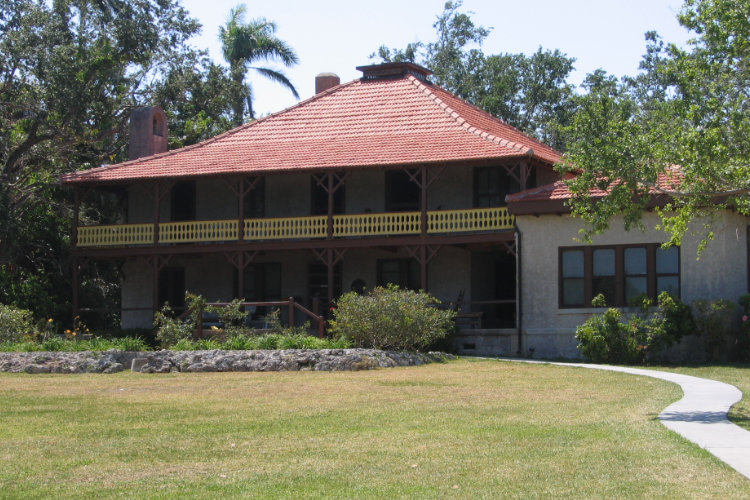 The Barnacle Historic State Park
A remnant from the early days of Coconut Grove, The Barnacle is a glimpse into the past. This frontier house was built in 1891 and was the principal residence of one of Coconut Grove's most charming and influential pioneers. Amazingly, the land and the house itself are well preserved and appear much the way they did back in the late 1800s.
Although the mansion itself is closed to visitors, the surrounding land has been converted into a state park. It is open for various activities, including bird watching, picnics, geocaching, outdoor concerts, and trails through the tall wooded landscape. A walk to the bay will reward you with stunning views and replicas of the estate owner's two sailboats.
Alice Wainwright Park
Sitting right on the eastern edge of the Coconut Grove neighborhood, Alice Wainwright Park is known not only for its outdoor activities but also the rare and protected plants that call this park home. Some of the trees here can only be found along the Florida coastline.
While admiring the trees, you can also enjoy the park's outdoor gym, basketball court, and a large playground. There are many spots to relax and picnic, including large pavilion shelters protected from the elements. The park naturally offers great views out over the bay.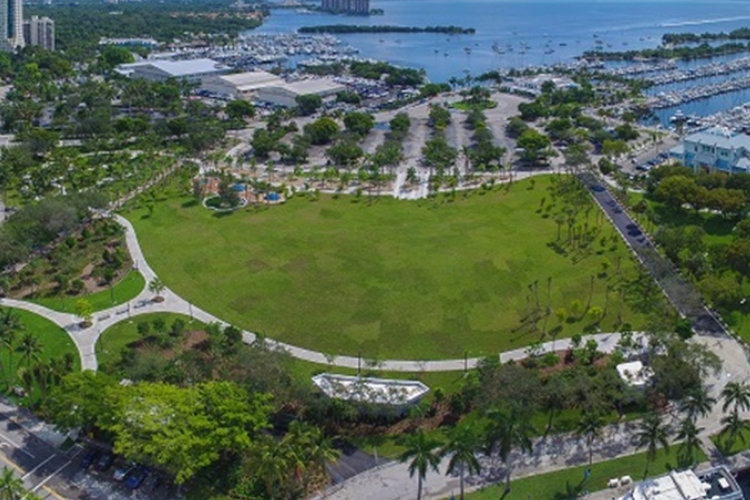 Regatta Park
Another picturesque place to get away from, Regatta Park, is named for the many regattas that often dot the harbor. The park itself sits right on the marina and is a great place to watch the boats or rent one of your own to take out on the water. There are areas for picnicking with great views of the bay. You'll also find plenty of trails for walking or running and a playground for the kiddos.
David T. Kennedy Park
With more than 20 acres of outdoor space, David T. Kennedy Park is another park that locals love for exercise and play. There's a ton of outdoor exercise equipment and plenty of trails to get some cardio in. Dog owners will love the dog park with separate enclosures for small and large pups for some off-the-leash doggy fun.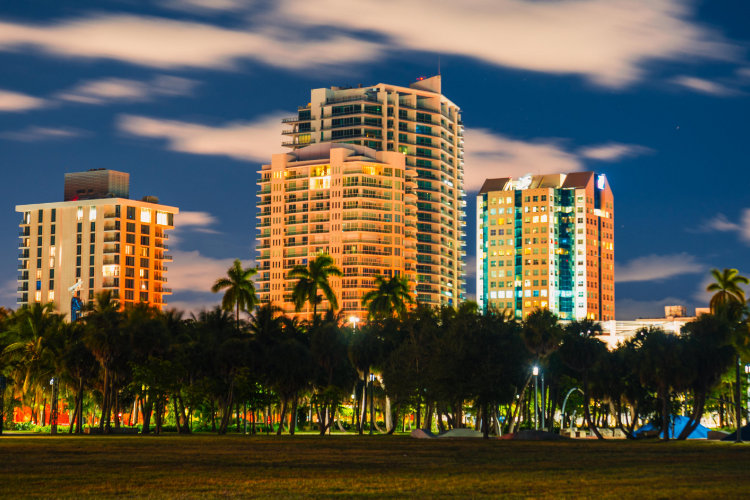 Condo buildings in Coconut Grove
Real Estate in Coconut Grove
Once a hidden gem, Coconut Grove is now a very sought-after community in not only Miami but the entire Southern Florida area. There are plenty of ultra-luxury gated communities, especially along the long waterfront that The Grove is known for. If it's a condo you're after, Coconut Grove also has many luxury offerings with great views of the city and the bay.
While luxury certainly appeals to some, the good news is that Coconut Grove has much more than just that to offer. For example, there's a surprising number of affordable condo units in Coconut Grove.
Not far from the water (as nothing in Coconut Grove is), plenty of streets are filled with single-family houses. There are also pockets of townhouses around the neighborhood that are smaller but more cost-effective. For different amenities altogether, there are several high-rise condos laced among the tree-lined streets. No matter what you may be looking for, there's a good chance you'll find it here.
Additional Reading
We have written extensively about other neighborhoods nearby Coconut Grove: