Living in Brickell, Miami, FL: The Financial Heart of Miami
Posted by Discover Homes Miami on Sunday, March 28, 2021 at 10:19 AM
By Discover Homes Miami / March 28, 2021
Comment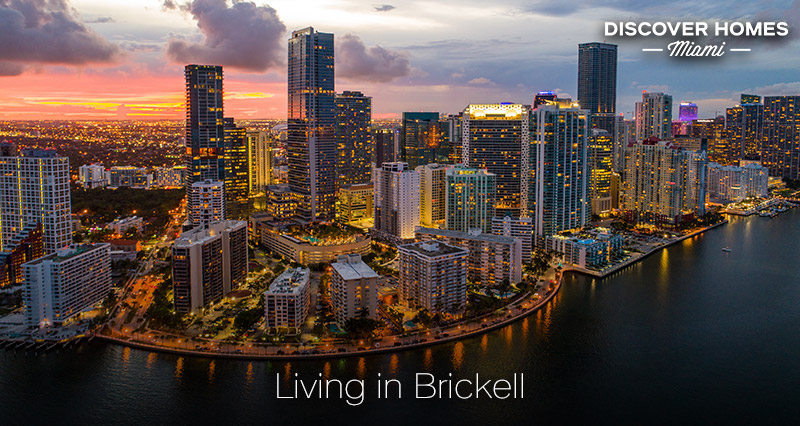 Lying directly to the south of Downtown Miami's historic Central Business District, Brickell is a densely populated residential and commercial neighborhood with a population of around 35,000.
Known as the 'Manhattan of the South, Brickell is one of the largest financial districts in the United States. Besides the numerous banking, investment, and financial institutions, Brickell is also home to many of Florida's foreign consulates, adding to the diverse international flavor of this exciting neighborhood.
Brickell's streets used to be deserted after office hours, but all that has changed. Today, the neighborhood is home to numerous high-rise condo towers and apartment buildings, as well as a mind-boggling selection of shopping and dining.
Brickell is a vibrant, eclectic neighborhood that buzzes with activity day and night. Brickell attracts a diverse collection of residents from all over the world, all of whom are drawn to the area's convenient location, amenities, and fast-paced, urban lifestyle.
Let's take a closer look at what makes Brickell such a desirable place to live.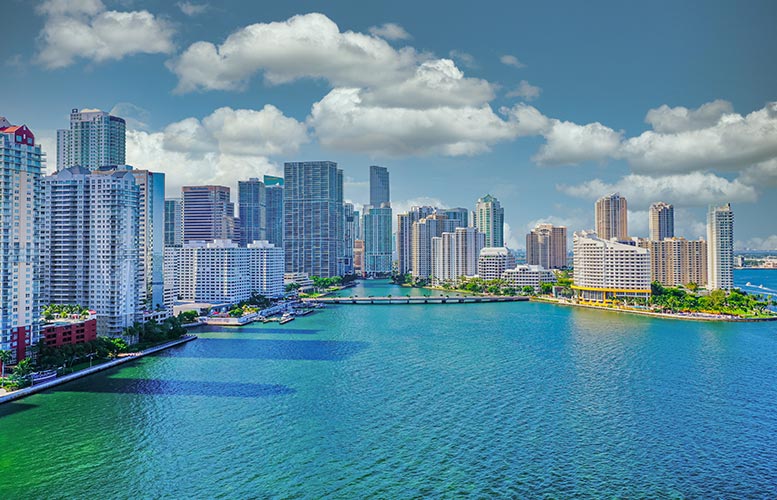 The Brickell and Downtown Miami skyline, with Brickell Key seen to the right
Lifestyle & Culture
Brickell often feels more like New York than Miami with its bustling, fast-paced streets and gleaming office towers. This is an extremely pedestrian-friendly neighborhood, and many Brickell locals eschew car ownership in favor of walking, cycling, or riding public transit.
Living and working in Brickell means that you're within easy walking distance of shopping, dining, and entertainment, and it seems like there's always a new restaurant, bar, or gallery worth checking out.
Brickell has the highest public transit ridership of any Miami neighborhood, and there are always options for getting around. Metromover is a popular choice among locals, providing a free ride on 3 loop lines. This awesome service has stops every couple of blocks and is especially popular on rainy days. Metromover also provides connections to Metrorail, which offers service north to Miami International Airport and Palmetto, and south to Coconut Grove.
On weekends, many locals like to hit Miami's exquisite white sand beaches. Although Miami traffic can make driving in Brickell a frustrating experience, it only takes around 20 minutes to reach the lively South Beach neighborhoods and around half an hour to find a more peaceful vibe in North Beach.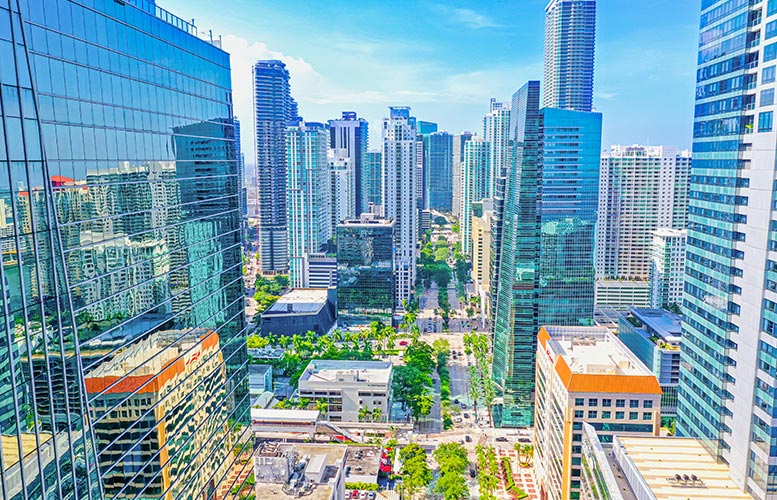 Brickell is rife with high-rise condos and office buildings
Brickell residents are spoiled for choice when it comes to shopping and dining, and this really is one of the things that makes this neighborhood so attractive. Mary Brickell Village lies in the heart of Brickell and is always lively. This is a longtime favorite destination for shopping, dining, and people-watching, and its relaxed outdoor vibe is perfect for whiling away an afternoon under the Florida sunshine.
Completed in 2016, Brickell City Centre is an enormous development that has transformed the neighborhood. Occupying over 9 acres, and costing over $1 billion, this live/work/play development includes over 500,000 sq ft of open-air retail space, featuring some of the most upscale brands around. There's also a 5-star hotel, as well as over 750 luxury condo residences. Two fantastic Italian food courts offer an incredible array of options from morning till night, as well as a host of other dining options.
Brickell after dark is a fun, friendly place, and the bars, clubs, and sidewalk cafes are always packed with people enjoying the good life. There are endless places to choose from, and the scene is buzzing late into the night. Swankier options include the rooftop bars at hotels like W Miami and Conrad, where elegant craft cocktails and stunning views are always the order of the day.
There's a lot more to living in Brickell than shopping and dining, though. Just to the north, in Downtown Miami, a world of cultural activities awaits, all within easy walking distance. Museum Park hosts popular music festivals and is also home to a pair of excellent museums. Pérez Art Museum Miami offers incredible contemporary art exhibits, focusing on Miami as a cultural melting pot, while Frost Museum of Science offers enough to fill an entire day. This amazing center houses a planetarium and a 3-level aquarium that teaches natural history through kid- and adult-friendly interactive exhibits.
American Airlines Arena is also within easy reach of Brickell, offering the chance to cheer on the Miami Heat and a host of concerts and live theater productions. Likewise, Adrienne Arsht Center is a major cultural arts destination and provides locals with a full calendar of performances, including jazz and classical concerts and Broadway shows.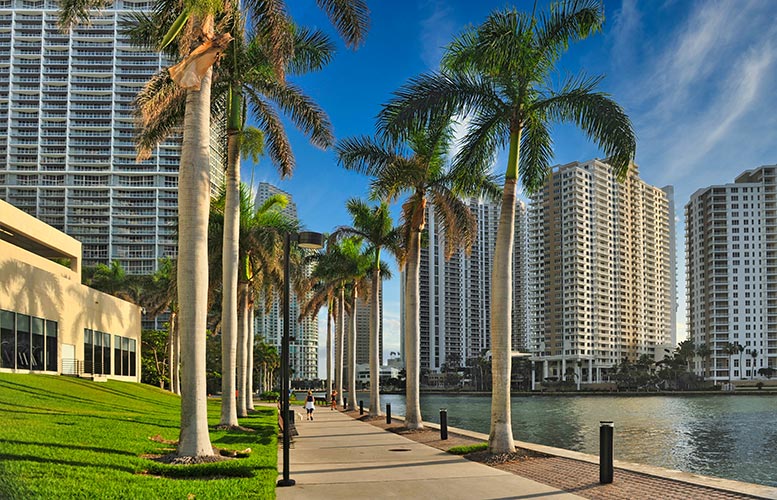 Brickell features numerous parks and green spaces, many of which run parallel to Biscayne Bay.
Leading an active, outdoor lifestyle is as important to residents of Brickell as it is to those of any Miami neighborhood. The incredible South Florida climate means that spending time outside is always a possibility, and the nearby beaches always beckon. Brickell residents love to walk, jog, and cycle, and one of the most popular routes is the pathway that circles Brickell Key. This tiny residential island is reached via the Brickell Avenue Bridge, and the pathway provides a quiet and peaceful escape from city noise, as well as breathtaking views of the port, cruise ships, and sparkling water.
Elsewhere in Brickell, many small parks such as Allen Morris Brickell Park dot the neighborhood, providing quiet refuges to sit and relax under gorgeous tropical trees. Lying along Miami Avenue, south of SW 15th Road, Simpson Park is a natural oasis in the middle of the city. This beautiful park comprises over 8 acres of old-growth tropical hardwood hammock and provides locals with a popular place to have a quiet picnic.
Just north of Brickell, Bayfront Park is one of the most popular and important parks in the Miami area. This is where the city gathers as a community, and there's always a lively, multicultural vibe here. There are 2 concert venues in Bayfront Park and an amazing fountain, a popular sandy beach, and expansive lawns that are perfect for spending an afternoon watching the world go by.
Here are some of the most popular spots that are frequented by both visitors and residents alike.
Things to Do in Brickell

Brickell City Centre
Brickell City Centre is one of Brickell's top attractions and calls itself "A City Within A City." Taking up three city blocks, this four-level shopping, dining, and entertainment complex has something for everyone.
The stores here are mostly upscale, luxury retail stores. A collection of home decor, apparel, beauty, and jewelry stores make Brickell City Centre the ultimate destination for whatever you're looking for. Dining establishments and a VIP cinema experience finish out the complex, with dining options ranging from sushi and steaks to farm-to-table and vegan.
A residential condo complex called Rise can be found within Brickell City Centre. The amenities and luxury of Rises pairs well with the high-end stores at dining venues at Brickell City Centre.
CMX Cinemas
Located at Brickell City Centre, CMX Cinemas is a luxury cinema experience and is the only cinema in Brickell. Amenities include chef-cooked meals, drinks, and reclining seats that make for the ultimate movie-going experience. Guests can also enjoy a lounge and bar and self-service food and beverage stand.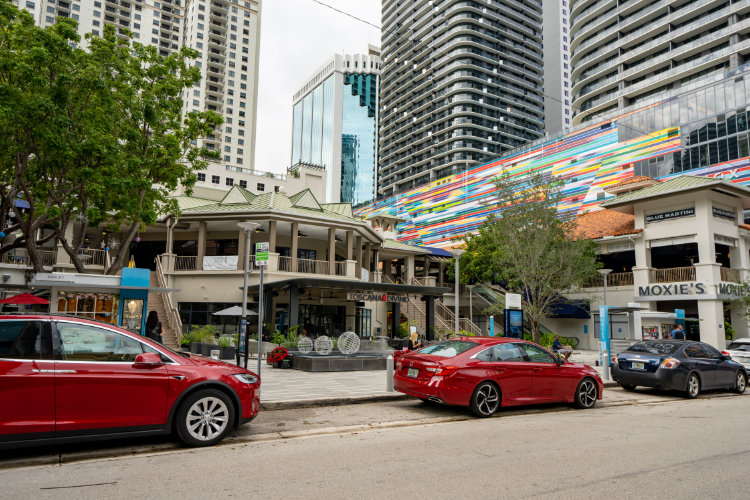 Source: Felix Mizioznikov - stock.adobe.com
Mary Brickell Village
Mary Brickell Village is a chic and sophisticated shopping and dining complex located in Brickell. What residents of Brickell love about Mary Brickell Village is its lack of national retail chains. Instead, it is full of locally owned boutiques that carry unique items and everyday wear apparel.
At Mary Brickell Village, there's a wide selection of restaurants and cuisines that something for any mood or food craving. Choose from Italian, Asian, or Latin cuisine (a Miami staple) or go more casual with sushi or a burger. Visit a juice bar or ice cream and milkshake parlor for dessert.
Besides shopping and dining, Mary Brickell Village hosts numerous events throughout the year. Enjoy a tailgate, watch party, movie night, or a Saturday farmers market.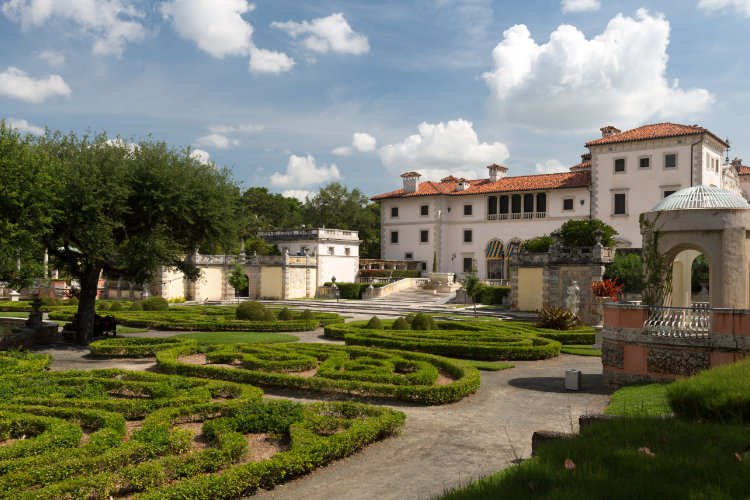 Vizcaya Museum and Gardens
Vizcaya Museum and Gardens
While technically located in Coconut Grove, the Vizcaya Museum and Gardens is an excellent destination for history buffs. Visitors from all over the world come to visit the house, with its Meditteranean-style architecture and luscious green gardens.
A subtropical forest surrounds the Vizcaya Estate, and the design of the house was based on an Italian villa in Northern Italy. The elaborate garden is European-inspired and contains several smaller gardens designed to mimic "rooms." The gardens are also filled with antique sculptures and fountains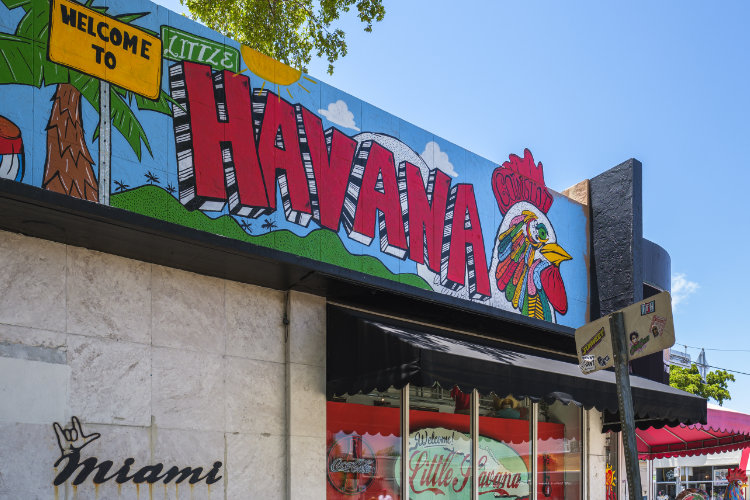 Little Havana
Little Havana is Brickell's neighbor to the left and is the center of Cuban culture in Miami. Visitors to Little Havana can make a day trip to experience Cuban food, music, and art. Daily walking tours, art and cocktails tours, and rum and cigar tasting tours are available so that guests and locals can explore the Cuban influences on Miami.
The Cubaocho Museum and Performing Arts Center offers visitors the opportunity to listen to locals' authentic Cuban music. You can also visit the Maximo Gomez Domino Park in Little Havana, where you can watch locals participate in intense games of dominoes. Have dinner at one of the many Cuban restaurants before returning home.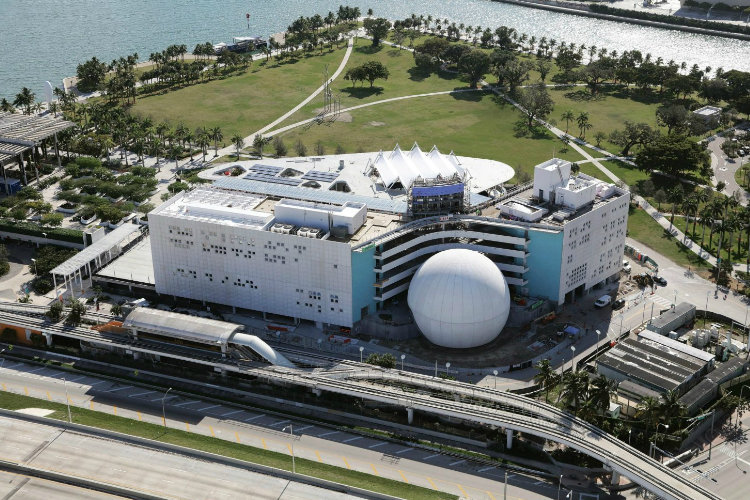 Philip and Patricia Frost Museum of Science
Philip and Patricia Frost Museum of Science
While not located in Brickell, the Philip and Patricia Frost Museum of Science is located in Marcus A. Ferré Park in Downtown Miami. It is less than a 15-minute drive to get to the Frost Museum from Brickell to visit this 250,000 square foot science museum, planetarium, and aquarium.
The museum is partially funded by the University of Miami and features research and discoveries from local scientists who teach at the university. Visitors can explore the six-story museum to learn about South Florida's aquatic ecosystem and tour exhibits about physical and natural sciences.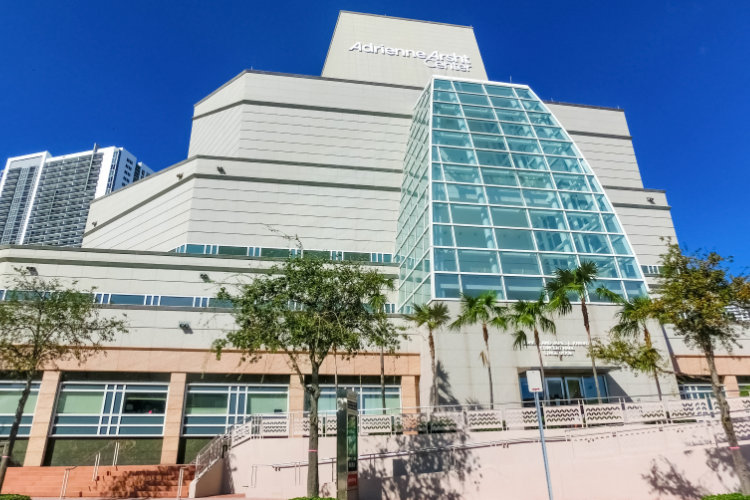 Arsht Center. Credit: Solarisys - stock.adobe.com
Arsht Center for the Performing Arts
An 11-minute drive from Brickell, the Arsht Center for the Performing Arts is named after Adrienne Arsht, a prominent Miami business leader. The Miami City Ballet and the Florida Grand Opera both perform here. The Arsht Center for the Performing Arts presents over 300 local theater, Broadway, and classical performances each year, in addition to other events, including an annual festival devoted to flamenco.
Perez Art Museum Miami
Located near the Frost Museum of Science, the Perez Art Museum houses an international collection of modern and contemporary art. The museum is largely dedicated to 20th and 21st-century art and artists. To showcase Miami's Latin, Caribbean, and African art, the Perez Art Museum also houses a large collection of art from these regions.
Parks & Recreation
Simpson Park
Simpson Park is one of Miami's hidden gems. Named after botanist Charles Torrey Simpson, the park is a forest of old-growth tropical hardwood trees in the middle of a high-rise neighborhood. Take refuge from the hot Miami sun by relaxing on a bench or strolling through the many tropical tree and plant species native to South Florida.
Southside Park
Southside Park is smaller and more urban than Simpson Park. Geared more toward recreation, Southside Park and basketball courts, a picnic area, and a playground. Many residents choose Southside Park to walk their dogs due to the openness of the park. Bike racks are a convenience that many residents take advantage of when they visit the park to rest from their morning ride.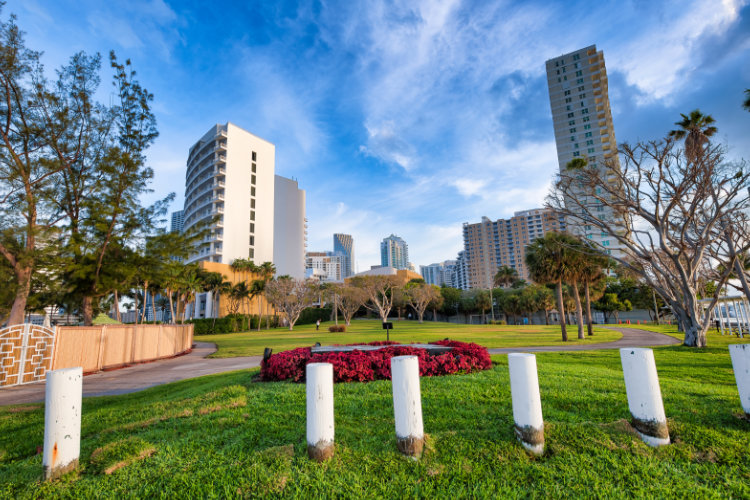 Brickell Key Park
Brickell Key Park
Located on Brickell Key, an island in Biscayne Bay, Brickell Key Park is Brickell's only waterfront park. The jogging path makes it a popular park for many Brickell residents, but the ultimate attraction is the Brickell skyline view. Go at sunset or night for a truly spectacular view.
Soccer Rooftop
Soccer Rooftop is exactly how it sounds: a rooftop soccer field equipped with padded walls, lighted courts, artificial turf, locker rooms, and showers. Play with your friends or practice with your team, or join a league on Wednesdays and Fridays. They also have a soccer program geared for kids. In addition to soccer, the venue is available for birthday parties, gatherings, and corporate events.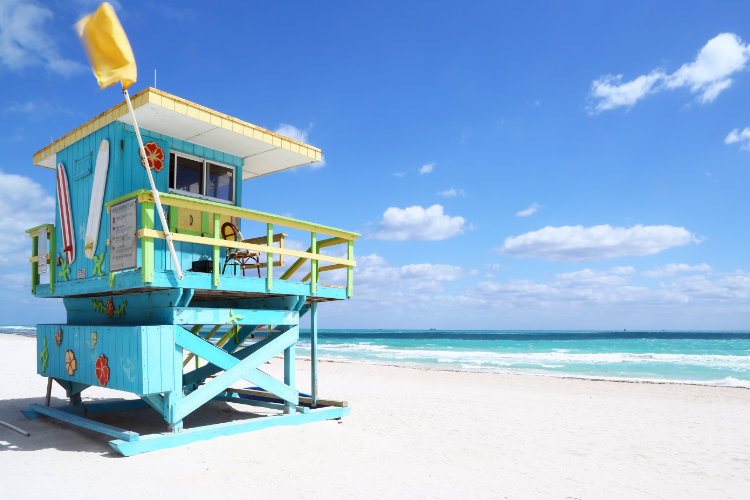 Beaches
Visit the Miami beaches across the Biscayne Bay if you need a quick getaway from city life. South Beach is the most popular area among visitors due to their trendy and carefree vibe. If you want a more under the radar beach experience, visit North Beach, or spend the day fishing on Sunny Isles Beach at the Newport Fishing Pier. If you have a dog, don't forget to bring him along to one of the dog beaches.
Miami Heat
During basketball season, fans can make the short drive over to American Airlines Arena to watch Miami's professional men's basketball team, the Miami Heat, play.
Miami Dolphins
During football season, make the 30-minute drive over to Hard Rock Stadium in Miami Gardens to watch Miami's professional football team play.
Real Estate
Brickell's real estate is largely made up of towering waterfront hotels and condo buildings. Many of Brickell's condo complexes have an impressive offering of amenities and incredible views of Biscayne Bay, Downtown Miami, and Miami Beach.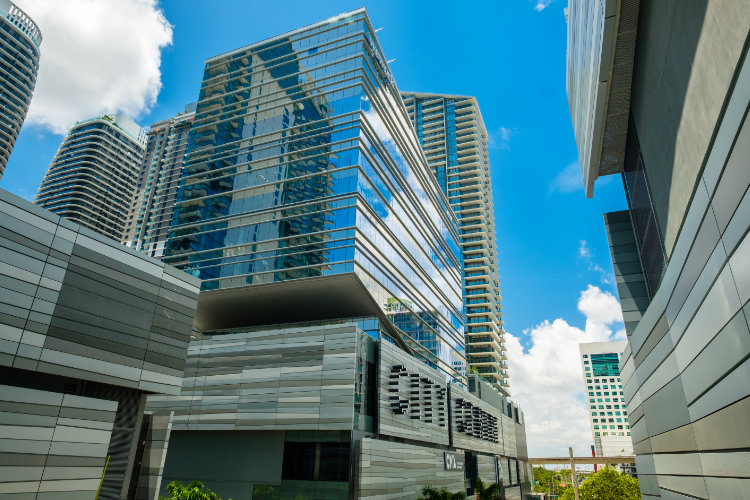 Source: Fotoluminate LLC / Shutterstock.com
Rise Brickell City Centre
Rise has one to five-bedroom residences and features Brickell and Downtown Miami views. This condo building is located atop Brickell City Center and is thus near a variety of shopping and dining. Some of each condo unit's main features include a terrace, spa-like bathroom, floor to ceiling windows, and high ceilings. In addition to residential condos, Rise also has seven luxurious residential penthouses.
Amenities
Children's playroom
Concierge
Communal suites with kitchen for gatherings
Fitness center
Library
Resident's spa with steam room and dip pool
Swimming pool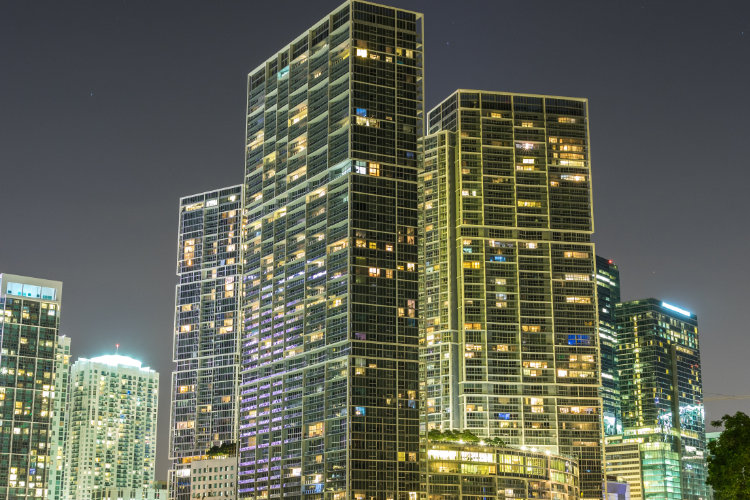 Source: Sergio TB / Shutterstock.com
Icon Brickell
Icon Brickell is one of Brickell's tallest skyscrapers and biggest residential complex. Icon has over 1800 units and is situated on the Biscayne Bay Waterfront. Residences range from studio condos to large, 2600 square feet, 3 bedroom condos.
Amenities
Billiard room
Card and chess room
Movie theater
Recreation areas
2-acre outdoor living room
Outdoor fireplace
3 pools-recreation pool, hot tub, and lap pool
Poolside cabanas
Pool deck with cafe and towel service
Spa with exercise classes, juice bar, and massages
Sauna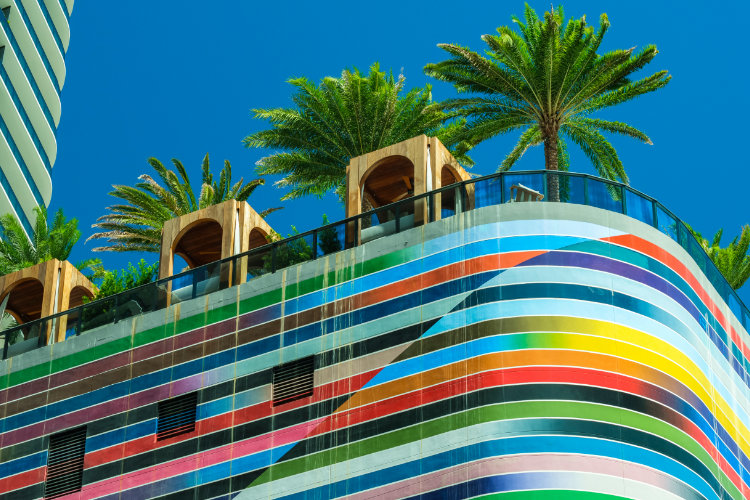 Source: Fotoluminate LLC / Shutterstock.com
SLS Lux
SLS Lux is a luxury condo-hotel tower. It features 450 residences, ranging from one to three bedrooms with units up to 1,753 square feet. Each residence has its own balcony. Some of the unit features include Italian cabinets in the kitchen and rain showers in the bathroom. There are penthouse residences as well, with 3 or 4 bedrooms and a terrace. Penthouse residences are as large as 4,247 square feet. It is located a block from Brickell City Centre.
Amenities
Beach entry pool
Children's room
Cocktail lounge
Concierge
Dining al fresco
Fitness center with personal trainers
Hot tubs
Lap pool
Live entertainment
Outdoor BBQ and kitchen area
Poolside bar
Rooftop pool with cabanas
Spa
Tennis court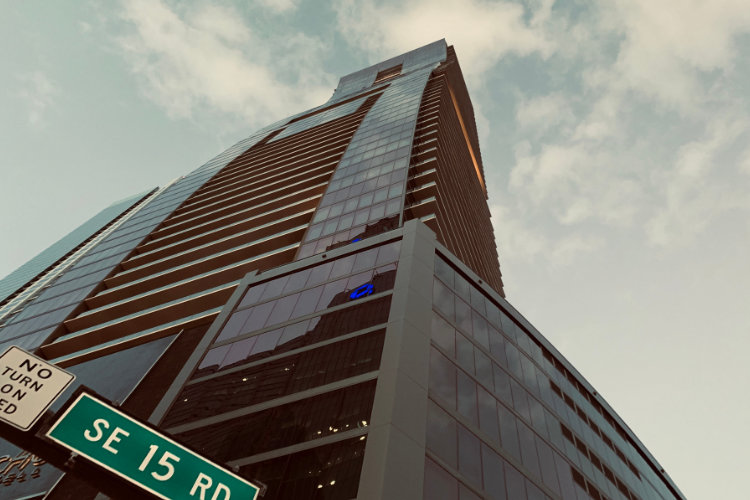 Source: Johnny Michael / Shutterstock.com
Echo Brickell
Echo Brickell is popular for its panoramic bay and city views. The tower contains 180 residential units with one to three bedrooms. Each condo has a terrace with a barbecue area. Unit features include marble flooring, wine storage, a coffee and espresso machine, and a smart home system with audio, video, and lighting controllable from a mobile device.
Echo also features penthouses with three to four bedrooms. Each penthouse has its own pool and terrace and high-end appliances in the kitchen.
Amenities
Concierge
Fitness center
Health club
Hot tubs
Infinity pool/deck with views of Biscayne Bay, Downtown Miami, and South Beach,
Poolside food and beverage service
Spa
Sunbathing deck
Four Seasons Residences Brickell
Four Seasons Residences is Miami's second-tallest skyscraper and offers spectacular water and city views. The building houses 270 condo residences ranging from one to four bedrooms. This condo complex is within walking distance of Mary Brickell Village and Brickell City Center. \
Amenities
Cabanas
Fitness center
Full-service spa
Heated pools
Hot tub
2 onsite restaurants
Owner's lounge
Room service
Valet parking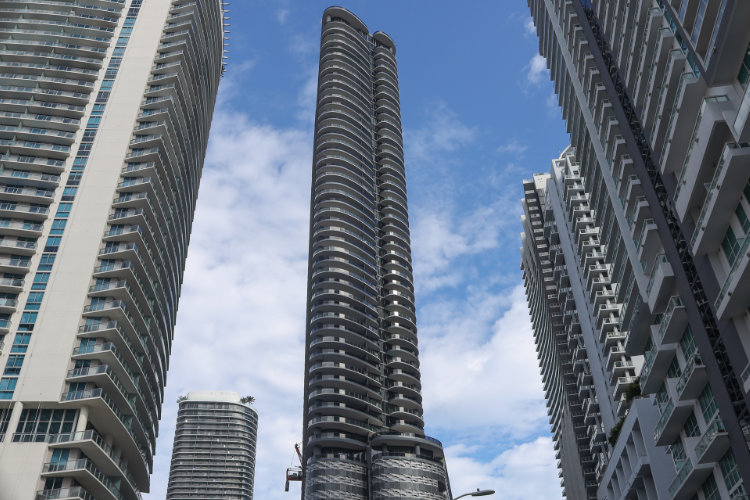 Source: Johnny Michael / Shutterstock.com
Brickell Flatiron
Brickell Flatiron is one of the most architecturally unique residence towers in Brickell. The building itself has a curvy design that translates to the individual units.
Amenities
Billiards room
Cafe
Children's playroom
Children's pool
Clubroom for private events
Concierge
Lounge
Movie theater
Outdoor lap pool
Pool with juice bar, lounge area, and attendants
On-site restaurants
Retail stores on the ground level
Rooftop gym with yoga and pilates studio
Rooftop spa
Room service
Valet parking
Public and private WiFi
Una Residences
Una Residences is a newer construction in Brickell and its design was inspired by that of yacht interiors. Each unit features floor to ceiling windows and wide terraces. Three and four-bedroom units are available. There are also residential penthouses with five to six bedrooms.
Amenities
Bayfront pool
Cabanas
Children's playroom
Children's splash pad
Family pool
Grilling areas
Gym with yoga studio and personal training
Hot tub
Outdoor bar
Outdoor lap pool
Private beachfront club
Conclusion
If a luxurious, sophisticated, and elegant lifestyle is what you're looking for, then Brickell is the neighborhood for you. The financial district's proximity to parks, beaches, and entertainment help to create the perfect balance between work and play, making Brickell the perfect resort-like tropical neighborhood.
Additional Reading