Living in Bay Harbor Islands, FL: 2021 Community Guide
Posted by Discover Homes Miami on Friday, March 19, 2021 at 11:29 AM
By Discover Homes Miami / March 19, 2021
Comment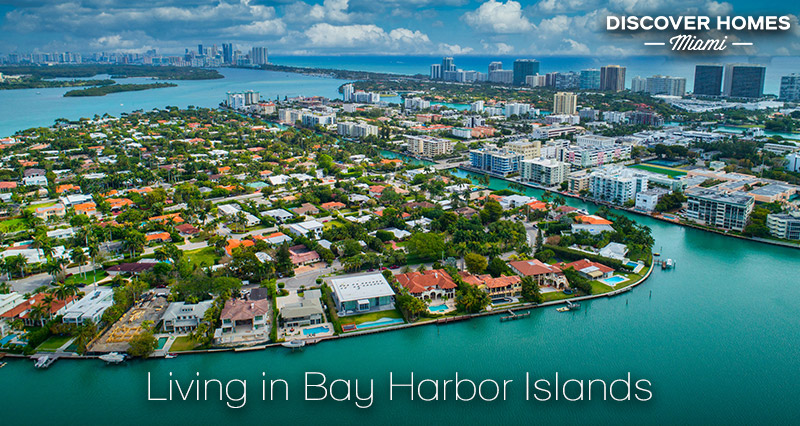 East of North Miami and west of Bal Harbor/Surfside are two small kidney-shaped islets called the Bay Harbor Islands. They lie to the north of the archipelago of small islands that encloses Biscayne Bay. To their south is Indian Creek Island, an exclusive community for the uber-rich.
The Islands constitute a town in themselves. Sandwiched between the larger cities of Aventura to the north and Miami Beach to the south, they cover less than half a square mile in area, but are home to more than 5800 residents, as recorded by the 2010 census.
Bay Harbor Islands were the brainchild of Belarusian-born lawyer, banker, and philanthropist Shepard Broad, who bought the two uninhabited mangrove islands during the post-war development boom in Miami. The islands were originally named Broadview and Bay Harbor, respectively, but are now simply known as West and East Island. The islands were incorporated as a town in 1947.
Let's explore what makes Bay Harbor Islands such a great place to live and what you might expect when moving to Bay Harbor Islands.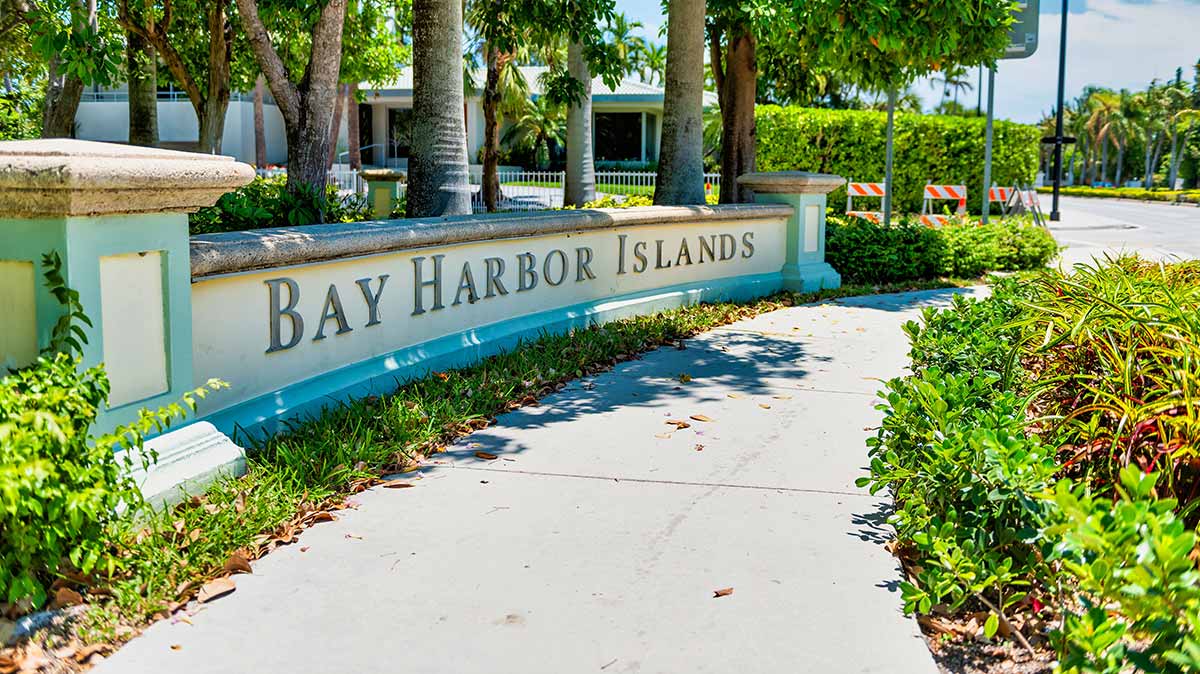 Welcome sign as you enter Bay Harbor Islands, FL. Credit: Kristina Blokhin - stock.adobe.com
Lifestyle and Culture
For Miamians who want to escape the buzz of the big city, the Bay Harbor Islands, particularly the west island, provide a leafy green oasis to call home. Many locals are boat owners, and some of the more luxurious waterfront properties provide moorings and decks. The Islands are lush and tropical with shady gardens and tall palms.
There isn't much in the way of entertainment on the islands themselves. This is very much a suburban community within the city, somewhere you retreat to, rather than head to for nightlife. That said, there are several popular restaurants clustered around the main concourse on East Island, which is also home to cafes, boutiques, drugstores, and car showrooms.
East Island has a more mixed population, with mid-rise condominiums, hotels, and higher population density, whereas the West Island retains a neighborhood vibe, with single homes. The Bay Harbor Islands are only a 20-minute drive from Miami International Airport, and Downtown Miami can be reached in half an hour on the I-95.
Things to Do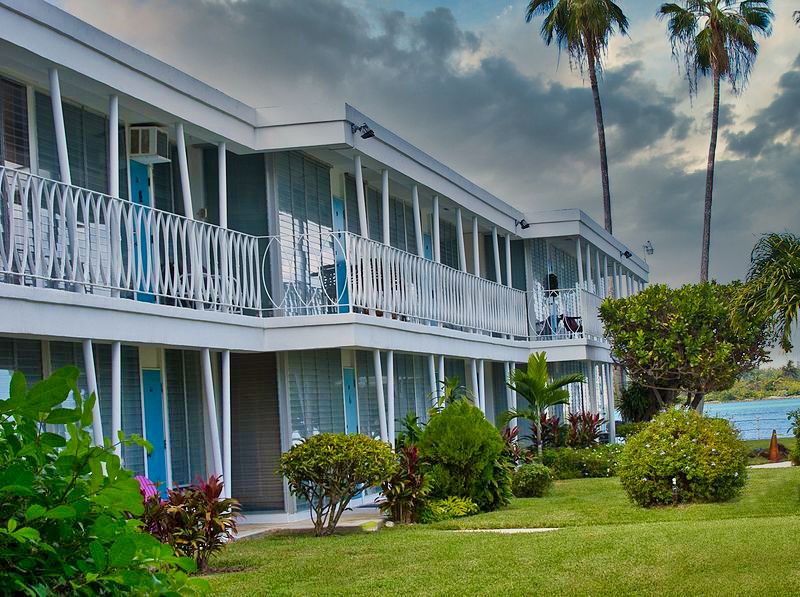 Visit Dexter's Apartment
Fans of the Showtime series Dexter might like to head to the northern tip of East Island, where they will find the whitewashed modernist apartment complex inhabited by the titular hero of the show (to be revived later this year). Look for the Bay Harbor Club; the famous apartment featured in the show's title sequence is at the very northern tip of the development. Dexter Morgan's Apartment has some amusing reviews on Google.
Boutique Shopping
There is a strip of boutiques to explore on East Island's Kane Concourse that offers everything from jewelry to designer rugs and modernist furniture. If you crave a purse that costs more than your car, or just fancy a spot of window shopping, cross the creek to Shops at Bal Harbor for Fendi, Ralph Lauren, Valentino, Louis Vuitton, and more.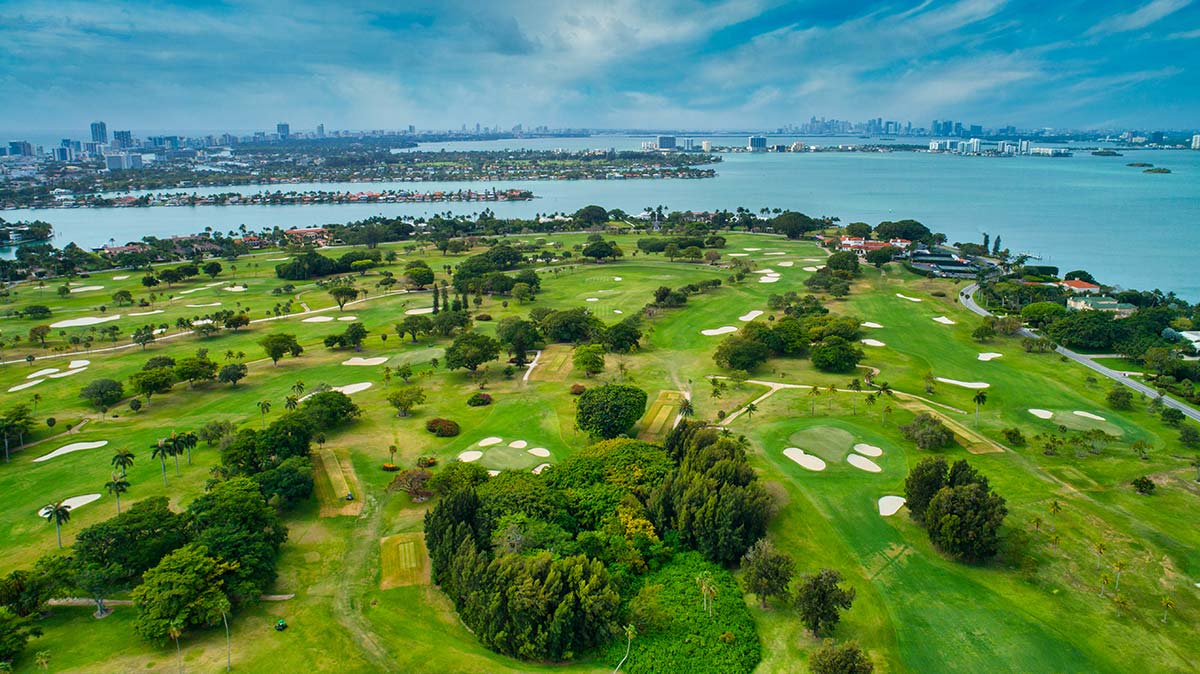 The Indian Creek golf course
Go Play Golf
Golf is huge in Miami. With four courses within five miles of the Islands, you have plenty of choice at your disposal. The closest is situated at the Indian Creek Country Club, on the island to the south of the Harbor Bay Islands. It's beautiful but members-only.
The Normandy Shores Golf Club on Normandy Isles to the south is more accessible to non-members, although you may find yourself sharing the green with an iguana or two. Miami Shores club on the mainland to the west also rates highly with players.
Cruise the Waterways
One of the best ways to tour the filigree chains of islands on the southern Florida coast is by boat. You can charter a twin or triple-hulled pontoon boat from several companies on the islands and circuit the islands before heading out into the Bay of Biscayne. Head north into the Oleta State River Park for calm waterways and bird watching, or cruise south and tour the small islets scattered in the north half of the bay.
If a jet ski or fishing charter is more your style, you'll find a collection of hire firms on North Bay Island, a 20-minute drive to the southwest.
Kayak Tours
iPaddleMiami offers paddleboarding or kayaking tours, departing from their center on the Biscayne Bay Aquatic Preserve. You might also spot a manatee or crocodile, sea turtle, or dolphin at the preserve. You'll get some great panoramic views of the Miami skyline, and there are several tiny islands to rest, sunbathe and swim from, including Pelican Island, which can only be reached by boat and has BBQ facilities and a beach volleyball court.
Kayak Tours are also available at the Oleta State River Park (see below).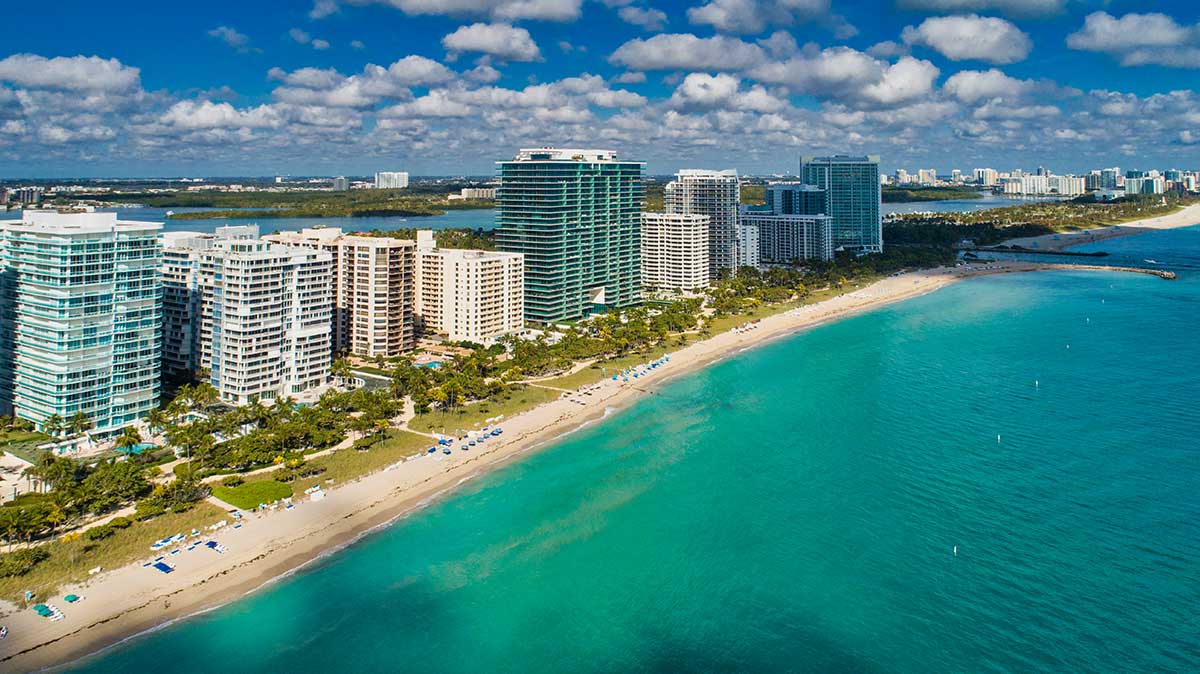 Bal Harbour Beach is the closest beach to Bay Harbor Islands at approximately one mile to the west.
Swim in the Atlantic Ocean
Ten continuous miles of golden sand fringe the archipelago extending from Miami Beach north to Bal Harbor. Some of the best beaches can be found at its northern extent at Bal Harbor, a well-heeled enclave worth visiting for its elegant, peaceful, and upmarket character. Take a run along the sand while away a few hours with a book, or take a dip in the rolling Atlantic breakers.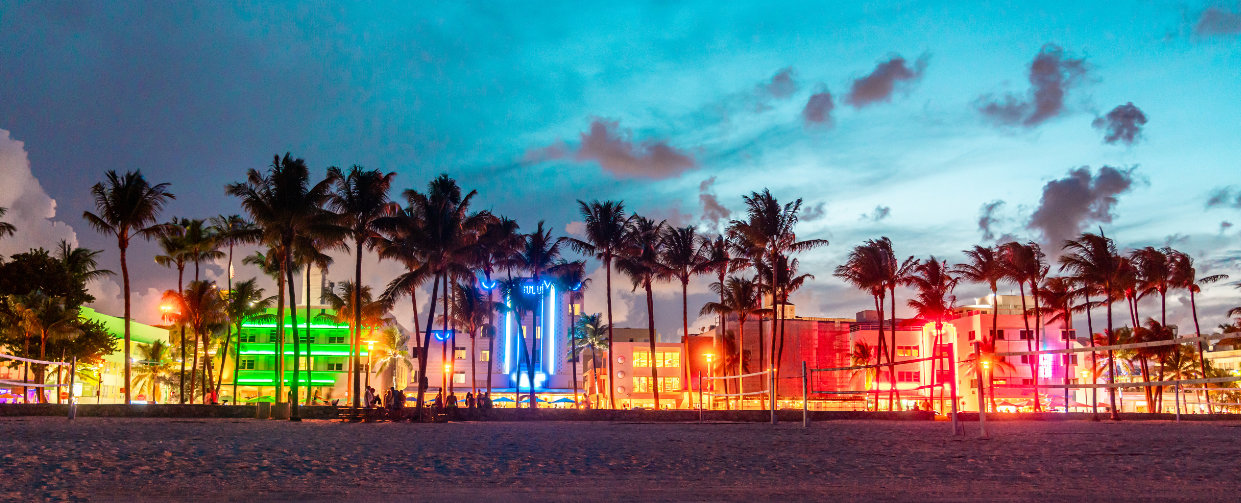 Check out Miami Beach
If crowds, cocktails, and a thriving beach community are what you seek, head south to the world-famous Miami Beach, where people-watching is elevated to an art form. You'll see some of the most beautiful and outrageous people on the sand and in the beach bars. Channing Tatum was spotted here and offered his first modeling contract.
The culture has a rich mix of Caribbean, Latin, and South American influences, and the food is varied and exciting.
When the sun goes down, you could do worse than settle into a waterside bar with a mojito or two, then Uber back to the sleepier neighborhoods up north.
Parks and Recreation
Officer Scott Winters Park
Situated in the middle of East Island, this small park has an open field for ball games, a covered play area, and a water play feature. In 2020 it was renamed after a local police officer who died in the line of duty.
Surfside Park
As you cross onto Bal Harbor from the Kane Concourse, there is a small park to your right containing a basketball pitch, playpark, and open fields for ball games or picnicking.
North Beach Oceanside Park
To let those pets off the leash, head for North Beach's Oceanside Park, which has a dog run as well as shady trails and access to a picturesque strip of Atlantic-facing beach. There are also play areas, and it's a fantastic place to run or swim, without the intrusion of crowds.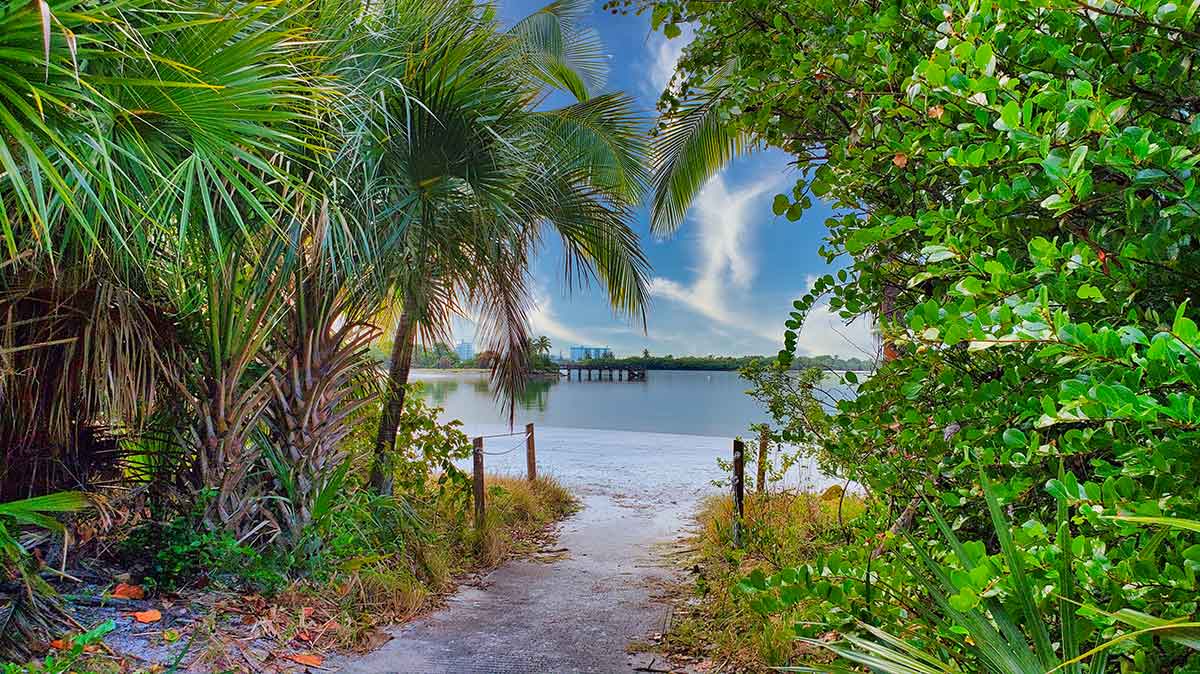 Oleta River State Park
For a wilderness adventure without heading for the Everglades, the Oleta River State Park is just a short drive to the north. Florida's largest urban park covers a thousand acres and is bisected by its namesake river and tributaries.
It's a perfect place to paddleboard, kayak, or fish. There are campgrounds and cabins for hire, as well as idyllic spots to swim. Look out for egrets, herons, manatees, and dolphins among the mangroves.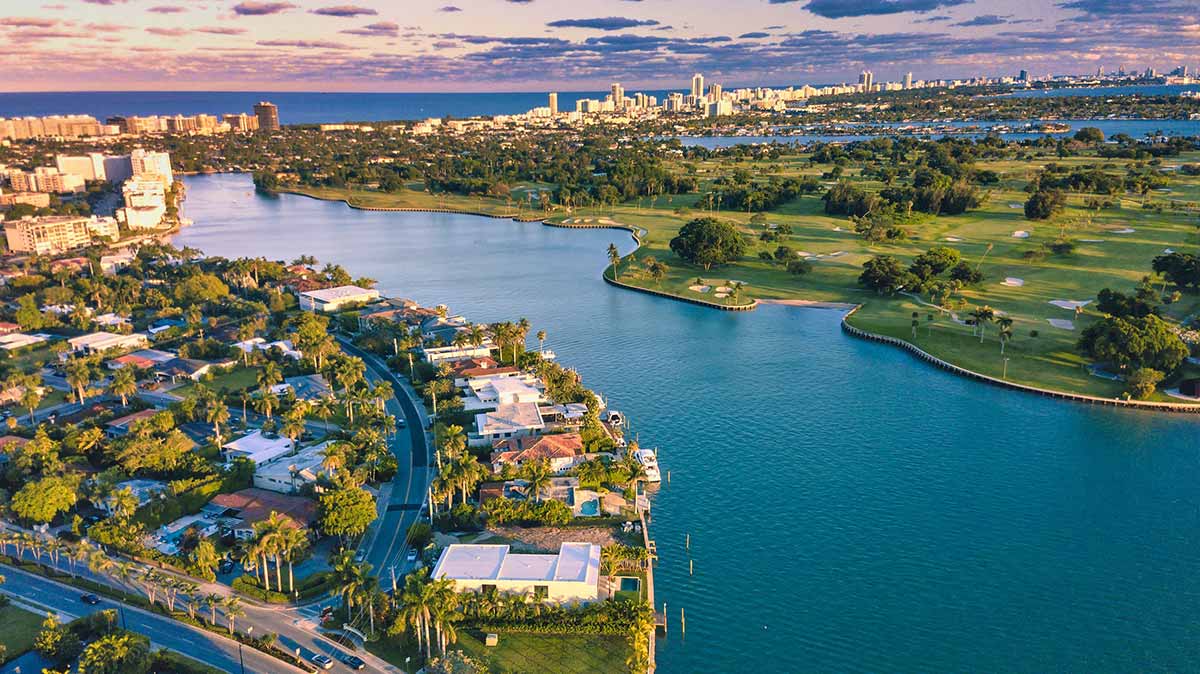 Luxury homes along Bay Harbor Island's coastline, with Indian Creek to the right
Real Estate
There's a different architectural character to each island. On West Island, mid-century bungalows and two-story homes in Mediterranean style sit alongside white modernist steel and glass boxes. The shore-facing properties often come with waterside gardens and moorings, whereas the inland homes have shady gardens and are often set back from the road for added privacy.
Roofs are flat or pan-tiled with shallow slopes. Properties tend to have open plans, and shade is at a premium, given Miami's blazing sunshine.
Many of the homes come with lush, exotic gardens and outdoor pools. The most desirable homes lie to the west of West Island, with direct access to Biscayne Bay.
East Island comprises wall-to-wall condominiums and two to four-story apartment complexes. Some of these have subtle art deco stylings or foyers featuring modernist expanses of glass. Others are more functional and affordable.
Despite its compact geography, there are several vacant lots on East Island, currently green space but potentially open to future development.
Additional Reading
Check out some of these nearby communities: