La Gorce, Miami Beach, FL: Exclusive Waterfront Golf Community
Posted by Discover Homes Miami on Saturday, March 6, 2021 at 1:34 PM
By Discover Homes Miami / March 6, 2021
Comment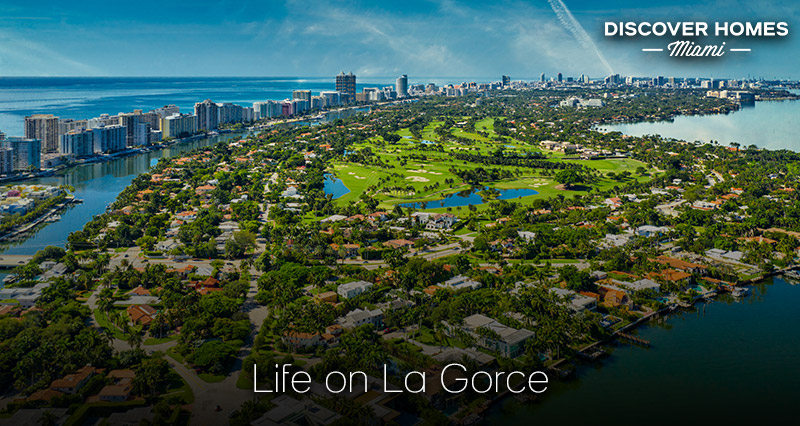 The prestigious neighborhood of La Gorce is perfectly situated along the sparkling shores of Biscayne Bay. La Gorce is located in the North Beach region of Miami Beach, just south of the Isle of Normandy and north of Mid Beach. The area is part of Miami-Dade County, with proximity to Miami's vibrant downtown area and just 20 minutes from Miami International Airport.
The La Gorce neighborhood and the adjoining La Gorce island have long been known as exclusive enclaves for Florida's elite. With its prime waterfront location, stunning historic and modern mansions, and serene atmosphere, it's no wonder why La Gorce is one of the most coveted locations in the Miami Beach area.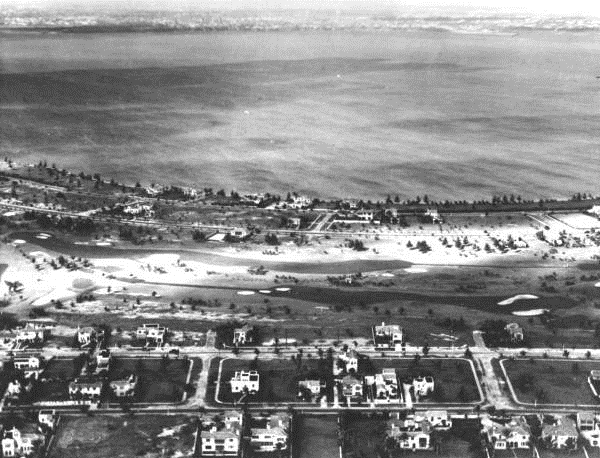 La Gorce in 1930. Credit: Florida Photographic Collection
History
The La Gorce neighborhood's history is intertwined with Miami Beach's creation. La Gorce was constructed by visionaries Carl G. Fisher, John S. Collins, and the Lummus brothers. This group financed and publicized the transformation of dense mangrove jungles and swampland into the tropical paradise now called Miami Beach.
Carl G. Fisher was a master publicist and successfully attracted the wealthy and famous to Miami Beach while simultaneously establishing the region as the epitome of luxurious living in South Florida. La Gorce and La Gorce Island were named by Fisher in honor of his close friend, John Oliver La Gorce.
John Oliver La Gorce was famous in his own right as an author, explorer, and president of what is now known as National Geographic. John Oliver La Gorce worked with another of Fisher's close friends and colleagues, James Allison, to establish the Miami Beach Aquarium in the 1920s. Allison Island, adjacent to La Gorce, was named in James Allison's honor by Carl G. Fisher.
In addition to Fisher's successful campaign in wooing people to Miami Beach, the La Gorce Country Club, built in 1927, continued to boost the area's renown and prestige.
Although the club fell on hard times in the 1940s with the onset of World War II, the La Gorce Country Club was purchased by a pool of local investors and restored to its original glory. Now sitting at the La Gorce's center, the club embodies the area's exclusiveness with its invitation-only membership and luxurious amenities.
Celebrities, athletes, and wealthy executives continue to call the La Gorce neighborhood their home. Actor Matt Damon and entertainers Jennifer Lopez, Cher, Ricky Martin, and Billy Joel have all owned residences in La Gorce.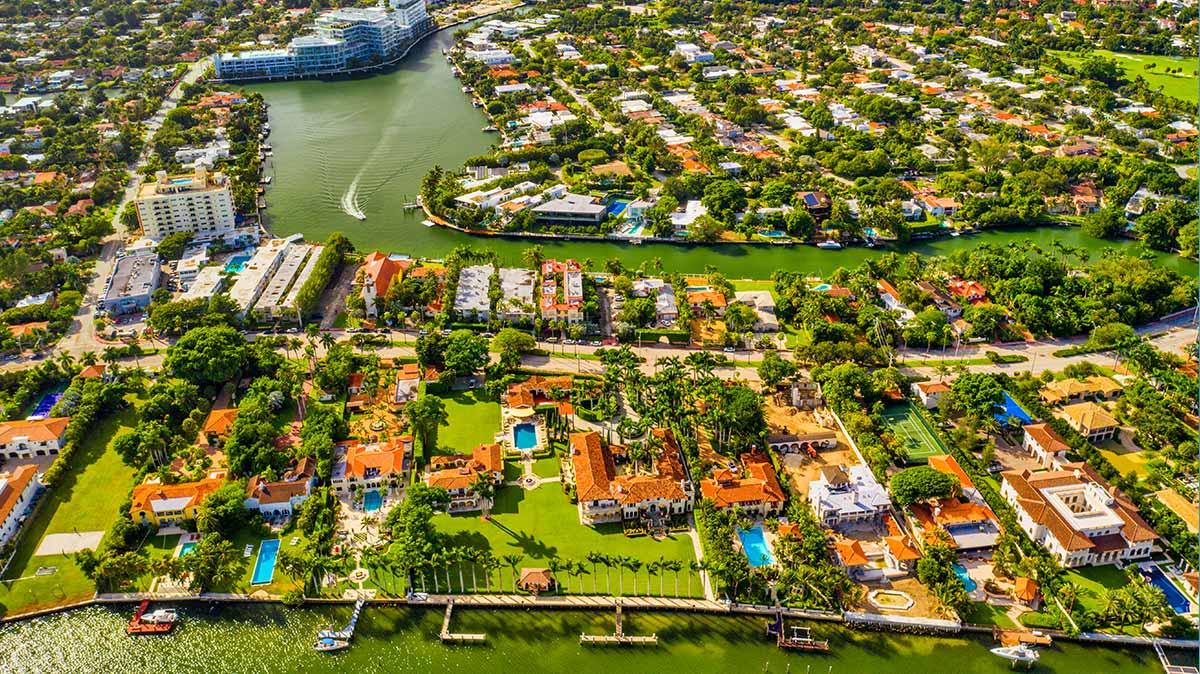 Some of the mansions that surround La Gorce
Lifestyle & Culture in La Gorce
While the La Gorce neighborhood is prized for its exclusivity and privacy, residents can also enjoy the location's proximity to mainland Miami Beach. Through La Gorce's heart runs historic Alton Road with convenient access to Collins Avenue, a South Florida thoroughfare adjacent to the Atlantic Ocean. Fine dining and casual restaurants line Collins Avenue, including five-star seafood and sushi establishments, Italian eateries, Cuban cafes, and everything in between.
La Gorce is a highly walkable neighborhood, with palm tree-lined sidewalks and 250 sunny days each year. Golf carts are not uncommon due to the La Gorce Country Club at the community's center.
Much of La Gorce's social life revolves around events, golf, and tennis at the La Gorce Country Club, a mainstay within the community for almost 100 years. The nearby Soho Beachhouse is another hot social spot for local families and professionals, offering members beach access, a pool, social events, and two bars.
Homeowners in La Gorce include upscale, highly educated business executives, entrepreneurs, and celebrities. La Gorce Island is connected to the neighborhood via La Gorce Road. The island features 24/7 guarded and gated access, providing the ultimate in residential security and peace of mind.
As part of the top-rated Miami-Dade school district, La Gorce residents have excellent education options. There are numerous excellent school choices from Advanced Studies schools that include almost exclusively AP-level coursework.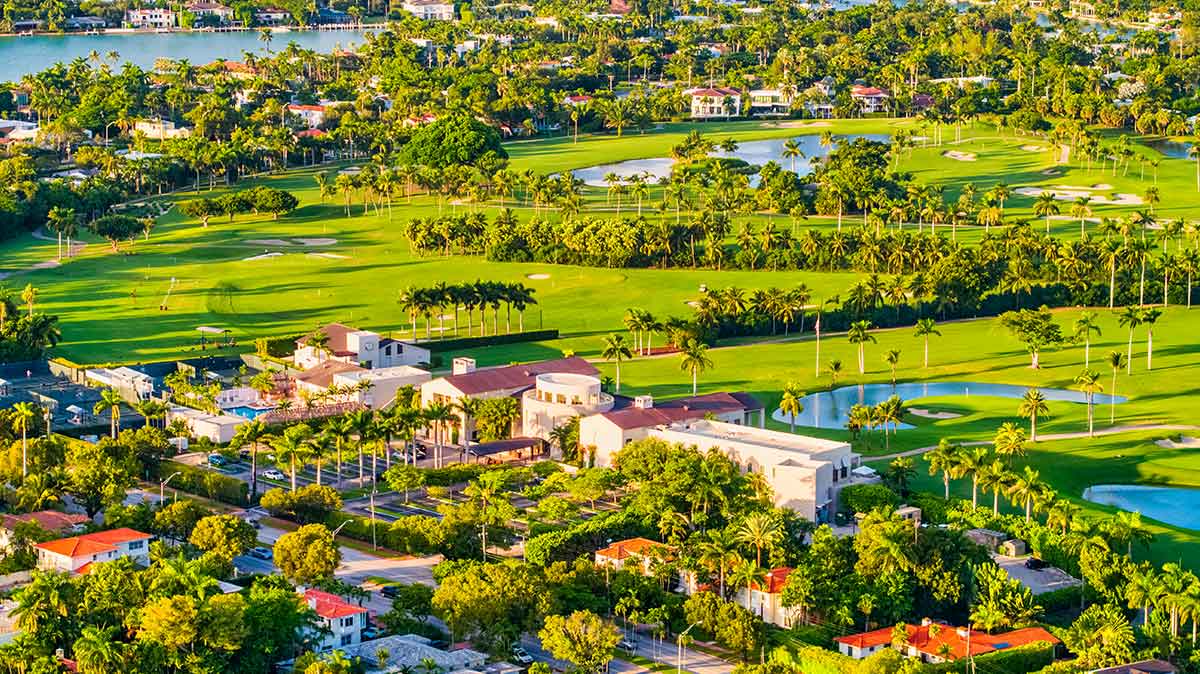 La Gorce Country Club's golf course
La Gorce's Amenities
Much of La Gorce's social life revolves around the community's heart, the historic La Gorce Country Club. As an invitation-only country club, membership is understandably expensive and highly sought after. Members enjoy a vast array of social events, a world-class 18-hole golf course, pool area, tennis facilities, modern fitness center, and full-service restaurant. Many famous names have played the idyllic greens at La Gorce Country Club, from Tiger Woods to Michael Jordan.
La Gorce Park is a small park for residents with beautiful green space that includes a "tot lot" with play structures for children. Watersports and boating are favorite pastimes due to easy access to Biscayne Bay and numerous surrounding beaches. La Gorce is a perfect spot for water enthusiasts, from paddle boarding and kayaking to taking out the yacht.
Bal Harbour Shops is a luxury outdoor shopping and dining mecca for nearby La Gorce residents. The open-air shopping center was opened in 1965 and has continued to meet luxury shoppers' tastes and needs. Only 15 minutes from La Gorce's center, Bal Harbour Shops offers convenient access to over 100 designer stores and small boutiques.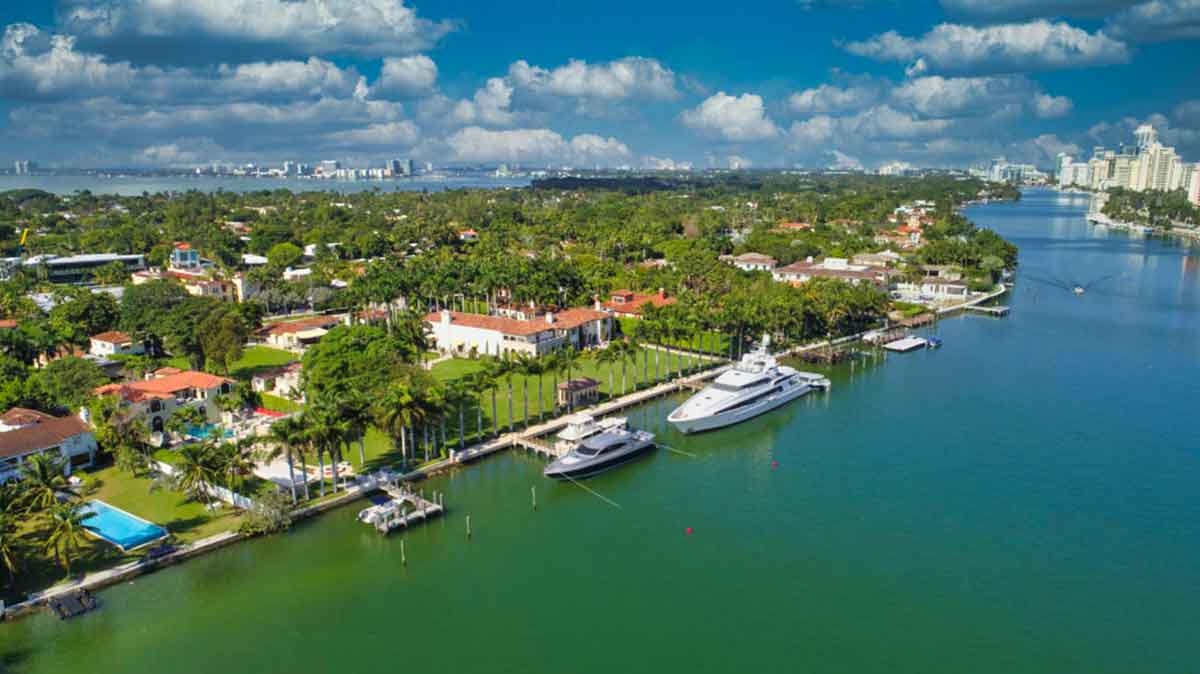 Some of the waterfront homes in La Gorce.
Real Estate in La Gorce
Homes in the La Gorce area feature meticulously remodeled historic estates originally built in the 1930s and 1940s. There are also numerous modern and Meditteranean-style mansions designed by globally renowned architects.
With the area's emphasis on privacy and exclusivity, many homes feature stately entry gates and expansive front yards with impeccable landscaping. Most lots within the area are oversized, with plenty of opportunities to take advantage of South Florida weather and bay views with attractive balconies, decks, and patios.
La Gorce runs along the emerald waters of Biscayne Bay, offering prime waterfront real estate. Many bayfront homes include private docks with deep enough waters for yacht docking and convenient boat access directly into the bay. Homes surrounding the exclusive La Gorce Country Club are coveted residences with stunning fairway views in a serene setting.
Interior and waterfront homes both enjoy the lush tropical landscape throughout the neighborhood with inviting palm tree-lined streets. Homeowners enjoy stunning Miami skyline views set against the beautiful waters of Biscayne Bay. The La Gorce neighborhood and adjoining La Gorce Island are highly sought-after areas, and as such, home prices range from the millions to multi-millions.
Additional Reading
La Gorce is just one of many luxurious island communities in the Miami Beach area. Check out some of the others that we've written about: