Living in Key Biscayne, FL: The Picturesque Barrier Island
Posted by Discover Homes Miami on Sunday, March 21, 2021 at 12:16 PM
By Discover Homes Miami / March 21, 2021
Comment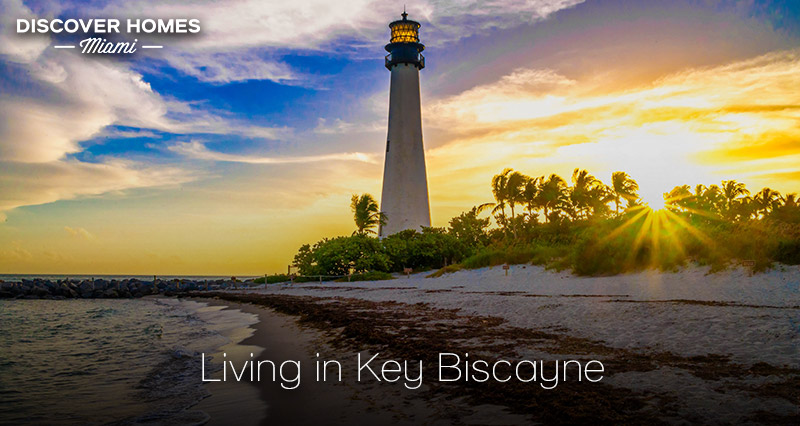 Biscayne Key is an island town in Miami-Dade County with a population of around 12,500. Nestled between two state parks and bordered by the Atlantic Ocean to the east and Biscayne Bay to the west, Biscayne Key is connected to the mainland by the Rickenbacker Causeway. Although the hustle and bustle of Brickell and Downtown Miami are just minutes away, Biscayne Key feels like a tropical island paradise, far removed from the big city.
Formerly a coconut plantation, Biscayne Key is now a residential enclave, attracting a diverse population of residents from all over the world. There's a vibrant, laid-back culture here, as well as a strong sense of community. Locals enjoy a relaxed, family-friendly lifestyle centered around the beach, locally owned businesses, and chic restaurants.
Let's dive into what makes Biscayne Key such a desirable place to live.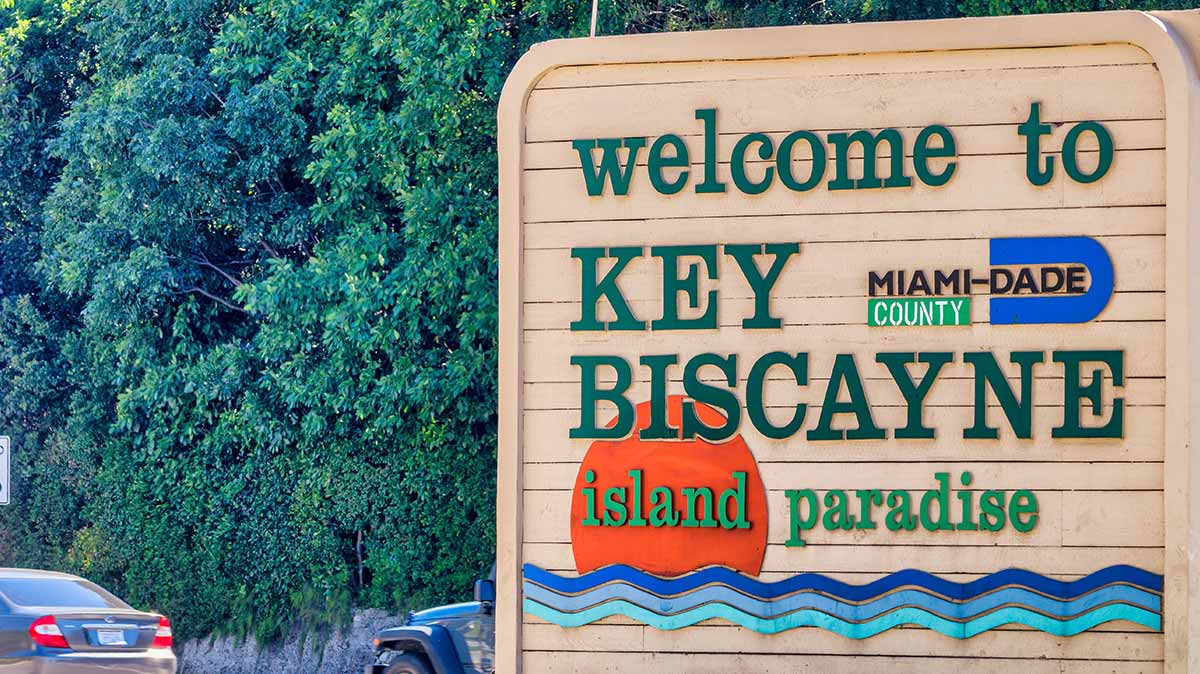 The Key Biscayne welcome sign
Lifestyle and Culture in Biscayne Key
Covering an area of just 1.7 square miles, it's easy to get anywhere in Biscayne Key without a car. The peaceful streets are extremely walkable, and the town is very bike-friendly. One of the most popular ways to get around town is by golf cart, and this is how many locals run errands or get to the beach.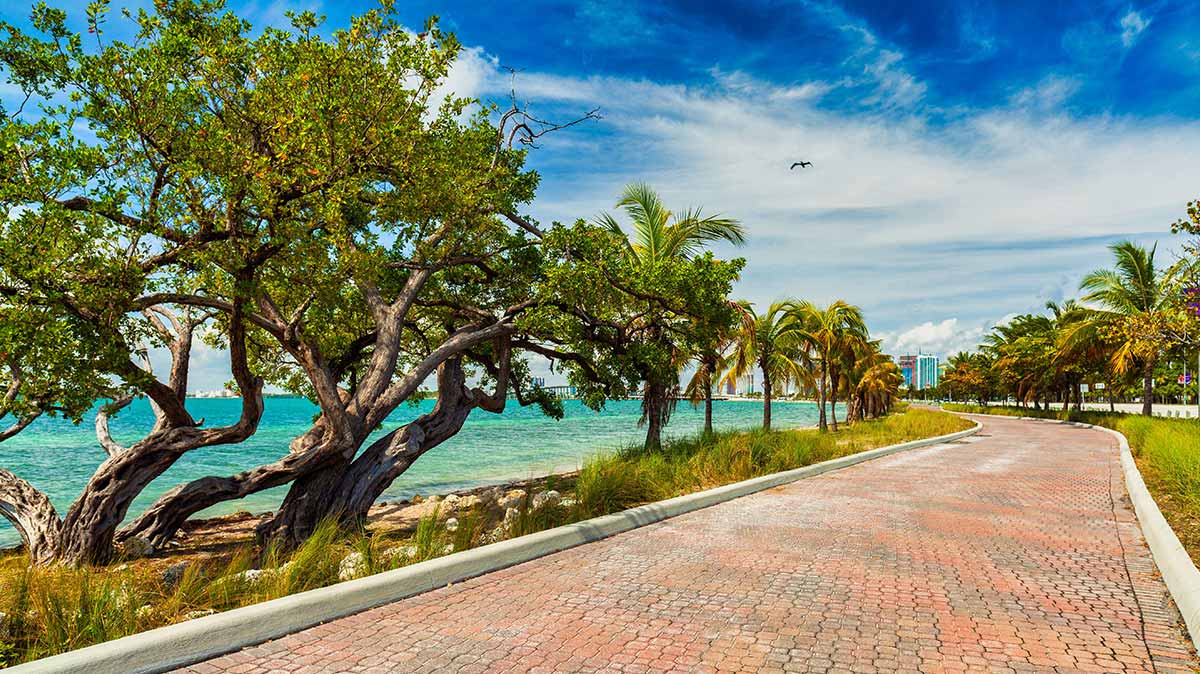 Key Biscayne beach
Traffic can get pretty bad at weekends and during annual events, but the streets are usually quiet. During the week, many residents make the daily commute to Miami, with driving times averaging 15 minutes to Brickell and Downtown. Although the Rickenbacker Causeway acts as a buffer between the island and hectic Miami, the downside is crawling traffic during rush hour.
South Florida's enviable year-round climate is ideal for those who enjoy an active, outdoor lifestyle. Although summers can be hot and muggy, Key Biscayne escapes the extreme humidity that can suffocate Miami, thanks to the Atlantic Ocean breeze. Locals take full advantage of the island's fabulous beaches, and weekends are often spent relaxing on the sugary white sand with friends and family.
Snorkeling, paddle-boarding, and fishing are all popular pastimes here, and the crystal-clear waters are especially calm due to the presence of off-shore sand bars. Many residents are boat owners, and some of the most expensive homes have their own docks. There are several public marinas, too, including Rickenbacker Marina and Crandon Marina.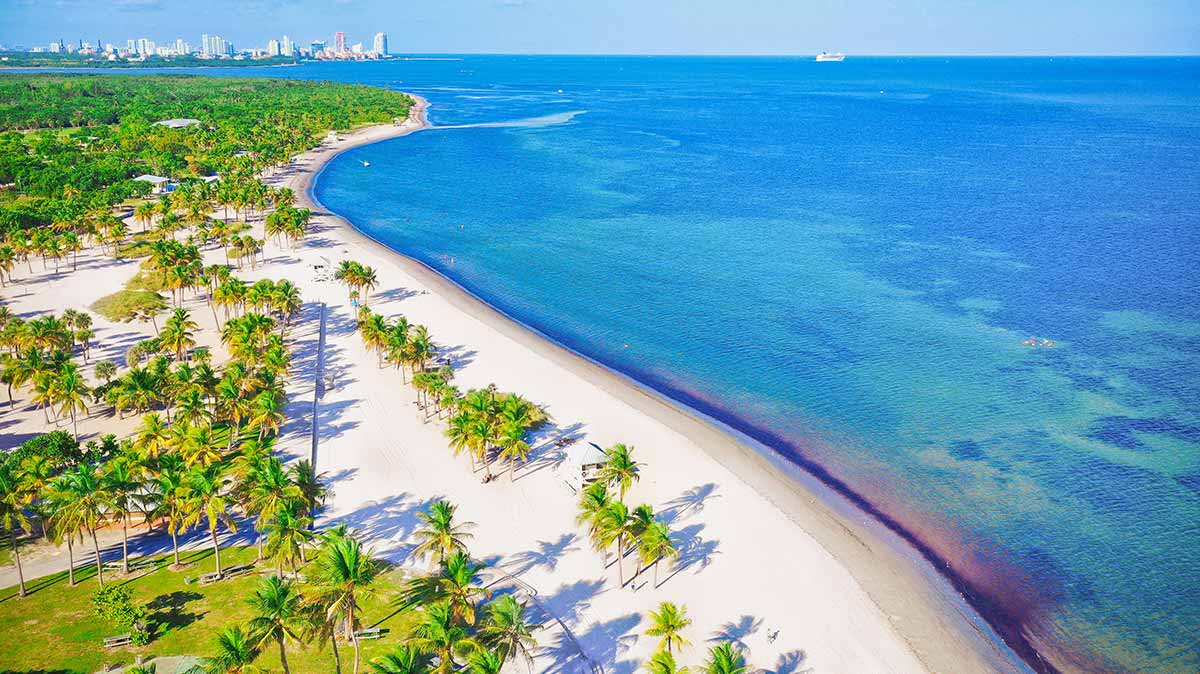 One of the most attractive features of the Key Biscayne lifestyle is the island's self-sufficiency. Residents have access to an array of shopping and dining and need never leave. Crandon Boulevard in Key Biscayne's main drag, and it's here that most of the shopping and dining is concentrated. There are supermarkets, pharmacies, a gourmet market, and an impressive collection of chic boutiques. The Square Shopping Center has the largest collection of shops and amenities and cafes and eateries.
When it comes to dining options, Key Biscayne residents really are spoiled for choice. There's an amazing range of casual and fine-dining restaurants on the island, with a diverse array of cuisine on offer. The Rusty Pelican is perhaps one of the most iconic restaurants in the Miami area and serves up fantastic seafood in an elegant waterfront setting. Other options include a variety of dining experiences at the Ritz-Carlton Key Biscayne and popular local favorites serving up Mediterranean, Peruvian, and Italian cuisine.
Just across the Causeway, a world of art, culture, and entertainment await, and Key Biscayne residents make the trip to Miami or South Beach when they want to explore museums, take in a show, or dance the night away. Within a few minutes' drive from the island, museums include the Perez Art Museum Miami, Frost Museum of Science, and the incredible Vizcaya Museum and Gardens. The Adrienne Arsht Center is the place to enjoy opera or a Broadway show while buzzing, exciting nightlife can be found in South Beach, just a 20-minute drive away.
There's a real sense of community in Key Biscayne, and locals love to come together and celebrate or volunteer. Key Biscayne residents are passionate about protecting their environment, and the Citizen Science Project reflects this commitment to protecting the island's natural resources. Local events are held throughout the year, and there's always a friendly, welcoming vibe. Like the Miami International Boatshow, bigger events draw thousands of visitors, but Key Biscayne residents are always happy to share their island for a few days.
Things to Do in Biscayne Key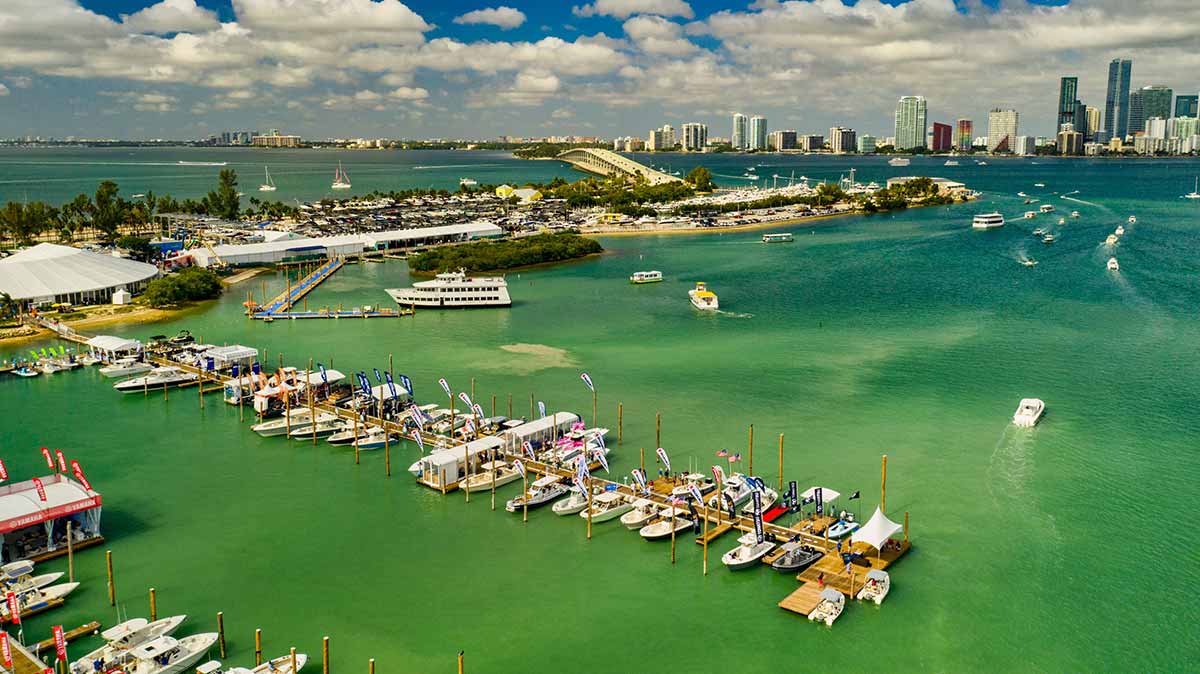 View of the Miami International Boat Show in Key Biscayne
Miami International Boat Show
This 5-day annual boating extravaganza is held at Miami Marine Stadium Park, on the Rickenbacker Causeway. This is one of the largest and most influential boat shows globally and draws over 100,000 attendees. More than a thousand vendors are here to showcase the latest in exciting state-of-the-art boats and incredible mega-yachts.
Although most of the people you'll encounter will just be dreaming of the luxury lifestyle, you'll also be rubbing shoulders with some of the wealthiest folks in the world, here to look for the latest upgrade. Test drives and boating lessons are available, and loads of special programming geared toward sailboat owners. Boats aren't all that's on offer at this huge event, though. There's a staggering array of food trucks, food courts, and bars, as well as exclusive VIP lounges.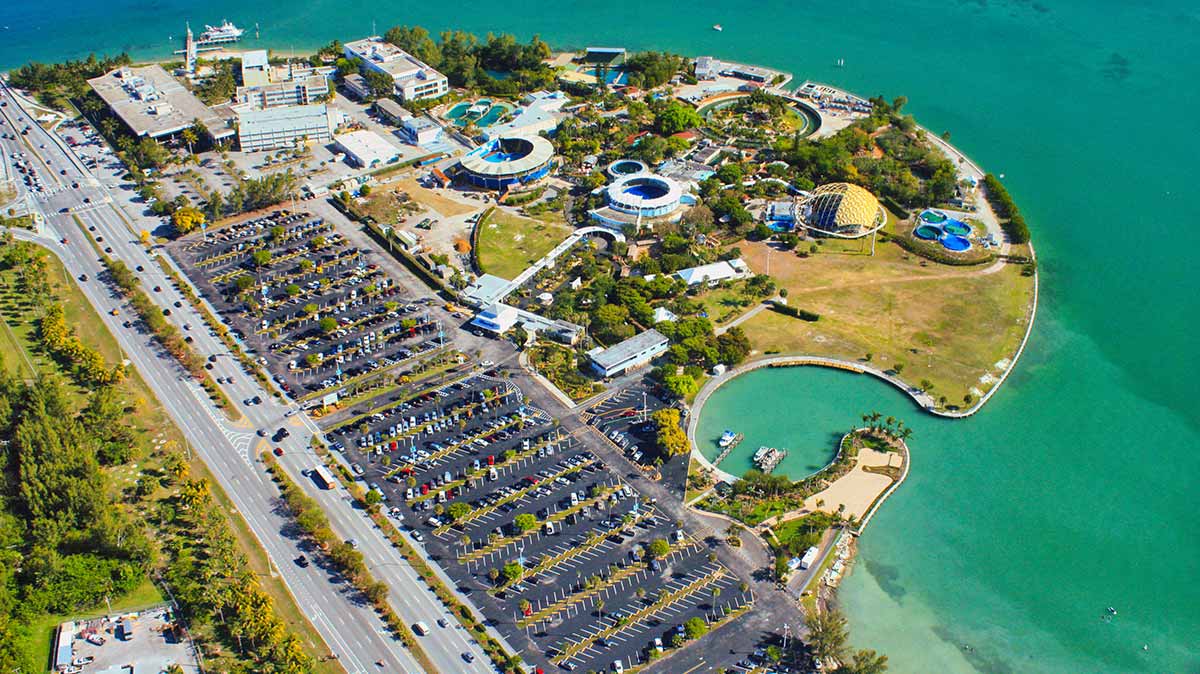 Overhead shot of the Miami Seaquarium in Key Biscayne
Miami Seaquarium
Located on nearby Virginia Key, The Miami Seaquarium is a world-class marine-life entertainment park. This amazing facility offers marine animal shows, daily presentations, and a variety of educational opportunities. There's a world of fun to be had for the whole family, but this place is especially popular with local kids.
The focus here is on education through unique interactive experiences. Visitors have the opportunity to discover sea turtles, meet seals and stingrays, swim with dolphins, and learn about marine animal conservation. The Miami Seaquarium has top-notch family-friendly dining options and is also a popular place for unforgettable birthday parties.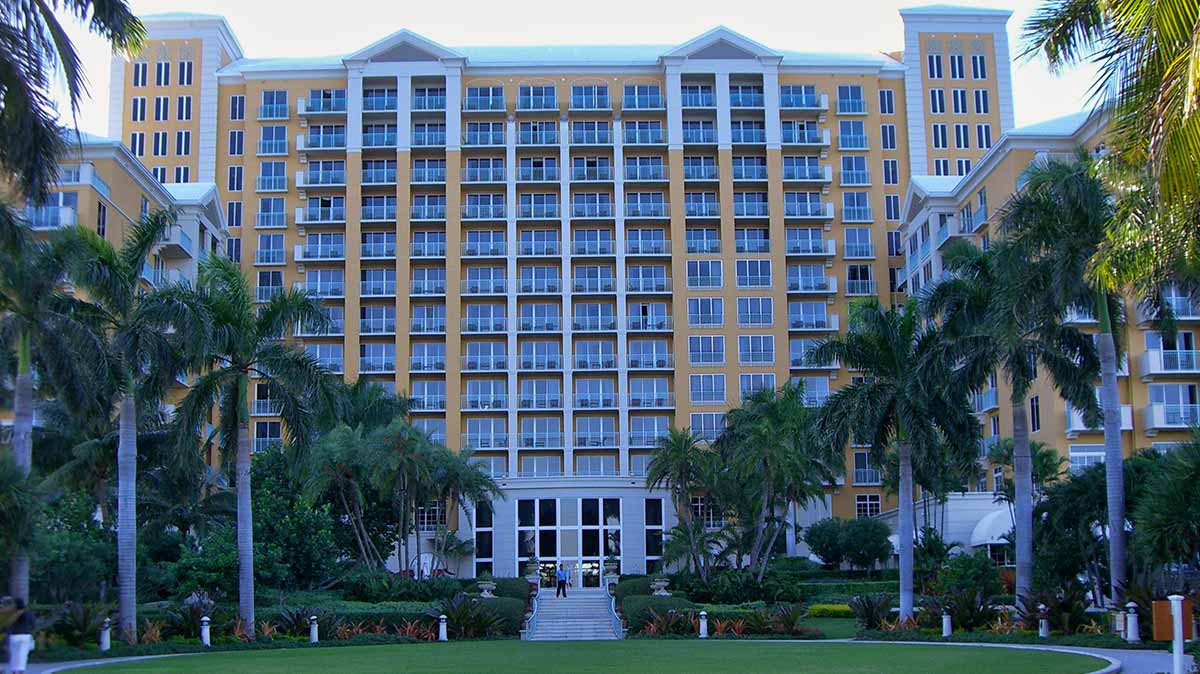 View of Ritz-Carlton Key Biscayne
The Ritz-Carlton Spa
The Ritz-Carlton Biscayne Key is a luxury oceanfront resort that offers an atmosphere of relaxed elegance and tropical chic. When Key Biscayne locals want to be pampered, they come to the hotel spa for a truly relaxing day. This lavish 20,000 sq ft facility features 24 treatment rooms, a full-service salon, wellness center, and a state-of-the-art fitness center.
There's more than enough on the menu to satisfy even the most demanding of guests. Options include balancing rituals and various massages, including reflexology and beach stone, body treatments, facials, and beauty treatments. There's even a list of treatments geared toward men. After a reinvigorating day at the spa, guests have the option of lounging by the pool and then dining in one of the hotel's many restaurants.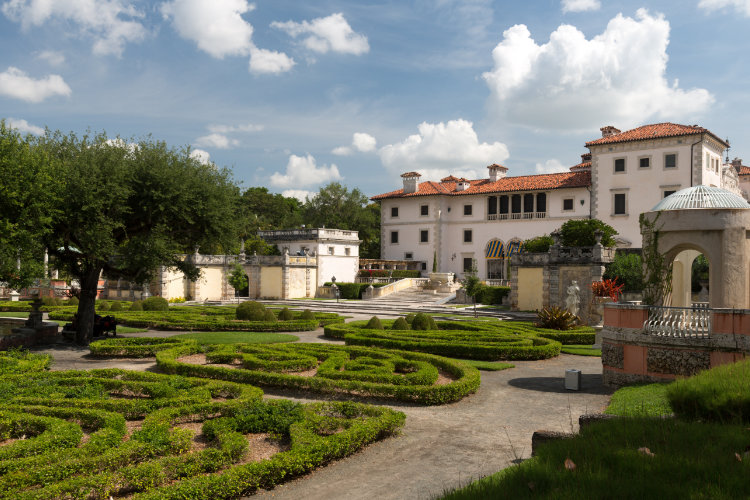 Vizcaya Museum and Gardens
Sitting on the mainland coast, just the other side of the Rickenbacker Causeway from Key Biscayne, the Vizcaya Museum is an epic sight. This incredible mansion was built in 1914 by industrialist James Deering and served as his winter home for many years. Although the architectural style is Mediterranean Revival, the house was outfitted with features that were cutting edge at the time, including a telephone switching system and central vacuum system. The stunning interior features gilded panels, carved mantels, and fresco ceilings imported from Europe.
Deering spared no expense, and the dozens of rooms are overflowing with treasures dating as far back as the 15th century. The surrounding gardens have to be experienced to be believed. The formal gardens resemble those of Versailles but embrace the tropical features of South Florida. There's an outstanding fountain and a beautiful casino pavilion, and special events are held here regularly.
Key Biscayne Parks and Recreation

Crandon Golf Course
Golf is a really popular pastime in these parts, and Crandon Golf Course is one of the best places to play a round. Crandon is the former home of the annual Royal Caribbean Classic and was originally designed by Robert Von Hagge and Bruce Devlin. The 18-hole, par-72 course is picturesque and challenging and is recognized as one of Golf Digest's top 75 upscale courses.
Playing a round of golf here provides a unique experience. The course is set among saltwater lakes and a saltwater lagoon, and stunning views of Biscayne Bay and the Miami skyline can be found at every turn. Amateurs and pros worldwide come here to enjoy the challenging course and the Florida sunshine. Visitors can sign up for lessons, and there are various services, including a pro shop, lighted driving range, golf cart rentals, and putting greens.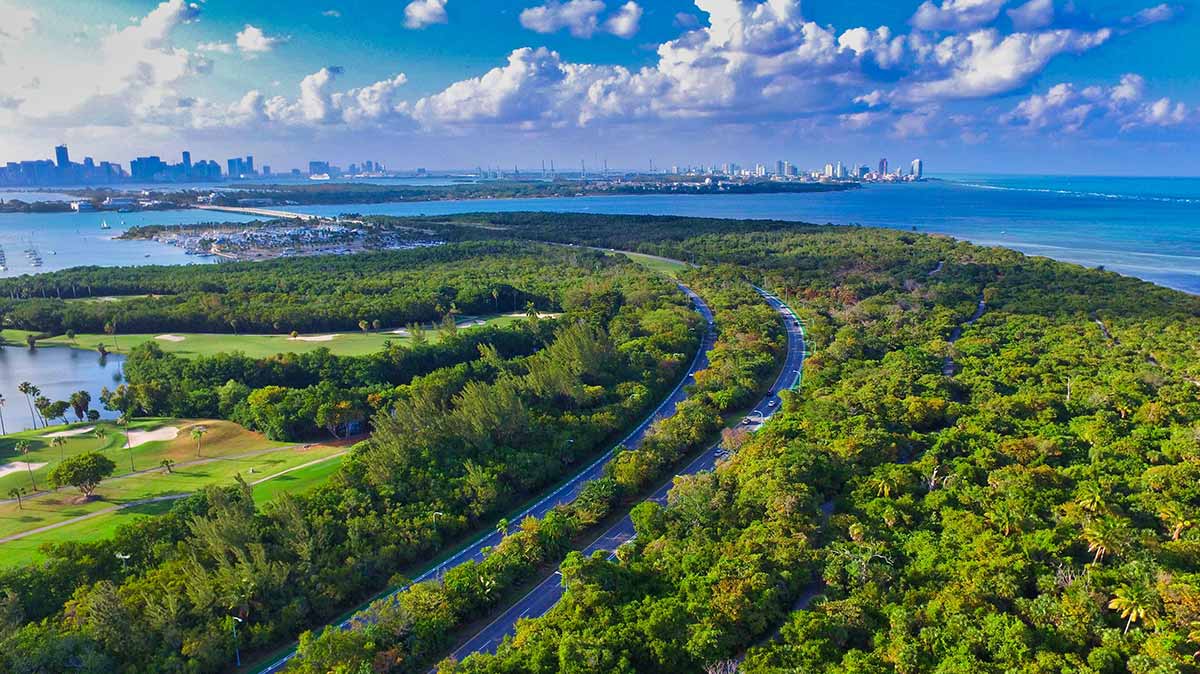 A gorgeous overhead shot of Crandon Park, with views of Brickell and Downtown Miami in the backdrop
Crandon Park and Beach
Crandon Park is one of the most popular in the area, and for good reason. Visitors come here for the gorgeous beach, rich coastal environment, protected wetlands, and a unique fossilized mangrove reef. The gorgeous natural environment features protected dunes, mangroves, and coastal hammocks, and a snorkeler's paradise awaits below the water's surface.
The park is a mecca for local skaters, cyclists, and tennis fanatics, and those who live for watersports can choose from a variety of rental options, including kayaks and kiteboards. There's also a popular marina here and a fun-filled amusement center, with a vintage carousel and old-fashioned roller skating rink. At the north end of the park, the Marjory Stoneman Douglas Biscayne Nature Center is well worth visiting, offering nature exhibits, educational facilities, and a gift shop in a solar-powered building.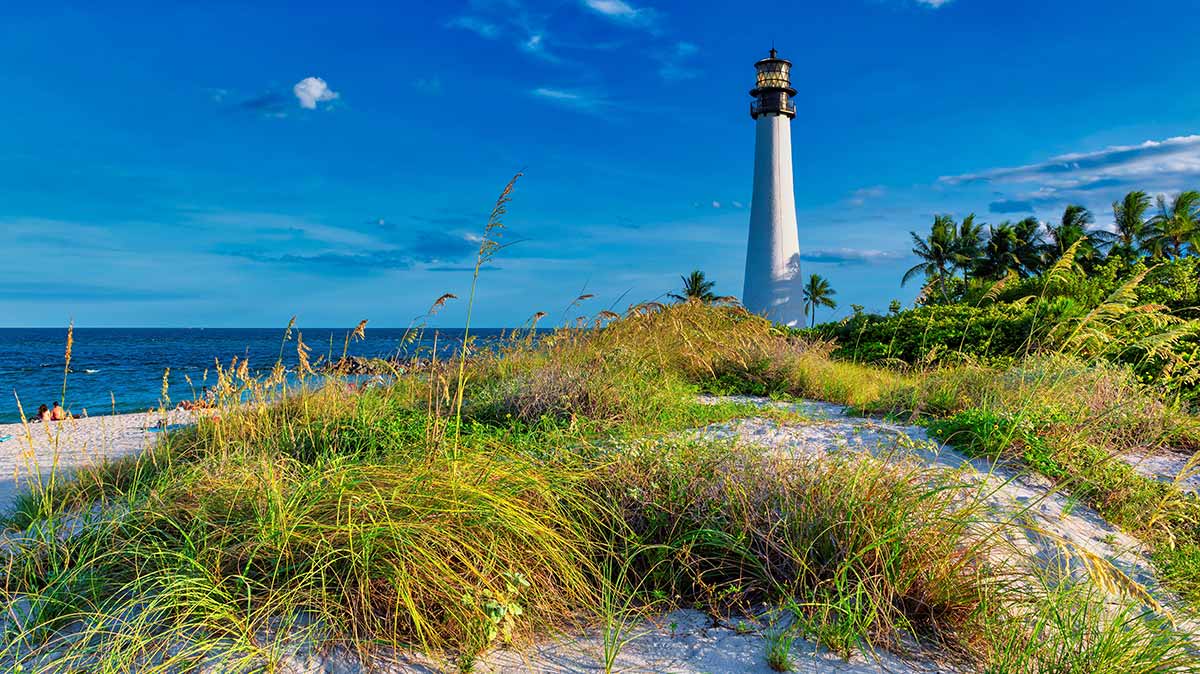 Bill Bragg Cape Florida State Park
This wonderful state park occupies the southern portion of Biscayne Key and offers visitors a natural paradise in which to lose themselves for a few hours. The park is dominated by the Cape Florida Lighthouse. Built in 1825, this historic lighthouse offers unique views of the surrounding area to those who complete the 109-step climb to the top. Tree-lined trails lead to the unspoiled white sand beach, which is ranked among the top ten beaches in the entire country. There's over a mile of swimming beach here, and the calm water is about as inviting as it gets.
Elsewhere, the park features pavilion rentals, fishing platforms, and a popular paved bike path. Unpaved service roads lead hikers through the tropical landscape, where there are always opportunities to spot interesting birds and flowers. For those lucky enough to arrive by boat, there's boat camping available at No Name Harbor, and kayakers can find plenty of places to launch, too.
Key Biscayne Village Green Park
Located along Crandon Boulevard in the center of town, Village Green Park is the heart of community life in Key Biscayne. This 9.5-acre park features multi-use open fields, a jogging course, and kids' play area with an awesome interactive splash fountain. There's also a shaded pavilion, tree-shaded benches, and a huge fountain, making this the ideal place for locals to while away a weekend afternoon.
One end of the park is dominated by a wonderful community center that offers a gym and a popular swimming pool. Another cool feature of Village Green is the fenced-in dog park, which provides local pups the opportunity to stretch their legs and socialize without a pesky leash to hold them back.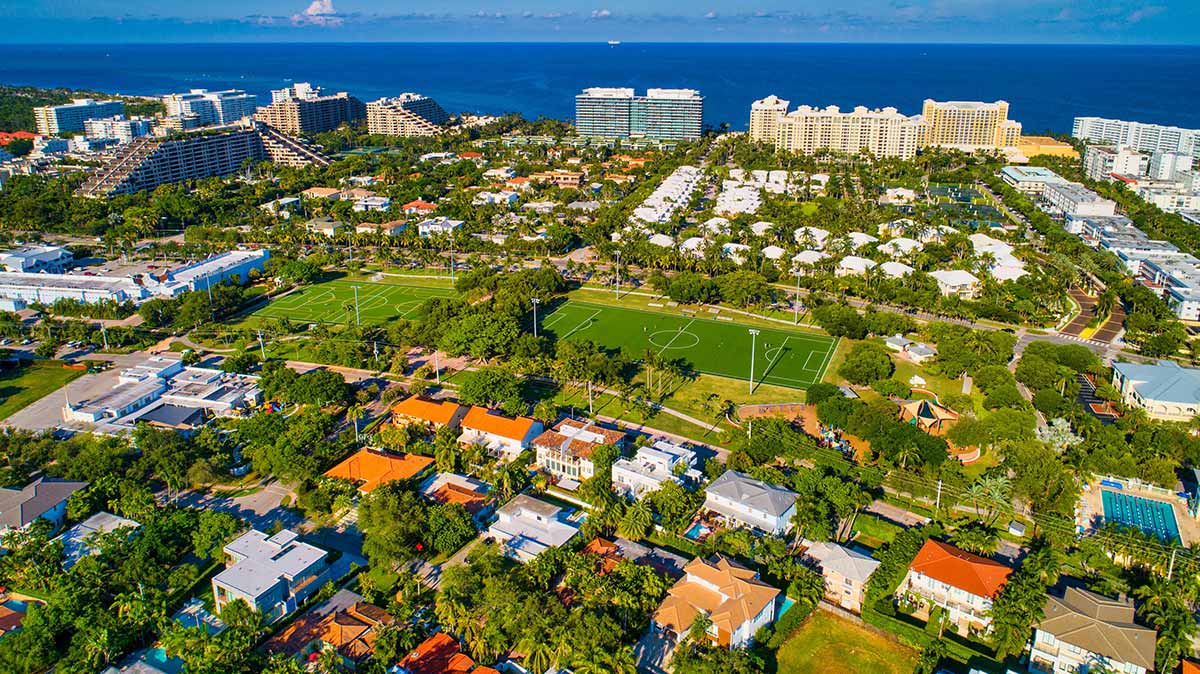 Some of the single-family residences and waterfront condos in Key Biscayne
Key Biscayne Real Estate
Real estate in Key Biscayne is some of the most sought-after in the Miami area. The northern end of town is dominated by high-rise condos offering resort-style amenities and luxury residences, while the more suburban-feeling south is where you'll find large single-family homes. The most desirable and expensive properties are waterfront, offering residents boat docking and access to the open ocean.
Let's take a look at some of Key Biscayne's most sought-after condo buildings.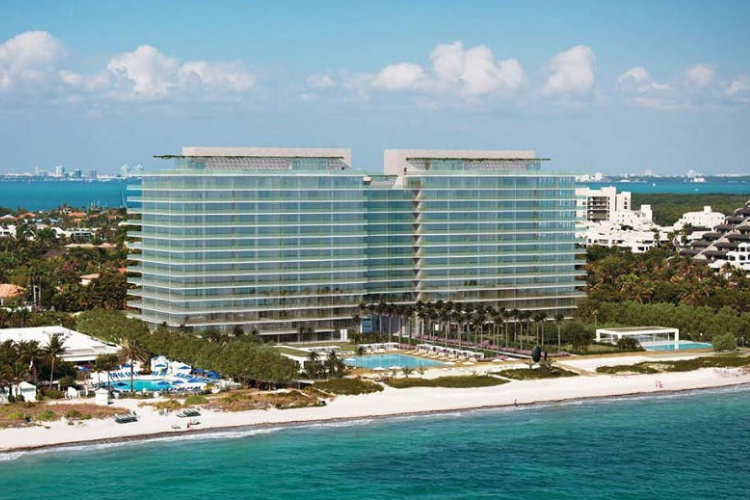 Oceana Key Biscayne
Designed by Acquetonica, Oceana Key Biscayne was completed in 2014. The 15-story building houses 142 condo residences and 12 luxury villas and sits on over 10 acres of pristine oceanfront property. Residences range in size from 2 to 5 bedrooms, and all feature state-of-the-art kitchens, oversized balconies, and a staff room.
The views from Oceana residences are simply bewitching, and high-ceilings maintain a light, airy atmosphere inside. Building amenities include gated entry, a 500 ft private beach, gorgeous tropical landscaping, a relaxing pool, and a lap pool. Residents also enjoy beach service, a poolside restaurant, a fitness center, spa, tennis courts, and a children's room.
Grand Bay Residences
Built in 1996, Grand Bay Residences is a 13-story condo building that houses 138 2-bedroom residences and luxury penthouses with up to 5 bedrooms. Residences feature high ceilings, huge terraces, and private entry foyers. Grand Bay Residences is, by far, one of the most luxurious and sought-after condo buildings in Key Biscayne.
Amenities include an oversized heated swimming pool, jacuzzi, tennis courts, and a 20,000 sq ft spa. There's also a gym, valet, and 24-hour security. Grand Bay Residences sits on a whopping 12 acres of lush, immaculately landscaped tropical property and provides private access to the pristine white sand Key Biscayne beach.
Ocean Club Tower One and Two
Ocean Club is a 55-acre gated community in Key Biscayne and offers residents the ultimate in privacy, security, and luxury. Resort-style amenities include a clubhouse, beachside bar and grill, gourmet restaurant, and a meeting room. There's also a spa, state-of-the-art fitness center, tennis courts, and 6 miles of beautiful shoreline with beach access.
Club Tower One is a 20-story tower completed in 1998. There are 93 condos, ranging from 2- to 4-bedrooms. Club Tower Two is an 18-story tower that houses over a hundred residences with high-ceilings, high-end kitchen appliances, and incredible views of the Atlantic Ocean.
Here are some more reasons why people decide to move to Key Biscayne:
1. Island Paradise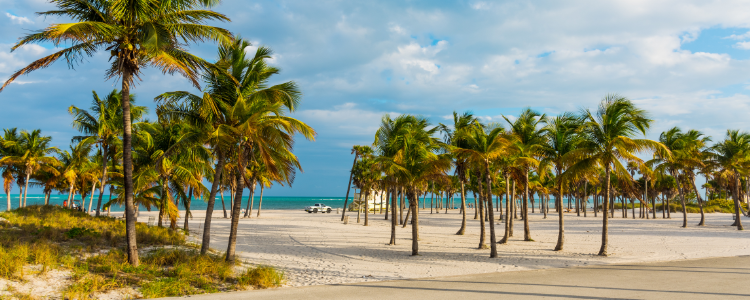 Key Biscayne beach
What more could you ask for? Key Biscayne is considered an island paradise by those who live there, and those who are planning on moving there, because it is. Surrounded by water and with long stretches of sandy beaches, not to mention parks on both ends of the island, this enclave is indeed worthy of the word "paradise".
If you are looking for a home where the beach is just a short walk away, Key Biscayne is probably one of the best choices you have in Miami.
2. Low Crime
Another reason why lots of people choose to move to Key Biscayne and why residents here tend to stay for good once they move, is the low crime rate. When looking at statistics regarding the crime rate in the area, you will see just how low these are when compared to the national average. For example, when it comes to crimes like rape, Key Biscayne has none while the national average is 41.
This low crime rate is what makes it a good draw for many, making people consider moving here even when prices for property in the area are substantially higher than lots of other communities in Miami.
3. High Quality of Life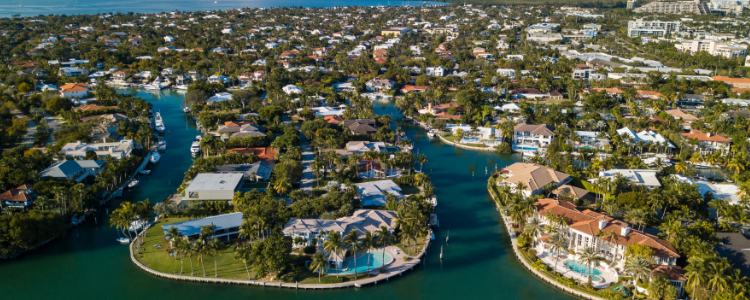 When you talk about the quality of life in this island community, you will easily see that it is a few notches above the quality of life in other communities nearby. Commute to work from here takes less than half an hour, unemployment rate is in the single digits, and even the number of jobs in this area is expected to see an upward trend in the next few years. This is what makes it a great place to move to, particularly if you are looking to relocate and find a good job at the same time.
If you are in the market for both a home and a new career, this community should be on top of your list of places to consider.
4. Lots of Amenities
While being lauded as an island paradise, Key Biscayne is by no means an island without the many amenities city folks are used to. This island has everything you would ever need to live a comfortable and modern life. There are malls, movie theaters, bars, restaurants, and other creature comforts plus options for entertainment that you can easily find here. This gives you the best of both worlds since you are living the island life while at the same time having the many conveniences of city life.
This makes it a unique island to live in since you can get the many pleasures one can expect from both kinds of living, urban and rural.
5. Plenty of Things to Do
While most people associate island life with laid-back, and sometimes, lazy living, being on this island is anything but lazy. Sure you can take a laid-back approach to life here but if you are an active person by nature, you can find lots to do on the island to keep you busy and on the go. There is a golf course, tennis courts, parks that you can stroll and jog in, gardens to explore, and lots of water where you can indulge in water sports.
The community also has some events that active individuals will love, such as fitness classes, athletics, and many more.
6. Family Friendly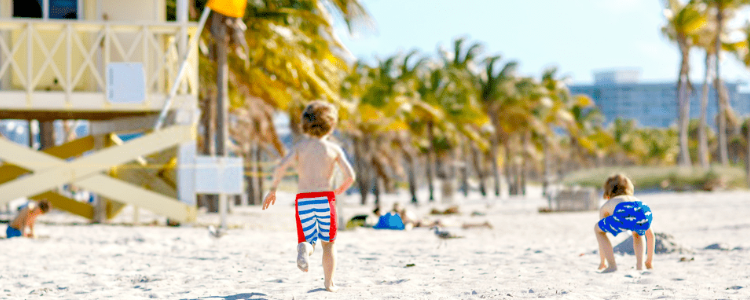 When you say a community is family friendly, it basically means that it is a neighborhood that is ideal for raising a child in. This means that Key Biscayne is a safe place for children, has a few good schools for them to go to, facilities that are great for kids, and a generally welcoming feel that is great for families. It also has lots of amenities that families, as a whole, can enjoy.
Visitors who come here to visit their friends often see just how ideal the atmosphere is for families, oftentimes making them consider moving here as well.
7. Community Centric
People who live on Key Biscayne often marvel at the sense of community found here and they also often end up embracing such a mindset. While everyone here loves their privacy, when it comes to engaging in community activities that aim to help others or to foster camaraderie within the neighborhood, people are often ready to participate. Volunteering is one of the things people here love doing, along with family activities that bring the entire community together.
People who grew up here and leave the island as adults tend to come back because they miss the strong sense of community they get here.
8. Clean and Well-Maintained
When it comes to cleanliness, Key Biscayne takes the cake. The parks, the roads, the beaches, and everywhere else are kept clean. The beaches are kept clean because of a volunteer cleanup program that the community has. There is even a regular event where people are encouraged to help keep the beaches and everywhere else clean called We Are Nature Clean-up and free cleaning equipment as well as snacks is provided for.
There are even Restoration Days, Exotic Plant Removal activities, Remove and Replace events, and Cleaning Detergent initiatives that aim to help keep the island's ecosystem balanced and free from deterioration brought about by substances that are harmful to nature.
9. Peaceful and Quiet


One of the best reasons why people move here and stay here for good is the peace and relative quiet that one gets from living in an island community. There are no large buildings or heavy traffic jams with honking horns that you will need to deal with on a regular basis. There are also no noisy and unruly neighbors that will disturb your peaceful existence here since these are generally frowned upon and addressed immediately when complaints are made.
In short, living here is nothing but idyllic and almost-perfect. You get not only the pleasure of living in a beach/island community, but also one that has all you can ever need for a comfortable life plus safety for you and your family.
Additional Reading