Indian Creek, Miami Beach, FL: The Billionaire Bunker
Posted by Discover Homes Miami on Wednesday, February 10, 2021 at 7:18 PM
By Discover Homes Miami / February 10, 2021
Comment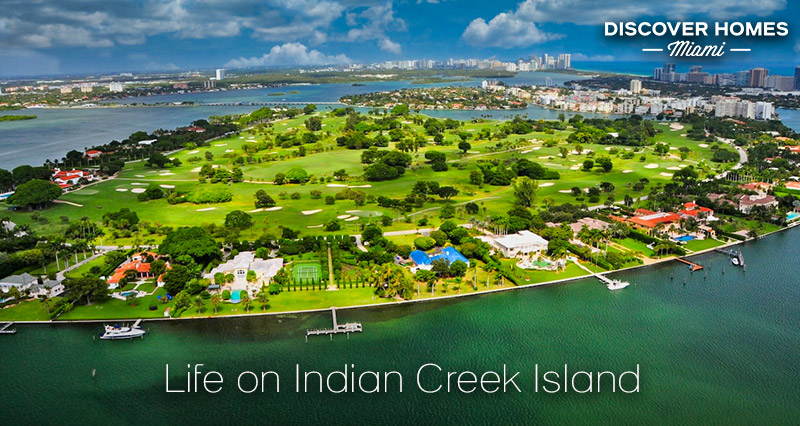 Tiny, unassuming Indian Creek Island is located in Florida's Biscayne Bay's warm waters and is about a 20-minute drive from Miami Beach. The only way to access this 300-acre island is via a single bridge that connects it with the mainland at Riverside. Not just anyone can get to Indian Creek Village, though. If they aren't on the visitor list, potential sightseers will be turned away before they've even had a chance to cross the bridge.
Indian Creek Village has long been known as "Billionaire Bunker" due to its parade of ultra-wealthy and high-profile residents, including Latin singer Julio Iglesias, billionaire investor Carl Icahn, and supermodel Adriana Lima.
With only around 40 residents and 30 homes, Indian Creek Village is about as exclusive as it gets and draws some of the wealthiest people in the world, attracted by its reputation for luxury, privacy, and security.
Indian Creek Island Road circles the 18-hole golf course that takes up the entirety of the island's interior and has been named the most expensive street in America. Opulent mansions line the island's perimeter, all on large lots that feature heavily manicured landscaping and beautiful trees, and all with stunning views of Biscayne Bay.
Although Indian Creek Village homes are far from modest, the island's chic, understated elegance is a far cry from the flashiness of other super-wealthy neighborhoods like Star Island.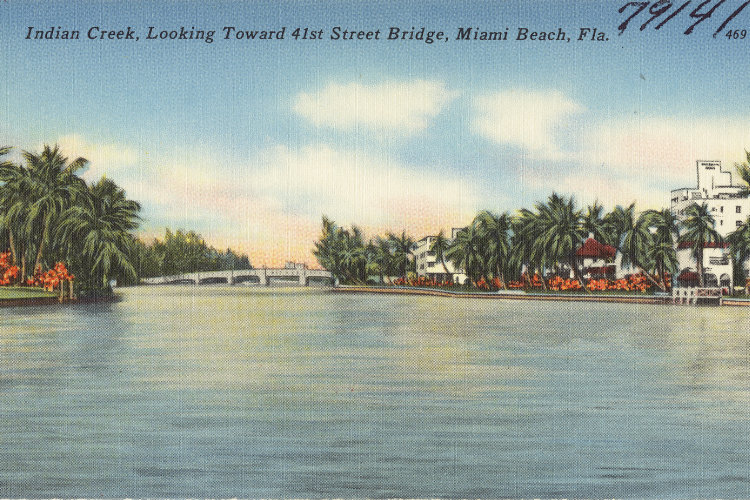 Postcard of Indian Creek in the 1930s. Credit: Boston Public Library
History of Indian Creek Island
Indian Creek Island was created in the 1900s as a result of dredging Biscayne Bay. The village was established in 1939, although the golf course had already thrived for many years. Originally, the island was used as a place for Miami's wealthy to build vacation homes, and though none of the original houses remain, there are a few properties that date back to the 50s and 60s.
Since the early 2000s, more people have been making permanent moves to the island, and sprawling mansions have been built to accommodate the lifestyles of the super-rich residents who want to live here year-round. With more permanent residents, the island's demographics have shifted, and there are now many families with children. This shift has led the Indian Creek Village Council to construct sidewalks and add streetlights so that kids can play outside.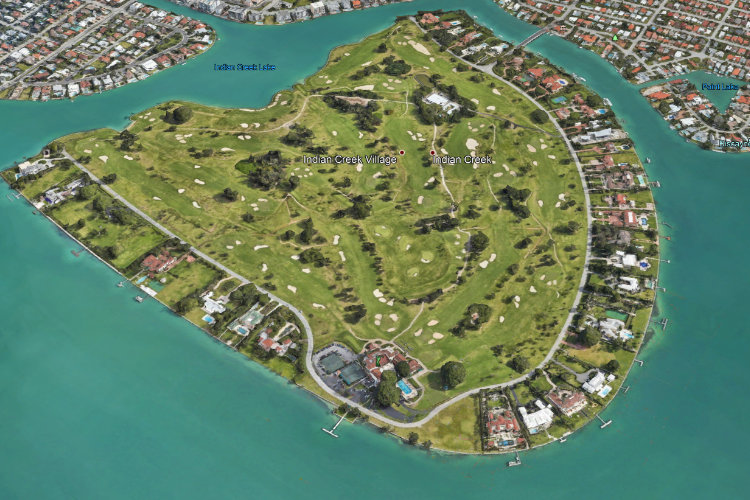 Amenities on Indian Creek Island
Golf Course
Indian Creek's golf course was designed by William Flynn, who also designed the famous Shinnecock Hills course on Long Island. Completed in 1928, Indian Creek's course has become one of the most desirable places in the country to play a round due to its exclusivity, as you have to be invited by a member to play.

Indian Creek's clubhouse is said to have the best locker room in the entire country, and the course is widely regarded to be even more well-groomed than Augusta. Although the course measures a modest 6,600 yards, its eclectic mix of long and short holes, coupled with its simplicity and subtlety of design has made it famous among the golfing elite, none of whom would ever turn down an opportunity to play here.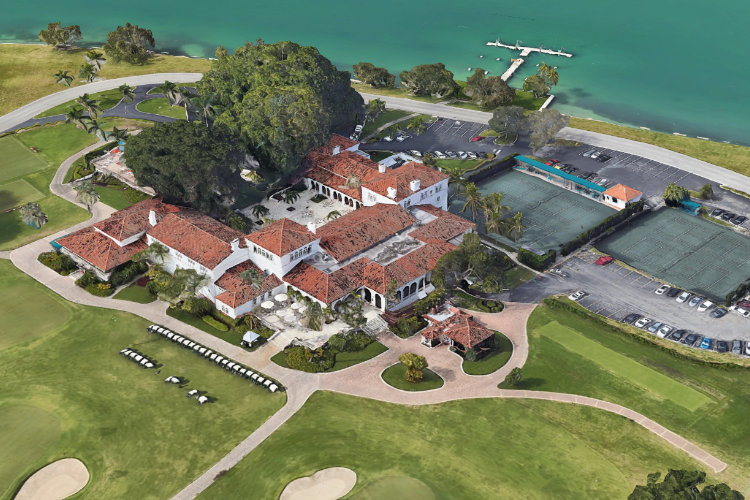 Indian Creek Country Club
One of the most exclusive clubs of its kind globally, the Indian Creek Country Club is housed in a sprawling, Mediterranean-style building. The club was built in 1929 and designed by Maurice Fatio, who was the architect responsible for many of the most famous estates in Palm Beach.
Indian Creek Country Club features a swimming pool, tennis courts, fitness center, massage, steam room, bridge room, and marina. There's also a luxury restaurant that plays host to many of the island's exclusive events.
Initiation fees for membership to this club are upwards of $150,000, and that's not to mention the astronomical yearly dues. Although the club has 300 members, becoming a member is far from guaranteed, even for those who have bought property on the island.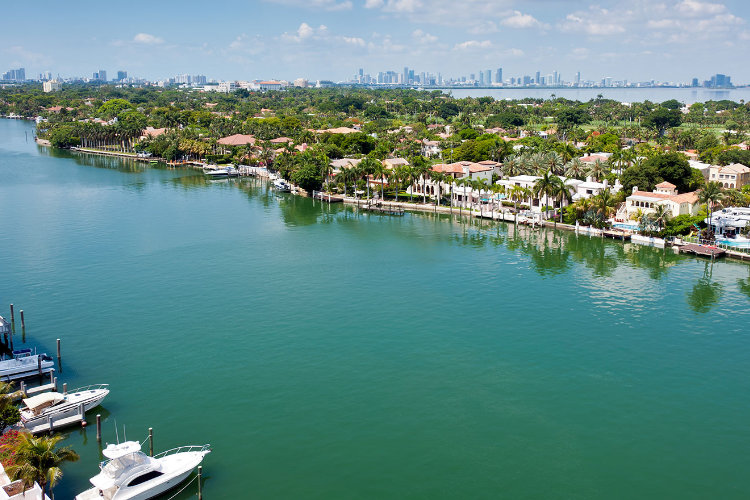 Indian Creek Canal
Security on Indian Creek Island
The island's security is one of the main attractions for its wealthy residents. The 13-person Indian Creek Village Public Safety Department is, essentially, a private police force. The police guards are housed at the entrance to the island, where a gate is in place. Any visitors are stopped here and must be on the guestlist to proceed.
The police force includes a 24/7 armed marine patrol that surveys the island's waters and regular patrols by car.
According to the Indian Creek Village website, "The Village sees its police officers as a community resource dedicated to helping them solve a wide variety of problems, much non-law enforcement related." It's been rumored that the police force is sometimes referred to as "butlers with badges."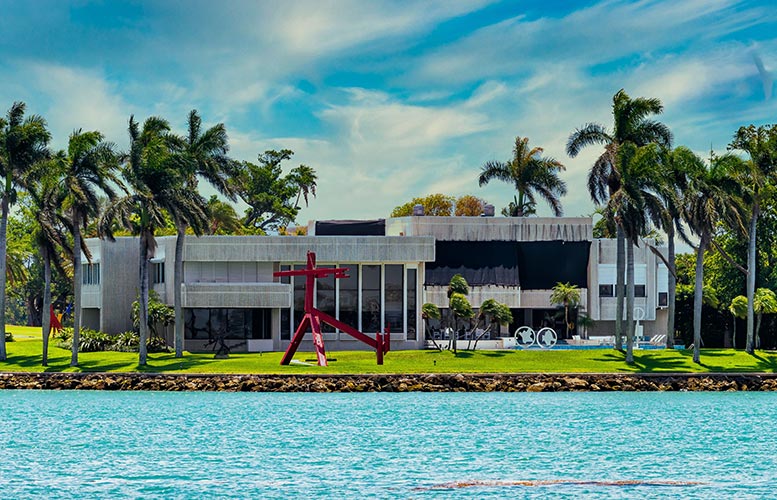 1 Indian Creek Island Rd, Indian Creek, FL 33154
Real Estate on Indian Creek Island
Indian Creek Island homes rarely come onto the market, and when they do, you can almost be confident that they will raise headline-worthy prices.
Occasionally, properties are sold without ever being listed on the market. For example, in February of 2020, an island property was sold off-market for $50 million, making it the most expensive single-family home ever to have been sold in Miami.
In late 2020, a property at 36 Indian Creek Island Road came up for sale, with a $25 million price tag. Featuring Indian Creek Village architecture, this 9,709 sq ft neoclassical giant was built in 1977 and sat among 1.25 acres of lush, manicured gardens.
The property features a resort-style pool, covered cabana with grill and kitchen, and a private boat dock. Inside, there are 6 bedrooms, a gym, and a wood-paneled office. 26-foot domed ceilings and open entertaining areas give a palatial feel to the residence.
Notable Residents
AKV Land Holding
Widely believed to be the LLC of a secretive Russian billionaire, this company purchased the property at 3 Indian Creek Island Road in 2012 for $47 million. The 29,489 sq ft house features 13 bedrooms and 14 bathrooms.
Ivanka Trump and Jared Kushner
Donald Trump's daughter and her husband purchased a vacant plot on Indian Creek Island from Julio Iglesias in 2020, reportedly for over $30 million.
Adriana Lima
The Victoria's Secret supermodel owns a relatively modest property on the island, featuring a 4 bedroom, 4 bathroom, 8,522 sq ft house, built in 1958.
Julio Iglesias
The globally famous singer, who has sold hundreds of millions of records worldwide, owns multiple properties on the island, including a 6,613 sq ft mansion, built in 1976. The gorgeous residence at 7 Indian Creek Island Road features 5 bedrooms, 5 bathrooms, and a huge swimming pool.
Robert Deiner
The billionaire co-founder of hotels.com owns a 2003 property at 9 Indian Creek Island Road. The 14,260 sq ft house features 8 bedrooms, 8 full bathrooms, and 4 half bathrooms.
Edward Lampert
The Sears CEO and billionaire investor owns a gorgeous, expansive property that was built in 1994. There are 4 structures, with a combined 17,785 sq ft of luxurious living space, featuring 7 bedrooms and a whopping 13 full bathrooms.
Carl Icahn
This billionaire investor owns property at 24 Indian Creek Island Road. The house, built in 1994, features 7 bedrooms, 8 full bathrooms, and 4 half bathrooms.
Geert Jan Baaker
One of the more famous properties on the island is owned by the Dutch head of Liquisort and is located at 40 Indian Creek Island Road. Jay-Z and Beyonce previously owned the 9,212 sq ft Mediterranean-style house and features 7 bedrooms, 8 full bathrooms, and a private boat dock.
Nearby Attractions
Other than privacy, security, and ultra-exclusive real estate, one of Indian Creek
Island's biggest draw is its location. The adjacent neighborhood of Surfside, Miami, has become a center for exclusive dining and shopping and can be reached easily by Indian Creek Island's residents.
High-end restaurants like The Surf Club Restaurant by Chef Thomas Keller and 26 Sushi and Tapas define the local dining scene. Other cutting-edge restaurants featuring up-and-coming young chefs are thriving.
Harding Avenue in Surfside is lined with exclusive boutiques and nearby Bal
Harbour Shops is a paradise of upscale designer shopping and is home to several restaurants.
Surfside is also home to several upscale hotels. Grand Beach Hotel Surfside encompasses 2 modern towers across the street from each other, and both feature glamorous rooftop swimming pools and elegant cocktail bars.
Indian Creek Island's proximity to several exclusive private schools is another selling point as more families with school-age children move to the island. Schools like Posnack Jewish Day School, The Ransom Everglades School, and The Cushman School are all options for the children of Indian Creek Island.
Additional Reading
Indian Creek is one of many exclusive islands in the Miami Beach area: