Living in Hollywood, FL: 2021 Community Guide
Posted by Discover Homes Miami on Monday, January 25, 2021 at 2:11 PM
By Discover Homes Miami / January 25, 2021
Comment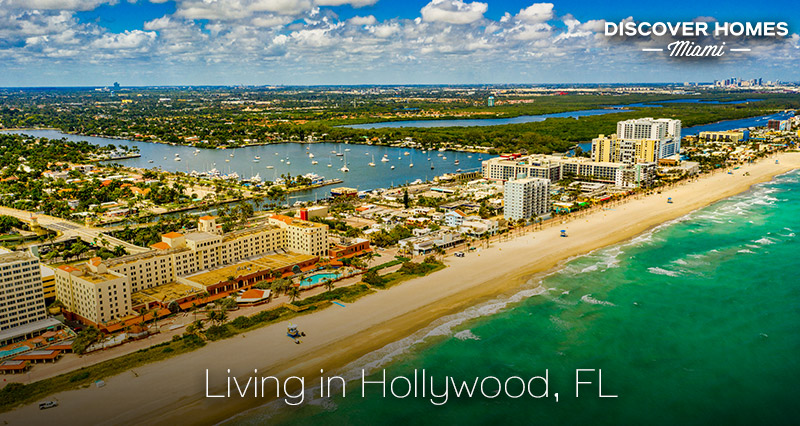 The City of Hollywood is a suburban beachfront community located in southeastern Broward County, midway between Miami and Fort Lauderdale.
Hollywood was founded in 1925 by Joseph Young and experienced major growth spurts in the 1950s and 1960s. Today, this "Diamond of the Gold Coast" is the 3rd largest municipality in Broward County and has a population of around 155,000.
Although Hollywood is part of the Miami metropolitan area, it retains a distinctive small-town atmosphere. It attracts people looking for a safe, relaxed, and ethnically diverse place to call home. Hollywood's population is an eclectic mix of blue and white-collar workers, and its fascinating and vibrant culture includes Cuban, Latin American, and Eastern European influences.
Hollywood is also a dynamic business hub. It is anchored by the major commercial and retail center of Young Circle and features dozens of parks, golf courses, and miles of beautiful beach. The cruise industry and the healthcare industry provide much of the local employment.
Hollywood's proximity to 2 international airports and easy access to Miami and Fort Lauderdale make it an ideal home base for commuters who want quiet convenience, away from big-city hustle and bustle.
Let's dive into what makes Hollywood such a great place to call home.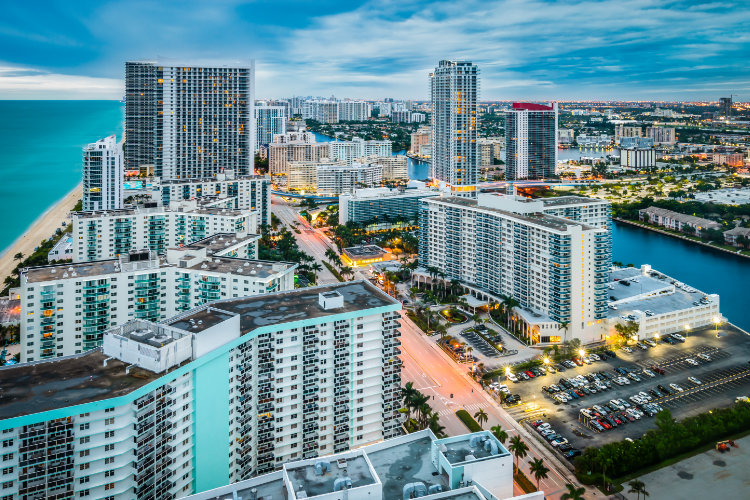 Lifestyle and Culture in Hollywood
With an annual average temperature of 75 degrees, Hollywood residents enjoy a climate that many people can only dream of. It can get sweltering and sticky during the summer months, but the beach is always close, and the ocean feels best when temperatures start to rise.
Although it's almost always warm, sudden downpours are common, especially between May and October. The rain doesn't usually last for long, but it's always a good idea to carry an umbrella!
With all that good weather, it's no surprise that Hollywood residents love to spend time outdoors. Apart from the beach, there are green spaces scattered throughout the city, and locals take full advantage of all these beautiful parks to run, bike, rollerblade or take a stroll.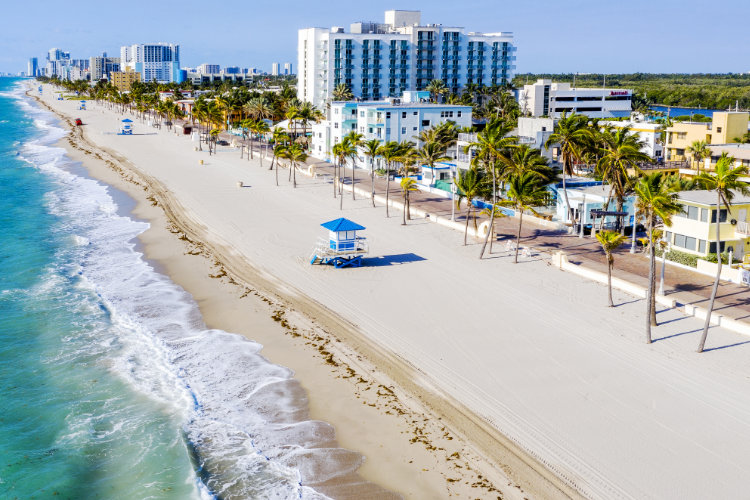 Aerial view of Hollywood Beach
Along with golf, kayaking, and beach volleyball, people-watching is the most popular sport in town. Whether it be in the charming old streets of the historic downtown or on the Hollywood Beach Boardwalk's long expanse, there is always a fascinating cast of characters on display.
Shopping in Hollywood means independent boutiques and funky beachfront stores, and you can easily lose a day perusing what's on offer. For those who want a shopping mall experience, there are plenty of options nearby. Aventura Mall is to the south, while The Galleria is located in Fort Lauderdale to the north. Both of these malls offer an upscale shopping experience, but you'll be hard-pressed to find a local consensus on which is better!
Hollywood nightlife is vibrant and eclectic, and locals enjoy staying up late on warm nights. Historic downtown is a few square blocks of beautiful tree-lined streets, full of restaurants, bars, and live music venues, all with sidewalk seating. This is the place to come to sample cuisine from any corner of the globe and then dance the night away in a nearby club. There's always live music somewhere, and everyone seems to be having a good time.
Hollywood is a community that supports artistic expression, and this is evident at every turn. The popular ArtWalk takes place every month, and it's here that you can see artists at work, as well as tour the dozen or so awesome murals that make up the Downtown Hollywood Mural Project. The ArtsPark at Young Circle is another place to get a feel for the local art scene, and there's always something happening, whether it be an art installation or a musical performance.
Hollywood residents like to celebrate their city, and the local calendar is jam-packed with events, ranging from food and wine festivals to live music and art festivals. There's always something to do, and downtown Hollywood is always buzzing with activity. Regular events include the weekly Farmers Market and Food Trucks at ArtsPark, a weekly invasion of amazing food that locals can't get enough of!
The city government has done a lot to promote walkability in Hollywood and has invested heavily in the pedestrian infrastructure. Hollywood is a great city for walking and biking, especially in the central downtown area. Although Hollywood traffic is fairly light, South Florida isn't, so commuting to Miami or Fort Lauderdale can be a stress-test!
Fortunately, for those who don't like to sit in traffic, there are plenty of public transit options available. The Tri-Rail train system connects Hollywood to the Tri-County region, and Broward County Transit runs buses throughout Hollywood and the region. For traveling around the downtown area, the Sun Shuttle is an awesome free, on-demand electric shuttle.
Things to Do in Hollywood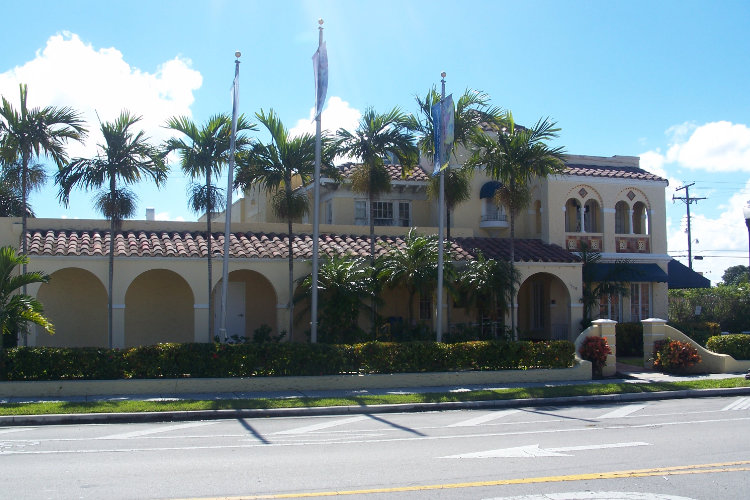 Hollywood Art and Culture Center. Photo: Ebyabe
Hollywood Art and Culture Center
This amazing institution was founded in 1975 when it operated out of a small community space by the beach. Since then, it has grown to become one of Hollywood's most important cultural centers and now encompasses 3 facilities.
Housed in a Mediterranean-Revival style historic building dating back to 1924, the main building features rotating contemporary shows by local and national artists. The adjacent Arts School provides award-winning educational programs for Hollywood's children. The 500-seat theater, located downtown, is a great place to enjoy a wide variety of stage performances in an intimate setting.
Cinema Paradiso
For those who enjoy off-beat foreign and arthouse movies, Cinema Paradiso is not to be missed. This non-profit theater is located in the heart of downtown Hollywood and shows films from around the world in a small, 82-seat room.
For all of its charms, this is no old-fashioned facility, though. Cinema Paradiso uses a state-of-the-art digital projector to show its movies, and you can enjoy a beer or a glass of wine during the show.
Hollywood ArtWalk
The Hollywood ArtWalk takes place on the 3rd Saturday of every month and gives residents a chance to immerse themselves in the local art scene. Throughout downtown, galleries, and shops participate in this event. There's also an artisan market that features pop-ups, boutique shopping, and food.
There are organized tours of galleries and the popular Mural Tour, and it isn't unusual to see local artists out on the street, creating sidewalk chalk art or adding their own mural to the dozen or so that already decorate the downtown walls.
Hollywood Hot Glass
There's a long tradition of glass blowing in Hollywood, and most residents have at least 1 piece of local glass art in their home.
Located in ArtsPark, Hollywood Hot Glass offers live demonstrations of glass blowing. You can watch one of the resident artists create bowls, bottles, and sculptures, and if you book ahead, you can even sign up for a class and try your hand at glass blowing.
If you're in the market for a unique piece of glass art, the gallery next door has a wide array of local creations.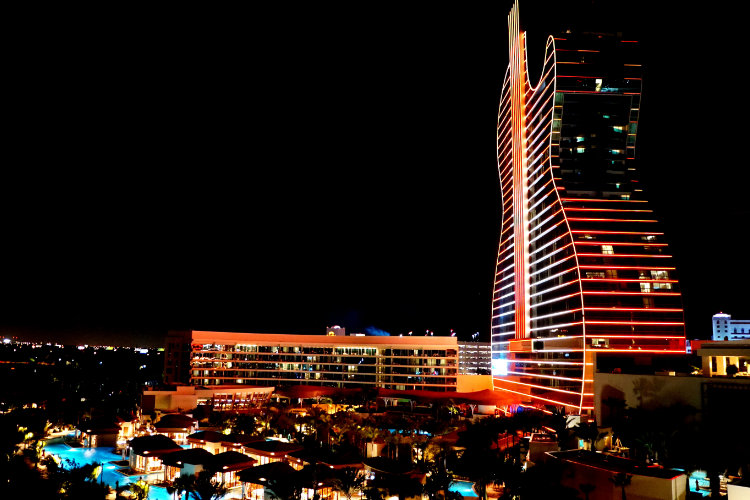 Seminole Hard Rock Hotel. Photo: K.A - stock.adobe.com
Seminole Hard Rock Hotel
With its preposterous guitar-shaped hotel, this massive resort is a tourist mecca, so much so that many tourists never leave to explore the rest of the city! Although the Hard Rock Hotel definitely caters to visitors, it's still a popular place with locals, who rent a cabana and take advantage of all this amazing resort has to offer.
Seminole Hard Rock Hotel features a spa, golf courses, and a huge strip of boutique shopping. There are pools galore for cooling off, including a tropical-style lagoon with waterfalls, a man-made beach area, and a massive water feature for canoeing, paddleboarding, and more.
This is also the place to come for live music from some of the biggest name acts and live comedy from Jerry Seinfeld and Christopher Titus.
Yellow Green Farmers Market
Open year-round on Saturdays and Sundays, the Yellow Green Farmers Market is a beloved local institution that takes the idea of a Farmers Market to the next level.
Housed in an enormous, 100,000 square foot facility and featuring more than 300 booths, you can almost guarantee that you'll find what you're looking for here. Artisanal products on offer range from freshly baked bread and locally grown fruits and vegetables to raw honey and sustainably-raised meat.
For the early risers, there's a free yoga class on Saturday mornings that might help you mentally prepare for this overwhelming shopping experience!
Parks and Recreation in Hollywood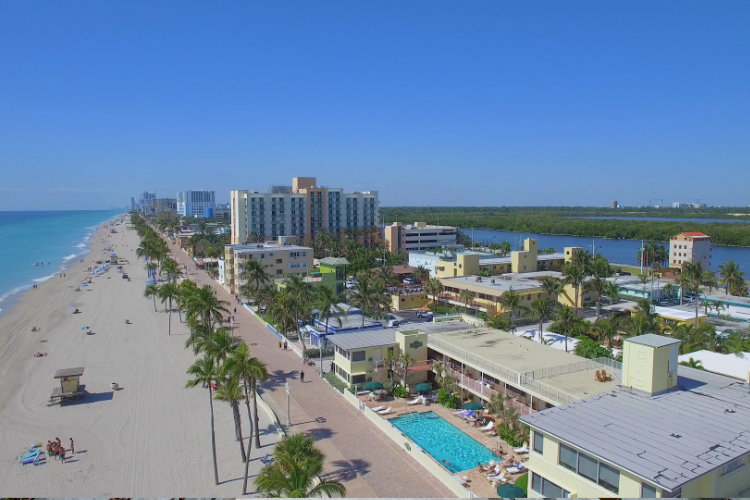 Aerial picture of Hollywood beach. Florida, USA
Hollywood Beach
Perhaps Hollywood's main attraction, the 7-mile stretch of beach conjures up images of paradise with its sugar-white sand, turquoise water, and gently swaying palm trees. Although Hollywood Beach is very popular, it retains a quiet, tranquil vibe that's very much in contrast with neighboring beaches closer to Miami.
Hollywood beach never feels too crowded and is perfect for a game of frisbee or beach volleyball. When hunger strikes and you forgot to bring a picnic, dozens of cafes and restaurants are just steps away.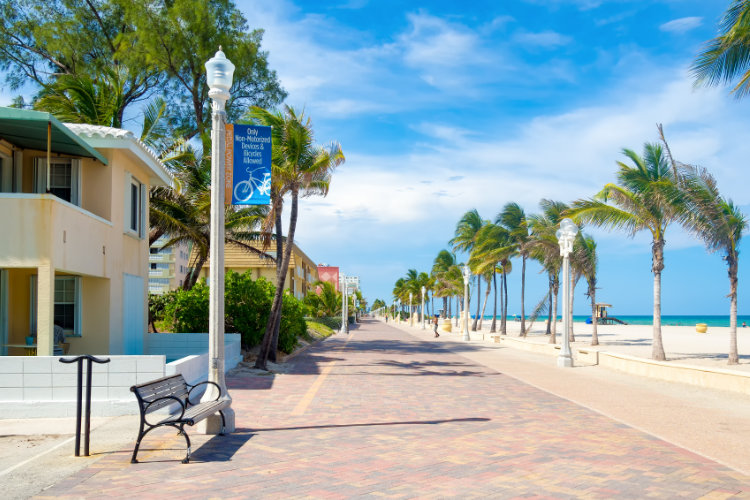 Hollywood Beach boardwalk
Hollywood Beach Boardwalk
Named by Travel and Leisure magazine as one of the best boardwalks in the country, this 2.5 mile stretch of walkway is the place to be on any given day of the week. You'll encounter a colorful mix of people of all ages, walking, running, biking, or simply parading along the boardwalk, and there's always a fun, friendly atmosphere.
The Hollywood Beach Boardwalk is lined with shops, restaurants, and inviting cafes, and it's difficult to resist the allure of sitting with an iced coffee and watching the world go by. There are plenty of places to rent bikes, paddleboards, and rollerblades for those who need to stay active.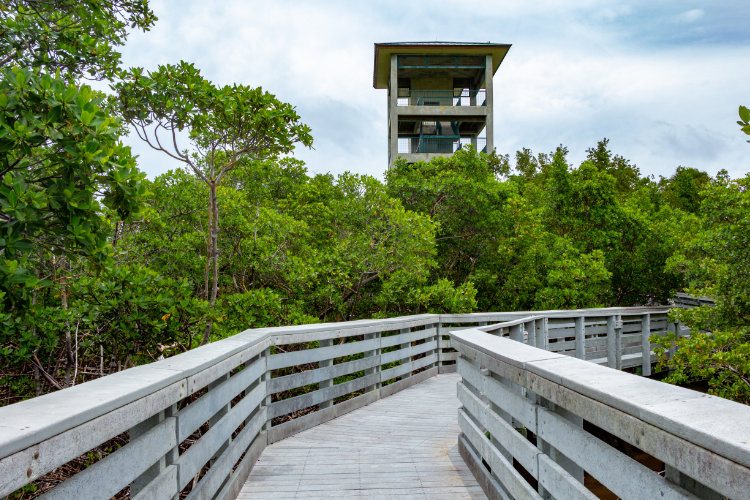 Observation tower with walkway amid mangrove trees, vegetation in Anne Kolb Park, Hollywood, Florida
Anne Kolb Nature Center
At the north end of the city, Anne Kolb Nature Center encompasses over 1,500 acres of protected coastal mangrove wetlands. Many native plants and animals thrive here, and some are threatened or endangered elsewhere.
The Nature Center has 4 main trails along wooden walkways, which are ideal for viewing the wildlife, but the area is enjoyed best by boat. The Nature Center offers guided tours of the boating trails, where you can fish or enjoy the feel of being away from the city. There's also a large exhibit hall that houses a saltwater aquarium and nature-themed exhibits by local artists.
ArtsPark
This 10-acre park in the middle of Young Circle is Hollywood's beating heart, and locals take great pride in this wonderful addition to their city. The park features plenty for the little ones, including a splash pad and a shaded playground. The enormous amphitheater hosts numerous concerts, events, and festivals throughout the year, all of which are free.
ArtsPark is the only place to be on Mondays when the food trucks arrive, and they're always seems to be a new installation in the Visual Arts Pavillion. The park is beautiful, too, and is home to 5 giant baobab trees native to Africa and seldom seen in this country.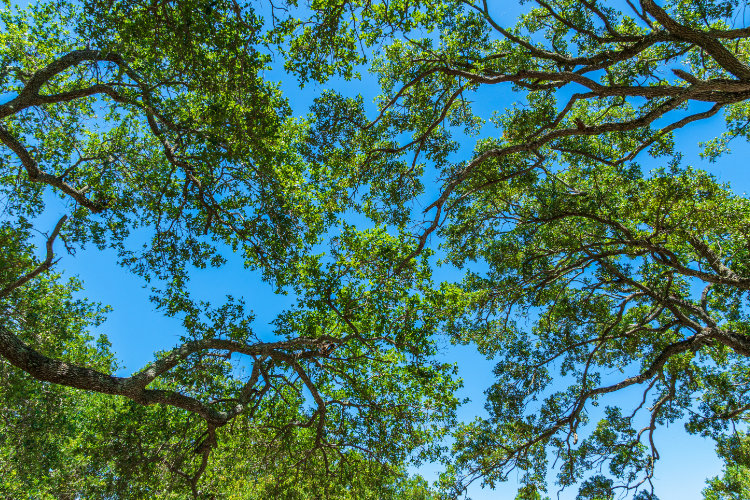 Southern live oak tree branches (Quercus virginiana) against blue sky in Topeekeegee Yugnee (TY) Park
Topeekeegee Yugnee Park
Known to locals as "TY Park," this is one of the most popular parks in Hollywood, especially for families who take advantage of the campground, water park, and picnic areas.
Topeekeegee Yugnee Park encompasses 138 acres, and there's never a dull moment. Tennis courts and volleyball courts are available, as well as an epic kids playground. Large shade trees line walking and biking trails, while a beautiful lagoon offers the chance to cool off on hot days.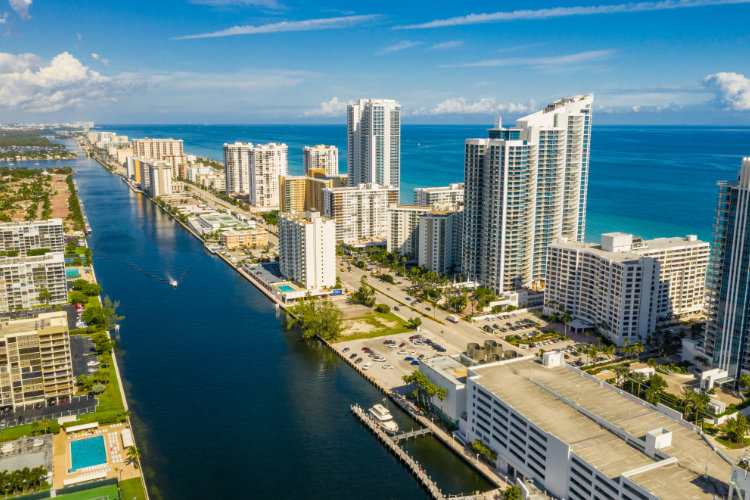 Highrise condo buildings in Hollywood Beach
Real Estate in Hollywood
Hollywood offers a wide variety of real estate options, ranging from high-rise condos with amazing waterfront views to cozy single-family houses with swimming pools and fruit trees in the backyard.
The Central Beach neighborhood is where you'll find condos with easy access to the beach and within walking distance of downtown. North Beach offers similar amenities, but in a more exclusive environment, with modern single-family homes and high-rise condos tending to dominate.
Hollywood Hills and Boulevard Heights are 2 of the more desirable neighborhoods that consist mainly of larger, ranch-style single-family homes built in the 1960s. These neighborhoods appeal to those who want to be close to amenities while still slightly removed from the beach scene.
The 441 Corridor neighborhood offers smaller, more affordable single-family homes, mainly built in the 1950s and 1960s.
Additional Reading