Living in Hollywood Beach, FL: Pristine Oceanfront Community
Posted by Discover Homes Miami on Wednesday, April 21, 2021 at 1:35 PM
By Discover Homes Miami / April 21, 2021
Comment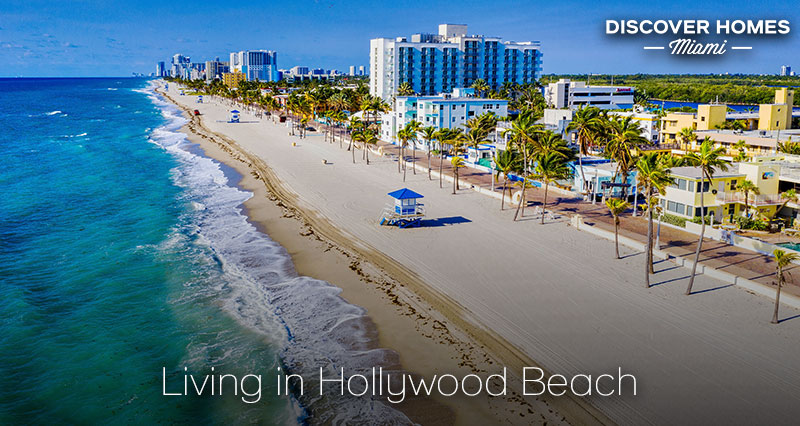 Hollywood Beach is a long, narrow neighborhood that's located in southeastern Broward County, roughly halfway between Miami and Fort Lauderdale. Bordered by the Atlantic Ocean to the east, and separated from the rest of Hollywood by the Intracoastal Waterway to the west, Hollywood Beach stretches from the Hallandale Beach border in the south, all the way north to Highway A1A.
Since the mid-1920s, people from all over the world have been coming to Hollywood Beach for its relaxing atmosphere, warm weather, and beautiful beaches. Today, Hollywood Beach is a laid-back beach community with an incredibly diverse population and still retains the feel of old Florida.
With its picturesque boardwalk, ocean breezes, and colorful collection of visitors and residents, Hollywood Beach has become one of South Florida's most desirable locations. Let's dive into what makes this such a great place to live.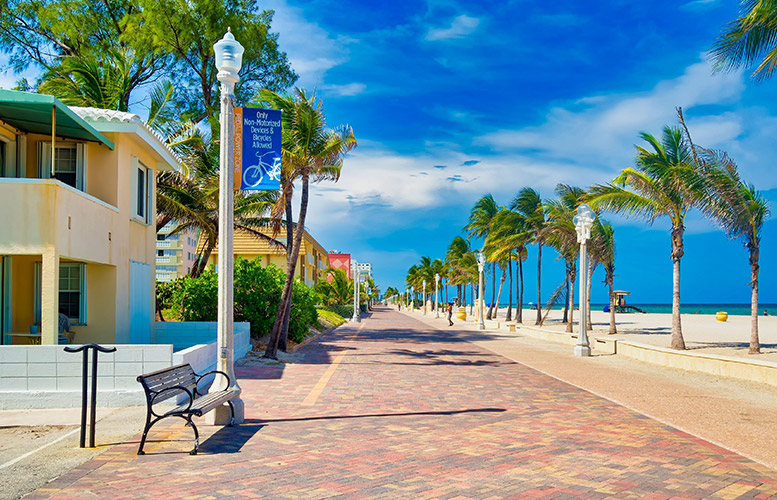 Hollywood Beach Boardwalk
Hollywood Beach Lifestyle and Culture
Hollywood Beach is an extremely walkable neighborhood, and residents can easily run daily errands or stroll to a favorite neighborhood cafe without needing a car. The fantastic Hollywood Beach Boardwalk provides a 2.5 mile paved oceanfront pathway and is always full of walkers, joggers, and cyclists. For trips further afield, the Sun Shuttle is a free local trolley that connects Hollywood and Hollywood Beach.
Many residents commute to either Miami or Fort Lauderdale. Downtown Miami can be reached in as little as half an hour, although the notorious South Florida traffic can extend driving times significantly. Fortunately, Hollywood Beach is well-served by public transit, and many commuters take advantage of the Tri-Rail system, which connects Hollywood with Miami and Fort Lauderdale.
As you might expect, a good portion of daily life revolves around the beach. The fabulous year-round climate in this part of the country makes it easy for Hollywood Beach residents to live an active outdoor lifestyle, and the pristine white sand beach is the perfect place to play volleyball, soccer, or frisbee. The beach here never feels crowded, even on the busiest days. People of all ages flock to the wide stretch of sand to rent beach chairs and relax, enjoying the ocean breeze and the world-class people watching.
Activities like golf, fishing, and boating are all popular in Hollywood Beach. There are several great fishing piers as well as a collection of top-notch golf courses, including the Hollywood Beach Golf Club. Residents who live along the Intracoastal Waterway often have waterfront access and enjoy weekends spent on the calm waters, fishing, relaxing, or swimming.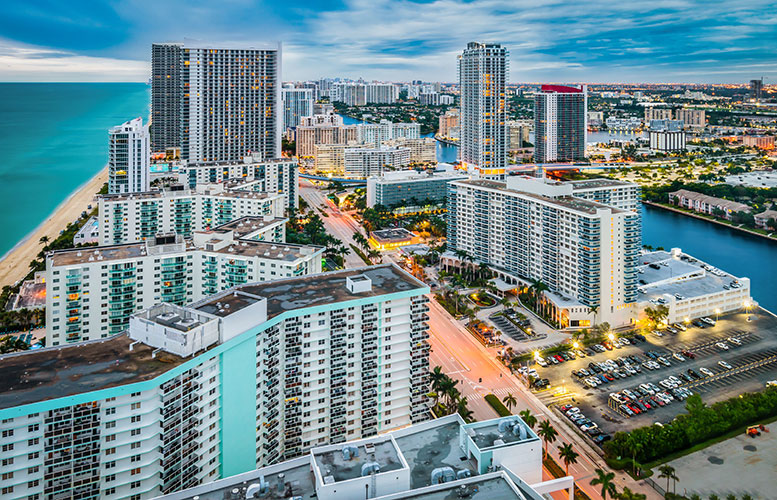 Some of Hollywood Beach's businesses and condo buildings
The majority of Hollywood Beach's retail is located along the oceanfront. Bars, restaurants, sidewalk cafes, and unique local boutiques line the boardwalk, and when it's time for a cocktail or dinner, the options seem endless. Although the nightlife scene in Hollywood Beach is tame in comparison to that of South Beach or Fort Lauderdale, there's still a vibrant, friendly atmosphere and plenty of opportunities to dine out under the moonlight.
Just a few blocks away, the historic Hollywood downtown district is bustling with energy and life. This vibrant few square blocks is home to beautiful tree-lined streets, dozens of clubs, bars, and restaurants, and a great collection of local, independent shops. This area looks very much like it did in the 1920s, and on warm evenings nothing beats strolling around and perusing menus that offer cuisine from every corner of the globe.
Further afield, Hollywood Beach residents are within a stone's throw of some of the biggest shopping malls in Florida. Aventura Mall has everything anyone could need, as does the Galleria and Las Olas Boulevard, 20 minutes drive north in Fort Lauderdale.
There's a strong sense of community not just in Hollywood Beach, but in the city of Hollywood as a whole. There's always something going on, and locals never waste the opportunity to gather and celebrate. The beach is home to dozens of regular events, including Salsa on the Beach Saturdays, organized by the Historic Hollywood Beach Resort. In downtown Hollywood, ArtsPark at Young Circle is ground zero for city events, including a weekly Farmers Market, food truck invasion, and regular free concerts.
Art and culture are widely celebrated in Hollywood Beach, and locals are proud of the Hollywood Beach Theatre. This fantastic open-air bandshell hosts a regular schedule of music and dancing, and shows are always free. Elsewhere in Hollywood, the Downtown Mural Project showcases the work of local artists on the city's walls. There's a regular ArtWalk that tours the murals, and artists can often be seen at work. The Hollywood Art and Cultural Center is the jewel in the city's cultural crown, offering classes, performances, and a regular schedule of community events.
Things to Do in Hollywood Beach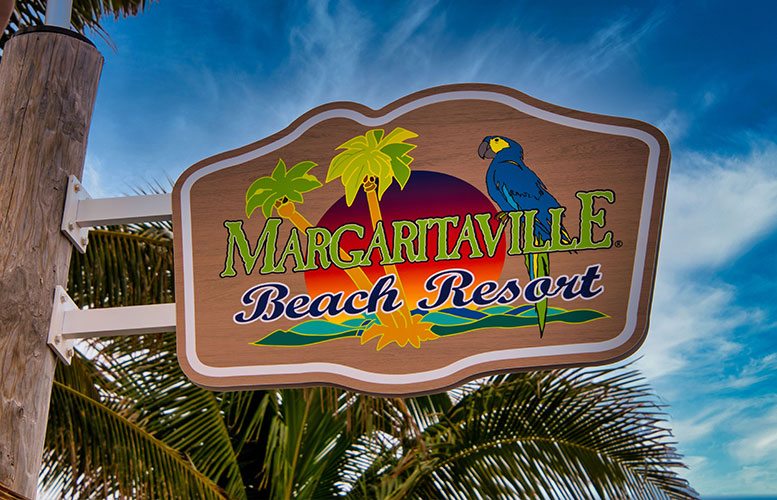 Enjoy a Spa Day
Located in the ritzy Margaritaville Hollywood Resort, St. Somewhere Spa has been recognized by US News as one of the top 30 relaxing spa getaways in the United States. St. Somewhere Spa is inspired by South Florida's tropical atmosphere and is the ideal place to come and spend a relaxing day being pampered to the max.
The 11,000 sq ft facility is located in a gorgeous oceanfront setting and offers 11 treatment rooms, two of which have been specially designed for couples. The spa features steam rooms, a scrub room, and rainfall showers as well as several massage options, hot tubs, facials, nail, and hair treatments. After a luxurious spa visit, the resort houses several bars and restaurants, any of which provide the perfect location for a cocktail at sundown.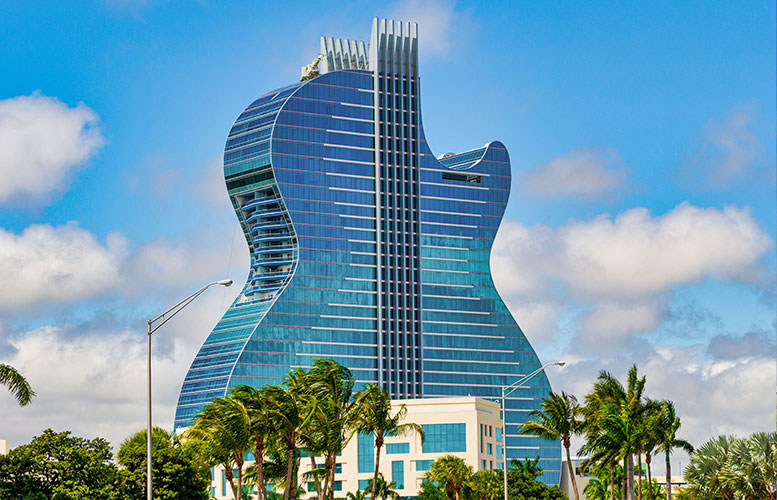 Seminole Hard Rock Hotel and Casino. Credit: Holly Guerrio - stock.adobe.com
Attend a Live Music Performance
There are dozens of live music venues in Hollywood Beach and Hollywood, and on any given night, you're guaranteed to find a great show. One of the best places to take in a free live concert is the Hollywood Beach Theatre. This awesome outdoor bandshell is located on the boardwalk and beach, and shows here are always well-attended. There's seating for 500 and part of the boardwalk is transformed into an under-the-stars dancefloor.
In central Hollywood, ArtsPark at Young Circle is home to an amazing outdoor amphitheater with a 2,500-seat capacity. The huge stage here plays host to a wide variety of musical acts, and the vibe is friendly and fun. The setting couldn't be more beautiful, and after the show, locals head to one of the dozens of bars and restaurants within walking distance.
Join the Hollywood Artwalk
The Hollywood ArtWalk takes place on the 3rd Saturday of every month and gives locals and visitors alike a chance to immerse themselves in the thriving local art scene. Galleries and shops throughout historic and picturesque downtown Hollywood participate in this event, and there's also an artisan market that features pop-ups, boutique shopping, and a vast array of tasty food.
There are organized tours of galleries, and you can also join the fascinating Mural Tour. It isn't unusual to see local artists out on the street, creating sidewalk chalk art or adding their own mural to the dozen or so that already decorate the downtown walls, adding life and color to the charming city streets.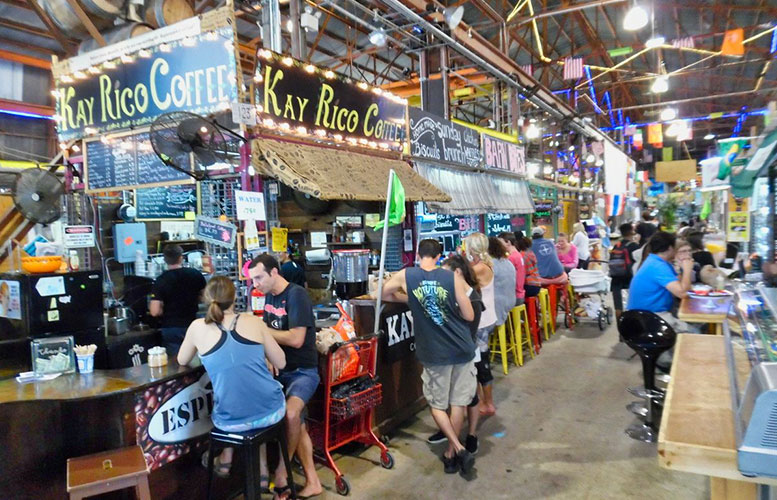 Source: Yellow Green Farmers Market (modified)
Shop Locally at Yellow Green Farmers Market
Open year-round on Saturdays and Sundays, the Yellow Green Farmers Market is a beloved local institution that takes the idea of a Farmers Market to the next level.
Housed in a gigantic 100,000 square foot facility, and featuring more than 300 booths, you can almost guarantee that you'll find what you're looking for here. Artisanal products on offer range from freshly baked bread and locally grown fruits and vegetables, to raw honey and sustainably raised meat. There's also great coffee to be had here and it's a real pleasure to wander through the market while sipping on a refreshing iced beverage.
Yellow Green Farmers Market is a wonderful place to visit on a weekend morning, and early risers can join the free yoga class that's held on Saturdays. It might just help you mentally prepare for what can be an overwhelming shopping experience!
Hollywood Beach Parks and Recreation
Hollywood North Beach Park
This 56-acre park is the most popular in Hollywood Beach, although it seldom feels crowded. There's access to the ocean beaches on one side, and the picturesque Intracoastal Waterway on the other, and lovely trails wind through the park, attracting runners, cyclists, and walkers.
Hollywood North Beach Park offers wonderful views of the Intracoastal, and locals come here to spend an afternoon fishing before grilling up their catch on one of the park barbeques. The beach here is wide and pristine, and there's an old wooden observation tower for those all-important Instagram photos. A popular café sits right on the beach, offering simple snacks and refreshments. The park is also home to the historic Carpenter House, a restored building that houses a sea turtle education center and a cute gift shop.
Hollywood Beach Golf Club
The city of Hollywood is home to several wonderful golf clubs and Hollywood Beach Golf Club is one of the best and most well-regarded. The picturesque course was designed by famed golf course architect Donald Ross, and the club helps maintain the "Old Florida" feel that so many people associate with Hollywood Beach.
The challenging par-70, 18-hole course features lush tropical vegetation, narrow, challenging fairways, and various water hazards, and strategically placed bunkers. Local golfers of all ages and skill levels play here on a regular basis, and many take advantage of the excellent variety of instruction choices on offer. Hollywood Beach Golf Club has the requisite practice facilities as well as a fully stocked pro shop. The 1924 Bar and Grill is a great place to enjoy a post-round cocktail, and the staff is always friendly and welcoming.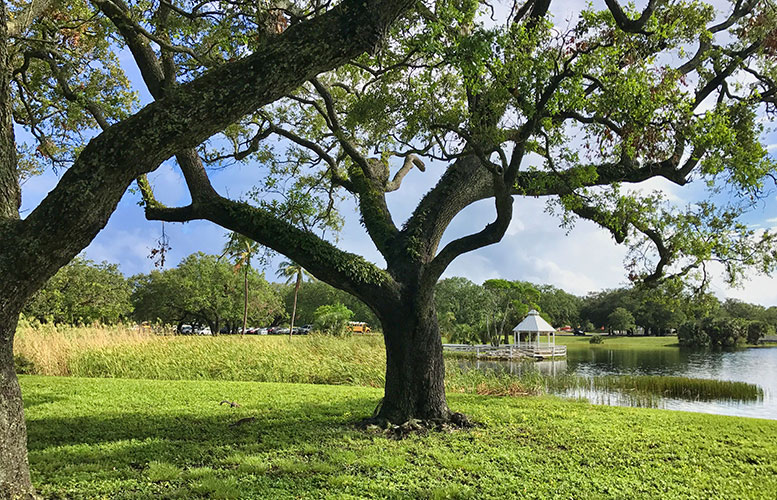 Topeekeegee Yugnee Park
Located in mainland Hollywood, this amazing city park is named for the Seminole term "meeting or gathering place." Known to locals as "TY Park", this is one of the most popular parks in Hollywood, especially for families who take advantage of the campground on long weekends. There's also an epic water park, and plenty of spacious picnic areas.
Topeekeegee Yugnee Park encompasses 138 acres, and there's never a dull moment. Tennis courts and volleyball courts are scattered throughout the park and there's one of the best children's playgrounds you'll find anywhere. Large, beautiful old shade trees line miles of walking and biking trails, while a stunning lagoon is a place that locals like to cool off on the hottest of days.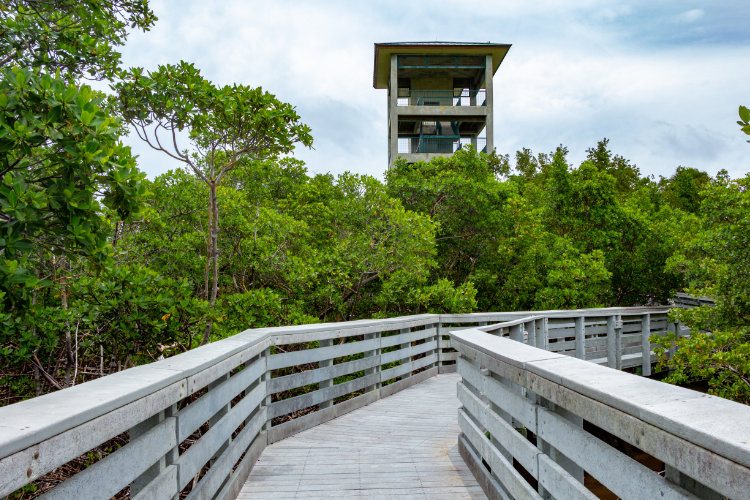 Anne Kolb Nature Center
Just across the Intracoastal Waterway from Hollywood North Beach Park, the incredible Anne Kolb Nature Center comprises over 1,500 acres of protected coastal mangrove wetlands. Hundreds of species of native plants and animals thrive in this sheltered environment, many of which are threatened or endangered elsewhere.
The Nature Center has four main trails along wooden walkways, which are ideal for viewing the wildlife. The park is enjoyed best by boat, though, and the Nature Center offers guided tours of the boating trails, where you can fish, birdwatch, or just enjoy the sensation of feeling like you've been transported from the center of a huge urban area. It's worth taking extra time to explore the large exhibit hall that houses a saltwater aquarium and nature-themed exhibits by local artists.
ArtsPark
This 10-acre park in the middle of Young Circle is an important part of Hollywood's identity, and locals love to spend time here in the company of their friends and neighbors. ArtsPark is a paradise for local children, none of whom pass up an opportunity to play in the splash pad and the shady playground. The wonderful amphitheater hosts numerous concerts, events, and festivals throughout the year, all of which are free.
ArtsPark is particularly well-attended on Mondays when the food trucks take over. There are dozens of choices, and food from all over the world is on offer every week. The Visual Arts Pavilion has a constantly rotating set of interesting installations, often featuring the work of local artists. The park is also home to 5 giant baobab trees that are native to Africa and almost never seen in this country.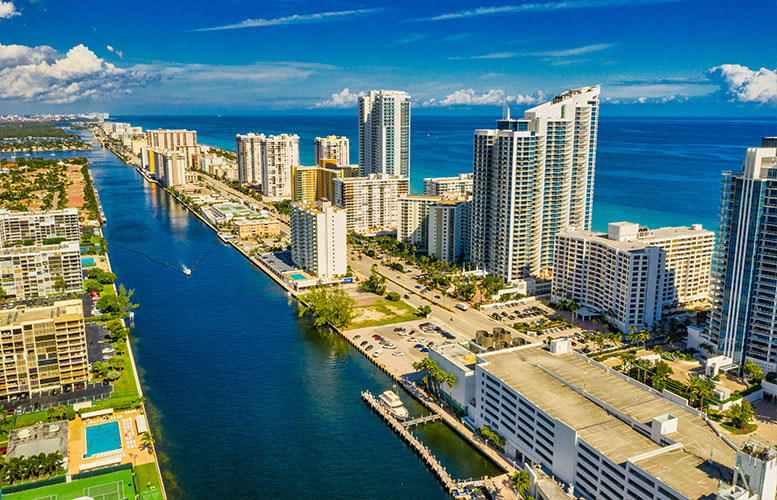 Hollywood Beach's skyline features high-rise condo buildings
Hollywood Beach Real Estate
Most of the real estate options in Hollywood Beach come in the shape of condos and units in modest apartment buildings. Along the shoreline, there's a mix of high-rise condo towers and older low-rises. There are some luxury residences in new developments offering resort-style amenities, and more approachable condos, all with stunning views of the Atlantic Ocean and surroundings. Further north, you'll find a few modest single-family homes, as well as a scattering of opulent Mediterranean-style mansions on gorgeous estates.
Additional Reading
Check out some of the communities near Hollywood Beach: