Hibiscus Island: Luxurious Miami Beach Private Island
Posted by Discover Homes Miami on Tuesday, February 23, 2021 at 10:18 AM
By Discover Homes Miami / February 23, 2021
Comment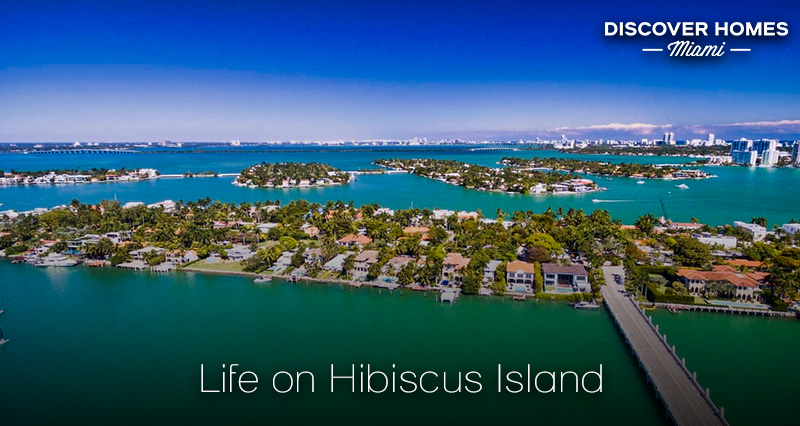 Hibiscus Island is the epitome of privacy and luxury, all wrapped into a small, exclusive island in Florida's glistening Biscayne Bay. Hibiscus Island is one of several artificial, man-made islands in South Florida and is accessible only via the palm tree-lined MacArthur Causeway. The island is located within the City of Miami Beach and Miami-Dade County.
Hibiscus Island provides residents the ultimate level of privacy with a gated entrance to the island, which includes 24-hour guarded security. The island is renowned for its palatial waterfront estates, convenient proximity to Miami and South Beach, and its secluded, exclusive location.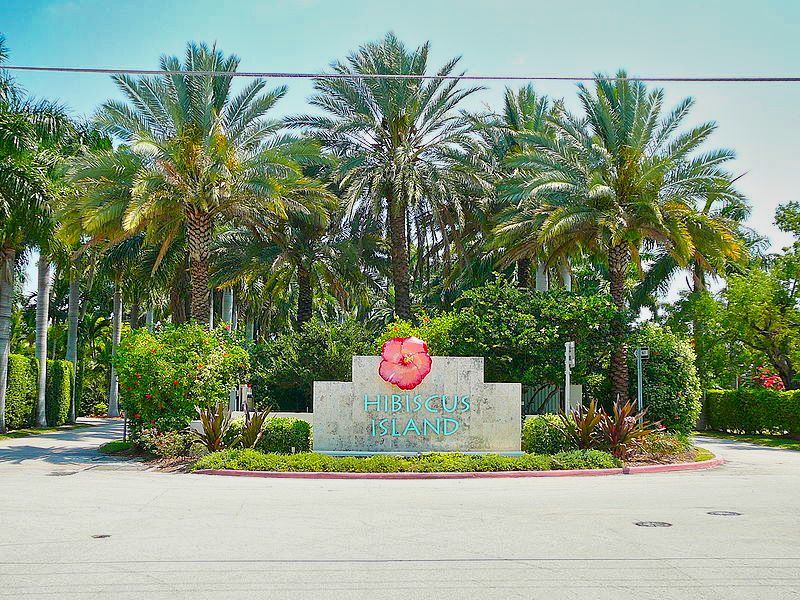 Welcome sign as you enter Hibiscus Island. Credit: Marc Averette.
History
In 1922 the Army Corp of Engineers completed the creation of three islands in Biscayne Bay by dredging surrounding sand and redepositing it to form large landmasses. These three man-made oblong islands include Palm Island, Star Island, and Hibiscus Island. Hibiscus and Palm Island were constructed parallel to one another, acting as twin islands.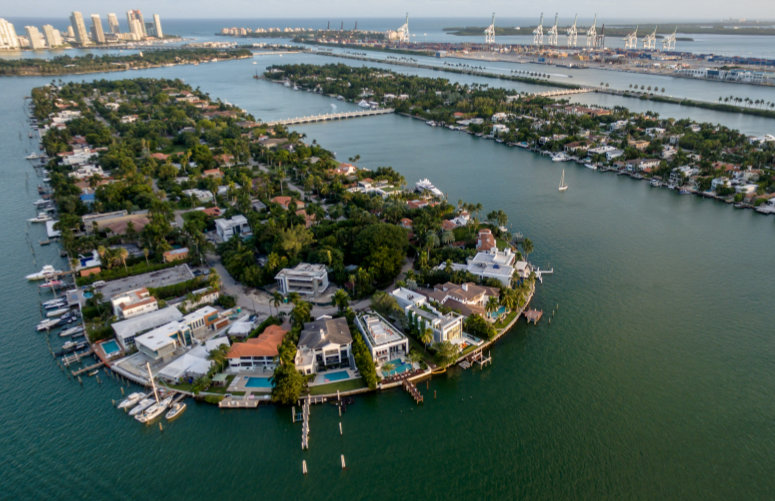 Hibiscus Island on the left, with Palm Island (its twin) on the right. The MacArthur Causeway can be seen on the far right.
Into the 1930s, Hibiscus Island and its twin, Palm Island, began attracting famous celebrities and wealthy snowbirds from around the world. The Latin Quarter Nightclub on nearby Palm Island hosted entertainers such as Frank Sinatra, Dean Martin, Sammy Davis Jr., and Tony Bennett. This brought the celebrity elite to Hibiscus Island as well. Enticed by the glittering Miami skyline, sun and sand, beautiful ocean views, and vibrant nightlife, these islands became a hot spot for the rich and famous and even the likes of Al Capone.
To this day, Hibiscus Island continues to add celebrities to its list of notable residents. Famous entertainers and athletes such as Gloria Estefan, Julio Iglesias, Shakira, and Shaquille O'Neal have all owned homes and docked their private yachts along these highly exclusive islands.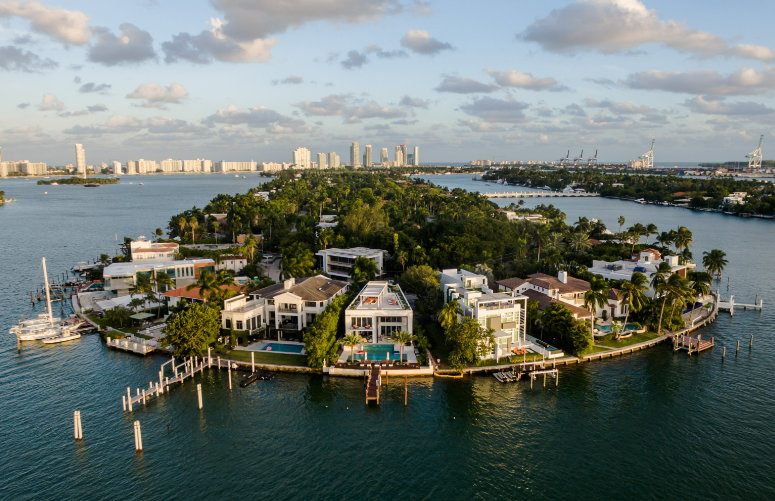 Some of the waterfront luxury homes on Hibiscus Island
Amenities
For Hibiscus Island residents, there is a gated entrance to the island that is guarded 24/7, providing peace of mind and a secure atmosphere. Streets throughout the Hibiscus Island community are impeccably maintained, with palm trees around every turn. Residents can enjoy a park, basketball courts, tennis and racquetball courts, and a children's playground. All these amenities are shared between the Hibiscus and Palm Island communities.
Hibiscus Island is perfectly situated between mainland Miami and South Beach. Residents are just a short drive from the luxury boutiques and world-class restaurants in Miami or the art galleries and entertainment venues of South Beach.
For residents desiring to be involved in the community and preservation of the island's privacy and beauty, there is the Palm Hibiscus Star Island Association. This association comprises island homeowners dedicated to preserving the Palm, Hibiscus, and Star islands while fostering a safe and family-friendly environment on the islands.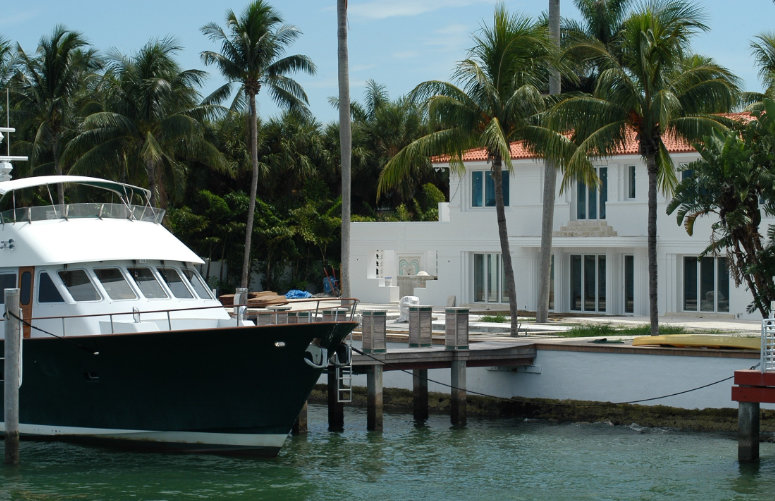 A Mediterranean home on Hibiscus Island with yacht
Real Estate
Hibiscus Island is a prestigious, secluded waterfront community with luxury estates and palatial homes in the million to multi-million dollar range. The homes' architecture varies from sleek, modern masterpieces to Spanish revival style to Meditteranean and European-inspired mansions. Many of the homes feature the stunning designs of prominent architects and landscape designers.
Waterfront homes enjoy views of the sparkling Biscayne Bay and the breathtaking Miami skyline. Depending upon the time of day, luxury cruise ships can be seen passing through the nearby Port of Miami.
Many of the waterfront estates have docks with deep enough waters for a private yacht or boat access. With sunny days almost year-round in Miami, many of the luxury residences include azure pools surrounded by palm trees, a perfect spot to watch the stunning Miami skyline sunsets. Some residences feature balconies or rooftop access for sunbathing and watching the sunrise and set over the heart of downtown Miami.
Interior homes without waterfront views are still minutes from the water with gorgeous downtown Miami views and lush, tropical landscaping. With few streets and restricted access to Hibiscus Island, car traffic is minimal. Streets are pristine and lined with palm trees and exotic landscape, offering a serene, secluded tropical paradise.
Additional Reading
Check out some of these similar islands nearby: