Living in Hallandale Beach, FL: Relaxed Oceanfront Community
Posted by Discover Homes Miami on Wednesday, April 14, 2021 at 2:58 PM
By Discover Homes Miami / April 14, 2021
Comment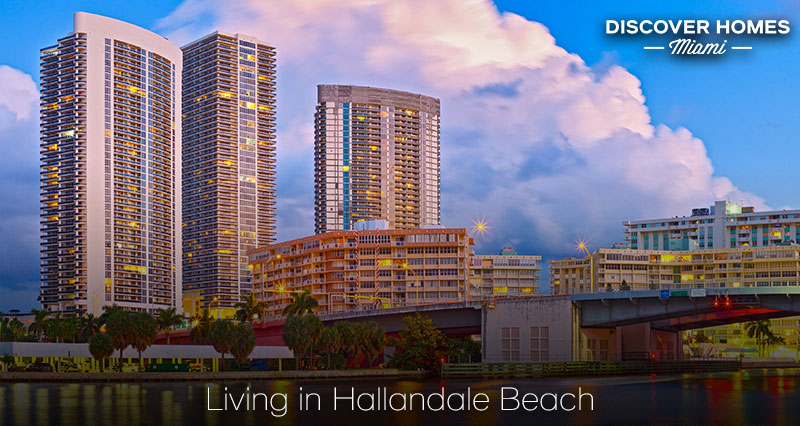 Hallandale Beach is a small city in southern Broward County, with a population of almost 40,000. Nestled between Golden Beach to the south and Hollywood to the north, Hallandale Beach is a pleasant city with a relaxed pace of life and a strong sense of community.
Once an overlooked and slightly run-down place, Hallandale Beach has seen a renaissance in recent years. It has become a top-rated place to live, thanks to its pristine stretch of beach, vibrant and eclectic culture, and an abundance of exciting restaurants and shopping.
Let's take a closer look at what makes Hallandale Beach such a sought-after place to live for people from all over the world.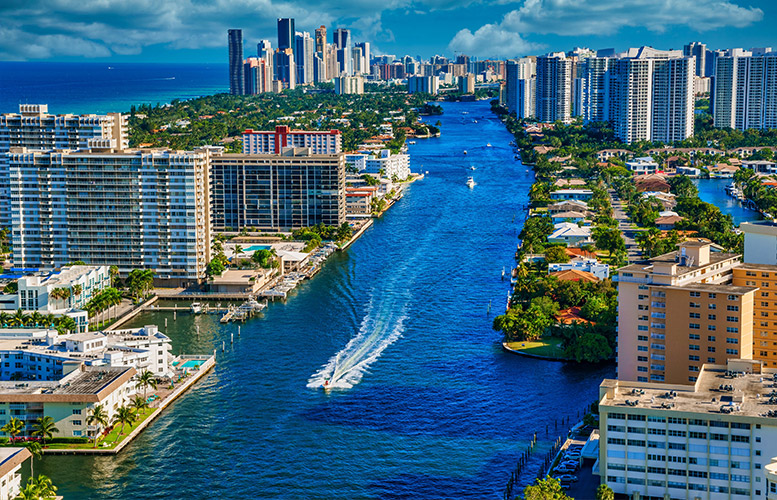 View of the Intracoastal Waterways in Hallandale Beach
Hallandale Beach Lifestyle and Culture
Hallandale Beach's convenient location means that residents have the best of both worlds when accessing the surrounding areas. Fort Lauderdale is a 20-minute drive north, while Downtown Miami can be reached by car in as little as half an hour.
Many residents make the daily commute to work in one of the surrounding cities, and there are plenty of efficient public transit options, including Broward County Transit buses and Tri-Rail commuter trains. Getting around Hallandale Beach itself is a breeze, thanks to pedestrian-friendly streets that are ideal for walking, jogging, and cycling. There's also a fantastic free minibus that connects throughout the city.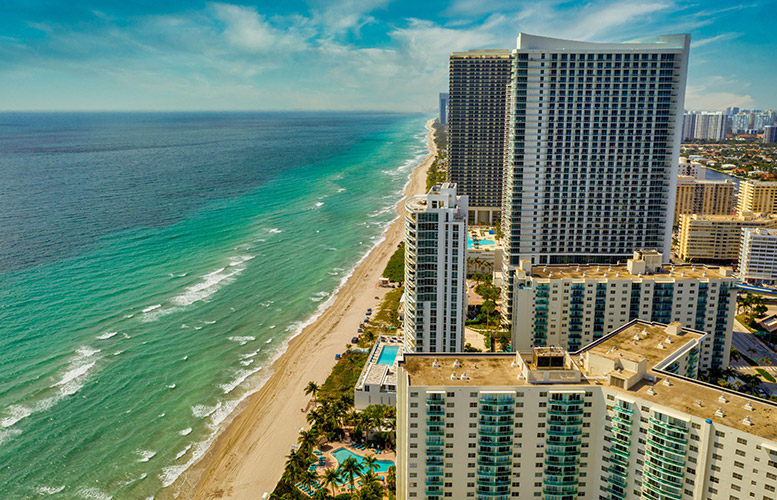 Hallandale Beach's coastline
South Florida's warm subtropical climate means that spending time outdoors is always possible, and Hallandale Beach residents take full advantage of the seemingly endless warm days to enjoy an active outdoor lifestyle. For many locals, life revolves around the beach, and this is always the place to come for family outings, exercise, or just a quick break from work. Although the beach can sometimes get crowded, the vibe is less flashy than nearby beaches, and there's always a friendly, low-key atmosphere.
Boating, fishing, and water sports are all extremely popular leisure activities in Hallandale Beach, and many locals own watercraft. Hallandale Beach City Marina is always buzzing, especially on the weekends, when locals set out for a day on the waves. Elsewhere, there are several excellent golf courses nearby, and the city is dotted with small neighborhood parks that offer picnic and sports facilities.
Inland portion of Hallandale Beach
Hallandale Beach residents are spoiled for choice when it comes to shopping, with an eclectic collection of boutiques and galleries scattered throughout the city. There's also great shopping at the wonderful Village at Gulfstream Park, as well as everything anyone could ever want at nearby Aventura Mall. Hallandale Beach's culturally diverse population is reflected in its dining scene, which brims with an exciting collection of cuisines, including Japanese, Cuban, South American, and Caribbean. Many of the restaurants here are undiscovered local gems, but several chef-driven restaurants have put the city on the foodie map.
Hallandale Beach's strong community spirit is always on full display during one of the events that fill the local calendar. Gulfstream Park is the venue for many of the city's larger events and festivals, including food festivals, an awesome yoga festival, and the popular Plant-Based Festival. The beach hosts frequent events, too, including free live music performances every fourth Sunday. Smaller neighborhood events take place throughout the year, always invoking the same fun-filled sense of togetherness.
Things to do in Hallandale Beach
Gulfstream Park Village
Gulfstream Park Village is a super-popular open-air destination that offers sporting events, entertainment, dining, and shopping. This is an extravagant place that offers a fun-filled experience for all ages.
Dominated by the legendary Gulfstream Race Track, the adjacent village offers an array of adult and kid-friendly events and activities. There's world-class Thoroughbred horse racing, of course, as well as a pair of casinos, several nightclubs, fine and casual dining, and a host of popular fashion boutiques.
Kids from across the Miami area love coming to Gulfstream Park Village for the incredible bowling alley, arcade, and free weekly events and music. There are plenty of kid-friendly classes and workshops on offer, too, and local kids can't get enough of the statue depicting a Pegasus defeating a fire-breathing dragon.
The Big Easy Casino
The Big Easy Casino is one of Hallandale Beach's most popular destinations for those who are feeling lucky. This beloved casino has a super-friendly and fun atmosphere, and there are over 500 Vegas-style slots on offer.
For those who haven't yet embraced their inner gambler, the welcoming staff is always on hand to guide beginners in the ways of the casino. They'll teach you all the terminology, rules, and regulations you need to know, before recommending some low-stakes slots for practice.
The Big Easy Casino has a New Orleans vibe, and the calendar is packed with an eclectic series of live music shows. When it's time for a break from winning, there are loads of dining options here, including a pizzeria, a late-night deli, and a buzzing sports bar.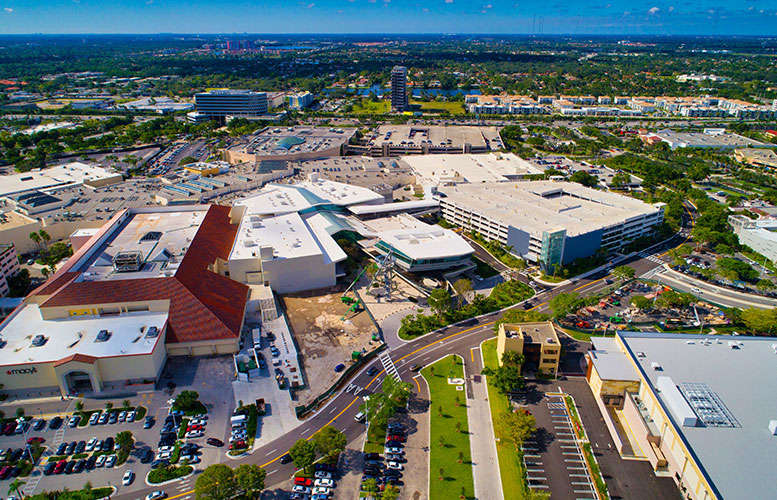 Aventura Mall
Located just a few minute's drive south of Hallandale Beach, this retail paradise is the largest shopping destination in Florida. Aventura Mall is an enormous shopping mecca, home to hundreds of stores offering everything from electronics and upscale home goods, to jewelry, clothing, and so much more.
When Hallandale Beach residents feel the need to browse the latest offerings from Gucci, Cartier, Apple, and Adidas, this is where they come; often stopping for lunch at one of the many casual-dining favorites in the vast food hall.
There's an awesome AMC movie theater here, too, as well as several options for a more upscale dining experience. Keep an eye out for the impressive collection of museum-caliber art on display throughout the mall, which includes sculptures, colorful murals, and the Aventura Slide Tower - a super-fun sculpture that's also a functional slide.
Hollywood Art and Culture Center
Located a short drive north of Hallandale Beach, the Hollywood Art and Culture Center was founded in 1975. During the institution's early days, it operated out of a small community space by the beach. Since then, it has grown to become one of Broward County's most important cultural centers and now encompasses three impressive facilities.
Housed in a renovated Mediterranean-Revival-style historic building dating back to 1924, the main building features rotating exhibits of contemporary shows by local and national artists, while the adjacent Arts School provides award-winning educational programs for local children. The 500-seat theater, located in Hollywood's vibrant downtown, is a great place to enjoy a wide variety of stage performances in an intimate setting.
Hallandale Beach Parks and Recreation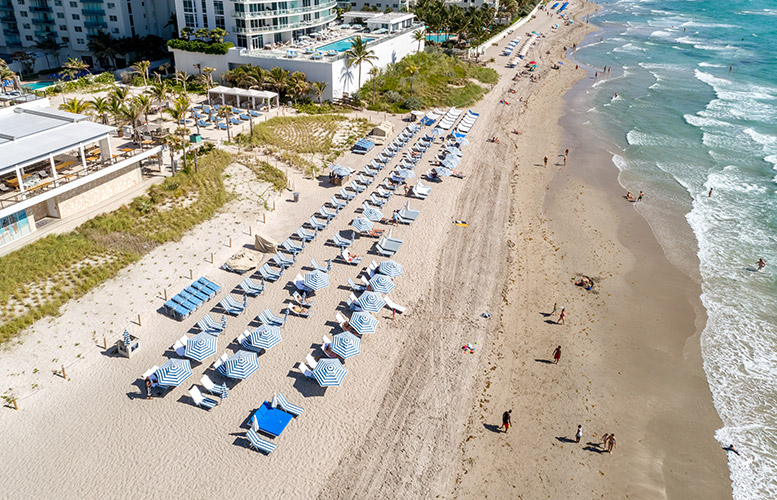 The pristine beach in Hallandale Beach
The Beach
South Florida is famous for its beaches, and the gorgeous stretch of sand in Hallandale Beach definitely doesn't disappoint. Broad swathes of sugary white sand are framed by the sparkling turquoise water of the Atlantic Ocean, and a gentle breeze offers relief on the hottest of days.
Unlike some of the more well-known beaches nearby, Hallandale Beach seldom feels crowded - there's always space to stretch out and relax or play a game of volleyball. Both North City Beach Park and South City Beach Park offer outdoor showers, restrooms, and shade pavilions, and there are plenty of nearby cafes, bars, and restaurants to stroll towards when lunchtime rolls around.
Joseph Scavo Park
Joseph Scavo Park is set in a beautiful location on Three Island Boulevard, and since being remodeled has quickly become one of Hallandale Beach's most popular local greenspaces. There's a fabulous children's playground here, as well as a walking track, fitness trail, and basketball courts.
On warm weekend days, Joseph Scavo Park is buzzing with activity, with kids running free, joggers working up a sweat, and families enjoying picnics under the shade of gently swaying palm trees. Local dog owners love this place; there's an epic off-leash area for four-legged friends, and owners gather to socialize while their buddies run and play.
Hollywood Beach Golf Club
There are numerous golfing options in the Hallandale Beach vicinity, and Hollywood Beach Golf Club is one of the best and most popular. The picturesque course was designed by famed golf course architect Donald Ross, and playing a round here feels like being transported back to old Florida.
The challenging par-70, 18-hole course features lush landscaping, narrow fairways, and various water hazards, and strategically placed bunkers. Golfers of all ages and skill levels return to the course again and again, and many take advantage of the wider variety of instruction choices on offer. There's a fully stocked pro shop with friendly, engaging staff, as well as practice facilities. The 1924 Bar and Grill is the place to enjoy a post-round cocktail, as well as some great food.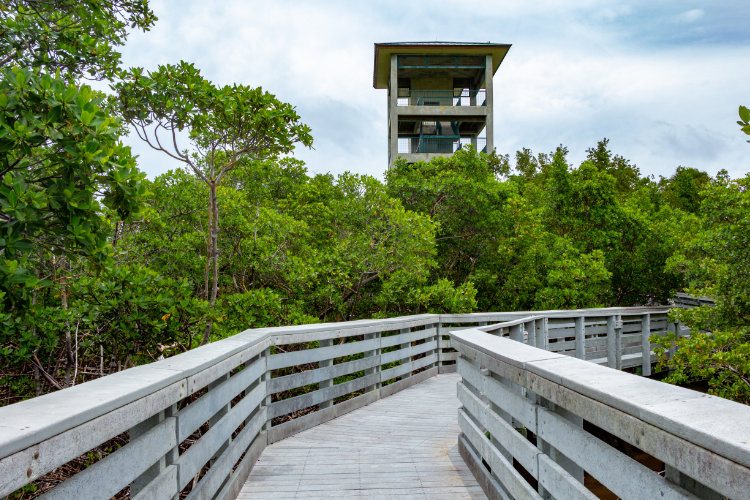 Anne Kolb Nature Center
Anne Kolb Nature Center is located in Hollywood, a 20-minute drive north of Hallandale Beach. Encompassing over 1,500 acres of protected coastal mangrove wetlands, many native plants and animals thrive here, and some are threatened or endangered elsewhere.
The Nature Center has four main trails along wooden walkways, which are ideal for viewing the wildlife. The park is enjoyed best by boat, though, and the Nature Center offers guided tours of the boating trails, where you can fish or just enjoy feeling like you're a hundred miles from the center of an urban area. It's worth taking extra time to explore the large exhibit hall that houses a saltwater aquarium and nature-themed exhibits by local artists.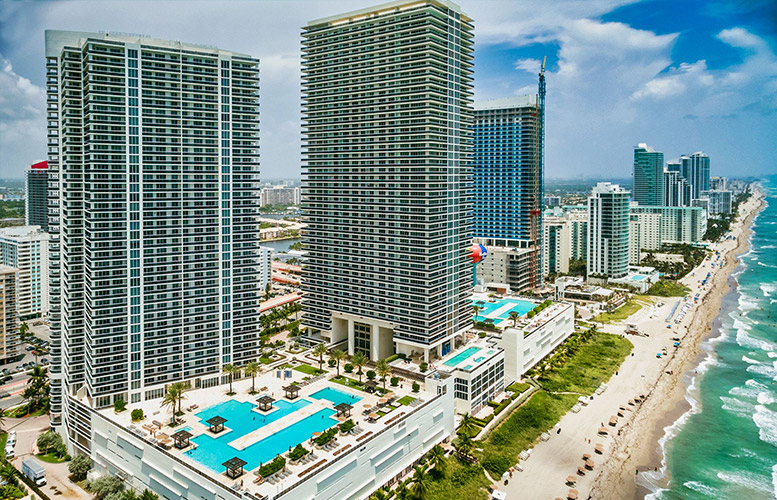 The Beach Club One and Beach Club Two towers along the beach
Hallandale Beach Real Estate
There are a wide variety of real estate options in Hallandale Beach, with something to satisfy everyone. Along the oceanfront, high-rise residential towers dominate, some of which offer luxury living with resort-style amenities.
Away from the shoreline, you'll find modest single-family homes on small lots. These homes are generally found on quiet, tree-lined streets, appealing to those who want a peaceful place to call home.
Along the Intracoastal Waterway and the city's many canals, you'll encounter fabulous mansions on sprawling estates, in gated communities such as Golden Isles. These single-family homes are expensive and exclusive, offering residents privacy, tranquility, and valuable waterfront access.
Additional Reading
Be sure to check out some of the oceanfront communities near Hallandale Beach: