Living in Golden Beach, FL: 2021 Community Guide
Posted by Discover Homes Miami on Friday, March 5, 2021 at 7:05 PM
By Discover Homes Miami / March 5, 2021
Comment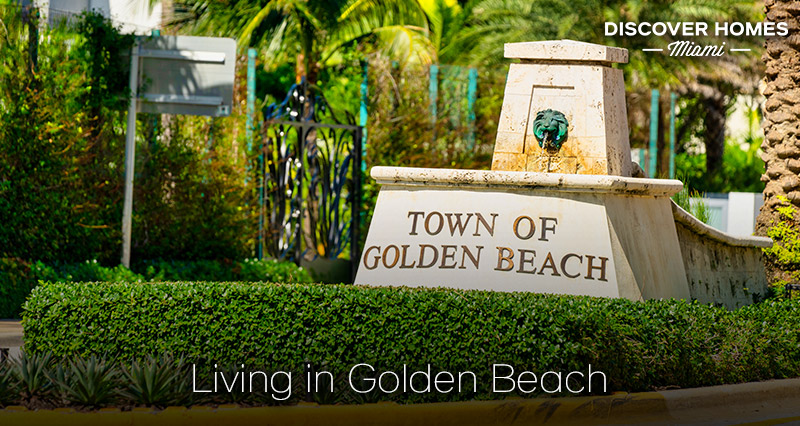 Located in the northeast section of Miami-Dade County, Golden Beach occupies a mile-long stretch of Collins Avenue, bounded on the east by the Atlantic Ocean and on the west by the Intracoastal Waterway. Incorporated in 1929, this self-governing town is among the oldest municipalities in the county and has become one of the most desirable places to live in the Miami area.
Golden Beach was founded as a town of single-family homes, with a strict charter prohibiting commercial and high-rise development. Today, Golden Beach retains a tranquil atmosphere with a strong sense of community, and its real estate commands some of the highest prices in the United States.
With its luxury real estate, opulent lifestyle, and pristine private beach, Golden Beach attracts people worldwide. There's a real sense of seclusion here, and the town's police force ensures Golden Beach remains tranquil and secure. Over the years, notable residents such as Bill Gates, Eric Clapton, and Paul Newman have been drawn to this secluded hideaway that offers a lush, tropical escape from the outside world.
Let's dive into what makes Golden Beach such a sought-after place to live.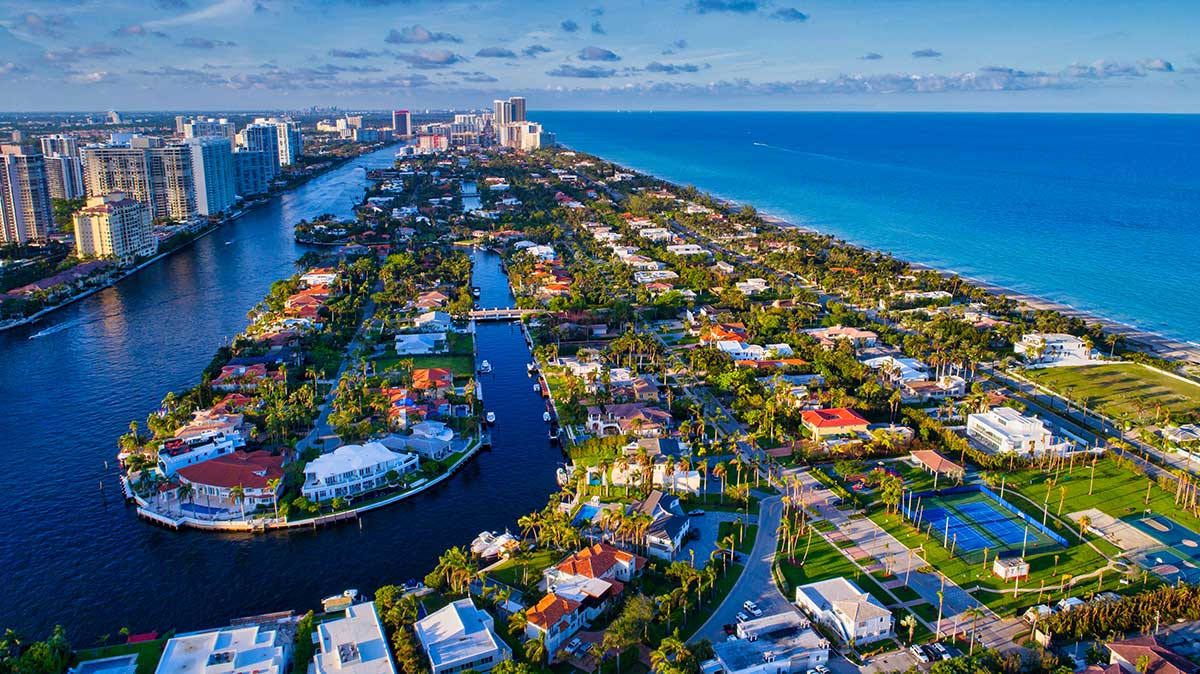 Lifestyle and Culture in Golden Beach
Golden Beach's mile-long stretch of sand is one of its main attractions, and it should come as no surprise that daily life revolves around the pristine beach. Locals enjoy nothing more than spending the day relaxing on the beach, enjoying the ocean breeze, and listening to the turquoise water lapping on the shore.
Loggia Beach Park features the town's crown jewel, a historic oceanfront pavilion that has been elegantly restored. The pavilion can be rented and provides a popular venue for glamorous parties and events.
Other parks and green spaces are scattered throughout Golden Beach, adding to the town's relaxing vibe. Tweddle Park is a favorite local gathering place, and its tennis courts, playground, and dog park get plenty of use. The Strand Park, located at the Intracoastal Waterway, is another popular spot. It's here that locals come to launch kayaks and paddleboats for a relaxing afternoon on the water.

Most of the real estate in Golden Beach is tucked behind a gated entrance.
Although there's no commercial development in Golden Beach, the town's convenient location means it's within easy reach of some amazing options for shopping and dining. Nearby Bal Harbour Shops offers some of the most exclusive shopping globally in a beautifully landscaped setting. Aside from the luxury boutiques, there are plenty of upscale restaurants here, too.
Aventura Mall provides Golden Beach residents with another upscale shopping destination, just a few minutes' drive away. One of the country's largest shopping centers, Aventura Mall offers art installations, an impressive array of upscale boutiques, and plenty of interesting dining options.
For a lively night out, Golden Beach locals are within an hour's drive from the buzzing Miami Beach club scene, as well as all the fun to be found at the outrageous Seminole Hard Rock Hollywood, a few minutes north.
Golden Beach residents live within easy reach of Miami's arts and culture scene. They can often be found perusing the latest cutting-edge contemporary art installations at MOCA in North Miami or taking in a live stage performance at the Art and Culture Center of Hollywood. Golden Beach locals also love to immerse themselves in some of the most exciting festivals around, including Miami Fashion Week and Art Basel Miami.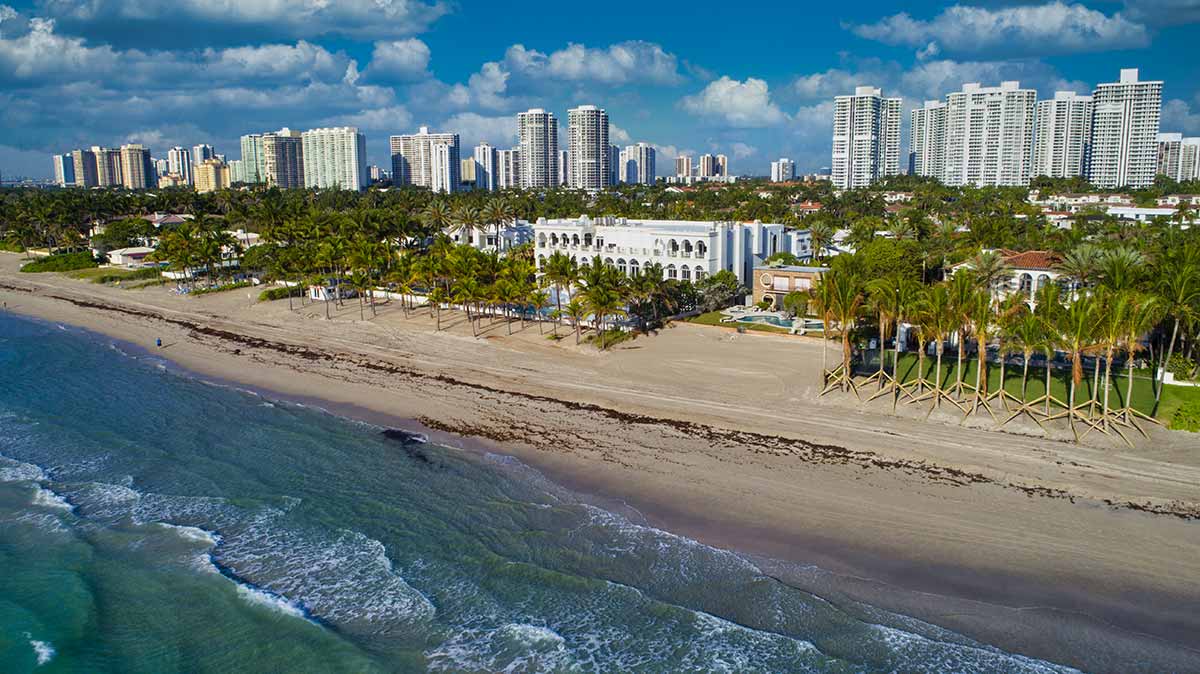 Notice the landscaping and personal property on the beach itself. That's because in Golden Beach property lines extend onto the beach!
Stroll the Beach
This one is hard to recommend unless you're a resident or the guest of a resident. Although the beachfront properties own the sand up to 50 feet from their perimeter walls, the public is still theoretically entitled to walk the foreshore and swim in the surf.
The law is largely untested in terms of public access to private beaches. As a rule of thumb, the mean high-tide water line divides public and private ownership. However, you might find a somewhat chilly reception if you attempt a stroll here, and you may also be photographed as you enter the area.
For the best uncontroversial public beaches, head to the City of Sunny Isles Beach to the south or South City Beach Park (see below), both of which come highly recommended.
Parks and Recreation
Although Miami has a high population density, green spaces are comparatively plentiful, and Golden Beach has several within its perimeter. There are much more accessible within a short drive too. Here is a selection of the best of them: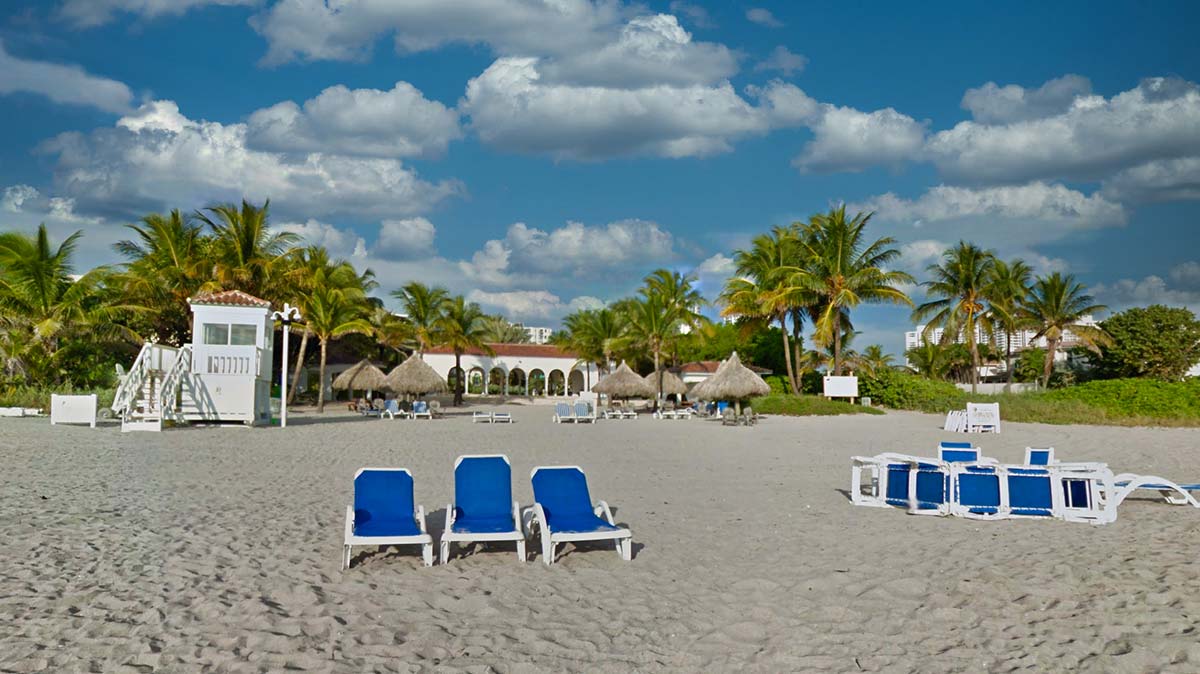 Loggia Beach Park
With its white sand, crystal clear water, and genteel charm, Loggia Beach is a nexus where Golden Beach residents mingle with their guests. With tiki huts, deckchairs, and picnic tables, there are plenty of places to relax in the shade, watching others splash about in the surf.
The celebrated Beach Pavilion has a cloistered Spanish feel and can be hired for events. Fire pits, restrooms, and shower facilities are available on site. The park is only accessible from Golden Beach town and is not open to the public.
North Park / South Park
There are two triangular oases between the Parkway and Golden Beach Drive, one at the north and one south of the Golden Beach island. North Park is an open green space for kicking a ball or throwing a frisbee about. South Park pipes in relaxing music and has shady paths beneath the trees for an evening stroll.
John Tweddle Park
Recently renovated, Tweddle Park offers basketball and tennis courts, beach volleyball, and a covered area for picnics. There is also a playpark and facilities for dogs. This park also lies within the Golden Beach perimeter and is therefore inaccessible to non-residents.
Heritage Park
Heritage Park lies to the north of Sunny Isles Beach and is available to the general public. The four-acre site contains play areas, fountains, a dog zone, and lots of quiet benches to read a book or engage in a spot of people watching. It also hosts monthly open-air concerts and movie nights.
South City Beach Park
To the north, in Hallandale, lies the closest publicly accessible beach area with amenities. Completed in 2015, this modern park includes an open-air pavilion, two bocce greens (a version of the French boules), sand volleyball, and concession stalls. It's open all-year-round, and beachfront parking is available. Café Cita is a locals' favorite for a bite to eat, offering great smoothies and omelets.
Golden Shores Park
Despite its name, this isn't on the waterside but instead is a cute, clean, and cozy playpark situated to the north of Sunny Isles Beach. It has picnic tables, and you can even charge your phone with one of the USB ports built into its solar-powered bench.
Founders Park
Named after the progenitors of the city of Aventura, Founders Park is a 12-acre site with many sports and recreational facilities, including an exercise trail, disability-accessible playground, sun shelters, tennis courts, and a multipurpose athletic field for baseball, softball, football, or soccer. There's also an outdoor water play area, perfect for those hot, humid summer afternoons.
The south section of the park offers a landscaped tropical bay walk overlooking the Intracoastal waterway. It is also home to the Aventura Community Green Garden, a facility for locals to grow their own vegetables, herbs, and flowers.
Waterways Dog Park
Your canine friends need not be neglected at Golden Beach. Just north of the Waterways Village development in Aventura is this open green space where residents can let their pets off the leash to run wild and meet other dogs.
Oleta River State Park
If you really want to see some wilderness without heading out to the Everglades, the Oleta River State Park is readily accessible from Golden Beach. Lying just to the south of Sunny Isles Beach, Oleta is Florida's largest urban park, covering around a thousand acres of land bisected by its namesake river and tributaries.
It's a perfect place to paddleboard, kayak, or fish, and there are campgrounds and cabins for hire, as well as idyllic spots to take a dip. It's a popular stopping point for those hardy paddlers attempting the 1515-mile-long Florida Circumnavigational Saltwater Trail.
Animals and birds to look out for among the mangroves include egrets, herons, manatee, and dolphins. There are canoes, paddleboards, and kayaks for hire.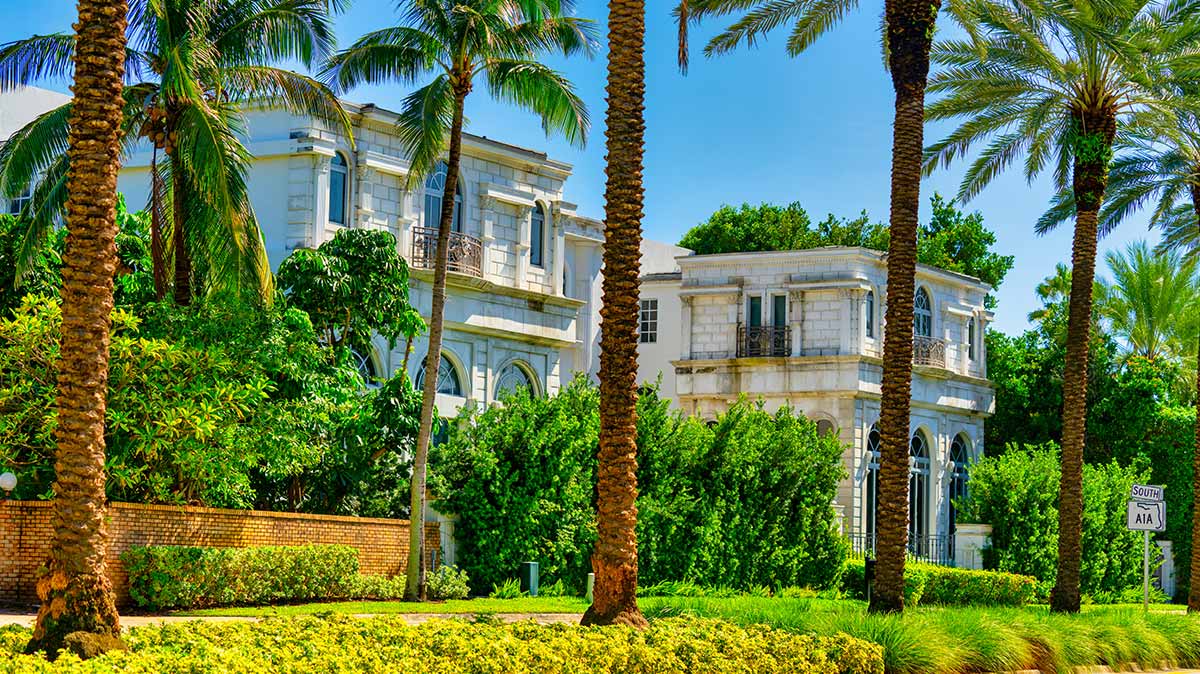 Mansion along Ocean Boulevard in Golden Beach with Neoclassical and Italianate architectural influences.
Real Estate in Golden Beach
Now that we've whetted your appetite let's look at what sort of property might be available in this most desirable of Floridian zip codes. However, it may be advisable to sit down since homes here fit into two main categories – the fabulous and the outrageously fabulous.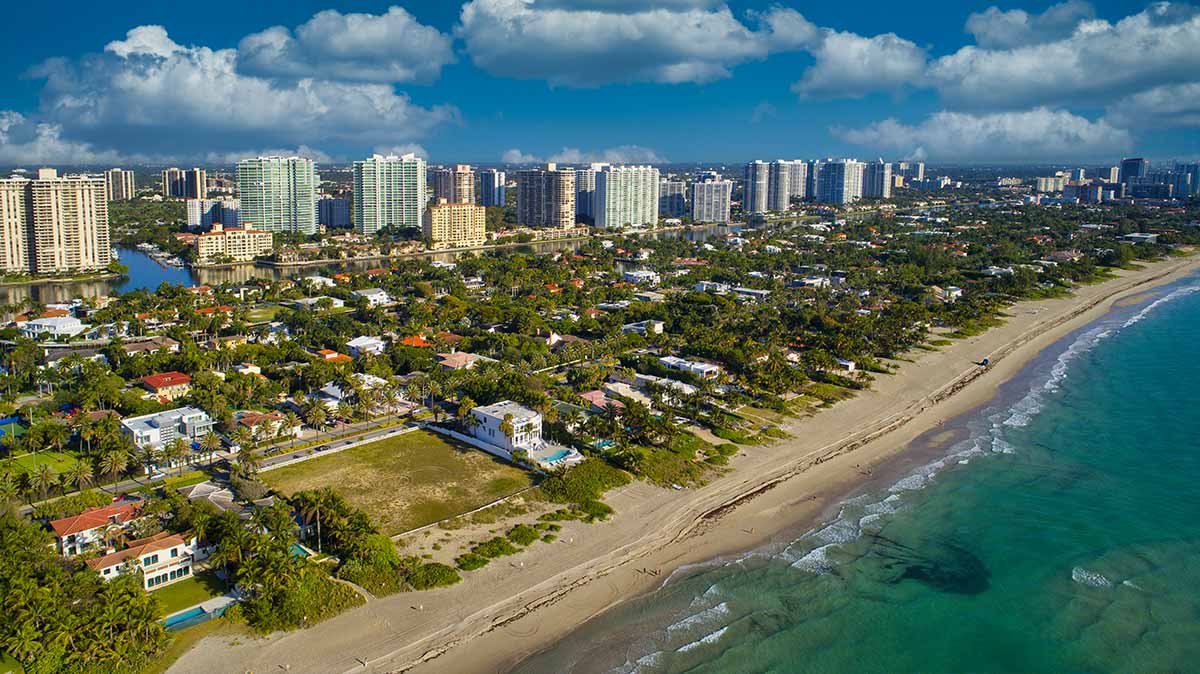 Oceanfront homes in Golden Beach
Ocean-View
You have a choice of looking inwards towards the Intracoastal waterway or out into the blue Atlantic. Since the latter properties tend to come with their own private slices of the beach, they are amongst the most expensive, but the West-facing properties are no slouches either.
Some of the older and grander homes tend to be situated beachside, with Ocean Boulevard being the most desirable address. Houses tend to be either Mediterranean and palatial or modernist masterpieces of glass and steel with angular white walls and geometric picture windows with intersecting wooden elements. Many of these homes could grace the cover of Architectural Digest.
Multi-acre lots will often include ornate gardens, pools, and tennis courts, with shaded palm-lined avenues lined. Privacy is key here, given the fame and celebrity of some of the residents.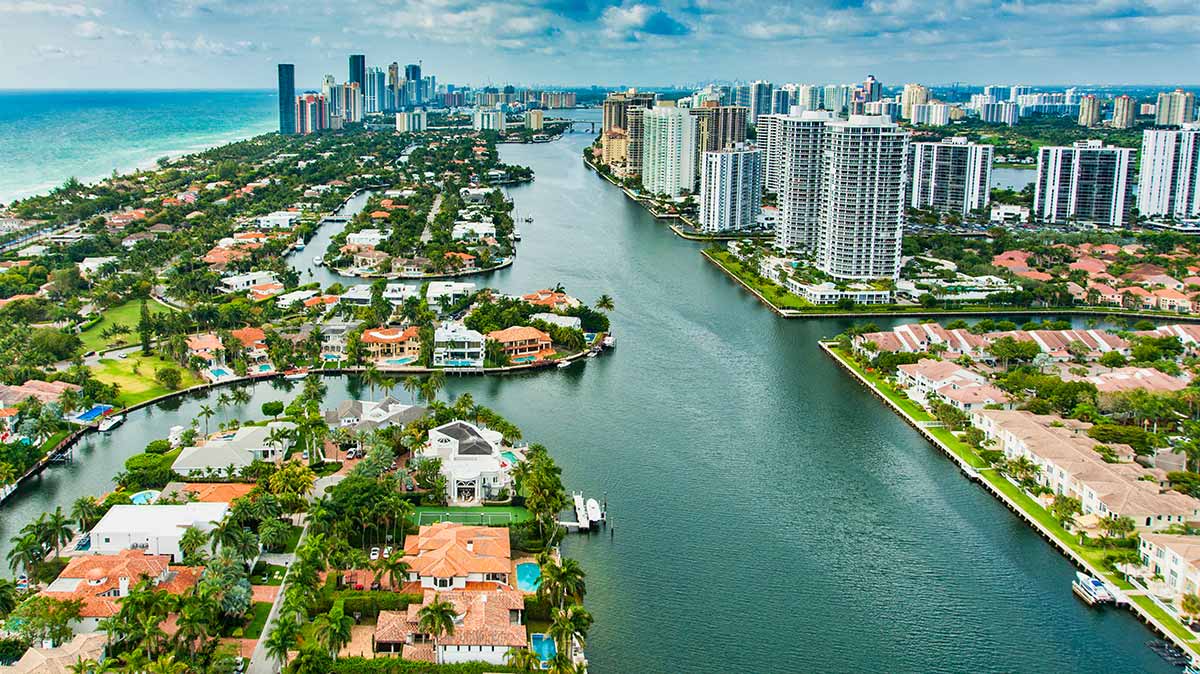 The waterway that separates Golden Beach (left) from Aventura (right)
Waterways Properties
On the three pill-shaped islets that flank the Intracoastal waterway, properties facing the channel usually sell for more than those facing the main island.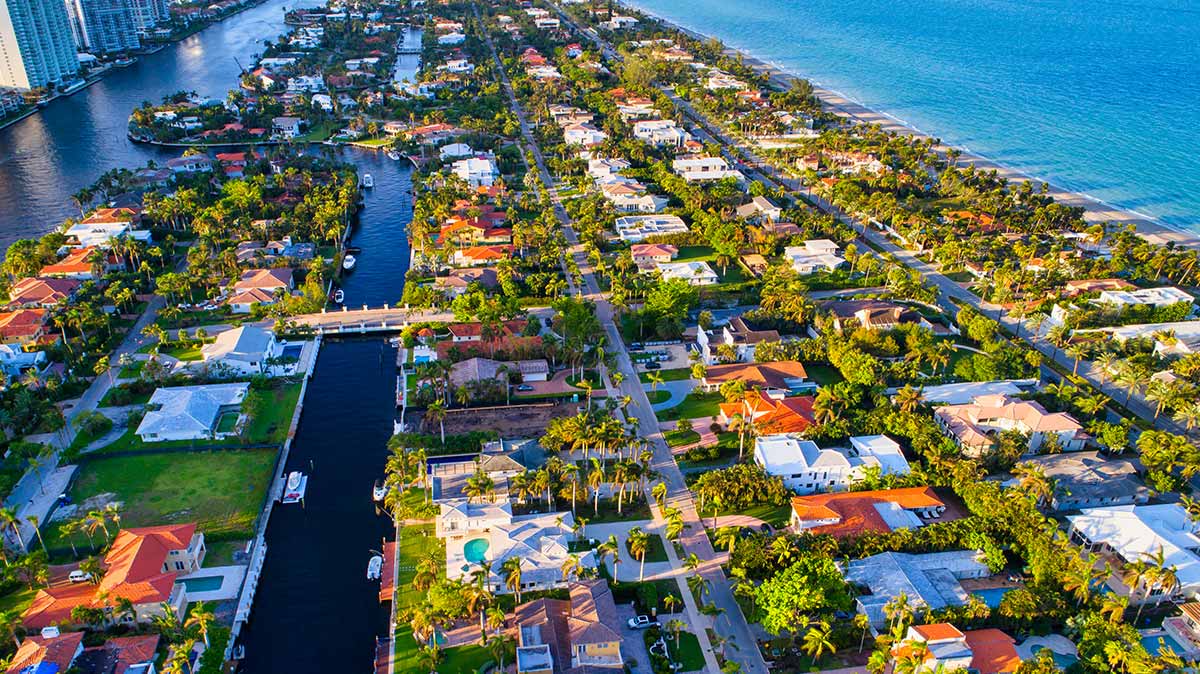 Some of the landlocked properties in Golden Beach are on the right
Inland Properties
The homes on the west side of Ocean Blvd or the east side of Golden Beach drive don't face either the ocean or waterway. This brings the price down considerably. That said, these more compact modernist homes still offer open-plan, split-level housing with integrated technology, four or more bedrooms, and pools, and gardens.
Whether furnished to an impeccably tasteful standard or presented entirely unfurnished, Golden Beach architecture may seem cold and clinical at first. Still, these homes are very deliberately blank canvases for their owner's creativity and imagination.
Homeowners who live in Golden Beach are often art collectors who enjoy designer furniture and dramatic interiors. They relish the opportunity to stamp their personality on properties that offer maximum flexibility, rather than history or a "lived-in" quality, this potential is what buyers seek from these uber-modern properties.
Additional Reading