10 Hacks to Help You Navigate Miami International Airport
Posted by Discover Homes Miami on Friday, January 5, 2018 at 9:48 AM
By Discover Homes Miami / January 5, 2018
Comment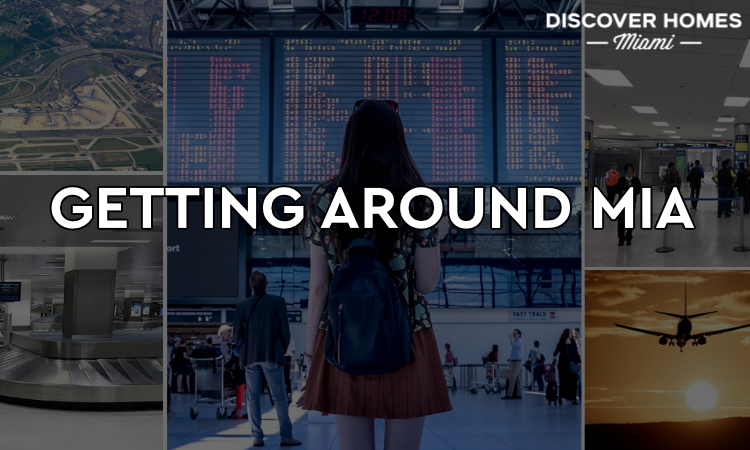 One of the busiest airports in the US is the Miami International Airport and this is with good reason. It has been given the moniker Gateway to the Caribbean and Latin America, which is why it is the second busiest airport in the country and number one in terms of flights to these southern destinations. It is also an airport that handles 99 carriers which service over 100 destinations worldwide.
This massive and busy airport may be very confusing to navigate if you are new to it, so here are some tips and tricks that can be helpful when you are at the MIA:
1. Know the Layout
The Miami International Airport can be confusing and intimidating to newcomers so knowing the layout of the airport beforehand can help you a lot. You should be aware that there are three terminals, the North Terminal, South Terminal, and Central Terminal.
Each of these terminals has a few concourses or areas that are represented by letters to allow for easy navigation, with Concourse D in the North Terminal, Concourses E to G in the Central Terminal, and Concourses H and J in the Southern Terminal.
2. Check out a Map of the Airport
If you don't want to bother asking people for directions when you get to the airport, or simply want to be prepared for any eventuality, you can opt to print a map of the airport to help you navigate your way around it. There are a lot of maps that can be found online for you to print and use to find your way around this massive structure.
3. Fastest Way to Get to Other Terminals
If you have time on your hands or find yourself in the wrong terminal upon arriving at the airport, figure out the fastest way to get from one terminal to another. You can do this by checking out the map you printed out or by asking at information counters near you.
If you loathe walking from Concourse D in the North Terminal to Concourse J in the South Terminal, or vice versa, look for the Skyride Connector that connects all three terminals. These moving walkways allow you to travel from one end of the airport to the other without actually hoofing it all the way.
4. Locate Best Parking Areas
If you are driving to the airport and want to park nearest to the terminal where your flight will depart from, you should also familiarize yourself with the parking areas of this airport. There are two main parking garages here, the Dolphin and the Flamingo.
The Dolphin is the bigger one and is the parking garage that services the North and Central Terminals of the airport. The Flamingo is where you should park if your flight departs from the South Terminal of the MIA.
5. Find the Best Lounges Near Your Gate
For those who have some time to kill before their flight, or if your flight has been delayed for an extended period of time due to whatever reason your airline has given you, know that you do not have to suffer uncomfortable seats and long waiting periods in the company of irritated and annoyed passengers.
There are a number of lounges that you can check-in to while waiting in order to wait in comfort and style. Just ask your airline in which part of the airport their lounge is located and if your ticket allows you to access it. Some of these lounges can be accessed for a fee, regardless of whether you are a business class or economy class passenger.
6. Keep Track of Your Time
To avoid stressing out over your departure time and finding your gate, always keep track of your time when you get to the airport. It is advisable that you get to the airport a few hours earlier to avoid any stress associated with getting to your airplane on time, but even those who get to the Miami International Airport early find themselves scrambling to get to their gate when they lose track of time here.
Know where you are exactly in the airport with the help of the map you printed out, know what time it is, and estimate how long it will take you to get from where you are to your gate in order to avoid any mishaps with boarding and the like.
7. Install a Travel App
There are many travel apps that you can use to help you easily navigate any airport in the world, and the Miami International Airport is no exception. Some of these apps even tell you where to eat on a budget, what to buy at the airport for a low price, and where the lounges are for specific airlines can be found.
You can also use these apps to find out more about the airport and what amenities can be found in it for you to enjoy while waiting for your flight.
8. Know Where Luggage Storage Is for Long Layovers and Delays
Some flights can be delayed for long periods of time due to unforeseen weather occurrences, airplane problems, and other similar issues. When this happens, carrying or dragging your luggage all over the airport while waiting for your flight can be such a burden. You can actually store your luggage in the baggage check area of Concourse E in the Central Terminal between 5 in the morning and 9 in the evening.
You can then explore the airport to your heart's content without any luggage weighing you down as you wait for your flight. Just make sure you get your luggage with time to spare before they close and before you have to check these in for your flight.
9. Know Where Your Gate Is
Of course, in order to get to your flight on time while you explore this interesting and massive airport, you should first know where your gate is.
There are 60 gates in Concourse D and a lesser number of gates for all the other Concourses. Check the signs for directions on where these gates can be found and familiarize yourself with these before you explore the airport. You can also check out where these gates are by consulting your map.
10. Determine Where Your Airline is Assigned
One of the easiest ways for you to find where your flight may be boarding in this humongous airport is to find out where specific airlines are usually assigned here. There are maps that also tell you where these carriers are often directed for boarding and deplaning, and researching this beforehand can help you avoid undue stress in finding out where you should go.
For example, American Airlines flights are often found in Concourse D or the Northern Terminal, while Air France is often assigned a berth in Concourse H of the Southern Terminal of this airport. If you cannot find your airline on the list on such a map, you can always ask for information at the airport for help with this.