Living in Fort Lauderdale: 2021 Community Guide
Posted by Discover Homes Miami on Sunday, March 28, 2021 at 9:20 AM
By Discover Homes Miami / March 28, 2021
Comment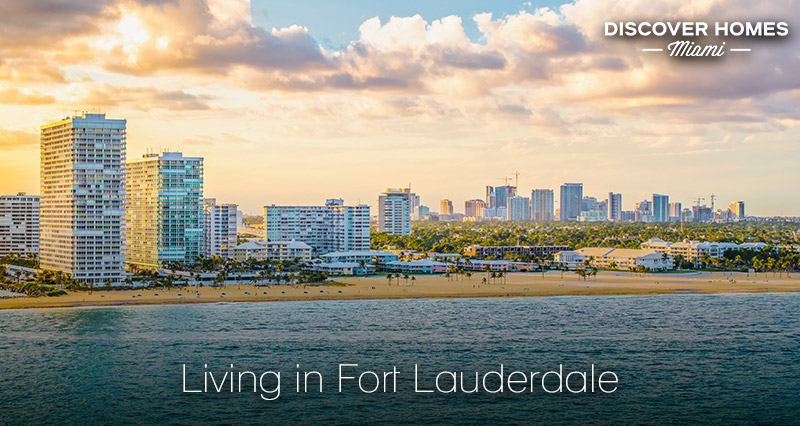 Located in Broward County, 25 miles north of Downtown Miami, Fort Lauderdale is a beautiful, energetic city with a population of over 180,000. Featuring epic stretches of gorgeous white sand beaches, and over 500 miles of picturesque waterways, Fort Lauderdale is known as the "Venice of America".
This is a city with a perfect balance of laid-back beach vibes and bustling urban style. A diverse collection of residents call Fort Lauderdale home, and with over 60 distinctive neighborhoods to choose from, the city attracts an eclectic mix of artists, families, snowbirds, and young professionals. Real estate options range from luxury homes in exclusive gated communities to modest single-family homes in tight-knit neighborhood pockets, and there are plenty of options in between, including townhomes and artist's lofts.
With a vibrant nightlife, world-famous shopping and dining scene, and a staggering array of cultural activities on offer, Fort Lauderdale has it all.
Let's dive into what makes Fort Lauderdale such a great place to live.
History of Fort Lauderdale
Fort Lauderdale's beginnings date back to 1838 when Major Willian Lauderdale built a fort on the present-day city site during the Seminole Wars. After the wars ended, the site would lay abandoned for nearly 50 years.
In 1893 Frank Stranahan would arrive on the scene and set up a trading post to trade with the local Seminole people. The small trading post would quickly expand due to its popularity with the local Native American tribe, and this growth brought in new settlers looking for work in the area.
New River, as it was called, had grown large enough to be incorporated into a city in 1911 and was renamed Fort Lauderdale after the original army forts that had occupied the site. In 1915 the new Fort Lauderdale was designated the county seat of Broward County.
Fort Lauderdale saw an economic boom in the early 1920s but suffered devastating losses due to two hurricanes and the stock market crash towards the end of the decade. The city became a significant Navy base during World War II and saw another substantial economic boom when serving members returned from the war, prompting a considerable population spike.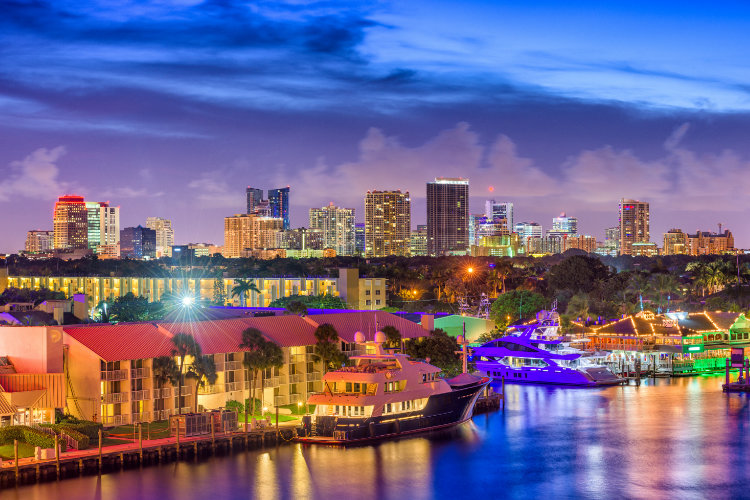 Lifestyle and Culture in Fort Lauderdale
Fort Lauderdale is home to dozens of neighborhoods, each with its own unique vibe. Locals enjoy pedestrian-friendly streets that are ideal for walking, jogging, or cycling around. Colee Hammock, one of the city's oldest neighborhoods, lies along the banks of the Intracoastal Waterway and the New River, providing a picturesque, walkable environment that's close to an array of shopping and dining. In the eastern section of the city, Victoria Park features gorgeous historic architecture, and residents here are within easy walking distance of the beach and downtown.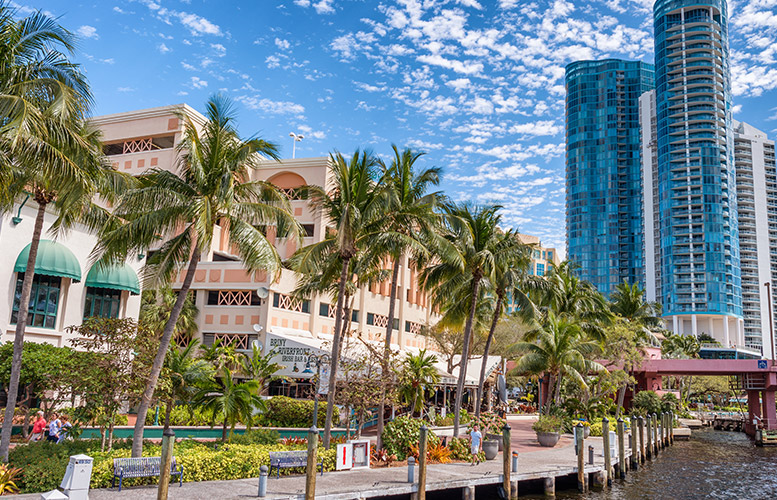 Fort Lauderdale Riverwalk
The Riverwalk Arts and Entertainment District and Las Olas Boulevard lie at the heart of the city, offering a supremely pleasant and friendly atmosphere that's ideal for strolling around and engaging in some good old-fashioned people-watching.
As in any city, driving in Fort Lauderdale can be challenging, especially during rush hour. Parking can be expensive and difficult to find, so many locals prefer to get around under their own steam or take public transit. The fantastic Tri-Rail regional commuter trains stop in Fort Lauderdale, carrying passengers as far south as Miami International Airport and all the way north to Mangonia Park. Many local commuters take advantage of Tri-Rail, which whisks passengers along traffic-clogged freeways in the mornings and evenings.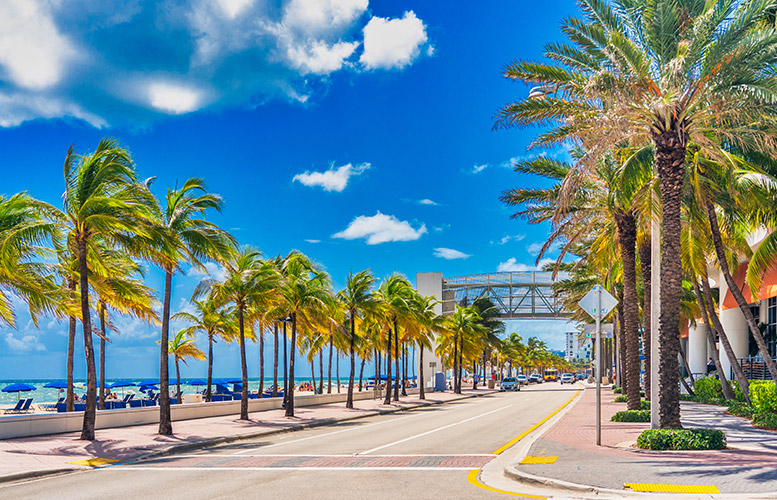 Fort Lauderdale beach promenade
Getting around Fort Lauderdale is easy, with plenty of options available, including the awesome free Community Shuttle, an extensive network of Broward County Transit buses, and fun water taxis. Although the water taxis are geared toward tourists, waterfront bar-crawling by water taxi is a popular local activity on the weekends.
Fort Lauderdale is a city of health-conscious folks, and locals love nothing more than spending time outdoors. South Florida's wonderful year-round climate means outdoor activities are always on the cards. Although summers can be hot and muggy, the city's plentiful trees provide shade during the hottest months.
Jogging, cycling, and rollerblading are all popular local activities, and wide, pedestrian-friendly boulevards are filled with locals getting their daily exercise at all times of the day. Fort Lauderdale's beaches are long, wide, pristine, and the warm, clear ocean offers endless diving opportunities, kayaking, and swimming.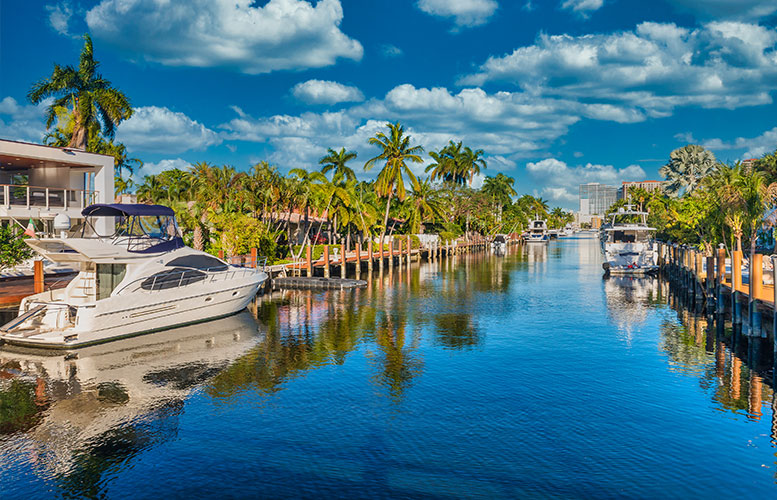 Fort Lauderdale canal lined with waterfront luxury homes
Hundreds of miles of waterways wind through Fort Lauderdale, beautifying the city and providing routes for local boaters and sailors. Thousands of residents live on their yachts full-time, and maritime culture is a huge part of their lifestyle.
Fort Lauderdale is home to a wonderful collection of parks and green spaces, providing residents with hundreds of acres of open space to exercise, play, and relax. In the southern part of the city, Snyder Park is a favorite among local dogs and their owners. There's a fantastic off-leash area with a lake just for furry friends, as well as grassy meadows and picnic tables for their owners. Colee Hammock Park lies along the New River, offering a serene environment in which lazy fishing and picnics under the palm trees always make for a lovely afternoon.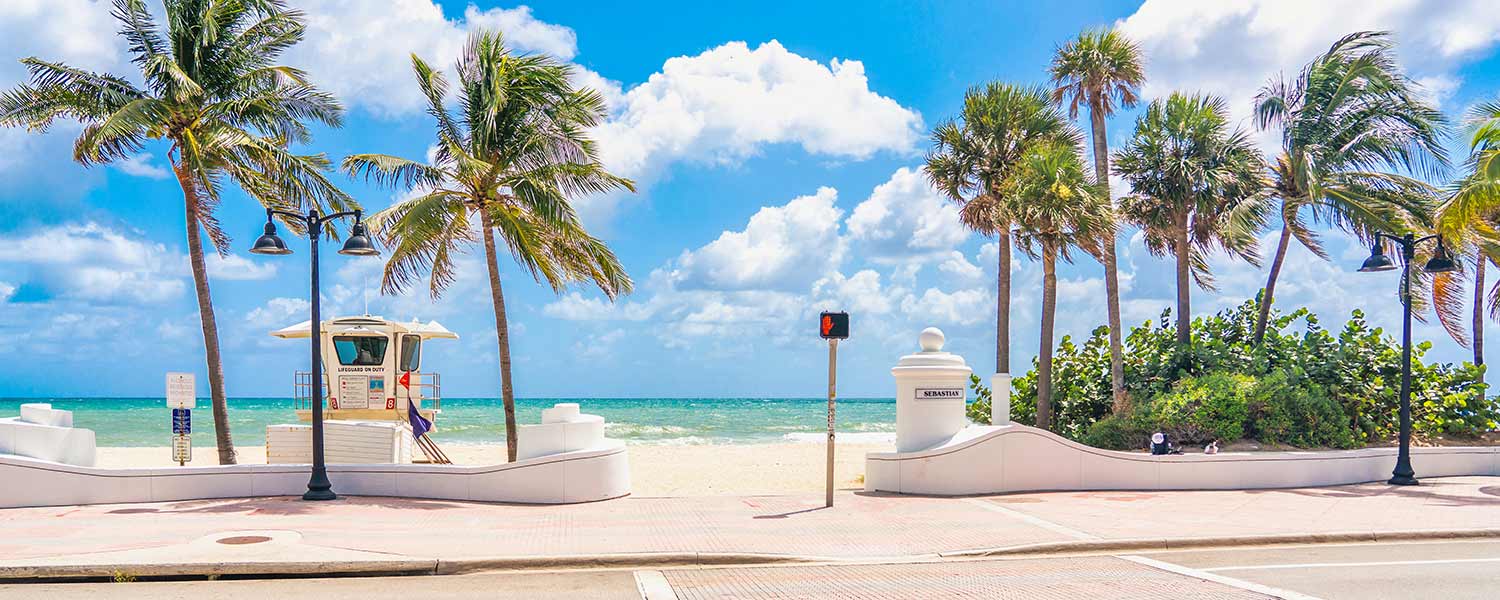 Las Olas beach in Fort Lauderdale
Locals love to hit the beach at any time of year, and the city's central beaches have a relaxed, family-friendly atmosphere. Lifeguards are always on duty during the day, and cafes, bars, and casual lunch spots are all just a short stroll away. Slightly further afield, Dr. Von D. Mizell-Eula Johnson State Park is where locals come for a more serene experience, away from the tourist crowds. This secluded and beautiful beach occupies a spit of land just south of Fort Lauderdale, and locals come here for kayaking excursions or family picnics. Best of all, there's a friendly restaurant serving up cold beer and burgers in a fun, down-to-earth environment.
There's no shortage of world-class shopping in Fort Lauderdale, with Las Olas Boulevard providing the highest concentration of commercial activity. Since the early 1900s, when it was just a dirt road leading to the beach, Las Olas Boulevard has always been the heart and soul of Fort Lauderdale.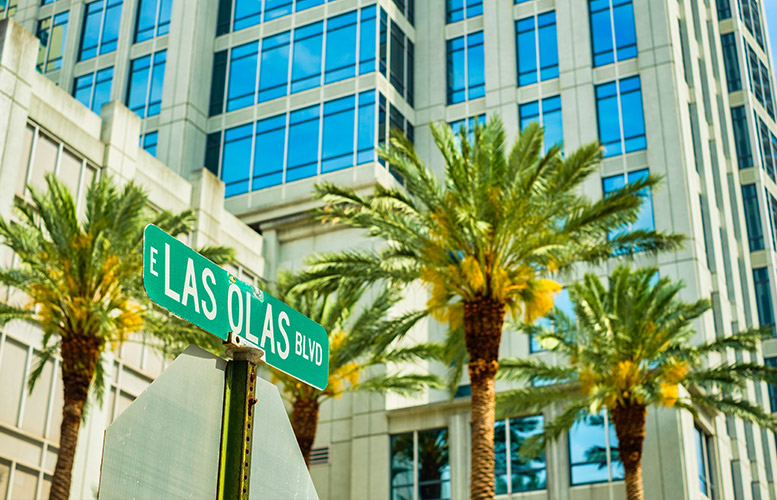 Today, this vibrant commercial strip runs from the beach to downtown, offering an incredible selection of boutiques, galleries, restaurants, and much more. It's a real pleasure to stroll along Las Olas, browsing unique shops, admiring the beautiful historic architecture, and stopping at a charming sidewalk cafe along the way.
There are plenty more shopping destinations, including the impressive Galleria, one of the best indoor shopping malls around, and Wilton Drive in trendy Wilton Manors, where hip, eclectic shops and cafes are nestled among bars, clubs, and galleries.
Fort Lauderdale's nightlife is varied and exciting, and there's something for everyone. Restaurants abound here, with a mind-bending selection of cuisines on offer. There's everything here from affordable Mexican comfort food to cutting-edge, locally sourced farm-to-fork cuisine.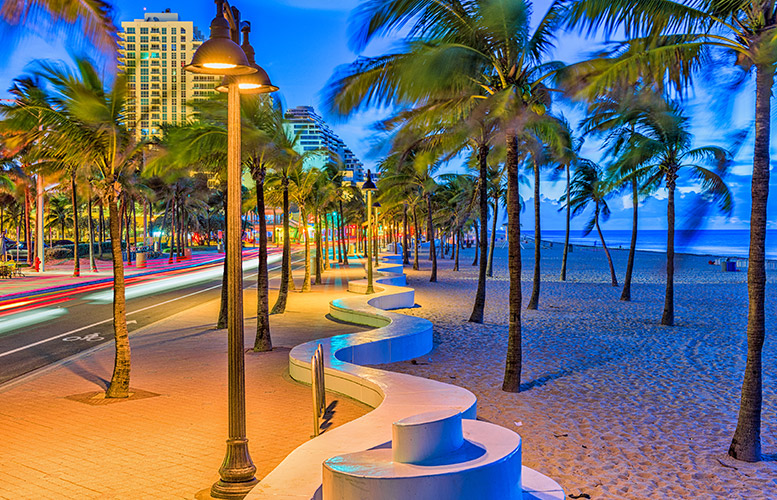 Fort Lauderdale beach at night
Later in the evening, the scene shifts to craft cocktails in upscale waterfront lounges and dancing the night away in one of the many clubs to be found along Las Olas Boulevard or Wilton Drive. Beer lovers have nothing to complain about, either. There are dozens of local breweries, and locals love to follow the Fort Lauderdale Ale Trail throughout the city.
Fort Lauderdale has a rich arts and culture scene, and there are plenty of places for locals to enjoy music, performance, and visual art. The Broward Center for the Performing Arts anchors the city's cultural arts scene, hosting over 700 performances each year. Overlooking the New River in the beautiful Riverwalk Arts and Entertainment District, this fantastic facility offers Broadway musicals, concerts, ballet, and a host of educational opportunities.
A strong community of artists call Fort Lauderdale home, and vibrant arts districts have emerged. The MASS District, located south of Sunrise Boulevard, is full of creative types and unique businesses. Regular art walks are always well-attended, and the atmosphere is always friendly and engaging. Likewise, F.A.T. Village is a warehouse district that's been transformed into an exciting arts neighborhood. Regular events here allow visitors to tour galleries and browse the creations of local artisans.

Things to Do in Fort Lauderdale
Fort Lauderdale Beach
With over 7 miles of shoreline, Fort Lauderdale screams beaches.
Aptly named Fort Lauderdale Beach is a wide beach with picture-perfect sand that stretches for miles. The Beachfront Promenade is excellent for a stroll, with the beach on one side and many shops and restaurants just across the street on the other.
It's also a great place to swim or snorkel, and there are plenty of lifeguards present. If you want to take the experience to the next level, many businesses rent out scuba gear, watercraft and offer many different types of ocean tours.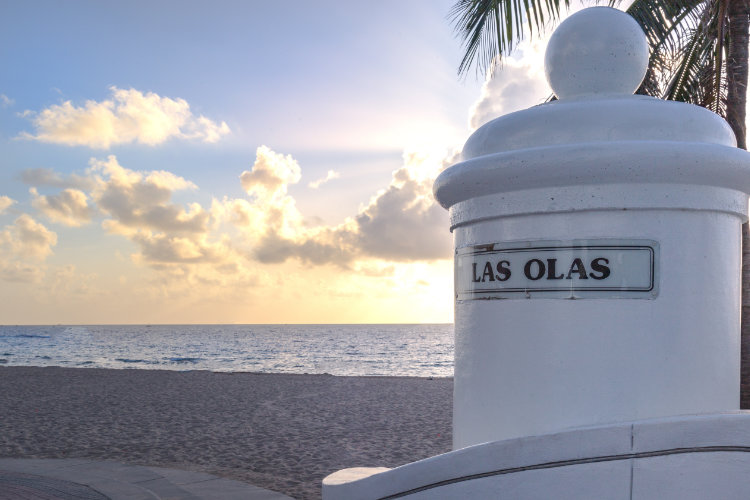 Las Olas Beach
At the southern end of the city, you'll find Las Olas Beach. This beautiful stretch of sand and water is right on par with the longer Fort Lauderdale Beach. Situated right where the famous Las Olas Boulevard begins, there are plenty of shops, restaurants, and cafes right along the water.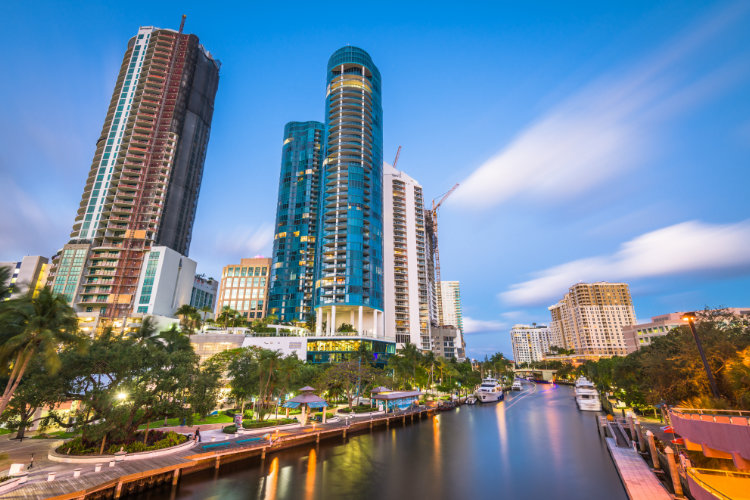 Riverwalk Arts and Entertainment District
This 22 block stretch of adventure has something for everyone. It's a magical place to stroll, either before or after a show. Don't forget to take in the options for food, drink, nightlife, shopping, or to visit a museum or gallery.
Check online before heading out to see all the events happening down there.
Broward Center for the Performing Arts
The Broward Center is the place to be for spectacular entertainment in Fort Lauderdale. It is the jewel of the Riverwalk Arts and Entertainment District and beautifully overlooks the river.
It is host to over 700 events each year in four different theaters. There are many kinds of events, including plays, concerts, operas, ballets, comedy, lectures, and many community events.
If you're curious about what happens behind the scenes, the Broward Center even offers backstage tours. Just be sure to check ahead for scheduling.
Museums
Fort Lauderdale has a plethora of fantastic museums to choose from, so chances are high you'll find something you enjoy at more than one of them. Here are just a few of the top museums in the city:
Museum of Discovery and Science
The Museum of Discovery and Science is one of those museums that has something extraordinary for everyone. It is one of the largest museums of its kind and one of Florida's most visited museums.
Just some of the incredible exhibits include the prehistoric era, weather, flight simulation, a science park, discovery labs, and theaters where crazy science happens. There's even an IMAX theater for out of this world movies. This museum is a must for ages one to one hundred.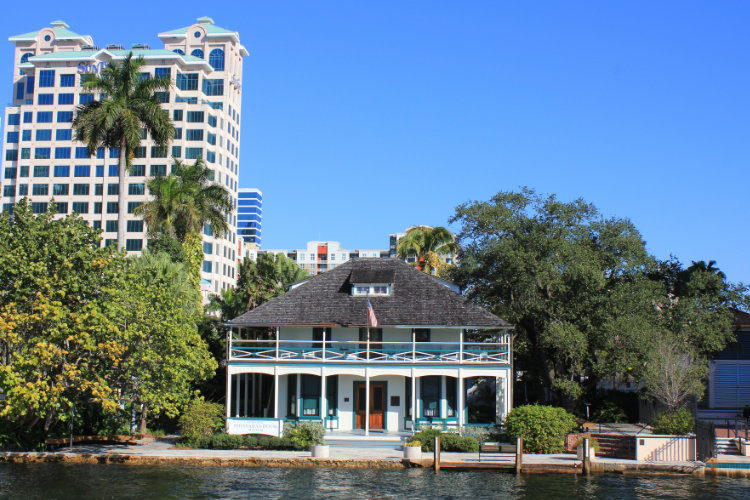 Historic Stranahan House Museum
The Historic Stranahan House Museum is where Fort Lauderdale was born. Perfect for history buffs, this home and museum take visitors back in time to tell the Stranahan family's story as they founded the trading post that would lead to the settlement of a community.
The house itself dates back to 1901 and captures perfectly what life was like over 100 years ago.
Bonnet House Museum and Gardens
Guided tours take visitors through the main house, outbuildings, and some of the 35-acre grounds that make up this early 20th-century estate turned museum. Located on the water, the plantation has been well preserved and provides a window into what life was like in the area.
NSU Museum of Art Fort Lauderdale
This fascinating art museum contains over 25,000 feet of exhibition space, showcasing more than 6,000 pieces of permanent art in addition to rotating galleries. It is most notable for American art from the 19th century to the present times.
Riverwalk Fort Lauderdale
The Riverwalk Fort Lauderdale is an over one-mile long path that follows each side of the New River right in the heart of Fort Lauderdale's downtown area. The Riverwalk passes through a few of the city's parks, which offer scenic views. The route will also take you past some shops and restaurants.
Riptide Music Festival
The Riptide Music Festival is a two-night extravaganza right in Fort Lauderdale Beach Park.
The event features over 30 different bands and artists with some of the best names in music and some great emerging talent. The fun doesn't stop there, though – there's also an emphasis on other art with fashion displays, culinary demos, and art exhibits.
Dining and Shopping in Fort Lauderdale
If you're in downtown Fort Lauderdale, it would be tough for you to pick up a stone and not hit a restaurant or a shop from wherever you may be standing. There is an abundance of places to check out all along the beachfront and out on the canals.
Even heading more inland, districts like the Riverwalk Arts and Entertainment District is known for food, drink, and wares. No matter which neighborhood you end up in, there is always a range of places to choose from.
Here are just a few of the premier places to get your shop or eat on: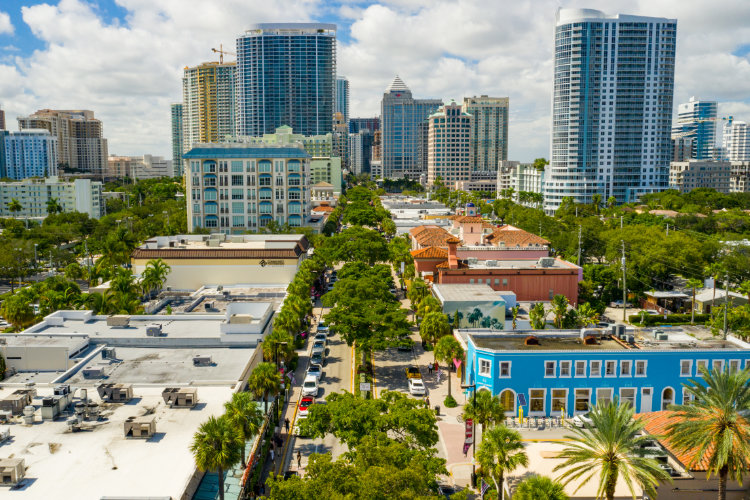 Las Olas Boulevard
Cutting right through the heart of Fort Lauderdale, Las Olas Boulevard is the place to go for shopping and dining. The immaculate, palm tree-lined street runs from the beach through the canals and offers impressive views of the Intracoastal Waterway the entire way.
Many feel this street is the heart and soul of Fort Lauderdale. Meaning "the waves", Las Olas is still making waves today with over 100 retail shops and boutiques, salons, spas, galleries, museums, a multitude of restaurants, and just about anything else one might need.
The Galleria
This two-story shopping mall is Fort Lauderdale's high-end shopping center. The Galleria is conveniently located close to the beach and right on the canals, making a water taxi a stress-free way to visit.
It is one of South Florida's premier shopping and dining destinations featuring popular anchor stores and over 100 upscale stores by internationally recognized brands. There are also several well-known restaurants on site.
Parks and Recreation in Fort Lauderdale
For being known as quite the urban sprawl, Fort Lauderdale has a whole heap of nice park space to escape away to when the need arises.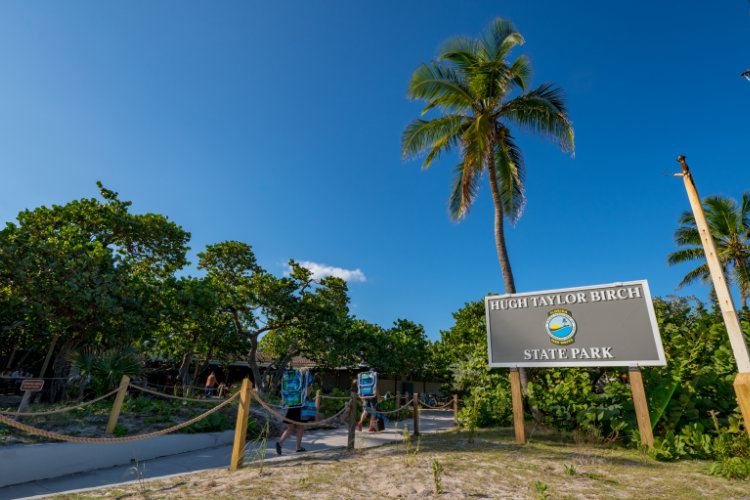 Hugh Taylor Birch State Park
Hugh Taylor Birch State Park is known as the Central Park of Fort Lauderdale. Gifted to the city in 1941, it serves as a nice getaway from all the hustle and bustle. The 180-acre park has lots of wooded areas situated perfectly between the Atlantic Ocean and the Intracoastal Waterway.
The park has no shortage of amenities, with trails to walk, run, rollerblade, or bike and a long freshwater lake conveniently named Long Lake for paddle boarding, canoeing, kayaking, and fishing. There are also many spots throughout the park to sit, relax, or picnic, or even camp overnight.
While in the park, be sure to be on the lookout for some of the native wildlife, with many Caribbean species and over 250 types of birds. Guests can call ahead to schedule a visit to one of the park's live animal exhibits.
Fort Lauderdale Beach Park
This beach strip at the southern end of Fort Lauderdale's coastline is a beautiful place to take in some sun. More than just a beach, the park also has a full outdoor basketball court, volleyball court, and a playground for the kids.
There are plenty of places for grilling out and picnic tables for enjoying food with friends or family. For boaters, there's a non-motorized ramp for getting your craft in the water. When all the fun is over, there are even outdoor showers on-site to clean up.
Other Parks
Further inland, there are even more great parks, such as Snyder Park, with trails, picnic areas, and places for both two and four-legged creatures alike. Esplanade Park, right on the New River, has a waterfront garden and many places to relax. Colee Hammock Park is another stop along the river and is perfect for picnics, fishing, and scenic views.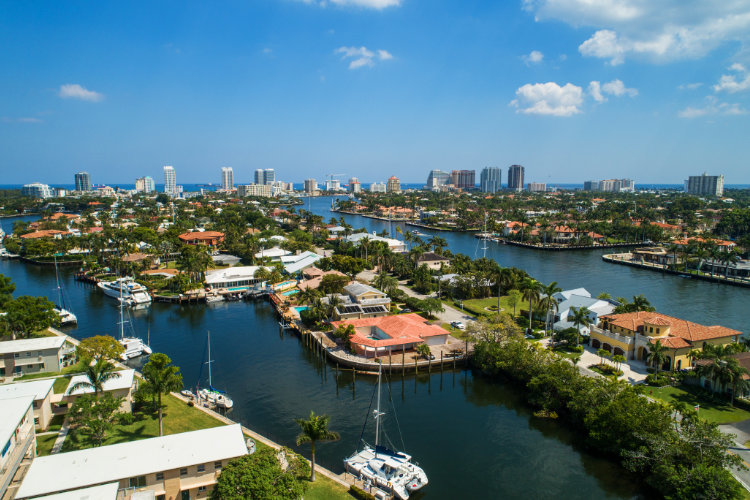 Real Estate in Fort Lauderdale
Fort Lauderdale has been booming since the end of World War II, and that trend doesn't look to change any time soon. Between the beaches, the water, the sun, the food, the parks, the attractions, and everything else Fort Lauderdale offers, it is a very well sought after community.
Fort Lauderdale has an upscale vibe, as can be seen in places like Las Olas. Trying to find a home in an area like this or along the waterfront will undoubtedly set you back a considerable sum of money, but there's no mistaking the excitement of the urban feel.
With the ocean to the east and over 500 miles of waterways in the city, many Fort Lauderdale residents choose to live aboard yachts. If being on the water is your thing, this is another option to consider.
Fort Lauderdale, much like Miami, features a plethora of condos for sale at nearly every price point.
In addition to the above, Fort Lauderdale has plenty of other neighborhoods that are worth looking into. Be sure to check all the areas, as costs in some can be steep. Even so, Fort Lauderdale remains relatively affordable, and it is possible to find a home or apartment on just about any income.
Additional Reading
Still looking to learn more about Fort Lauderdale? Check out some of our articles below: