Fisher Island, FL: Miami Beach's Most Expensive Island
Posted by Discover Homes Miami on Wednesday, January 20, 2021 at 3:56 PM
By Discover Homes Miami / January 20, 2021
Comment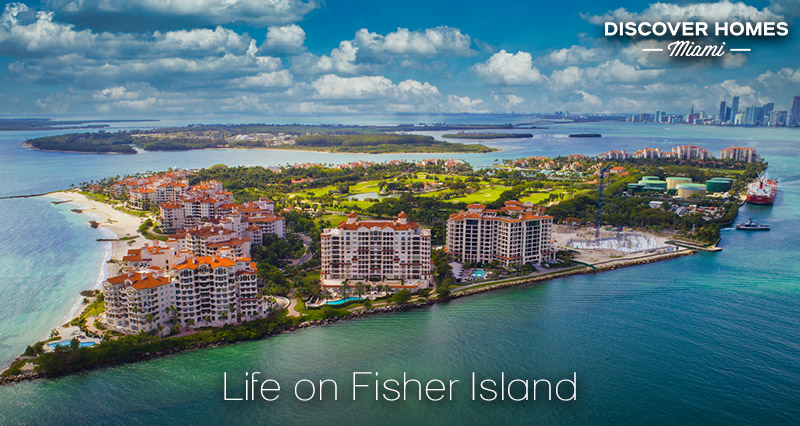 Fisher Island is a small, artificial island known for its expensive real estate and world-class amenities. With a total area of just 216 acres, this private island community is located just off the southern tip of Miami Beach. The island is home to just 467 people living in 218 households.
Fisher Island is famous for being America's wealthiest zip code, with the average resident's income at $2.5 million. Its reputation as a luxurious private island attracts some of the richest and most influential people in the country. Zipping around the Spanish condo complexes on a golf cart, you're likely to see celebrities, champion athletes, and wealthy investors.
Fisher Island is a private community that requires property ownership and club membership to access. Since tourism is not allowed, we've put together this guide to provide a glimpse into what life is like on Fisher Island.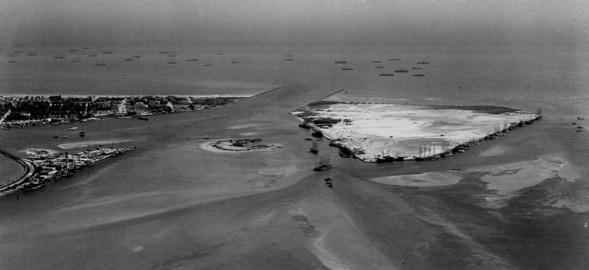 An undeveloped Fisher Island in 1905, with South Beach on the left. Credit: Fisher Island Club
The History of Fisher Island
Fisher Island was actually once part of the main island of Miami Beach, which is a barrier island that lies across Biscayne Bay from mainland Miami. Starting in 1903 and finishing in 1905, the US government decided to cut a shipping channel into the island to provide easier access to the Miami River.
By dredging sand, they cut what is now Fisher Island away from Miami Beach and actually expanded Fisher Island by adding much of the dredged sand to it. They also used some of the sand to create the foundation for the MacArthur Causeway that connects Miami Beach to the mainland.
A man named Carl Fisher began developing Fisher Island in 1919 when he bought it from millionaire Dana Dorsey. Fisher was a self-made entrepreneur and famous promoter who had worked his way up from a bike shop to developing luxury resort destinations for the increasing number of American motorists. Although Fisher ultimately traded the island to William Kissam Vanderbilt II, a member of the prominent Vanderbilt family, for a yacht, the island has kept his name in tribute.
Fisher Island passed from the hands of one millionaire to another several times, each owner utilizing the island as a private retreat for family and important guests. It wasn't until the 1980s that more extensive development began, providing houses and condos for more residents.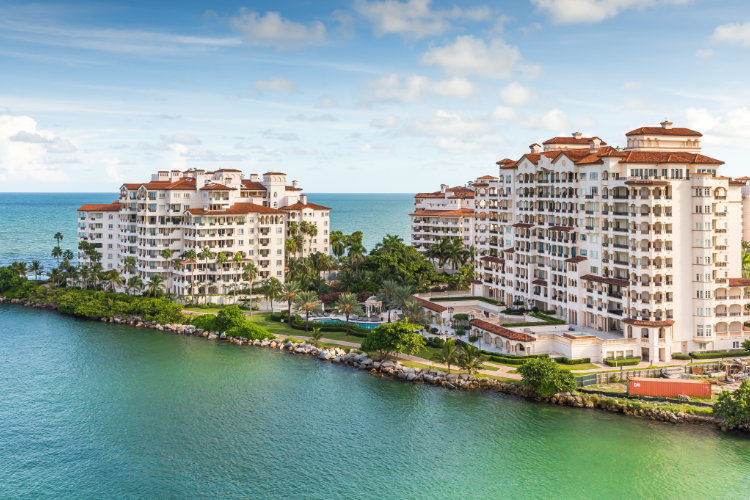 Examples of the classic "Spanish mansion" architecture that dominates Fisher Island. Credit: mariakray / Shutterstock.com
The Architecture and Landmarks on Fisher Island
The vast majority of buildings on Fisher Island are condo complexes, all with the same, uniform look often described as "Spanish mansions," reflecting their Mediterranean Revival Style. They are geometrically symmetrical buildings with terraced wings that branch off central towers. These usually create a looped entryway, many of which are decorated with fountains. Their most distinctive feature is perhaps their clay-shingle Spanish rooves, typical of Mediterranean architecture.
The most notable structure on Fisher Island is the Vanderbilt Mansion. After trading his yacht to Carl Fisher for the entire island, William Vanderbilt II built his private retreat in 1936. Now designated as a Miami-Dade County historic landmark, the enormous Spanish Mansion matches the condo complexes that now surround it and is a rentable venue for events and weddings.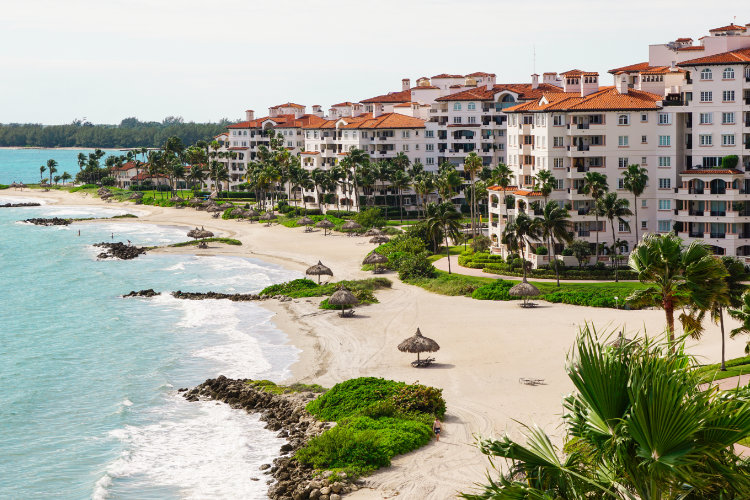 View of the private beach along Fisher Island's eastern border
What's It Like to Live on Fisher Island?
Not only is Fisher Island the United States' wealthiest zip code, but it's also an exclusive community that does not allow public access. It's no surprise, then, that life on the island is one of luxury and glamor. Although a small, restricted number of people actually live on the island, a large body of service people must take the ferry to the island each day to work for the residents in all sorts of capacities.
In other words, the Fisher Island lifestyle is the lifestyle of the rich and famous. Most residents only visit their Fisher Island properties for vacation or the summer, but about 30%, make the island their primary residence. Regardless, Fisher Island is viewed as an escape from the big city and allows residents to relax in an isolated, controlled area. That means sunbathing on the beaches or beside the private pools, playing golf, or taking the yacht out without having to worry about the little things like laundry, cooking, or shopping.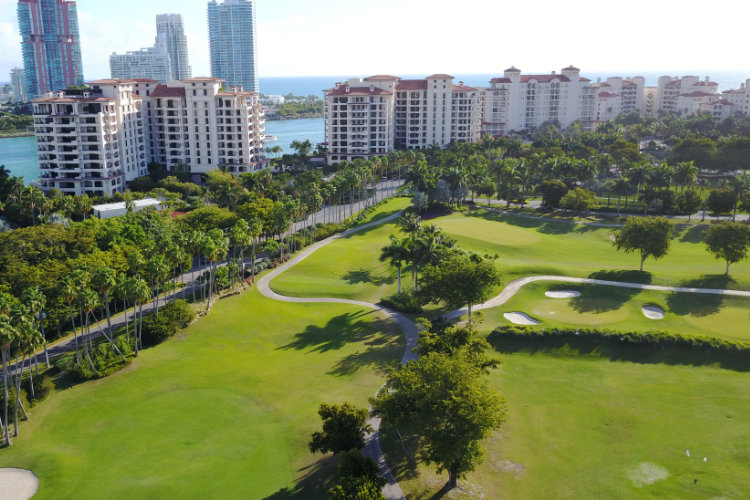 Fisher Island Club's golf course. Credit: TetKabrit / Shutterstock.com
Private Clubs and Beaches
The Fisher Island Club is the defining feature of the island. Equity membership is available for those who already own property on the island.
This membership costs a one-time payment of $250,000 and around $22,000 in annual fees. It provides discounts and benefits for shopping and dining venues around the island as well as the golf club and marina. Additionally, membership grants access to the Beach Club and its private beach, the tennis courts (which are considered some of the best in the country), and other amenities like the pool in the Vanderbilt Hotel. Residents can also purchase an optional golf membership that grants free access to the golf course.
You can actually buy a membership in the Fisher Island Club even if you don't live or own property on the island, too. This provides access to many of the same establishments as those with equity membership like the beach club. Of course, there are a limited number of "outsider" memberships available.
The Beach Club itself, which is just one part of the larger Fisher Island Club, includes seaside pavilions and seating on a stretch of private beach. It also has access to the Vanderbilt Pool. The club features a full staff that serves residents while they relax on the beach or by the pool.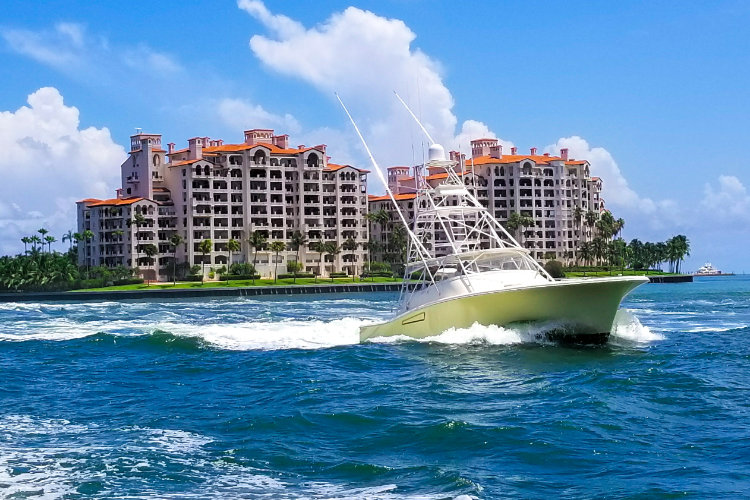 Fisher Island can only be accessed by boat
Access and Exclusivity
Fisher Island is a private community of only a few hundred people. There is no connecting road and even if you have a boat, you cannot dock on the island without permission. Many of the condo complexes have their own private ferries from the mainland for prospective and current residents, a ride that takes about seven minutes.
There's also a ferry that serves the island 24/7. The frequency depends on the time of day with important weekday travel times having three rotating ferries. This means a ferry departs every ten minutes, which is essential given the more than 400 service workers and security professionals on the island. Even at the least busy hours, Sunday-Thursday from 1:00 AM-5:00 AM, there's a ferry that leaves on demand.
A lot of residents choose to travel between Fisher Island and the mainland with their own private boat. However, the marinas are even more exclusive than the island itself. Getting your hands on a slip can be hard since there are so few, and they can cost hundreds of thousands if not millions of dollars. The slips range in size with the largest able to accommodate yachts up to 250 feet.
People who travel to Fisher Island have to be approved by security if they aren't residents. That means staff, prospective residents, and even guests. This process usually entails a low-level background check.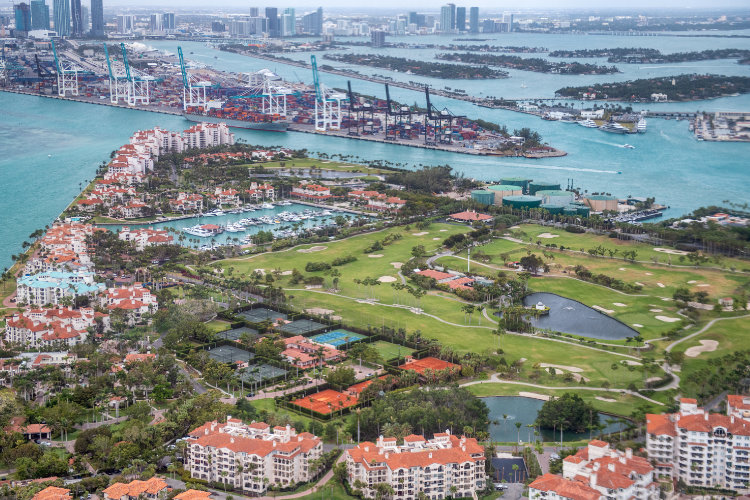 Some condo buildings feature restaurants within
Shopping and Dining
Fisher Island features its own shopping and dining amenities. To provide service close to home, many of the condo complexes have sit-in and takeout restaurants on site.
Of course, there are also restaurants in the Beach Club and on the golf course. There's a market near the center of the island that offers limited grocery and deli items.
Aside from food, there are a few other shops scattered about the island. These sell marine supplies, female clothing, spray tans, and other goods and services.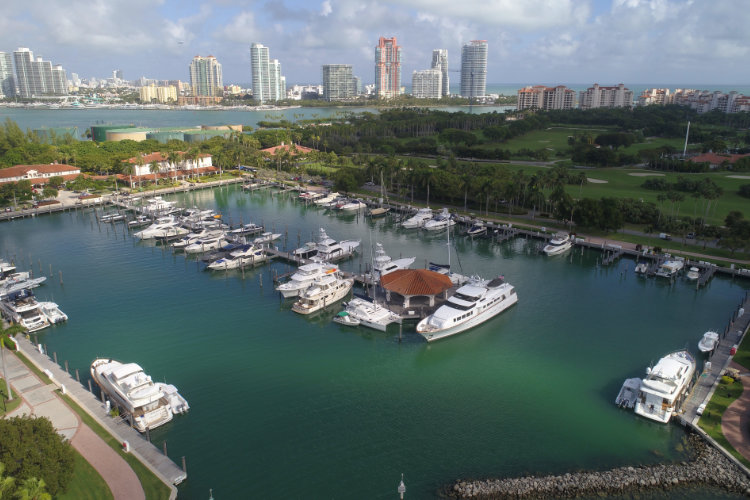 Fisher Island marina
Infrastructure
Fisher Island has well-developed infrastructure that allows it to function as an isolated community. This includes a water and sewage treatment facility as well as Miami-Dade Fire Department Firehouse 42 and a UHealth Medical Clinic.
The marine infrastructure is especially superb, as its deep-water marinas are capable of serving yachts up to 250 feet long. A number of docks also provide space for ferries and the many barges that bring construction materials, machinery, and commercial goods to the island.
Roads on the island are well-kept and connect complexes with the community's many amenities. They're all two-lane, though some are divided avenues featuring medians with greenery or fountains. Low-speed limits are enforced throughout the island.
Most roads permit cars, but golf carts are the preferred means of transportation within the island. Most residents own a golf cart, and many condo complexes offer them for free as a resident perk.
Finally, there is one school on the island: Fisher Island Day School. This private academy has the lowest student-teacher ratio of any private school in South Florida and provides education for preschool-aged children from two years old and elementary and middle school students until eighth grade. It includes a 1.5-acre campus with five acres of fields for recreation and sports.
The school fully accredited and teaches a curriculum developed with help from the University of Pennsylvania. The vast majority of students come from families living on Fisher Island, but some come from the surrounding area. For high school, students must leave the island.
Notable Current and Former Fisher Island Residents
Oprah Winfrey
From 1995-2001, Oprah Winfrey owned a 6,170-square-foot condo on Fisher Island. It was a penthouse unit in the Oceanside complex on the southeast part of the island with beach access. The condo featured 20-foot ceilings and an oceanfront terrace providing incredible views from the living room.
Oprah ultimately sold the condo to George Sherman, the chairman of Campbell's Soup, for $6.5 million. Since then, Oprah's ownership has increased prices on the island, along with the growth of the Miami luxury real estate market.
The condo has since passed through the hands of several prominent real estate investors including Canadian billionaire Lawrence Stroll, the chairman of the Aston Martin car company. Stroll only recently sold the condo for $20 million, actually a big price cut from the 32$ million he'd originally listed it for.
Boris Becker
Boris Becker is a German national and one of the most famous tennis players in the world. By 17 he'd already won six major tennis titles including three Wimbledons, two Australian Opens, and a US Open. Although Becker's primary residence is in Wimbledon to provide him access to tournaments, he has a vacation home in Fisher Island as does his ex-wife, German-American actress, and model Barbara Becker.
Martin Zweig
Martin Zweig is one of the most famous investors in American history. He began buying stocks at the age of 13 with the stated goal of becoming a millionaire.
In adulthood, Zweig amassed a fortune of over $600 million and became famous for his lavish and luxurious lifestyle that included owning what was at the time the country's most expensive home: a penthouse on top of The Pierre on Fifth Avenue in Manhattan worth $125 million in 2013.
In addition to his New York penthouse, Zweig owned a glamorous condo on Fisher Island. He actually passed away there at the age of 70 in February 2013.
Matt Barnes
Matt Barnes is an entrepreneurial mogul that owns and operates Go VIP Worldwide. Along with Go VIP Worldwide, Matt Barnes also owns and operates an extensive portfolio of various global businesses related to the transportation and entertainment industry.
Matt Barnes has been noted to be the youngest person to purchase on Fisher Island at the age of 25. His clients include "A" list celebrities such singers, athletes, movie stars as well as princes and dignitaries from around the world. Matt Barnes has been featured as a young business owner who started his first business in America's poorest zip code who eventually clawed his way to owning real estate in America's richest zip code.
Harold Ford Sr.
As the first African-American to represent Tennessee in the US Congress, Harold Ford passed a number of legislation that reformed welfare programs and provided job training and health care for low-income people. He retired from government in 1996, after which his son, Harold Ford Jr. ran for and won his seat.
Since retirement, he's been active in the Democratic Party and worked as a lobbyist. Ford's primary residence is in Tennessee, but he likes to vacation at his property on Fisher Island.
Barney Rosenzweig and Sharon Gless
Barney Rosenzweig is a TV producer best known for producing the 1980s police drama Cagney & Lacey. He eventually married Sharon Gless, one of the stars of the show. They own a unit at 2311 Fisher Island Drive, a complex on the southwest-facing shore of the island near the marina.
Andre Agassi
Andre Agassi is another professional tennis player who likes to relax on Fisher Island. He was at one time the number one ranked men's tennis player in the world and has won eight Grand Slam championships as well as an Olympic gold medal.
Agassi was married to Brooke Shields in the late 90s, but in 2001 he married German professional tennis player Steffi Graf with whom he lives near Las Vegas. They have a condo on Fisher Island, though, and travel there seasonally.
Alan Hassenfeld
Alan Hassenfeld is the president of Hasbro Toys. He purchased his condo in Palazzo del Sol, one of the newer complexes on the north side of Fisher Island, for $8.2 million.
Caroline Wozniacki and David Lee
Caroline Wozniacki is a professional tennis player from Denmark. In 2010 and 2011 she was ranked as the top women's tennis player in the world, maintaining the position for 71 weeks and winning more than $35 million in prize money. She has won 30 singles titles including one Grand Slam.
In 2019, Wozniacki married professional basketball player David Lee. Lee won the NBA championship in 2015 with the Golden State Warriors. Their wedding had a long VIP list of guests including Angelique Kerber, Pau Gasol, and Jesse Palmer. Serena Williams was even a bridesmaid. Together they purchased a condo in Palazzo del Sol for $13.5 million.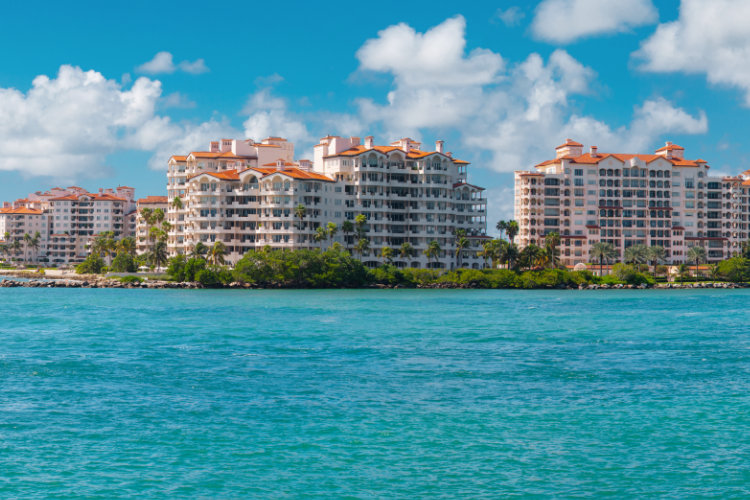 Some of the condo buildings along the Fisher Island shore
Homes and Real Estate
Almost all of the real estate on Fisher Island consists of condos in multi-family developments, the average cost of which is $3.2 million. Most of the condo complexes lie on the shore and have ocean views, though there are a few single-family homes on the inner island.
The most expensive properties on the island are penthouses, which feature spectacular views, multiple stories, high ceilings, and roof access. Condo buildings have a wide range of unit sizes, from studios under 500 square feet to spacious eight-bedroom units larger than 9,500 square feet.
Each condo complex is set up a bit differently, but they usually feature a nearby community pool. The southern complexes boast marina access and the eastern complexes have beach access. Well known complexes include:
Bayside Village: Bayside Village includes 99 residences with four different floor plans ranging from about 1,800 to 5,800 square feet. It's located right next to the marina in the southern part of the island. There are two heated pools that overlooks Biscayne Bay as well as private Jacuzzis.
Bayview Village: Bayview lies across the Marina from Bayside and consists of five different buildings with a total of 134 residences ranging from 1,950 to 9,590 square feet. It features a private swimming pool and is pet friendly.
Harborview: Harborview faces Biscayne Bay on the west side of the island. A mid-rise complex built in 1989, it only has four floors and features 20 three-bedroom residences of 2,744 square feet. There is a private pool and Jacuzzi.
Marina Village: Another mid-rise complex, Marina Village consists of 36 private condos. There is a range of floor plans to choose from including studios and one- and two-bedrooms. They range from 420 to 1,920 square feet.
Oceanside: Oceanside is one of the most coveted and therefore most expensive complexes. That's because it lies in the northeast corner of the island and has beach access. The 134 residences span 10 floors and range from 2-4 bedrooms and 2,630 to 6,820 square feet while the prices range from $3.83 to $13.9 million. Fitting with its luxurious design, Oceanside condos feature marble floors and wrap-around balconies.
Palazzo del Mare: Built in 2008 after a long hiatus in development, Palazzo del Mare is one of the newest condo complexes. There are 32 residences with either three or six bedrooms available in four different floor plans ranging from roughly 3,700 to 7,000 square feet. Residents have access to a private pool, fitness center, spa and movie theater.
Palazzo del Sol: Palazzo del Sol was built in 2016, so along with its sister Palazzo del Mare, it's one of the newest complexes. It has 10 floors and a total of 43 condos with a number of floor plans including the seven-bedroom, seven-and-a-half-bath penthouse on the top floor. Condos range up to 7,300 square feet and cost up to $22 million.
Seaside Village: Seaside Village is on the southern point of Fisher Island and features some of the smaller condos in the community. It's five floors of one- to two-bedroom residences of about 1,400 to 2,000 square feet.
Seaside Villas: Seaside Villas lies next to Seaside Village in the southern part of Fisher Island and is similarly constructed. There are four floors of 38 units ranging from 670 to 1,440 square feet. Units have either one or two bedrooms.
Valencia Estates: As the name suggests, Valencia Estates is a collection of single-family units in the Spanish architectural style. Unique on Fisher Island, each home has its own private pool in its backyard as well as a garage, library and garden. The homes range from 3,000 to 5,000 square feet and have three to five bedrooms.
Villa del Mare: Villa del Mare lies next to Palazzo del Mare in the northeast corner of the island, giving it access to the beach. It's a large complex with a private pool and circular entryway. There are 11 floors with 37 units of three to five bedrooms, the most expensive of which are nearly $20 million.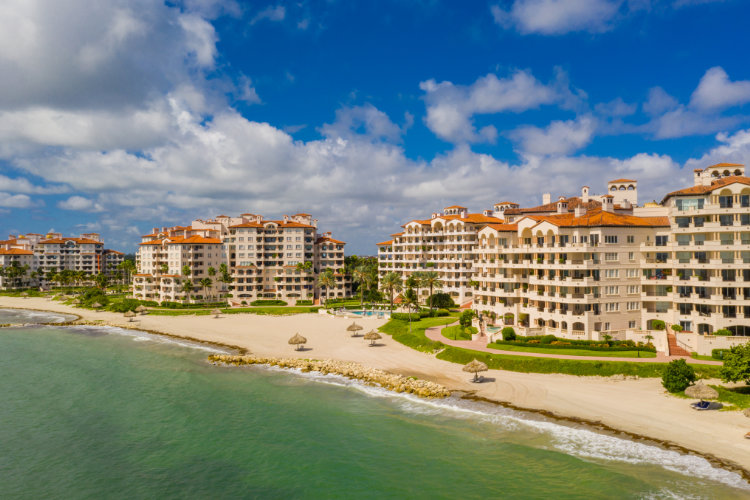 Example of the climate on Fisher Island
The Climate on Fisher Island
Fisher Island's climate is one of the main things that draws such wealthy and high-profile residents to the island. Sunshine is abundant, with every month of the year receiving over 200 hours of sun. April through July receive roughly 300 hours. Even during the winter months, the average daytime temperature is over 75 degrees, and the average nighttime temperature is over 50.
The warm temperatures translate to a warm sea. Even in January and February, water temperature is about 75 degrees while in the summer, it's around 82 degrees. This means you can swim and go boating year-round.
One of the biggest paradoxes of Fisher Island weather is the high amount of rain. The island is both one of the sunniest and one of the rainiest places in the country. As a tropical monsoon climate, southern Florida has a dry season, which lasts from October to April, and a rainy season, which lasts from May to September.
During August, the rainiest month, Fisher Island has nearly 20 rainy days and receives around 200 mm of precipitation. The only way this is possible is if the rain comes in huge bursts. Fisher Island is especially susceptible to powerful thunderstorms, which can pass through quickly only to return Fisher Island to its usual sunny state.
These powerful storms can sometimes reach the level of tropical storms or hurricanes. In fact, 75 hurricanes have struck Fisher Island since 1930. The residents of Fisher Island and the Miami area, in general, are used to this threat, and hurricane preparedness is part of the culture.
Thanks to the capital and resources available to Fisher Island especially, the island tends to fare well when a hurricane does strike. Still, strong winds often knock down trees, which can harm property and infrastructure, as well as beach boats and break windows. Along with the heavy rain, the winds can cause minor flooding.
Fisher Island Trivia
Fisher Island is an international community, and there are residents from over 40 countries. As of 2020, roughly 80% of Fisher Island Residents speak only English. A large amount, 15%, speak Spanish. 6% speak another language.
Fisher Island residents have sometimes come into conflict with their service workers. In 2006, the workers' union organized a strike that involved a protest at the ferry terminal in Miami. One worker was even arrested.
The University of Miami used to operate a laboratory dedicated to studying sedimentology on Fisher Island, but they closed it in 1990.
In 2005, Fisher Island residents petitioned to incorporate the island as its own town within Miami-Dade County. The government denied the request.
Fisher Island is a plot point in an episode of the television drama series Revenge. In the episode "Duress," character Conrad and Victoria Grayson have a home on the island which is a point of contention in their divorce proceedings.
Fisher Island beaches are constructed with sand imported from the Bahamas. The sand is then raked every morning to keep it clean and comfortable.
There's a private aviary on Fisher Island that rescues exotic birds. In fact, there's quite a bit of wildlife on the island, and you can see a number of waterfowl and peacocks wandering the beaches and golf course.
In early 2020, Fisher Island became a source of controversy during the COVID-19 pandemic. The private community secured tests for every person on the island, both residents and staff, which they purchased from the University of Miami Health System. The nation was suffering from a shortage of tests at the time, so many resented what they saw as preferential treatment for the wealthy.
Additional Reading
Fisher Island is just one of many ultra-luxury islands in the city of Miami Beach. Check out our community guides to other nearby islands: