How to Finance Your Dream Miami Condo
Posted by Discover Homes Miami on Tuesday, August 1, 2017 at 9:07 AM
By Discover Homes Miami / August 1, 2017
Comment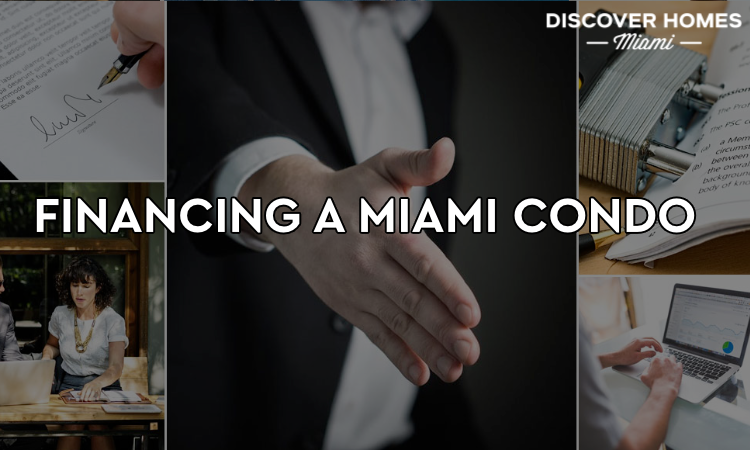 If you are planning on living in Miami when you retire, your home options include townhouses, single-family homes, apartments, mobile homes, and of course, condos. More-often-than-not, people choose to live in condominium buildings, and for a number of good reasons. For starters, they get a long list of amenities together with the home they are going to live in. They also get to live in style, and usually, near many conveniences such as healthcare centers, restaurants, shopping centers, and entertainment options.
While some people have enough money to buy a condominium unit in Miami when they retire, some don't. The option that people turn to when this happens is financing. In order to get your dream condo in Miami with the help of financing, here are a few steps that you should consider the following:
1. Get pre-approved by a mortgage banker
In order to do this, you will need to have ready documents that prove where your money will come from (bank statements, tax returns for the past 2 years, and proof of sources of income). There will also be a credit check, so you need to ensure that your credit rating is solid when this happens.
To ensure that there are no snags in this department, don't make any large purchases on credit when this is happening. It is also advised that you do not do any dubious banking at this point, like depositing or withdrawing large sums of money from or into your account.
2. Get a sale and purchase contract
Also called a sales and purchase agreement or SPA. This is a document that states the agreement between the buyer and the seller, that the former will buy and the latter will sell the property at the agreed-upon price. It will also carry stipulations that contain the deposit amount, specific conditions that need to be met, timeframe for when the sale can be closed, the condition of the property when the sale was agreed upon, and other contingencies.
3. Secure a condo questionnaire
Once you enter into a contract to purchase, request for a condo questionnaire and have it answered by the developer or condo association of the condo you are thinking of buying. This is to ensure that there is minimal risk in lending money on such a property, based on what answers are found on the questionnaire.
This will help the lender assess the financial status and health of the developer or the condo association.
4. Ensure all your documents are complete
This is to ensure that the appraisal, and the report that is generated from it, are executed seamlessly and without any problems. Any missing documents may trigger delays that you don't want in the purchase of your condo in Miami. Missing documentation may also require you to present even more documents for perusal and approval.
5. Thoroughly review the condo documents
One of the mistakes some buyers make when they purchase a condo is they fail to read through all the documents that the condominium association provides them with. These include information about financials, rules and regulations, FAQs, and other important details about the property.
This is where you will find out more about what you can and cannot do with such a home, and if you find some stipulations that do not sit well with you, you are given the chance to cancel the planned purchase, but only for three days after these documents are given to you.
6. Get a real estate attorney to do a title search
A title search helps make sure that you are getting a property that is free of any encumbrances, such as existing mortgages (for condominium units that are being resold), and other possible issues that may bar you from being able to purchase the property you are aiming for. This also includes assurances that the seller is legally allowed to sell the property to you.
7. Do a final check of the property
Before finalizing the sale and signing on the dotted line, you will need to do a final physical check of the property. This is to ensure that it is still in the same condition as when you first checked it out. This will help you avoid problems like missing furniture (if you bought your condo furnished), messed up utilities, vandalism, and other possible problems that may have happened between your first viewing and before the closing.
If you cannot perform the final check yourself, have someone you trust or who was with you during your first viewing, to do it for you.
8. Check your Closing Disclosure
This is one of the most important steps in financing a home or condo. This document has five pages and outlines the details of your loan, which will include your monthly payments, loan terms, fees you need to pay, and even your closing costs. You will receive this document a few days before you close the deal, and you are given 3 days to review this before closing.
9. Make sure everything is in order upon closing
When you finalize the purchase of your condo, it is a good idea to have all your documents in proper order. This will include copies of all the documentation that you have prepared for the sale, the documents you were given to check, your association approval, and a couple of IDs.
You should also have copies of your ALTA Settlement Statement on hand to show that you have indeed purchased the said condo until you get the title or deed to the place.
10. Ask your accountant to check for tax deductibles
Of course, the sale does not necessarily end there. If you are entitled to tax deductibles, you should have your accountant go over these. Some tax deductibles here include your mortgage insurance premium, your real estate taxes, and your mortgage interests. You might also want to consider applying for a homestead tax exemption if your condo will be your permanent or primary residence.