Miami's 15 Most Expensive Neighborhoods
Posted by Discover Homes Miami on Thursday, April 22, 2021 at 1:13 PM
By Discover Homes Miami / April 22, 2021
Comment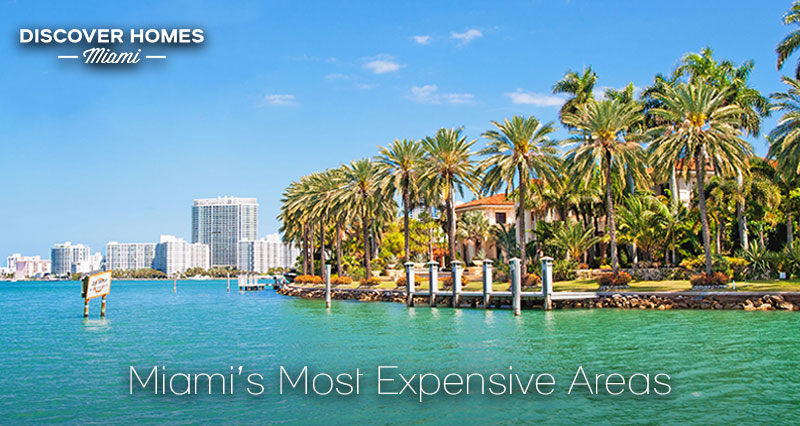 Miami boasts some of the country's most expensive and exclusive neighborhoods that are home to celebrities, international moguls, athletes, and tech entrepreneurs. Here are Miami's most expensive neighborhoods and private enclaves: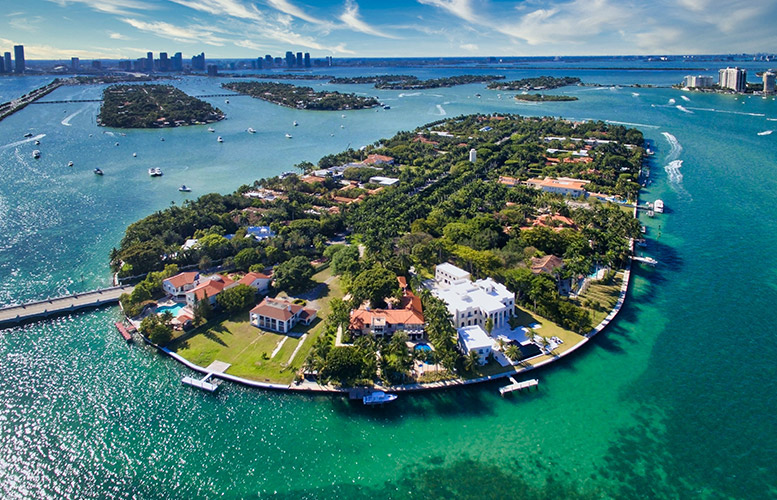 1. Star Island
Average home price: $25.4 million
Passing through Star Island's highly secured guard gate, one is transported into the lavish world of supermodels, A-list celebrities, professional athletes, and business moguls. The uber-exclusive island features only thirty-three multimillion-dollar opulent villas and estates, making a Star Island address almost impossible to attain.
Star Island properties feature the magnificent work of world-famous architects past and present, with the most popular architectural style being Meditteranean, Spanish, and European inspired. Each mansion is more stunning than the next, starting with extravagant gates leading to equally stunning pillared entrances and courtyards. Most of the sprawling Star Island residences are between 8,000 to 30,000 square feet, and that's not including the sumptuous guest houses and casitas.
Star Island residents spare no expense using imported stone, marble, hand-carved doors, and molded iron that also serve as works of art. Elevators, full gyms, movie theatres, wine cellars, industrial chef's kitchens, sweeping balconies, and spacious pools complete with swim-up bars and cabanas are just a few of the plush extras one can find in Star Island estates.
All of the exclusive mansions on Star Island have waterfront access directly into Biscayne Bay. Private docks are the norm for homeowners to dock their luxury yachts. Views of the glistening Biscayne Bay with sunsets over the water and downtown Miami are unparalleled from these Star Island palaces.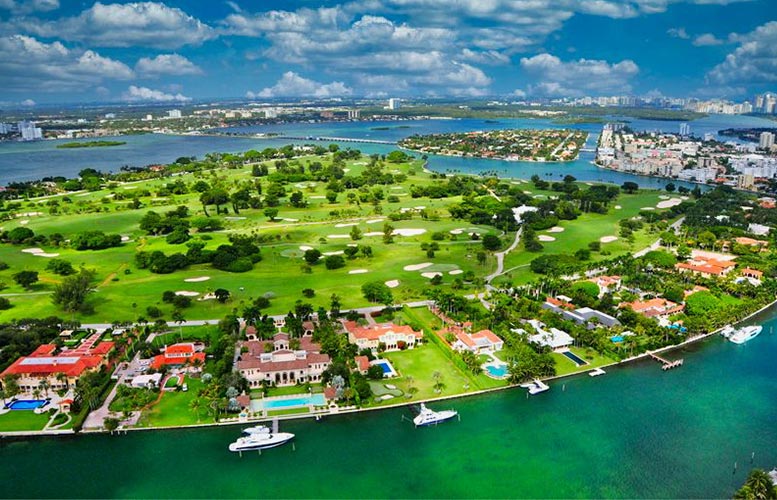 2. Indian Creek Island
Average home price: $24.7 million
Indian Creek Island has been touted as the "Billionaire Bunker," and for good reason. The 300-acre island has just under forty sprawling estates lining the island's perimeter with unparalleled waterfront access and views of azure Biscayne Bay. Despite its size and small population, it has its own 13 person police force patrolling the island and its surrounding waters. There is only one access point to the island gated and guarded 24/7, providing Indian Creek Island residents with complete peace of mind and seclusion.
The island has long been a haven for famous supermodels, professional athletes, business moguls, and entertainers. The island's current list of residents boasts names such as Giselle Bundchen and Tom Brady, Carl Icahn, and Julio Iglesias. Many of these millionaires and billionaires have torn down existing properties to rebuild everything from opulent Meditteranean and European-inspired mansions to eco-friendly estates filled with pricey, high-end materials.
The Indian Creek Country Club sits in the island's heart with a beautiful Spanish-style clubhouse reminiscent of an old-world mission. Club membership is highly coveted, with only 300 members on its roster and a reported $150,000 initiation fee. Potential members must be nominated by current members and voted on for acceptance.
Regal estates on Indian Creek Island have a laundry list of ostentatious amenities, including movie theatres, master suites with multiple bathrooms, full gyms, manicured gardens, sparkling pools, sweeping double staircases, rooftop gardens, and two interior kitchens. Many of the estates are set on gigantic lots of multiple acres.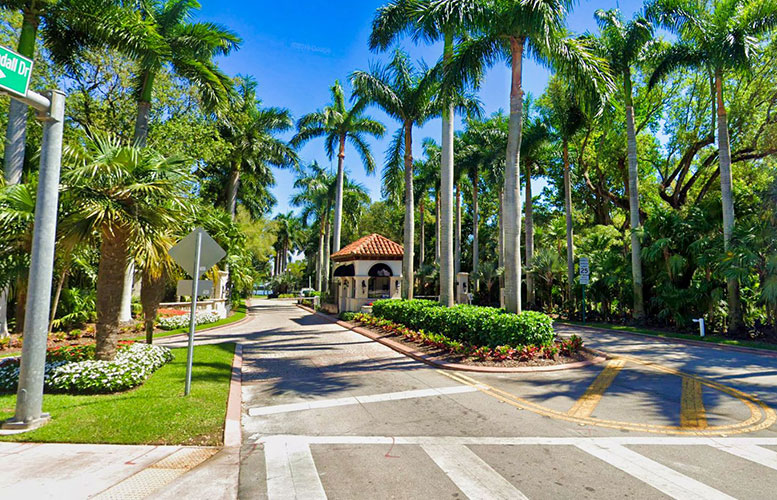 3. Gables Estates
Average home price: $14.3 million
The lavish community of Gables Estates in southern Coral Gables is the pinnacle in exclusivity and refinement. Situated along two hundred acres of pristine shoreline, Gables Estates comprises of just over 150 exquisite estates. Community residents are provided with 24-hour security at both the entrance and throughout the neighborhood with constant patrolling personnel.
To ensure and maintain the prestigious reputation of the community, the homeowners association requires potential homeowners to be screened via a background check and pay a whopping $75,000 non-refundable deposit before purchasing a property in Gables Estates. Residents within the neighborhood include prominent attorneys, business magnates, and financiers.
The exquisite homes of Gable Estates are required to be no less than 3000 square feet, and the majority far exceed that size by over 10,000 square feet. Opulent extras of these homes include yoga studios, game rooms, outdoor kitchens, five to eight-car garages, and even an inside rock climbing wall. Each home is lavishly landscaped with perfectly fitting tropical foliage surrounding vast pools, cabanas, and entertaining areas.
The work of famous architects such as Ramon Pacheco can be seen all throughout the neighborhood in the form of Mediterranean, Spanish, and modern masterpieces. Gables Estates is one of South Florida's most sophisticated and prestigious communities along the beautiful waters of Biscayne Bay and the canals of the Intercoastal Waterway.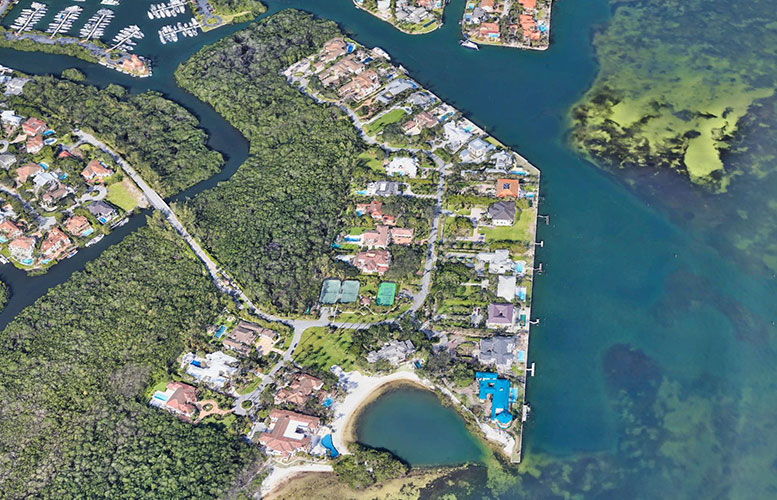 4. Tahiti Beach
Average home price: $12.4 million
The highly exclusive and extremely wealthy community of Tahiti Beach is nestled on an island within the prestigious neighborhood of Cocoplum. Tahiti Beach offers residents unrivaled security and privacy as both the entrance to Cocoplum is gated and secured with an additional guarded gate entrance into Tahiti Beach. Anyone entering Tahiti Beach must be on a guest list to gain access.
Tahiti Beach features just a handful of over 25 magnificent estates set on spacious waterfront lots with panoramic views of Biscayne Bay. International business magnates, high-profile athletes, and celebrities are attracted to this secluded enclave, prized for its private beach and park, communal tennis courts, yacht club, and marina.
Like an episode of Lifestyles of the Rich and Famous, each residence in Tahiti Beach is dripping with over-the-top luxuries and elegance. Architectural marvels of European and Meditteranean-inspired design were crafted by internationally renowned architects and feature grand pillared entrances, dual sweeping marble staircases, massive foyers, cathedral-style terraces, and even secret passageways. Lavish extras such as elevators, movie theatres, full-size gyms, poker rooms, outdoor kitchens and cabanas, and wine cellars are common features in these regal estates.
With direct access to Biscayne Bay, yachts can be stored on the properties' private docks. Expertly designed serene gardens and outdoor entertaining areas offer the ultimate in privacy and relaxation with expansive pools that seem to transition into the bay effortlessly. Tahiti Beach gives residents complete seclusion and prestige within minutes of the conveniences and high-end shopping and dining of Coral Gables and downtown Miami.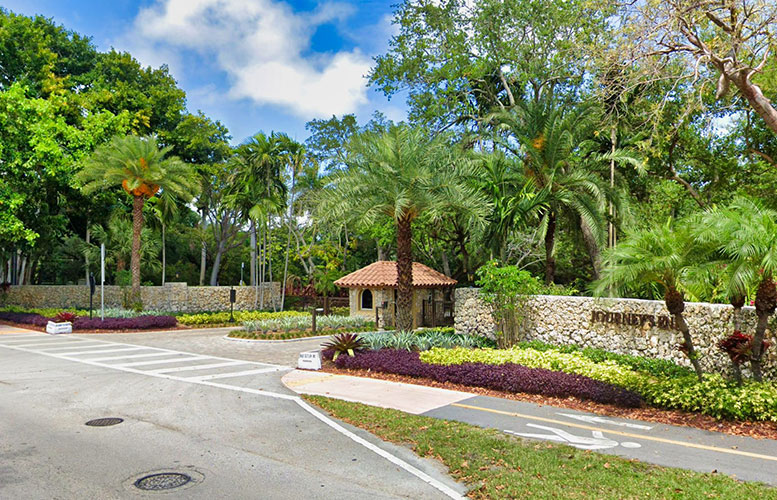 5. Journey's End
Average home price: $9.7 million
The prestigious enclave of Journey's End contains one of Miami's most expensive streets in terms of real estate, Journey's End Road. Eighteen palatial mansions make up the Journey's End community, home to tech entrepreneurs, supermodels, investors, and business executives. The Journey's End neighborhood is the pinnacle in privacy and security, with an around-the-clock guarded entry allowing only those on the guestlist through the gates.
Lush, green landscaping, and mature trees line the pristine streets with impressive circular driveways and stately gated entrances leading to each estate. Each residence is a custom masterpiece varying from Mediterranean and modern to European-inspired villas. Most lots are over two acres with plenty of room for resort-style pools, cabanas, landscaped gardens with fountains, outdoor summer kitchens, and even full basketball courts. Some homes have waterfront frontage with unobstructed access directly into the bay for boating or yachting.
Homes are equally large and are often upwards of 15,000 square feet, boasting eight to ten bedrooms, maid quarters, libraries, and gyms. For car lovers, some homes feature three to nine car garages for all of the homeowners' Porsches, Bentleys, and Ferraris. The waterfront community provides a private marina with boat slips for residents and tennis courts exclusively for Journey's End homeowners.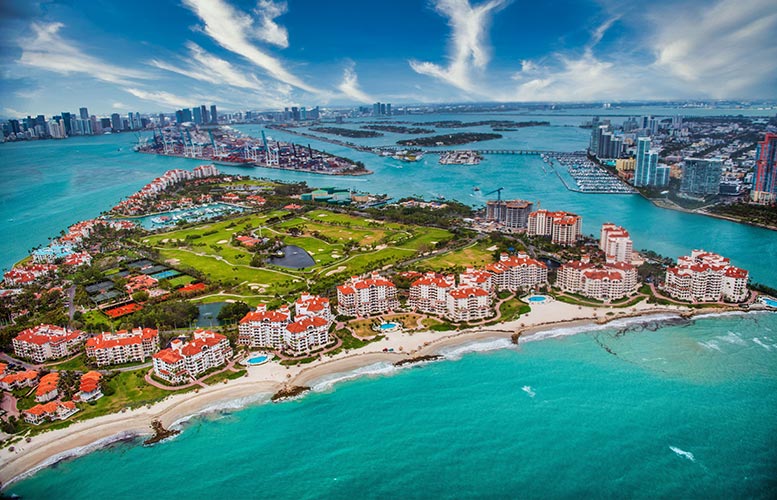 6. Fisher Island
Average home price: $7.2 million
Imagine a private tropical island only accessible by helicopter, boat, or ferry and inhabited by some of the country's wealthiest and most prestigious names in business, professional sports, politics, medicine, and entertainment. For decades, Fisher Island has been the epitome of opulence and glamour for the upper echelons of the world's elite and ultra-rich. With residents' average annual incomes clocking in at over $2 million, it's no wonder Fisher Island is the country's richest zip code.
The uber-exclusive island features only the finest private beaches with over a mile of imported fine, white sand from the Bahamas. In the center of the island sits the stunning Spanish style Fisher Island Club, the former estate of the Vanderbilt Family. Membership to this private club costs a cool $20,000 per year with an additional $250,000 one-time initiation fee. Its affluent members enjoy a European-style spa, tennis courts, fitness center, fine dining restaurant, deep water marina for plush yachts, and a golf course.
Thirty luxury condominium towers dot the waterfront with spectacular 360-degree views of Biscayne Bay, the Atlantic Ocean, and the downtown skyline. These condominiums are sprawling residences as large as 8,000 square feet with private beach access, vaulted ceilings, sweeping balconies, imported stone, marble, and furniture. Most properties feature interiors decorated by renowned international designers and palettes of gorgeous colors and artwork. Boasting lavish penthouses and absolute privacy and anonymity, Fisher Island has been home to some of the world's wealthiest and famous, including Oprah Winfrey, Julia Roberts, and Andre Agassi.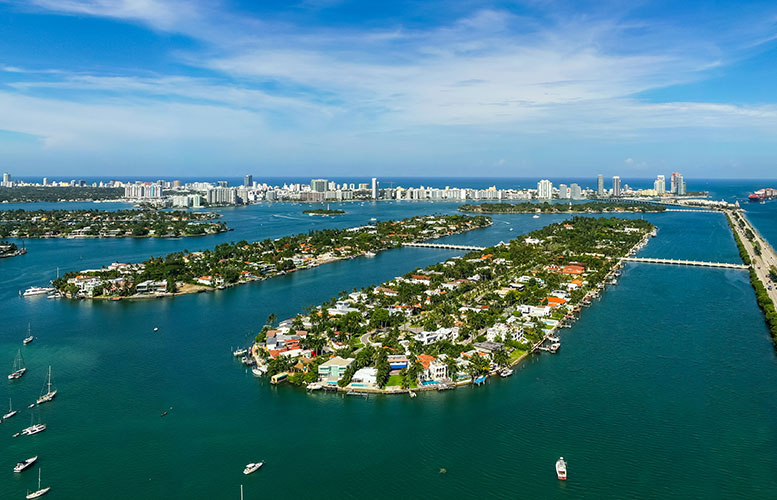 7. Palm and Hibiscus Island
Average home price: $6.5 million
The sister islands, Palm and Hibiscus Island, first put South Florida on the map as a luxe tropical destination for moneyed snowbirds and celebrities in the 1930s. Over the last century, the islands continue to attract prosperous and famous residents, including Al Capone and Shaquille O'Neal. The ultimate levels of privacy and security are adhered to on the islands with entrance gates that are monitored 24/7 and include security guards.
Homes throughout the islands are a stunning collection of historic mansions, sleek modern residences, and Meditteranean-inspired estates. Waterfront homes are adjacent to Biscayne Bay with breathtaking sunset views over the water and the downtown Miami skyline. Deepwater docks with lifts allow for storage of luxury vessels and jet skis that have uninhibited access into the bay. Al Capone's impressive villa still stands to this day and boasts an expansive pool complete with a two-story cabana and two-bedroom guest house.
Many interior lots and waterfront estates feature guest casitas and cottages, glistening pools, outdoor entertaining areas, high-end kitchens, saunas, fitness studios, and lush, tropical landscaping. Opulent gated entrances grace the fronts of the pristine streets throughout the neighborhood, further heightening each home's privacy and elegance.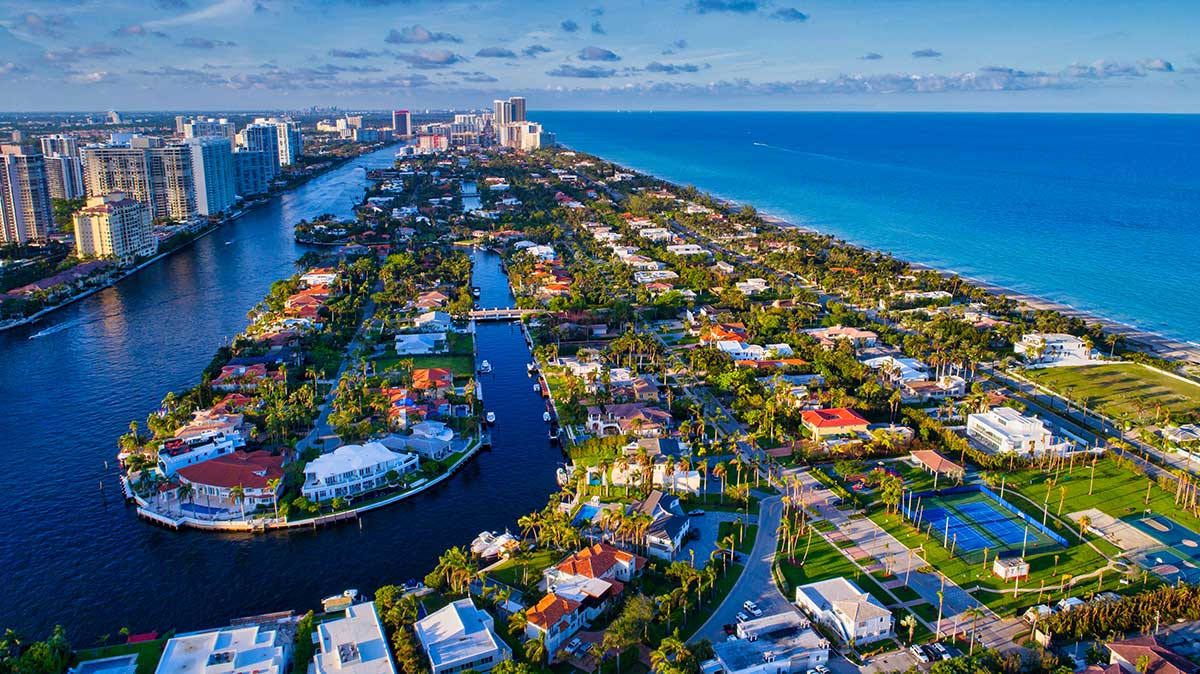 8. Golden Beach
Average home price: $4.6 million
Golden Beach is an idyllic oceanfront community perfectly situated between the Atlantic Ocean and Intercoastal Waterways. Established in 1929, the city of Golden Beach has grown into a collection of just over 300 gorgeous waterfront and interior lot residences. The area's promise of privacy, security, and prominence continues to draw the country's wealthiest icons, including Bill Gates, musician Eric Clapton, the late Paul Newman, and designer Tommy Hilfiger.
With its own private police force and marine patrolling unit, residents can rely on the utmost anonymity and safety. The resort-style community features a private, white sand beach and numerous parks complete with courts for tennis, pickleball, volleyball, and basketball and ample green space for walking and picnicking.
Waterfront properties are stunning, with many on oversize lots and providing over a hundred feet of private sea and sand. For boat and yacht enthusiasts, many homes feature docks spanning 50 to 60 feet. Architectural styles throughout the neighborhoods include stunning modern style mansions with plentiful windows and sharp lines, tastefully designed to take full advantage of the ocean and skyline views. Mediterranean and old Floridian style homes are also popular elevations seen.
Many homes include luxuries such as spacious pools and outdoor entertaining spaces, verandas, summer kitchens, elevators, spa and fitness rooms, maid or mother-in-law quarters, and rare imported flooring. Residences are outfitted with state-of-the-art smart home technologies and top-of-the-line appliances, including chef's kitchens. Elegance and exclusivity along the shores of the Atlantic are found in beautiful Golden Beach.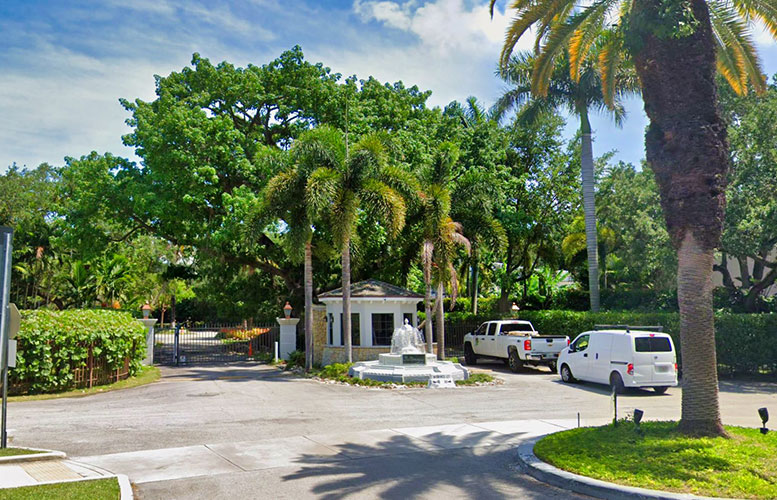 9. The Moorings
Average home price: $4.6 million
Nestled within the historic Coconut Grove community of Miami is the exclusive neighborhood, The Moorings. Established in the early 1900s, The Moorings subdivision is filled with lush, mature vegetation and elegant estates, exuding a spirit of unpretentious elegance and class. Made up of just 43 residences divided amongst three streets, The Moorings is an intimate gated community with around-the-clock security.
Homes within The Moorings display spectacular craftsmanship and architecture and vary from romantic Meditteranean and Spanish-inspired residences to Miami Modern and contemporary residences with sharp lines and plentiful glass. Sizes of homes within the neighborhood range from 4,000 square feet all the way up to 16,000 square feet, and most of the homes enjoy stunning waterfront views with access directly into the bay or into one of the many inlets.
Elegant interiors of the homes feature gorgeous custom mahogany cabinets, imported stone and oak floors, and open beamed ceilings. Featuring anywhere up to seven bedrooms and bathrooms, some homes also include staff quarters, state-of-the-art gyms, and spiral staircases with custom ironwork. Unparalleled landscaping surrounds these homes with glistening pools, waterfalls, covered lanais, and elegant courtyards. The likes of wealthy families, business magnates, and even Tiffany & Co. designer and daughter of Pablo Picasso, Paloma Picasso, have called The Moorings home.
The neighborhood features a private marina for residents, providing ease of boat or yacht access into the surrounding waters. Homes in The Moorings are within walking distance from charming restaurants, coffee shops, and boutiques of the historic Coconut Grove center.
The Moorings truly offers residents approachable luxury steeped in history and old-world glamour.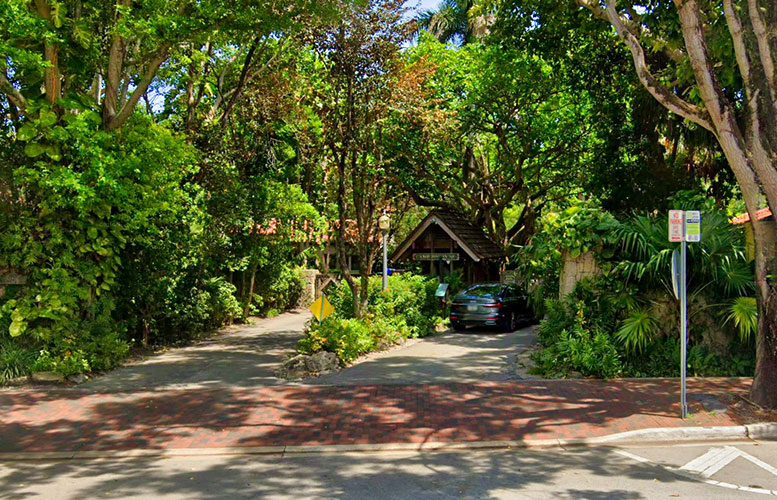 10. Camp Biscayne
Average home price: $4.2 million
The idyllic enclave of Camp Biscayne is located in the charming Coconut Grove area and is one of the most sought after and secluded neighborhoods in Miami. Camp Biscayne has been a haven for the wealthy since the early 1900s. Families like the Rockefellers vacationed in Camp Biscayne's rustic cottages and fished and swam in the nearby bay amidst the beauty and shade of the mangrove hammocks.
Camp Biscayne continues to draw the country's affluent and elite but with only 21 homes within this exclusive neighborhood, properties are rarely on the market. The gated entrance to Camp Biscayne is reminiscent of its history of wooden cottages, with a tropical wood security booth and gates. Lush, exotic vegetation, and a canopy of trees welcome visitors and residents into this secluded oasis.
A variety of homes make up the community, including historic homes built in the early 1900s to contemporary newly remodeled mansions. Swaying palm trees, mature oaks, and mangroves line the expansive front yards and the few streets throughout the neighborhood. Spanish revival, Meditteranean, mid-century, and modern style elevations can be seen throughout the area.
Wealthy homeowners indulge in ostentatious luxuries, including second-story swimming pools, posh movie theatres, fully equipped gyms, and walls of windows to take in views of Biscayne Bay. Imported Italian marble floors, gourmet kitchens, and swanky cabanas with full bars and kitchens adorn these regal residences. While not all homes are waterfront, a handful enjoy direct access for boating, swimming, or fishing in the bay.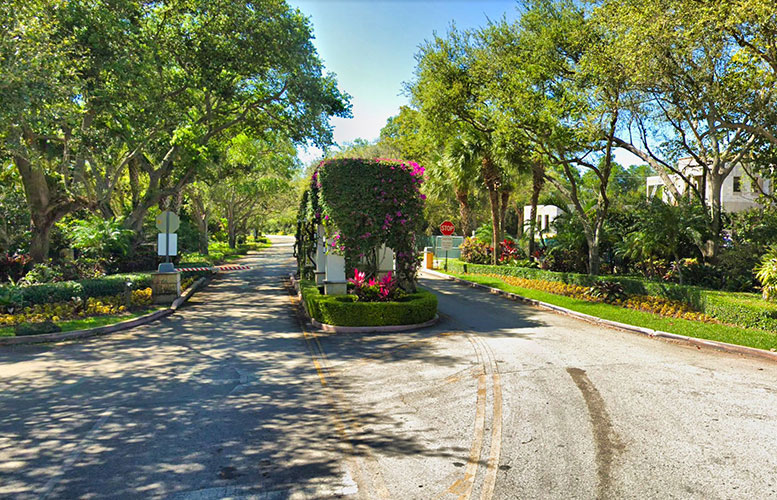 11. Snapper Creek
Average home price: $4.2 million
The Snapper Creek neighborhood is a highly coveted area known for its lush, tropical landscaping and sprawling estates. As an exclusive enclave of just over 120 homes, the community is set amongst the shores of two lakes, Elbow Lake and Finger Lake, and along the glistening waters of the Snapper Creek Canal. As a waterfront neighborhood, Snapper Creek features its own marina where residents can store their luxury yachts and boats with easy access into the open waters.
Exquisite modern and Meditteranean residences and Old Floridian style mansions with wrap-around porches sit on spacious lots of over an acre. They are framed by mature trees and verdant foliage. Occasional glimpses of the neighborhoods' wild peacocks can be seen strutting through the area, adding to the tranquil, natural beauty of the community.
Snapper Creek is bordered by Fairchild Botanical Garden, an 83-acre tropical utopia filled with unique flora and fauna. Residences within Snapper Creek mimic the botanical garden with stunning landscape features, including koi ponds, waterfalls, and gardens reminiscent of an exotic, tropical locale.
These estates range in size from typically 7,000 to 17,000 square feet with ostentatious extras such as two-story guest houses, maid quarters, expansive game rooms, full-size gyms, wine cellars, and even come equipped with generators capable of powering the home for several weeks. Snapper Creek boasts gorgeous homes set in a luxurious, exclusive tropical haven for the extremely wealthy and affluent.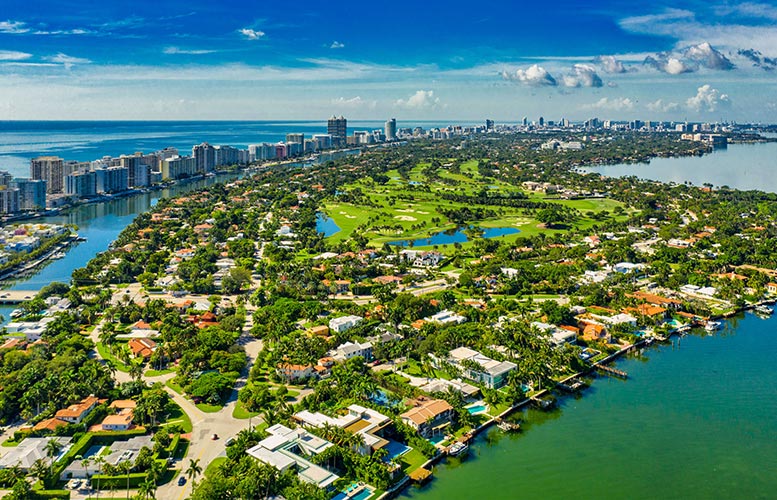 12. La Gorce
Average home price: $3.8 million
La Gorce is a timeless treasure in the North Beach region of Miami Beach. As part of South Florida's rich history, La Gorce has always been a symbol of affluence and the utmost class, attracting celebrities, executives, and the country's most privileged. Elegant historic and modern estates are around every turn in this neighborhood with meticulously kept, palm tree-lined streets and glimpses of the sparkling Biscayne Bay.
At the heart of this upscale neighborhood sits the almost 100-year old La Gorce Country Club. Membership to this club is one of the most coveted appointments globally, requiring an invitation and letters of recommendation from two existing club members. Once accepted, initiation dues are a grandiose $80,000 with annual fees of at least five figures. Members can enjoy luxe amenities, including tennis courts, a restaurant, a fitness center, and numerous swanky social events. Golfers can play the championship course designed by Jack Nicklaus, graced by the likes of Tiger Woods and Michael Jordan.
Homes around the perimeter of the country club and throughout the neighborhood exhibit a mix of old-Florida glamour with modern luxury and elegance. Many homes reside on oversized waterfront lots with vibrant views of Biscayne Bay and private docks for boats and yachts. Romantic Meditteranean-style villas and modern, artful masterpieces are a few of the styles represented with many homes featuring crystalline pools, grand entrance gates, and exotic landscaping. Residents can list celebrities and entertainers as neighbors, including Matt Damon, Phil Collins, and Jennifer Lopez, who have all called La Gorce home.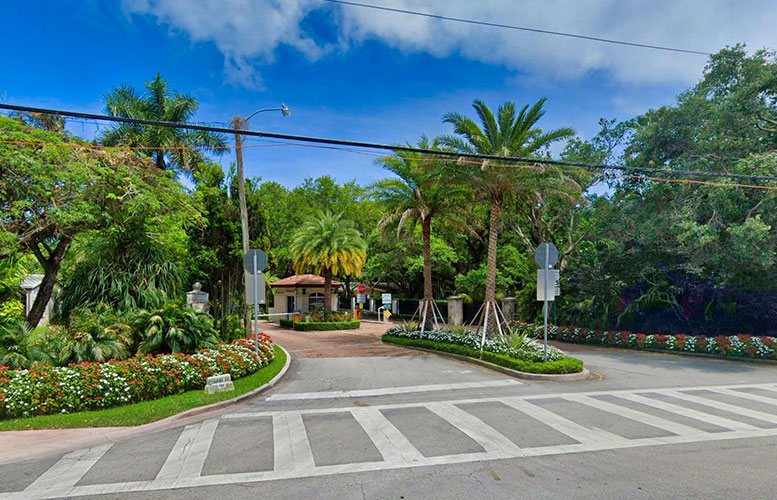 13. Hammock Oaks & Lakes
Average home price: $2.3 million
Hammock Oaks & Lakes is a tranquil neighborhood aptly named for its sweeping oak trees lining the peaceful streets. The gated community comprises just over 100 beautiful contemporary and classical homes set on rambling lots filled with mature trees and expansive front and back yards. Most of the homes have waterfront views and provide glimpses of the lush flora and fauna of the bordering R. Hardy Matheson Preserve.
The Hammock Oaks & Lakes community exudes an ambiance of understated elegance and luxury. Many of the large homes throughout the area have been remodeled into exceptional Meditteranean and Spanish style stunners, while some feature their original architecture. Floor plans are exceptionally large with extras such as master suites with his and her bathrooms, staff quarters, two-story guest houses, and expansive azure pools. High-end materials including imported stone and marble and hand-carved wood accents adorn many of the more modern residences with no expense spared.
The neighborhood boasts its own marina exclusive for residents, offering seamless access to Biscayne Bay's glistening waters. Privacy and exclusivity are paramount in this community made up of business executives, developers, and one of its most notable residents, Grammy award-winning producer, and entertainer Timbaland.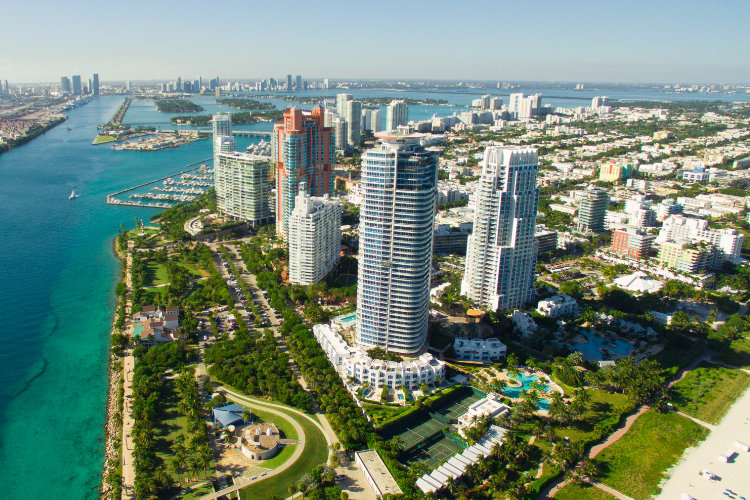 14. South of Fifth
Average home price: $1.7 million
South of Fifth, or more popularly known as SoFi, is one of the most affluent and enviable locations in all of Miami Beach. This luxe locale is bordered by the shorelines of Biscayne Bay, Government Cut, and the Atlantic Ocean offering spectacular waterfront and skyline views from every direction. Lustrous high and mid-rise condo towers span the SoFi neighborhood, providing some of the most exclusive, high-end residences in the heart of all the happenings of Miami Beach.
SoFi's numerous condominium towers are true works of art brought to life by award-winning architects and famous interior designers and artists. Consider one of the newest towers, Glass, with seventeen stories, mirrored walls reflecting sparkling Biscayne Bay, and interactive art in the elevator, reminiscent of the water and sky landscape surrounding the property. Each condo tower is unique but exuding the ultimate in sophisticated, tropical luxury.
Stellar amenities and luxuries are the standard within these properties. 24-hour security, valet parking, and 24-hour concierge service are provided to residents. Residences boast large, open floor plans, from smaller two bedrooms to lavish penthouses with rooftop pools. Many condos include imported materials from floor-to-ceiling marble bathrooms, rare and exotic wood floors, and even private estate managers for each homeowner. Plunge pools, eucalyptus steam rooms, full spas, billiard rooms, private beaches, putting greens, and tennis courts are just a few of the indulgences SoFi communities offer.
SoFi is located at the southern tip of Miami Beach, surrounded by some of the hottest restaurants, shopping, and nightlife in all of South Florida. The area's natural beauty can be enjoyed from an expansive balcony or at the neighborhood's 17-acre beachfront park, South Pointe.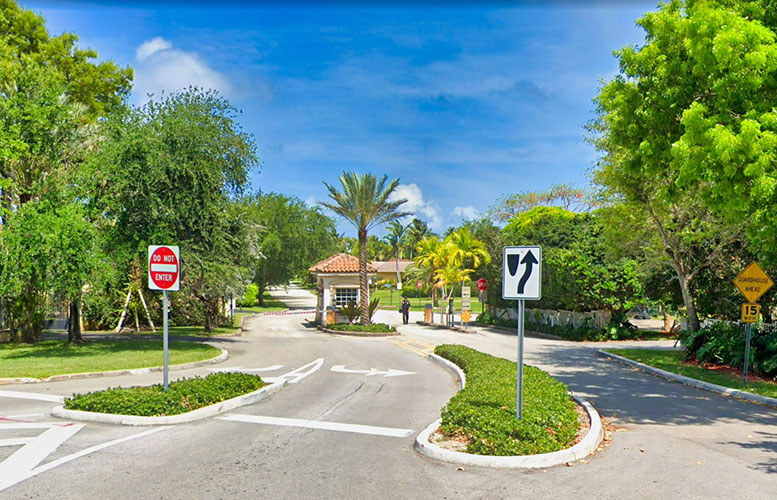 15. Gables by the Sea
Average home price: $1.6 million
The Gables by the Sea neighborhood is a serene luxury community filled with meandering canals leading to Biscayne Bay. Due to the many fingerlike canals throughout the area, many of the beautiful homes in the community offer waterfront views and access. As one of Coral Gables' oldest communities, the neighborhood is filled with mature trees and meticulously manicured vegetation. This peaceful area is a gated community requiring visitors to check in with security upon entry.
The large homes throughout the area feature a blend of modern, contemporary, mid-century architecture and gorgeous Mediterranean and Spanish-style residences. Charming ranch-style homes, two-story mansions, and even opulent five-story paradises are all seen in Gables by the Sea. Home interiors are equally breathtaking with vaulted wood ceilings, french doors, and even elevators. Gourmet kitchens, heated and saltwater pools and lavish gardens with elegant fountains are just a few of the luxuries these homes offer.
Many homes are a water enthusiast's dream with private, deep water docks for boat, yacht, and jet ski storage with close proximity to Biscayne Bay. Affluent homeowners can enjoy unencumbered access to the bay or take in the gorgeous sunset views from their own slice of tropical heaven.
Additional Reading