Living in Edgewater, Miami, FL: 2021 Neighborhood Guide
Posted by Discover Homes Miami on Wednesday, April 7, 2021 at 10:09 AM
By Discover Homes Miami / April 7, 2021
Comment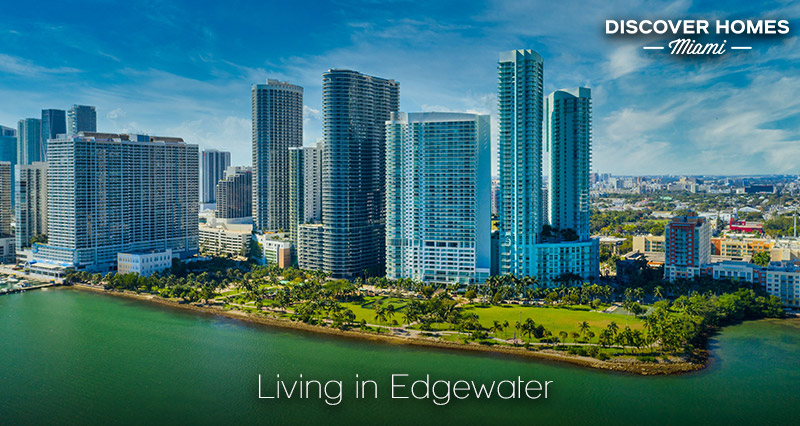 As its name indicates, Edgewater is a small coastal slice of mainland Miami, covering about 1.68 square miles. It lies between Midtown and the Upper East Side to the north and downtown Miami to the south. North 17th Street, North 37th Street, and the Florida East Coast Railway form its inland borders. Its official eastern border lies a few miles out in the Intracoastal Waterway because the district also has jurisdiction over Pace Picnic Island, about 3/4 mile offshore.
The population density is comparatively high, with just over 15,000 residents, according to the 2010 census. Although Edgewater enjoys eastern Florida's balmy climate, it does not have a beach or boardwalk.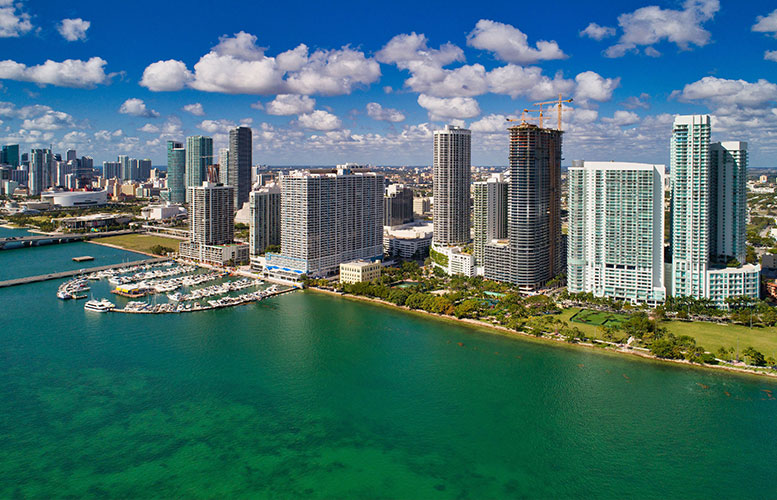 Lifestyle and Culture
High-density urban living is the predominant mode in Edgewater. Most citizens rent their homes, and many are young professionals at the start of their careers. There is a vibrant social scene with many bars, restaurants, and cafes. Schools are generally above average, and the neighborhood has been voted the second-best place to live in Miami (after Brickell) by Niche.com.
Although there isn't a boardwalk, Miami's beaches and downtown hotspots are all within easy reach of Edgewater, making this a compelling place to live. Hyper-expensive condo developments line the waterfront (one boasts an $8.6 million penthouse) with more affordable accommodation inland. The high-rise condos have unleashed a wave of gentrification, with all the contradictions that term implies, but more down-to-earth places can be found to while away an evening or an idle Sunday.
Neighborhood bodegas, cafes, and thrift stores contrast dramatically with the high-rises behind them, and Edgewater does feel like a place in transition. However, it does offer variety, a high standard of living, and excellent proximity to both beach and city center highlights.
Things to Do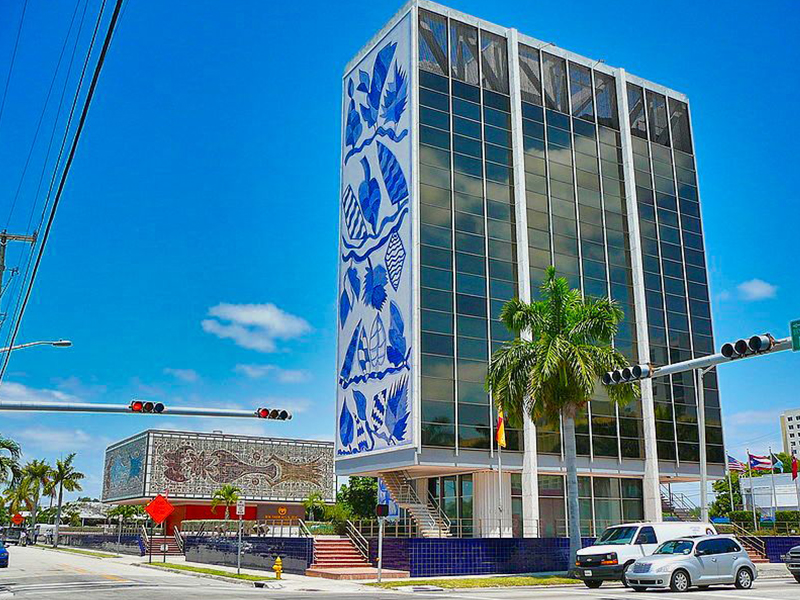 The National Young Arts Foundation (also called the Bacardi Building). Credit: Marc Averette
National Young Arts Foundation
With its blue and white tiled murals of birds and plants, the NYAF is an unmistakable local landmark in Edgewater. In 2012, the Foundation relocated to what was the Bacardi rum company HQ and museum. The organization continues its mission to identify and nurture emerging artists in the visual, literary, and performing arts. Every year, NYAF runs a competition where young artists from all over the US come to Miami to compete for scholarships and continuing support.
The Foundation has an art gallery that is open to the public and hosts talks, performances, and screenings, many of which are alumni-only. However, the building itself, listed in the National Register of Historic Places, is worth a visit for its murals and modernist architecture.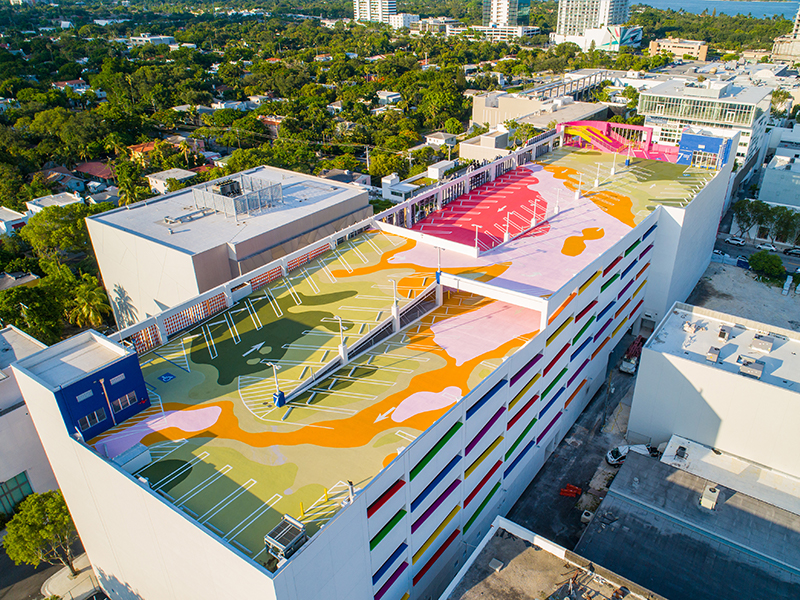 Midtown Shopping and Design District
Head to Midtown for all your high street brands, then cross the I-195 and tour Miami's Design District, which is a nexus of cultural businesses, including over 130 art galleries, showrooms, fashion boutiques, architects' offices, antique dealerships, restaurants, and bars.
It's a feast for the eyes (and stomach) and can easily be reached from Edgewater via a short stroll or drive north along NE 2nd Avenue. Pass under the interstate, and you'll soon find yourself in this chic little neighborhood. Art lovers can visit the Institute of Contemporary Arts (ICA) and, directly opposite, the flamboyant Museum Garage, where a multi-story car park meets an explosion in a toy store (honestly, it has to be seen to be believed).
Tour by Bike
Miami can be fun to explore on foot, but it really comes into its own if you can travel a little faster without having to worry about parking. To discover more of the neighborhood, rent a bike from the popular City Bikes, a local business with three locations in Florida, including one at 2801 Biscayne Boulevard.
City Bikes service triathletes and sell some spectacular top-of-the-range machines, but you can also rent a tourer quite reasonably to explore the city. Further afield, popular bike trails in Miami-Dade County include the Oleta State River Park, the Rickenbacker Trail, including incredible views from the spectacular bridge, and the Black Creek Trail from Biscayne Bay.
Outdoor Markets
Every Saturday between 11 am and 6 pm at 2500 NE 2nd Avenue, you'll find the Midtown Market. Specializing in organic and locally grown produce, this local institution is popular for healthy, provender, and tasty treats.
For a unique market experience, try the Allapattah Market at 728 NW 29th Street. It has an indoor/outdoor bar and stalls offering everything from local beers to jewelry, clothing, and homemade cosmetics. It has a unique wood and wickerwork canopied seating area and colorful murals all around.
Picnic on an Island
Charter a boat and take a cruise out to Pace Picnic Island, the leafy triangular islet that sits a mile offshore. With sandy beaches plus manatees and stingrays gliding through the crystal blue water, a visit to Pace can provide a delicious respite from the bustling Miami street life. Don't expect to have it to yourself on popular holidays, however.
The north end of the island has the most spectacular views of the city at sunset. There aren't any facilities to speak of, since this is just a tiny island. Pontoon boats can be hired for around $500 per day with extra charges for a captain to take you out to the island.
If you've booked a day charter, head further north in Biscayne Bay to explore other islands, including Biscayne Isle and Morningside Picnic Islands.
Parks and Recreation
Other than the picnic islands, there are a few notable green spaces within Edgewater or beyond its perimeter.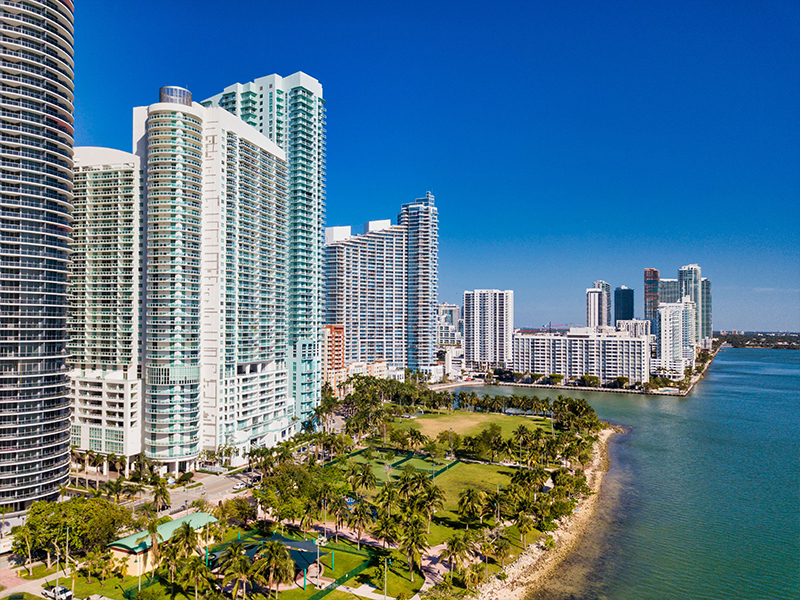 Margaret Pace Park
Founder and president of the Miami Garden Club, Margaret Pace, was also instrumental in founding the Everglades National Park. The park named after her, at the southern perimeter of the neighborhood, is the largest and most popular with residents.
Created in the 1960s, it fell into disrepute as a criminal haunt for a spell before enjoying a $4 million makeover in 2003. Today, the eight-acre park contains shady waterfront trails, a dog park, tennis, basketball, and volleyball courts, and lots of space for picnics.
Nearby you'll see the four-story, vanilla yellow Miami Women's club, a 1930 Mediterranean revival building once containing a library, ballroom, and other facilities for society ladies. Recently, permission was granted for a restaurant and roof terrace development.
Biscayne Park
A basic green space for ball games and picnics, Biscayne Park, contains the Ed Burke Recreation Center and is adjacent to the historic Miami City Cemetery, which is worth a stroll amongst its leafy avenues. Cemetery "residents" include Julia Tuttle, the so-called "mother of Miami" and the only female founder of a major American city.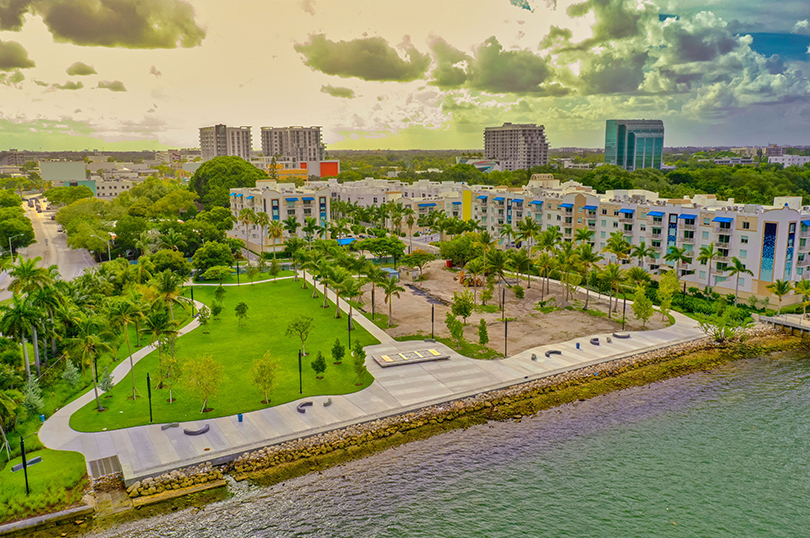 Albert Pallot Park
The giant M-shaped sculpture may represent both Miami and Midtown but actually memorializes controversial developer Jose Milton. Nevertheless, this 2019-remodeled park is a neat addition to the midtown scene.
This waterfront community pocket park lies just off NE 38th Street. Lying just north of the I-195 and the Edgewater boundary, it is good for picnics and sitting by the shorefront but features few facilities.
Dorsey Park
Dorsey Park has a baseball pitch and open fields for other sports. It displays large murals commemorating the history of black baseball stars. The park is named after D. A. Dorsey, who developed black neighborhoods in Miami in the late 1890s.
Roberto Clemente Park
Named after the legendary Puerto Rican right fielder, his more vibrant neighborhood park features a ball field, community center, playground, and basketball courts. Lively and popular, the park also contains dog-friendly facilities, colorful murals, and restrooms. It's a great place for people-watching, picnicking, jogging, or just reading a book in the shade.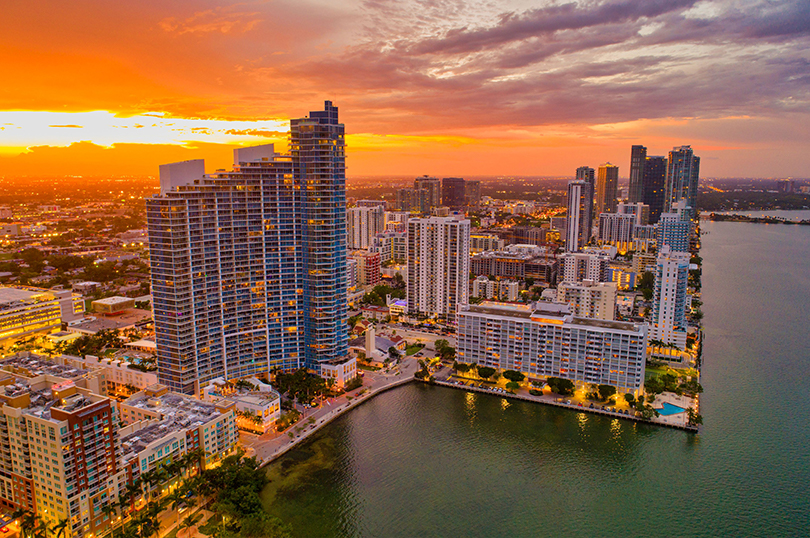 Real Estate
Like many parts of coastal Miami, Edgewater is a community of huge contrasts. From multimillion-dollar waterfront condominiums to more reasonable inland apartments, there are a range of properties to suit most budgets.
From $3 million luxury condos in the brand-new, hyper-modern Elysee tower at NE 23rd Street to smaller apartments for a tenth of that price, there's a large range of rental apartments available, depending on how close you are to the waterfront and what sort of view you get.
There are only a handful of single homes in Edgewater, all of them inland, towards the railroad. They tend to be bungalows, Craftsman-inspired or Mediterranean-revival houses, with smaller gardens and no swimming pools.
Space is at a premium in this mostly commercial neighborhood, so apartments are far more common, even inland. Mid-rise apartment blocks, usually modernist and whitewashed, have been springing up in recent decades, and vacant lots are available for future condo development.
Additional Reading