Living in Delray Beach, FL: The Village by the Sea
Posted by Discover Homes Miami on Tuesday, May 4, 2021 at 11:29 AM
By Discover Homes Miami / May 4, 2021
Comment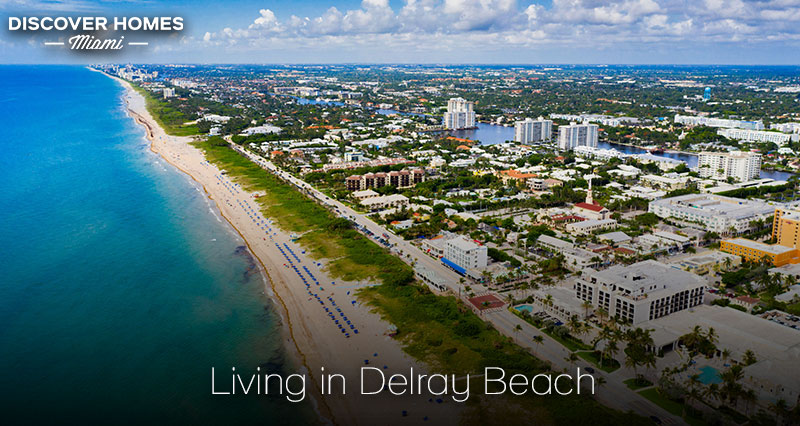 Delray Beach is a small city in Palm Beach County, with a population of around 70,000. Lying roughly 27 miles north of Fort Lauderdale, Delray Beach is bordered by Boca Raton to the south, Boynton Beach to the north, and 3 miles of Atlantic Ocean coastline to the east.
Although Delray Beach is small, it offers a sophisticated and cosmopolitan vibe, attracting a diverse population of residents from all over the world. Atlantic Avenue, Florida's longest main street, runs through the center of town, from I-95 to the ocean, and is lined with galleries, boutiques, and restaurants.
Thanks to decades-old progressive planning, high-rise development has been limited in Delray Beach, and the town retains a unique historical feel that's missing in nearby communities. Let's take a closer look at what makes Delray Beach such a great place to live.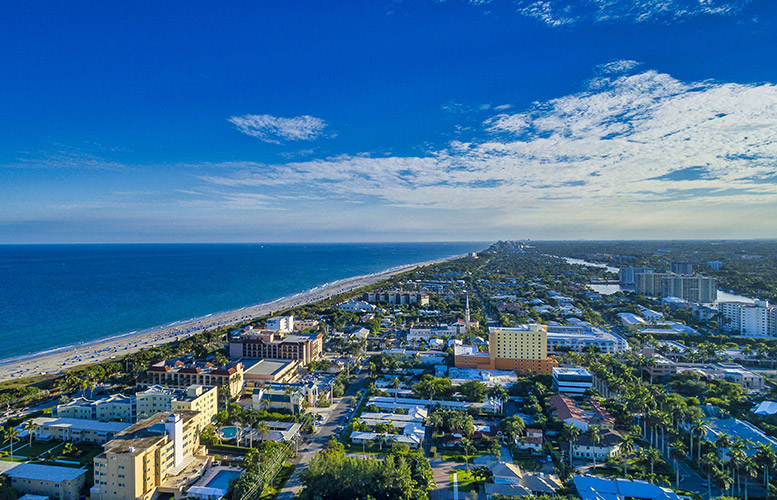 Aerial view of Delray Beach
Delray Beach Lifestyle and Culture
Delray Beach is known as the "Village by the Sea," and the city feels friendly and slow-paced. There's an emphasis on pedestrian-friendly infrastructure in Delray Beach, and the city streets are pleasant to walk along. Atlantic Avenue is a wonderfully pedestrian-friendly thoroughfare and buzzes with activity day and night. Locals also enjoy cycling around their city, and many folks choose to leave the car behind when they run daily errands.
Many Delray Beach residents commute to Fort Lauderdale for work, and although traffic can be heavy, driving times hover around 30 minutes. For those who prefer to let someone else do the driving, there are plenty of great public transit options, including Palm Tran buses and Tri-Rail commuter trains, which run all the way to Miami International Airport.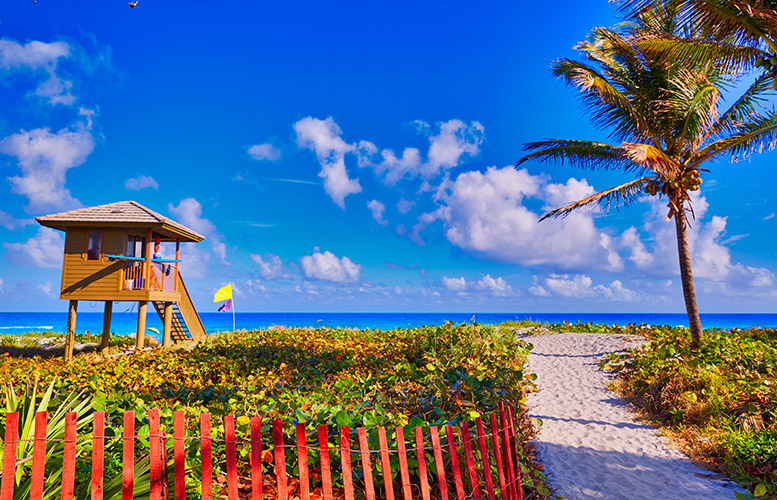 Lifeguard station and beach in Delray Beach
As you might expect, much of daily life here revolves around the city's two miles of public beaches. Mornings bring local joggers and dog walkers who enjoy the peace and quiet as well as the cooler temperatures. Afternoons bring an eclectic crowd of locals and visitors to the beach, all of whom are here to enjoy the fine white sand and crystalline ocean water. Swimming, snorkeling, and beach games are all popular pursuits, and local paddleboarders launch from the north and south ends of the beach.
There are small neighborhood parks dotted throughout the city, offering sports facilities, playgrounds, and picnic areas. There are also several incredible golf courses in the area, running from exclusive private clubs such as Gulfstream Golf Course to more approachable public courses like Delray Beach Golf Club.
Atlantic Avenue, known simply as "The Avenue" to locals, is Delray Beach's beating heart and is always full of life. The Avenue is lined with independent local boutiques and galleries, all perfect for finding one-of-a-kind treasures. Locals and visitors alike enjoy strolling along this supremely pleasant commercial strip, enjoying the atmospheric shade from mature oaks and palms, and taking in the gorgeous historic architecture.
Exposure shot of Downtown Delray Beach
Atlantic Avenue is especially picturesque at night when the trees are illuminated, and sidewalk tables are full of diners. There's an incredible selection of cafes, bars, and restaurants here, with food from all over the world on offer. There are upscale, chef-driven restaurants, as well as casual eateries, intermingled with craft breweries, cozy cafes, and refined cocktail lounges.
Pineapple Grove is Delray Beach's colorful arts district, located north of Atlantic Avenue in the downtown area. This vibrant district is full of interesting galleries, boutiques, and custom furniture stores. There's a quirky and fun atmosphere in Pineapple Grove, and the area is also an important center of the city's arts community.
Delray Beach locals are passionate about their local art scene. This is evident in Artist's Alley, where locals can always be found perusing the works of their favorite local artist. The wonderful Arts Garage can also be found in Pineapple Grove. This non-profit cultural center offers visual arts, live music, and theater in a cutting-edge environment.
Delray Beach is known throughout the region for its family-friendly events and festivals, and people flock here to enjoy the celebrations. One of the most popular annual events is Delray Affair, a multi-day extravaganza of arts and crafts, music, and food. Other popular annual events include the Delray Beach Wine and Seafood Festival and Delray Beach Restaurant Month. The community here loves to come together to celebrate its city, and it feels like there's always something exciting happening in Delray Beach.
Things to Do in Delray Beach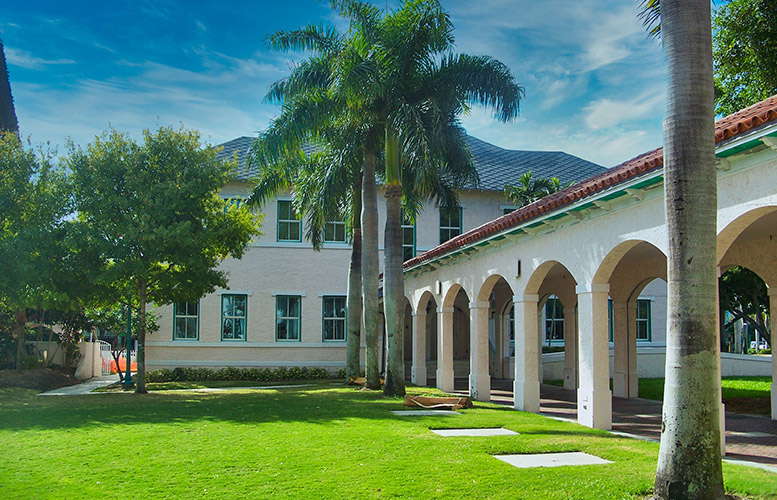 Old School Square. Source: Ebyabe (modified)
Old School Square
Housed in beautifully renovated buildings dating from the early 1920s, this multi-use entertainment center occupies the former campus of the Delray Beach Elementary and Delray Beach High Schools. Old School Square is a beloved local cultural center that's home to some of the city's most important community gathering spaces.
The Crest Theatre occupies what was the school auditorium. Since the early 1990s, this charming, intimate 323-seat facility has been delighting Delray Beach with musicals and Broadway-style shows. The Cornell Art Museum spans two floors and houses a staggering collection of art, much of it from local artists. There's a fantastic creative arts school here, too, as well as an outdoor pavilion that hosts live music and events throughout the year.
Silverball Museum
Located on NE 3rd Avenue, in the heart of Downtown Delray Beach, the fantastic Silverball Museum houses more than 150 video games and pinball machines, some of which date back to the 1930s. Visitors to the Silverball Museum can take a nostalgic trip down memory lane, but that's not to say this isn't a great place for modern kids!
The 9,000 sq ft museum is home to classic video games like Pac Man, two whole floors of pinball machines, awesome old arcade games, and even the original skee ball lanes from the Eldorado Arcade in New York's Coney Island. Once you've paid the modest admission fee, all games in the museum are free. There's a fun-filled atmosphere here, and a pair of bars offer food, drinks, and live music performances.
Sandoway House Nature Center
Sandoway House dates back to 1936 and was designed by local architect Samuel Ogron, who was also responsible for designing the Delray Beach schools that now make up Old School Square. Located on Highway A1A, this gorgeous Resort Colonial Revival-style house is now home to a fabulous nature center whose mission is to educate local adults and children about South Florida's fragile marine and freshwater ecosystems.
Since 1998, the Sandoway House Nature Center has been offering hands-on exhibits and learning experiences. Locals love to come here for the weekly shark and stingray feedings, and there's always an opportunity to get up close with marine life. There's also a fantastic natural history library here, as well as an observation deck and a beautiful native plant and butterfly garden.
Putt'n Around
Tucked away in historic downtown Delray Beach, there's a small, unassuming pink building and garden. If you love mini-golf, you won't want to miss this place. It doesn't look like much from the outside, but Putt'n Around offers loads of fun and keeps locals and visitors coming back for more.
The Ocean Course is beautifully designed and features fish statues, seashells, and a magical mermaid. The Everglades Course features bird statues and lifelike alligators that really do look like they could bite! With its mini-golf and award-winning botanical gardens, Putt'n Around is a great way to spend a fun-filled afternoon. Many a local birthday party has been hosted here, and the full-service Clubhouse kitchen offers affordable food, beer, and wine, ensuring no one will leave hungry.
Delray Beach Parks and Recreation
Atlantic Dunes Park and Beach
Although Delray Municipal Beach is the city's most well-known and popular, the beach at Atlantic Dunes Park feels like a hidden gem, and it's here that many locals come to escape the tourists and relax in a tranquil and beautiful environment. Located at the southern end of town on Highway A1A, Atlantic Dunes Park is easy to miss. There's a small parking lot, then a picturesque nature trail that leads down to the beach, passing through dense tropical vegetation.
The beach itself is bordered by a wooden boardwalk, and the wide stretch of sugary white sand is seldom crowded. There are lifeguards on duty, and visitors can rent chairs, umbrellas, and beach huts. The crystal clear waters of the Atlantic Ocean are warm and inviting, and kids love searching for the many shells that dot the beach, making this an ideal place to spend the day.
Morikami Museum and Japanese Gardens
Morikami Museum and Gardens has been open since 1977 and offers one of the most beloved local cultural experiences. This amazing center for Japanese culture in South Florida features an incredible museum that has been built in a traditional Japanese architectural style. There's a tea house, a theatre, and exhibition galleries here, as well as so much more.
The 16 acres of gardens immediately surrounding the museum offer a serene and meditative atmosphere, replete with strolling gardens, a world-class bonsai collection, and pretty lakes. The wider 200-acre park features nature trails, pine forests, and picnic areas. This treasured local institution is tranquil and relaxing, and locals return here again and again.
Wakodahatchee Wetlands
The Wakodahatchee Wetlands are located in the western part of Delray Beach and offers a beautiful and serene setting in which to escape for a while. Locals enjoy taking early morning walks through this, the region's first wetlands park.
Wakodahatchee is a diverse wildlife habitat and provides the opportunity to see over 150 species of birds, foxes, turtles, otters, and alligators - all of which thrive in a healthy South Florida wetland environment. Popular with birdwatchers and photographers, Wakodahatchee Wetlands features an elevated boardwalk that circles the park. Best of all, admission to this wonderful area is completely free!
Delray Beach Golf Club
There are several golf courses in Delray Beach, some more exclusive than others. The Delray Beach Golf Club is one of the most popular places to play a round of golf, and the warm and welcoming atmosphere keeps locals returning again and again.
The golf course was designed by Donald Ross and initially opened as a 9-hole course in 1926. The course was eventually expanded to encompass 18-holes in 1950 and has since become one of the most highly rated courses in the region, attracting golfers of all ages and skill levels. Delray Beach Golf club features a driving range and other practice facilities and also offers programs and clinics for adults and children. This family-friendly institution also houses a popular restaurant that's always packed at the end of the day.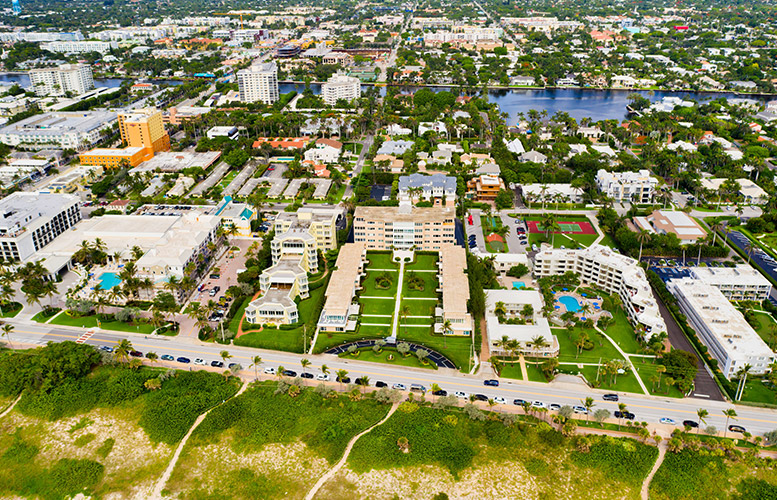 Some of the beachfront condo buildings in Delray Beach
Delray Beach Real Estate
Delray Beach has become one of the most sought-after locales in all of Southern Florida and is home to some of the most exclusive real estate in the region. You'll find everything from historic, tucked-away beach cottages to palatial single-family homes in gated communities in Delray Beach.
For those who seek modern luxury living, 111 First Delray Beach is a luxury condo development that offers sumptuous residences and resort-style amenities. Delray Beach is also home to several exclusive country club estates, including Delray Village by the Sea and Delray Ocean Estates. Here, you'll find extraordinary mansions with access to an incredible range of amenities such as swimming pools, tennis courts, and members-only golf clubs.
Additional Reading