Living in Deerfield Beach, FL: 2021 Community Guide
Posted by Discover Homes Miami on Sunday, March 28, 2021 at 5:35 PM
By Discover Homes Miami / March 28, 2021
Comment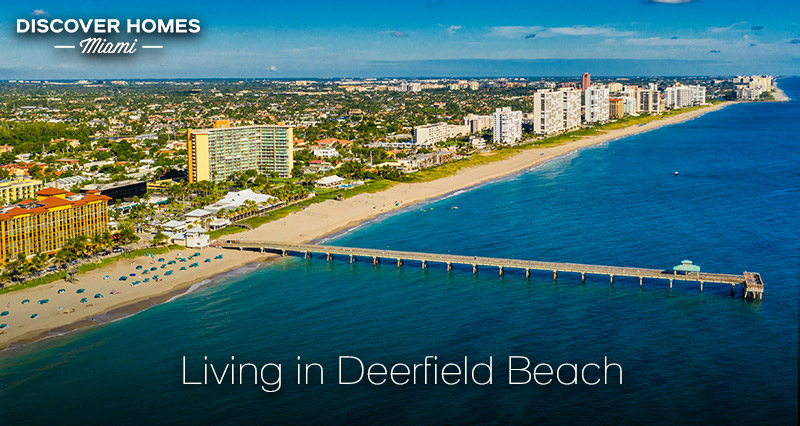 Deerfield Beach is a smallish city sandwiched between Pompano Beach to the south and Boca Raton to the north. It's far enough away from Fort Lauderdale and Miami to offer an affordable seaside lifestyle minus the expensive luxury of the southern reaches of the peninsula.
The city covers 16 square miles and has a high population density, around 81,000 at the last estimate. Deerfield, as it was originally named, developed from a small farming community centered on the Hillsboro River, and was founded in 1890. With the coming of the Florida East Coast Railroad at the turn of the century, an influx of settlers moved in, the population more than tripling between 1920 and 1930. It was officially incorporated in 1925.
The city added the word "beach" to its name to attract additional tourism in the middle of the twentieth century. The second wave of expansion took place between the 1960s and 1980s. In the twenty-first century, Deerfield Beach's population is still expanding, and the city has a huge socioeconomic diversity.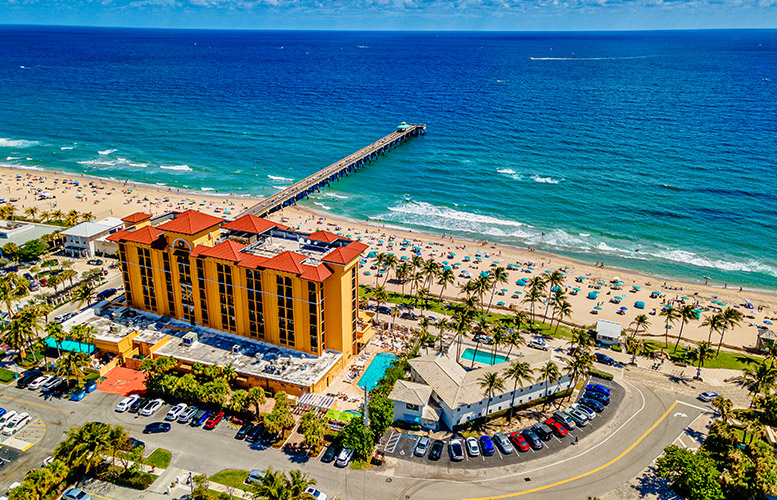 Wyndham Deerfield Beach Resort and the Deerfield Beach Pier
Lifestyle and Culture
Deerfield Beach combines small-town charm with traditional southern hospitality. It's not as cosmopolitan as Miami but provides a relaxed lifestyle with easy access to shops and restaurants plus a beach culture that pulls in tourists. Overall, it's a quieter community than its livelier southern neighbors. However, people born in Deerfield Beach tend to remain loyal to its charms, even when they relocate for big-city employment opportunities.
The city's beach and pier are significant draws, and there is plenty of daytime activities within the city boundaries. The terrain is low-lying with mangrove forest and plentiful lakes and waterways, providing many opportunities for watersports, swimming, and lakeside living. Southern Florida enjoys a balmy subtropical climate, with summer highs in the low nineties made tolerable by the easterly sea breezes.
The gulf stream forms the city's northern boundary and Deerfield Beach is just a few miles from the Florida Everglades Wildlife Reserve. Homes in Deerfield Beach range from trailer parks to modern housing developments in The Cove and small condominium developments near the beach.
Things to Do in Deerfield Beach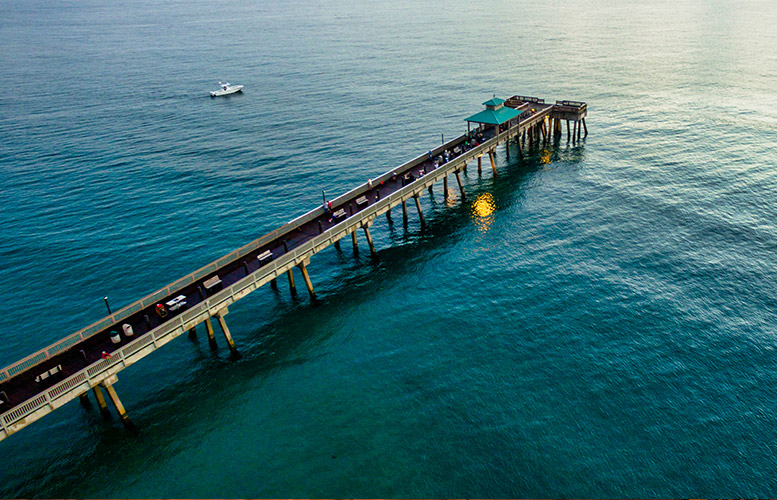 Deerfield Beach Fishing Pier
Deerfield Beach Fishing Pier
The current 976 feet-long pier replaced the original wooden structure built in 1951-52. From its inception, the pier was a place where local fishermen would meet and socialize while landing crab, snapper, and mackerel.
Keen fishers still flock to the pier. Beginners can rent rods, and regulars can buy tackle, and bait and find a quiet spot to relax and watch the waves. It's also a great spot for an evening stroll and provides great views of the Florida coastline at sunset.
For those interested in the rich biodiversity of the seashore, there are environmental workshops running year-round, and these are free to the public.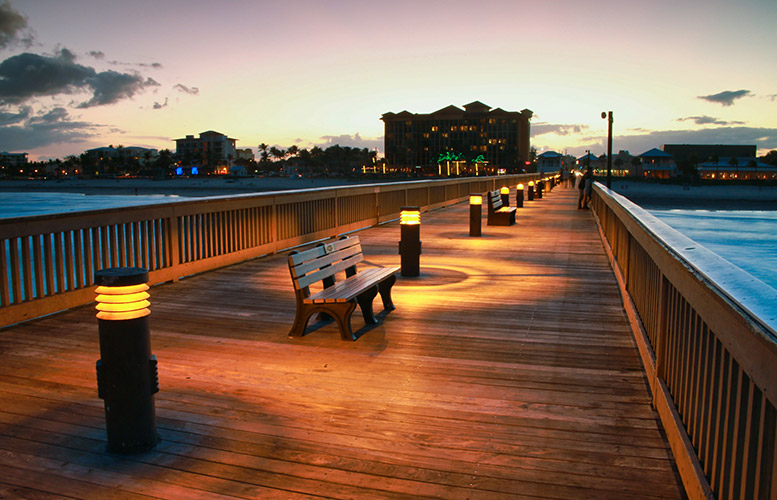 Deerfield Beach Boardwalk
Deerfield Beach and Boardwalk
Deerfield won a "Blue Wave" award from the Clean Beach Council and is safe for swimming, with nine lifeguard towers and surfing permitted between the pier and tower 7. There are facilities for beach volleyball too.
Sea Turtles nest at various locations along the beach – you'll see their nests marked and signposted to prevent them from being disturbed. The animals lumber onto the sand at night, so if you're interested in seeing the turtles in action without disturbing them, you can join an organized turtle walk with a knowledgeable and eco-friendly guide.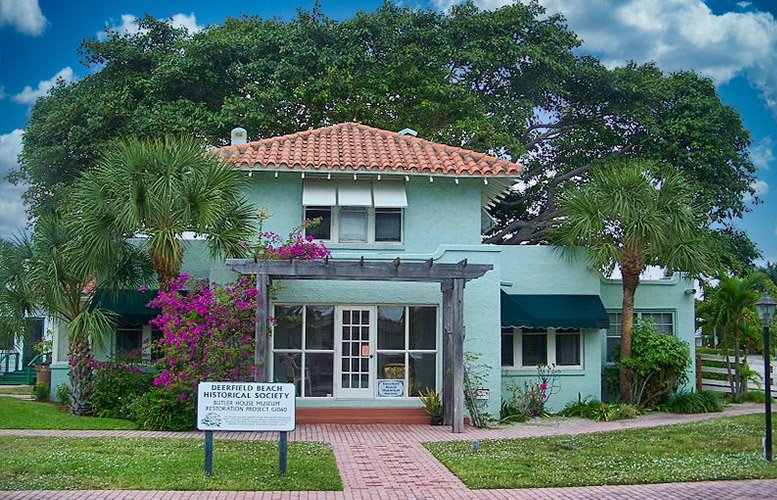 The Butler House. Credit: Ebyabe
The Butler House
If you want to know more about the history of Deerfield Beach, the city's Historical Society is situated in this splendid Mediterranean Revival property at 380 E. Hillsboro Blvd. The Butler House, the Society's headquarters, once belonged to early pioneers James and Alice Butler, who moved to the young town in 1910.
Tours of the property, which have been significantly restored both inside and out, are available on Saturday mornings. The Society also hosts historical exhibitions and organizes a wide range of events including talks, film screenings, music recitals, and photography shows.
One of the Society's ongoing projects is the restoration of the "Little Red Caboose", a 1951 Seaboard Airline railroad car.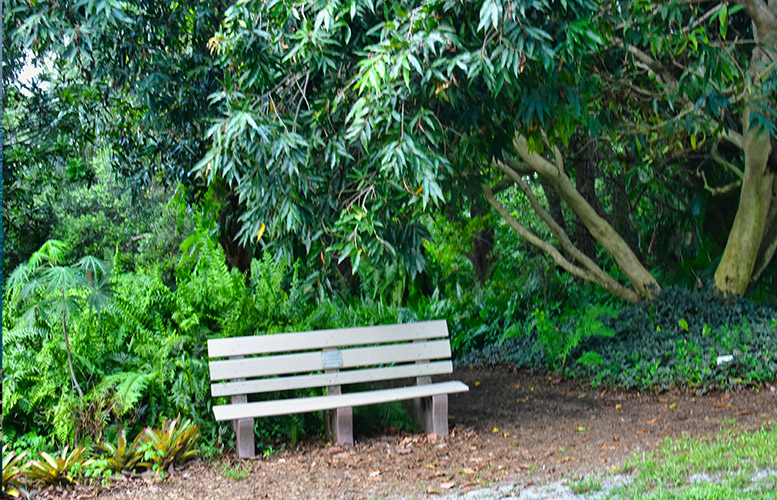 Arboretum at Constitution Park
If you want to get away from the blazing Florida sun for a while, the Arboretum, located off West Hillsboro Boulevard, provides a welcome escape. Covering nine acres, this "tree zoo" features over 200 exotic varieties imported from worldwide habitats. These are subdivided into Flowering Tropical Fruit, Exotics, Palms, Wetlands, Bamboo, Native species, and a Butterfly Garden.
There is also a nursery with seedlings for sale. Tours are provided every Friday and the first Saturday of each month. There is a half-mile canalside walking trail; runners will appreciate that jogging is permitted too.
Dixie Divers
If you want to get a little more intimate with the aquatic life of southern Florida, Dixie Divers, the scuba store on South Federal Highway, hosts a diving school. Courses are available for all levels from amateur snorkelers to master scuba divers. There are even specialist courses for night diving, cave diving, and wreck diving as well as underwater naturalist classes.
The shop itself is a cornucopia of diving technology, from wetsuits to underwater cameras, oxygen tanks, and diving computers.
Farmers Markets
With its origins as a farming community, it's unsurprising that Deerfield Beach is an excellent place to buy organic fruit and vegetables. As well as the homegrown produce on sale at South Federal Highway stores including Sprouts and Deerfield Farmers Market, you might check out local family-run firm J & J Farms, located at 2777 West Hillsboro Boulevard.
Butterfly World
Situated just off Florida's Turnpike, just south of Deerfield Beach, is this haven for all things butterfly-related. This huge facility features different climate-controlled zones including a tropical rainforest and an English rose garden. There are tropical bird aviaries too, as well as informative exhibitions, a small lake, research facilities, and two cafes.
Be sure to take your camera - you'll spot hundreds of beautiful varieties of insect and a tropical bird. Given that the average lifespan of a butterfly is seven to ten days, a visit to Butterfly World can really make you appreciate your time on this remarkable planet.
Watersports at Quiet Waters Aqua Park
Dispensing with environmentally unfriendly and noisy powerboats, the Ski Rixen cable skiing facility at Quiet Waters allows you to experience the thrill of waterskiing or wakeboarding without a boat. Using a network of pulleys and cables, you'll be propelled over the smooth waters at the speed of your choosing.
Elsewhere in the park, intrepid explorers willing to get wet can explore an inflatable island and aquatic obstacle course. There are cabins and teepees for hire, should you want to stay overnight, mountain bike trails, a dog park, and basketball courts.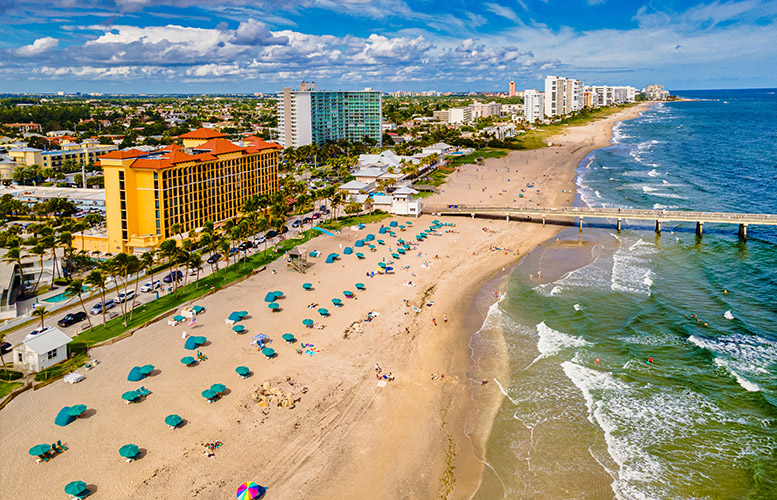 Deerfield Beach Boardwalk
If a gentle stroll along the seafront, a meal, and a drink or two is more your style, head for the boardwalk and walk north towards the pier where you'll find a scattering of cafes and restaurants. This is not a built-up holiday resort with beachfront cocktail bars, however. It's a much more down-to-earth and relaxed vibe.
Deerfield Beach is not a nightlife mecca, but if you love being by the sea, you'll easily find yourself a quiet patch of sand for a picnic. Alcohol is not permitted on the beach so you might find better drinking and nightlife opportunities at Pompano Beach or Boca Raton.
Parks and Recreation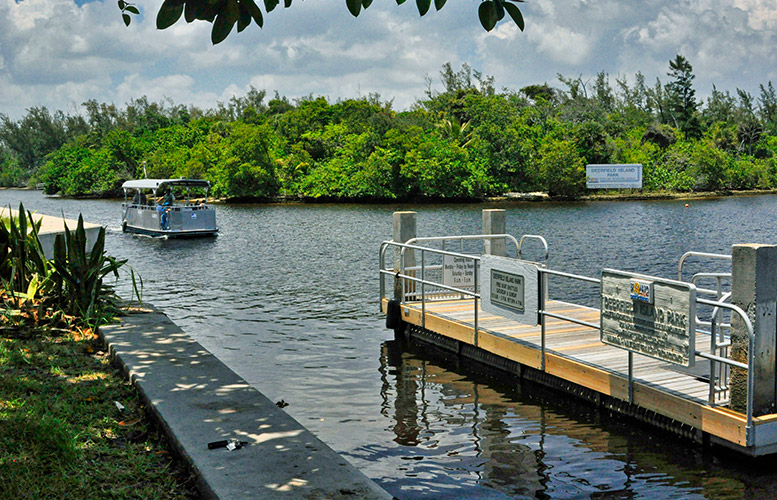 Deerfield Island Water Taxi Credit: MikesMegapixels
Deerfield Island Park
Walk due west from the pier and you'll spot Deerfield Island across the gulf stream. This 53-acre triangle of protected mangrove swamp can only be reached by shuttle boat from Riverview Road, off Hillsboro Boulevard.
Free shuttles run hourly between 10 am and 3 pm on Friday, Saturday, and Sunday. It features a nature trail, campsite, and playground and there are restroom facilities and picnic spots. Animals you might spot (bring binoculars) include raccoons, tortoise, gopher, and osprey.
Oveta McKeithen Recreational Complex
Although it may suffer from a rather over-literal name, this attractive 15-acre park is a great place for those serious about their sports. It offers two lighted basketball courts, a football field, and a multipurpose field.
There's also a concession stand, two baseball fields, a recreation center with pool tables, table tennis, and a gym. For those who prefer to cheer from the sidelines, there's a shady walking trail, picnic areas, and playground.
The park hosts occasional drive-in movies and the Deerfield Beach Summer Music Festival.
Tivoli Sand and Park Preserve
Parallel to South West 10th Street, you'll find this beautifully landscaped trail covering 25 acres of pinelands scrub. A huge range of birds and butterflies can be spotted in this protected environment as well as tortoise and prickly pear cacti. It provides a very pleasant early evening stroll.
Military Trail Natural Area
Located just five minutes from Tivoli Sand, across the boundary into Pompano Beach, you'll have to scout out this hidden gem of semi-wilderness. Look out for the sign attached to the chain-link fence at NW 9th Avenue – yes, it's that discreet. You'll probably have to park elsewhere and walk here too.
Once inside the preserve, you'll find 20 acres of scrubby Flatwoods and pine shrubs. Bring your own water and sun protection and bear in mind that there are no amenities other than the occasional bench or litter bin. However, you don't come here for the facilities; instead, nature lovers can enjoy spotting a huge variety of birds, including prairie warblers, mockingbirds, cardinals, and blue jays.
Guided hikes take place on Tuesday and Friday mornings, for those that want to learn a little more about the local flora and fauna.
Highlands Scrub Natural Area
This 34-acre site is more intensively managed, with wheelchair-accessible trails, a pavilion, frequent benches, and interpretive signage. The boardwalk trails take you on a sinuous journey through rare pineland scrub, canopied by sand pines and oaks, with colorful and varied underbrush.
The trail is in Pompano Beach at 4050 North Dixie Highway and plentiful parking is available.
Villages of Hillsboro Park
This smallish park is a great place to relax or play courts sport. There are facilities for basketball, volleyball, and tennis as well as a walking trail with regular exercise stations. Locals come here to walk, run, or inline skate and there are two small pavilions available for event hire.
A section of the park borders the gulf stream, meaning you can launch a small boat here, or run alongside the water's edge.
Florida Everglades Taster
For a wilder experience, take advantage of Deerfield Beach's proximity to the Everglades to enjoy a private tour of this remarkable and sprawling natural environment. Drive-up County Highway 827 and you'll find a couple of airboat tour providers who will speed you into the midst of the swamps for a 50-minute tour.
If you're lucky, you'll spot alligator, turtles, or manatee and return with an appetite to further explore the 1.5-million-acre wetland.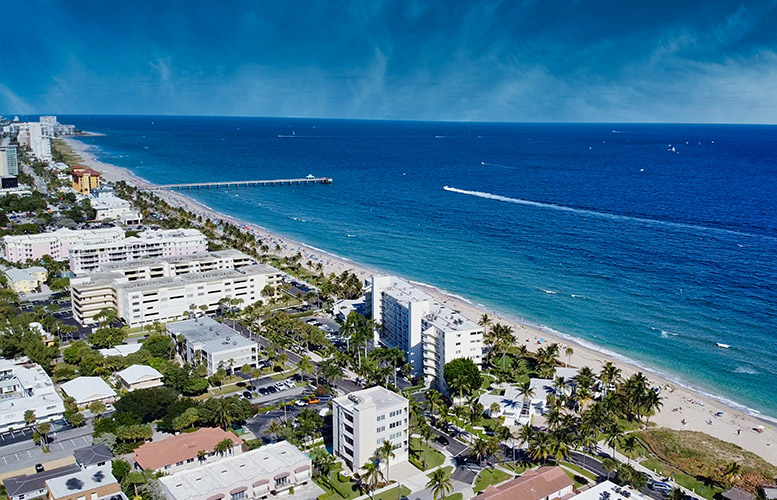 Some of the Deerfield Beach waterfront condos
Real Estate
Deerfield Beach's near 100-year history as an incorporated city, plus its socio-economic mix means you can find a huge range of different types of property. Most Deerfielders own their own homes, which range from mid-century ranch-style to grander Mediterranean Revival houses.
There are many Trailer and RV parks at the lower end of the price range and private homes inland tend to top out shy of half a million dollars. Anything on the waterways will tend to command a higher price and some such homes come with boat docks and picturesque gardens.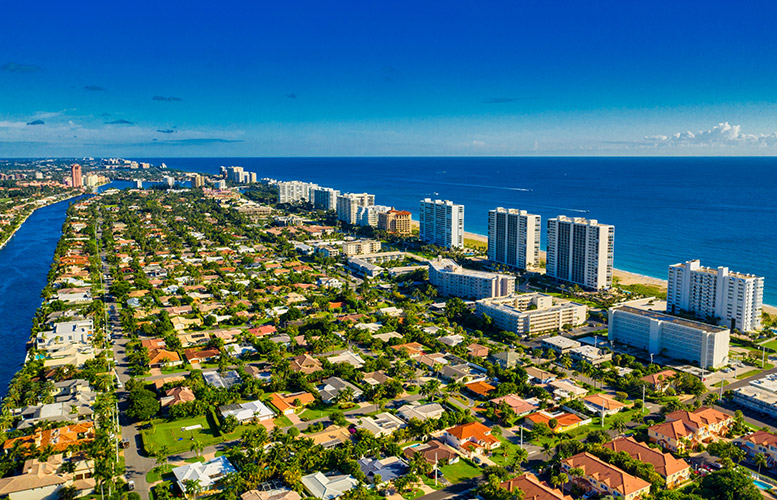 Deerfield Beach's real estate is oceanfront condos and single-family homes
The Cove district, just off the Gulf Stream, boasts the most opulent private homes, complete with swimming pools, balconies, and multiple bedrooms. Mid-price condos line the Atlantic-facing shoreline, and these represent reasonably good value, given their location and views.
New condo developments aren't high-rise in this part of Florida, so nobody's home is overshadowed by the penthouses of the uber-rich. Many condos have shared pool facilities – a quick dip to cool down from the Florida sun is a way of life in this part of the world.
Inland, you'll find more modest bungalows in areas like Arlington Park, as well as low-cost condos situated around the inland waterways and lakes of Century Village. More so than many cities in Florida, Deerfield Beach offers a home to suit any budget.