Living in Coral Gables, FL: Miami's Mediterranean Suburb
Posted by Discover Homes Miami on Friday, April 9, 2021 at 8:32 PM
By Discover Homes Miami / April 9, 2021
Comment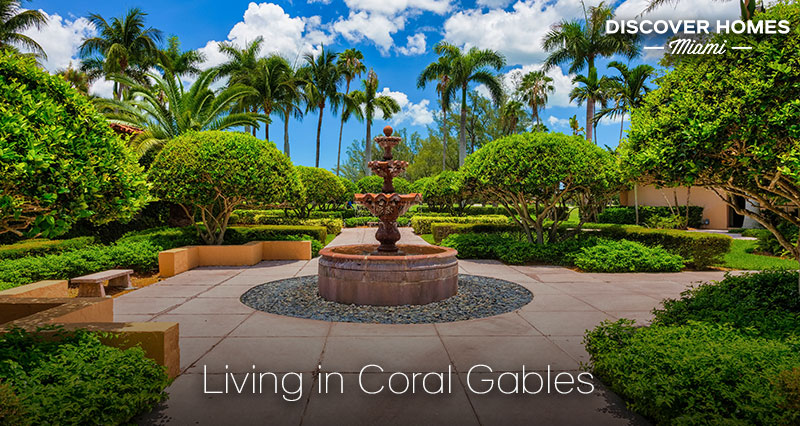 Located less than five miles southwest of Downtown Miami, Coral Gables is one of the most beautiful and iconic cities in the metropolitan area. Founded during the Florida land boom of the 1920s, Coral Gables was the brainchild of George Merrick, who envisioned a meticulously designed community that should resemble a European city.
Thanks to strict zoning regulations, Coral Gables still feels unique and historical. The city's Mediterranean Revival-style architecture, fountains, and European-style piazzas make it easy to forget that you're living in the heart of a major urban area. Coral Gables is home to a thriving arts and culture scene, a vibrant collection of shopping and dining, and a buoyant financial hub. Many international corporations are headquartered here, drawing thousands of people worldwide and adding a multicultural feel to the city.
Let's take a closer look at what makes Coral Gables such a desirable place to live.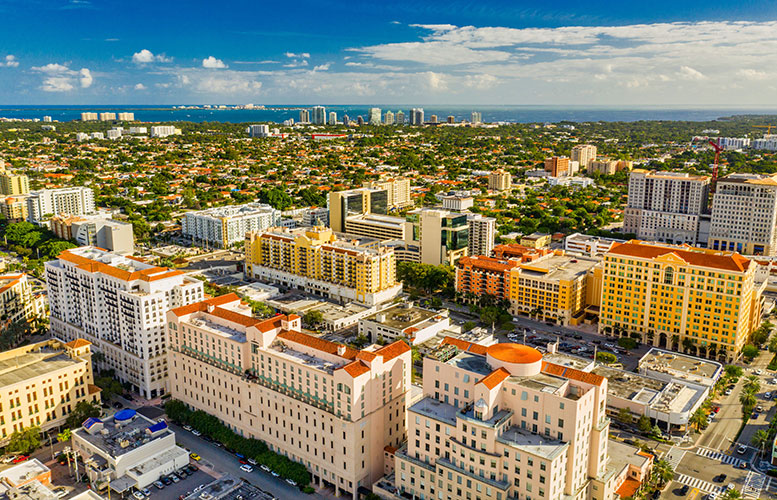 Downtown Coral Gables
Lifestyle and Culture in Coral Gables
Coral Gables is a city of beautiful tree-lined streets, with huge banyans providing atmospheric shade on the hottest of days. Locals love to walk, jog and cycle through their city, and although Miami's infamous traffic is just minutes away, the vibe here is much more peaceful. Plentiful traffic circles keep motorists from speeding through Coral Gables' residential streets, and rush hour is the only time that the city's main arteries become clogged.
Coral Gables' pedestrian-friendly downtown area is ideal for strolling, and for tired legs, there's a fantastic free trolley that runs along Ponce De Leon Boulevard. The city is well-served by public transit, with Miami Metrobuses running throughout, and there are two Metrorail stations connecting residents with Downtown Miami and Miami International Airport.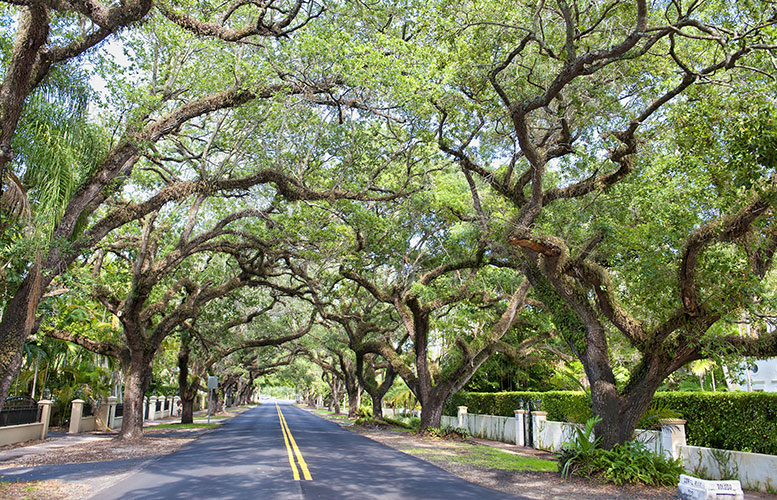 Coral Gables is famous for its Giant Banyan Trees.
Coral Gables residents love to spend time outdoors, enjoying their beautiful city. Around 30 percent of the land is dedicated greenspace, and there are numerous pocket parks throughout the city, as well as several larger parks. Local favorites include Fairchild Tropical Botanical Garden, which is always a relaxing place to stroll and recharge, and Matheson Hammock Park offers trails, picnic areas, and a wonderful man-made atoll pool. The Venetian Pool is Coral Gables' incredible centerpiece, acting as the hub of outdoor life. On the hottest of days, the Venetian Pool is a great place to cool off, and hanging out here never gets old.
Boating, sailing, and water sports are all super-popular activities in Coral Gables, and it's common to see impressive yachts docked along the city's waterfront. The Coral Gables Waterway leads to the open ocean, and various canals cut through the city, adding picturesque charm and endless recreation opportunities. When locals aren't on the water, many choose to hit the links. Golf is extremely popular here, and there are two fantastic public courses and a number of exclusive private clubs.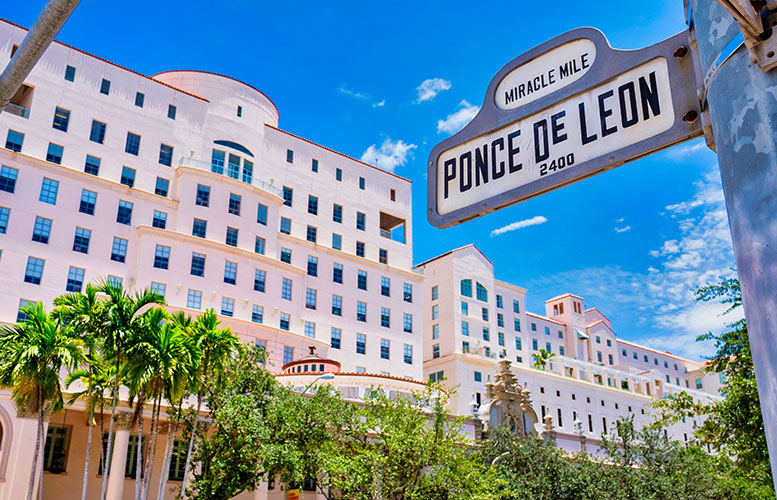 The luxurious Miracle Mile in Coral Gables.
Miracle Mile is Coral Gables' main east-west artery and divides the city's busy 20-square block business district. This part of Coral Gables buzzes with activity during the week as business types in suits mingle with locals running errands. On weekends, the area really comes to life, as locals gather to shop and dine. The tree-lined streets offer a relaxing, European-style environment, and there's an impressive collection of boutiques, galleries, and well-regarded restaurants to choose from. For an even more upscale shopping experience, locals head to nearby Shops at Merrick Park, which offers over 100 world-class stores and restaurants across three floors.
There's a thriving art and cultural scene in Coral Gables, and residents love to support local art and entertainment. Actors' Playhouse offers various productions at the Miracle Theatre that are always well-attended, including Broadway shows and children's musicals. Coral Gables Art Cinema is another local cultural gem, offering interesting arthouse movies in an intimate setting.
Art galleries are scattered throughout the city, featuring everything from contemporary pieces to fine art and sculpture. Small-scale art events are common, but the monthly Gallery Night is always a massive draw. For over 30 years, local galleries have participated, opening their doors to the public on the first Friday of every month, and offering food, wine, and a welcoming atmosphere.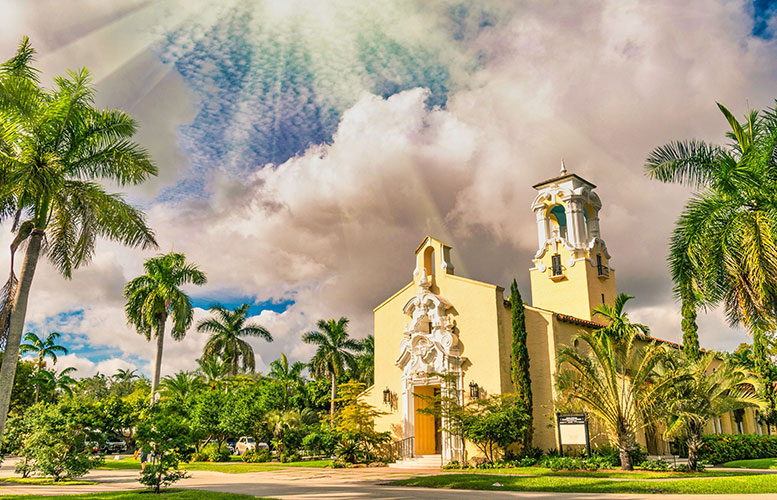 Congregational Church in Coral Gables, FL
There's a strong sense of community in Coral Gables, and locals never waste an opportunity to gather and enjoy the company of their neighbors. In the Spring, Carnaval on the Mile brings the whole city together for a weekend celebration of art, music, and food. This enormous festival is always a good time, and the vibes are friendly, fun, and inclusive.
Another highlight of the local calendar is the International Mango Festival. This celebration of all things mango has been going strong for decades at Fairchild Tropical
Botanical Garden. Perhaps the biggest annual celebration is the Miami Coral Gables Art and Mega Festival. This extravaganza features celebrations throughout the city, focusing on art, pets, kids, and food and wine.
Things to Do in Coral Gables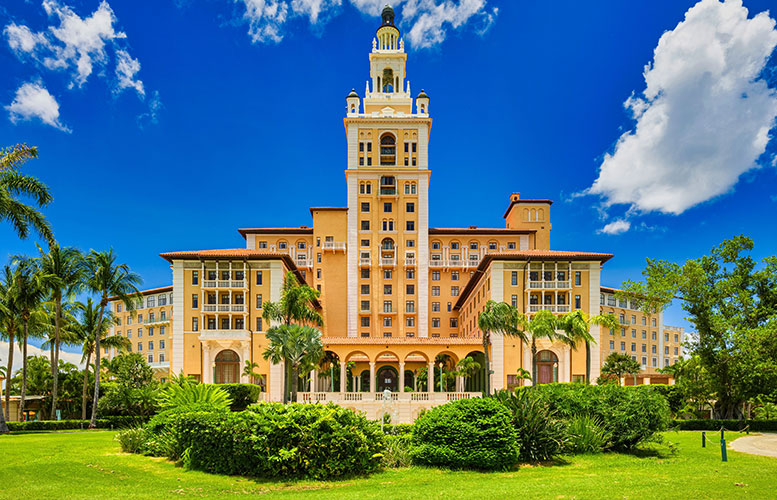 Biltmore Hotel. Credit: Fotoluminate LLC - stock.adobe.com
Biltmore Hotel
Part of George Merrick's splendid vision for Coral Gables, the Biltmore Hotel is a decadent architectural gem in a Mediterranean Revival style. This gorgeous building is part of a lavish resort and is home to one of the world's largest swimming pools. Local golfers love nothing more than playing a round on the incredible course designed by the legendary Donald Ross. This is an exceptional course that's seen its fair share of talented pros.
When locals feel the need to indulge themselves, the spa here is second to none. Massage, infused steam rooms, and a Himalayan salt room are all on offer in this luxurious facility. The Biltmore is home to several bars and award-winning restaurants, including Fontana and the atmospheric Cellar Club Bar. The Biltmore has a fascinating 20th-century history, and the Dade Heritage Trust offers free tours of the property every Sunday.
Carnaval on the Mile
Early March brings the most eagerly anticipated Coral Gables event of the year. Carnaval on the Mile is a weekend-long celebration of art in all forms and brings thousands of visitors to Coral Gables every year. Best of all, Carnaval on the Mile is totally free. Miracle Mile is completely transformed during the weekend, as Fine Arts Village descends on the center of the city. An eclectic collection of local artists assembles here, displaying jewelry, paintings, sculpture, photography, and much more.
The celebrations include dozens of live music performances on several stages, with musical styles from around the world represented. This is a family-friendly affair, with games, crafts, and interactive demonstrations on offer. Local restaurants get in on the action too, lining up along Miracle Mile to show off their best dishes.
Miracle Theatre
Located on Miracle Mile, in the heart of Coral Gables, Miracle Theatre is home to the Actors' Playhouse, an award-winning professional theatre company. For over 30 years, Actors' Playhouse has been the largest self-producer of dramatic musical theater for kids and adults in South Florida.
Stepping into the Miracle Theatre is like stepping back in time. The building dates back to 1948 and feels steeped in history and atmosphere. Whether in the intimate 300-seat Balcony Theatre or the grand 600-seat Mainstage Auditorium, watching a musical here is a truly unique and engaging experience that keeps Coral Gables locals coming back for more. Actors' Playhouse puts on a full season of productions each year and engages in community outreach and education. Local children and adults take part in a wide range of acting and singing classes, and there are popular summer camps for kids of all ages.
Coral Gables Parks and Recreation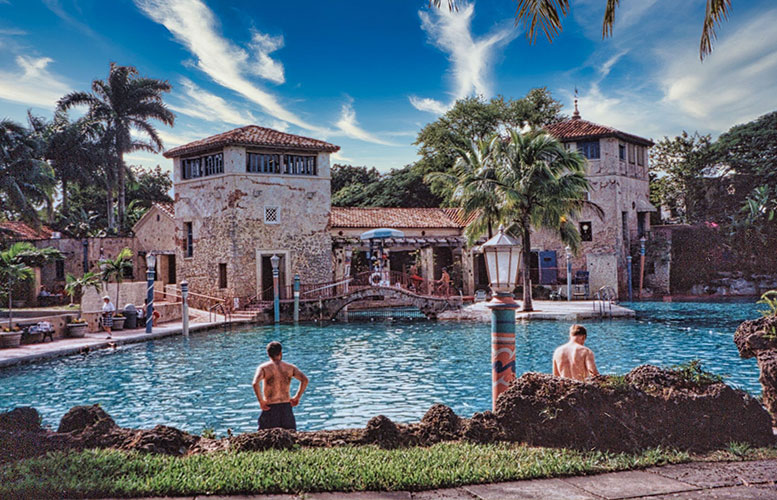 The Venetian Pool. Credit: Onasill ~ Bill
Venetian Pool
Located right in the heart of the community, the Venetian Pool is one of Coral Gables' most popular tourist attractions and beloved by city residents. This is a truly unique pool that's unlike any other in the United States.
The Venetian Pool was created in 1923 from a coral rock quarry, and the excess rock was used to border and accentuate the pool. Two large historic lookout towers flank the pool, offering stunning views of the surrounding city. The 820,000-gallon pool is fed by spring water from an underground aquifer and is filled and drained daily during spring and summer when it's a popular place to cool off and relax. It's a gorgeous setting - there are waterfalls and cave-like grottos to explore, with loggias, porticos, and palms all adding a sense of beauty and serenity.
Matheson Hammock Park
This gorgeous and scenic park is super-popular with locals, who come here on hot summer days to enjoy the sun and the company of friends, family, and neighbors. The park is home to preserved hardwood hammocks, and it's a real treat to stroll the pretty trails, where the trees provide shade and tranquility.
One of the biggest draws here is the awesome man-made atoll pool, which is flushed naturally by the tidal action of Biscayne Bay. It's serene and breezy beside the pool, and the warm, calm water is ideal for family-friendly swimming and play. The pool is a popular local kiteboarding spot, too, providing a safe environment to practice your technique. Matheson Hammock Park is home to a popular marina, as well as charcoal grills, picnic pavilions, and a restaurant in a historic coral rock building.
The Fairchild Tropical Botanical Gardens
Fairchild Tropical Botanical Garden
This wonderful 83-acre garden is one of the jewels in Coral Gables' crown, and locals are rightly proud of it. On a warm afternoon, there's nothing quite like wandering along the garden pathways, taking time to admire flowers, plants, and trees from all corners of the globe.
There are numerous fascinating exhibits and collections throughout the garden, including the Wings of the Tropics exhibit, which showcases butterflies and hummingbirds. A unified landscape design makes everything flow together, and you'll spend hours here. Fairchild Tropical Botanical Garden hosts events throughout the year, with Dog Dates and Mango Days proving especially popular with the local community. There's also a fantastic restaurant, the Glasshouse Cafe, which serves up locally grown, organic food in a light and airy setting.
Ingraham Park
Tucked away in a gorgeous residential neighborhood, this park is typical of the small local parks that dot Coral Gables. Located on Ingraham Terrace at SW 42nd Avenue, Ingraham Park is a secluded little refuge along the banks of the Coral Gables Waterway. There are large oaks that provide ample shade on sunny days, lush tropical landscaping, and an elegant fountain.
Ingraham Park is also home to a really cool outdoor gym that's perfect for working up a sweat before relaxing on one of the park's many benches. Stairs lead down to a picturesque path that runs along the canal, and a lovely red bridge provides a great backdrop for Instagram-worthy photos.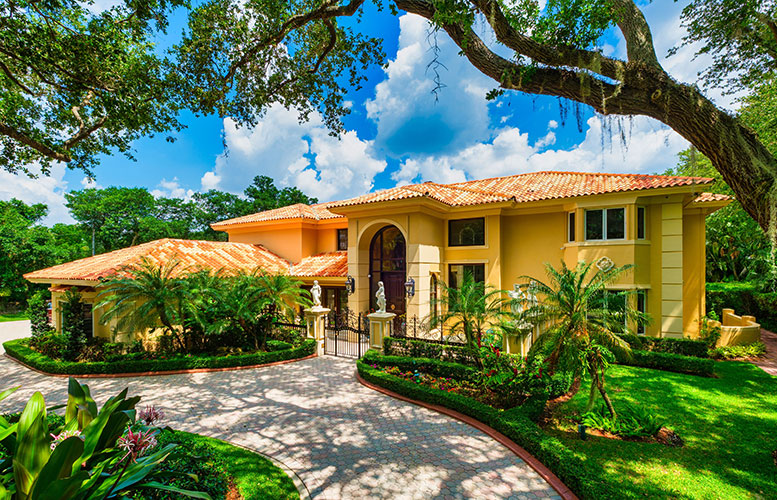 Luxury Mediterranean home in Coral Gables
Coral Gables Real Estate
There's a wide variety of real estate options in Coral Gables, ranging from mega-mansions on incredible estates to small Spanish villas.
Along Biscayne Bay, Coral Gables' waterfront is dominated by exclusive gated communities that offer residents privacy and seclusion. Communities like Cocoplum, Hammock Oaks, Tahiti Beach, and Snapper Creek are where you'll find some of the most expensive and sought-after single-family homes in South Florida.
Away from the bay, there's a blend of sprawling ranch-style homes from the 1950s and 1960s, older Spanish-style homes, and More modest Spanish bungalows. Coral Gables has its fair share of condo residences, too, with a growing collection of high-rises sprouting up throughout the city.
Additional Reading