13 Best Neighborhoods in Coral Gables, FL
Posted by Discover Homes Miami on Tuesday, May 4, 2021 at 2:20 PM
By Discover Homes Miami / May 4, 2021
Comment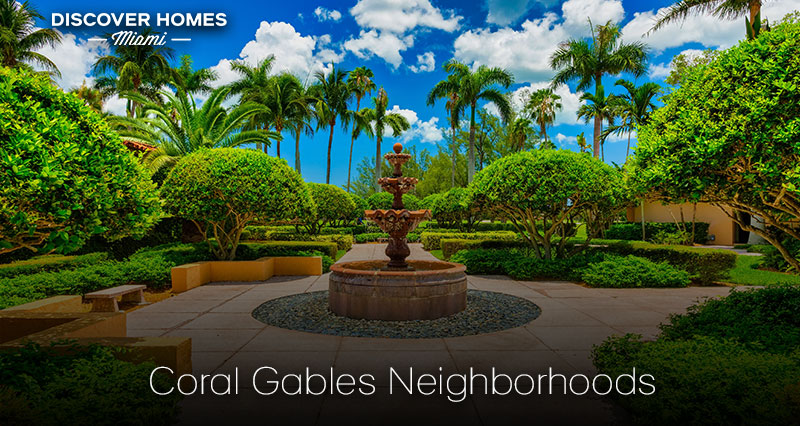 Coral Gables is aptly known as "The City Beautiful" with its old-world charm and elegance while being conveniently located next to Miami and Miami Beach. Notably, Coral Gables offers numerous prestigious neighborhoods and gated communities, known for their lavish estates, waterfront views, and exclusivity. Here are some of the best neighborhoods in Coral Gables: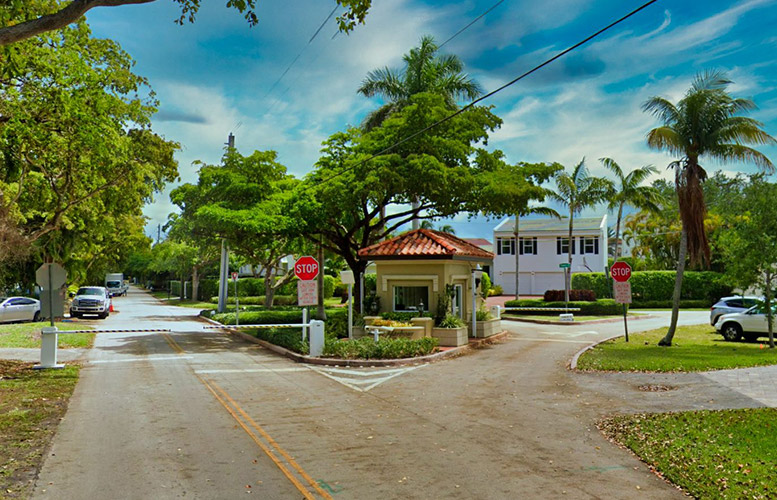 1. Sunrise Harbour
Sunrise Harbour is a gorgeous waterfront community of just 80 homes nestled in the southern portion of Coral Gables. Situated on four small peninsulas, almost every home within the neighborhood includes water frontage on Biscayne Bay or one of the inlets of the Coral Gables Waterway. Breathtaking views of the bay, the Atlantic Ocean, and the Miami skyline are all enjoyed by Sunrise Harbour homeowners, in addition to having unobstructed access into the water from their private docks.
This community is secured with a guard-gated entry and is within walking distance from Coral Gables plentiful shops and restaurants. Oversized lots and large floor plans are standard in the Sunrise Harbour neighborhood, with many of the older homes having been remodeled into contemporary coastal residences. Modern, mid-century, and Meditteranean-style homes can be seen along the four tree-lined streets that make up the beautiful community.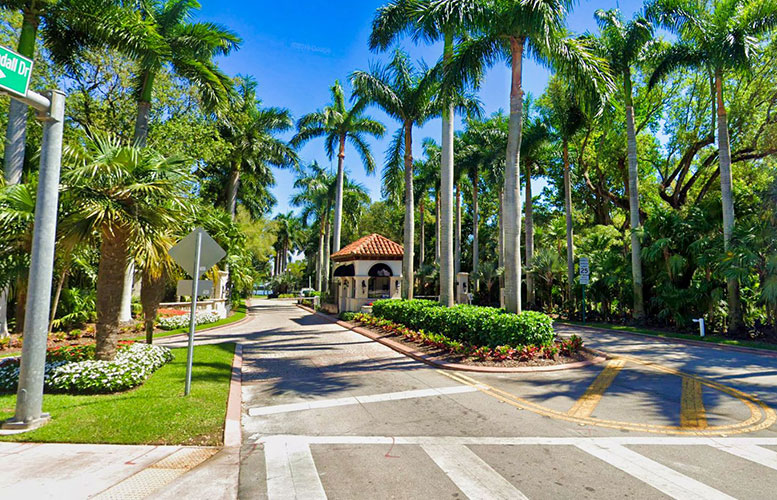 2. Gables Estates
The Gables Estates neighborhood is a highly affluent and coveted waterfront enclave situated in southern Coral Gables. Just under two hundred lavish mansions line the meandering waterways connecting to Biscayne Bay, providing direct access to the open waters and stunning bay views. This exclusive neighborhood is home to business executives, entrepreneurs, high-profile attorneys, and celebrities.
To ensure the community's prestige is preserved, the HOA enforces strict standards upon potential residents, requiring letters of recommendation, a $75,000 deposit, and that homes are at least 3,000 square feet. Gables Estate residences are opulent Meditteranean, Spanish, and contemporary style estates featuring the work of internationally acclaimed architects. Front and backyards are filled with verdant, tropical landscapes, expansive pools, private docks, and luxurious outdoor entertaining areas.
The Gables Estates neighborhood provides the utmost privacy and security with regular patrols throughout the community and entry gates manned 24 hours by guards. Residents can enjoy luxury shopping at the nearby Shops at Merrick Park and an exceptional fine and casual dining options.

3. Cocoplum
Cocoplum is one of the most sought-after waterfront neighborhoods in all of Coral Gables. Filled with over 300 stunning Mediterranean mansions, Tuscan-inspired villas, and sleek, modern estates, the community continues to draw wealthy and elite residents from celebrities to business executives. The community's entrance is gated and guarded 24 hours, providing homeowners with a high level of privacy and peace of mind.
Adjacent to the Gables Waterway and sparkling waters of Biscayne Bay, the Cocoplum community is a boat lover's paradise with a private marina and yacht club for residents to enjoy. Other luxury amenities in the neighborhood include a fitness center, tennis courts, a swimming pool, a playground, and a community clubhouse. There are also numerous holiday and themed events for the neighborhood to participate in.
Cocoplum is just minutes from the prime luxe shopping and dining destinations at Miracle Mile and The Village of Merrick Park. Cocoplum residents have access to some of South Florida's highest-ranked public and private schools. For those seeking exclusivity and seclusion, including celebrities such as Marc Anthony and Luis Fonsi, Cocoplum is the tropical haven to call home.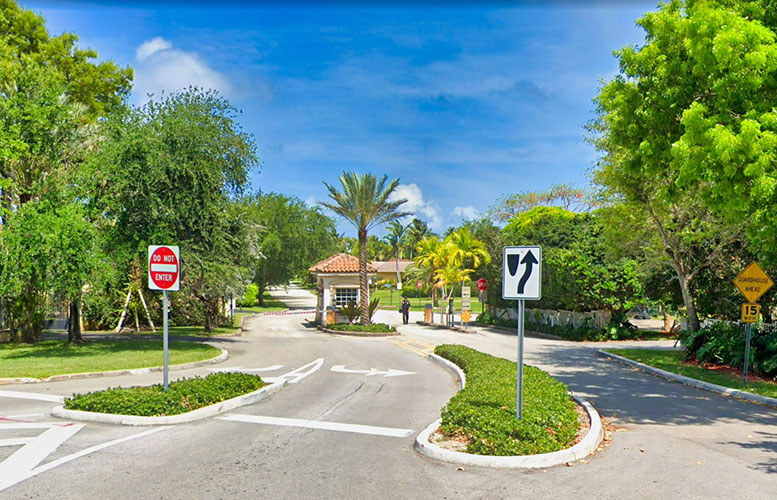 4. Gables by the Sea
As one of Coral Gables's oldest and most established neighborhoods, Gables by the Sea is filled with sweeping, mature trees with sprawling custom ranch-style and multi-level contemporary homes on oversized lots. Homes are well-appointed with high-end finishing touches from vaulted ceilings, to imported stone and marble flooring, to glitzy elevators. Entering through the guarded gates into the community, one is transported into an idyllic, affluent neighborhood filled with families and empty-nesters.
Gables by the Sea is aptly named, with many inlets winding through the community and feeding out into Biscayne Bay. Many homes enjoy breathtaking waterfront views with private docks and unobstructed access into the bay for boating, yachting, and other water sports. The neighborhood is conveniently located to all of the best schools and shopping the Coral Gables area has to offer, including Dadeland Mall, which provides a myriad of unique restaurants and boutiques.

5. Old Cutler Bay
The Old Cutler Bay community is a secluded luxury community set amongst a canopy of banyan trees and lush tropical landscapes. With just over 130 homes, the neighborhood is provided the utmost security, including a guarded entry gate and regular patrols throughout the area. The neighborhood is a nature lover's dream with ample walking and biking paths and is in close proximity to the Deering Estate nature preserve and Fairchild Botanical Gardens.
Many of the homes in Old Cutler Bay are located on the meandering canals leading to the azure waters of Biscayne Bay. Architectural styles within the neighborhood range from stunning custom Meditteranean and Spanish-inspired residences to sharp minimalist style masterpieces. With easy access to Biscayne Bay, waterfront homes often include private deep water docks and decks for sunbathing. While tucked away as a serene tropical haven, Old Cutler Bay is still centrally located to prime shopping malls and the hot dining and retail spots in nearby Coconut Grove.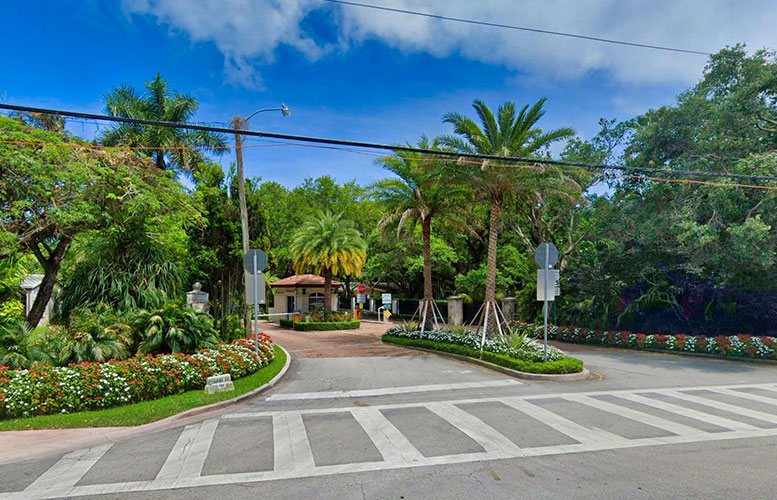 6. Hammock Oaks
The beautiful community of Hammock Oaks is lined with mature trees and mangroves, providing a tranquil, tropical ambiance. Just over 100 custom estates make up the gated neighborhood of Hammock Oaks, displaying architectural styles ranging from classic mid-century, Mediterranean, European, and contemporary.
Roughly half of Hammock Oaks' homes are set on the gorgeous lake at the heart of the neighborhood and feature private docks for convenient access into the waters. The neighborhood is adjacent to Matheson Hammock Park, a sprawling green space filled with canopies of mangroves and swaying palm trees.
While this luxurious community gives the sense of seclusion and exclusivity, it is just minutes away from the bustling shopping centers and award-winning dining destinations in Brickell, Downtown Miami, and Coconut Grove. The serene and elegant neighborhood of Hammock Oaks proves one really can have it all.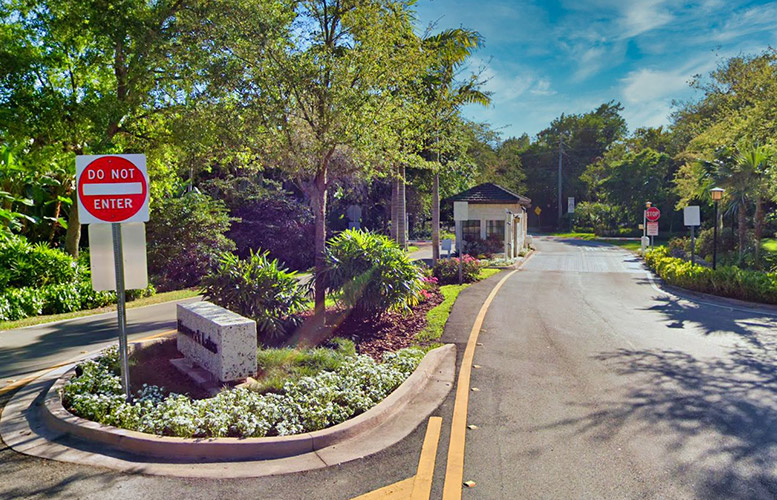 7. Hammock Lakes
The tranquil and affluent neighborhood of Hammock Lakes is nestled in southern Coral Gables, adjacent to the Hammock Oaks community. Featuring over 100 custom luxury estates, Hammock Oaks is home to professional athletes, investors, and some of South Florida's most successful business leaders. Set amongst mature, sweeping oak trees and guarded by a gated entrance, the community exudes a sense of exclusivity amidst Florida's natural beauty.
Many of the homes in Hammock Lakes provide waterfront views of inlets of Biscayne Bay or of the two lakes at the center of the community. Homes styles are a variety of stunning architecture ranging from recently remodeled contemporary mansions to Meditteranean-style villas and estates. Home lots within Hammock Lakes are typically oversized, featuring amenities such as pools, cabanas, and patios surrounded by tropical landscaping and regal palm trees.
The neighborhood is in close proximity to Matheson Hammock Park which spans hundreds of acres and exhibits some of Florida's most beautiful native vegetation. Residents of Hammock Lakes can also enjoy nearby luxury shopping, dining, and entertainment venues at the popular Miracle Mile Shopping District.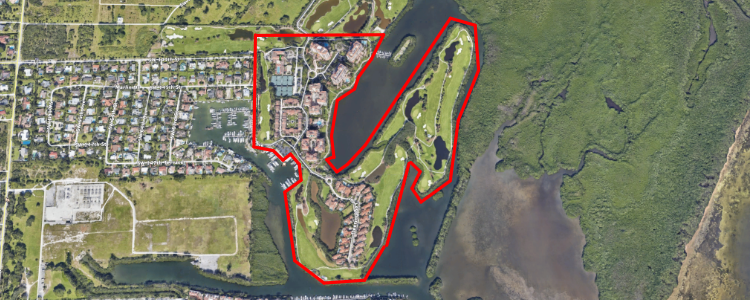 8. Deering Bay
Deering Bay is a vibrant resort-style community stretching along the shores of the shimmering Biscayne Bay. Entering the guard-gated community leads to an idyllic neighborhood filled with a collection of mid-rise condominiums, villas, and sprawling Meditteranean-style estates. Due to the community's prime location, Deering Bay homeowners enjoy 360-degree views of the surrounding waters and nightly sunsets.
At the heart of the neighborhood is the acclaimed 18-hole golf course designed by Arnold Palmer, boasting meticulously kept greens and bordering mangrove forests. The members-only Deering Bay Yacht and Country Club is within the Deering Bay neighborhood offering three marinas and an exceptional dining experience at the clubhouse restaurant.
Deering Bay residents can also enjoy access to the community's Har-Tru tennis courts, state-of-the-art gym, and numerous weekly fitness classes. A junior Olympic size pool is the perfect spot for families and retirees alike to relax or get a few laps in. Featuring plentiful social and family events throughout the year, the community remains connected while enjoying the luxurious resort vibe the neighborhood provides.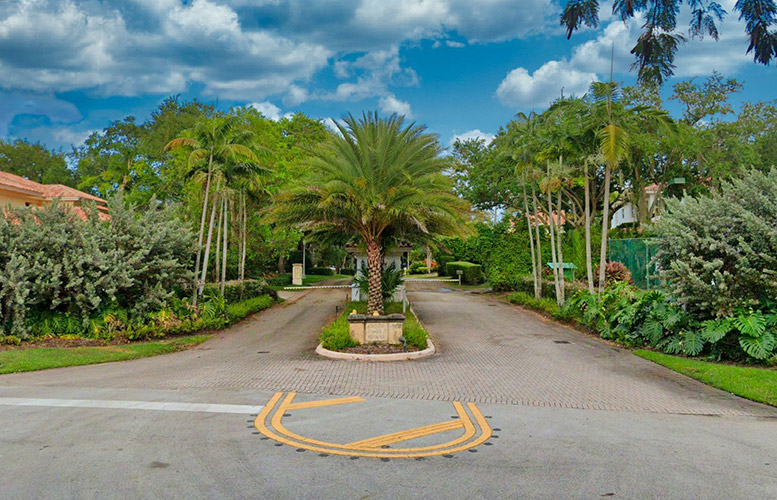 9. Cutler Oaks Estates
Cutler Oaks Estates is an exclusive community of fifteen luxury homes. Upon entering the neighborhood, one is greeted by a Mediterranean-style guard gate, stately palm trees, and lush landscaping, all exuding a sense of understated elegance and prestige.
The estates within the community offer spacious floor plans with up to eight bedrooms. The residences are set on oversized, pristinely maintained lots, and many boast azure pools with enviable outdoor entertaining areas. Residences in Cutler Oaks Estates are primarily two-story Meditteranean-style or sleek modern-style homes with artful tropical landscaping.
The Cutler Oaks Estates community sits adjacent to the equally luxurious Snapper Creek neighborhood. While Cutler Oaks Estates is not located on Biscayne Bay or the Atlantic Ocean, there is a lovely lake at the center of the neighborhood, providing residents with beautiful water views.
A community tennis court is also available to neighborhood residents. With peaceful lake views, gorgeous custom estates, and convenient access to all Coral Gables has to offer, Cutler Oaks Estates is a true hidden gem.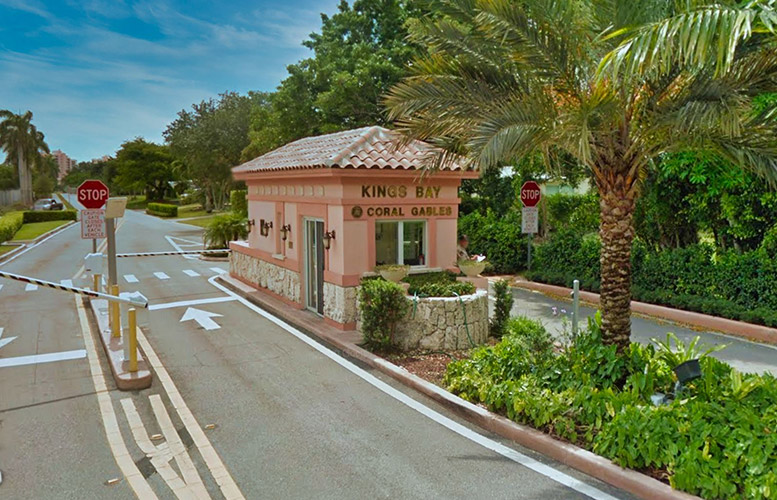 10. King's Bay
The King's Bay neighborhood is located in the southernmost part of Coral Gables and is a tropical haven featuring luxurious homes and mansions. The community offers residents complete peace of mind with a guarded entry gate that is manned 24 hours a day. The neighborhood provides a wide array of home styles from more modest mid-century and ranch-style homes to opulent Mediterranean and Italian-style estates.
Many of the homes in King's Bay have waterfront access with private docks located directly off of their expansive back yards. Residents enjoy unencumbered access to Biscayne Bay. Also available to residents is the community's private marina that is gated to ensure the utmost security.
A private park and convenient boat ramp are centrally located within the community for residents' enjoyment. Spacious front and back yards are meticulously maintained throughout the community with glistening pools, outdoor kitchens, shaded patios, and beautiful landscaping.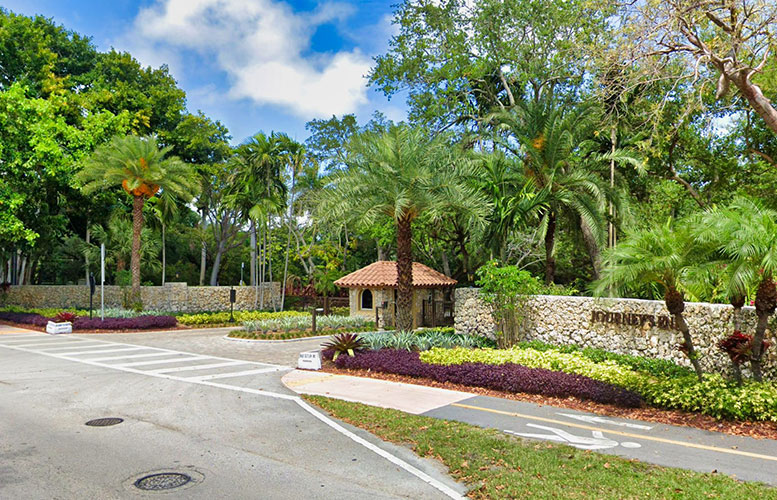 11. Journey's End
Journey's End is a luxurious neighborhood made up of 18 magnificent mansions in the heart of Coral Gables. Journey's End Road runs through the community boasting some of the most expensive real estate in all of Miami. It's not hard to see why these stunning estates command such prices. Most residences are located on over two-acre lots and are enviable examples of exceptional Meditteranean and European-inspired architecture. These regal homes have an average size of 9,000 square feet with luxe features such as resort-style pools, full-size gyms, and summer kitchens.
The community is nestled behind a guarded gate that limits entrants to only those on the designated guest list. Journey's End residents enjoy a private marina with numerous boat slips for convenient boat and yacht storage and seamless access right into the open waters. Tennis courts are also available to the Journey's End community.
The neighborhood is bordered by Matheson Hammock Park, which offers meandering walking trails, plentiful shaded areas, and a marina. It is a prime spot for kayakers and kite-boarders to set off from the park's serene atoll. For those seeking a prestigious, secluded neighborhood that allows access to nature, shopping, and entertainment, Journey's End is the perfect location.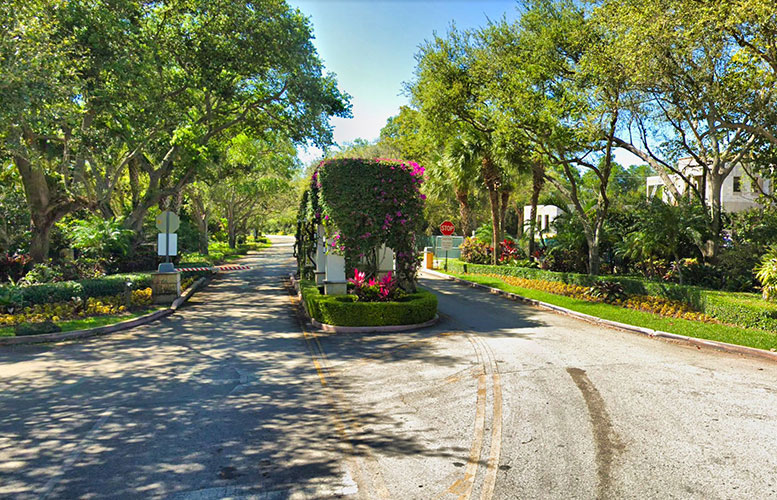 12. Snapper Creek
Snapper Creek is a serene botanical oasis set between the Snapper Creek Canal, Elbow Lake, and Finger Lake. This highly exclusive community is nestled behind gated security and features 120 spectacular custom homes, many with waterfront views and access. The neighborhood is filled with natural beauty from tree-lined streets, mature oak trees, lush tropical landscaping, and even roaming wild peacocks.
Snapper Creek residences are a variety of styles, from sleek modern mansions to classical Meditteranean and Spanish elevations to Old Florida-style stunners. Homes are situated on oversized lots, some of which are well over an acre, and are adorned with unique landscaping features such as koi ponds, fountains, and meticulous gardens. Many of these opulent mansions include private docks, guest houses, and extras such as staff quarters, theatres, and game rooms.
The community shares a private marina available for luxury yacht and boat storage, a coveted amenity for water enthusiasts. Bordering the neighborhood is the rambling 83-acre Fairchild Botanical Gardens filled with tropical varieties of plants unique to Florida. Offering the ultimate in privacy, luxury, and nature, Snapper Creek is the perfect haven in Coral Gables.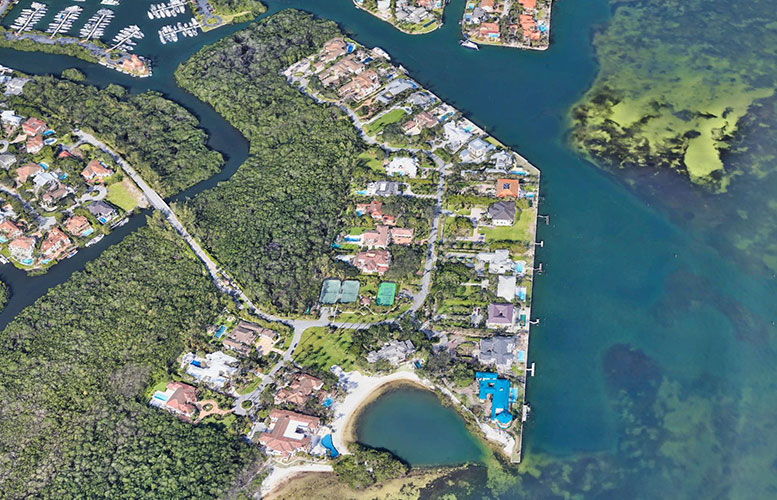 13. Tahiti Beach
The ultra-exclusive neighborhood of Tahiti Beach has long been recognized as one the most affluent areas in all of South Florida. Located on an island, the area was established in the 1920s as a tropical vacation locale, attracting the country's elite to the nearby Biltmore Hotel. The neighborhood has continued to cater to celebrities, athletes, and business moguls as a luxurious tropical paradise to call home.
Tahiti Beach is located inside the prestigious community of Cocoplum and offers supreme security for residents with two guarded entry gates into the neighborhood, one into Cocoplum and one into Tahiti Beach. Residents can enjoy full access to the local yacht club, private marina, a spacious park, private white sand beach, and tennis courts.
The 25 opulent estates within the Tahiti Beach neighborhood feature architecture by acclaimed architects, with breathtaking Meditteranean and Spanish-style mansions with 360-degree waterfront views. While this secluded neighborhood provides total anonymity and privacy, it is still just minutes from luxury shopping and dining destinations in Coral Gables and downtown Miami.
Additional Reading