Living in Brickell Key, FL: 2021 Neighborhood Guide
Posted by Discover Homes Miami on Sunday, March 21, 2021 at 9:58 AM
By Discover Homes Miami / March 21, 2021
Comment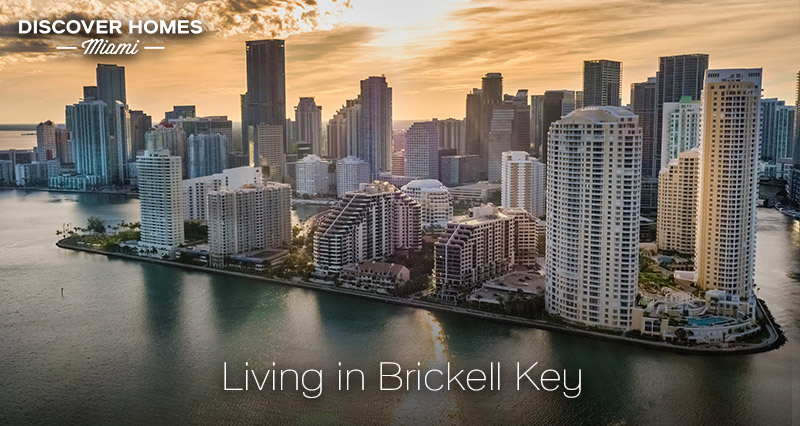 Brickell Key is a man-made, triangular-shaped island located at the Miami River's mouth, just east of Downtown Miami and Brickell Avenue.
With a population of under 3,000, Brickell Key offers residents a friendly and peaceful escape from the hustle and bustle of the big city. While Brickell and Downtown Miami's vibrant neighborhoods are just minutes away, the vibe here is calm and relaxing.
Home to a handful of luxury high-rise condo towers - all with a range of exclusive amenities - Brickell Key offers residents stunning views of the water and city skyline. There's a small selection of upscale restaurants and shops here and the ultra-luxury Mandarin Oriental, Miami, all of which make Brickell Key feel like a private island paradise.
With its privacy, tranquility, and exclusivity, Brickell Key draws a diverse mix of residents from all over the world. Let's take a closer look at what makes this tiny enclave such a sought-after place to live.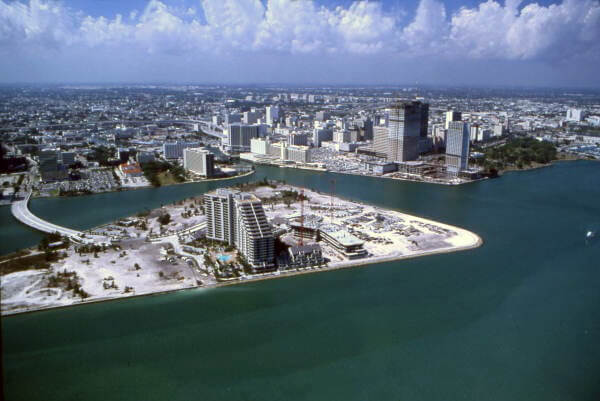 Brickell Key in 1969 when it was still largely undeveloped
History of Brickell Key
Brickell Key is sometimes referred to as Claughton Island, a reference to Edward Claughton, who purchased the land that today forms the island. Brickell Key's history dates back to 1896 when Henry Flagler had a 9-foot deep channel dug from the mouth of the Miami River.
The resulting waste formed two small islands purchased by real estate developer Edward N. Claughton in 1943. Claughton then purchased additional bay bottom land and set about creating one 44-acre island, separated from the fashionable Brickell Avenue mansions by a few hundred feet of water.
Although the island was never meant for residential development, it was eventually sold to Swire Properties in the 1970s. Brickell Key was steadily developed into an upscale residential enclave and is now a highly desirable place to call home.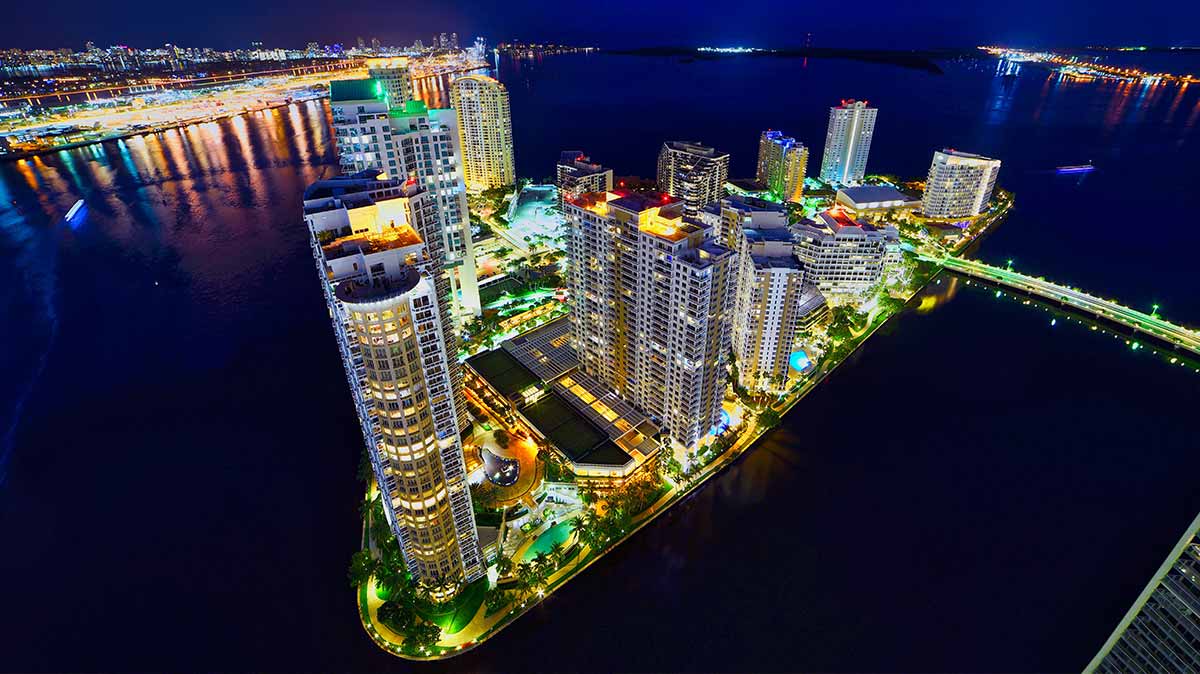 Brickell Key as seen at night
Brickell Key Lifestyle and Culture
The Brickell Avenue Bridge provides the only way to get on or off Brickell Key, which helps maintain peaceful and relatively traffic-free streets. There are plenty of speed bumps throughout the island, making the pleasant, walkable streets safe for pedestrians. Residents enjoy a laid-back atmosphere and can stroll to their favorite local restaurant for a good meal.
The busy, exciting Brickell neighborhood is only a 15-minute stroll from anywhere in Brickell Key, and all the attractions in Downtown Miami are also within easy walking distance. Further afield, South Beach is only a 25-minute drive, and Miami-Dade International Airport can be reached in as little as half an hour. For those who prefer to use public transit, there's a Metrobus connection, as well as access to the free Metromover in Brickell.
Brickell Key is dotted with small parks and green spaces, and residents love to spend time outdoors, enjoying the Florida sunshine and the warm breeze blowing in from Biscayne Bay.
Brickell Key Park occupies the island's southern tip and offers a popular respite from the city noise. The views here are simply stunning, and the covered picnic tables are ideal for enjoying a packed lunch under the swaying palm trees. A path circles the entire island, and locals can often be seen jogging in the mornings. It's a wonderful circuit, and it's often possible to catch sight of dolphins.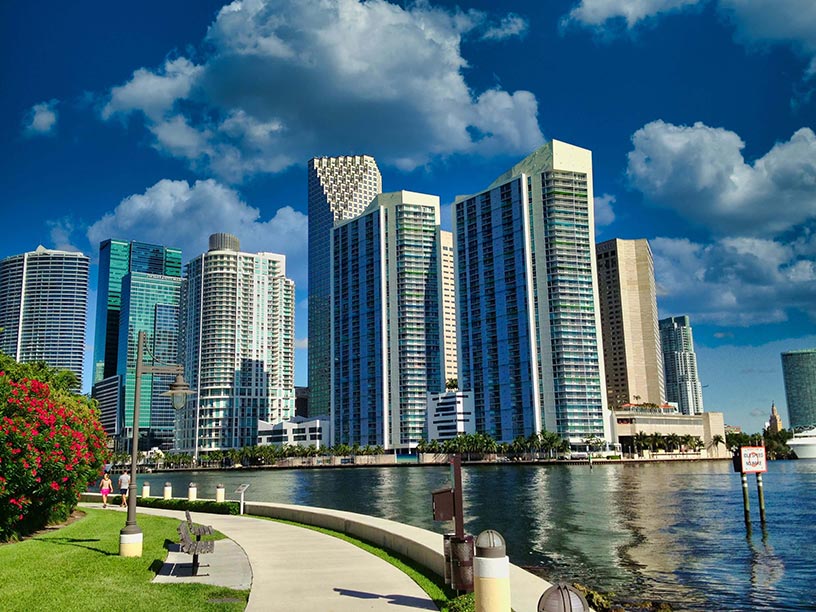 View of the Downtown Miami skyline from the southwestern tip of Brickell Key. Credit: Phillip Pessar
Just across the bridge, there are several amazing parks within walking distance. Brickell's Simpson Park is a gorgeous nature preserve, featuring old-growth tropical hardwoods, trails, picnic areas, and more. This 8-acre park offers a wonderful place to escape for an hour or two.
Bayfront Park in Downtown Miami is an incredible community space that can be reached via the Miami Riverfront Trail. This important park features wide lawns, a sandy beach, and a stunning fountain. There are two performance venues here, too, and there's always something going on in this vibrant, eclectic city greenspace.
Brickell Key is home to a few select restaurants, and residents are fortunate to have some of the best food in Miami right on their doorstep. Brasserie Brickell Key is a firm local favorite, while the highly regarded NAOE draws diners from all over the region to its 8-seater sushi bar. Upscale dining can also be found at the exclusive Mandarin Oriental, including innovative Peruvian cuisine at the celebrated La Mar and sophisticated cocktails at MO Bar and Lounge.
Although retail is limited to a few local services, a universe of shopping is available just across the Brickell Avenue Bridge. The swanky Brickell City Centre and Mary Brickell Village developments are within walking distance and offer chic boutiques, restaurants, and cafes. Brickell also offers art galleries, museums, and seemingly unlimited nightlife, and the Arts and Entertainment District in Downtown Miami offers Brickell Key residents an array of nightlife options.
Things to Do Near Brickell Key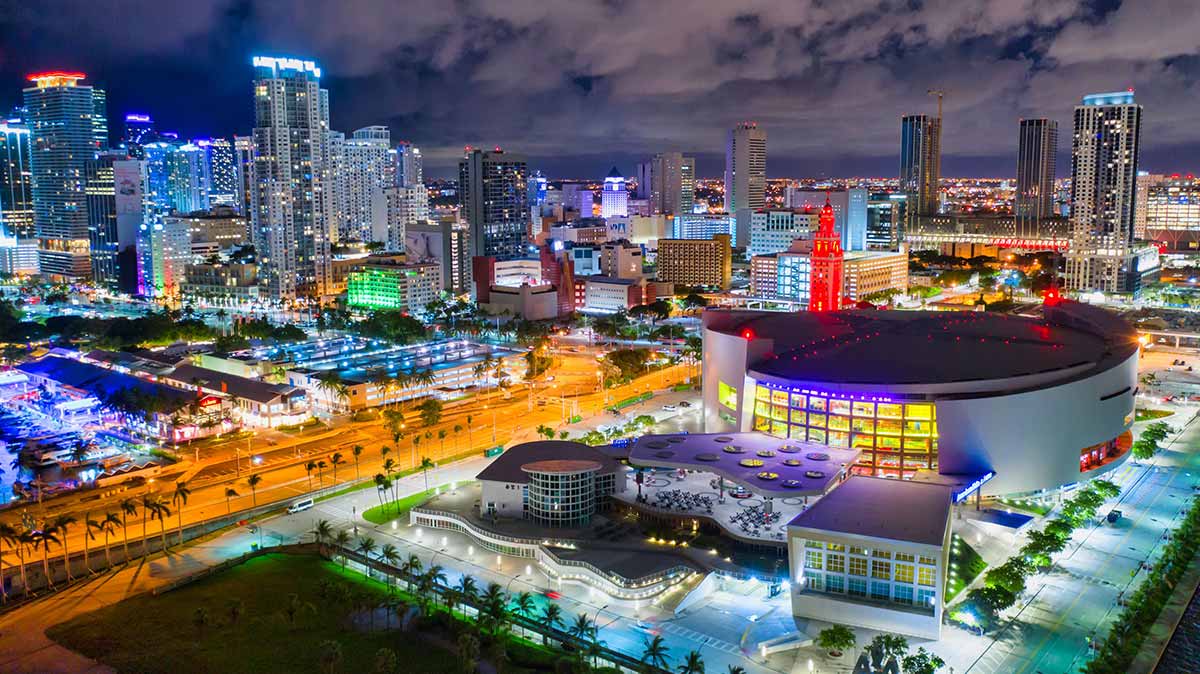 American Airlines Arena
American Airlines Arena is a 20,000-seat multipurpose entertainment arena located on Biscayne Bay. Featuring a gorgeous waterfront setting, this is regarded as one of the best sporting and entertainment facilities in the U.S.
It's home to the Miami Heat and the venue for concerts, family shows, and a host of special events. The Waterfront Theatre, located in the facility, is a state-of-the-art theater that hosts intimate shows. With a 6,000-person capacity, the Waterfront Theatre hosts concerts, shows, and special cultural events.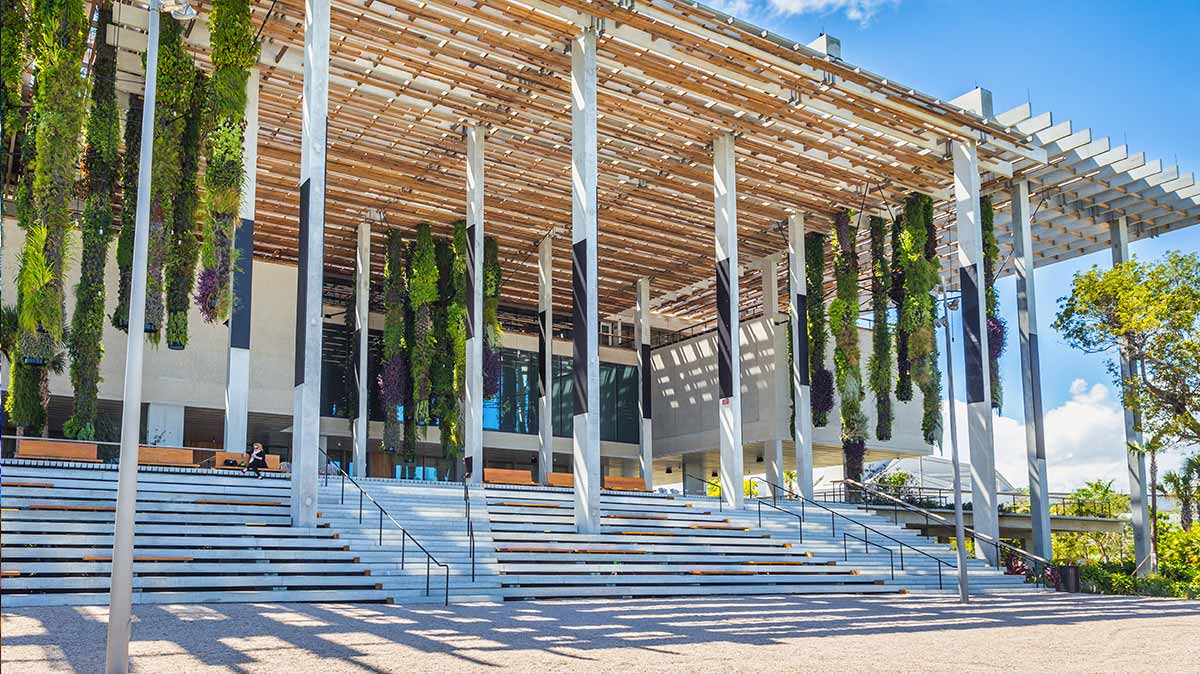 Mariakray - stock.adobe.com
Perez Art Museum
Located in nearby Downtown Miami, the Perez Art Museum is an important cultural destination that offers fascinating exhibits, workshops, lectures, and a wide variety of cultural events.
The museum's impressive collection focuses on 20th and 21st-century art that highlights Miami's ethnic diversity and the Latin American, Caribbean, and African diasporas. Over 3,000 pieces in the collection are displayed across 3 floors, and the museum also offers rotating exhibits. There's also a great restaurant with amazing views of Biscayne Bay, as well as a really cool gift shop.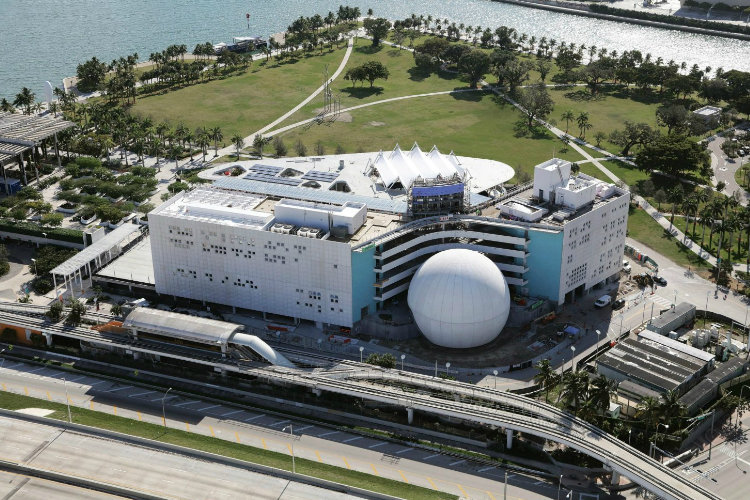 Frost Museum of Science
The wonderful Frost Museum of Science opened in 2017 and has become one of the area's premier attractions. Located in Maurice A. Ferre Park in Downtown Miami, this 250,000 sq ft facility sits on 4 acres and offers commanding views of the water and the city skyline.
Inside, there's a state-of-the-art planetarium as well as a cutting-edge aquarium. There are 6 levels of exhibits, and it's easy to spend an entire day here. The incredible rooftop deck features a telescope for nighttime stargazing as well as a flourishing urban garden.
Adrienne Arsht Center
The Adrienne Arsht Center is an architectural gem that's located in Downtown Miami's cultural corridor. The performing arts center offers over 300 hundred events each year, ranging from classical concerts and jazz performances to Broadway musicals.
There's a focus on providing a launching pad for emerging local talent here, and the center makes every effort to promote local shows. Festivals and free community events are also a highlight and free art education for hundreds of local school children.
Brickell Key Real Estate
Real estate in Brickell Key consists of luxury condos in glittering high-rise towers. Let's take a look at some of Brickell Key's luxury condos.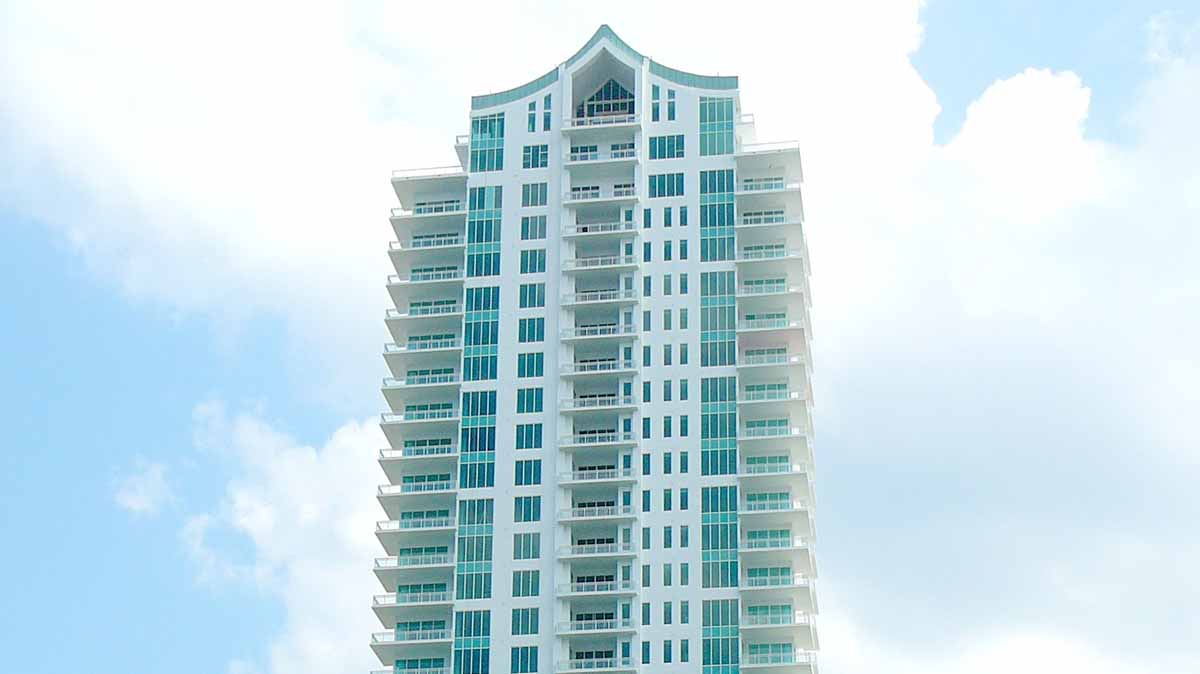 Credit: Marc Averette.
Asia Brickell Key
Asia Brickell Key is a 36-story waterfront condo building, completed in 2008. This beautiful tower was developed by Swire Properties, and designed by J. Scott Architects. There are only 123 residences here, ranging from 2-bedroom units to 5-bedroom units and penthouse residences. Located at the northern end of the island, residences offer incredible views of Biscayne Bay and the city skyline.
All residences feature private elevators, 12-ft ceilings, floor-to-ceiling windows, and spacious balconies. Amenities include a high-tech fitness center, swimming pool, hot tub, tennis courts, and 24-hour valet parking.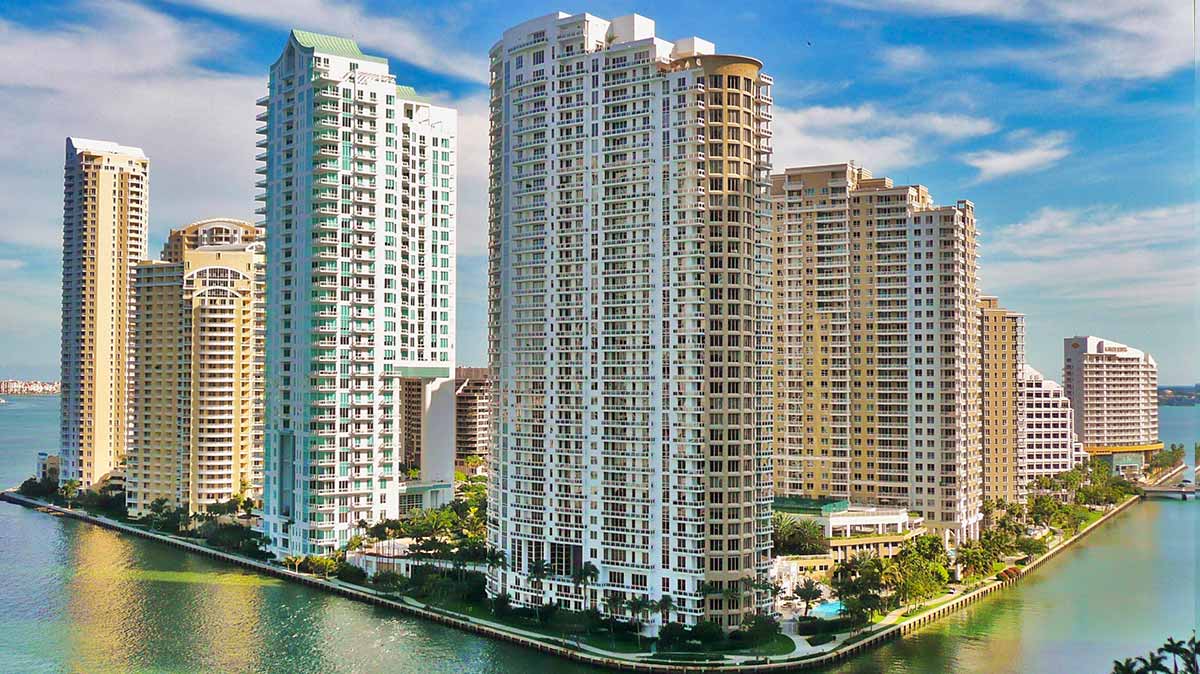 Carbonell is seen pictured in the center. Credit: Marc Averette
Carbonell Brickell Key
This 40-story building was completed in 2006 and houses 284 units. The incredible double-height lobby greets residents with maple, marble, and water, as well as amazing views of the bay. The beautiful residences feature gourmet kitchens with wine coolers, SubZero refrigerators, and Miele dishwashers and stoves.
Ten-foot ceilings provide a light, airy atmosphere, and many units feature stunning views. Carbonell offers resort-style amenities, including 24-hour security and concierge, valet parking, a huge gym, and a swimming pool.
Isola Brickell Key
Isola Brickell Key is a 23-story condo tower completed in 1990. Isola houses 302 residences, ranging in size from 671 to 2,230 sq ft of interior living space, and all either 1- or 2-bedroom. All units feature beautiful kitchens, washer and dryer, central air conditioning, and generous private balconies with Biscayne Bay views.
Isola offers a wide range of amenities, including a pair of lighted tennis courts, a bayfront fitness center, hot tub, outdoor bar, barbeque area, and business center.
Additional Reading
Check out some of the neighborhoods nearby Brickell Key: