Biscayne Point, Miami Beach, FL: Coveted Waterfront Enclave
Posted by Discover Homes Miami on Monday, March 22, 2021 at 9:22 AM
By Discover Homes Miami / March 22, 2021
Comment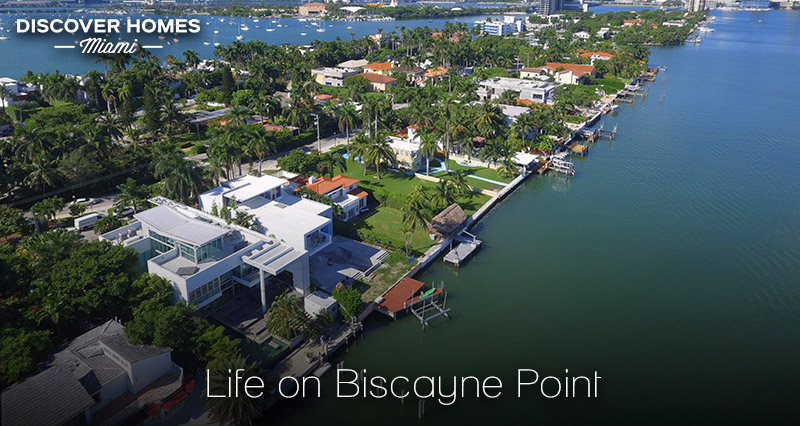 Biscayne Point is a serene enclave of spectacular waterfront homes located near the North Beach neighborhood of Miami Beach. The Biscayne Point neighborhood spans over three islands with two distinct peninsulas jutting into the glistening Biscayne Bay. To the north of the neighborhood sits Normandy Shores with two automobile bridges and one pedestrian walkway connecting Biscayne Point to the mainland of lively Miami Beach.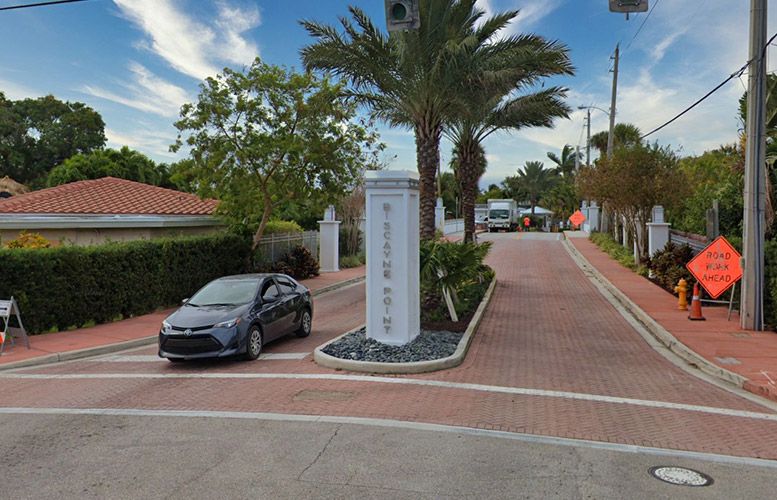 The entrance sign to Biscayne Point
History
Like many of the islands in the South Florida area, Biscayne Point is manmade utilizing sand dredged from the surrounding waterways. During the early 1920s, avocado farmer John S. Collins, and entrepreneur Carl G. Fisher, embarked on creating what is now Miami Beach. With a vision and much hard work, the duo transformed the Miami Beach landmasses from swampland into a tropical oasis.
Fisher and business partner Cecil Fowler began developing the iconic Flamingo Hotel in Miami Beach, whetting Fowler's appetite for further development within the area. Fowler was a successful businessman and owner of the National Bank in Lafayette, IN. In 1926 Fowler zoned and cleared residential lots on Biscayne Point to sell to homeowners for single-family residential development.
Due to almost every home enjoying waterfront access and views, Biscayne Point has always been a highly desirable place to call home for affluent families, celebrities, and retirees alike. From the selling of Cecil Fowler's first lots to this day, the tropical paradise of Biscayne Point is a highly coveted location.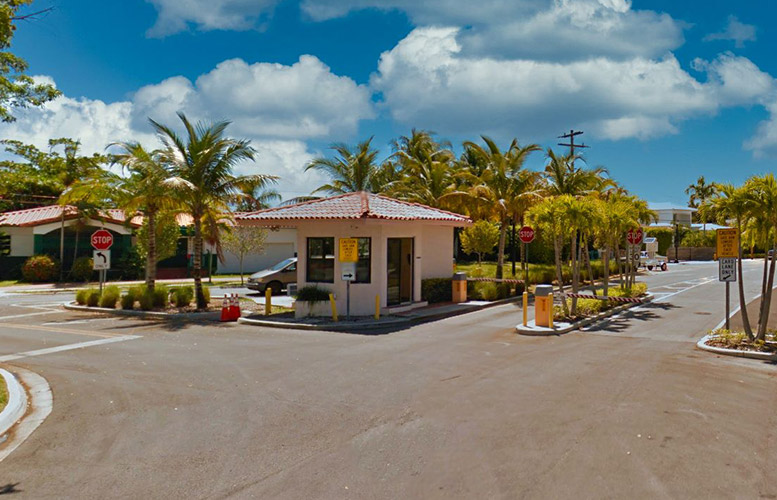 Most of the waterfront homes in Biscayne Point are tucked behind the guard gate pictured here.
Lifestyle & Amenities
The Biscayne Point neighborhood provides residents with the utmost exclusivity, providing gated entry with 24-hour security. The neighborhood is sought after by people of all ages due to its minimal traffic, palm-tree-lined streets, and resort-like ambiance.
Biscayne Point residents can enjoy two beautiful parks on either side of the neighborhood. Stillwater Park is located at the entrance to Stillwater Drive and the peninsula and includes an inviting dog park and ample green space. Crespi Park is the perfect spot for a basketball game or outdoor workout with wide-open space and meticulously maintained grounds.
Biscayne Point is conveniently situated between two prestigious country clubs, Indian Creek Country Club and Normandy Shores Golf Club. Both offer golfers sweeping fairway views of Biscayne Bay and the Miami skyline while providing members countless social events and amenities.
Minutes away from the Biscayne Point neighborhood is the upscale outdoor shopping center, Bal Harbour Shops. With over 100 luxury retailers and dining options, Bal Harbour Shops offers some of the best shopping in all of South Florida. Beautiful beaches like Surfside are just a short drive away and promise white sand, turquoise waters, and plenty of sunshine.
The Biscayne Point Homeowners Association was established in 1991 and is open to all neighborhood residents for an annual fee. The association works to promote the safety, preservation, and beautification of the area while fostering a sense of community through regular events and meetings.
Real Estate
Biscayne Point real estate is unique and highly sought after as almost every home has waterfront access and views. Whether right on Biscayne Bay or the canal set against the beautiful Atlantic Ocean, sparkling water views are in store for every homeowner.
Many of the original mid-century style homes have been remodeled to stunning Meditteranean and modern estates. Homes are situated on oversized lots, and many boast private docks providing access directly into the waters of Biscayne Bay. Yards and streets are beautifully landscaped with lush tropical plantings and swaying palm trees.
As an exclusive waterfront community with the utmost privacy and tropical luxury, home prices range in the upper six figures to the multi-million dollar range. Biscayne Point is an idyllic spot for affluent executives, families, and retirees alike, all in search of serenity and upscale resort-style living.
Additional Reading
Check out some of the neighborhoods near Biscayne Point