The 11 Best Neighborhoods in Miami: Where to Live in Miami
Posted by Discover Homes Miami on Saturday, April 3, 2021 at 9:06 AM
By Discover Homes Miami / April 3, 2021
Comment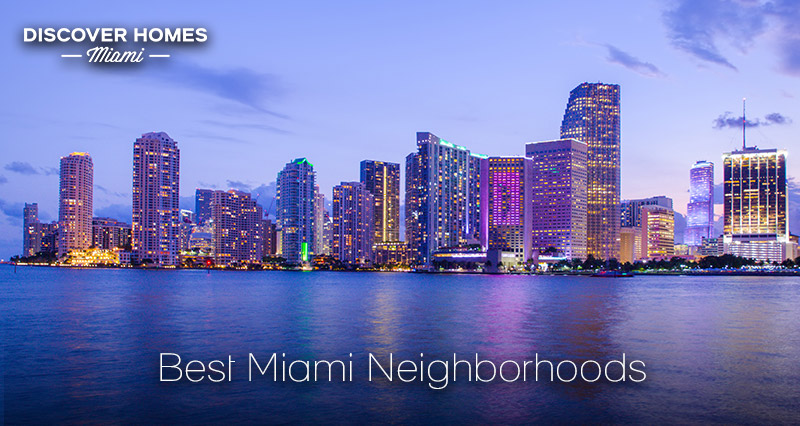 It's no secret that Miami is one of the most diverse, exciting, and dynamic cities in the world. There are so many different sides to this huge metropolis that finding the right neighborhood can feel a little overwhelming. Let's take a look at the best neighborhoods in Miami, each with its own unique vibe and character.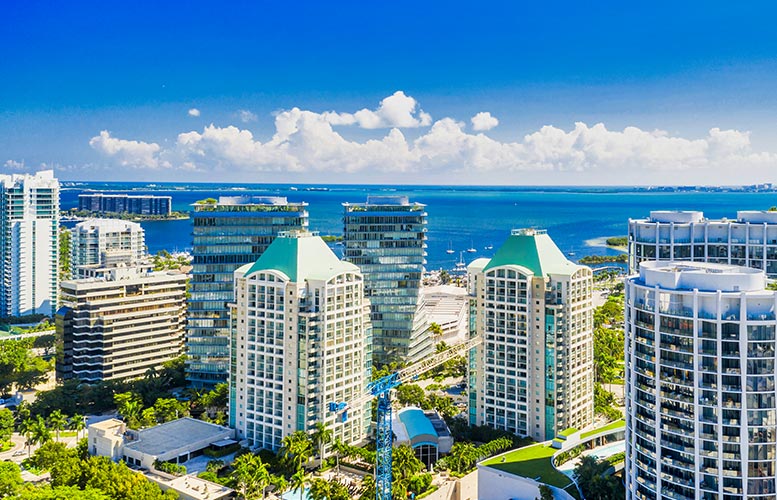 Downtown Coconut Grove
1. Coconut Grove
Summary: Relaxed tropical living and a historic small-town vibe, just minutes from Downtown Miami.
Stretching along the coastline just south of bustling Downtown Miami and Brickell, Coconut Grove is Miami's oldest continuously occupied neighborhood. Known as "The Grove" to locals, this is a city of tranquil, shady streets, beautiful historic architecture, and lushly landscaped parks. There's a laid-back, welcoming vibe here, with a Bohemian streak that recalls the city's past as a hippie commune in the 1960s.
Coconut Grove is famous for its quaint downtown area as well as its vibrant bayfront. The colorful and walkable downtown streets are home to boutiques, bars, sidewalk cafes, and the Cocowalk outdoor shopping mall. There's an eclectic nightlife scene here, defined by locally-owned restaurants, sports bars, and favorite dives that offer pool and darts well into the early hours.
Down by the water, popular local parks line Bayfront Avenue and several marinas cater to the local boating and water sports culture. Setting out on the waves is a favorite pastime in the Grove, and the bayfront is always buzzing. There's a thriving community spirit in Coconut Grove, and an assortment of events fill the local calendar, including the annual Coconut Grove Art Festival and the weekly Saturday Farmer's Market.
There's a wide variety of real estate options in Coconut Grove, ranging from older duplexes and condos in the center of town to large Mediterranean-style mansions in gated communities. Newer high-rises near the bay offer luxury condo residences with upscale amenities and incredible views.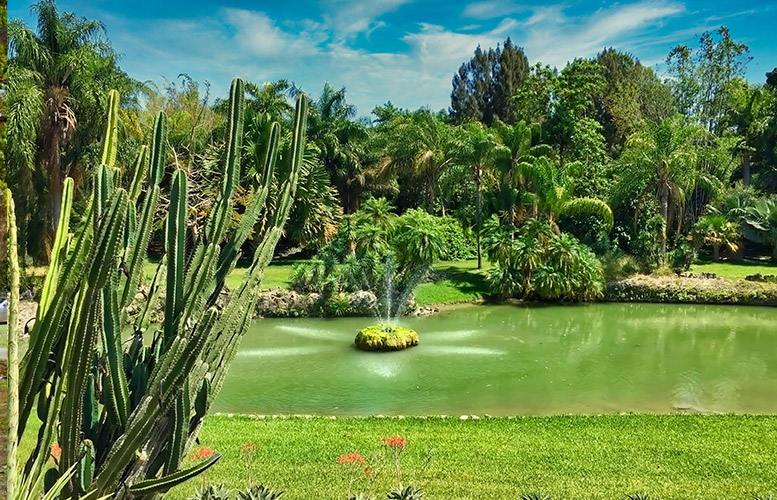 The famous Pinecrest Gardens
2. Pinecrest
Summary: Traditional suburban living in a well-ordered and impeccably manicured community.
Pinecrest is a small, affluent suburban village home to some of the most sought-after real estate in Miami-Dade County. Although Pinecrest is within minutes of Coral Gables and Downtown Miami, you'd never know it. This is a neighborhood of picturesque, tree-lined streets, beautiful mansions on large lots, and friendly greetings from welcoming neighbors.
There's a tranquil vibe here, with a minimum of city noise and traffic congestion. Strict local zoning laws make for a tidy, ordered community, and residents enjoy walking or cycling around their neighborhood, admiring their neighbors' elegantly landscaped gardens.
Pinecrest locals embrace an active outdoor lifestyle, and there are plenty of great local parks. Pinecrest Gardens serves as the hub of community life here, offering acres of tropical parkland and serving as the venue for local events like the annual Pinecrest Fine Arts Festival and the weekly Farmers Market.
A limited collection of shopping and dining options line US-1, in the center of the village, emphasizing locally owned boutiques and longtime favorite eateries. Nearby, Coral Gables offers more varied shopping and dining, though, with Miracle Mile and Shops at Merrick Park just minutes away.
The 33156 zip code, which encompasses most of Pinecrest, is consistently ranked among the most expensive in the country. Much of the real estate comprises large mansions on sprawling estates, although more modest Florida-style properties can be found.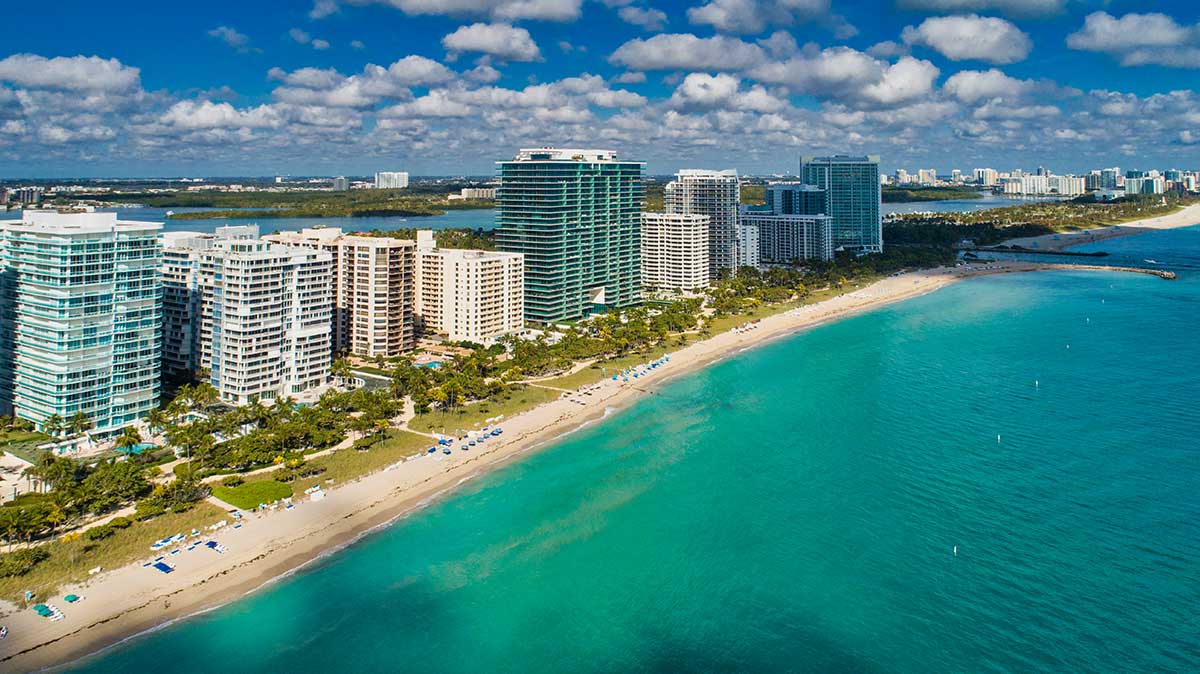 Bal Harbour coastline
3. Bal Harbour
Summary: An oceanfront enclave for those who seek luxury, privacy, and tranquility just minutes from Downtown Miami.
Bal Harbour is a luxurious coastal village occupying the northern tip of Miami Beach. Although Downtown Miami is a mere 40-minute drive, tranquility reigns supreme in Bal Harbour, and the big city hustle and bustle rarely encroaches on daily life here. Bal Harbour has the feel of an idyllic and exclusive enclave, attracting a diverse collection of residents from all over the world.
There's a relaxed vibe in this beachfront community, and day-to-day life is low-key and unremarkable - which is just how locals like it. Bal Harbour's well-designed, village-like setting is ideal for walking, jogging, and cycling. The beautiful beach is one of Miami's most pristine and well-protected and offers an uncrowded stretch of sugar-white sand and calm, aquamarine water.
A typical day here might begin with a short stroll to the beach for a relaxing morning of swimming and sunbathing before making your way to a local sidewalk cafe for lunch. The afternoon is the time to hit the Bal Harbour Shops, a world-famous collection of upscale boutiques in a gorgeously landscaped outdoor setting. Locals often end the day here, enjoying dinner in one of several well-renowned, chef-driven restaurants.
Much of Bal Harbour's real estate is among the most expensive in the world. Large single-family homes in a gated community can be found on the western side of the village, while Collins Avenue is dominated by a collection of ultra-luxury condos in oceanfront high-rises.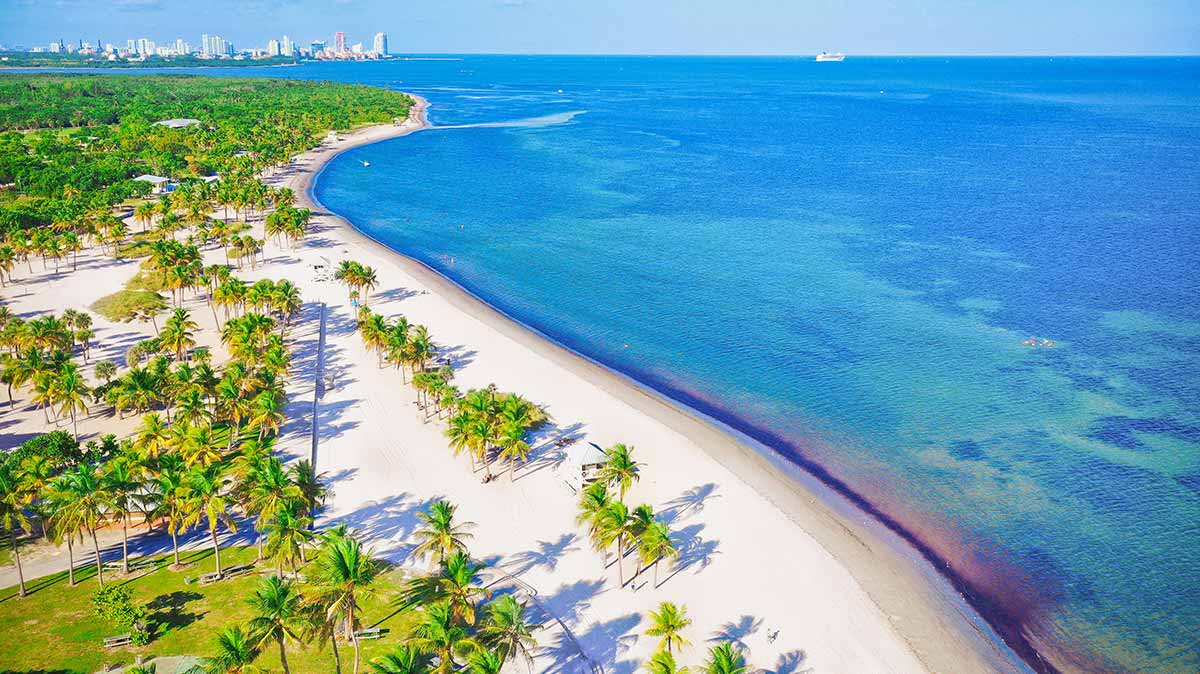 Key Biscayne's pristine beaches
4. Key Biscayne
Summary: A community-driven slice of paradise with a unique culture and a friendly, welcoming vibe.
Charming Key Biscayne is an island town nestled between two state parks. Connected to the mainland by the Rickenbacker Causeway, Key Biscayne is minutes away from Downtown Miami yet retains the feel of a relaxed tropical paradise. There's a culturally diverse population here and a vibrant, laid-back culture that's centered around the beach, independent businesses, and a thriving dining scene.
Although Key Biscayne's streets can get crowded on weekends, it's generally pretty quiet here, with many residents eschewing cars in favor of walking, cycling, or getting around town in golf carts. Key Biscayne is remarkably self-sufficient, with supermarkets, pharmacies, and businesses lining Crandon Boulevard. There are plenty of local boutiques, cafes, and restaurants, meaning locals seldom need to leave their island enclave.
Fabulous local beaches dominate the active, outdoor lifestyle here, with snorkeling, paddle-boarding, and fishing among the many popular activities on offer. Off-shore sand bars mean the water is safe and calm, and local families spend much of their downtime relaxing on the pristine white sand.
Key Biscayne is home to some of the most highly rated schools in the Miami area, including Mast Academy, a public high school rated 9/10 by greatschools.org. Key Biscayne real estate is some of the most sought-after in the Miami area. The northern end of town is where you'll find luxury residences in high-rise condos, while the southern end of town is dominated by single-family homes, many with waterfront access.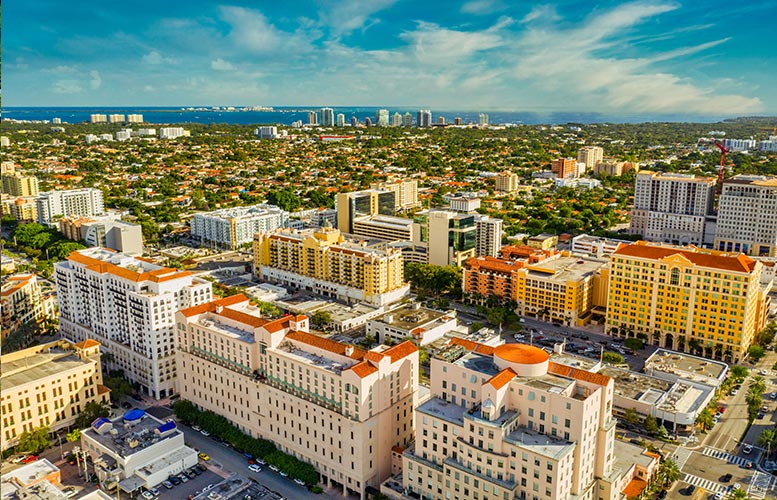 Downtown Coral Gables
5. Coral Gables
Summary: Rich South Florida heritage and old-world charm meet contemporary living in a beautiful and scenic setting.
Coral Gables is one of Miami's most iconic neighborhoods, offering rich cultural heritage with an exciting contemporary twist. Founded in the 1920s, and modeled after European cities like Venice and Granada, Coral Gables offers an intoxicating blend of stunning Mediterranean-style architecture, stylishly manicured green spaces, and miles of canals and waterways.
It's easy to immerse yourself in Coral Gables' old-world vibes as you walk the neighborhood's peaceful, canopied streets. There's a unique atmosphere in Coral Gables, and locals are rightly proud of the beautiful fountains and sculptures that dot local parks, as well as the famous Venetian Pool, which draws visitors from all over the region.
Historic Miracle Mile, Coral Gables' main thoroughfare, is lined with upscale boutiques, galleries, and sidewalk cafes, and the surrounding blocks are home to some of Miami's most highly regarded restaurants. Nearby, even more, shopping awaits at the popular Shops at Merrick Park. Coral Gables' downtown is also a busy financial hub, with many international corporations headquartered here, adding cultural diversity to the neighborhood's fascinating mix of "old meets new."
There's an eclectic mix of real estate options in Coral Gables, too. Huge mansions and celebrity estates can be found in waterfront gated communities, while more modest options are available in the center of town. More recent additions come in the form of condo residences in high-rise towers.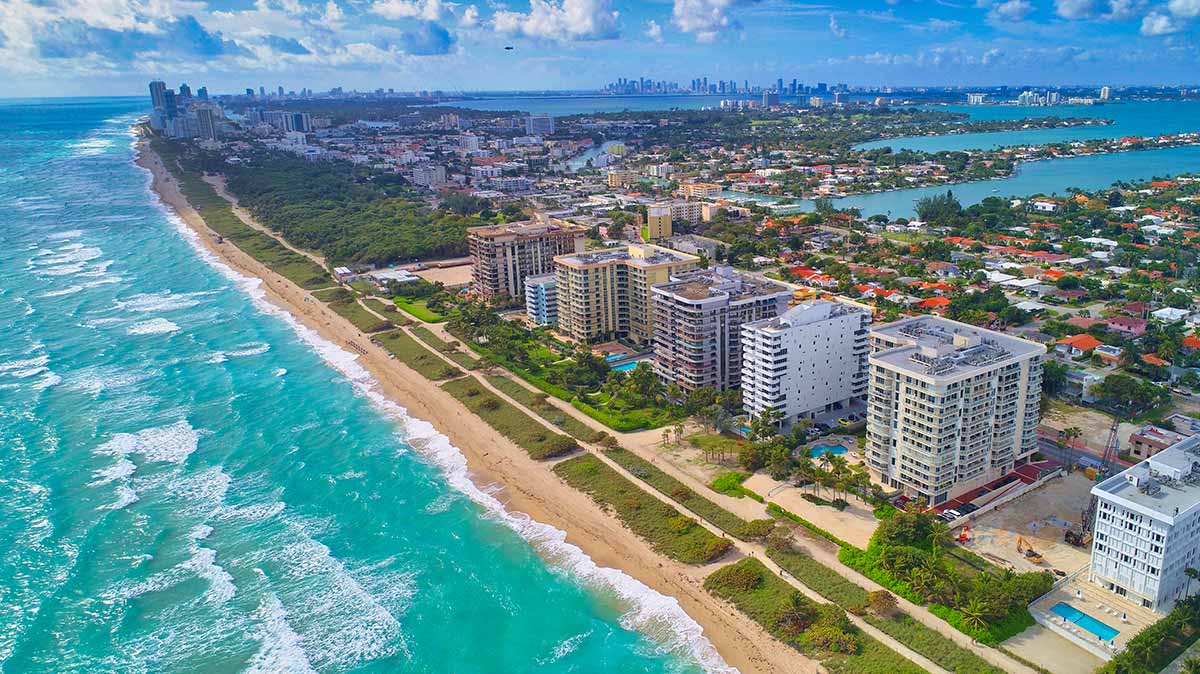 Some of the oceanfront condos in Surfside
6. Surfside
Summary: Small town charm and a strong community spirit in a relaxed, upscale beachfront neighborhood.
Nestled between North Beach and Bal Harbour, Surfside is an unassuming neighborhood that's become one of the area's most desirable places to live. Although Surfside is home to some of the most sought-after oceanfront real estate globally, it retains an intimate, small-town feel, with quiet residential neighborhoods occupying much of the city and 12-story limits on oceanfront developments.
Walking, jogging, and cycling are all popular modes of transport in Surfside, and the mile-long stretch of beach is usually where you'll end up. Surfside's beach is as beautiful as any in South Florida, and it's much less crowded than the fashionable beaches further south in Miami Beach. Folks of all ages enjoy the peaceful vibes here, gathering to bask in the sun and cool off in the aquamarine water.
Surfside's commercial center lies along Harding Avenue, where an eclectic collection of locally owned businesses can be found. At night, sidewalk tables are full, palm trees are lit up, and restaurants are buzzing. Community is super-important here, exemplified by Third Thursdays - a monthly celebration that brings all of Surfside together to eat, drink, and be merry.
Surfside's real estate comprises super-exclusive luxury condos in oceanfront high-rises and more modest single-family homes away from the shoreline. Further west, more expensive single-family homes can be found along the Intracoastal Waterway.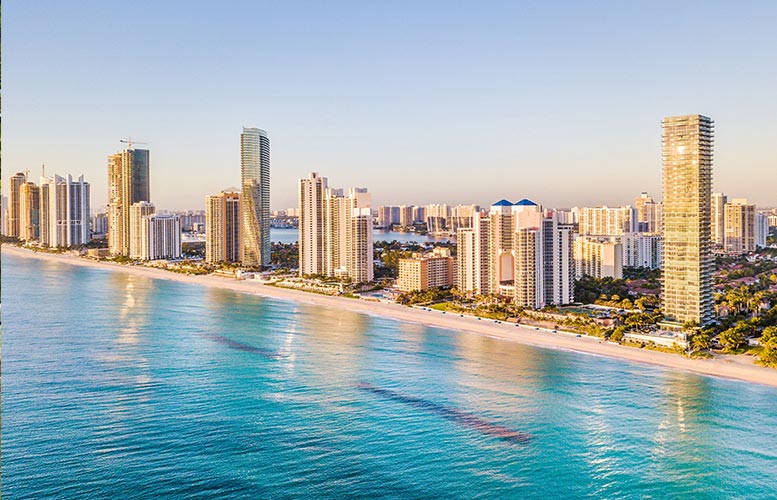 The Sunny Isles Beach skyline
7. Sunny Isles Beach
Summary: Stunning luxury condos in a relaxed neighborhood for those who seek a low-key alternative to South Beach.
Known as the "City of Sun and Sea", Sunny Isles Beach is located on a barrier island in the northeast corner of Miami-Dade County. Sunny Isles Beach is a vibrant neighborhood that attracts people from all over the world. This cultural diversity is reflected by the eclectic mix of boutiques, cafes, bars, and restaurants that line the city's lively main strip along Collins Avenue. There's a glittering skyline of luxury oceanfront high-rises and hotels here, too, and the area buzzes with activity both day and night.
Covering an area of less than 2 square miles, Sunny Isles Beach is extremely walkable, and it's pleasant and easy to get around on foot or by bike. There are dozens of parks in the city, and locals take advantage of these green spaces to exercise, relax, and gather as a community. It's the beach that anchors community life here, though, and this gorgeous stretch of sand is where locals gather to enjoy movie nights, yoga classes, and other regular activities and events.
World-class shopping is available nearby at Aventura Mall and In Bal Harbour, although there are plenty of local, independent boutiques. There's also a stunning array of dining options, running from casual eateries to upscale chef-driven restaurants.
Real estate here is a mix of larger single-family homes and ultra-luxury condos in oceanfront towers. Many of these developments offer an array of resort-style amenities and are home to some of the most sought-after residences in the area.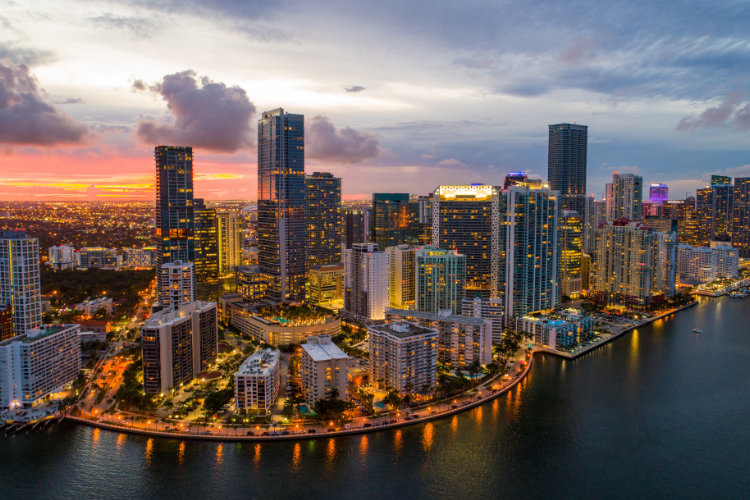 Brickell skyline at night
8. Brickell
Summary: The ultimate stomping grounds for those seeking a fast-paced, amenity-rich lifestyle in the financial heart of Miami.
Located directly south of Downtown Miami's historic Central Business District, Brickell is a densely populated residential and commercial neighborhood with a unique, vibrant atmosphere. Often referred to as the "Manhattan of the South", Brickell has long been a center for banking, financial, and investment institutions, and the streets used to feel deserted after business hours.
That's all changed, though, and Brickell now buzzes with activity both day and night. There's a fast-paced vitality to Brickell, and everything you need is within walking distance. Many residents do without a car, preferring to walk or take public transit, and the latest bars and restaurants are always just around the corner. Brickell is home to an incredible array of cafes, bars, and restaurants, with food from every corner of the globe on offer.
There's shopping galore, too, with developments like Mary Brickell Village and Brickell City Centre providing access to endless boutiques, design stores, and well-known brands. Beautiful parks and green spaces dot the neighborhood, providing tranquil refuges from the neighborhood's hustle and bustle, and a mind-bending selection of cultural activities can be found in nearby Downtown, Wynwood, and the Design District.
Brickell's real estate options consist mainly of apartments and condos, with a range of options on offer. Some of the most desirable luxury condo residences are housed in the enormous Brickell City Centre development.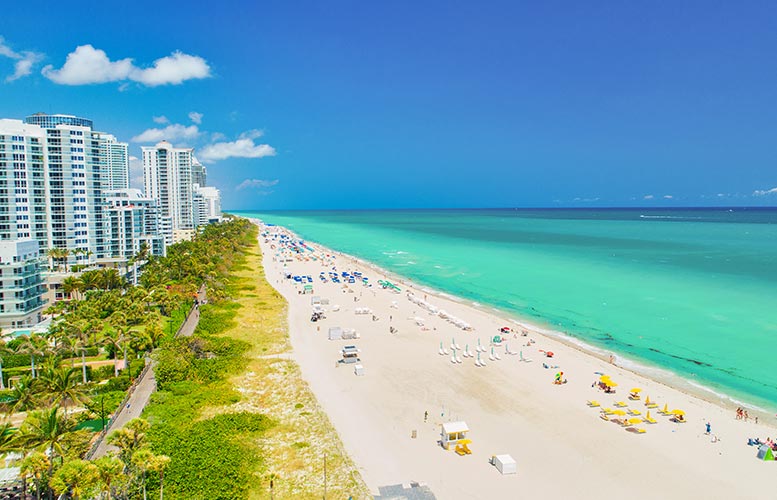 South Beach's gorgeous beaches
9. South Beach
Summary: An exciting, eclectic, and diverse neighborhood for those who seek a beach-centric lifestyle with easy access to shopping, dining, and nightlife.
The globally famous and eternally iconic South Beach neighborhood needs no introduction. South Beach's reputation as a glamorous playground for celebrities and the super-wealthy tell part of its story, but this neighborhood offers so much more. With its celebrated Art Deco architecture, laid-back beach culture, and world-famous shopping and nightlife, South Beach draws an eclectic and fascinating mix of people from every corner of the globe and offers a variety of different neighborhoods, each with its own unique feel.
The beach is the center of the South Beach lifestyle and offers an enticing mix of sugar-white sand, turquoise water, and world-class people-watching. The Atlantic Ocean breezes keep things tolerable during the summer, and the beaches are filled throughout the year. Away from the sand and surf, Ocean Drive offers bars, cafes, and shopping during the day, and all-night clubbing after dark. There's endless cutting-edge shopping, dining, and nightlife throughout the neighborhood, including the boutiques at Lincoln Road Mall, the bumping clubs on Washington Avenue, and the intimate restaurants on Española Way.
There's always something happening in South Beach, and every day feels like a celebration. Cars aren't really needed in this pedestrian-friendly neighborhood, and many locals prefer to get around on bikes, scooters, and the free Miami Beach Trolley.
There's a diverse collection of real estate options in South Beach, ranging from older mid-rise condos in the Art Deco District to expensive single-family homes in Bayshore. South of Fifth is home to incredible luxury condos, some of which are among the world's most expensive properties.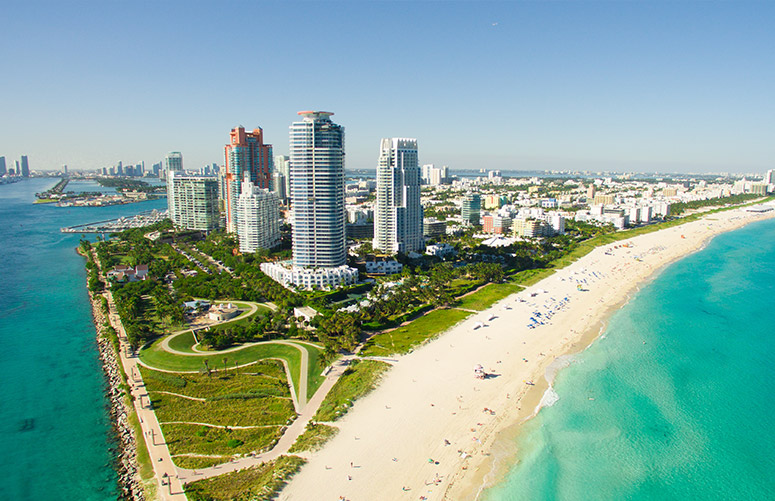 South Pointe Park & Beach in South of Fifth
10. South of Fifth
Summary: A tranquil, secluded neighborhood that's home to some of the most exclusive real estate in the world, just minutes from the heart of South Beach.
Affectionately referred to as "SoFi" by locals, South of Fifth is South Beach's southernmost neighborhood, stretching for just a few blocks from South Pointe Park to Fifth Street, and surrounded by water on three sides. Home to some of the most exclusive and luxurious real estate on the planet, South of Fifth is home to celebrities, socialites, and wealthy executives, all of whom are drawn to the neighborhood's seclusion, privacy, and relaxed lifestyle.
Although the energetic hustle and bustle of South Beach's more famous areas are just minutes away, the vibe here is quiet and laid-back. Residents enjoy strolling the serene, tree-lined streets, spending days at the beach, and frequenting favorite local cafes and restaurants. There's minimal commercial development in SoFi, which helps maintain a low-key, residential feel, and nightlife is limited to a few exclusive bars and clubs.
The beautiful South Pointe Park is the neighborhood hub, offering locals and visitors alike access to the family-friendly beach, picturesque walking trails, and incredible views of the city skyline and the port. There's an upscale steakhouse here, too, which is a popular spot to enjoy a cocktail at the end of a long, fun-filled day at the beach.
Ultra-luxury condo residences in glittering high-rise towers dominate the real estate market along the shoreline, with seemingly endless amenities on offer at developments like Apogee South Beach and Glass Miami Beach. Elsewhere, you'll find designer villas and upscale apartments in low-rise buildings.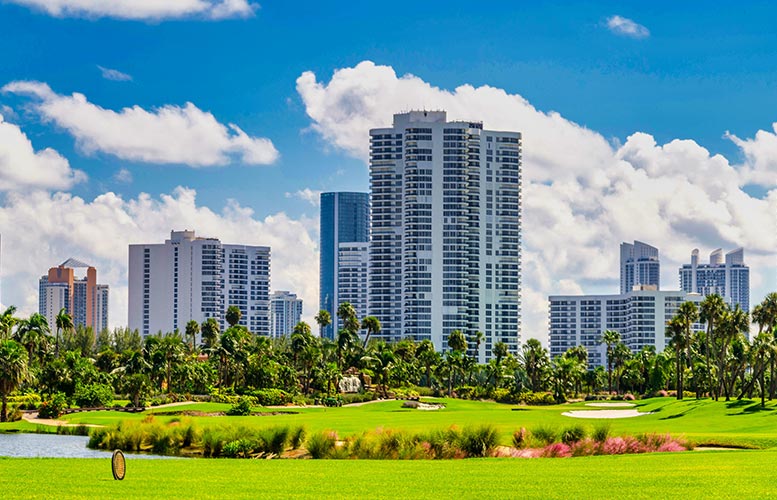 The Aventura skyline
11. Aventura
Summary: A peaceful neighborhood with a relaxed suburban vibe for those who seek convenient access to shopping, dining, and beaches.
Located in the northernmost reaches of Miami-Dade County,
is one of Miami's largest suburbs. Aventura is a clean, safe, and upscale planned community that offers a quiet, suburban lifestyle within walking distance of shopping, restaurants, and the beach. Most famous for the magnificent Aventura Mall, Aventura is a neighborhood that offers much more than a destination shopping center.
Aventura has a welcoming and charming vibe, and it's easy to feel at home here. Carefully planned from the 1970s on, Aventura is thoughtfully laid-out, with ample green spaces that offer residents relaxation and places to gather as a community. Locals love to spend time outdoors here, and there are plenty of opportunities for joining in with team sports. Water sports are popular here, too, and weekends often involve launching boats from one of the many local marinas, then spending the day on the Atlantic Ocean.
Just across the Intracoastal Waterway, Sunny Isles Beach offers some of the most pristine stretches of sand in South Florida. It's within easy reach of Aventura, and locals take full advantage of this oceanfront destination.
Much of the real estate in Aventura is more moderately priced than what's on offer in the surrounding neighborhoods. Modest, single-family homes can be found here, as well as condos and apartments in low-rises and duplexes.