10 Best Places to Live Near Miami Beach, FL
Posted by Discover Homes Miami on Thursday, December 29, 2016 at 9:57 AM
By Discover Homes Miami / December 29, 2016
Comment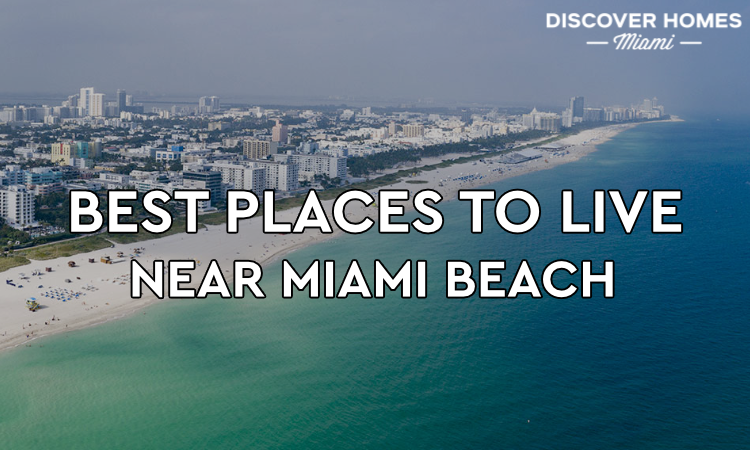 Living in Miami Beach is a widely sought-after goal due to its beautiful beaches, luxurious high-rise condominiums, and vibrant nightlife. As real estate professionals, we're often asked where people should live if they want to live out the quintessential "Miami Beach lifestyle". Accordingly, we've profiled some of the best neighborhoods in and around Miami Beach. Here are some of the top choices: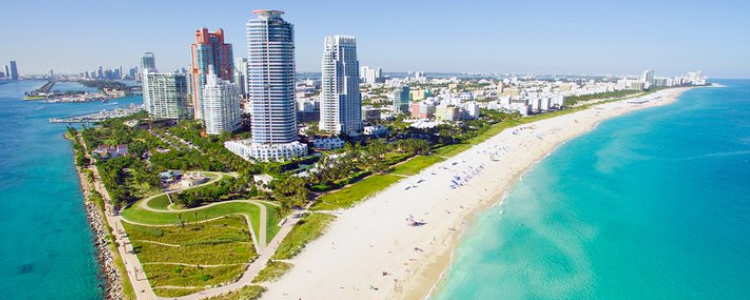 1. South of Fifth (SoFi)
SoFi, or South of Fifth, is considered one of the best communities near the beach in Miami, and this distinction is for many good reasons. For starters, the beach is indeed a hop, skip, and a jump away. It is also one of the most walkable cities in Miami, with a walk score of 97, this place is considered a walker's paradise.
Aside from walkability, South of Fifth in South Beach is also considered a luxury neighborhood where you can find numerous upscale condominiums. These include buildings on the famous Ocean Drive, Alton Road, and South Pointe Drive.
Many people don't know that SoFi used to be an awful area where many criminals have settled, but – thanks to visionaries who took the risk and invested in this land, the area has become one of the most desirable neighborhoods for the wealthy of Miami. It is home to South Pointe Park, a 17-acre park and promenade that features a children's area, wide lawns that are perfect for outings, walkways for running or jogging, and — of course — easy access to the gorgeous beach.
SoFi also has one of South Beach's most historic restaurants: Smith & Wollensky. There are a number of other top-rated restaurants in this area, such as Prime 112, Joe's Stone Crab, and Prime Italian. Because of this neighborhood's amazing reputation, SoFi has become the site of some of Miami Beach's most luxurious condo residences, such as Portofino Tower, Glass, Apogee South Beach, Murano Grande, Murano at Portofino, South Pointe Tower, Ocean House, and the Yacht Club At Portofino. Partyphiles would be pleased to know that SoFi also has South Beach's biggest and toniest mega-nightclub: Story. It offers nearly 30,000 square feet of state-of-the-art party-all-night space.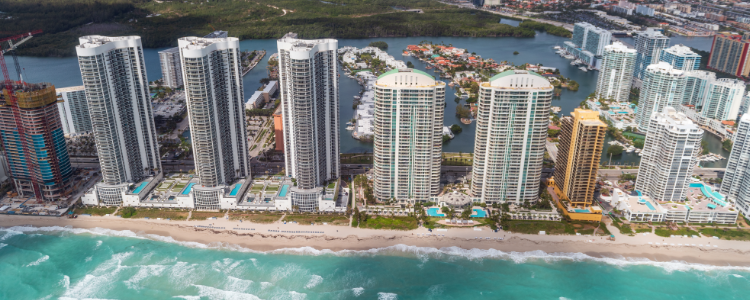 2. North Beach
This community is found in the popular area of Miami Beach. While not as well-known as its southern counterpart, it is considered a great community to live in because of its close proximity to South Beach, Bal Harbour, and other similar areas where shopping, fine dining, and nightlife choices abound. This community consists of a number of very popular enclaves that include La Gorce, Biscayne Point, and Isles of Normandy.
North Beach is the perfect choice for avid golfers since Normandy Shores Golf Course and the La Gorce Country Club are both located here. There are many celebrities living in this neighborhood as well, with most of them living in the more private and quiet area of La Gorce.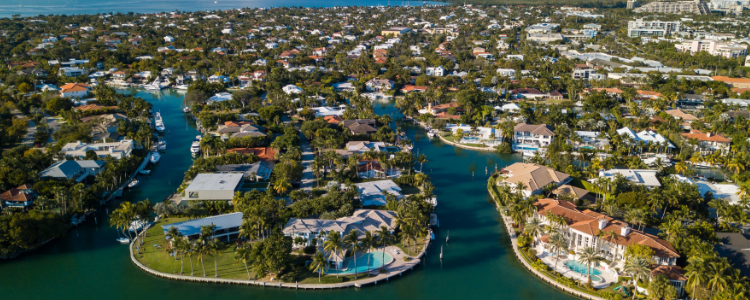 3. Key Biscayne
If there is one island that features everything you could ever want in an address in Miami, then Key Biscayne is it. This island located southeast of downtown Miami and east of Coral Gables, is one of the few islands here that perfectly combine the many conveniences of city living with the laid back atmosphere of resort living. This island community has it all – malls, parks, high-end condominium buildings, restaurants, a golf course, oh, and yes, beaches.
Key Biscayne is accessible via the Rickenbacker Causeway, which passes through Virginia Key before getting to the island. The island, while separated from the hustle and bustle of Downtown Miami, is still near enough for a night on the town to be convenient. A 20-minute drive will get you there, as well as to South Beach if you feel the need for a change in pace and scenery.
Despite high real estate prices, Key Biscayne continues to attract many families due to its free public schools, central location, and neighborhood safety. It has a large family-friendly public beach at Crandon Park, which also happens to be its largest and most popular beach. This park is open to the public 365 days a year, and offers volleyball courts, eco-adventure tours, self-guided nature tours, kayak rentals, and bird and butterfly walks.
Besides Crandon Park, other popular beaches in Key Biscayne include Bill Baggs Cape Florida State Park, Virginia Key Beach, and Hobie Beach. A number of high-end condo residences have also mushroomed in this lovely neighborhood, one of which is the luxurious Oceana-Key Biscayne, which has 500 feet of spectacular beachfront property. Other sought-after condos in the area include Ritz Carlton Key Biscayne Residences, Commodore Club, Towers of Key Biscayne, Key Colony, Mar Azul, Ocean Club Resort Villas, Sands of Key Biscayne, Casa del Mar, and Ocean Club Key Biscayne. The Grand Bay Residences, Ocean Club Lake Villa, and Grand Bay Tower also offer some of the most upmarket and fully furnished condo residences in Key Biscayne.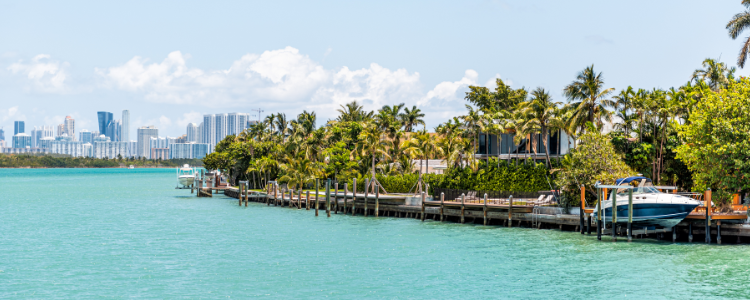 4. Bal Harbour
Considered one of the more opulent addresses in Miami, Bal Harbour lives up to its reputation of being high-end by offering private beaches and near-exclusive penthouse residences that are surrounded by manicured landscapes. Aside from luxury, Bal Harbour is also famous for being the chosen locale for people who are into fitness and health, with bike paths, jogging paths, yoga clubs, and many more fitness options being easy to find here.
Its most upscale shopping mall is the open-air Bal Harbour Shops, which features more than 100 shops, including luxury department stores Neiman Marcus and Saks Fifth Avenue. The mall's impressive line of designer boutiques include Chanel, Prada, Gucci, Chloe, Carolina Herrera, Balenciaga, Oscar de la Renta, Valentino, Jimmy Choo, Tod's, and Giuseppe Zanotti. It is surrounded by palm trees, koi ponds, tropical flowers, and limestone and marble fountains.
Since it was developed in the 1950s, Bal Harbour has maintained its luxurious ambiance. It has several resort beaches, such as the St. Regis Bal Harbour Resort, ONE Bal Harbour Resort & Spa, and the Sea View Hotel. Meanwhile, Haulover Beach Park offers several picnic areas, a marina, and a couple of tennis courts. And do note that Miami Beach is officially a hot spot, offering 95 percent of free wi-fi coverage outdoors (and 70 percent indoors) throughout the city – even on the sand.
Some of the most talked-about bars and restaurants in the Bal Harbour neighborhood are the Yardbird Southern Table & Bar, The St. Regis Bal Harbour Resort's Fresco Beach Bar & Grill and The St. Regis Bar & Sushi Lounge, Sandbar Lounge, SkyBar, and Venezia Lounge.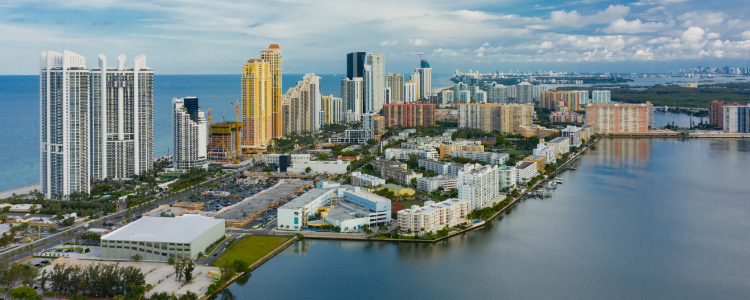 5. Sunny Isles Beach
Sunny Isles Beach is just north of Bal Harbour and is another beach community that has most of what you need within its borders. From shopping malls to schools to luxury homes to beaches, this enclave has it all. Similar in reputation as Bal Harbour, Sunny Isles Beach is also considered a neighborhood that is opulent and lavish, with private beaches, high-end condos, and yacht clubs that you can enjoy as a resident.
Situated in an area that gives you two bodies of water to enjoy, with the Intracoastal Waterways in the back and the Atlantic Ocean in front, the barrier island that this community is on can be easily reached a few ways. Other things you will enjoy here, aside from the numerous conveniences, are the peace and quiet, simple gourmet options, and its closeness to the many things that Miami has to offer.
A barrier island in between the Atlantic and Intracoastal Waterway, Sunny Isles Beach projects a casual vibe that invites anyone in. The neighborhood, which used to be lined with motels built in the 1950s, has been giving way to a string of high-rise and mid-rise luxury condo buildings and hotels in the recent decades.
Frequently referred to as Florida's Riviera, Sunny Isles is a Miami seaside community with an assembly of international residents. They can enjoy many types of adventures at the neighborhood's decades-old Newport Fishing Pier, the Intracoastal Waterway at Haulover Beach Park, as well as the Oleta River State Park. The Dezer Collection in Sunny Isles Beach is a one-of-a-kind automobile museum that boasts over 1,200 vehicles, including a Batmobile and several cars from James Bond movies. The neighborhood's main street, Collins Avenue, has a wide assortment of stores and world-famous restaurants, as well.
Some of the neighborhood's most upscale condos are the 400 Sunny Isles, Mansions at Acqualina, Jade Beach, Jade Ocean, Ocean One/Two/Three/Four, Oceania I/II/III/IV/V, Pinnacle, Trump Palace, Trump Royale, and Turnberry Ocean Colony North. Sunny Isles's most luxurious condo building is currently Regalia Miami, where a unit sells from a minimum of $9.5 million and can go up to a whopping $35 million.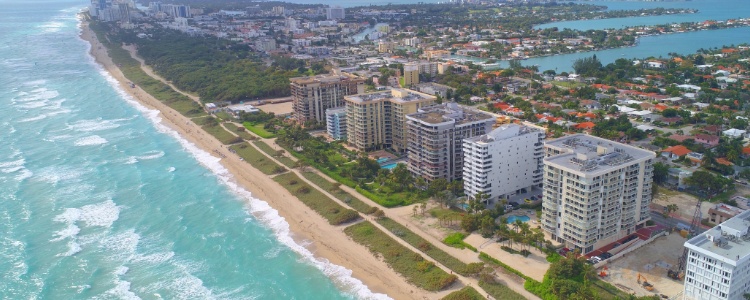 6. Surfside
Just beside Bal Harbour is another neighborhood that is considered a great beachside community in Miami. Surfside is all about the simple pleasures associated with beachfront living, and this is because of the pristine beaches that stretch for a mile along this enclave. Of course, just like most great beach communities in Miami-Dade County, Surfside also has a wealth of conveniences that help make living here easy.
Surfside has a shopping mall, a few department stores, and a lot of gourmet restaurants for you to choose from. Considered a family-friendly neighborhood, you will also find a few parks and family-friendly entertainment options here.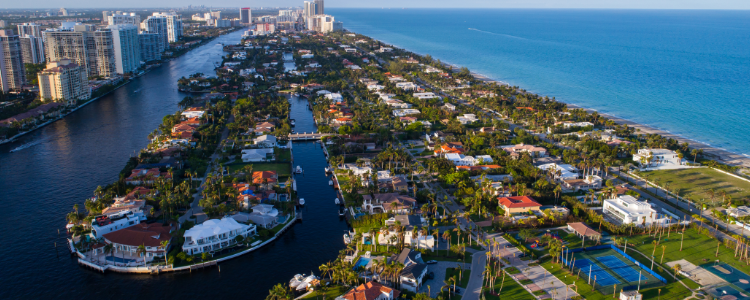 7. Golden Beach
Another town that is nestled between the Intracoastal Waterways and the Atlantic Ocean is the neighborhood of Golden Beach. Considered one of the safest localities in the Miami-Dade County, this neighborhood is located just north of Sunny Isles Beach. A number of celebrities call this community their home, including Eric Clapton and Bill Gates.
The homes here are considered upscale, and safety is one of the things that this enclave can boast about. The police force here is pretty sizable that even minor traffic infractions are being addressed here.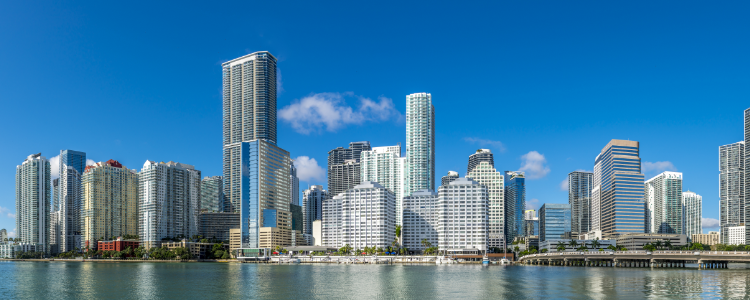 8. Brickell
Brickell is called the financial district of Miami, and yet it still made the list due to the fact that a lot of condominium buildings here also have direct access to the beach and the water. This is the perfect address for those who wish to further their careers while still enjoying the sun and sand that can be found in the area. This is where you can definitely say that city and resort living is melded into a marvelous conglomeration.
Also considered part of this neighborhood is the triangular island of Brickell Key, which also has access to the waters of the bay and the Ocean. Another notable place of interest here is the popular Mary Brickell Village where people hang out and enjoy gourmet meals and such.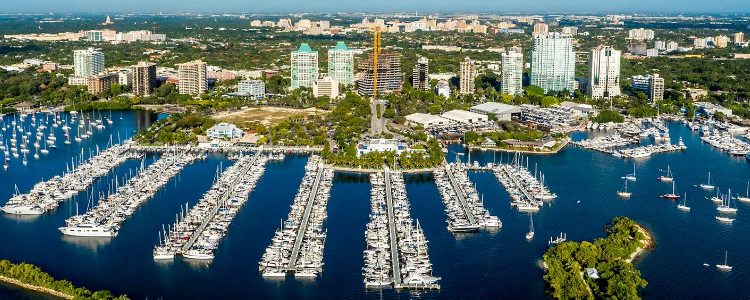 9. Coconut Grove
Another beach community to the south of Downtown Miami is the enclave called Coconut Grove. Located just southwest of Brickell and to the east of Coral Gables, this neighborhood is one of the more popular and happening communities here. Some of the reasons why people choose to live here include fine dining, nightlife options, and shopping, with most of these actually being provided by the famous Coco Walk.
Also worth noting is that Coconut Grove has a huge number of parks as well as providers of various exciting activities. These include fishing excursions, kiteboarding, and kayaking, to mention a few.